We've been asked by a reader for an opinion on Best Buy.

Lenny:

Technically BBY looks pretty good at the moment.  The first charts shows an ascending triangle (or wedge) formation, which is usually positive.  The stock is clearly consolidating, and made one attempt to get through resistance at 41.48 -- it is gearing up to make a second attempt.  Triangles almost always have prices trade in a narrower and narrower range out in to the apex of the triangle.  A bad picture would be for BBY to break out of the triangle, above resistant and then fall back below 41.48.  I'd expect a rally through resistance.  At the moment BBY is a HOLD.

The second (longer-term) chart shows BBY right at the long-term upper trendline.  This means it is fighting to get through a powerful resistance line.  If it turns down here it does have support (show on the chart) but, should it fall and break support at 34.62 and 31.26, then the picture would turn bleak and make a test of November lows possible.

Everything in this market depends on Bernanke.  Bernake is giving us profits in stocks as he takes US Dollar profits out of our other pocket.  This rally is not really what it seems -- usually stocks rally WITH the US Dollar also rallying -- not this time.

If Bernanke lets TBonds (and mortgage bonds) float in the market, interest rates will likely rise, stocks fall, bonds fall -- and the rally will suddenly be in a lot of trouble.

Fundamentally, I think your logic is pretty good.  BestBuy should pick up shoppers from Circuit City.  I agree with you about BestBuy and way too many workers wandering around.  Before I left the country I went to BestBuy in Eugene, Oregon to buy a computer -- and the store was SO DEAD I was shocked.  There were about 7 customers and 32 salespeople.

Are we in a real recovery?  I don't think so.  I have a theory about economic cycles lasting 18 years -- and this deflation cycle to run from 2001 to 2019....so I would not, if I were you, be looking at BestBuy as a stock to fall in love with.  Trade for the long term during Day Cycles (1983-2001; 2019-2037) but take profits regularly during Bear Market rallies.

That's what I think anyway.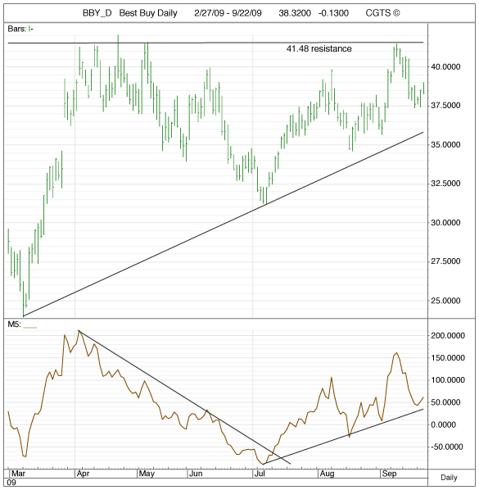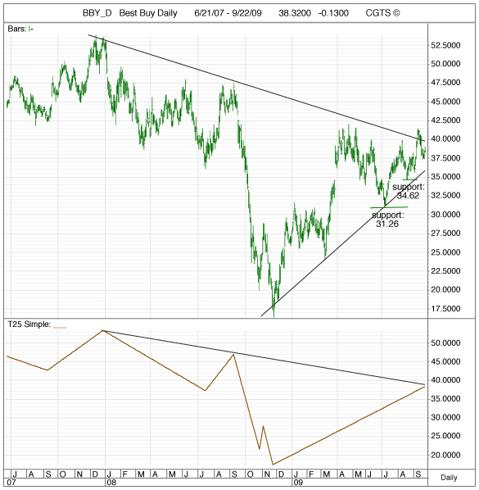 Disclosure: the author does not own BestBuy