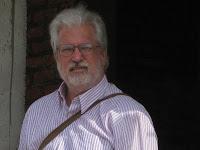 There is a titanic battle going on between those who will do anything to keep prices from going down and those who know prices MUST go down. However, we must recognize the demonic powers of the banks and bankers are substantial. Black magicians for progress, at all costs -- and, of course, for the survival of their own empires.
We see a very recognizable weakening of bank stocks. Of course, the press is writing about the small-cap breakdown, and we will look at the Russell Index also which is approaching vital support.
Let's start with the banks. Goldman Sachs and Bank of America are both shortsells now. Let's see their charts.
We look at the weekly chart of GS. Intermediate trends have broken down (top pane). The fourth pane down shows that the short-term trend has failed to break overhead resistance and has broken short-term support.
The second pane down also shows (M2F Alt, bold brown line) that the recent attempted rally of GS is beginning to reach an overbought condition.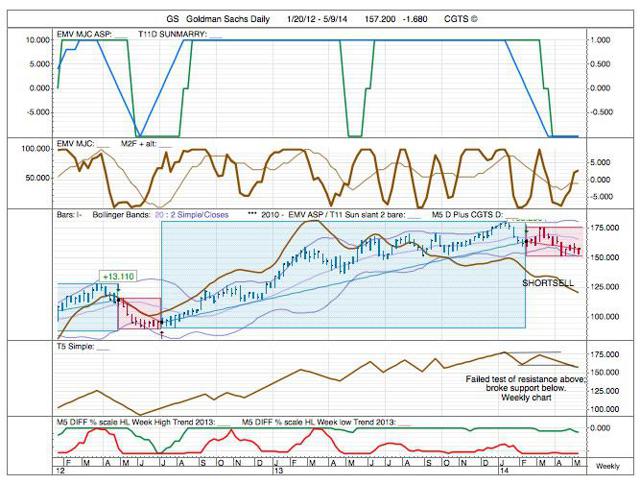 We show both the weekly and the daily charts for Bank of America, BAC. Both indicate a breakdown and a shortsell situation.
Support in the weekly chart is still holding at 13.9; but the daily chart shows broken support at 16.2.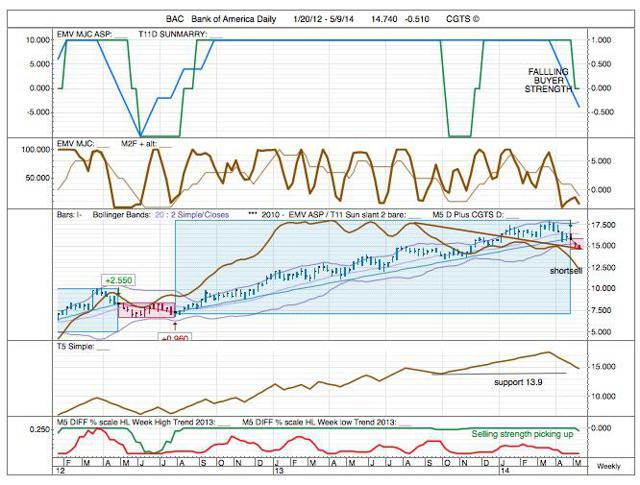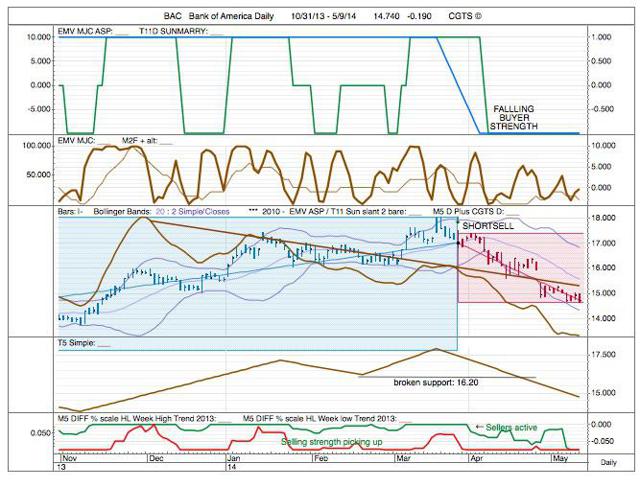 The banking index (BKX) has also broken down. It seems like all the 'bank fixing' the Fed has been doing since 2008 is failing. Banks are reporting lower revenues, and lower income from bond trading. Of course, the Fed was guaranteeing bond trading income, but has pulled back on this guarantee a bit, with the so-called taper. All the trillions in the Fed balance sheet is designed to save the banks -- and all this is failing, as it must. I won't get into why it must fail. Anyone who has read my writing over the past 6 years or so knows my reasoning for saying this.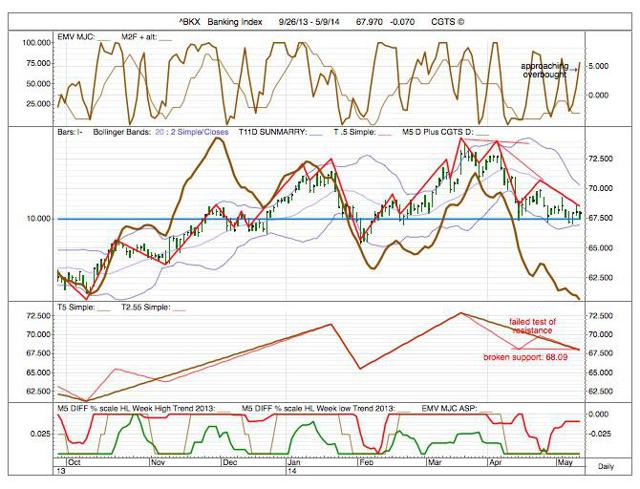 The financial press seems to find the deterioration of the small-caps troubling. The Russell 2000 is approaching a vital level of support. The short-trend draws support at 1103.264; the longer-trend draws support at 1094.583. Bulls do not want these levels to break. As I write, the 'masters of the universe' will do anything they can to make sure stocks don't crash. It's the only game in town now. I do not underestimate the powerful adversaries who manipulate every market to their own advantage. Their positions of power are at stake; and they will be ruthless in maintaining their own advantage, even to the extent of a willingness to impound money out of bank accounts to keep paying the banks, if this proves necessary. Insanity is the will to keep doing the same thing over and over again, even when it doesn't work, hoping for a different result. I think Einstein said that.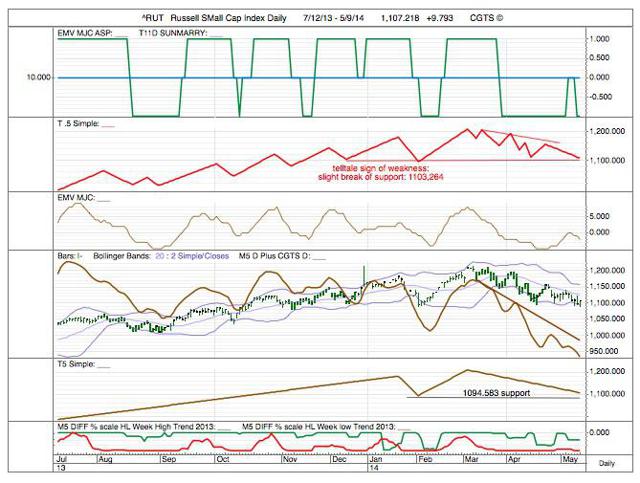 We have a continuing short position inn INFY, Infosys. This week Cramer through his weight behind us with an 'Avoid Infosys' column. Thanks Jim.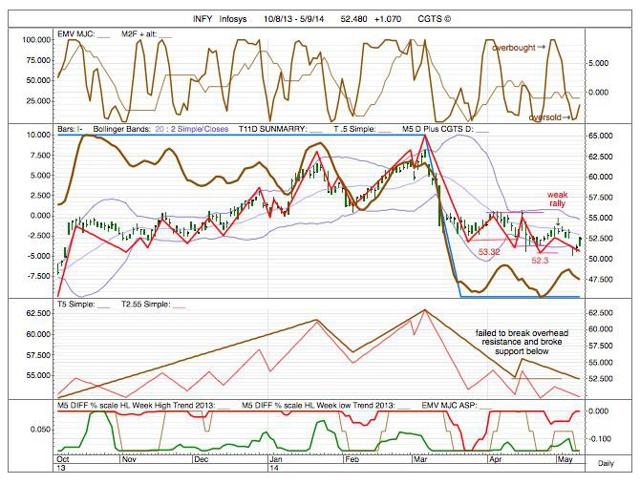 New Short positions in ADBE, Adobe Software, and PFE, Pfizer. Pfizer is a disaster happening. Last week's financial statement release showed a quarterly decline in revenue of more than 9% -- a decline over a billion dollars. Pfizer's attempted take-over of AstraZeneca, British giant pharmaceutical company, is apparently an attempt to buy more revenue. But the Brits are balking. And AstraZeneca workers in Switzerland and the US are discontent, concerned that recent Pfizer acquisitions have always led to significant worker layoffs in cost-savings plans.
PFE daily and weekly charts both show near-term broken support, suggesting PFE is tilting down for a loss of momentum.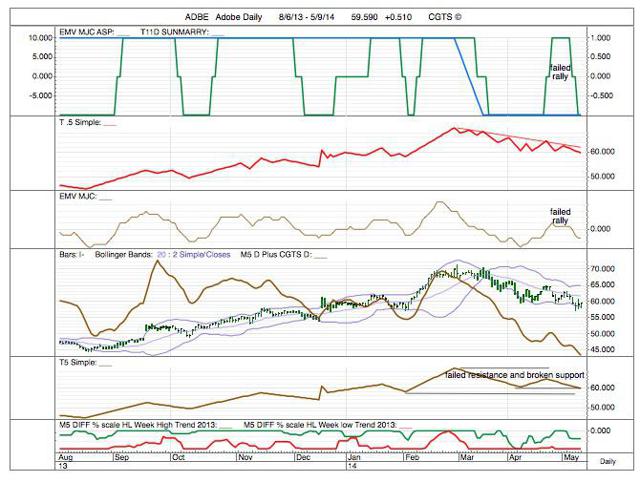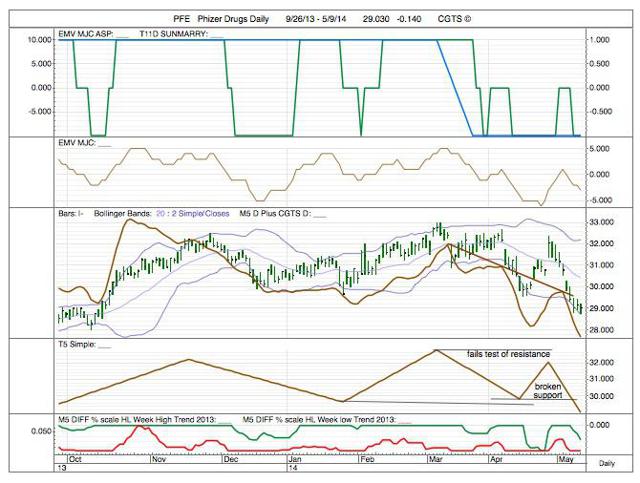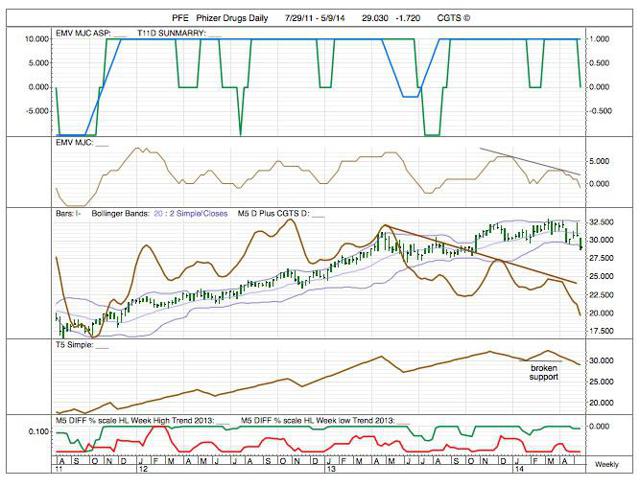 The monthly PFE chart shows a significant breakdown in short-term trend momentum as well.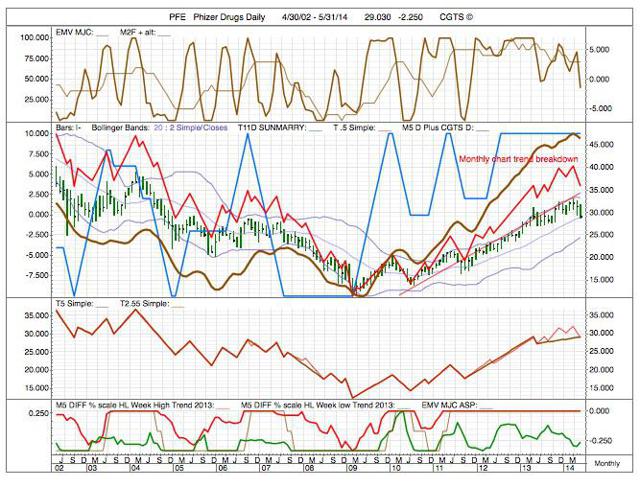 Good fortune.
Michael J. Clark, CGTS
Hanoi, Vietnam
11 May 2014