I meant to include the chart in my daily newsletter but forgot.  One of the reasons I'm thinking the Bear Trap Rally (or Bull Rally, take your pick) is ending is that a handful of Ultrashort ETF's (that gain when the market in general loses) seemed to be making bottoms in their charts.  One of those Ultrashorts, RXD, Short Healthcare Stocks ETF, is still holding up fine, despite the rally in stocks over the last two days.

The chart below shows that new support is still holding and M5 (brown line, top pane), indicates a stock that is climbing a ladder upward.  M5 is funny, because it tends to lead rather than reflect; it tends to 'predict' rather than define.

But the Trend (red line, top pane) does reflect current reality and it is still showing higher highs and higher lows, indicating trouble coming for stocks.  If this trend pattern should dissolve over the next few days, we will change our view of markets.  So, we are really at a crucial point in this market rally.

RXD is only one stock, as I have mentioned, showing this bottoming in Ultrashorts.  SIJ (Industrials), SCC (Consumer Services), SKF (Financials), SRS (Real Estate) also show the same pattern -- I'm showing SRS as it is one of the stronger patterns of the group, seemingly shrugging off the strength in the markets over the last two days.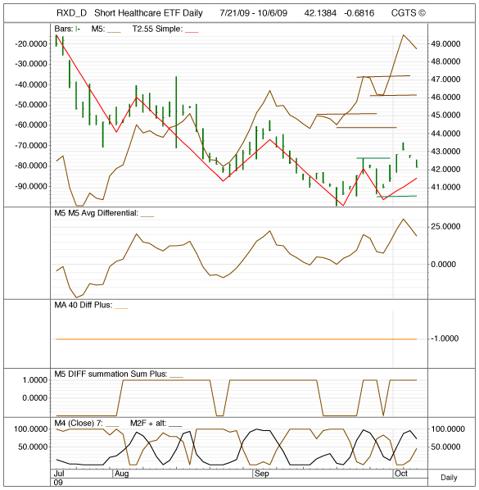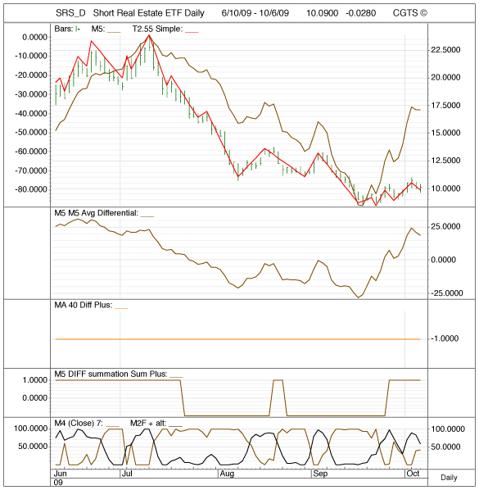 DISCLOSURE: The author has no position in either issue.

Disclosure: author has no position in either of these stocks.