CLARK'S GATE TIMING SYSTEM ©
Thursday 5 November 2009

 
 

India's central bank Governor Duvvuri Subbarao described inflation as a "regressive tax," justifying his steps yesterday to start withdrawing the monetary stimulus as price pressures build. "As far as public policy is concerned, it has a commitment to insulate the poor from inflation - it's the prime consideration for the Reserve Bank of India and the government."
 
BANK STOCKS UNSTABLE?  OR IS IT JUST BANK EXECUTIVES WHO ARE UNSTABLE?

Our friends at Clusterstock send an interesting chart today, showing how Boom Boom Bernanke is praying (and behaving in a way) that America avoid deflation as effectively as Japan has -- what's a lost decade between friends, especially if one can keep house prices from declining? 

Afraid of deflation?  Let's do what the Japanese did.  And we can go in to paralysis for 18 years too.

I was predicting a bottom in this economic crisis in 2019.  Clusterstock is predicting one in 2022 based on this chart.

Ahh, follow the Inflationists, and everything will be fine.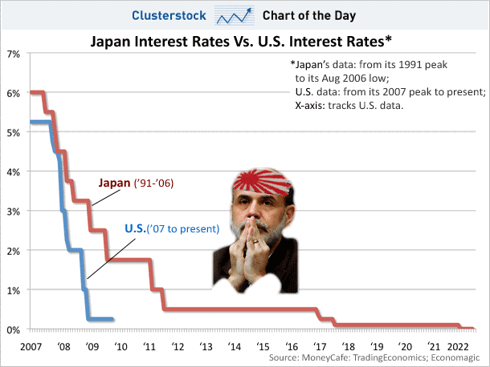 How are the financial stocks doing in America?  The government has given them the bank; and now they are sitting on their hands, praying that no one will notice the trillions of toxic debt floating around in the cupboard.  (Just give the poison to Ben.  He knows how to take care of it.  Ahh, that's a relief!)

The Banking Index (BKX) is in tatters.  It has broken support and now seems destined to sink to the next support level at 35.43, six points from where it closed last night.

Bank of America has turned 1/2 bearish.  It has broken support (lower lows) and seems destined to test support at 12.23, 2 points lower.

Citi Group has broken support AND failed a test of overhead support.  This is bearish in that the trend is making lower lows and lower highs.

Goldman Sachs is holding steady, as is Wells Fargo.

SKF, the Ultrashort Anti-Stock, rises when financials sink.  It seems to have put in a long-term bottom, which does not bode well for the banks stocks.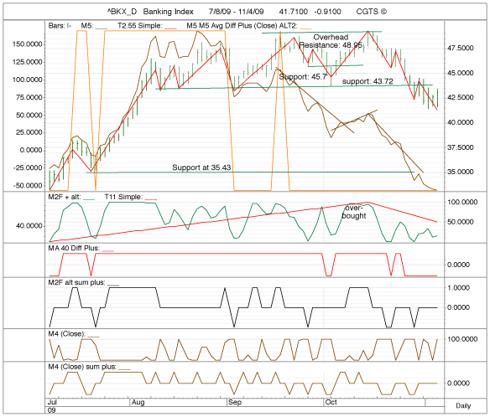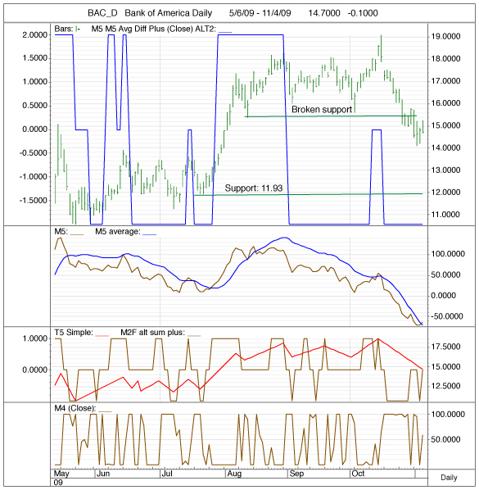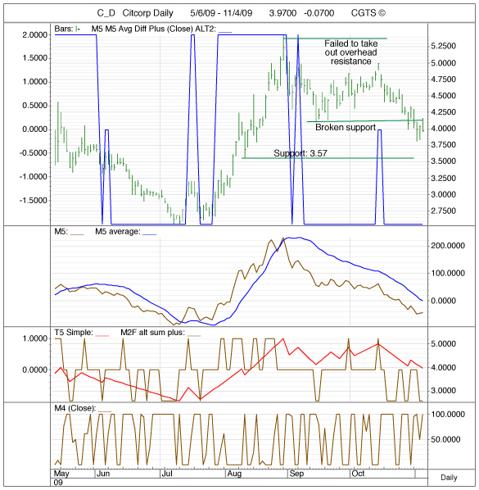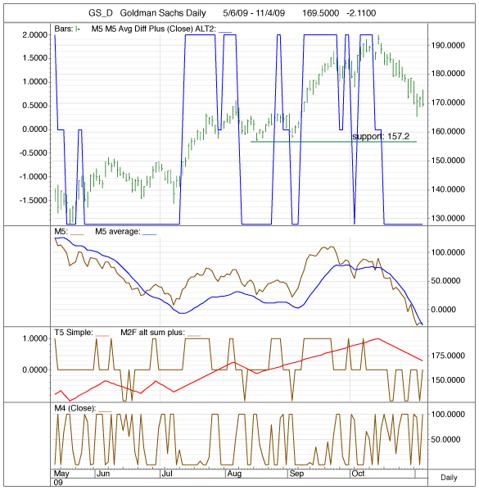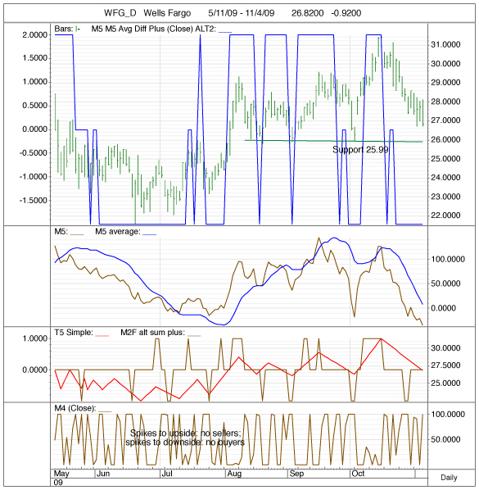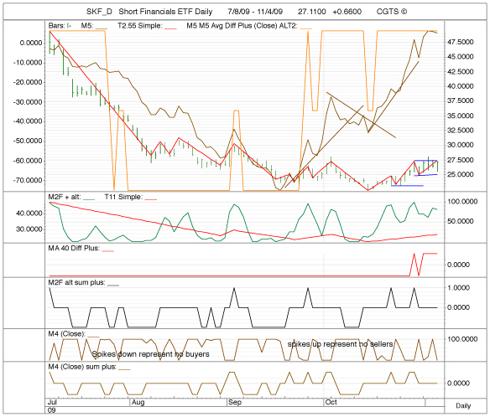 Speaking of GS (the devil in dead man's clothing): John Lounsbury, in a post today, reports that
 
Goldman Sachs international adviser Brian Griffiths explains it this way: that Christ's famous injunction to love others as one would love oneself actually means that one should love oneself as one would love oneself. This seemingly baffling outburst by a Goldman executive in what appears to have been a prepared speech — someone actually wrote this, and thought about it, before saying it out loud — gets even weirder when one tries to figure out what could possibly have motivated this person, and by extension his employer Goldman Sachs, to make such statements in such a place as St. Paul's Cathedral.

seekingalpha.com/instablog/98115-john-lounsbury/34415-financial-greed-and-christianity

Lounsbury continues:
 
Another captain of finance, John Varley, CEO of Barclays (NYSE:BCS), spoke Tuesday night at St. Martin-in-the- Fields London last night and told the packed pews of the church that "profit is not satanic." (http://www.bloomberg.com/apps/news?pid=20601109&sid=aySZ9TS.aODA&pos=11)

Simon Clark and Caroline Binham write further in the Bloomberg article that Lazard International (NYSE:LAZ) Chairman Ken Costa is another banker that has gone to a London church to defend the righteousness of taking as much as you can get.
Gordon Gecko?  Come in...?

My response?

The meaning of Jesus throwing the money-changers out of the temple was that he was marking an end to the self-serving theology of the bankers and clergy united, the 'greed is good' and the 'Earthly success was a sign of approval from God' theology that had taken over religion at the time; and Jesus was re-initiating the view that greed was not good and that Earthly success was more likely the sign of a deal with the devil than with a deal with God -- in a very real sense he was revoking the covenant.

I guess GS is fearing the return of Jesus also.
Nothing should surprise us now.  The Devil is in a state of panic.  The world has turned against him -- and now he is beginning to see his own demise.  This makes him VERY dangerous (and also somewhat comical).

Disclosure: the author owns none of the issues mentioned in this letter.
More information on this system can be found at
home.mindspring.com/~mclark7/CGTS09.htm
A draft of the book Turn Out the Lights can be found at the website below.  This book is a description of the metaphysical causes of the economic cycles of expansion (Day) and contraction (Night).
www.hoalantrangallery.com/Turnoutlights.htm
Michael J. Clark's Gate Timing System
Hanoi, Vietnam
84 4 221 92210