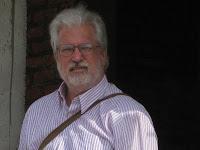 Monday, 2/2/15
Today the DJIA was down 170 points and then rallied; and this seemed to make everyone on CNBC relieved, happy, as if the trading bottom was in.
Those of you who are familiar with my writing know that I think we are headed for a significant down-side over the next half-decade. In truth, I am expecting a return to the 8787 level for the Dow Jones Industrial, before we bottom.
What about now, today?
Well, my view is that today's rally is pretty insubstantial.
My favorite long-term plays are long US TBonds (shorting the inverse ETFs, shorting yield).
Also, I'm long the USDollar, short the Euro. short the Canadian Dollar, short the Australian Dollar.
I think this scenario, strong Dollar, weak everything else, IS a picture of the deflation of the global debt bubble.
Note the chart I'm enclosing, ERX, Energy Stocks Bullish, seems to be suggesting that the OIL stock rally is just about over.
Today's new trades: short EUR/INR, short the Euro against the Indian Rupee, is our favorite trade of the day. See below for a complete list of new trades.
We also like the shortsell VALE trade.
Column1
Column2
Column3
Column4
Column5
Column6
Column7
2/2/15
 
 
 
 
 
 
PORTFOLIOS
 
 
 
% Gain From SYSTEM
 
 
 
 
 
 
 
 
 
41.57% 12/2/14 1A. BOX One short-term
 
 
36.04% 12/3/14 1A. Box TWO short-term
 
 
25.41% 12/16/14 1A. BOX FIVE short-term
 
 
 
 
 
 
 
382.75% 12/4/14 9. M2F ALT MUFFY #2 CUR int-term CURRENCIES
30-1 leverage
 
 
 
 
 
 
 
 
 
 
 
 
Closed Positions
 
 
NONE
 
 
 
 
 
 
 
 
 
 
 
 
 
 
 
 
 
 
 
New Positions
 
 
 
 
 
 
 
 
2/2/15
 
 
 
 
 
 
SYMBOL Long/Short Price System
 
 
 
 
 
 
 
 
XIDEQ Long 0.07 Box 1 Exide Tech
 
 
 
QRM Short 0.07 Box 1 Quest Rare Metals
 
 
IDI Long 1.10 Box 1 Search Media Carry-Trade ETF
 
 
 
 
 
 
GASL Short 3.30 Box 2 Natural Gas Long
 
 
 
 
 
 
 
VALE Short 7.46 Box 5 Vale, S.A.
 
 
 
EDZ Long 35.33 Box 5 Emerging Stocks Bearish
 
BZQ Long 87.76 Box 5 Short Brazil ETF
 
 
 
 
 
 
 
EUR/INR Short 70.01 M2F Currency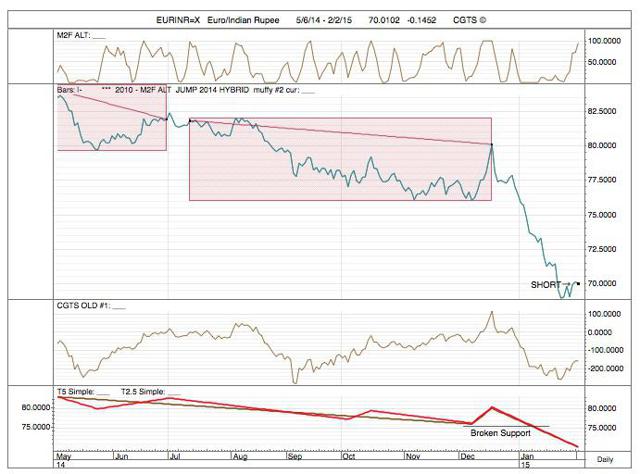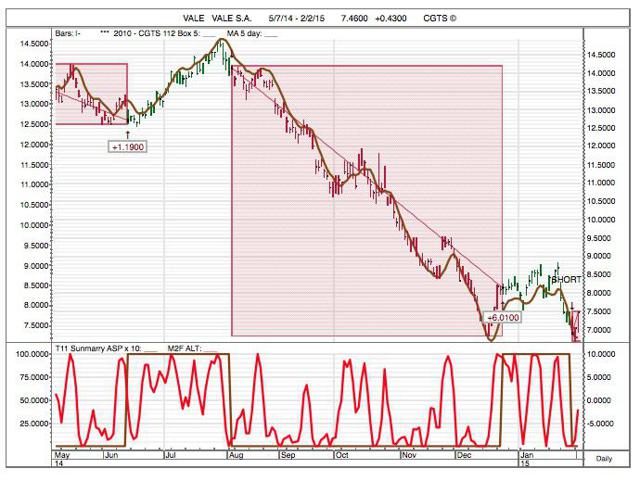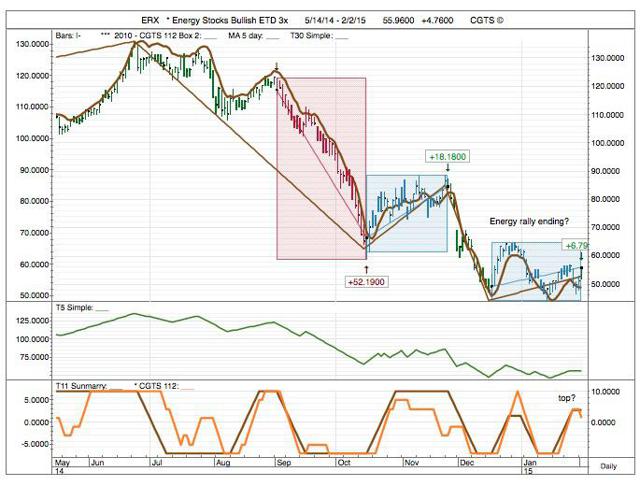 Free one-month trial subscriptions are available through the email address below:
Best trading,
Michael J. Clark, CGTS
Eugene, Oregon
cgts@mindspring.com