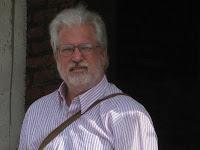 Every weekend we look at charts. A lot of charts. What do they look like? A lot of this; a lot of that. Some monthly charts are very strong: our favorite longs are BUNT, the German Bond ETF, CBPO, Chinese Biologic, EQR, Equity Real Estate, FISV, ISIL, ISIS, IBB, and PKW, the ETF the buys stocks that are buying back their own shares, to name just a few. PKW will be history once the interest rates start to rise, I'd assume. Stock indexes look quite strong, not many chinks in the armor on the monthly stocks.
But not everything looks good. In fact, tech stocks are starting to break. Is that possible? I wasn't so sure myself. So I looked twice.
The TECL, Tech Stocks Long or Bullish ETF, monthly chart broke support for the first time in three years. This was odd. Otherwise the chart looked pretty good. If TECL takes out overhead resistance at 150.19, then we'll assume it was an aberration.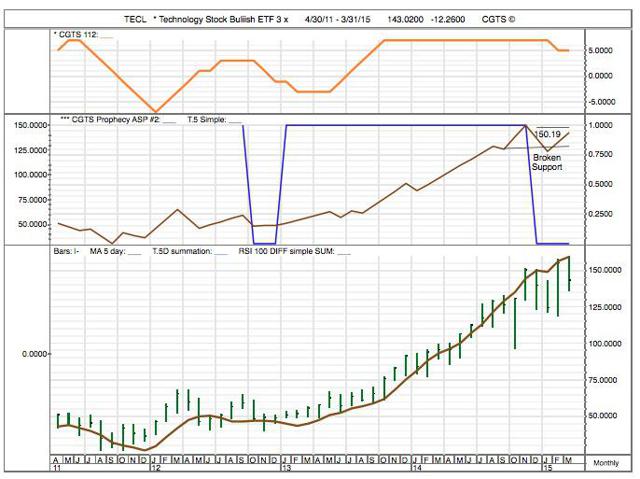 Then we started to notice problems with a lot of tech stocks. Remember, these are monthly charts, which filters out the "noise". Small changes in the daily stocks occur all the time; in the monthly these are rare.
Intel (NASDAQ:INTC) broke support; and its attempt to rally back to take out resistance, and prove it bullishness, came up empty, when no buyers emerged.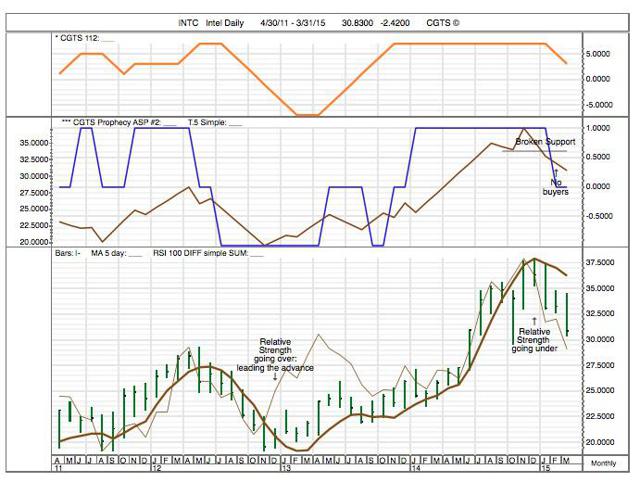 QCOM was even worse.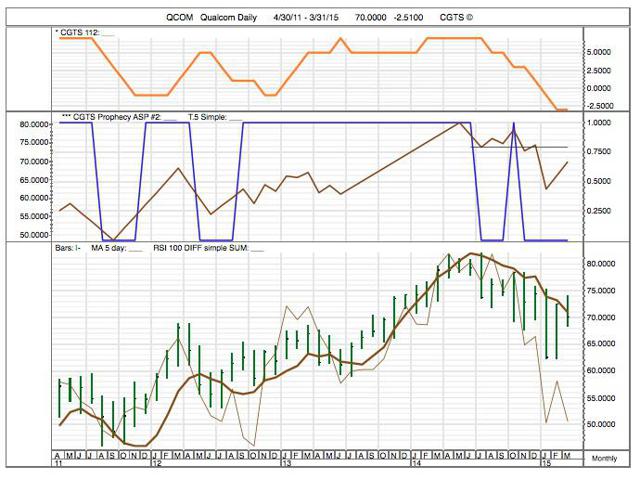 Sundisk.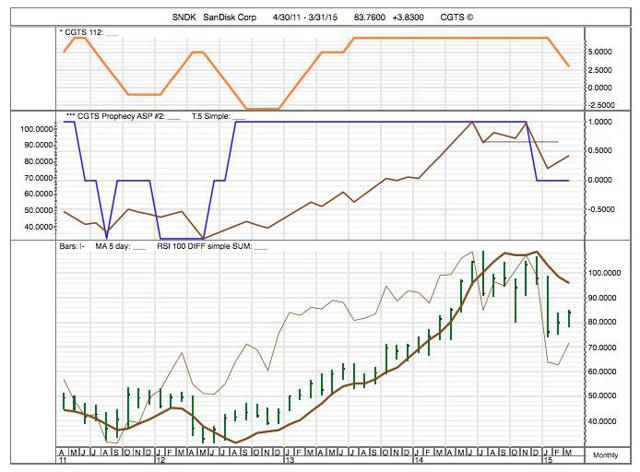 Hewlett Packard.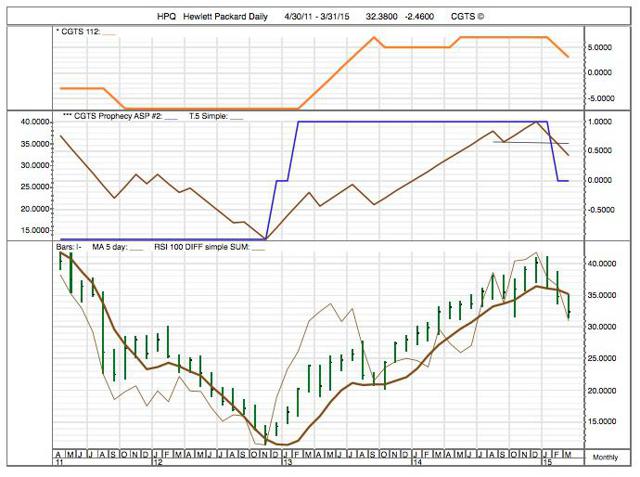 EMC.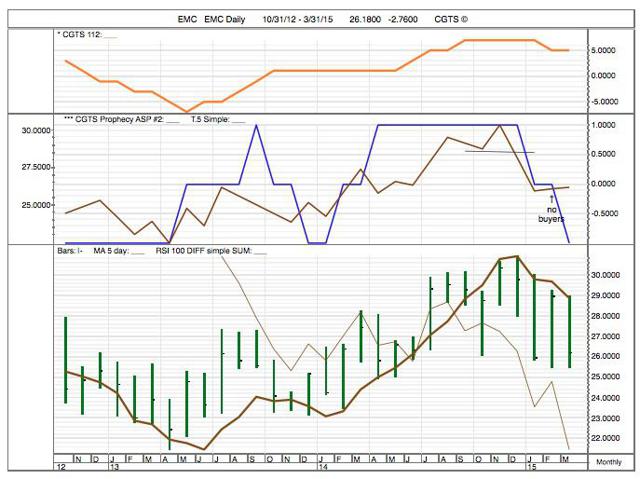 We looked at IBM, which had been struggling for a long time.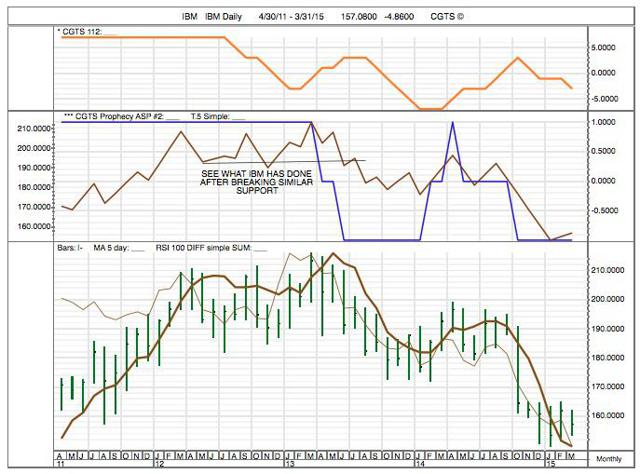 Then it struck us: what if it is not just tech stocks but any multinational stock with exposure to the strong Dollar. Caterpillar has been punished by the Dollar, among other things, revenues drying up: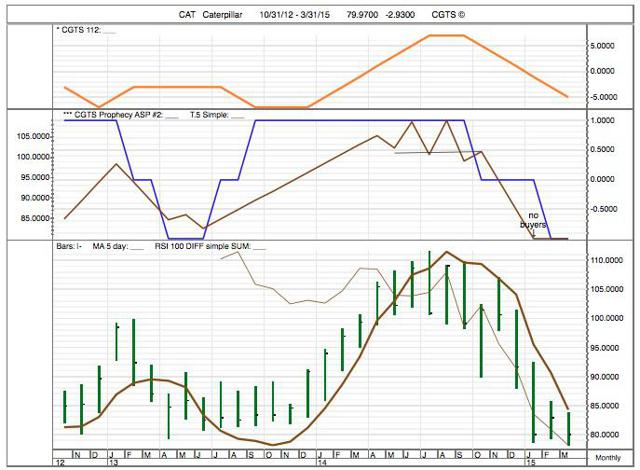 We looked at other charts, not provided here: PG, JNJ, XRX, MRK. Similar patterns in their stocks.
Oil and the commodities had been the first to succumb to the strong US Dollar.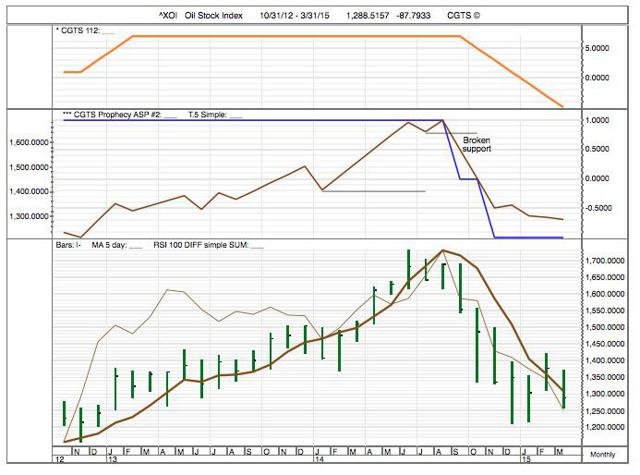 Look in the Daily Chart how Oil (XOI) and the US Dollar (NYSEARCA:UUP) dance a nearly perfect contango: when Oil leads, the Dollar follows (goes down) -- I should phrase that differently: when the Dollar goes down, Oil goes up; when the Dollar rise, Oil falls.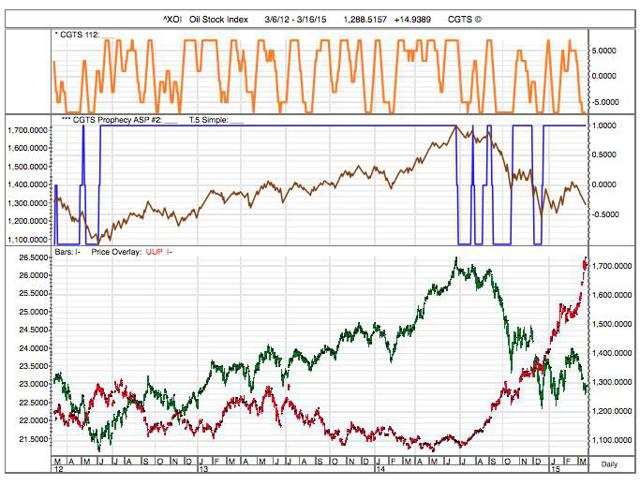 See how QE from 2012-2014 boosted the price of OIL at the same time it demolished the price of the Dollar.
The strong Dollar is a Great Deflation Machine. The Weak Dollar fuels global inflation (sometimes even growth); the Debt Bubble grows when the Dollar is weak. But now the Dollar is getting its vengeance. It is dismantling stocks; dismantling oil and the commodities; slowly dismantling multinational corporations by diluting their earnings. Brick by brick, company by company, the Great Bull Market funded by central bank spending of future taxpayer money is slowly coming apart at the seams.
If the multinationals join the oil and commodity sectors in the deflation bin it won't be long before nearly all the sectors do the same.
I think the Strong Dollar is the only thing that can save us from the horrible manipulations of the central banks. I favor the strong Dollar even thought it will deconstruct the world we have been trying to hard to preserve -- even though it is dead. The strong Dollar will bring hardships. Hardships will bring (eventually) a recovery, a real recovery -- because it will destroy the Debt Monster that we have built especially for the last two decades, and which we are worshipping now as if any disruption to our debt structure will cripple us for ever. In truth, it is the debt structure we are now carrying that will cripple us for ever. Long live the strong Dollar, at least through 2019
MJC, CGTS