CGTS DAILY
FOR FRIDAY, March 16.
Generally speaking, the market continues to rally and really shows no sign of reversing. Even the Dow Jones Transport Index broke up from a negative reversal pattern and seems to be removing the only negative we see in the markets. There are many negatives in the world, the world economy, and in the world political spectrum -- but we are watching only stocks now.
Bearish on the world economy. Currently bullish on stocks.
Buy Signal: EXM, Excel Maritime Carriers.
Note, the CGTS Indicator shown in the second pane registers significant movements in our ChartMeter Indicator. A strong move in any given day above a designated quantity triggers an uptick in the corresponding ASP indicator (pane Number Two down); a strong move down registers a downtick. This indicator must work in the same direction as all the existing trend readings to trigger a trade -- an uptick must be associated with all trends positive. A downtick must be accompanied by negative trends.
Note (as show below) this system can also be used to add to existing positions, both long and short. ANV below shows a signal to add to an existing short position. All the rest of the charts show signals to add to existing long positions.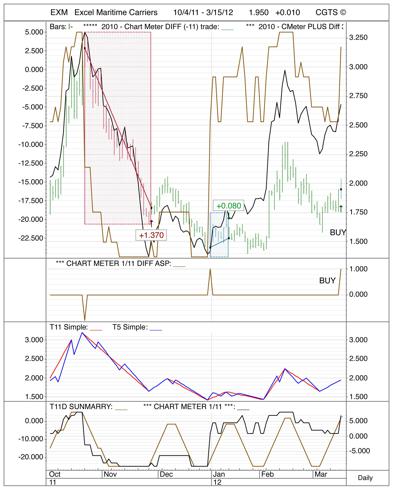 ADDING TO EXISTING POSITIONS:
LONG:
TUR, Turkey Index ETF. Original long position taken 1/11/12 @ 42.03. Current prince 51.58. The second pane down give us our second buy signal trigger.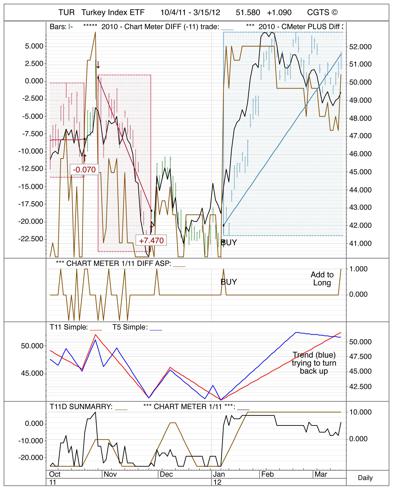 GNW, Genworth Financial: original long positionl12/29/11 @ 6.45. Add to position 9.32.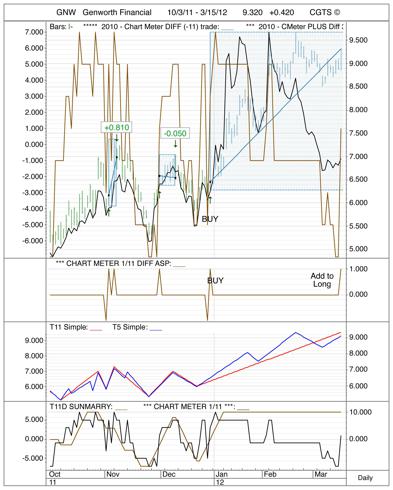 RGR, Sturm Ruger, original long position 10/4/11 @ 27.07. Add to long position at current price: 43.82.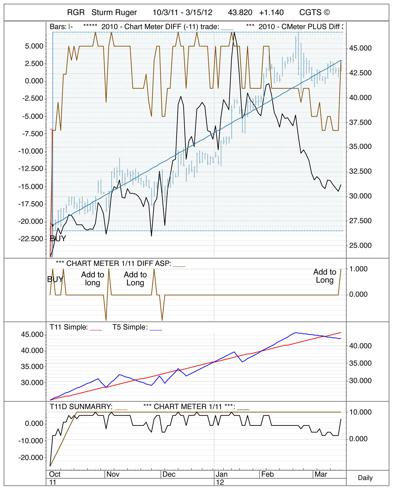 Other issues giving signals to add to long positions today: GS, Goldman Sachs; CPA, Copa Holdings, S. America; EPP, Asia ETF (excluding Japan); EWC, Canada ETF; HSIC, Henry Schein; IRE, Bank of Ireland; RS, Reliance Steel.
SHORT:
ANV, Allied Nevada Gold Corp: original short position 2/27/12 @ 34.87. Add to short position 3/15/12 @ 32.34.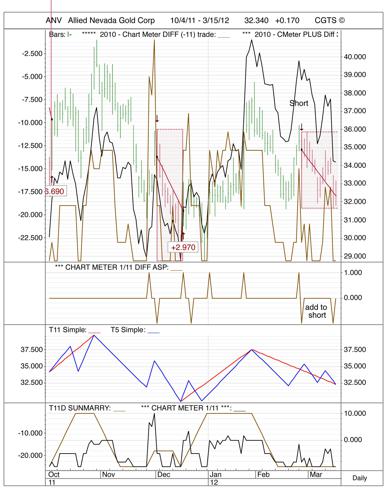 Other issues giving signals to add to continuing short positons:
IGOI, I Go Inc.
More information on the CGTS systems can be found at:
home.mindspring.com/~mclark7/CGTS09.htm
MICHAEL J CLARK
Clark's Gate Timing System
Hanoi, Vietnam
cgts@mindspring.com
CGTS
Disclosure: I have no positions in any stocks mentioned, and no plans to initiate any positions within the next 72 hours.