CLARK'S GATE TIMING SYSTEM

Wednesday, 27 January 2010
"By a continuing process of inflation, government can confiscate, secretly and unobserved, an important part of the wealth of their citizens."

    -- John Maynard Keynes
HOW LOW WILL THE MARKETS GO?
What is the biggest question investors are now asking?  Whither long-term TBonds and the Dollar?  Are charts are interesting at the moment, in terms of this question: the Dollar ETF (NYSEARCA:
UUP
) is showing pretty amazing stregth.  If the Dollar is rising, then interest rates must be ready to rise -- isn't that logical?  Charts that short the long-TBond (Inverse ETFs) or charts of long-term TBond yield tell us that thre recent sell-off is trying to correct back to the upside.  Does this mean there are no buyers for the long-term TBond at the current yield?  Does it tell us that the Fed is backing off its QE bond-fest?  Or is Uncle Ben B. getting ready to boost the Fed Funds rate?  Yields seem determined to go higher; the Dollar seems unwill to go lower (since every currency in the world, except maybe the Aussie Dollar, seems to be discounting natonal devaluation, as an anti-China trade policy.  Higher interest rates, of course, are not generally friends with stocks.
What do we see in the indexes?
AORD, Australian All-Ordinaries Index.  We're almost at support at 4587.5.  (Bottom pane) M5 is trying to make a trading bottom.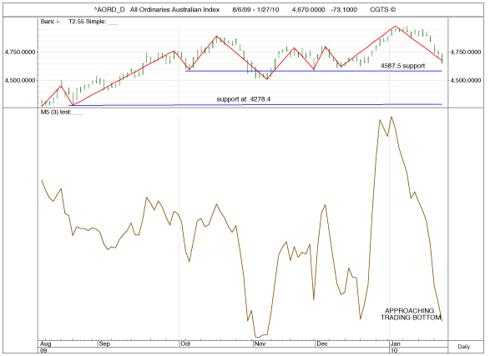 BKX, Banking Index.  Support at 41.7.  M5 (bottom pane) indicates more selling is likely.  M5 really needs to bottom and make a generous move up before we will consider it as trying to reverse.  Often M5 will make a higher low as a way of warning the investor that a bottom is in place.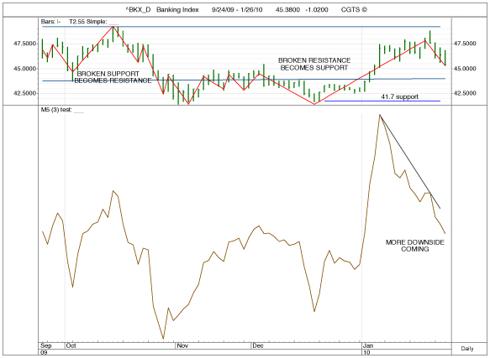 BVSP, Bovespa, Brazilian Index.  Chart is a bit scary.  The price has broken near-term support.  M5 (bottom pane) is suggesting that more support levels might be taken out.  No bottoming in M5 yet.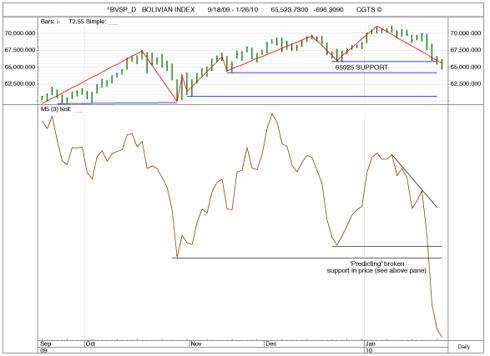 DJIA, Dow Jones Industrials.  Trying to make a trading bottom here.  Decline in M5 has taken out many levels of support, indicating a major loss of momentum.  However, price decline has not mirrored this.  An attempt at a rally seems likely.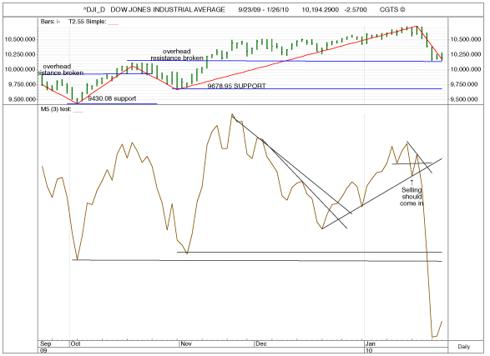 DOG, Short Dow 30 ETF.  We've had a good rally in the inverse ETF (rises when the Dow falls) -- but we are a bit overextended in terms of M5 Momentum.  We have not reverse the price trend with this rally.  So nothing has really changed as far as the picture of the market as being in a more significant transition.  This looks, again, like a rally in the DJIA is imminent.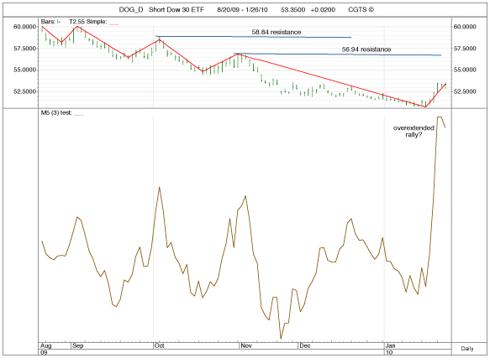 EUM, Short Emerging Markets ETF.  A good rally as emerging markets have sold off.  Near-term resistance has been taken out, which is bullish for the Bears; but, to be sold on a major turning-point in the market, we'll need to see this ETF fall and hold above near-term support, pointing to a bottom.  So, we're still looking at this decline as a correction, not necessarily a reversal of trend.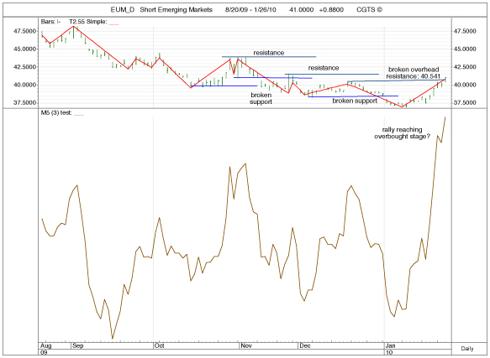 FCHI -- CAC Index -- France. No bottom yet; and M5 is 'predicting' more selling here.  M5 support levels have been demolished.  Near-term support for FCHI is at 3610.81.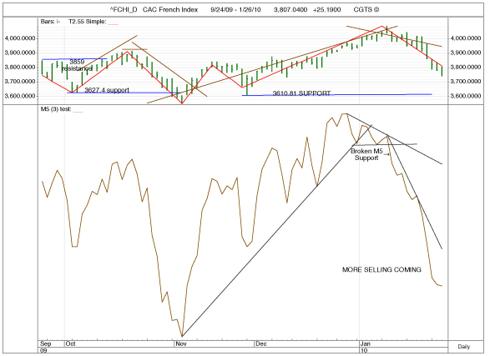 The FTSE Index, Great Britain.  Is trying to turn (see M5, bottom pane).  It can very easily have another couple of days down to support at 5103.78.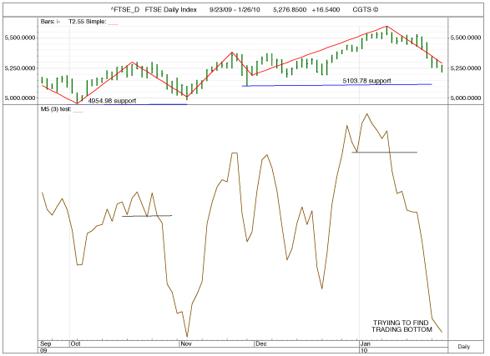 GDAXI -- German DAX Index.  Breaking though support at the moment; AND trying to turn up and make a bottom.  M5 is suggesting more levels of support might fall.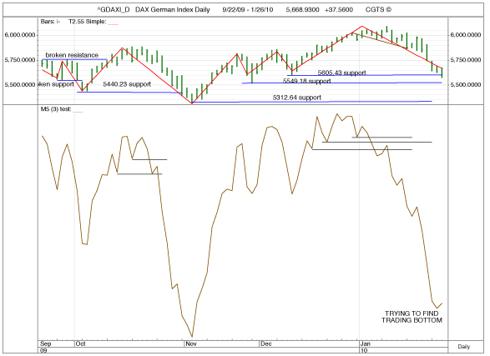 HGX, American Housing Index.  Trying to form a  bottom.  Has taken out near-term support and is approaching a second level of support, at 95.79.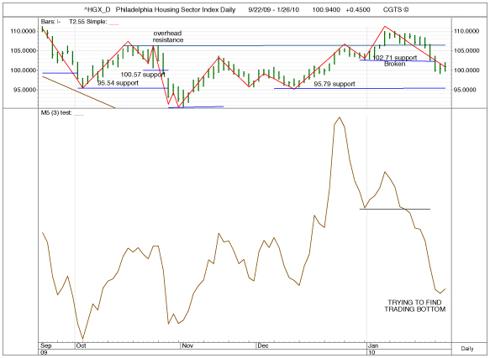 HSI, Hang Seng Index.  M5 indicator is tryng to bottom, but the HSI seems to be in a free-fall, breaking two support levels.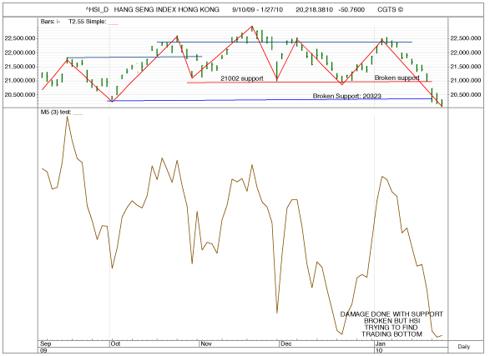 The SSEC, Shanghai Index.  It looks like more selling is coming.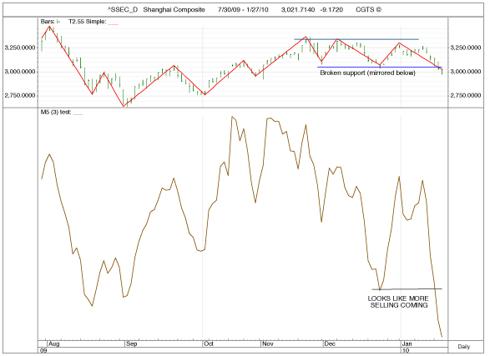 IAU, Gold ETF.  Gold is trying to bottom.  It has already failed to make a new high; it is important that it not break 105.38 support.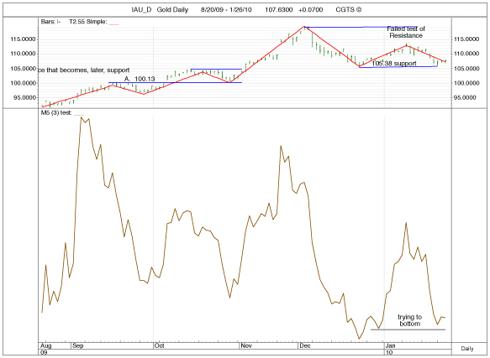 Gold and Silver Stocks, XAU Index.  This has been a bit of a massacre -- precious metals stocks ALWAYS are more volaltile than the market is -- and it is touching another level of support it may want to take out.  Considering the fact that the Dollar is rising (see UUP chart below) and the TBond yield charts (see TBT and TYX charts below) are making valliant efforts to bottom -- long end TBonds should go lower -- this suggests rates are going up -- and, short-term at least, there will be more pressure on precious metals stocks.  We like PM's longer-term (we are in a Night-Cycle until 2019, so this is a bull market in gold and silver and gold and silver miners.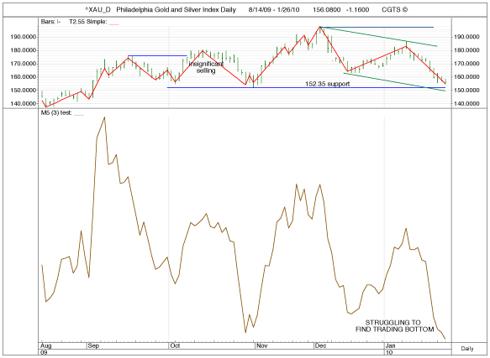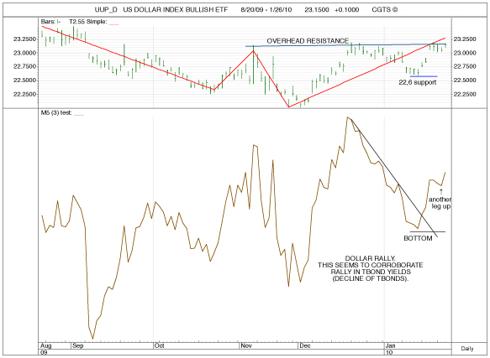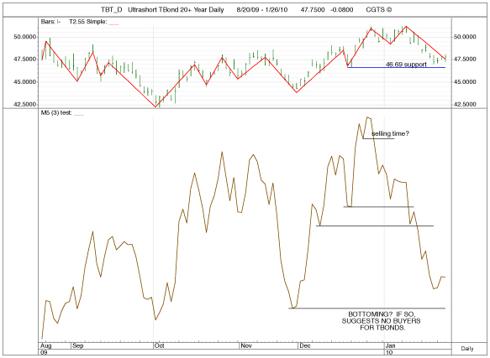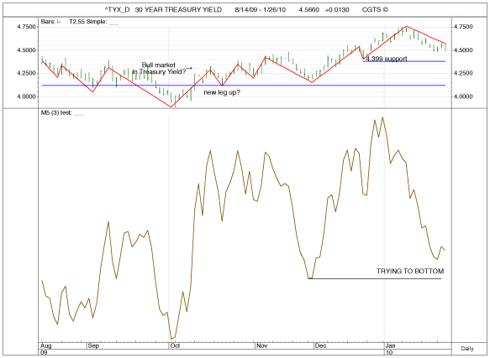 N225, Nikkei Index.  Expect more selling, as M5 momentum is in a freefall.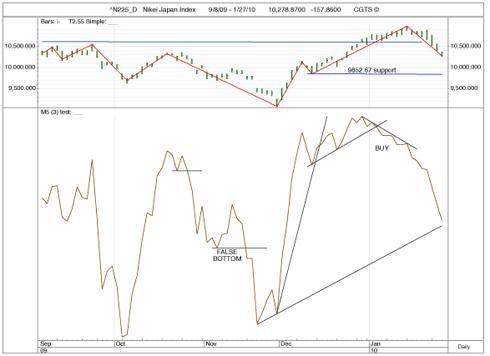 NDX, Nasdaq 100.  This index is trying to bottom -- currently there has been VERY LITTLE damage done to this index.  M5 at the same price level and as a support indicator did not hold -- so I expect this to go a bit lower before it actually bottoms.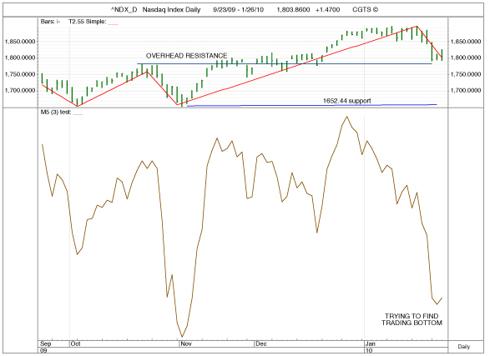 RUT, Russell Small-Cap Index.  Selling is moderating; but we expect it to test, at least, 568 support.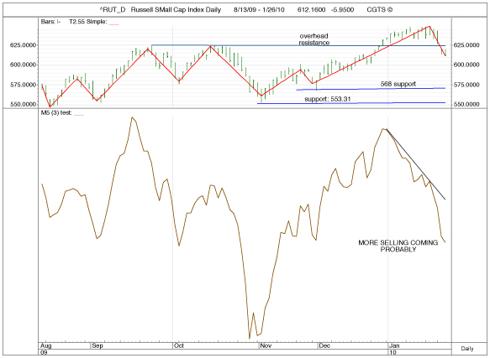 GSPC, S&P 500 Iindex.  Trying to bottom, but seems very likely it will fall again, probably to support at 1029.38.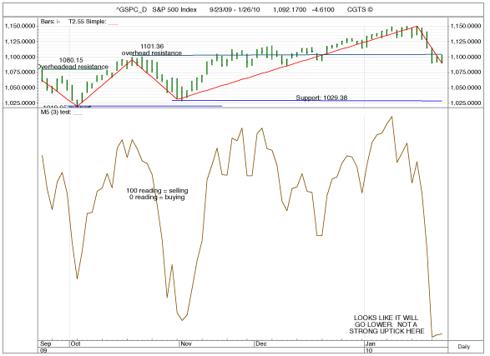 SMSI, Madrid (Spain) Index.  Some damage has been done here; one level of support has been taken out; another is currently being tested.  M5 is trying to bottom.  Spain is not a nice picture; but investors who play momentum don't really care about a society's long-term economic picture (except until the selling starts).  We really don't understand WHY this index would appreciate.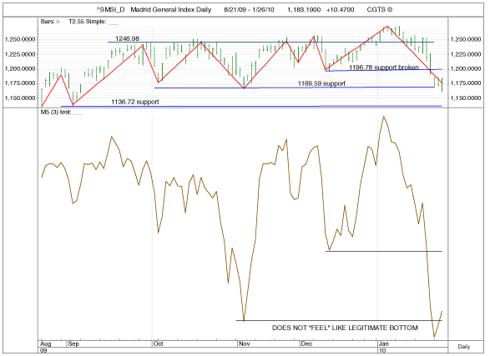 SOX, Semiconductor Index.  M5 does not look especially strong.  Would not be surprised to see it test support: 288.11.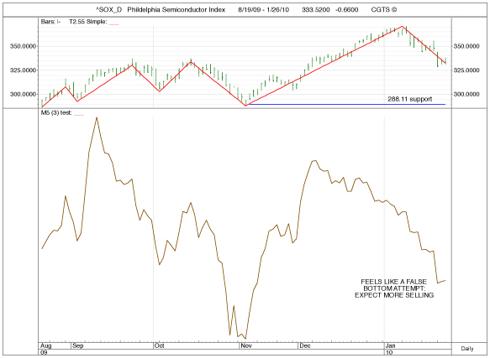 VIX, CRB Volatility Index.  This is one of the original 'inverse index' ETF's.  The VIX rally seems to be running out of steam.  If the VIX pulls back, but remains above its last low, then this can prove to be a bottom -- which suggests we are at a trend change.  But the VIX should come down a bit from here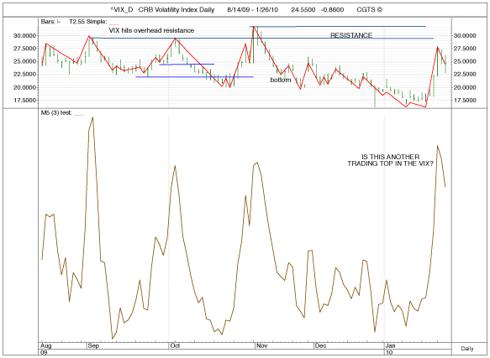 XCI, Computer Index.  With all the good computer news lately (Apple Computer taking over the world), how can  XCI keep going down?  M5 suggests a strong loss of momentum; but the price is trying to bottom.  M5 suggests more selling; time will tell.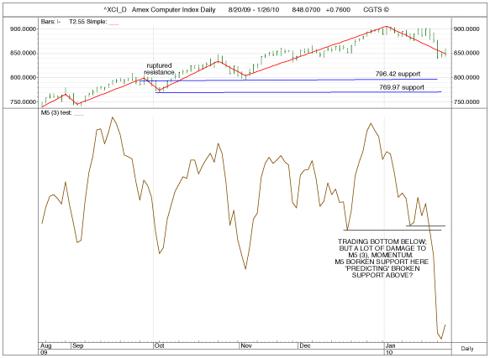 XOI, Oil and Gast Stock Index.  Right at support now.  M5 looks like an uptick that is nothing more than that.  Another leg down is likely.  The DBO, Oil ETF, is telling us a very similar story.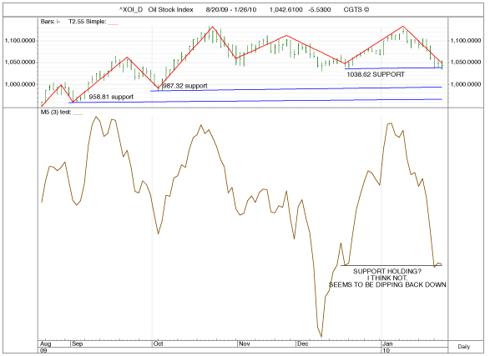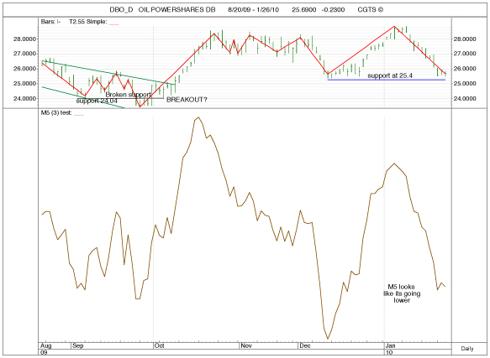 Addendum for Mark: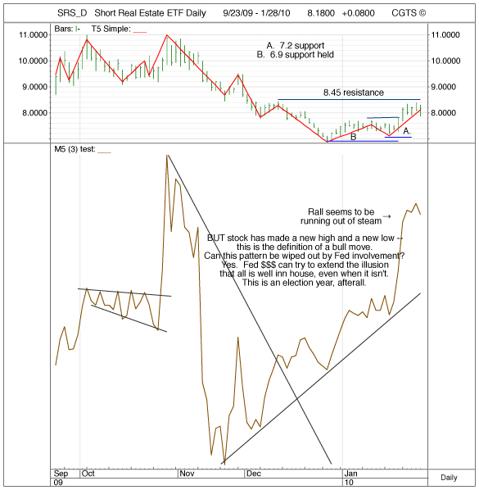 More information on this system can be found at
home.mindspring.com/~mclark7/CGTS09.htm
A draft of the book Turn Out the Lights can be found at the website below.  This book is a description of the metaphysical causes of the economic cycles of expansion (Day) and contraction (Night).
www.hoalantrangallery.com/Turnoutlights.htm
 
Michael J. Clark's Gate Timing System
Hanoi, Vietnam
84 4 221 92210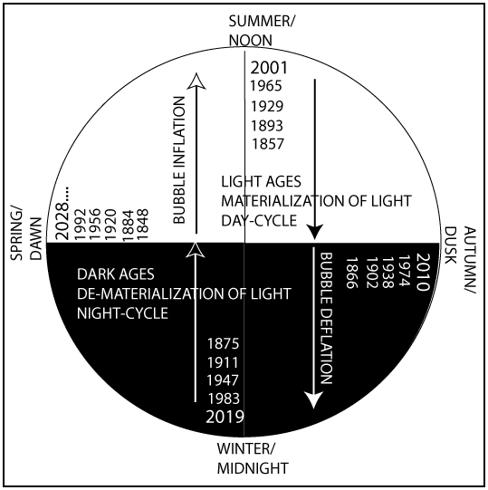 Disclosure:
The author owns none of the issues he mentions in this article.