CLARK'S GATE TIMING SYSTEM

Wednesday, 3 February 2010
"By a continuing process of inflation, government can confiscate, secretly and unobserved, an important part of the wealth of their citizens."

    -- John Maynard Keynes


RALLY?  WHAT RALLY?  BANK STOCKS READY TO HEAD LOWER


Having written yesterday that stocks and indexes had apparently bottomed and that time would tell if this was the beginning of a letitimate rally back to new highs...  Well, it looks doubtful for one sector, the sector that led the markets up from devastation last March.  The banks. 
Of course the banks were given HUGE gifts by taxpayers (through our guardians in Washington) in an attempt to try to pull the US economy out of a tail-spin.  The banks made huge profits in trading markets that were essentially propped up, could not fall.  But this did little for the American economy -- it did, however, result in huge windfall bonuses for the banks themselves, as they began to engage in a dual process of feathering their own nest through no-interest loans and a To Big To Fail financial conspiracy, and using those trading profits in what was essentially a fixed market to try to pay down a mountain of mortgage debt that they arranged to hide from the public on their 'secret account books', through manipulation of reality with governmental partners (remember mark to market?).
Anyway, the bank rally seems to be a Bear Market again.  The Bank Index (BKX) is topping out after a dismal attempt at a rally.  M2F is overbought and declining (bottom pane, brown); M5 (3) Momentum is collapsing (middle pane).  We should see more selling in bank stocks coming in almost immediately.  Often, where the bank stocks go, other stocks soon follow.
We received a cluster of sell signals in housing stocks today (see below).  This makes us wonder if investors in housing stocks are getting ready, again, to taste the punishment of a cruel north wind.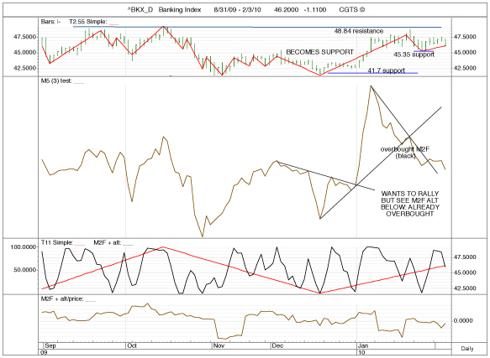 The four charts below show individual banks (BAC, BBD, GS, JPM) all showing a similar pattern -- overbought short term (M2F alt, bottom pane, brown) which is 'predicting' another trading top at these levels.  If this happens -- there is a very good possibility it will -- then the Bearish Pattern of lower lows and lower highs will kick in for all four banks.
Spain is heading toward default -- so I can't understand who was buying this stock anyway.  The world works in mysterious ways.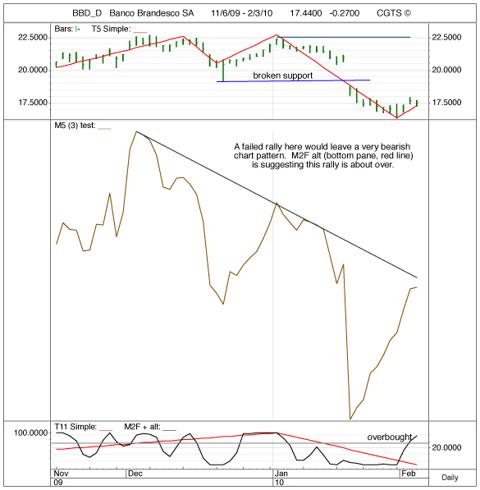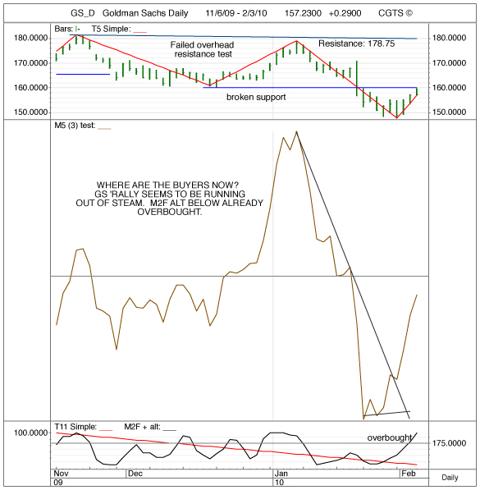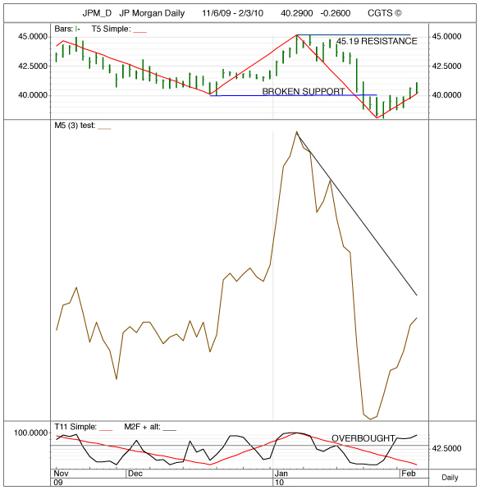 SELL SIGNALS
An interesting cluster of sell signals today (remember, these sell signals are not trend change signals, but profit-taking signals) has the Housing Index (HGX), Toll Brothers Homebuilders (NYSE:
TOL
) and (NYSEARCA:
XHB
) the Homebuilders ETF all giving sell signals at the same time.  I'd be somewhat concerned about this if I was long any of the Homebuilding stocks or ETFS.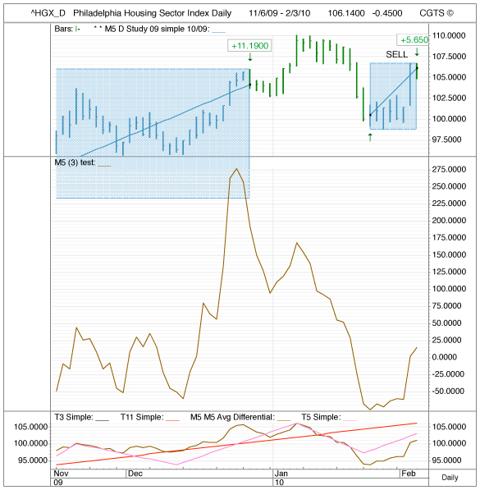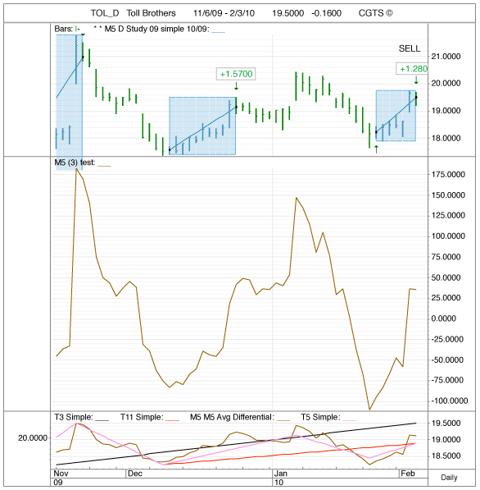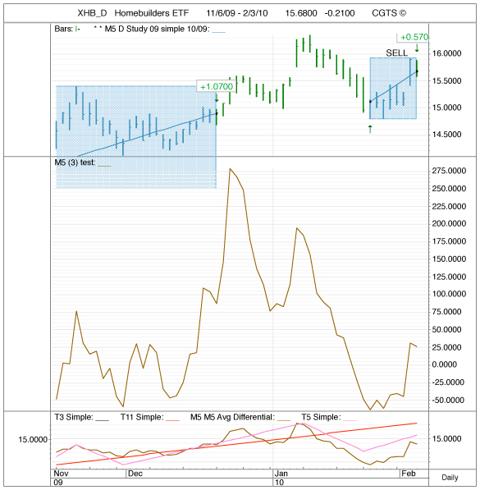 More information on this system can be found at
home.mindspring.com/~mclark7/CGTS09.htm
A draft of the book Turn Out the Lights can be found at the website below.  This book is a description of the metaphysical causes of the economic cycles of expansion (Day) and contraction (Night).
www.hoalantrangallery.com/Turnoutlights.htm
 
Michael J. Clark's Gate Timing System
Hanoi, Vietnam
84 4 221 92210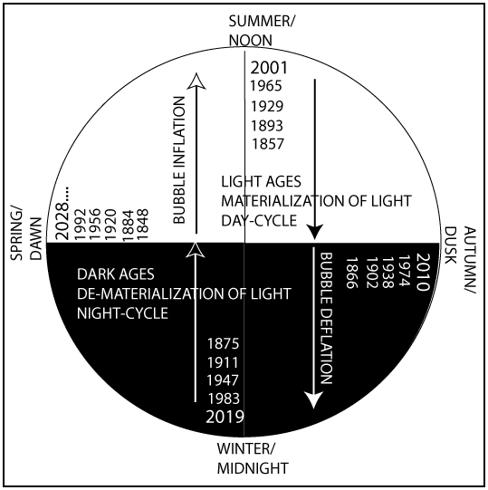 Disclosure:
The author owns none of the issues he mentions in this article.
Disclosure:
Disclosure: The author owns none of the issues he mentions in this article.
Disclosure:
Author owns no issues mentioned in this post.