CLARK'S GATE TIMING SYSTEM
Monday, 13 February 2010
"By a continuing process of inflation, government can confiscate, secretly and unobserved, an important part of the wealth of their citizens."

    -- John Maynard Keynes


EUROPEAN CRISIS -- A BOON FOR AMERICAN MARKETS?


We know that the European debt crisis has been a boon for the US Dollar.  The Dollar was about to be publicly executed until the Greeks (bearing gifts) came along.   A strong dollar has also been bearish for commodities and gold, of course.  One wonders what this dollar rally means for the short stock rally -- that is, the rally which has actually been more the consolidation of stocks at lower levels?
We've come to think that dollar strenth and stock weakness are correlates, since, after March 2009, they have been.  Historically, a strong dollar and strong US stocks have been the usual pattern.
Where are TBonds going?  TBT, which shorts the long-term bond (20+ year maturity) has bottom and is going higher, meaning that long-term yields are rising, bond prices are going lower.  SHY, the 1-3 year TBond ETF, is positive and is going to continue climbing.  It is hard to know what this means, with all the manipulation of the financial markets that has been conducted as official policy this year by and through the Fed.  Is the Fed still buying short-term bonds?  Has the Fed stopped buying long-term TBonds?
The European crisis may, in fact, keep bond yields low, now that Europeans are fleeing their own paper fearing a financial meltdown in Europe -- caused by a political crisis over the integrity of the EU itself.
How do stock charts look after a couple weeks of minor bloodletting, since stocks peaked in late January.
BKX, Banking Index: seems to be heading lower.  Momentum (M5 3, middle pane) can't find any strength to rally; and is turning back down again.  M2F alt is short-term overbought (bottom pane).  In fact almost all the index charts we look at are overbought short-term, without having rallied much, in fact.  They look like they are going lower.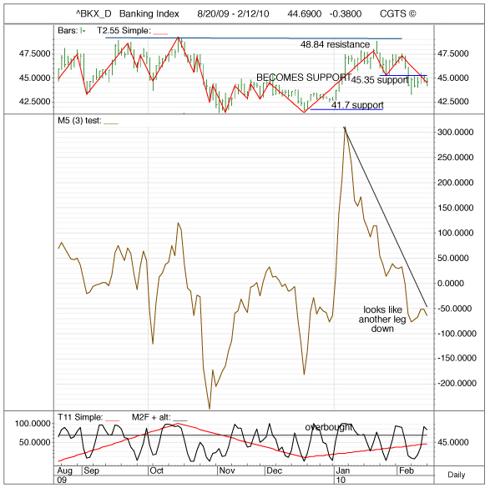 DJI, Dow Jones Industrials: Held above support levels during decline but is now short-term overbought (M2F alt, bottom pane) and should come down again, testing 9678.95 support.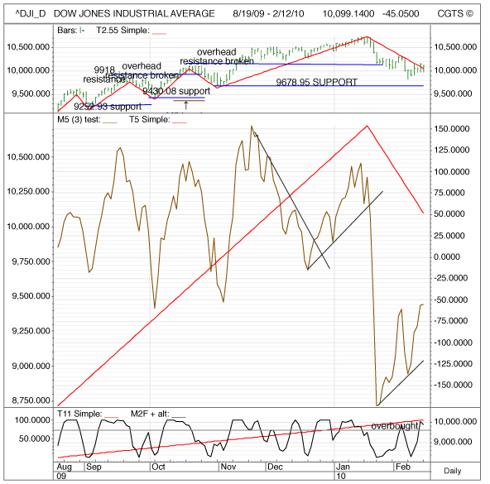 SH, Short S&P 500 ETF: Inverse ETFs should be showing strength now, and trending up, IF the stock indexes are in for more selling.  SH confirms this, having put in both new bottoms and new tops.  It is resisting selling now; and, in fact, is oversold short-term (M2F alt, bottom pane).  It is looking to rally.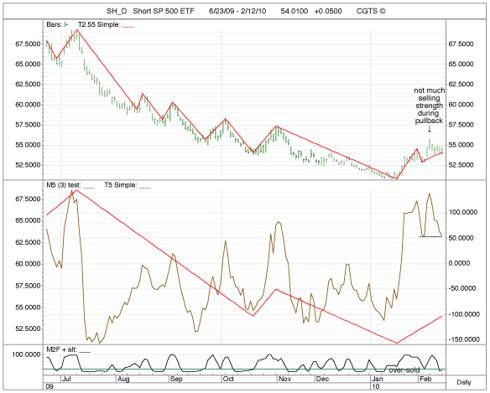 FTSE, British Index: Overbought short-term (M2F alt, bottom pane).  Dipped under support and then rallie back above support; test of 5103.78 seems a given.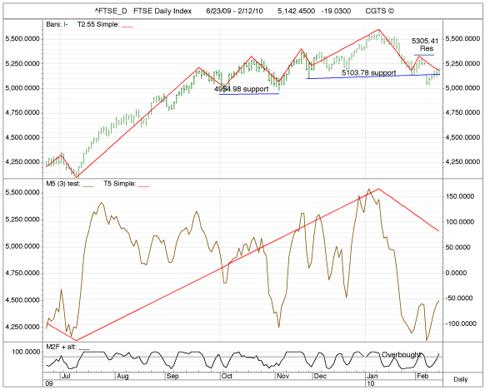 N225, Nikei Index, Japan:  Has room to rally a bit still (M2F alt, bottom pane) -- but momentum seems weak and weakening.  Inability to take out old M5 (3) momentum high indicates more selling is probably coming.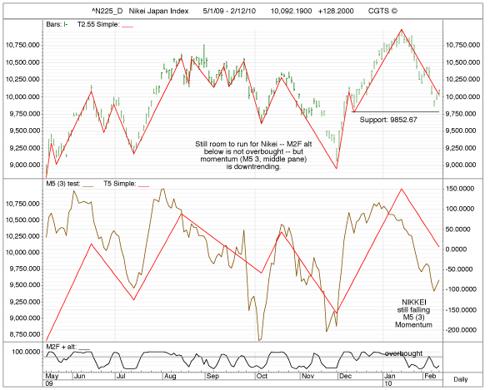 NDX, Nasdaq 100 Index: Has held up pretty well.  All those tech stocks are resisting big time selling.  Momentum (M5 (3)) has broken back up in an attempt to forge a trading bottom.  Short-term momentum (M2F alt, bottom pane) is overbought however.  Let's see if the new support put in at 1734.03 can hold up.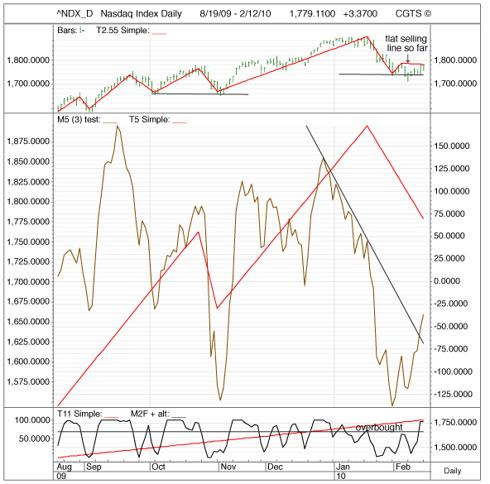 OEX, S&P 100: Trading top in momentum (M2F alt, bottom pane and M5 (3) middle pane) both suggest we will go lower this week.  479.01 is the near target below.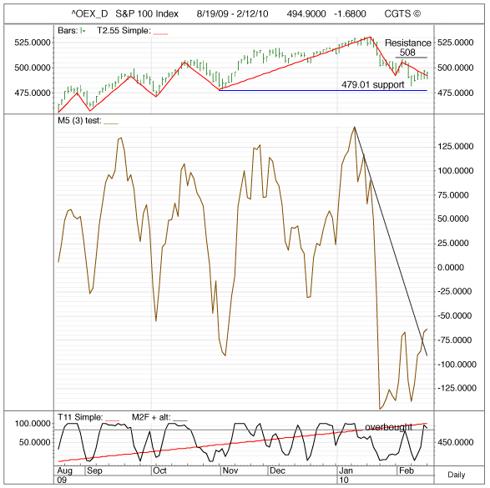 XOI, Oil Stock Index: Higher highs and higher lows, indicating a bear pattern has been put in place.  Overbought short-term (M2F alt, bottom pane) should mean that prices will come down here.  A new low in M5 (3) is possible and would be a negative.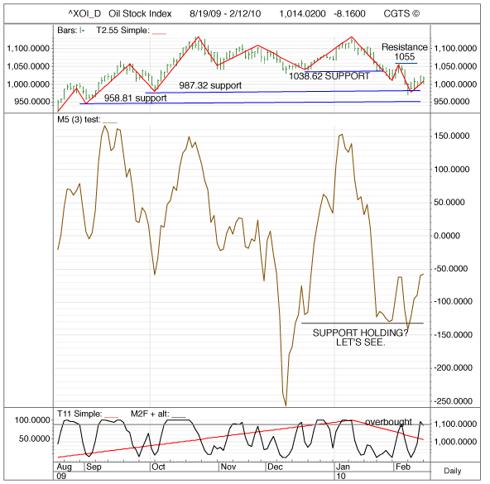 SOX, Semiconductor Index: Still a pretty good picture, except for M2F alt, bottom pane, which is overbought.  The Trend pattern of this one (cousin of the NDX) is more positive than most indexes -- meaning that tech stocks are one of the leaders, declining less than other stocks now.  If the selling coming in turns the shor-term trend (T5, red line, middle pane) negative, this will change the characteristics of the chart to a negative however.  It's always dangerous to trade against the overall trend of the markets, which is now negative.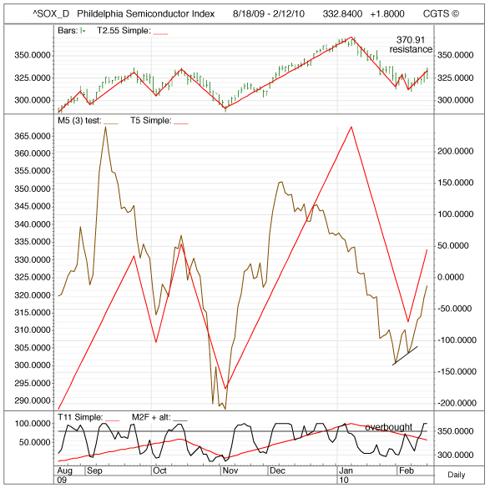 ANYONE WANT TO TRADE
Having admitted that it is dangerous to trade against the positive trend of the markets, I now turn around and try to tempt the reader into just that.  AMGN looks pretty good in a short-term long trade.  I've struggled with buying options in the past, consider options almost always OVERPRICED, and wonder if the ONLY way to make money on options is by selling them.
Here are two call options.  We think AMGN will go up short-term.
.YAA\10B20\55.0 (AMGN Feb 55 calls): 1.58.
.YAA\10C20\55.0 (AMGN Mar 55 calls): 2.45.
We could, if we were so inclined, sell or 'write' puts instead.  For instance, Mar 55 puts (.YAA\10O20\55) sell for 1.
AMGN is selling at 56.48.  The Mar 55 calls sell for 2.45.  They are already in the money by 1.48 points (they are already worth something), so you are actually paying .97 for the time value of a month or so.  If AMGN fall back below 55 at expiration, your calls are worthless.  Of course, you can always sell them during the life of the contract, before expiration in March.  The price you get depends upon the market fluctuations.  Generally, we have found that prices don't generally move enough for short-term traders to do really well with options.  We will watch this event with our readers however.
If AMGN gains 2 points in the next week, we would expect the options to rise by at least two points.  This is NOT always the case.  And, when options traders try to get out of a market position, they often get skinned by traders working in a relatively thin market.  Don't assume you always will get your asking price.
If we decide to write puts instead, we get paid $1.00 per contract right across the board and that profit is ours.  And, as long as the underlying stock does not fall below $55 a share we don't have to think about it again.  If we write 1,000 contracts, we gain $1,000 for our time.
The put option we have written gives the buyer the right to shortsell shares of AMGN at the strike price ($55/share) -- so, if AMGN falls to $50, for instance, the buyer could, at expiration, execute the option and demand all the shares the contract covers (1000 contracts x 100 shares each = 100,000 shares) which could become VERY costly for the writer of the option.
In a very volatile market, writing options becomes less attractive.  In a dead, consolidating market, writing options becomes more attractive.
At this point of our existence, we'd rather pay the significantly higher costs to buy shares outright and live with them (options offer terrific leverage, but at a cost, and at an enhaced risk).  We'll keep our eyes on the volatility of these options prices as the life of this trade continues.
We will look at options with our trading system more again this year to see if trading options make sense even if you know the direction of the issue most of the time.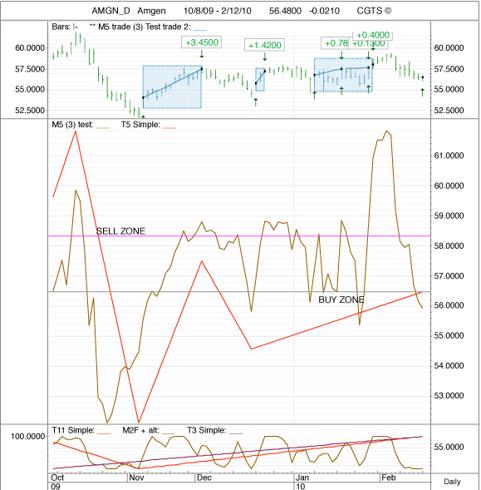 More information on this system can be found at
home.mindspring.com/~mclark7/CGTS09.htm
A draft of the book Turn Out the Lights can be found at the website below.  This book is a description of the metaphysical causes of the economic cycles of expansion (Day) and contraction (Night).
www.hoalantrangallery.com/Turnoutlights.htm
 
Michael J. Clark's Gate Timing System
Hanoi, Vietnam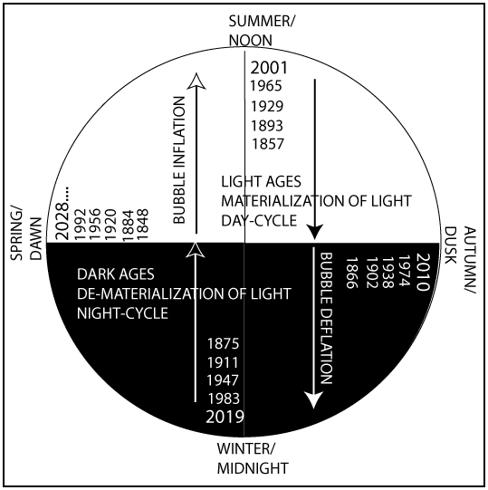 Disclosure:
Author owns no issues mentioned in this post.
Disclosure:
The author does not own issues he mentions in this post.