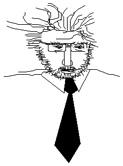 At the end of last week Hedge Fund Master David Einhorn was all over the internet announcing his new 5 STAR holding, YELP. Only YELP is not a five star stock -- or is it?
My view of YELP is not so great. Of course, Einhorn has already been buying YELP hand over fist, probably while he speaks disparagingly of it. Once he has accumulated his position (during the YELP decline), he then announces he likes the stock. He does this days before the next earnings announcement period. Then he spends a great deal of money ensuring a rally off the earnings announcement, spending his own money to goose the stock. All of his announcements the week-earlier had caused a lot of buying, since he knows many investors like to coat-tail famous money-masters. How many investors buy a stock because Warren Buffet owns it, because Carl Icahn (NASDAQ:ICON) owns its, because Greenlight Capital owns it?
He gooses the stock after the earnings announcement by buying more, and prepares to goose it again and again when needed. This is how big money creates wealth for themselves. Us small investors cannot influence the direction of a stock we own -- manipulate is another word for it. Big money can.
Maybe Einhorn is right about YELP. So far, in my system, YELP is NOT a buy, even after its 20% gain today. Perhaps Einhorn is locking in profits now. A 20% gain IS, in itself, significant. Let's look at YELP: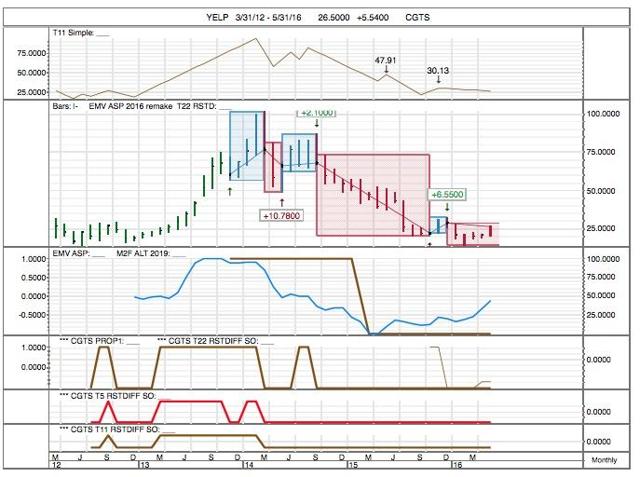 YELP is still a shortsell in our monthly chart. All the trends are negative; AND the trend direction remains bullish, with overhead resistance of 30.13 (top pane).
I think YELP will still re-test monthly lows (21.7), which I should have also marked on the chart but did not. Would I short YELP at this point? No. One can see the tension in the trend direction in page 1 -- the T11 Simple in down but bending back up because of the buying. I would avoid YELP at this moment. I needs to break 30.13 to be a buy in my system, and have the trends flip back up. I would simply watch this one for a time to see what it really wants to do. I am skeptical about the internet social media type stocks. I'm not sure that selling information is really enough, especially when there is potentially so much competition and so little overhead for selling information.
I have been wrong before, however.
By the way, it seems like YELP'S earnings were mixed:
How Yelp Crushed Earnings Despite a Loss

By Chris LangeMay 6, 2016 10:45 am EDT

inShare

Yelp Inc. (NYSE: YELP) reported its first-quarter financial results after the markets closed on Thursday. The company said it had a net loss of $0.08 per share on $158.6 million in revenue. That compared to consensus estimates of a net loss of $0.15 per share on $155.6 million in revenue.

In the first quarter, Local revenue totaled $138.1 million, an increase of 40% from the same period in the previous year. Apart from this, Transactions revenue totaled $14.5 million, versus $6.6 million last year, primarily due to the Eat24 acquisition.

Also during this quarter, an average of 21 million unique devices accessed Yelp through its mobile app on a monthly basis, noting an increase of 32% compared to the same period in 2015.

In terms of the outlook, the company expects net revenues to be in the range of $167 million to $171 million for the second quarter, while adjusted EBITDA is expected in the range of $21 million to $25 million. Consensus estimates call for a net loss of $0.08 per share on $167.69 million in revenue.

Read more: Yelp Q1 Smaller Than Expected Net Loss (NYSE: YELP) - 24/7 Wall St. http://247wallst.com/media/2016/05/06/how-yelp-crushed-earnings-despite-a-loss/#ixzz47ujqkL6g
Follow us: @247wallst on Twitter | 247wallst on Facebook
MJC, CGTS