DESIGNING A SIMPLER TRADING PICTURE
Dec. 27, 2016 9:40 PM ET•CENX, SGG•Comment!
Disclosure: I am/we are long CENX.
I wrote this article myself, and it expresses my own opinions. I am not receiving compensation for it. I have no business relationship with any company whose stock is mentioned in this article.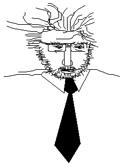 Our goal has always been to design a simper (yet still meaningful) trading picture. We believe we are getting closer. We have reconfigured our TRADING TRIGGER indicator in the hope of making it more expressive.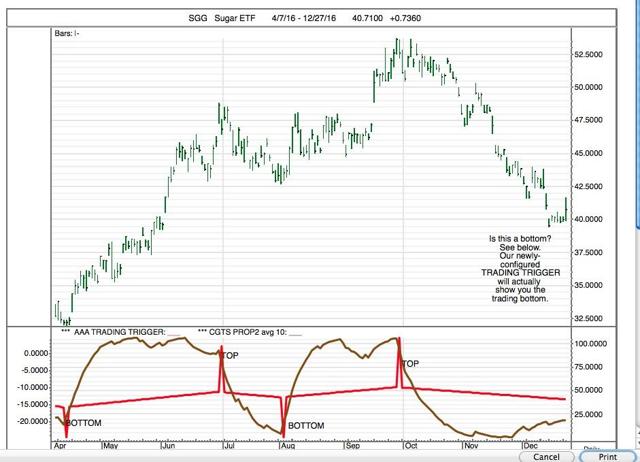 One of our favorite issues -- SGG, Sugar ETF -- which has been crushed by a stronger US Dollar recently -- exploded upward today. Is this a trading bottom for SGG. Look at our TRADING TRIGGER indicator (revamped). We want to see our TT break down, marking a trading bottom. The brown line (PROP2 AVG) tends to bottom BEFORE the TRADING TREND flips.
The AMBA charts marks PROP2 AVG bottoms (blue line this time) with arrows. A chart with an arcing PROP2 AVG below 20 is warning you that a bottom is near.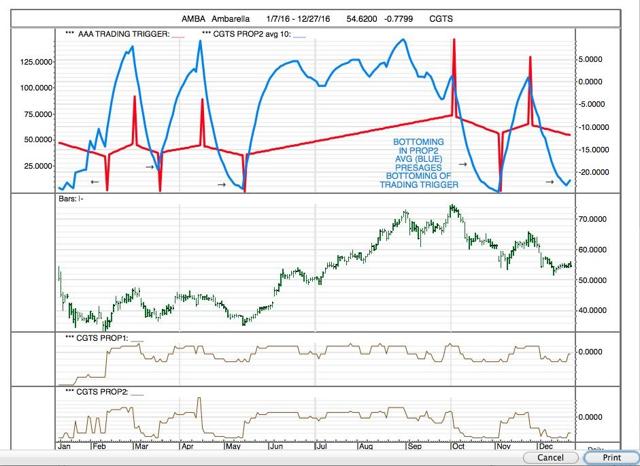 We are also looking at the TRADING TRIGGER usefulness in marking resistance and support levels and establishing BUY PRICES based on the TT. The CDE chart shows how this would work.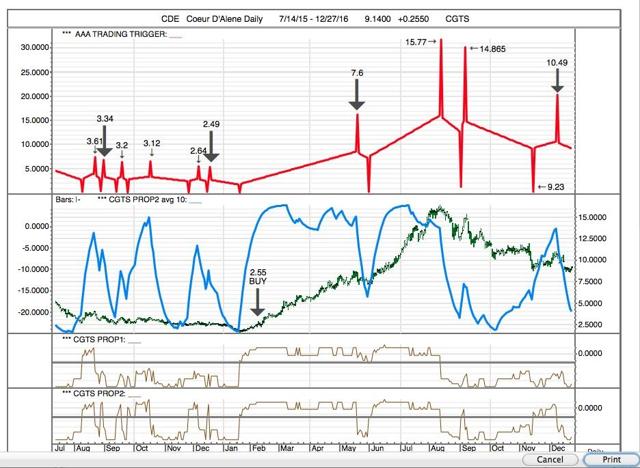 The last bottom of CDE TT was 9.23; and this bottom DID NOT HOLD (9.14 currently); the last top was 10.49. A trader could put a BUY SIGNAL in with his broker to buy CDE when it closed above 10.49. We show in the chart how this would have worked earlier in trading CDE (Yes, we are still studying this system for more data on this) -- a Buy Order at 2.56 in February would have resulted in a major profit. NOTE how the TT marks major declines in an orderly process of declining prices.
Here is more pictures:US DOLLAR strength? Yes. TT2 for currencies.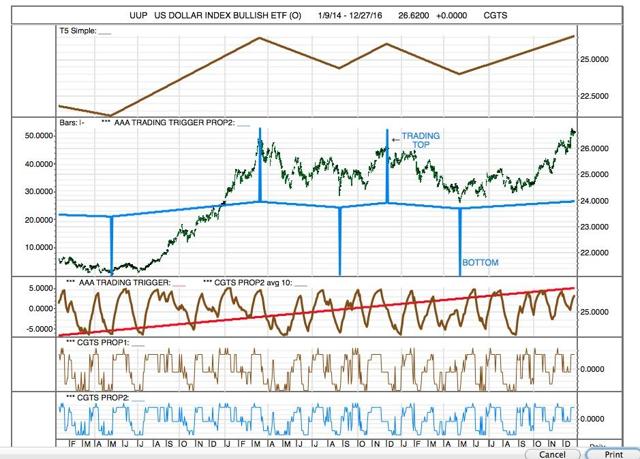 A couple of our favorite stocks at the moment: CENX and VALE.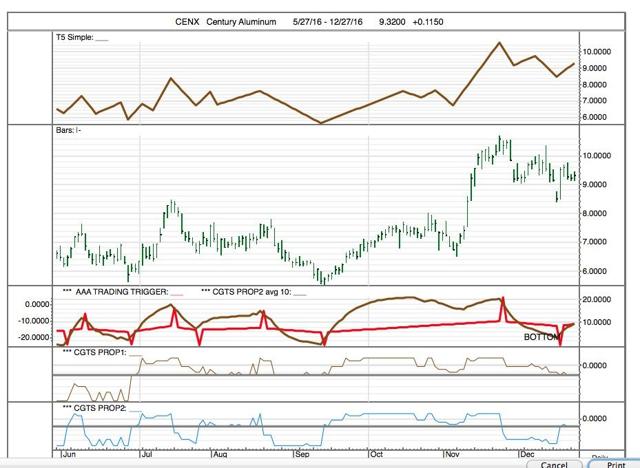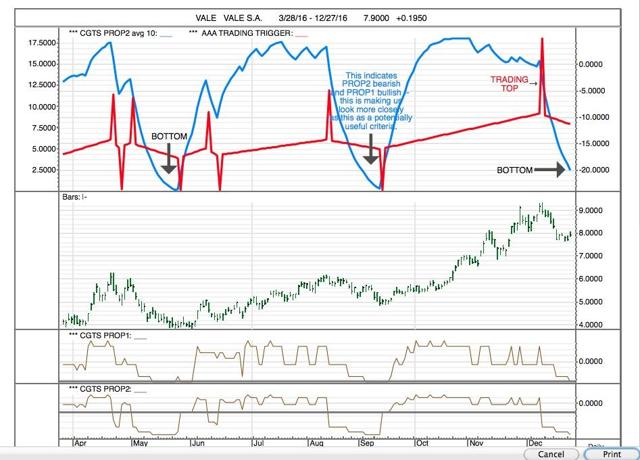 Are you a gambler? Natural Gas is a gambler's venue. And it is bullish here.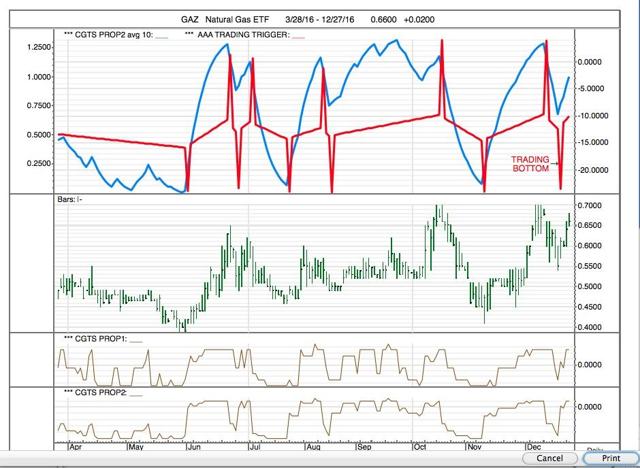 VVUS looks like a bearish trade here.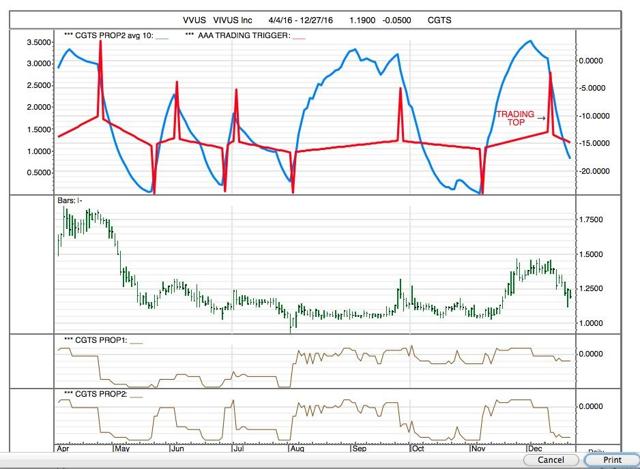 Here is a silver mining stock that seems to be bucking the sector trend down.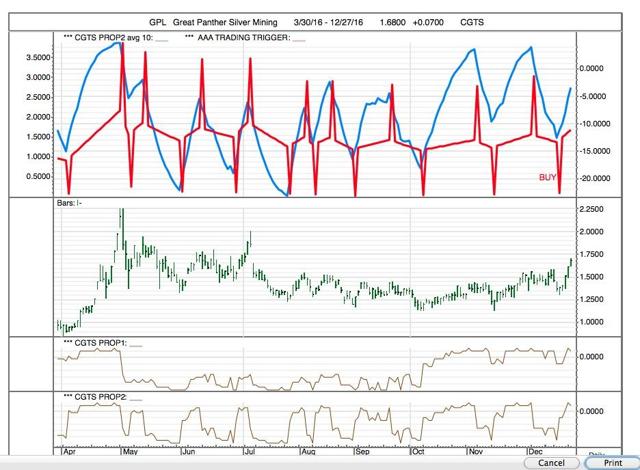 Another low-priced stock with potential.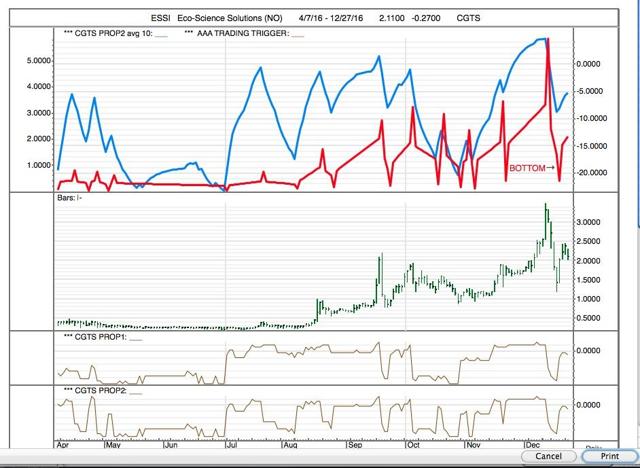 We have a short position in JNUG -- and we are nervous about it. Gold popped up a bit today. The PROP2AVG is trying to turn back up -- this might be the beginning of a reversal back up for gold stocks.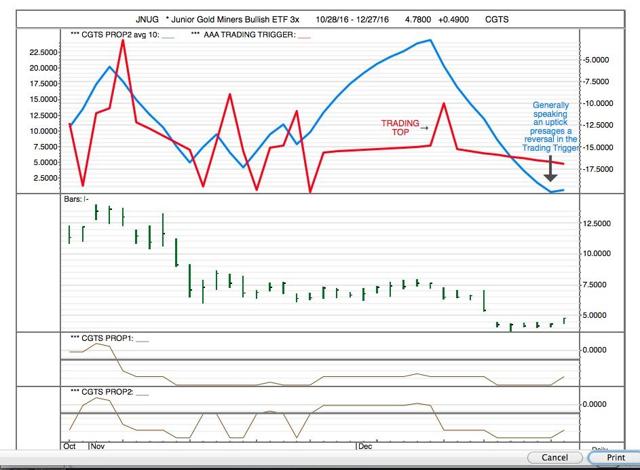 CC was a wonderful trade earlier in the year.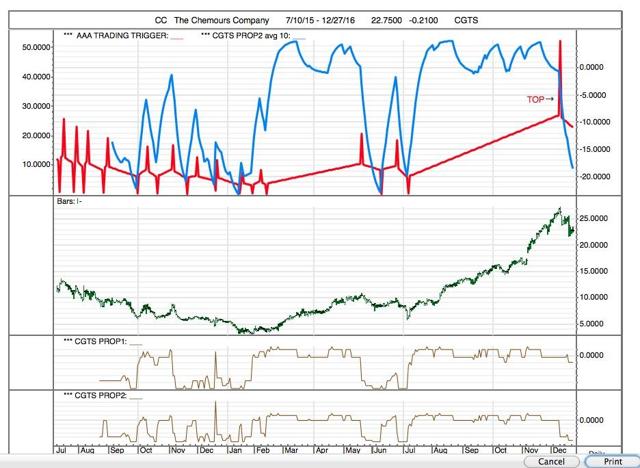 Here are several trades we like now, based on this simplified trading picture: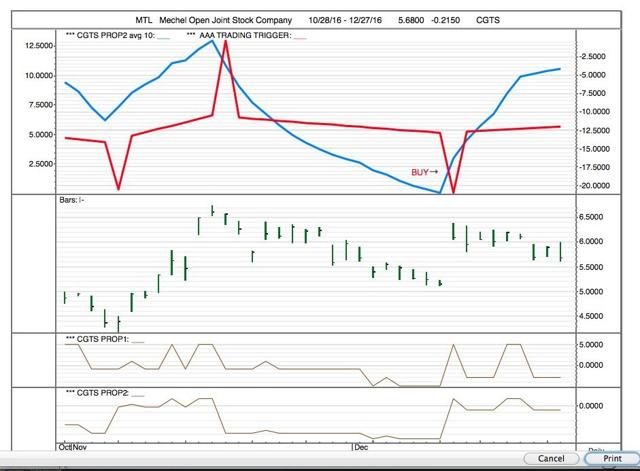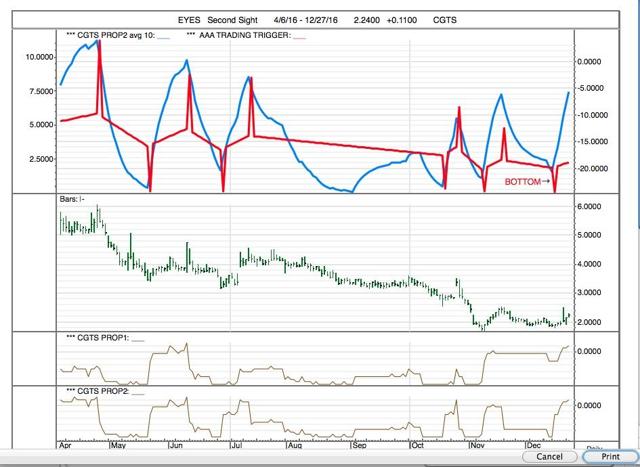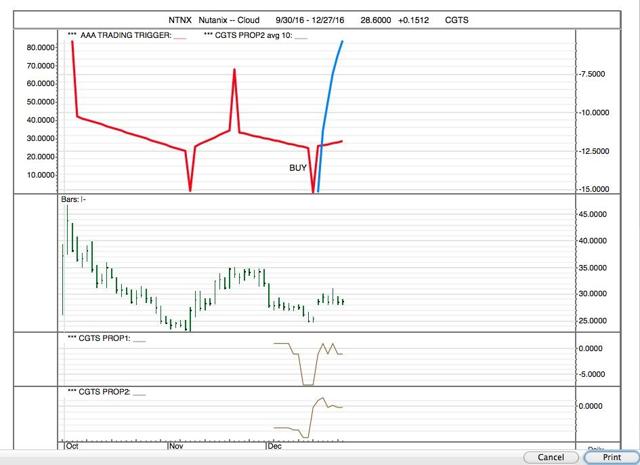 Our long position in DRYS has taken a bit of a beating. But we think it still may jump higher.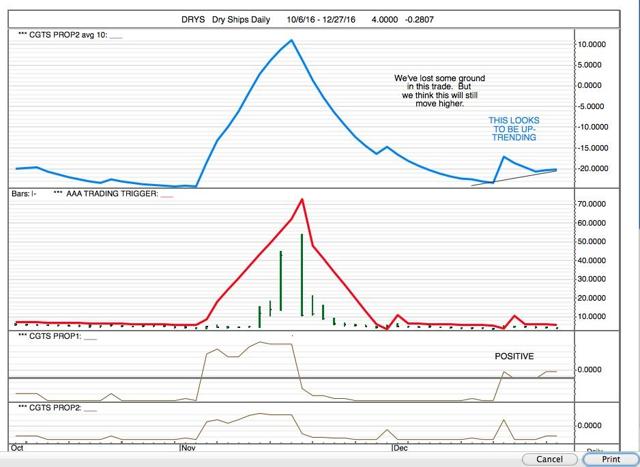 Our Trumpet 4 System is giving a SHORTSELL SIGNAL.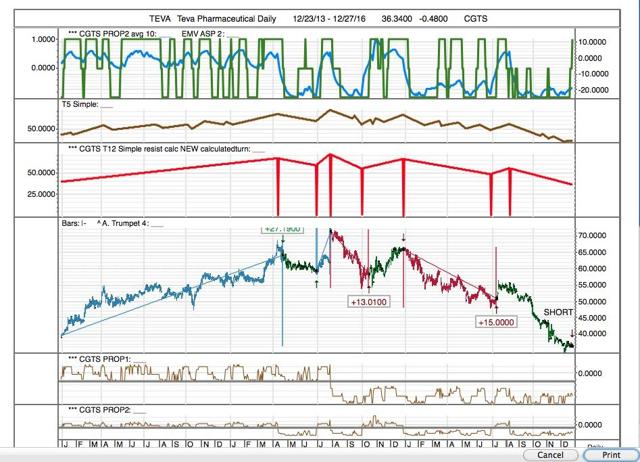 TTRUMPET 8 is giving us a SHORSELL SIGNAL on AGN, Allergen.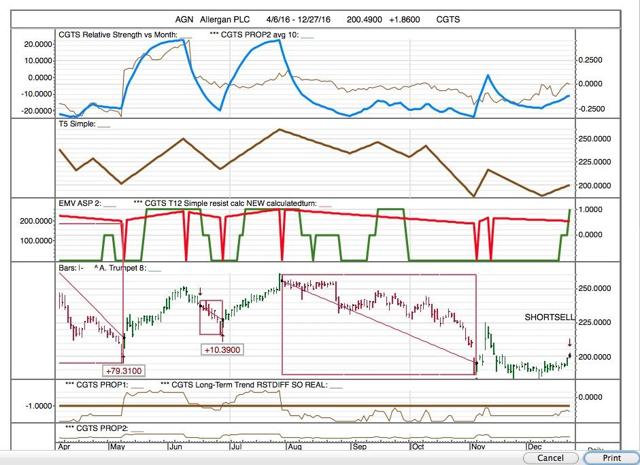 We have a BUY SIGNAL on JEC, Jacobs Engineering -- Trumpet 8.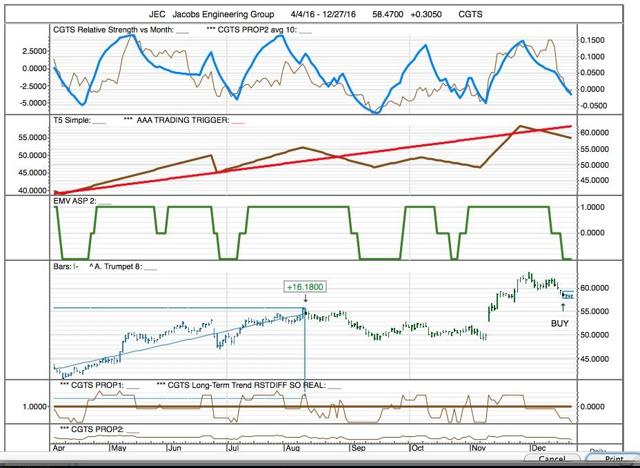 And we have a COVER SIGNAL on BWLD.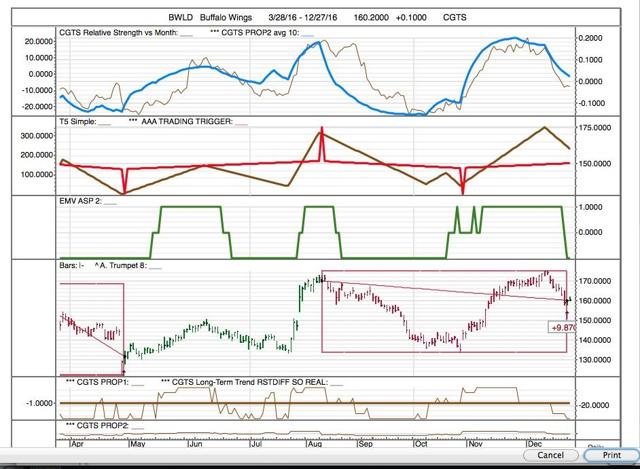 Best to all.
MJC, CGTS
Disclosure: I am/we are long SGG.