VNR: UGLY REMINDER OF WHAT CAN HAPPEN IN (AND TO) A BULL MARKET
Feb. 3, 2017 12:44 AM ET•VNR, YINN•Comment!
Disclosure: I/we have no positions in any stocks mentioned, and no plans to initiate any positions within the next 72 hours.
I wrote this article myself, and it expresses my own opinions. I am not receiving compensation for it. I have no business relationship with any company whose stock is mentioned in this article.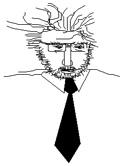 Today VNR (a speculative buy at best) gave us a dire reminder of what can happen in (and TO) a bull market. I claimed VNR was a speculative short-term trade, a BUY. In fairness to me, I did say VNR was not a buy in our weekly or monthly charts -- which means it was a bit early.
seekingalpha.com/instablog/428250-michae...
Then, today, VNR filed for Chapter 11 Protection. And the stock tanked 60%.
BEFORE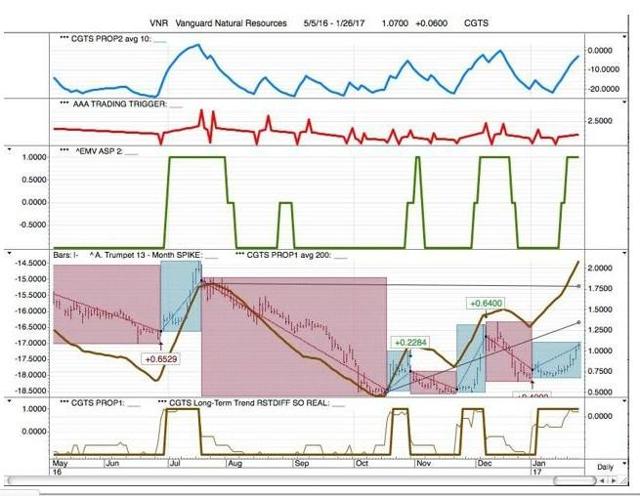 AFTER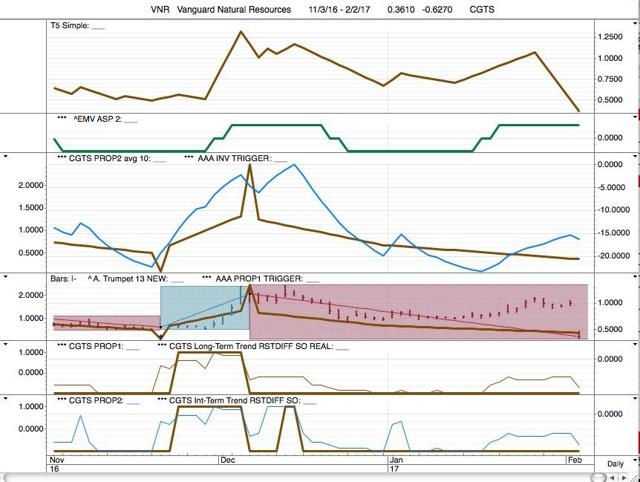 I'm hoping no one got caught on this one. The reminder is this can happen with almost every stock -- not the Chapter 11 part -- but the crashing part. And it can happen to the market itself.
By having a diversified portfolio, this mayhem is limited -- unless it hits the entire market. What could make this kind of crash hit the entire market? Well, world war might. Something catastrophic in the world's leadership. Is that where we are heading? Perhaps.
How do we neutralize this possibility? The only way to neutralize it is to have portfolio insurance. Traditional portfolio insurance is expensive and counter-productive to the main goal of investing -- unless the market crashes.. If one has a portfolio value of $40,000 and one wants to protect this with $40,000 of OEX put protection, this not only costs quite a bit but it significantly cuts down on the profits of a bull market move. If the market is going up and one buys index option protection against a decline, then the protection becomes a built-in break on gains.
We believe that portfolio insurance is built into our system IF we follow the simple rule of investing as much money in SHORT positions as in long positions. Of course, our SHORT positions are not simply insurance -- they are active positions following our SHORT SIGNALS. I admit, I am not doing this. I need to start doing this.
My premise is that a 50-50 long-short portfolio (all trades based on our system signals) IS insured against a crash.
It is somewhat complicated to balance a portfolio in this way. IS GOLD a short position against the market? It is not a pure short position.
At the moment, our model Trumpet 3 Portfolio has a SHORT VALUE liability. The SHORT VALUE of this portfolio at the moment is 15.89%. How do we begin to balance this deficit? We can do this rather quickly. We can allocate twice or even three times the budget for SHORT POSITIONS, which is what we will probably do. Of course, if one's money is limited, this solution becomes more difficult. One might suspend long purchases until short positions catch up. One could also prune long positions that are lagging or those that have reached profit targets.
I'm not suggesting one should panic. However, it is a basic law I have forgotten, which I am suddenly remembering. (My own personal portfolio has a 1.75% Short Value -- this is unacceptable.) Remember a few things: 1) we DO NOT short stocks or indexes haphazardly to achieve balance; we only short issues giving us a SHORT SIGNAL; 2) pay attention to inverse ETFs -- SHORTING A SHORT (or bearish) ETF is NOT a SHORT position; 3) holding stocks through a crash and using time to repair the damage is often possible; but options are "leased" stocks -- timing is the essence of stock options; and a massive market crash could wipe out an entire (if umbalanced) portfolio.
I am adding "Short Value" for each portfolio in my DASHBOARD. I will update this weekly. I would recommend each of you do this. If money is not an issue, I would say DOUBLE your allocation to short positions until you achieve a 50-50 profile. You say: why should the balance be 50-50 in a BULL MARKET? Your own MOMENTUM reading is 75% bullish. What about following this model: 75% long; 25% short? Yes; this would probably also work. It is better than a 98% bullish model, clearly.
Here is a list of issues that we consider to be long-term BEARISH, SHORT CANDIDATES at the moment:
| | |
| --- | --- |
| BWLD, Buffalo Wings | 149.230 |
| FIT, Fitbit | 6.135 |
| FSLR, | 31.584 |
| GES, Guess | 12.810 |
| GILD | 72.710 |
| HAIN | 39.350 |
| HTZ | 20.710 |
| HURN | 45.300 |
| ICPT | 107.900 |
| JAKK | 5.325 |
| JCP | 6.725 |
| KOF | 63.080 |
| KWT | 36.230 |
| LILAK | 22.070 |
| MNK | 49.760 |
| MNST | 41.830 |
| NDLS | 4.450 |
| RGR | 50.800 |
| RL, Ralph Lauren | 76.920 |
| SEA | 12.050 |
| SHAK | 34.760 |
| SHLD | 6.605 |
| TAN | 17.325 |
| TEVA | 34.185 |
| UA | 18.135 |
| VRX | 14.290 |
| WMT | 66.720 |
| XNET | 3.720 |
| XOMA | 4.650 |
| XRX | 7.165 |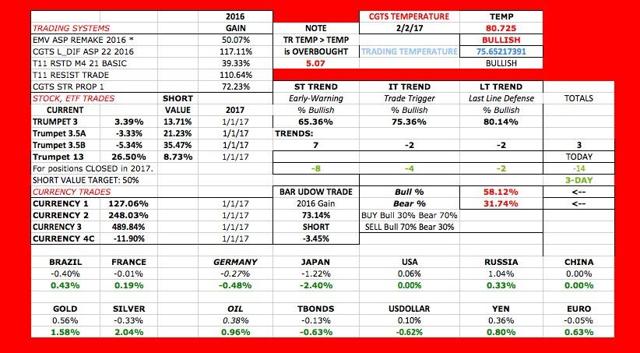 We are still quite bullish. Our MOMENTUM is 75% bullish -- this is substantial.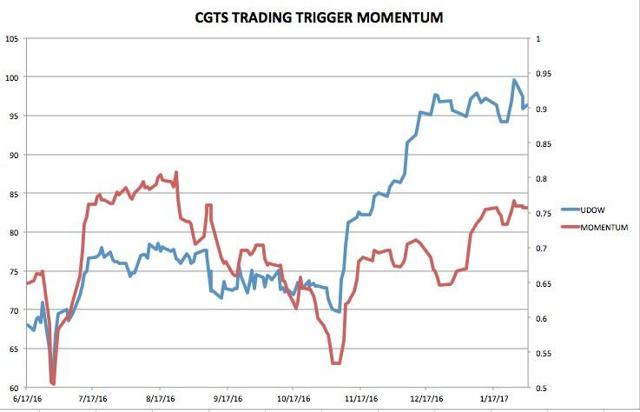 We'd like to stress that our 'excitement' comes from the fact that we have broken our own rule. We need to begin balancing this over time -- my plan is to take steps tonight to cut my own personal portfolio's SHORT VALUE deficit from 1.5% to 8%. My target is 25% now, in line with our MOMO numbers.
I was quite excited about another long position, a monthly BUY, YINN, Chinese stocks bullish.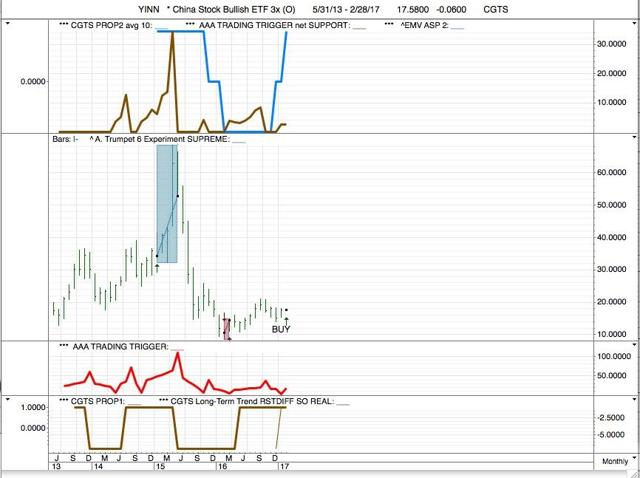 I cancelled my BUY ORDER until I get my portfolio balanced. All things being equal this seems like a positive picture. Note our TRADING TRIGGER (red line) is bottoming.
Best.
MJC, CGTS
Additional disclosure: PORTFOLIO INSURANCE. 50% LONG POSITIONS; 50% SHORT POSITIONS.