CGTS, WEDNESDAY 6 MAY, 2017: BUY LABU, BIOTECH STOCKS BULLISH ETF
Sep. 7, 2017 12:46 AM ET
|
Includes: ERX, ERY, GASL, LABU
6 September 2014
A short report today.  We saw heavy selling yesterday when NDX hit its OVERBOUGHT zone.  Why is this so?  A lot of machine trading is happening in the markets today.  Traders use similar machine orders -- and sell when an index reaches OVERBOUGHT -- and re-buy when that same index reaches OVERSOLD.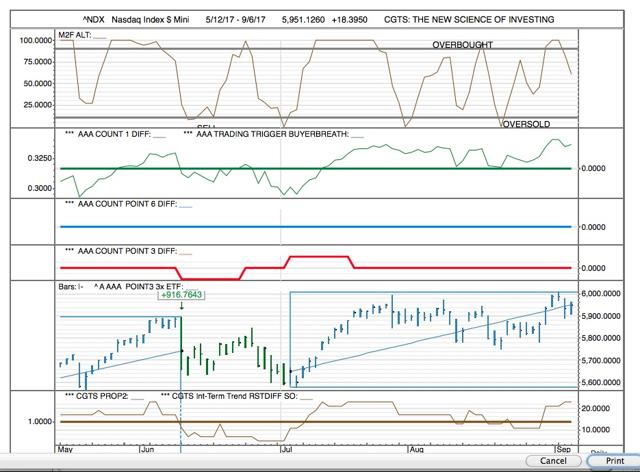 NDX (QQQ) is still LONG.  I always like to see if an issue spends extra time in the OB Zone (bullish) or in the OS Zone (bearish).  In the chart above, NDX has spent a lot of time in OB territory, but has made very short spells in the OS zones.  Is this changing?  If it is, it will be something to note.  Our EMV SUM gives points for stocks staying in the OB zone more than in the OS zone.
We have one new BUY SIGNAL that we like tonight -- it is a 3x-ETF but it is being triggered as a CGTS SPIN SYSTEM BUY.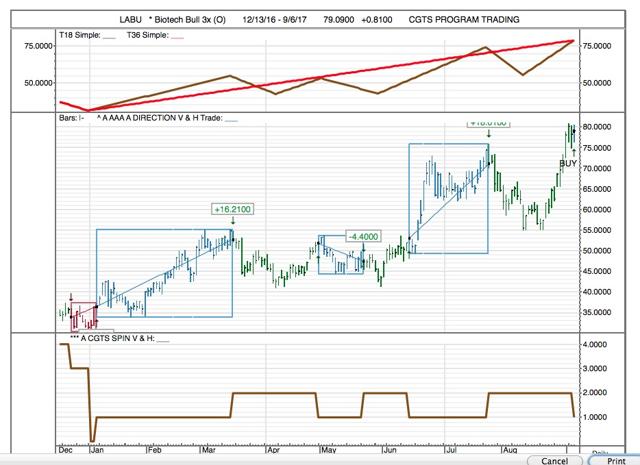 We have more SIGNALS from our 3x-ETF Systems:
SHORT ERX, Energy Stocks Bullish ETF
LONG ERY, Energy Stocks  Bearish ETF
SHORT GASL, Natural Gas Bullish ETF.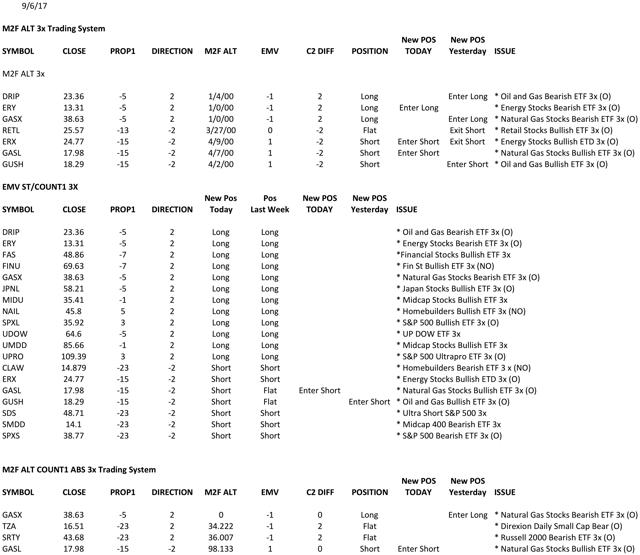 One new TRADING SIGNAL for tomorrow, LABU, which we showed above.  We are already LONG CURE, a Health Care bullish ETF.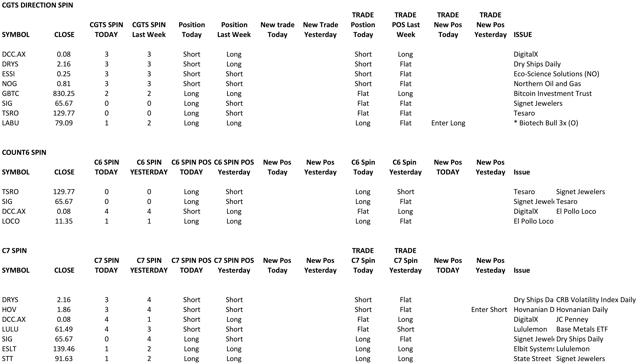 For fundamental CGTS descriptions:

MJC, CGTS
We have refined our system to a simple system of SPINS.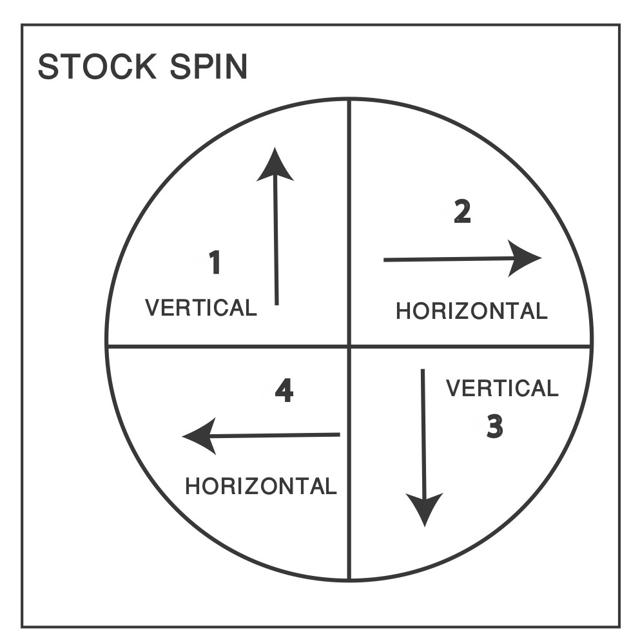 TRADE
1 = BUY; 2 = TRADING SELL; 3 = SHORTSELL; 4 = TRADING COVER
INVESTING
1 = BUY; 3= SHORTSELL
Please note: Count7 Spin System requires 2400 data-points to calculate.  Where zero show here, it is because we do not have enough trading days compiled to calculate a value.
PROP1 l GREATER than or equal to -7 is BULLISH by definition; PROP1 below -7 is BEARISH
Disclosure: I am/we are long CURE.
I wrote this article myself, and it expresses my own opinions. I am not receiving compensation for it. I have no business relationship with any company whose stock is mentioned in this article.
Disclosure: I am/we are long CURE.
Additional disclosure: SHORT ERX