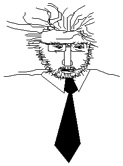 24 NOVEMBER 2017
I continue to read headlines (I rarely bother with the stories) of those predicting the fall of Bitcoin, of stocks generally, of TESLA...these stories have been popping up for over a decade.  One has to wonder why people keep clinging to ideas that are proven wrong?
I started thinking of BITCOIN (generically) as a New Technology -- while reading all the NEGATIVE COMMENTS on the SA thread: "GETTING READY FOR THE BIG SHORT IN BICOIN".
I believe history moves in 36 year cycles.  18 years of expansion, growth, organization, Day-Cycles (...1911-1929; 1947-1965; 1983-2001; 2019-2037...) ALWAYS followed by 18 years of death, destruction, decay, despair, deflation, depression (economic and psychological) -- (...1893-1911; 1929-1947; 1965-1983; 2001-2019...
Energy to Spend is the Day-Cycle -- hence, the SPENDING CYCLE.  Energy Crisis -- Energy to Conserve -- Conservation of Energy -- Is the Night-Cycle, the Sleep-Cycle -- hence, the SAVING CYCLE.
Positive Energy (cycling outwardly, Objective Energy) in the Day Cycle.  Negative Energy (cycling inwardly, Subjective Energy) in the Night-Cycle.
Every REBIRTH (...1911, 1947, 1983, 2019, 2055, 2091...) is accompanied by a new technology.  I remember my boss walking in to our office in 1983 with a new computer and setting it on my desk, saying "Ok, it's your job to learn how this works."  Very personal experience.  1947 was television (?).  1911 was automobile....  Remember how the telephone was just a FAD, never going to last?
Help me with the others:
1875?
1839?
1803?
1767?
1731?
1665...?
I have been looking for the new technology of 2019. Of course, robotics and nanotechnology are at the forefront of my thinking.  But what about a new technology in money?  WOW!  Now that IS unexpected.  If BITCOIN (generically) is the new technology, then it's time to BUY AND HOLD because it will change the world for ever.  If BITCOIN (generically) is just another form of gold, then it will top in 2019 and spend the next 18 years sinking.  Which is it?
Right on time, GBTC hiccups, leaping 255 points.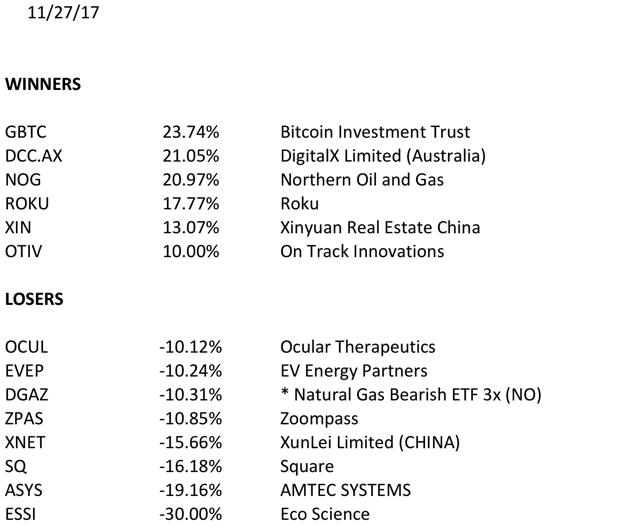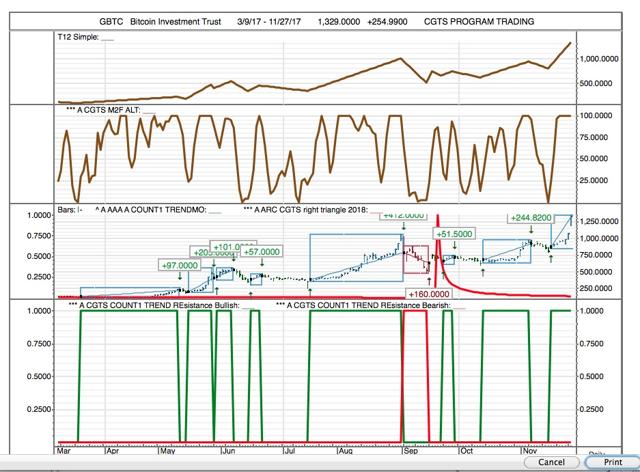 ********
Speaking of Night-Cycle Negativity, we remember that this is a perspective that will pass.  If we look carefully, we can see this in ourselves.  Everything is broken; everything seems corrupted; the world is ending.  There is no quality in the world-culture.  This is clearly evident in the Black-Friday mania.  Hysteria.  Quality and quantity are not the same.  We know this.  Our society has lost its quality?  This is quite clearly the case.  We are a low-culture.  A high-culture REQUIRES discipline and self-sacrifice.  A low-culture generates self-indulgence and a lack of discipline.
I remember another work experience.  I was working with the Program Director in Interior Architecture and we were working on wording in a program brochure.  I suggested "Interior Architecture is a program that combines the discipline of..."  She stopped me: "We don't want to use the word "discipline"..."  "Not even as a noun?"  "No."  "Why?"  "Well it gives the impression...that it's not fun."  Yes.  Well is 'fun' the overriding concern in education?  Apparently it is.
This is a Female Principle definition.  Fun over Discipline.  This is why we are here, where we are.  Self-discipline is the essence of creativity.  And creativity is the essence of eternal life.  Spirit (the Sun) rules the Day-Cycle; Growth is the message.  Soul (the Moon) rules the Night-Cycle; Imagination, Revelation, Equality is the message.  We need both.  We need both in appropriate sequence.
A new discipline arrives in 2019.  Discipline is how we nourish our Spirit.
****
Let's have a look at our INTERNALS.  C7 SPIN: 79.79% of our CGTS 1000 Database are bullish.  76.02% are C1 SPIN bullish.  Our EARLY WARNING SYSTEM shows no signs of breakdown at this point: PROP1 is 68.19% bullish; ST TREND is 65.52% bullish.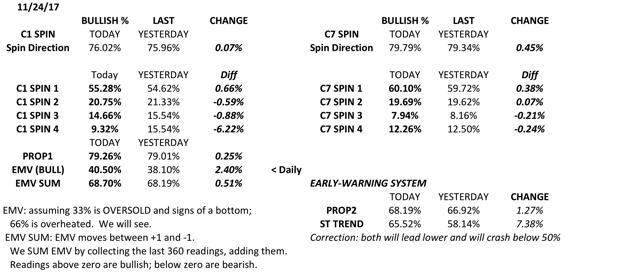 We have one carry-over TRENDMO LONG trade.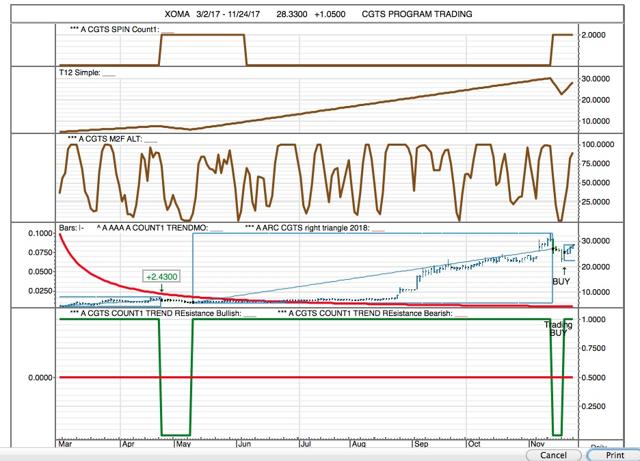 Here's a picture of the NDX, which is short-term OVERBOUGHT.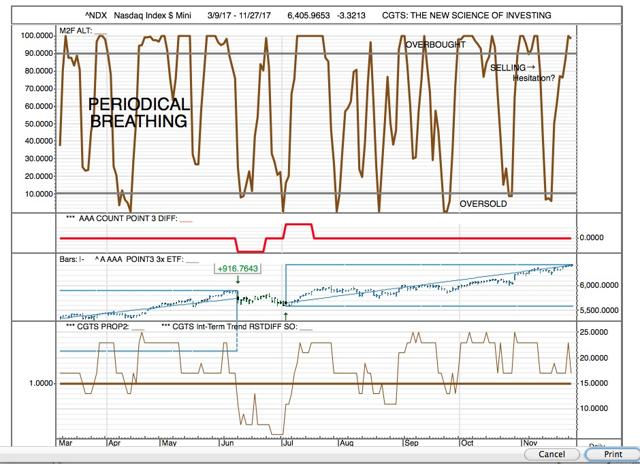 Here's our report for both Friday and today: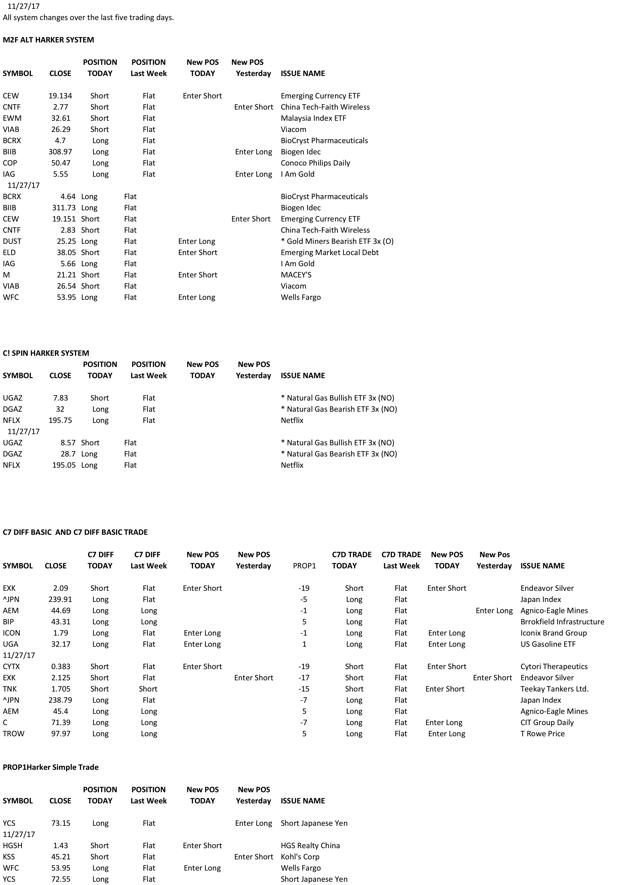 READERS PORTFOLIO.
We are sending our NEW READERS PORTFOLIO -- simplified -- which now also includes M2F ALT to show readers where each issue is trading relative to short-term Over-Bought (>90) and Over-Sold (10<) levels.  Remember 1-0 is BULLISH AND BULLISH TRADE; 0-1 is BEARISH AND BEARISH TRADE.  0-0 means either a BULLISH CORRECTION or a BEAR RALLY.  Look to the TRENDMO LONG-TERM to see which it is.
FOR SUBSCRIBERS ONLY.
For fundamental CGTS descriptions:
http://home.mindspring.com/~mclark7/CGTS142.htm
MJC, CGTS
We have refined our system to a simple system of SPINS.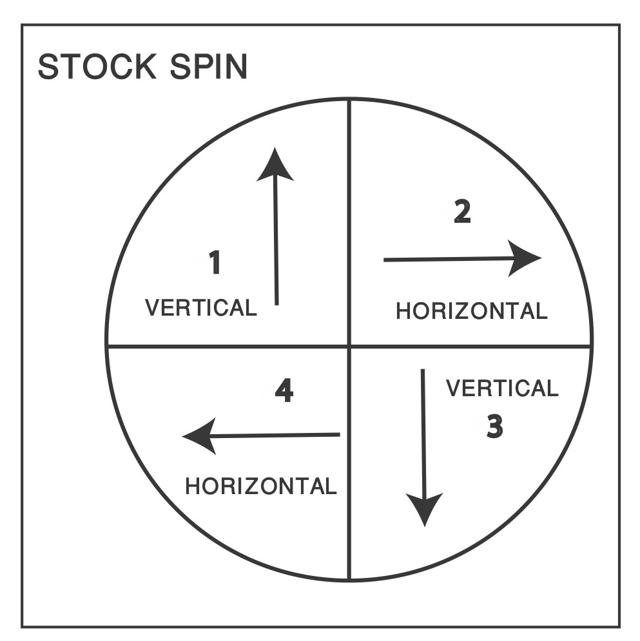 LEGEND:
COUNT1 SPIN SYSTEM AND COUNT7 SPIN SYSTEM
Essentially the trading mechanism is this:
BUY: COUNT SPIN = 1*
EMV =-1
M4-21 =-1
PROP1 >=-7
SELL: COUNT SPIN >=2
EMV = 1
M4-21 = 1
PROP1 >=-7;
OR: SELL AND SHORTSELL when PROP1<-7**
SHORTSELL: COUNT SPIN =3
EMV = 1
M4-21 = 1
PROP1<-7
COVER SHORT: COUNT SPIN = 4
EMV = 1
M4-21 = 1
PROP1<-7
OR: COVER AND BUY when PROP1>=-7**
* two anomalies.  BUY when TODAY's COUNT =2; YESTERDAY'S COUNT = 0.  SHORT when TODAY'S COUNT = 4; YESTERDAY'S COUNT = 0.  "COUNT" in above description applies for both COUNT1 SPIN and COUNT7 SPIN.
**PROP1 must be confirmed by its shadow, "CGTS LONG-TERM TREND RSTDIFF SO REAL" which I have re-named PROP1 SHADOW.
Please note: Count7 Spin System requires 2400 data-points to calculate.  Where zero show here, it is because we do not have enough trading days compiled to calculate a value.
PROP1 l GREATER than or equal to -7 is BULLISH by definition; PROP1 below -7 is BEARISH
Disclosure: I am/we are long GBC.