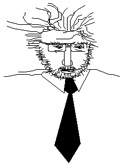 8 DECEMBER 2017
A short weekend letter.  One of our readers sent a note that he was disgusted with all the JUNK flying off the shelves.  He said he was going to SHORT VRX.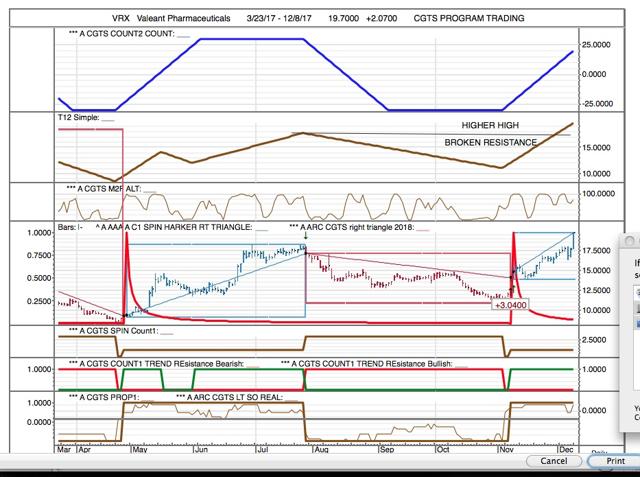 VRX exploded higher on Friday.  It is not time to SHORT VRX.  VRX seems to be in a long-term reversal upward.
Some people SHORT based on the idea that a stock is overvalued.  I think this idea for shorting -- the stock is overvalued -- is abominable reasoning.  Sometimes one will guess ride using this valuation method -- but most times such an investor will be trying to GUT his way to profits unsuccessfully.  My view, of course, is that one only SHORTS a stock that has a broken trend system (PROP1 is negative).  One would have to be very LIGHT ON HIS FEET to use this overbought/oversold method successfully.
The NDX rally came right on time.  M2F ALT on the NDX chart bottomed on time and promptly began to rally.  2-3 more days of rally at the least before any selling comes back in.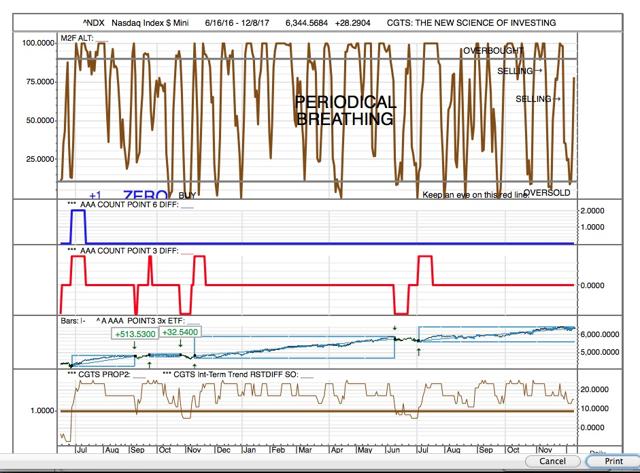 We have a couple of charts from today's trades.  We have a DAILY BUY SIGNAL for CYBR, Cyberark Software -- but the WEEKLY chart suggests we should not be too hurried to buy this one, as it is TREND SHAPE Bearish.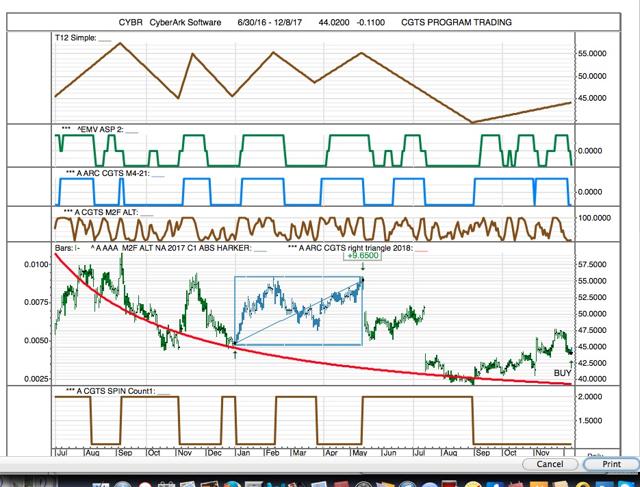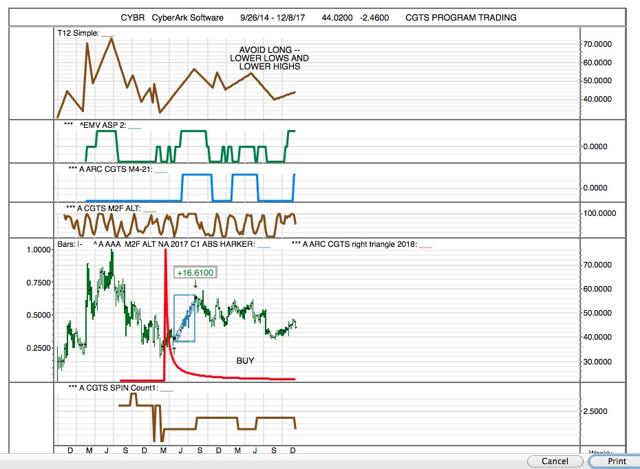 Here's our FRIDAY REPORT.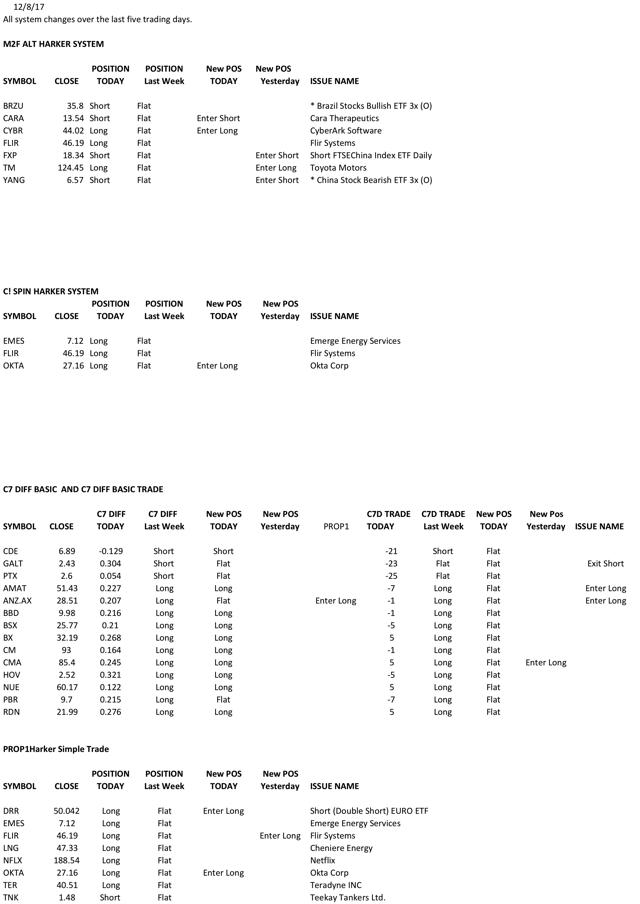 NOTE: I am considering doubling or even tripling my subscription rate January 1, 2018.  Anyone currently a subscriber (or subscribing before 1 January 2018) will remain at the current rate.  I hope this shows how much I appreciate your early support.
READERS PORTFOLIO.
UNDER SEPARATE COVER.
We have added a new datafield to our RP.  COUNT2 30.  A rally in C2 carries the C2 COUNT to 30.  A selloff carries C2 COUNT to -30.  If you see a stock that is Long-term LONG with a C2 COUNT -30, this is one to consider.  A stock that is Long-Term SHORT and has a C2COUNT of 30 is a SHORTSELL CANDIDATE.  When a LONG Trade breaks down from 30, this is a  possible SELL SIGNAL; when a SHORT Trade breaks up from -30, this is a possible COVER SIGNAL.  We will demonstrate this more later.
FOR SUBSCRIBERS ONLY.
For fundamental CGTS descriptions:
http://home.mindspring.com/~mclark7/CGTS142.htm
MJC, CGTS
We have refined our system to a simple system of SPINS.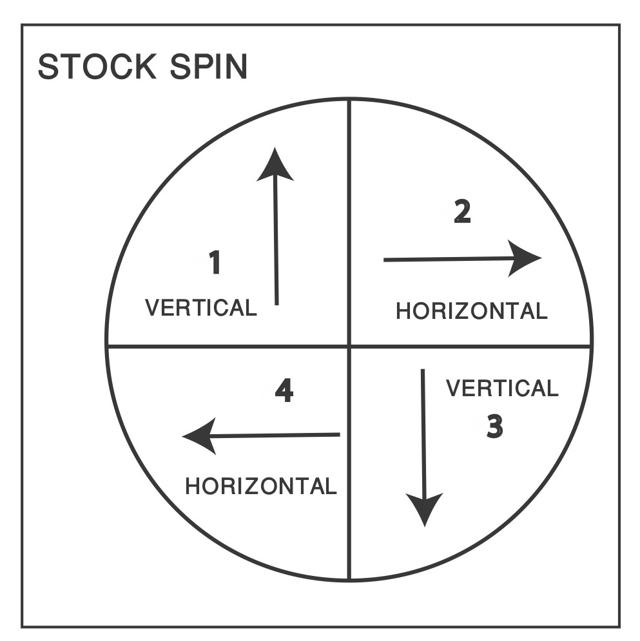 LEGEND:
COUNT1 SPIN SYSTEM AND COUNT7 SPIN SYSTEM
Essentially the trading mechanism is this:
BUY: COUNT SPIN = 1*
EMV =-1
M4-21 =-1
PROP1 >=-7
SELL: COUNT SPIN >=2
EMV = 1
M4-21 = 1
PROP1 >=-7;
OR: SELL AND SHORTSELL when PROP1<-7**
SHORTSELL: COUNT SPIN =3
EMV = 1
M4-21 = 1
PROP1<-7
COVER SHORT: COUNT SPIN = 4
EMV = 1
M4-21 = 1
PROP1<-7
OR: COVER AND BUY when PROP1>=-7**
* two anomalies.  BUY when TODAY's COUNT =2; YESTERDAY'S COUNT = 0.  SHORT when TODAY'S COUNT = 4; YESTERDAY'S COUNT = 0.  "COUNT" in above description applies for both COUNT1 SPIN and COUNT7 SPIN.
**PROP1 must be confirmed by its shadow, "CGTS LONG-TERM TREND RSTDIFF SO REAL" which I have re-named PROP1 SHADOW.
Please note: Count7 Spin System requires 2400 data-points to calculate.  Where zero show here, it is because we do not have enough trading days compiled to calculate a value.
PROP1 l GREATER than or equal to -7 is BULLISH by definition; PROP1 below -7 is BEARISH
Disclosure: I am/we are long VRX.