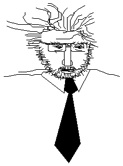 21 DECEMBER 2017
 NOTE: I am considering tripling my subscription rate January 1, 2018.  Anyone currently a subscriber (or subscribing before 1 January 2018) will remain at the current rate.  I hope this shows how much I appreciate your early support.
Happy Winter Solstice.  This, with every nation of the world, was significant as a time of the RE-BIRTH OF THE SUN in its annual pilgrimage through the 12 houses of the zodiac (12 months).  Christianity also chose December 21 as the time of the birth of their savior, Jesus Christ -- although later church fathers sought to distance the new religion from the older religions by branding the predecessors PAGAN and attempted to camouflage Christian symbolisms (borrowed from these predecessors) to make them appear unique, divorced from the older systems.
In my system, the Winter Solstice (Midnight) is the BEGINNING OF GROWTH.  The Summer Solstice (Noon) is the END OF GROWTH -- and the beginning of Memory, the reappearance of the Moon, and the beginning of the Sun's fall.
2019 is an overlay of the Winter Solstice on the 36-Year Cycle, as was 1983, 1947, 1911 -- the beginning of Growth.  2001 is an overlay of the Summer Solstice, as was 1965 and 1929.
We have been looking at Energy Stocks.  Every Noon Hour in my system is the beginning of an ENERGY CRISIS in the largest sense of the world.  The beginning of the winding down of the world, in terms of energy.
Let's look at today's WEEKLY C1 SPIN CHANGES, which highlight energy stocks.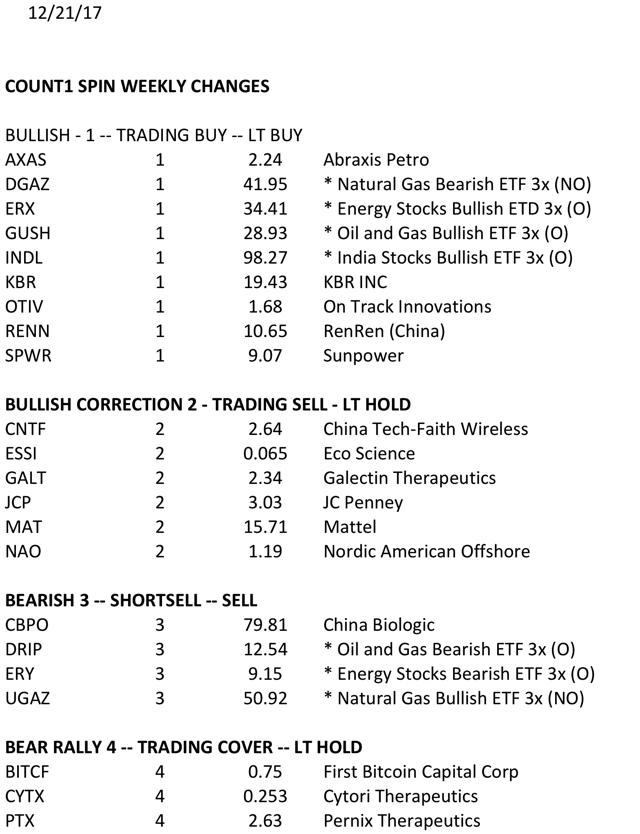 Here are some pictures of this group.  We are bullish on oil stocks.  GUSH (Below), the Bullish Oil and Gas 3x ETF seems to be breaking out of a minor consolidation.  LONG.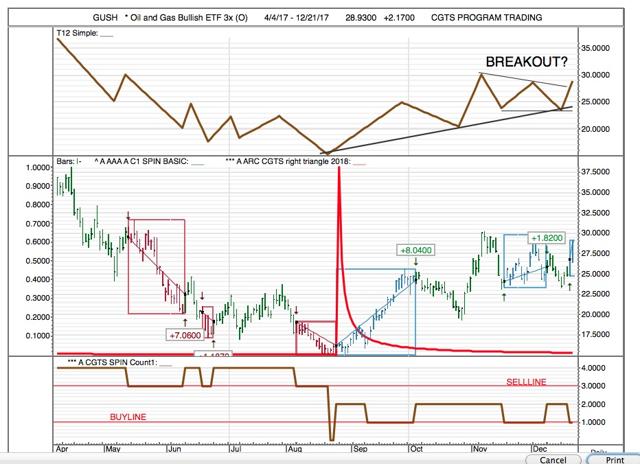 GUSH's dark sister, or shadow, DRIP, should give a reverse or inverse picture of GUSH above.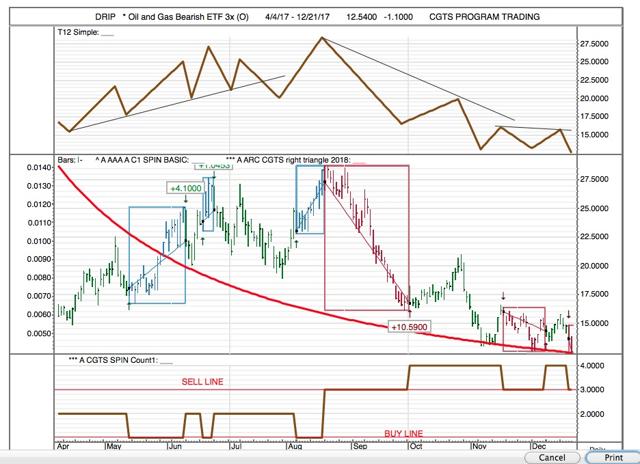 We also look at ERY, Energy Stocks Bearish ETF.  We looked at ERX, its light brother, yesterday if I remember correctly.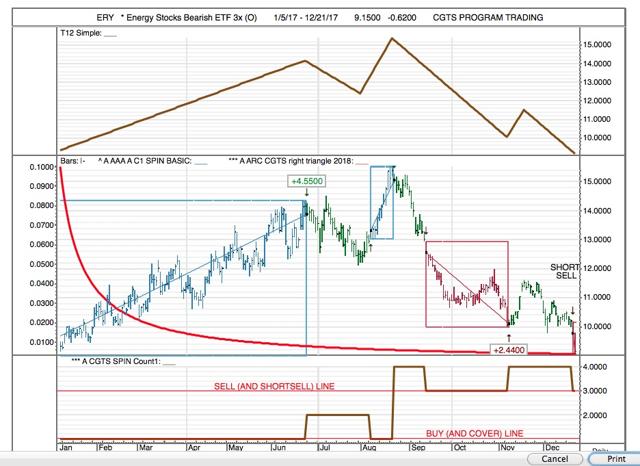 We want to look at one more stock from this group: SPWR, Sun Power.  It is a BUY.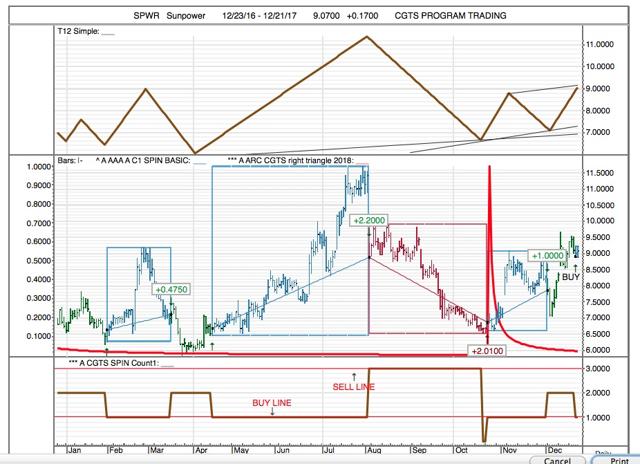 We were expecting selling today.  We got some selling.  But most of our portfolios were up, even with another GBTC meltdown.  This tells us that the selling (so far) is not really significant; we hope this continues to be so.  Both NDX and UDOW are perched in the higher strata and are signaling a normal selling spate.  December is usually pretty kind to stocks.  So far selling has been muted.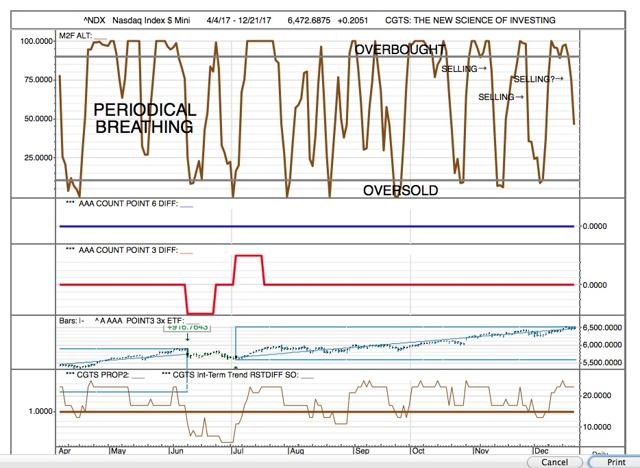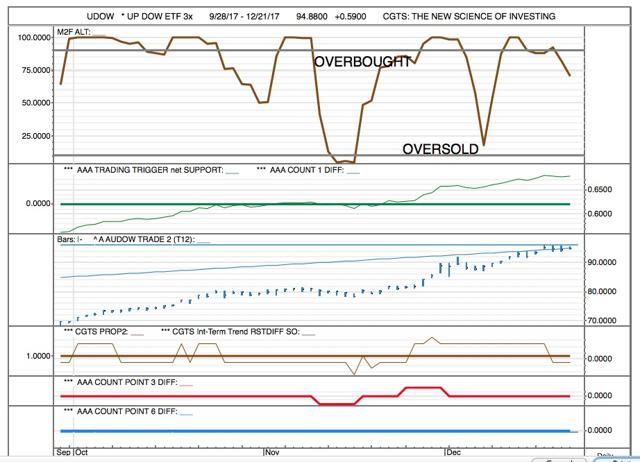 BITCOIN.  Well I show it (with some glee) when it goes up.  I should show it when it goes down, as it has the last three days.  I got in at $500 -- so I am not feeling any pressure to sell at this point.  It has support at 1573.  We'll see how it handles this support level.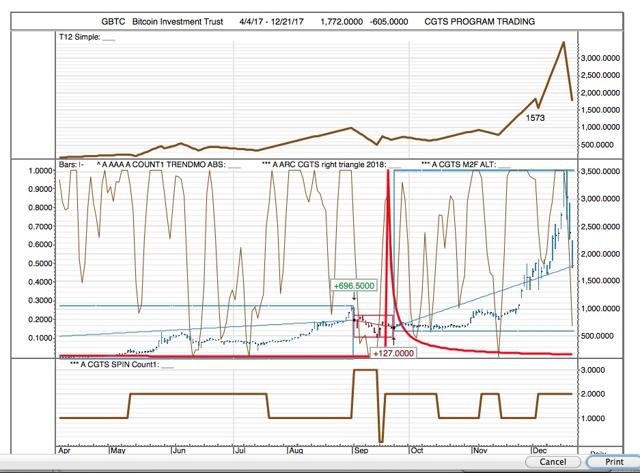 One of our favorite trades at the moment is XNET, XUNLEI LTD, a Chinese ISP company that shocked the business world a couple months ago when it announced it had become an I-Coin generator (One Coin) with which users could manage their XNET accounts.  Suddenly XNET became a virtual money player.  The stock soared.  Then it crashed back to earth -- sort of.  But look at the chart below.  PROP1 is our major trading chord; PROP3 is a version of PROP1 for very volatile issues (usually low-priced issues): note both PROP1 and PROP3 are bullish.  PROP1 broke in late November after the doubling of the stock; BUT it is back up again.  We have a chart of the only other time this stock was both PROP1 and PROP3 positive, March 2015, at which time the stock DOUBLED.  NOTE: THIS STOCK, WE CONSIDER HIGHLY SPECULATIVE.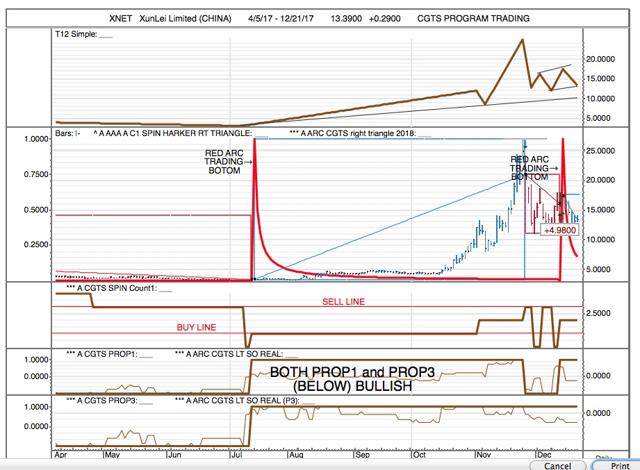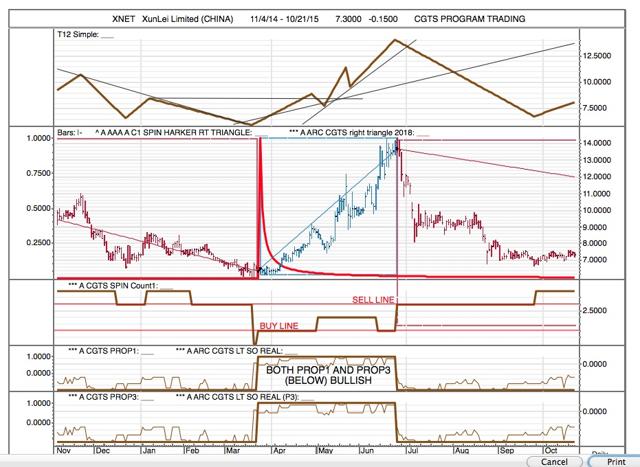 I wanted to show an update of a stock I recommended some time ago, and watched it flounder since.  FINL, Finish Line.  This shows why our systems often need patience to unfold.  This stock spent a lot of time going sideways; but now it is energized.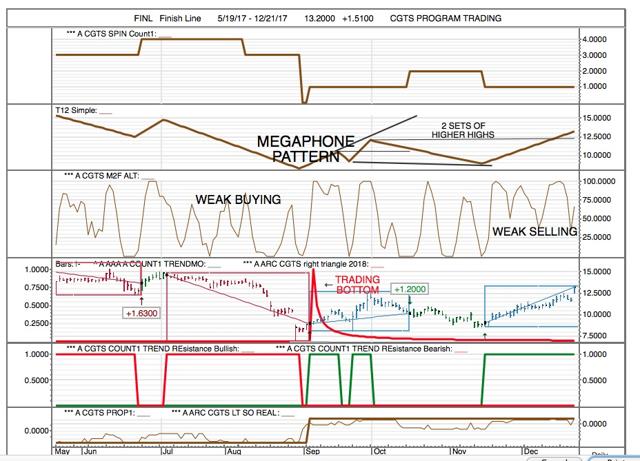 CENX, CENTURY ALUMINUM, crashed back into PROP1 DEFLATION ZONE.  But it has bounced back.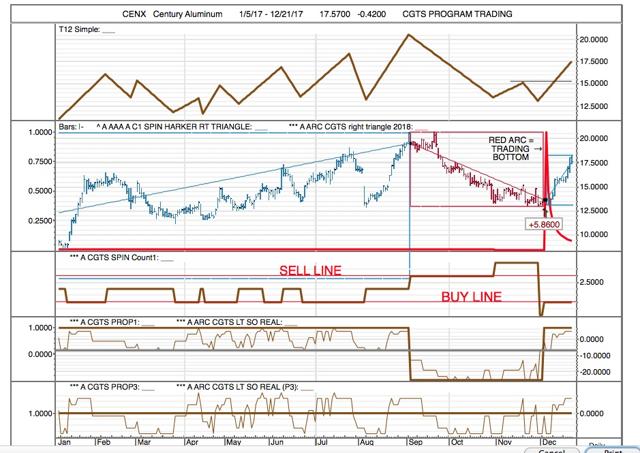 WHAT ABOUT EVEP, EV Energy Partners?  We were very BULLISH two weeks ago.  And EVEP has sagged.  PROP1 has broken down; COUNT1 has popped up to 3.  But notice PROP3 is still bullish; and the trends are holding up (TREND SHAPE, top pane).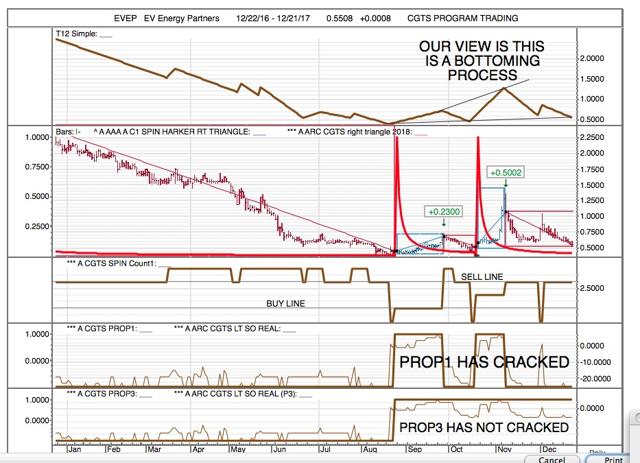 Here is today's FULL REPORT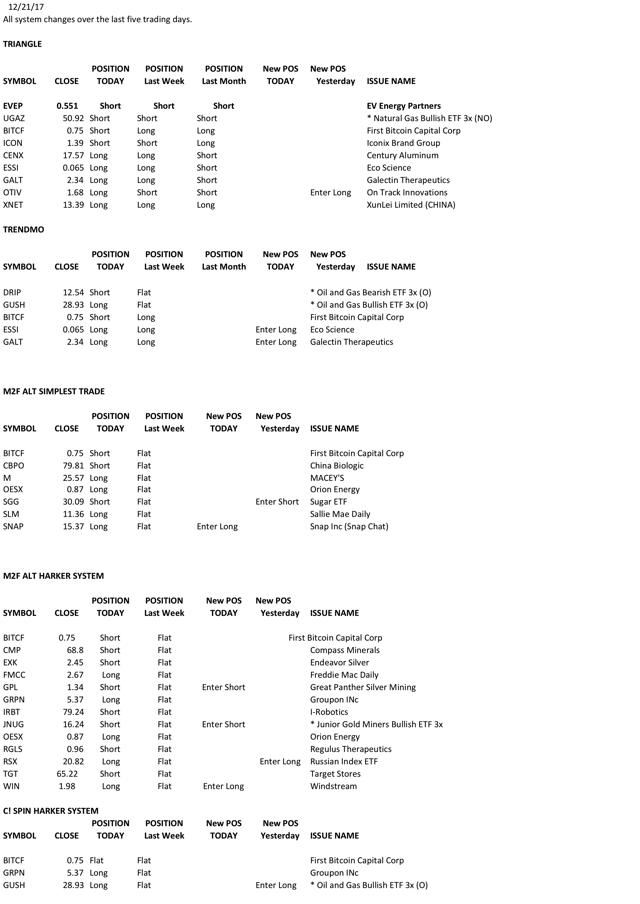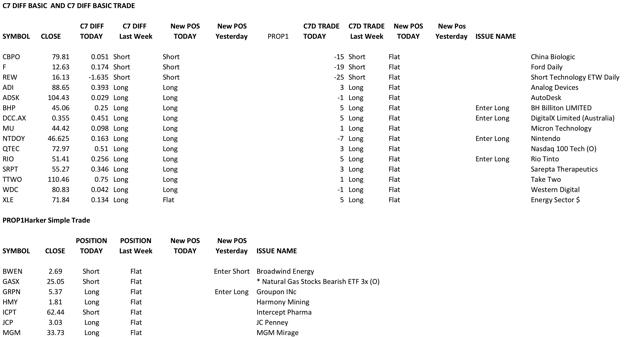 READERS PORTFOLIO.
UNDER SEPARATE COVER.
We have added a new data-field to our RP.  COUNT2 30.  A rally in C2 carries the C2 COUNT to 30.  A selloff carries C2 COUNT to -30.  If you see a stock that is Long-term LONG with a C2 COUNT -30, this is one to consider.  A stock that is Long-Term SHORT and has a C2COUNT of 30 is a SHORTSELL CANDIDATE.  When a LONG Trade breaks down from 30, this is a  possible SELL SIGNAL; when a SHORT Trade breaks up from -30, this is a possible COVER SIGNAL.  We will demonstrate this more later.  Also, a C1 move between 4 and ZERO is bearish, but it signals a furious struggle between Buyers and Sellers that often precedes a reversal from SHORT to LONG.  And, a Bullish C1 move from ZERO to 1 seems to be less powerful than a move from Zero to 2 and then back to 1.  We added Count1 (as data) back to our report.  You can work with COUNT1 and COUNT2 30 COUNT by yourself.  COUNT1 also tells you in PROP1 is bullish (COUNT1 1 or 2) or bearish (COUNT1 3 or 4).
FOR SUBSCRIBERS ONLY.
For fundamental CGTS descriptions:
http://home.mindspring.com/~mclark7/CGTS142.htm
MJC, CGTS
We have refined our system to a simple system of SPINS.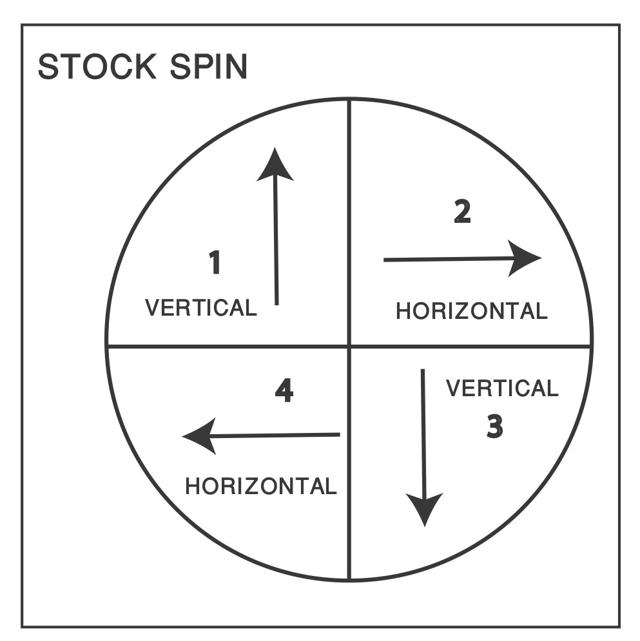 LEGEND:
COUNT1 SPIN SYSTEM AND COUNT7 SPIN SYSTEM
Essentially the trading mechanism is this:
BUY: COUNT SPIN = 1*
EMV =-1
M4-21 =-1
PROP1 >=-7
SELL: COUNT SPIN >=2
EMV = 1
M4-21 = 1
PROP1 >=-7;
OR: SELL AND SHORTSELL when PROP1<-7**
SHORTSELL: COUNT SPIN =3
EMV = 1
M4-21 = 1
PROP1<-7
COVER SHORT: COUNT SPIN = 4
EMV = 1
M4-21 = 1
PROP1<-7
OR: COVER AND BUY when PROP1>=-7**
* two anomalies.  BUY when TODAY's COUNT =2; YESTERDAY'S COUNT = 0.  SHORT when TODAY'S COUNT = 4; YESTERDAY'S COUNT = 0.  "COUNT" in above description applies for both COUNT1 SPIN and COUNT7 SPIN.
**PROP1 must be confirmed by its shadow, "CGTS LONG-TERM TREND RSTDIFF SO REAL" which I have re-named PROP1 SHADOW.
Please note: Count7 Spin System requires 2400 data-points to calculate.  Where zero show here, it is because we do not have enough trading days compiled to calculate a value.
PROP1 l GREATER than or equal to -7 is BULLISH by definition; PROP1 below -7 is BEARISH