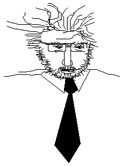 8 JANUARY 2017
THE BEARS ARE SCREAMING.  They want the world of wealth destroyed.  Ok.  Here comes a SLIDE SHOW showing why the BEARS ARE WRONG, at the moment.
NOTE: all of these charts show a NEW TRADING SYSTEM, COUNT2 TRADE.  When the BLUE LINE (COUNT2) bottoms (advances) under zero, this is a BUY; when it declines above zero this is a SELL.
This weekend I looked at a chart of WDC, Western Digital.  It seemed to be topping.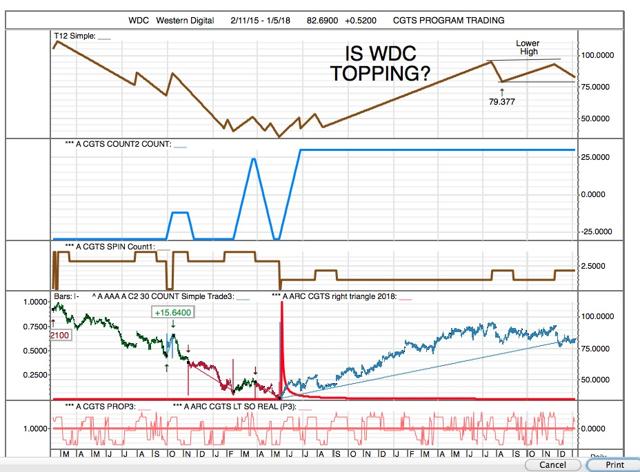 Not a good picture.  The TREND SHAPE (top pane) is breaking down into a BEAR MARKET: Lower Lows; Lower Highs.  I like to view a longer-term chart also.  What does the Weekly Chart look like?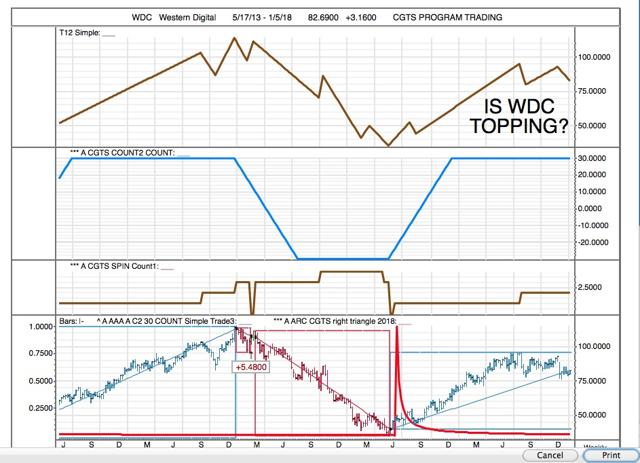 Yes, WDC is a threat now; time to sell.
Does this mean all the tech stocks are bleeding?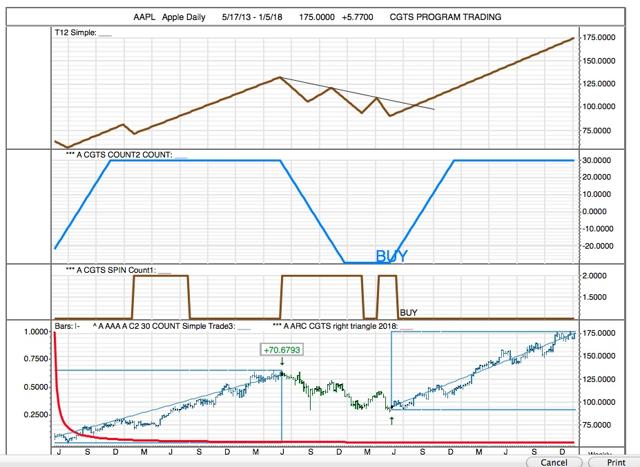 AAPL is not.  (I know a  lot of people (those legendary BEARS) want AAPL to fail.  What about the other widely held stocks?  Well, Amazon is in an EXCELLENT BULL RUN.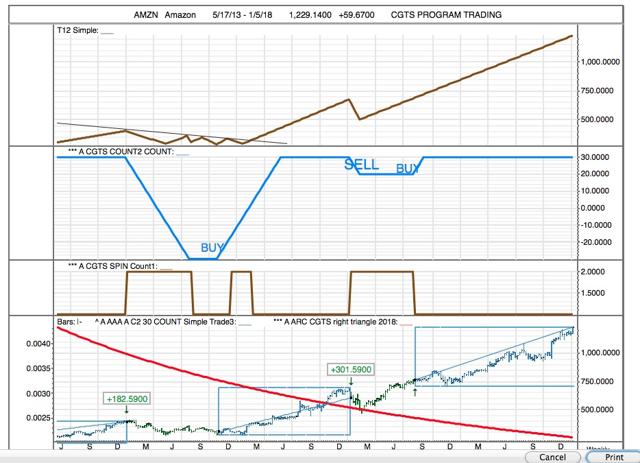 The most hated stock in the market (by the Value Bears) must be TSLA.  Tesla IS topping -- or, at the very least, struggling with a topping formation.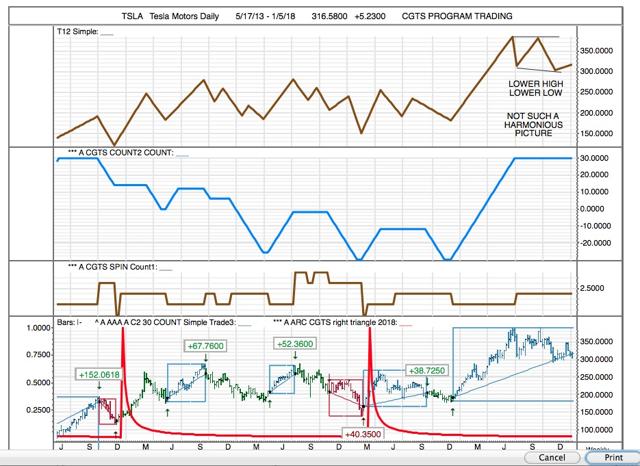 What about Netflix?  Is NFLX topping?  A resounding NO.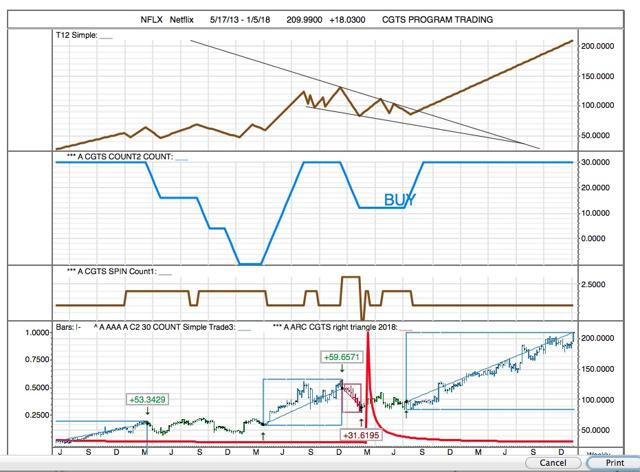 Intel has been in the news lately -- along with Apple -- because of a TREMENDOUS flaw in the Intel design.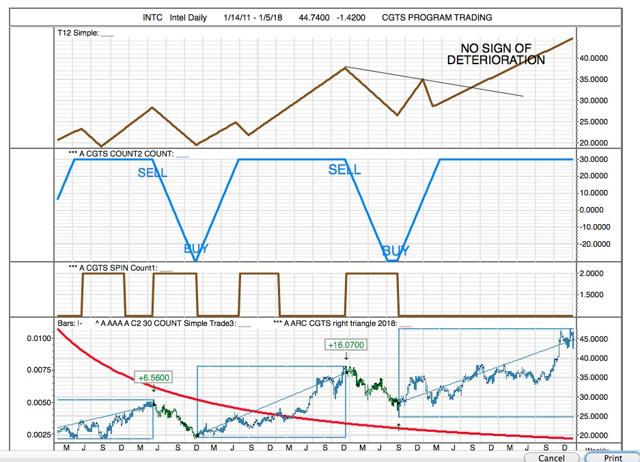 INTC is no crashing yet.  Of course, a crash is unpredictable by definition.  The BEARS were all over NAVIDIA a few months ago.  Is NVDA crashing?  NO.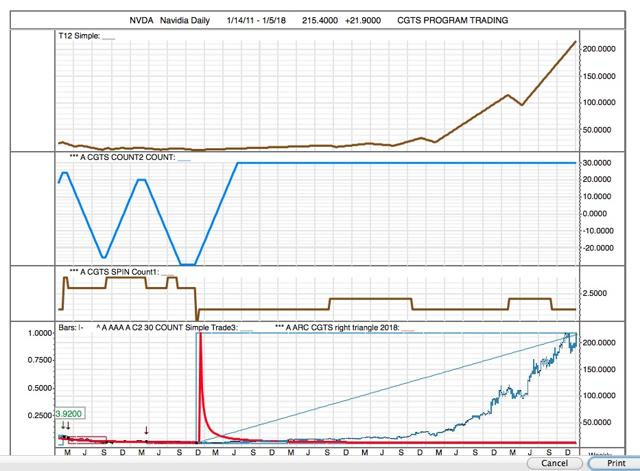 OK.  What about AMD, an Intel/Navidia competitor?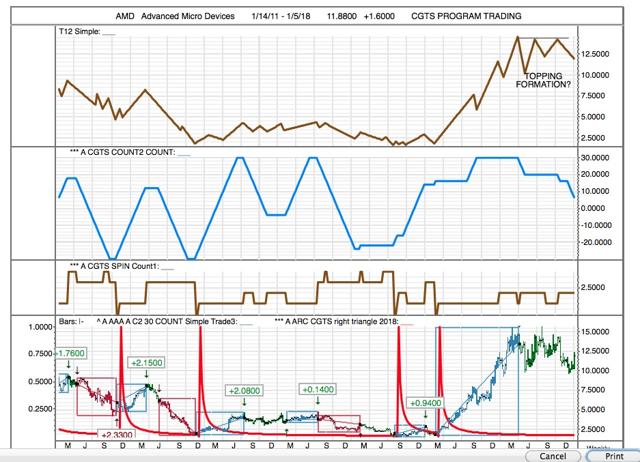 I would sell AMD here.  It seems to be topping.  What about MICRON?  A minor correction does not look like a top yet.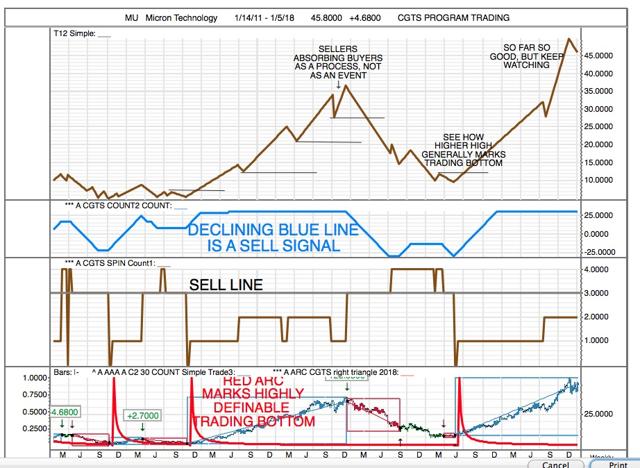 MSFT?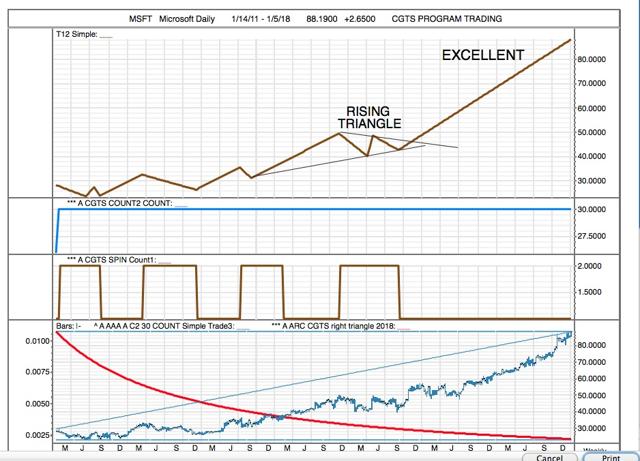 ATVI, Activision.  One of my favorites.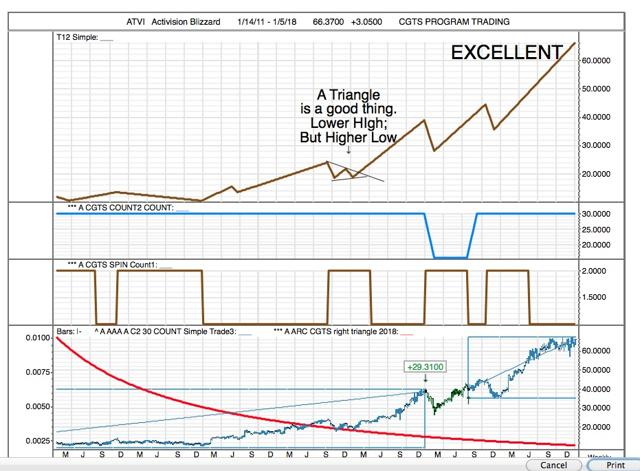 TEXAS INSTRUMENTS?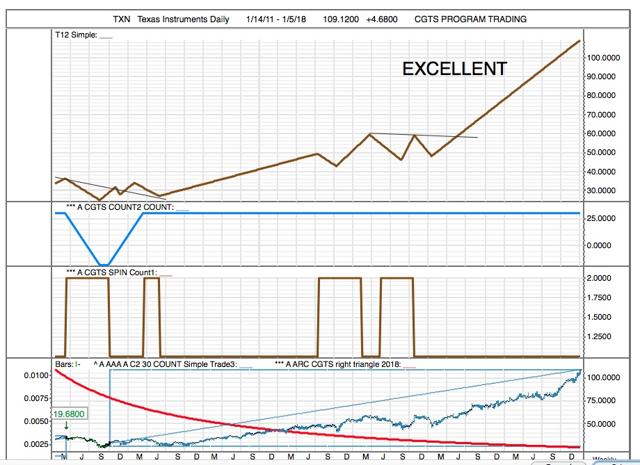 IS ADBE the strongest stock in the market?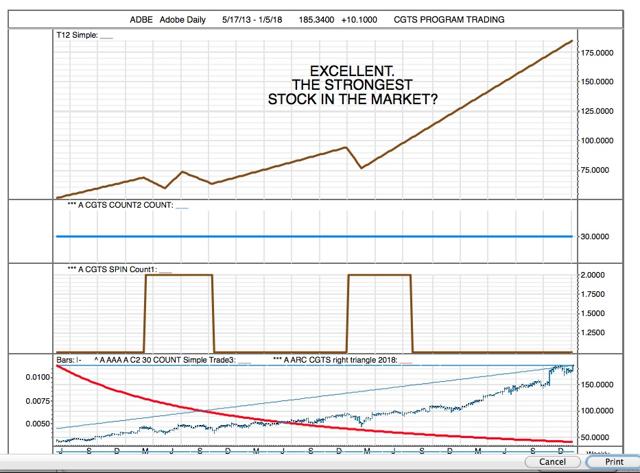 It's hard to think of ANY stock today as being non-technology.  But what about non-computing stocks?  NIKE has just tried to correct and failed.  Now it is a BUY again.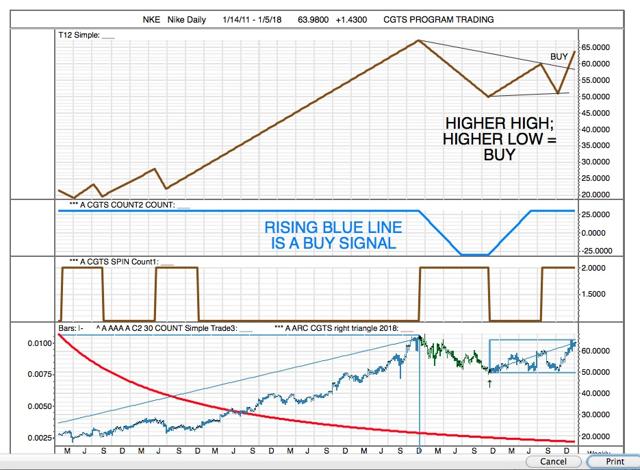 The same is true of DISNEY: a near-term attempt to correct, which failed.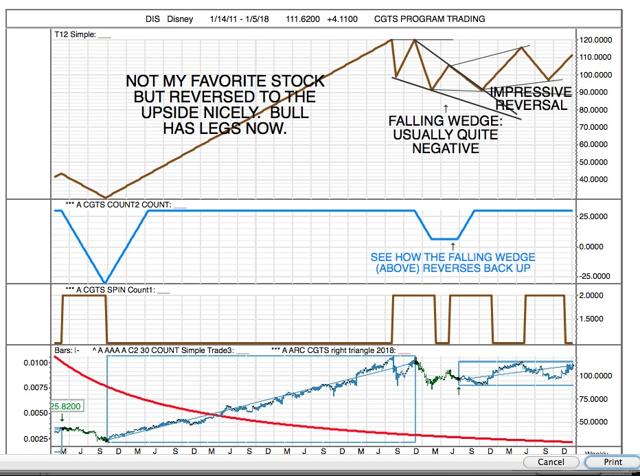 BOEING?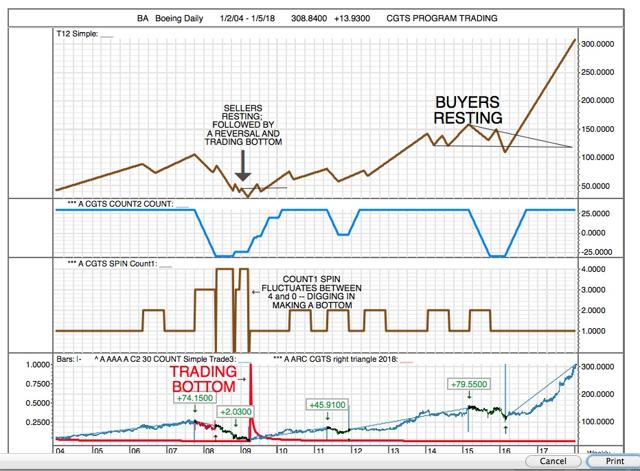 AZO was one of the best stocks until a recent meltdown.  But notice has the deep correction has not changed the long-term uptrends.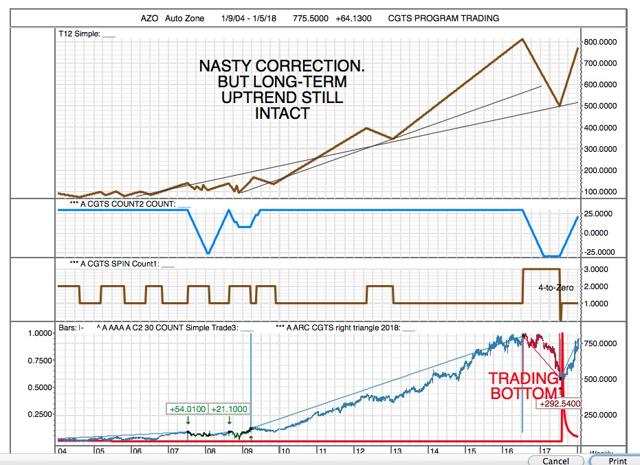 AMGEN is struggling mightily against a recent topping pattern.  It is trying to break out of a pretty powerful resistance level.  Would I buy it here?  I would wait to see what it does.  COUNT2 is still intact, which is BULLISH.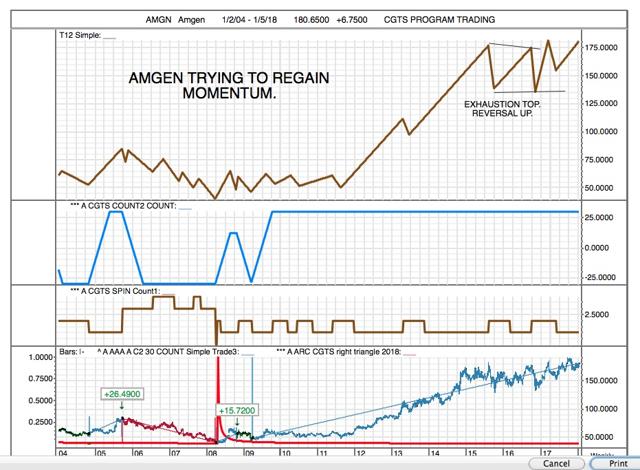 FSLR, First Solar.  Last year I was decidedly BEARISH and SHORT FSLR.  Today I am BULLISH.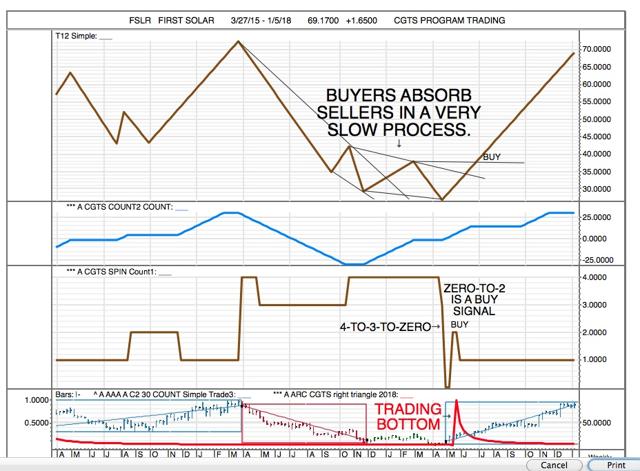 GILD, Gilead Sciences.  STILL SHORT.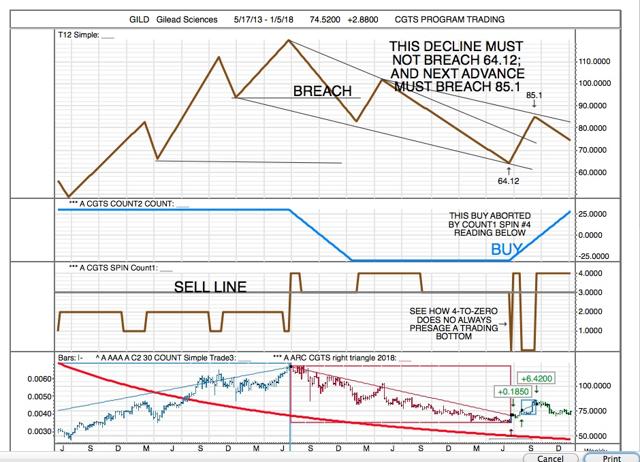 Ok, for those who have patiently gone through all these charts, we have two NEW COUNT2 TRADE signals for today.  DAILY SIGNALS.  One LONG (GALT); one SHORT (ICPT).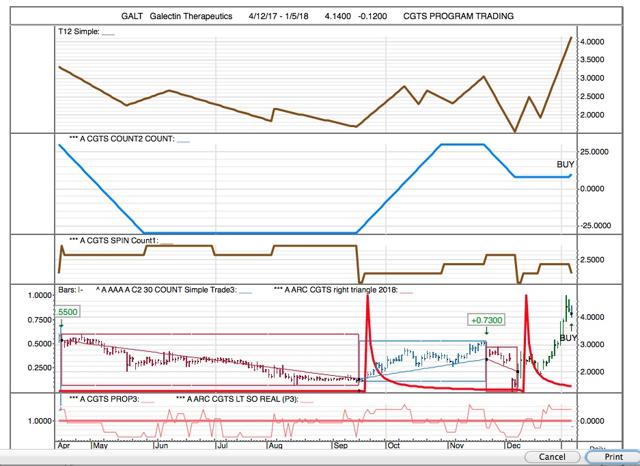 ICPT, SHORT.  Intercept Pharma.
Please look over the READERS' PORTFOLIO and make sure it is up to date with (only) the positions you are actually trading.
READERS PORTFOLIO.
UNDER SEPARATE COVER.
We have added a new data-field to our RP.  COUNT2 30.  A rally in C2 carries the C2 COUNT to 30.  A selloff carries C2 COUNT to -30.  If you see a stock that is Long-term LONG with a C2 COUNT -30, this is one to consider.  A stock that is Long-Term SHORT and has a C2COUNT of 30 is a SHORTSELL CANDIDATE.  When a LONG Trade breaks down from 30, this is a  possible SELL SIGNAL; when a SHORT Trade breaks up from -30, this is a possible COVER SIGNAL.  We will demonstrate this more later.  Also, a C1 move between 4 and ZERO is bearish, but it signals a furious struggle between Buyers and Sellers that often precedes a reversal from SHORT to LONG.  And, a Bullish C1 move from ZERO to 1 seems to be less powerful than a move from Zero to 2 and then back to 1.  We added Count1 (as data) back to our report.  You can work with COUNT1 and COUNT2 30 COUNT by yourself.  COUNT1 also tells you in PROP1 is bullish (COUNT1 1 or 2) or bearish (COUNT1 3 or 4).
FOR SUBSCRIBERS ONLY.
For fundamental CGTS descriptions:
http://home.mindspring.com/~mclark7/CGTS142.htm
MJC, CGTS
We have refined our system to a simple system of SPINS.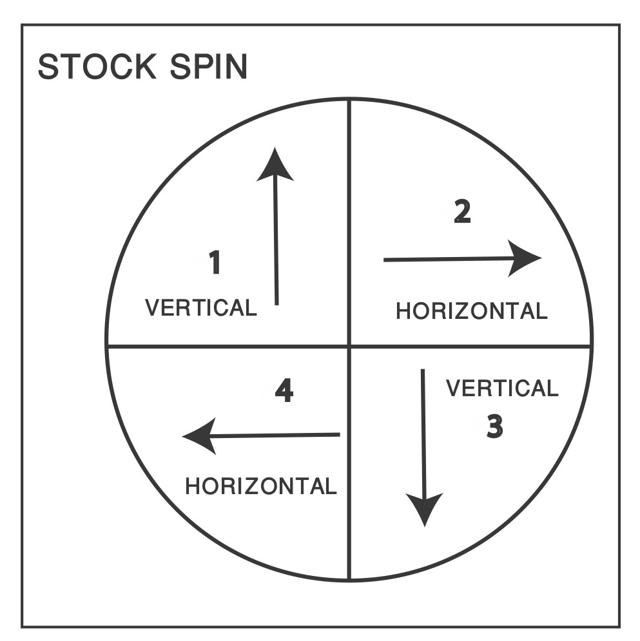 LEGEND:
COUNT1 SPIN SYSTEM AND COUNT7 SPIN SYSTEM
Essentially the trading mechanism is this:
BUY: COUNT SPIN = 1*
PROP1 >=-7
SELL: COUNT SPIN >=2
PROP1 >=-7;
OR: SELL AND SHORTSELL when PROP1<-7**
SHORTSELL: COUNT SPIN =3
PROP1<-7
COVER SHORT: COUNT SPIN = 4
PROP1<-7
OR: COVER AND BUY when PROP1>=-7**
* two anomalies.  BUY when TODAY's COUNT =2; YESTERDAY'S COUNT = 0.  SHORT when TODAY'S COUNT = 4; YESTERDAY'S COUNT = 0.  "COUNT" in above description applies for both COUNT1 SPIN and COUNT7 SPIN.
**PROP1 must be confirmed by its shadow, "CGTS LONG-TERM TREND RSTDIFF SO REAL" which I have re-named PROP1 SHADOW.
Please note: Count7 Spin System requires 2400 data-points to calculate.  Where zero show here, it is because we do not have enough trading days compiled to calculate a value.
PROP1 l GREATER than or equal to -7 is BULLISH by definition; PROP1 below -7 is BEARISH
SLIDE SHOW: WDC TOPPING; AMD TOPPING.  OTHERWISE PRETTY CLEAR SAILING.
Disclosure: I am/we are long AAPL, ATVI.
Additional disclosure: SHORT GILD