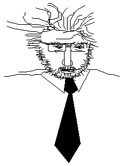 17 JANUARY 2017
For those of you who thought we were crazy to go on a BUYING BINGE yesterday, after stocks had roared higher for two weeks, and then had a strong pullback on Tuesday -- we were pleased with today's recovery.
A lot of stories about the BITCOIN MELTDOWN on the web.  BITCOIN is struggling.  It is struggling to put in a bottom -- remember, a trading bottom is quite literally BUYERS absorbing all the SELLING ENERGY inherent is a system.  What BICOIN looks like is BUYERS are continuing to absorb SELLING in GBTC.  If support does not hold it is often because the BUYERS holding the stock price up give up and join the SELLERS.  Is BITCOIN showing that?  Not yet.  But the strain is showing.  Look at the strain on the TREND SHAPE in the second pane from the top.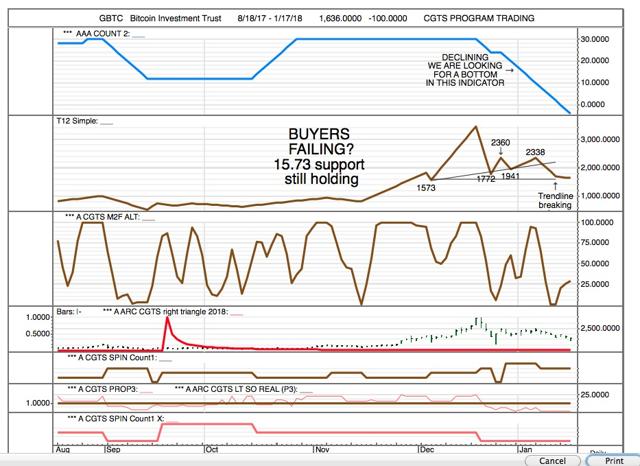 When we look at a longer-term GBTC chart (Weekly), the situation is NOT dire.  It might become dire if BUYERS don't stem the bleeding.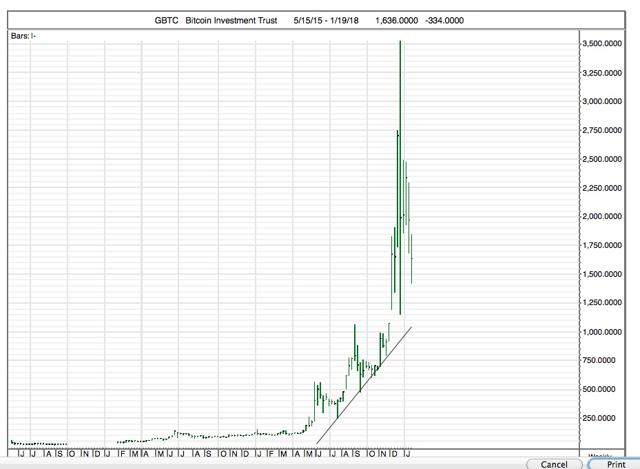 We do have a stock we like tonight.  We are getting a BUY SIGNAL in our C1 Spin System: NDLS, Noodles.  The Daily Chart looks very good for a TRADE.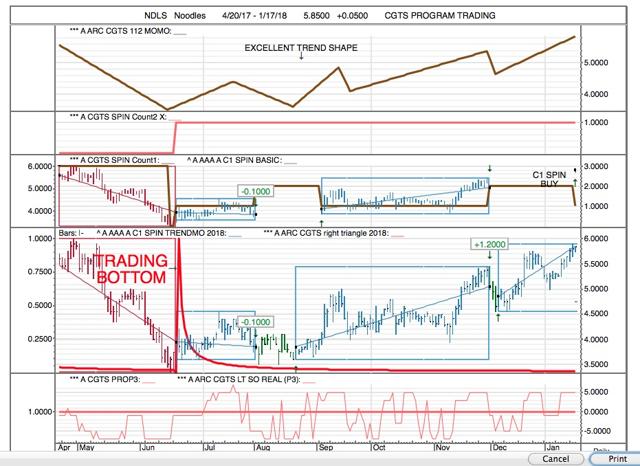 How do the longer-term charts look?  Weekly first.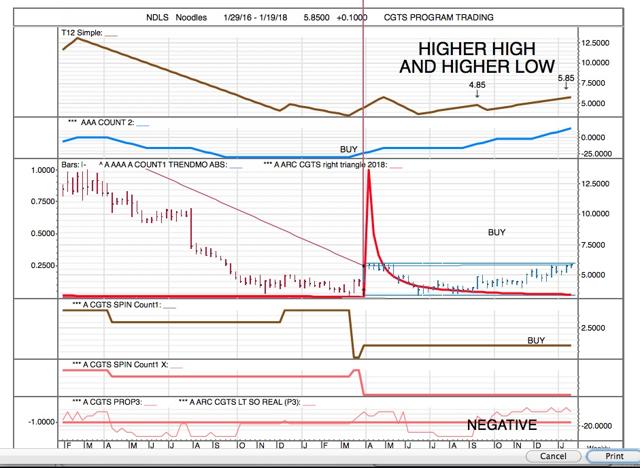 PROP3 is negative, as it is in the Monthly Chart.  In the top pane, the TREND SHAPE is ready to make a Higher High.  As we said yesterday, either PROP3 or TREND SHAPE HIGHER HIGH can confirm a TRADING BOTTOM BUY SIGNAL -- either/or; both is better, of course.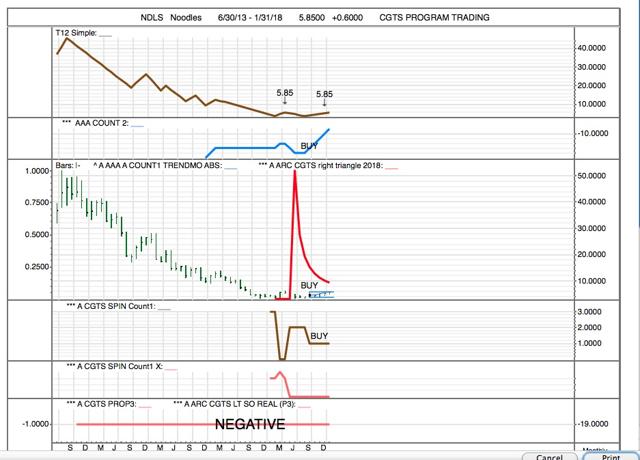 We like this as a long-term BUY.
Here's our daily report.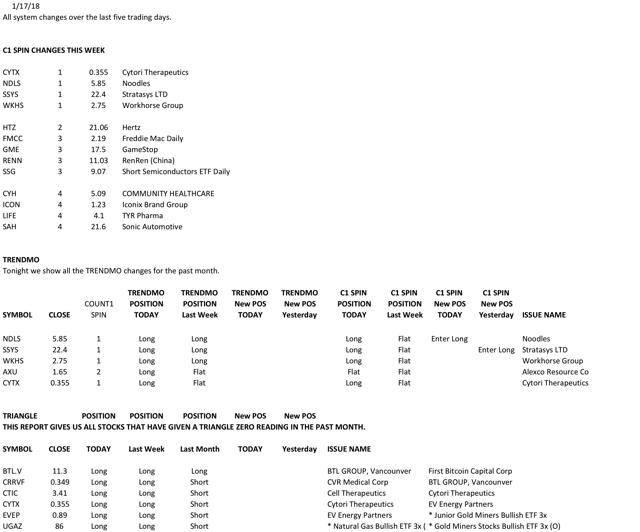 We don't like the other trade in our C1 Spin Report.  SSYS is not a really good option yet.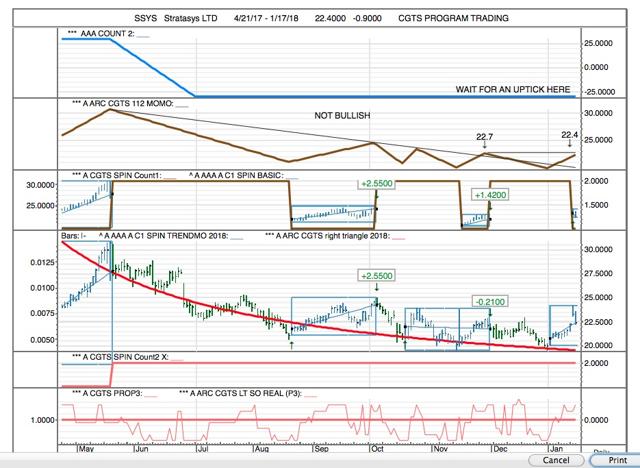 How do we get our TRIANGLE list?  We ask for a list of all the issues we follow giving a TRIANGLE ZERO reading for this week; we ask for the same list for the past month.  The list above is of all those issues giving a TRIANGLE ZERO reading for the past month.  It is not easy finding SHORTSELL candidates in this market -- but we do have one tonight.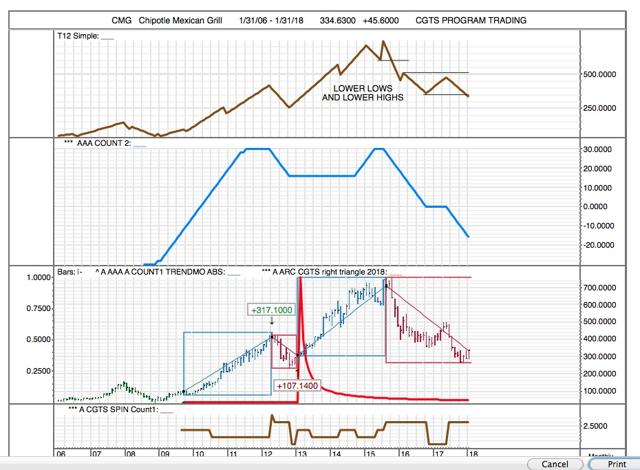 It is no where near a bottom yet.
UGAZ, Natural Gas Bullish, also show up on our TRIANGLE list.  But it is NOT a BUY.  Daily chart looks ok.  But what about the monthly chart?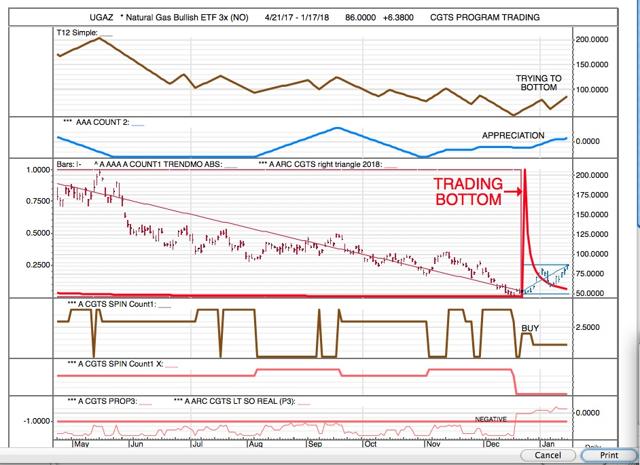 Monthly is a catastrophe.  AVOID UGAZ.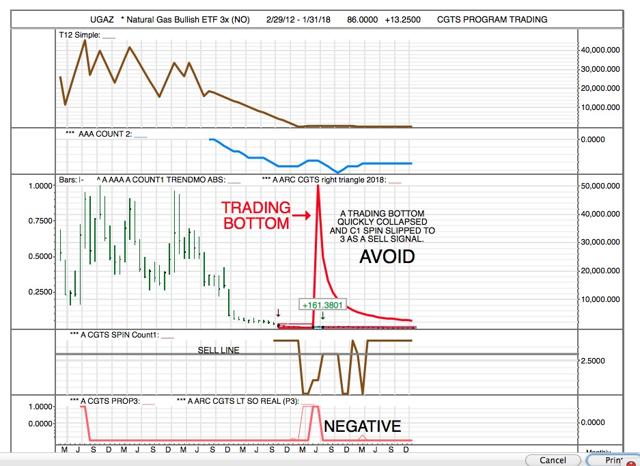 I made a change to the READERS' PORTFOLIO.  I dropped the C1 SPIN X category, since I think it only added confusion -- not much help.  If you liked it let me know.
READERS PORTFOLIO.
UNDER SEPARATE COVER.
We have added a new data-field to our RP.  COUNT2 30.  A rally in C2 carries the C2 COUNT to 30.  A selloff carries C2 COUNT to -30.  If you see a stock that is Long-term LONG with a C2 COUNT -30, this is one to consider.  A stock that is Long-Term SHORT and has a C2COUNT of 30 is a SHORTSELL CANDIDATE.  When a LONG Trade breaks down from 30, this is a possible SELL SIGNAL; when a SHORT Trade breaks up from -30, this is a possible COVER SIGNAL.  We will demonstrate this more later.  Also, a C1 move between 4 and ZERO is bearish, but it signals a furious struggle between Buyers and Sellers that often precedes a reversal from SHORT to LONG.  And, a Bullish C1 move from ZERO to 1 seems to be less powerful than a move from Zero to 2 and then back to 1.  We added Count1 (as data) back to our report.  You can work with COUNT1 and COUNT2 30 COUNT by yourself.  COUNT1 also tells you in PROP1 is bullish (COUNT1 1 or 2) or bearish (COUNT1 3 or 4).
FOR SUBSCRIBERS ONLY.
For fundamental CGTS descriptions:
http://home.mindspring.com/~mclark7/CGTS142.htm
MJC, CGTS
We have refined our system to a simple system of SPINS.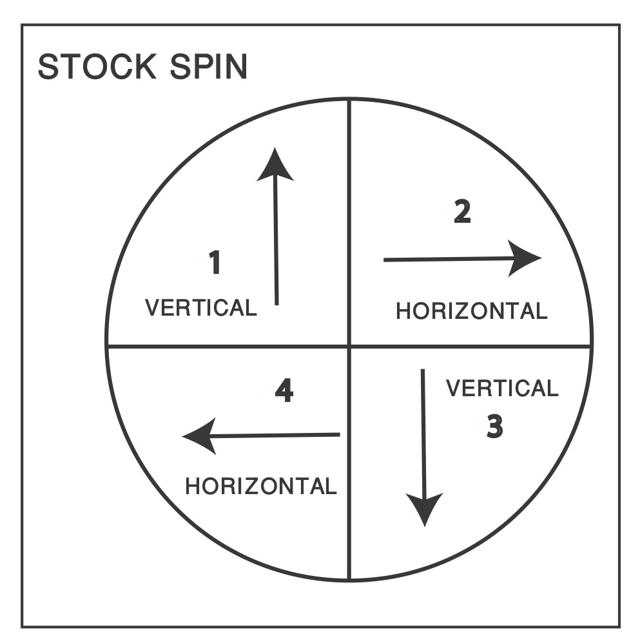 LEGEND:
COUNT1 SPIN SYSTEM AND COUNT7 SPIN SYSTEM
Essentially the trading mechanism is this:
BUY: COUNT SPIN = 1*
PROP1 >=-7
SELL: COUNT SPIN >=2
PROP1 >=-7;
OR: SELL AND SHORTSELL when PROP1<-7**
SHORTSELL: COUNT SPIN =3
PROP1<-7
COVER SHORT: COUNT SPIN = 4
PROP1<-7
OR: COVER AND BUY when PROP1>=-7**
* two anomalies.  BUY when TODAY's COUNT =2; YESTERDAY'S COUNT = 0.  SHORT when TODAY'S COUNT = 4; YESTERDAY'S COUNT = 0.  "COUNT" in above description applies for both COUNT1 SPIN and COUNT7 SPIN.
**PROP1 must be confirmed by its shadow, "CGTS LONG-TERM TREND RSTDIFF SO REAL" which I have re-named PROP1 SHADOW.
Please note: Count7 Spin System requires 2400 data-points to calculate.  Where zero show here, it is because we do not have enough trading days compiled to calculate a value.
PROP1 l GREATER than or equal to -7 is BULLISH by definition; PROP1 below -7 is BEARISH
Disclosure: I am/we are long GBTC, nDLS.