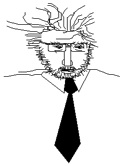 7 FEBRUARY 2017
Ok.  Stability is a beautiful thing.  Buyers seem to be absorbing Sellers here.
I want to gloat a bit about one of the most hated stocks in the market three months ago -- which we recommended LONG.  SNAP.  Of Snap-Chat fame.  After last quarter's earnings were released SNAP had been given up for dead, not a friend in sight.  What a difference a quarter makes.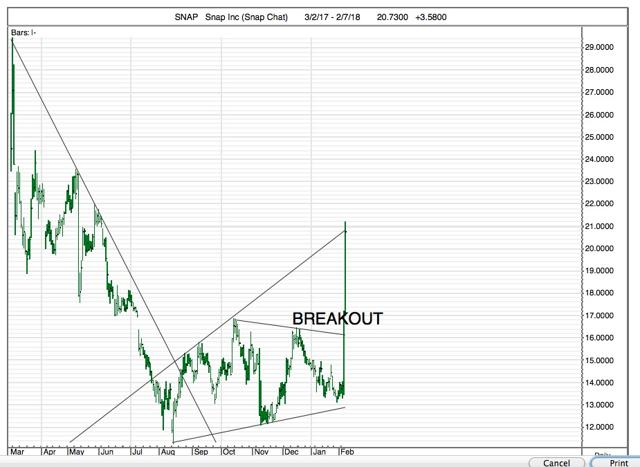 We realize there is a lot of volatility in the market.  But the charts we are looking at still look quite bullish.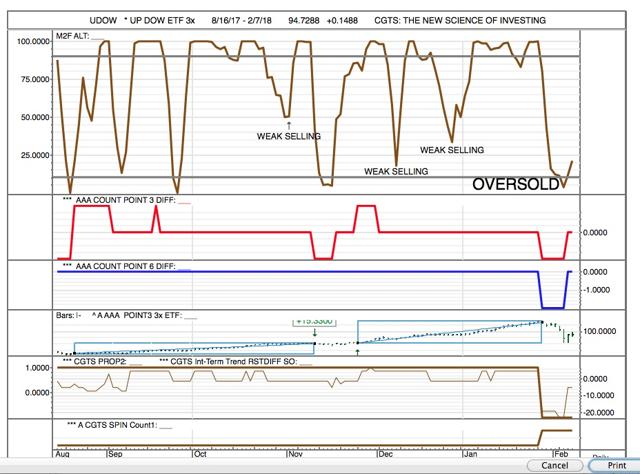 UDOW is OVERSOLD but COUNT1 is @ 2, which means it is not a BUY at this point, at least using our COUNT1 TRENDMO and COUNT! M2F criteria.
We read about the Swiss company that was the sponsor of XIV, the inverse ETF of VIX, which was wiped out in two days, after many years of successful operation.  Scary.
We have a picture of VXX, VIX ETF, in the Weekly Charts.  I challenge anyone to see much BULLISHNESS here.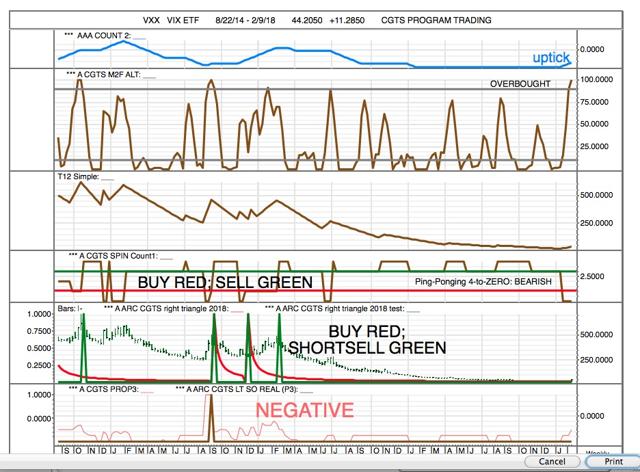 We hear how BITCOIN has melted down.  Ok.  First, the Monthly Chart.  Then the Weekly.  COUNT1 Spin is Bearish.  GBTC is OVERSOLD.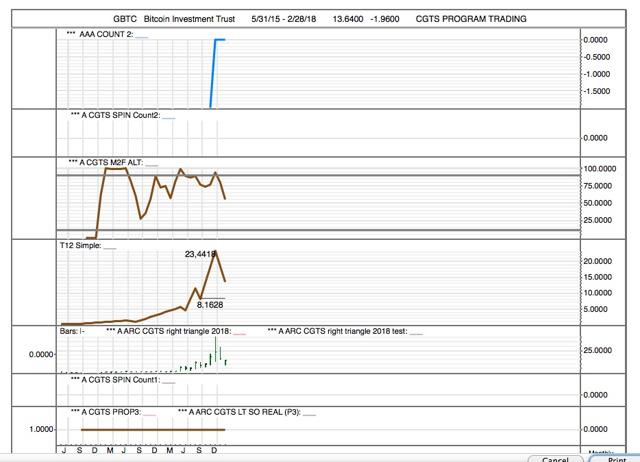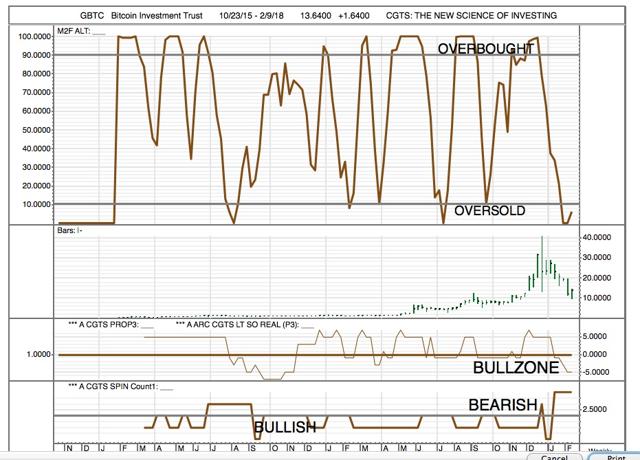 We look for all/any issues giving a TRIANGLE ZERO reading this week.  One issue.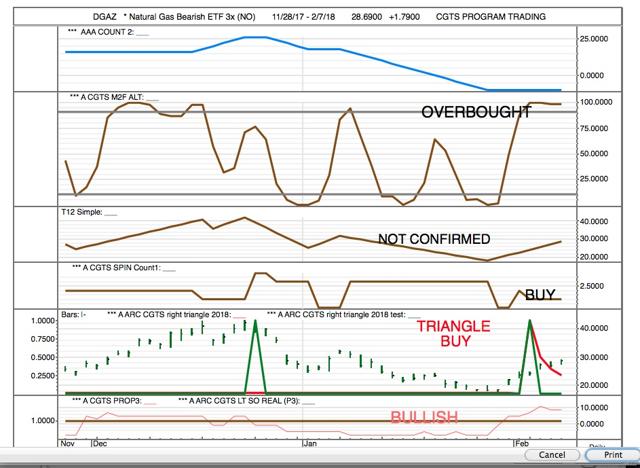 The Monthly Chart is BULLISH for DGAZ.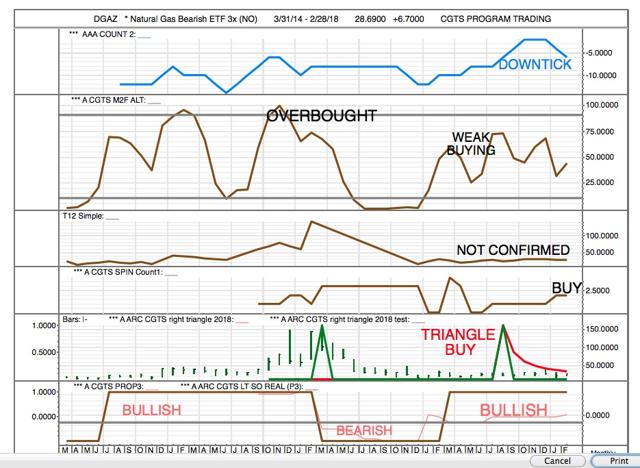 We have only one new C1 SPIN BASIC TRADE.  FRO, Frontier Shipping, SHORTSELL.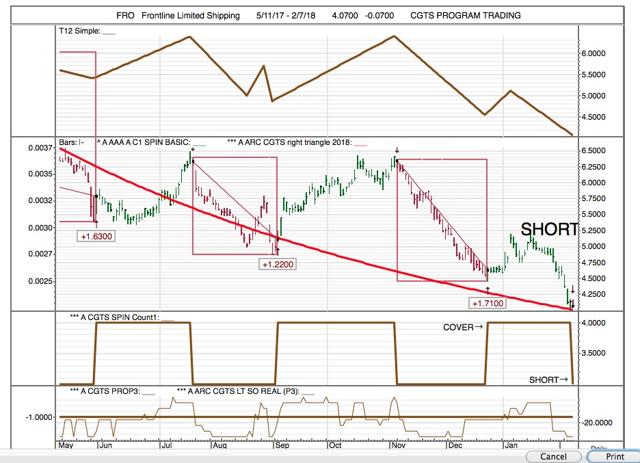 We introduced a new trading system last night: COUNT1 M2F ALT TRADE.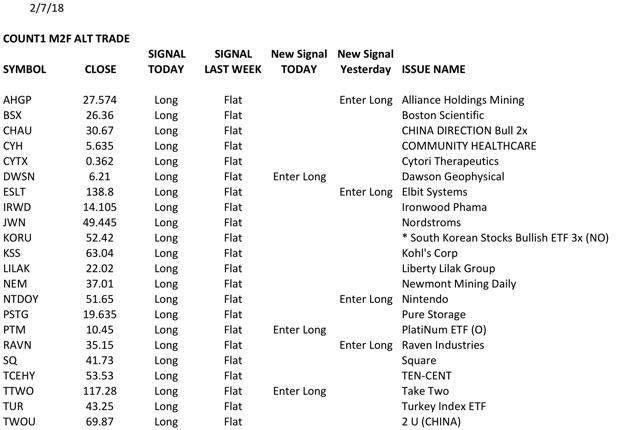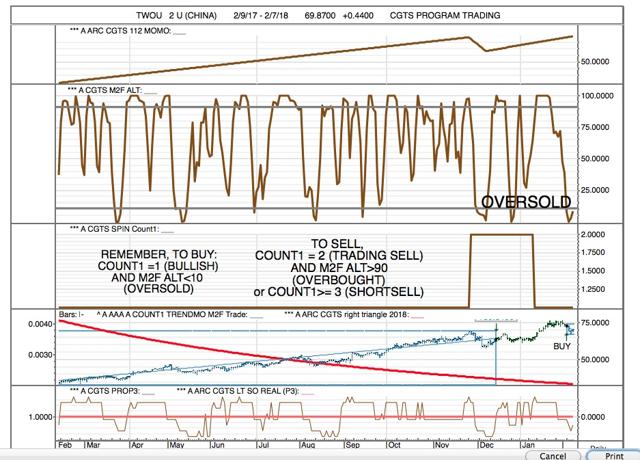 TTWO is one of my favorite stocks.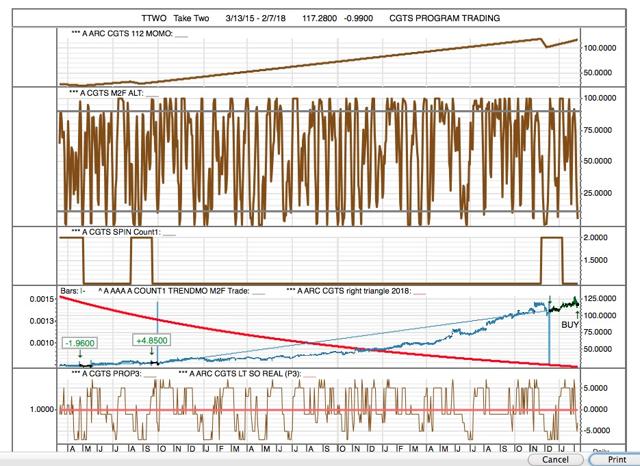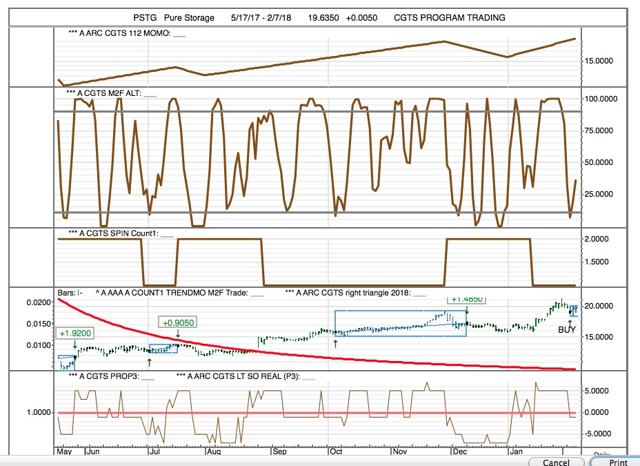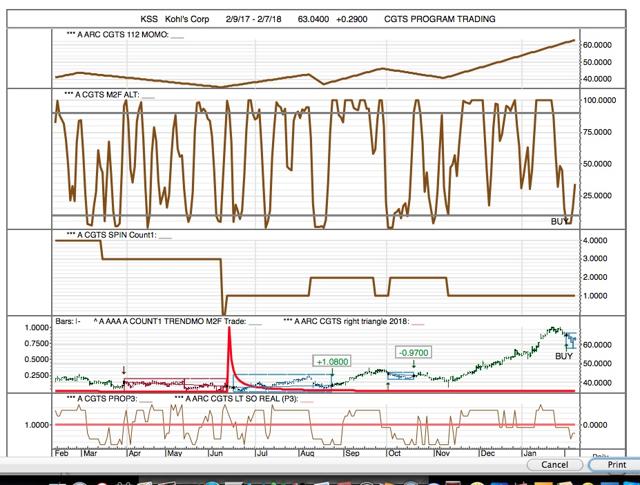 I also like MZOR and KSS as well.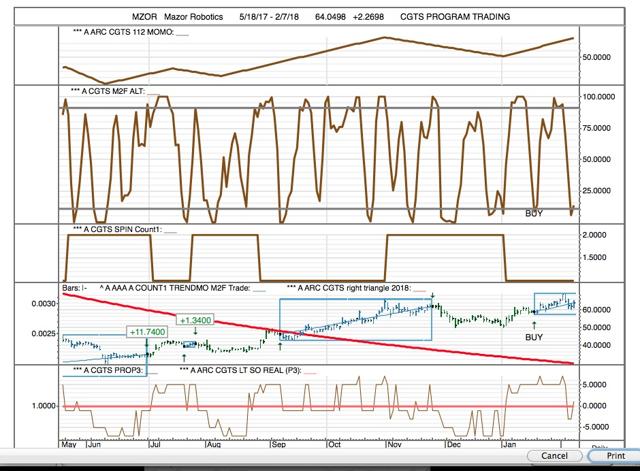 You will notice we added two new TRADE columns to our READERS' PORTFOLIO.  Four trading systems now: 1) TRENDMO (ST TRADE); 2) COUNT1 M2F ALT TRADE (Intermediate-Term Trade); 3) COUNT1COUNT2 (Intermediate-Term Trade); and 3) TRIANGLE (Long-Term Trade).  COUNT1 COUNT2 is very similar to TRENDMO.  COUNT1 gives a BUY SIGNAL and COUNT2 is below zero, oversold; to SELL, COUNT1 =2 and COUNT2>0 and COUNT2 is declining.
READERS PORTFOLIO.
UNDER SEPARATE COVER.
We have added a new data-field to our RP.  COUNT2 30.  A rally in C2 carries the C2 COUNT to 30.  A selloff carries C2 COUNT to -30.  If you see a stock that is Long-term LONG with a C2 COUNT -30, this is one to consider.  A stock that is Long-Term SHORT and has a C2COUNT of 30 is a SHORTSELL CANDIDATE.  When a LONG Trade breaks down from 30, this is a possible SELL SIGNAL; when a SHORT Trade breaks up from -30, this is a possible COVER SIGNAL.  We will demonstrate this more later.  Also, a C1 move between 4 and ZERO is bearish, but it signals a furious struggle between Buyers and Sellers that often precedes a reversal from SHORT to LONG.  And, a Bullish C1 move from ZERO to 1 seems to be less powerful than a move from Zero to 2 and then back to 1.  We added Count1 (as data) back to our report.  You can work with COUNT1 and COUNT2 30 COUNT by yourself.  COUNT1 also tells you in PROP1 is bullish (COUNT1 1 or 2) or bearish (COUNT1 3 or 4).
FOR SUBSCRIBERS ONLY.
For fundamental CGTS descriptions:
http://home.mindspring.com/~mclark7/CGTS142.htm
MJC, CGTS
We have refined our system to a simple system of SPINS.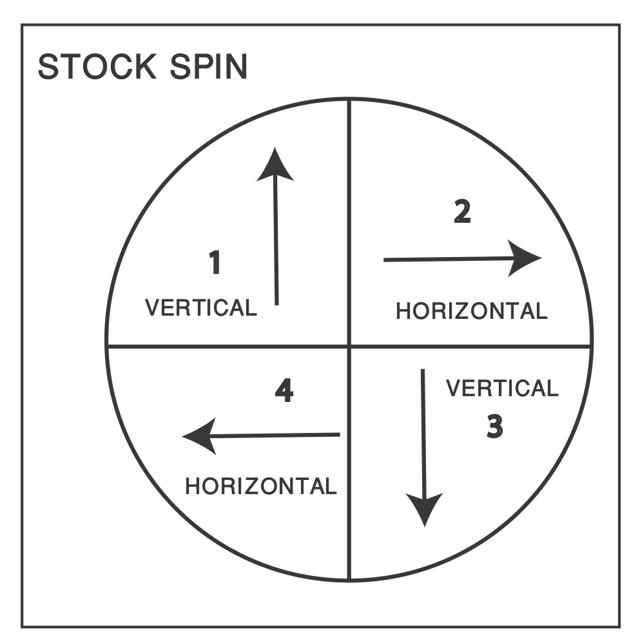 LEGEND:
COUNT1 SPIN SYSTEM AND COUNT7 SPIN SYSTEM
Essentially the trading mechanism is this:
BUY: COUNT SPIN = 1*
SELL: COUNT SPIN >=2
SHORTSELL: COUNT SPIN =3
COVER SHORT: COUNT SPIN = 4
* two anomalies.  BUY when TODAY's COUNT =2; YESTERDAY'S COUNT = 0.  SHORT when TODAY'S COUNT = 4; YESTERDAY'S COUNT = 0.  "COUNT" in above description applies for both COUNT1 SPIN and COUNT7 SPIN.
**PROP1 must be confirmed by its shadow, "CGTS LONG-TERM TREND RSTDIFF SO REAL" which I have re-named PROP1 SHADOW.
DID YOU BUY SNAP?  IT'S NOT TOO LATE.
Disclosure: I am/we are long mzor, ttwo, snap, sq, kss.