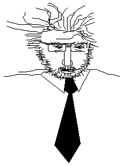 MONDAY
3/26/18
WHEW!  Was that a relief!  Our trading portfolio gained almost 8% today.  What changed in the market today?  The ENERGY QUOTIENT changed.  Greed got up on the back of FEAR.  So, is the change going to hold?  Is AAPL the market?  If so, one has to be optimistic.  AAPL has already make a higher high and a higher low.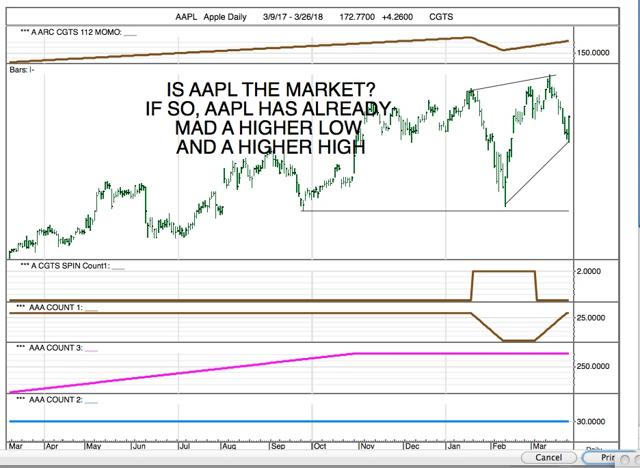 AAPL is NOT the market, of course.  What does the market look like?  Let's look at NDX, first, with our M2F ALT INTERMEDIATE TERM, and then with our M2F ALT SHORT-TERM.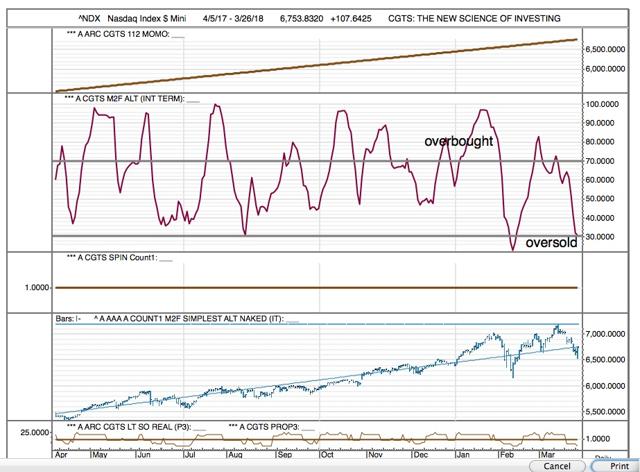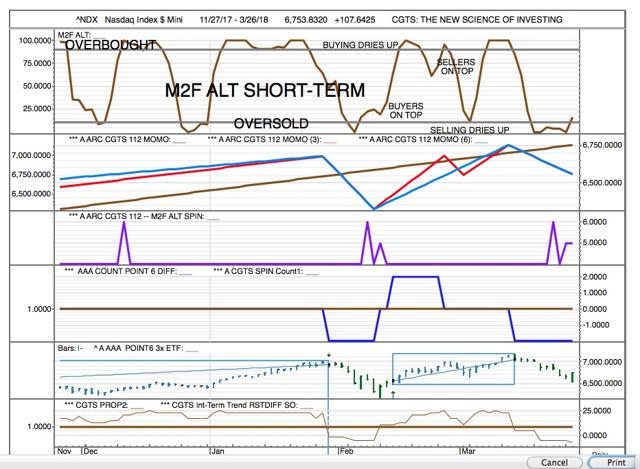 I ran a chart last week during the heavy selling and forgot to publish it.  SIX, SIX FLAGS ENT, is not one of my favorite charts -- but with huge selling energy pushing the market I somehow came upon a chart of SIX, and I was rather astonished.  It looked like a normal correction, nothing more.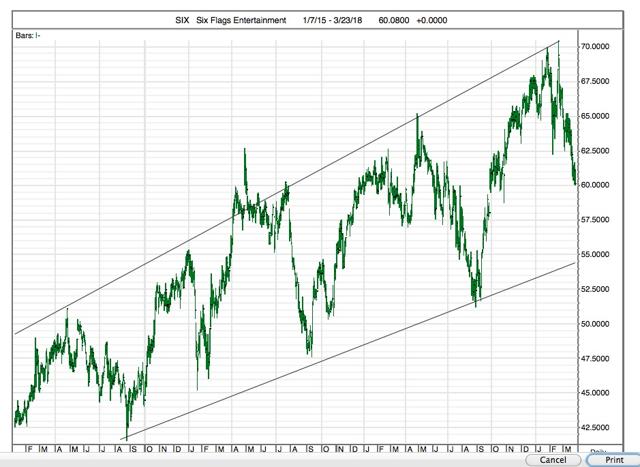 I have been long FINL for some time now.  Suddenly it pays off.  FINL jumped over 30% on takeover stories about a suitor, UK giant JD SPORTS, for $13.30/share.  FINL was at the top of our BIG WINNERS list today.  I might see my May 2018 options since a take-over price is pretty stable unless another suitor appears quickly.  Shareholder rights groups are clamoring for a POISON PILL to resist the takeover.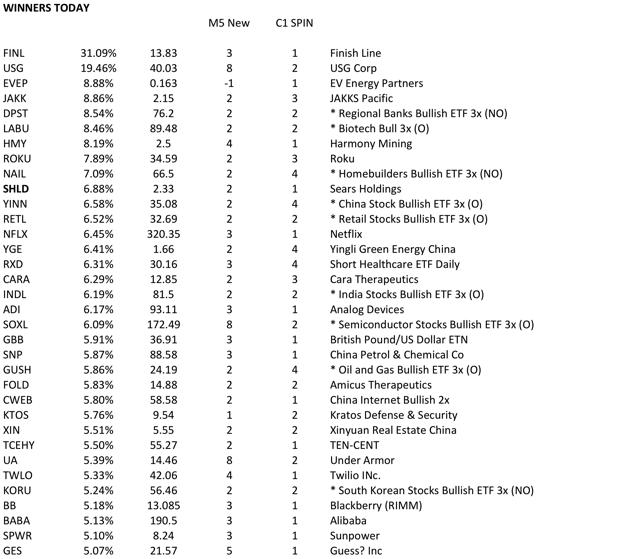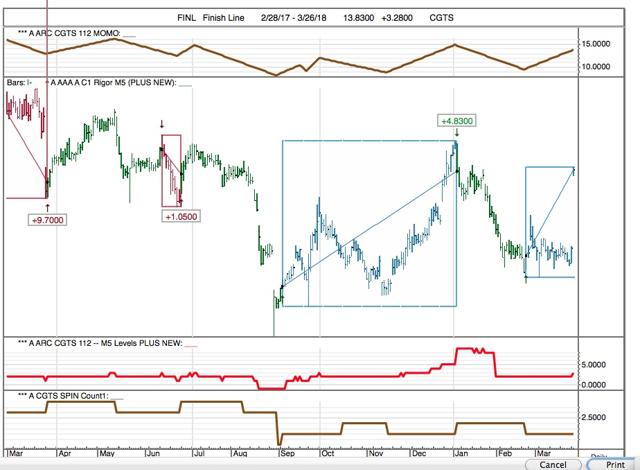 USG was also a BIG WINNER -- but note that it is giving a C1 M5 TRADING SELL SIGNAL ALSO.
We wrote over he weekend that we were going to rigorous publish our TRADING SELL SIGNALS also, with the same rigor we publish BUY SIGNALS.  Remember, if you are holding an issue long-term, read this list with a modicum of salt.  This is a TRADING SELL SIGNAL, for traders only.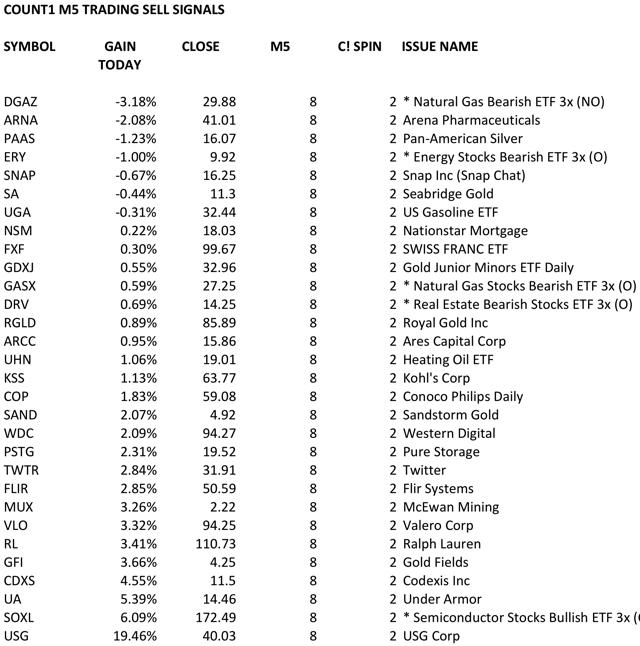 We are long ARNA long-term.
We have a NEW TRADE in our M5 3x-EFT: LONG TRADE SOXL, SEMICONDUCTORS BULLISH ETF.  Keep in mind, this 3x M5 SYSTEM uses our early M5 Indicator, no our newest M5 Plus New which we are using with out C1 M5 SYSTEM.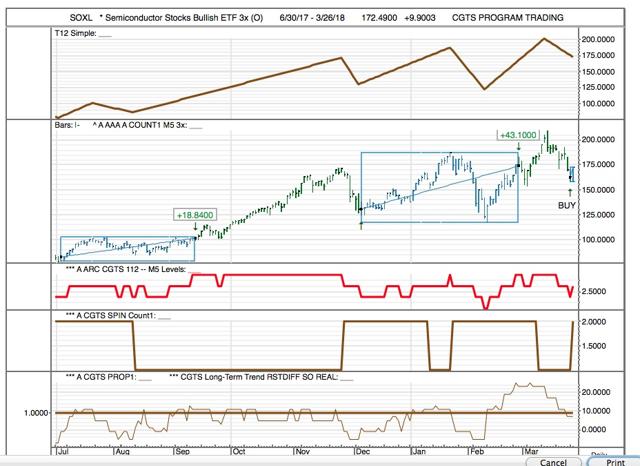 The Trading System we were so excited about two weeks ago, COUNT1 3 TRENDS, is off to a paltry start.  But we are sticking with it, because it is theoretically robust.  It is giving one new signal today, SHORTSELL SDD, SMALL CAP BEARISH ETF.  If this was really the end of the BULL MARKET we would see many LONG SIGNALS for these INVERSE issues.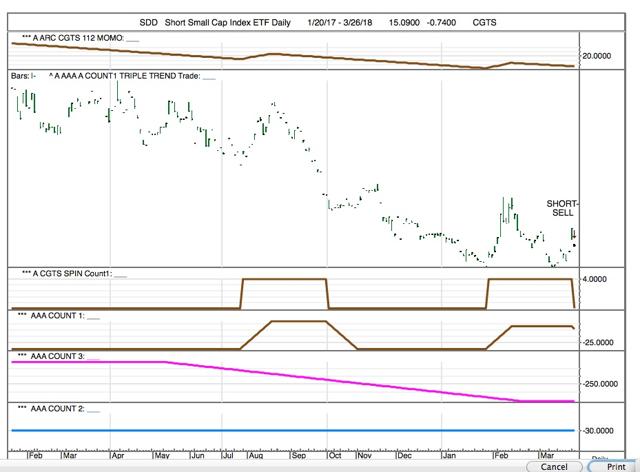 We need today's rally to gain steam and continue for the rest of this week.  I am decidedly LONG the market.  I believe that the best position for the market is a relative balance of SHORT AND LONG positions.  Our COUNT! INTERNAL COUNT says that we should be 70% LONG. We cannot find 30% of the market to SHORT.  We NEVER short a stock just to meet our quota -- and a lot of the issues that were SHORT last year (biotech, retail, precious metals) are no longer short.
We want to keep an eye on our (modified) INTERNALS.  We had a lot of selling over the last week, so we should have had a bit of inversion.

77.45% BULLISH, COUNT1 SPIN.  But a deterioration in ST TREND down to 38.04%.  This is CORRECTION territory.  PROP2 is 54.2% -- barely above CORRECTION TERRITORY.  Let's hope BUYERS are able to dislodge this negative prevalence over the next week.
MJC
READERS PORTFOLIO.
UNDER SEPARATE COVER.
We have added a new data-field to our RP.  COUNT2 30.  A rally in C2 carries the C2 COUNT to 30.  A selloff carries C2 COUNT to -30.  If you see a stock that is Long-term LONG with a C2 COUNT -30, this is one to consider.  A stock that is Long-Term SHORT and has a C2COUNT of 30 is a SHORTSELL CANDIDATE.  When a LONG Trade breaks down from 30, this is a possible SELL SIGNAL; when a SHORT Trade breaks up from -30, this is a possible COVER SIGNAL.  We will demonstrate this more later.  Also, a C1 move between 4 and ZERO is bearish, but it signals a furious struggle between Buyers and Sellers that often precedes a reversal from SHORT to LONG.  And, a Bullish C1 move from ZERO to 1 seems to be less powerful than a move from Zero to 2 and then back to 1.  We added Count1 (as data) back to our report.  You can work with COUNT1 and COUNT2 30 COUNT by yourself.  COUNT1 also tells you in PROP1 is bullish (COUNT1 1 or 2) or bearish (COUNT1 3 or 4).
FOR SUBSCRIBERS ONLY.
For fundamental CGTS descriptions:
http://home.mindspring.com/~mclark7/CGTS142.htm
MJC, CGTS
We have refined our system to a simple system of SPINS.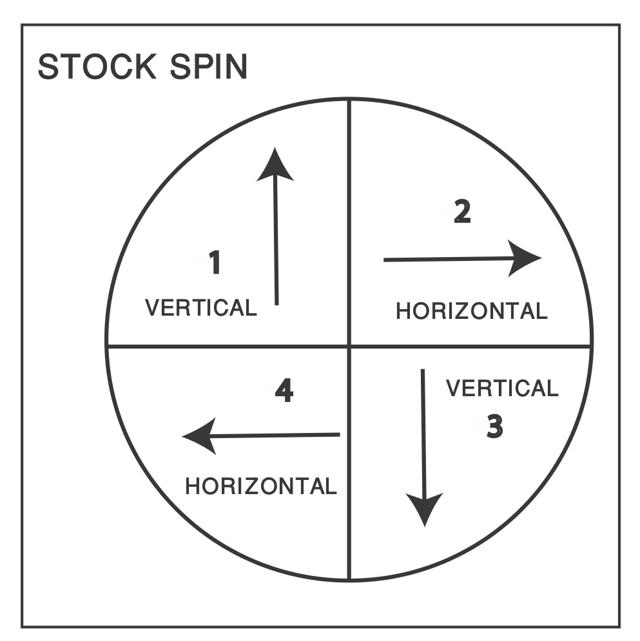 LEGEND:
COUNT1 SPIN SYSTEM AND M2F ALT SPIN SYSTEM
Essentially the trading mechanism is this:
COUNT1 SPIN SYSTEM
BUY: COUNT1 SPIN = 1
TRADING SELL/HOLD: COUNT1 SPIN =2
SHORTSELL: COUNT1  SPIN =3
TRADING COVER/HOLD SHORT: COUNT1 SPIN = 4
Long-Term Traders will Buy/Cover when Count1 Spin is 1 or 2 and Sell/Shortsell when Count1 Spin is 3 or 4.
M2F ALT SPIN SYSTEM
BUY: M2F ALT SPIN = 4
TRADING SELL/HOLD: M2F ALT SPIN = 6 two days in a row
SHORTSELL:M2 F ALT SPIN = 2
TRADING COVER/HOLD: M2F ALT SPIN = 6 two days in a row
Long-Term Traders will Buy/Cover when M2F ALT SPIN is 4 and Sell/Shortsell when M2F ALT is 2.
Disclosure: I am/we are long QQQ.