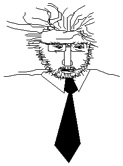 17 April 2018
TUESDAY
Very excited by our BULL TRAP(/BEAR TRAP) MECHANISM NOW.  Let me repeat our logic here.  We only want to trade LONG in issues that are strongest but which are experiencing a COUNT1 SPIN =2 pullback.  It is hard to know when to get into the BEST stock trends (we fear we will get in at a top, right?).  So we look for issues that are in a perfect UPTREND, except COUNT1 SPIN:

We copy our 3 TREND WATCHLIST every day, after checking to see if we have any new COUNT1 SPIN FLIPPERS.  (None today.)  Tomorrow, when we open the saved list, we will see (SUDDENLY) issues that have been TRAPPED IN OUR BULL-TRAP or BEAR TRAP.  Yesterday we trapped XOI, Oil/Gas Stocks Index, and EOG, EOG RESOURCES.  Today we trapped some more BULLS.  Remember, when COUNT1 SPIN recoils from "2" to "1", from TRADING SELL to BUY, there is an energy disturbance, with high-priced stocks, that neutralizes, somewhat, TIMING.  The BULLTRAP today trapped 3 new bulls: NETFLIX (no surprise here, a company that exploded limited new subscriber expectations yesterday), FLIR, and IBKR.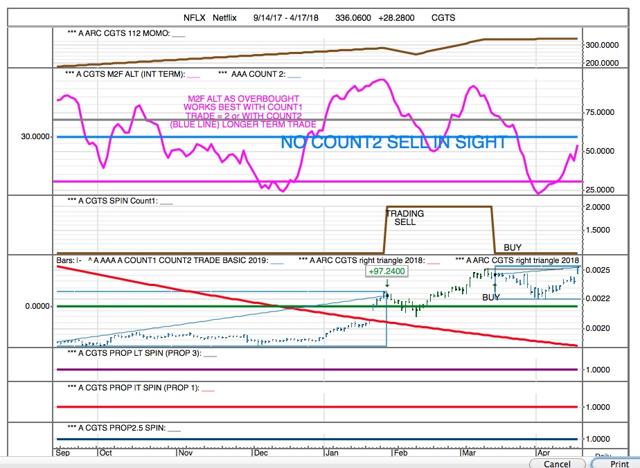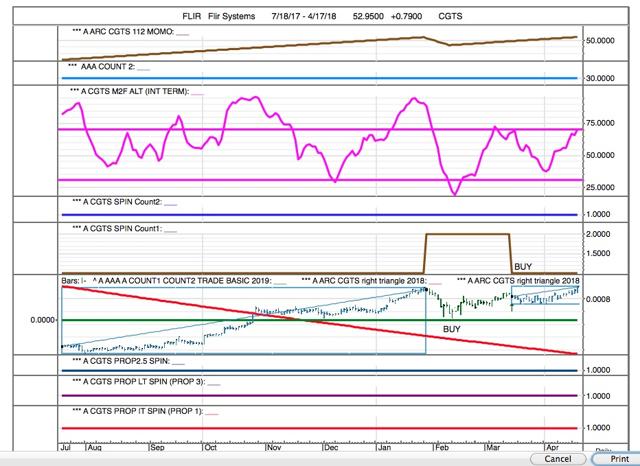 IBKR exploded COUNT1 SPIN a year back.  Is this still a good trade?  Perhaps.  We continue to test this.  Our THREE COUNT trading system was initiated right before the last correction – and it lost 9% almost immediately.  A good thing about this system is that it BUYS COUNT1 but it sells COUNT2.  So I buys us into long-term VERY BULLISH issues and holds through minor corrections.  Today it is down 2.2%.  We have a LOT of hope for this system.  Out of 46 trades (so far) we have only one closed trade, a loss of 13% (SMN, inverse Basic Materials).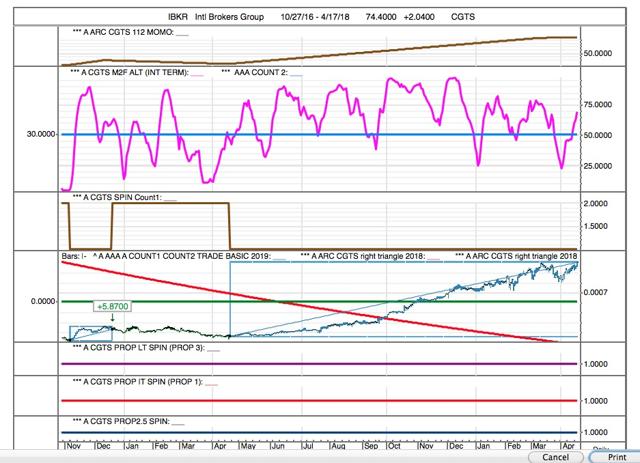 Every day we ask our computer to give us a list of any issues that is breaking down from COUNT2=30 (or breaking up from COUNT2=-30).  Today we go TEN, TENNECO.  This is not so simple, this COUNT2 instrument.  It can break down from 30, triggering a SELL SIGNAL – and then it can stop, and refused to go down.  Is that what TEN is doing?  Looks like it.  PROP2.5 SPIN is still BULLISH (= 1).  Of course it might just be pausing.  But the PROP2.5 SPIN suggests it is not just pausing.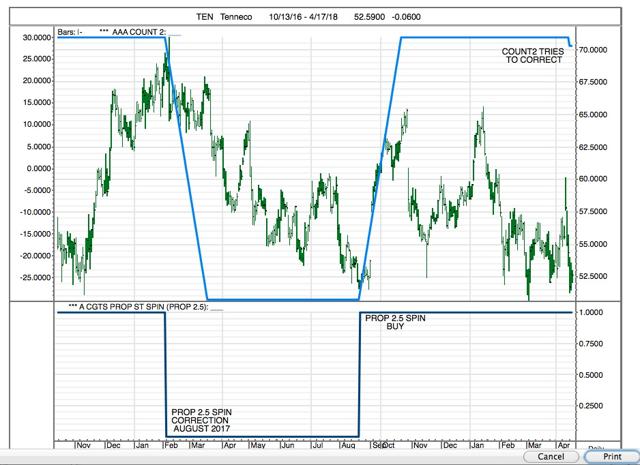 TEN has done this before.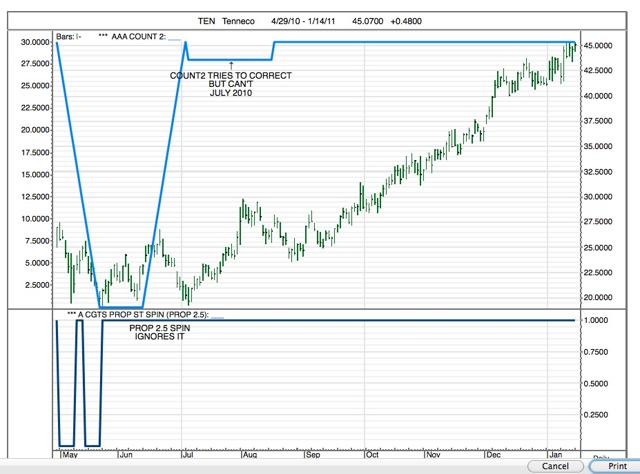 And again, in 2016: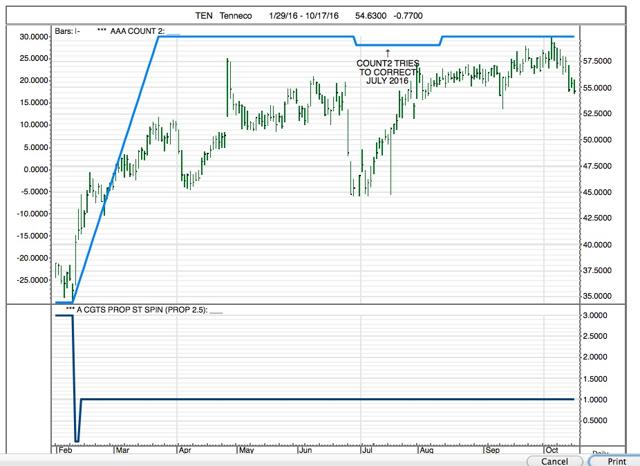 In each case, PROP2.5 SPIN told us that the decline was no to be trusted.  Some of you may wonder if TEN ever goes down.  It does.  In 2014, it did.  And PROP2.5 SPIN confirmed the decline.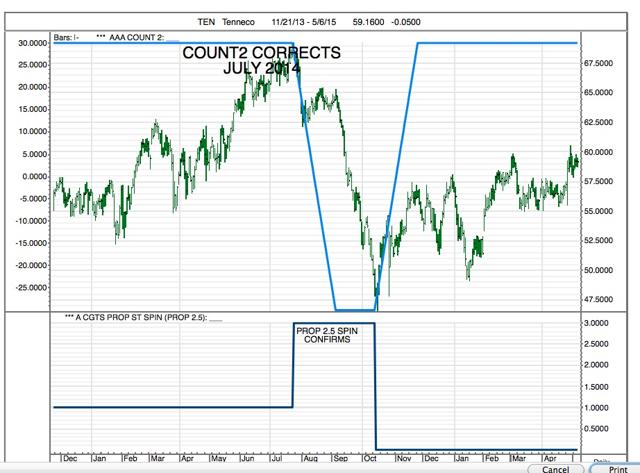 Does this mean we want to BUY TEN here?  Maybe.  Of course, it would be more sober to BUY it when COUNT2 clicks back up – perhaps.
Today was a very nice rally, the kind we need to have here to re-establish the BULL momentum.
VIX is suddenly confirming this bullishness.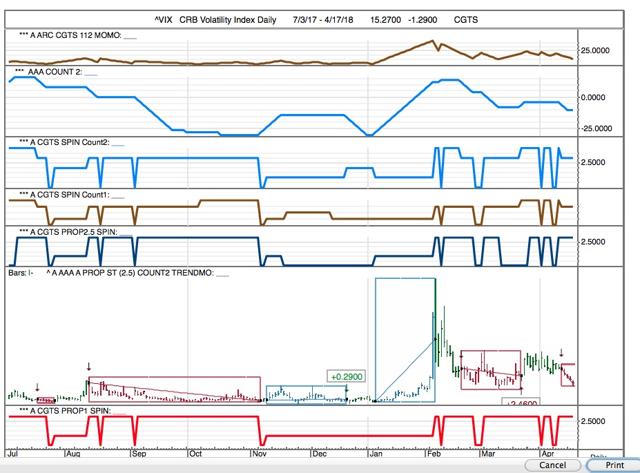 And NDX continues its pilgrimage toward the Promised Land: our next target is for M2F ALT to be OVERSOLD (>70) and for COUNTPOINT6 to be MAX LIMIT (=10).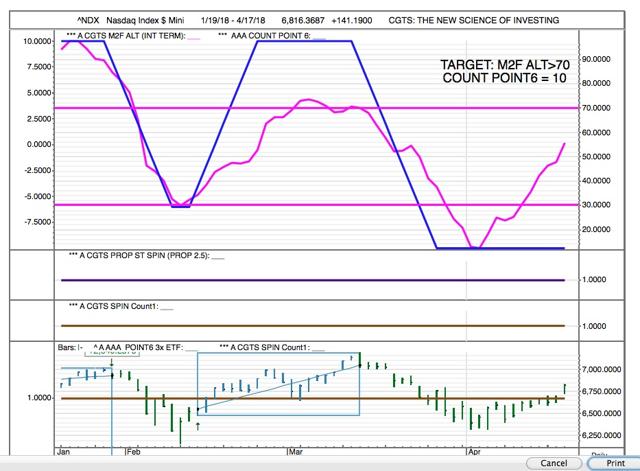 Here's our C1 SPIN REPORT.  Notice that BOTH of our C1 SPIN =2 TRADING SELL signals (EYES and YANG) are NOT being confirmed by COUNT2 or by PROP2.5 SPIN.  This means they are NOT true sells.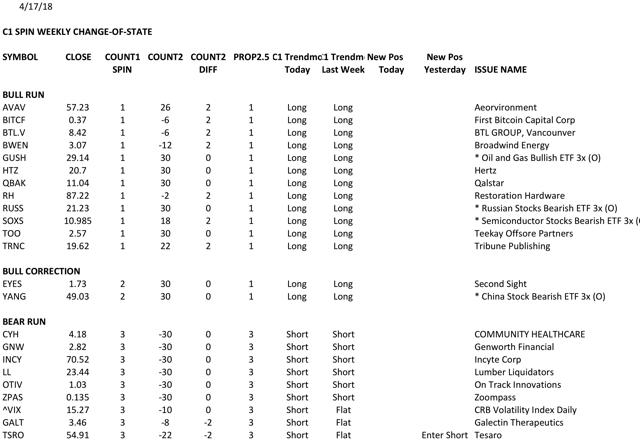 We like GALT in the Monthly Chart but not so much in the Daily Chart.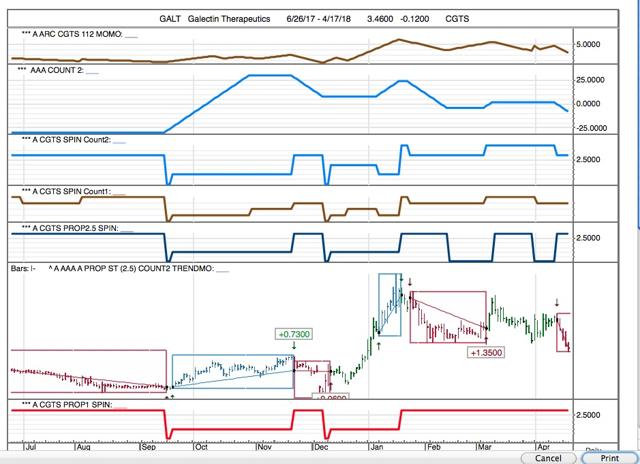 Our PROP2.5 SPIN Portfolio really has been jumping.  For new PROP2.5 SPIN trades we required confirmation from COUNT2.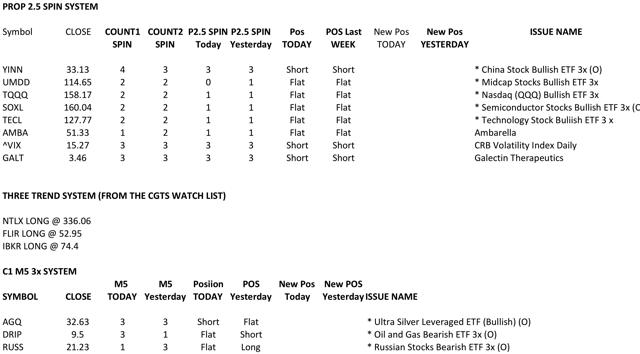 We would expect our INTERNALS to be improving.  They are.  C1 SPIN =1 (BULLISH) has passed C1 SPIN =2 (BULLISH CORRECTION).  PROP2 is 58% bullish; ST TREND is 52.8% bullish, up from 24.43% on April 5.

Subscriptions are available through Seeking Alpha PRO services.  FREE TRIAL SUBSCRIPTIONS also available.
https://seekingalpha.com/
MJC
FOR SUBSCRIBERS ONLY.
For fundamental CGTS descriptions:
http://home.mindspring.com/~mclark7/CGTS142.htm
MJC, CGTS
We have refined our system to a simple system of SPINS.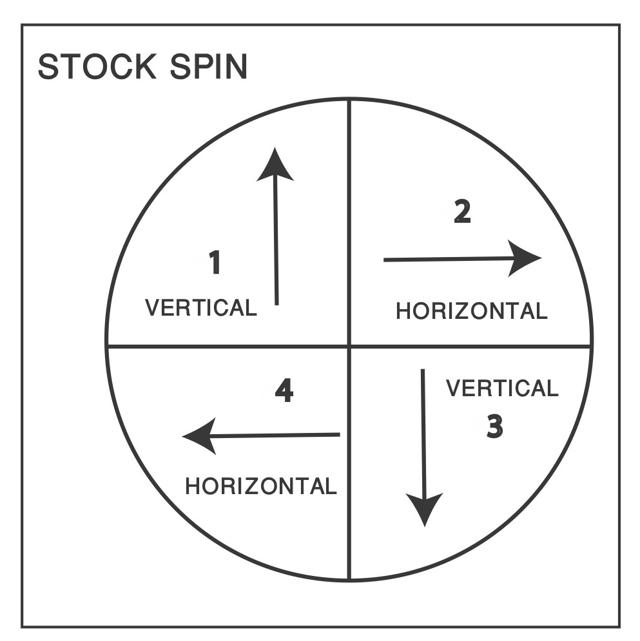 Disclosure: I/we have no positions in any stocks mentioned, but may initiate a long position in TEN over the next 72 hours.