CGTS Algo Trading System
Tools
CGTS THURSDAY
Sep. 13, 2018 7:41 PM ET•DPST, DHI, CBMG•Comment!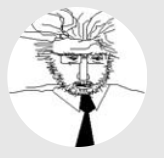 CLARK'S GATE TIMING SYSTEM



Oil opened big; then felll. Gold down again (see below). EURO up against the Dollar; JPY down against the Dollar. All the indices higher EXCEPT the small caps. 10-Year TBOND strong at the close. VIX falling.
The chart below courtesy of Jeff Gundlich.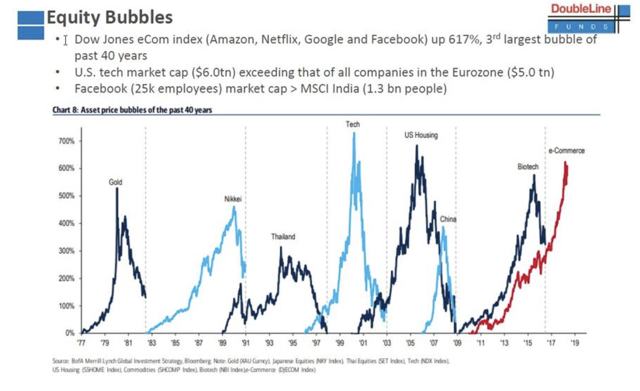 Jeff believes that E-Commerce is in a grand BUBBLE. Has it topped? Is it going to become grander. FNGU, FANG STOCKS BULLISH, seems to want to go higher.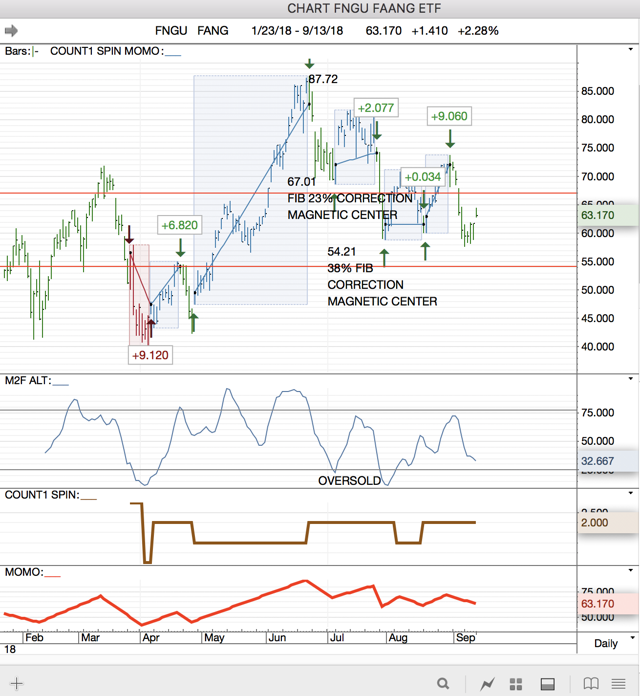 MOMO, bottom pane, seems to be forming a trading bottom.
NDX struggled a bit, but ended higher. It has now nudged its nose into M2F ALT OVERBOUGHT territory. Look how the chart indicates it tends to like spending a bit of time in the OVERBOUGHT ZONE. Slow to top; quick to bottom.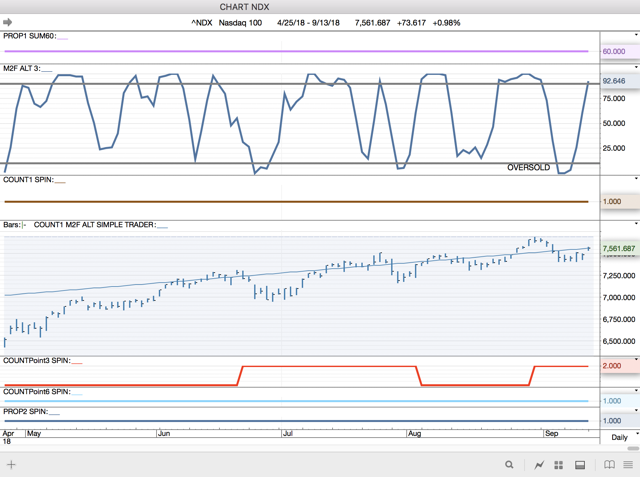 The US DOLLAR/China Stocks chart is showing a bit of a head-wind here for the Dollar. USD double bottom in terms of M2F ALT?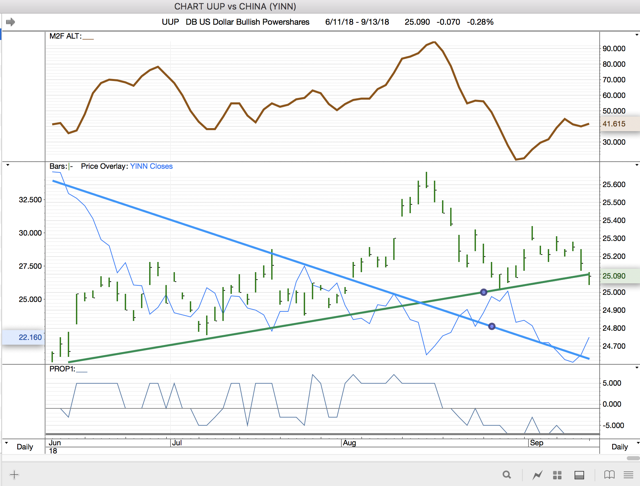 We have not talked about GOLD for a long time. I'm not very interested in gold right now.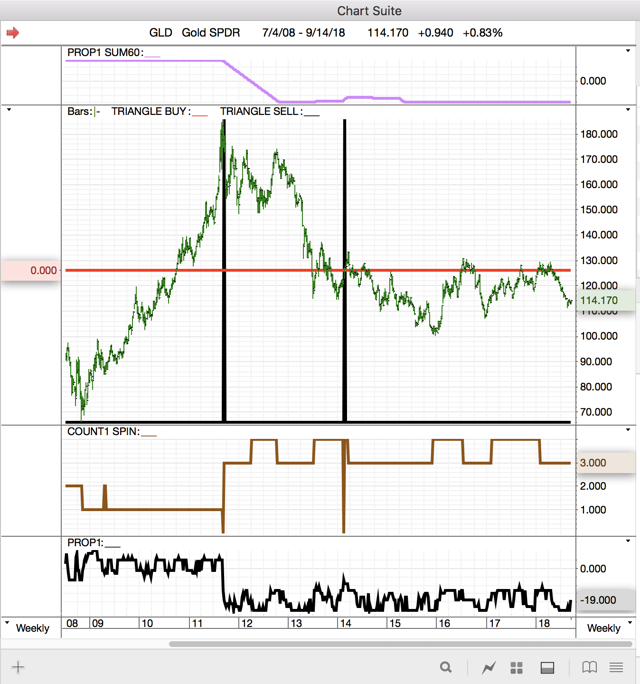 SILVER is somewhat better, in the sense that it has given a BUY SIGNAL and is PROP1 positive. But it's price behavior has been pathetic.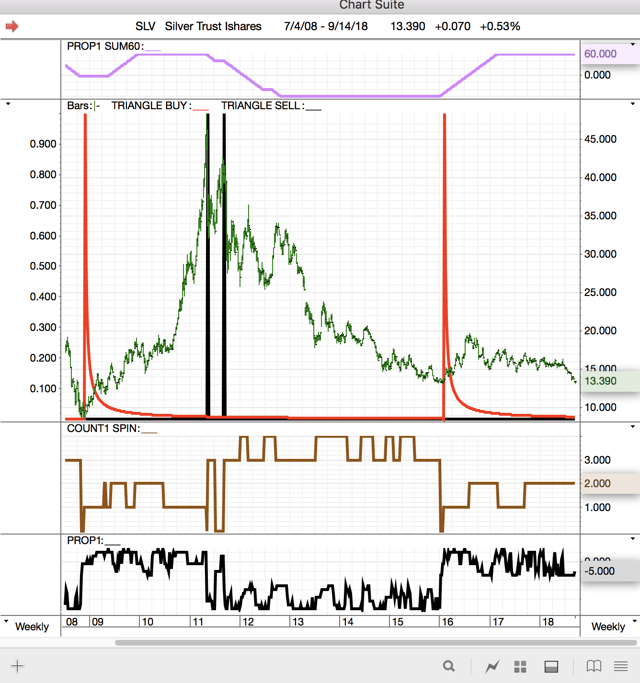 AVOID SILVER HERE ALSO. CDE shows a very similar price pattern, but it is BEARISH, in terms of PROP1.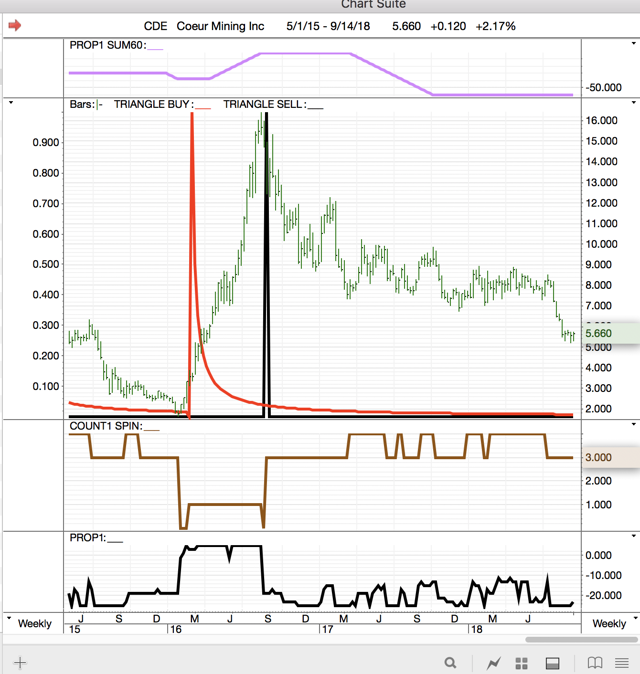 I read somewhere that an analyst was calling GLD DAILY making a double-bottom. Really?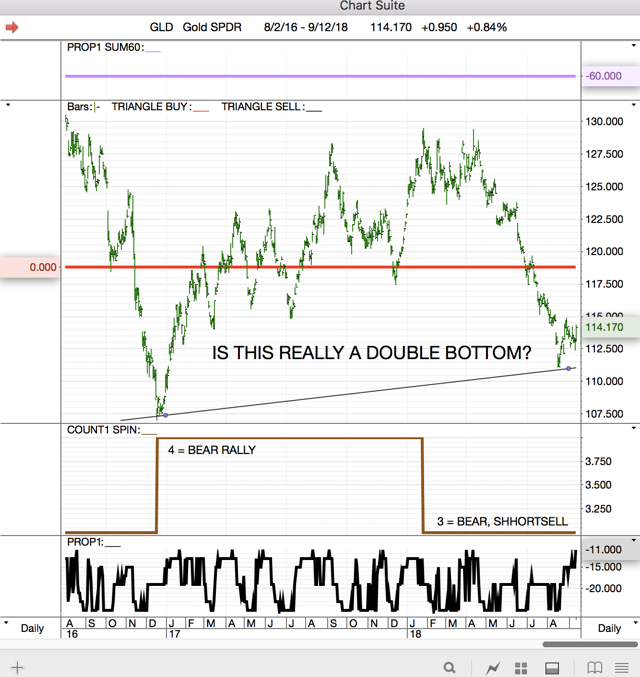 I expected the PMs to be very BULLISH through 2019. Cycle-wise. But the central banks knew they had to kill gold if they were going to vampirize all the currencies. They are very good at fixing a market, such as the PMs. I have to given them credit. I think it is wishful thinking to read a DOUBLE-BOTTOM in to the GLD daily chart.
CURRENCY REPORT
CURRENCY-3. No changes.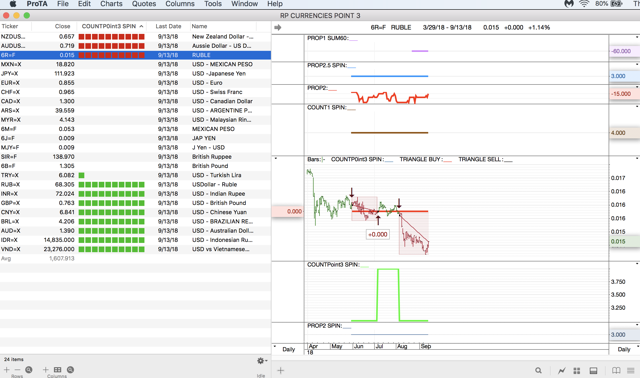 CURRENCY-6. No changes.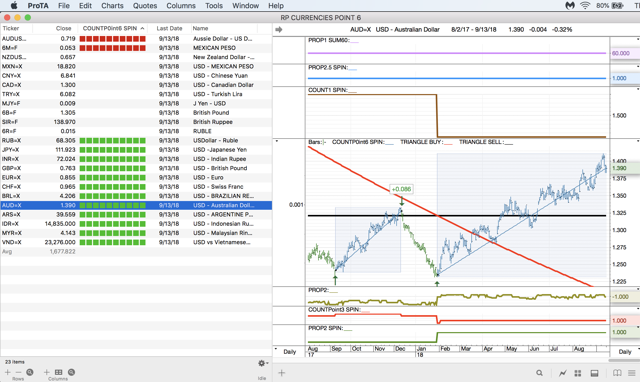 CUR-3 PORTFOLIO. We did not get a new signal, but we added a LONG position USD-BRL.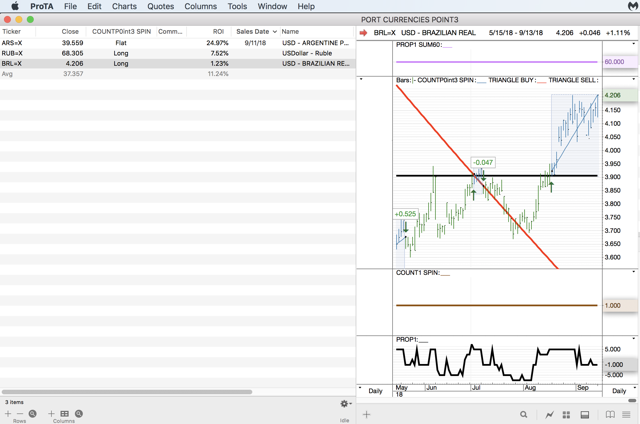 We also added a position to our CUR-6 Portfolio. LONG USD-BRL, Brazilian Real.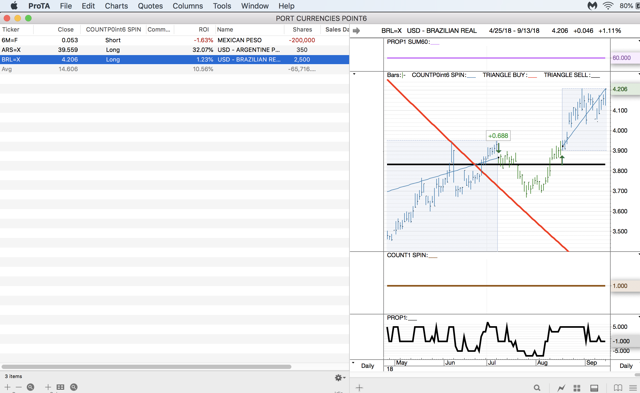 COMMODITIES REPORT. No new trades, but notice the M2F ALT SIMPLE TRADING SELL on UGAZ.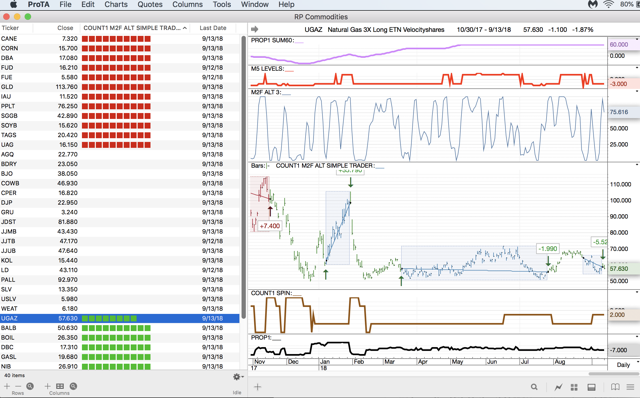 3X-TRADING.
PURIST TRADE 3X LONG. Continuing LONG, USOU.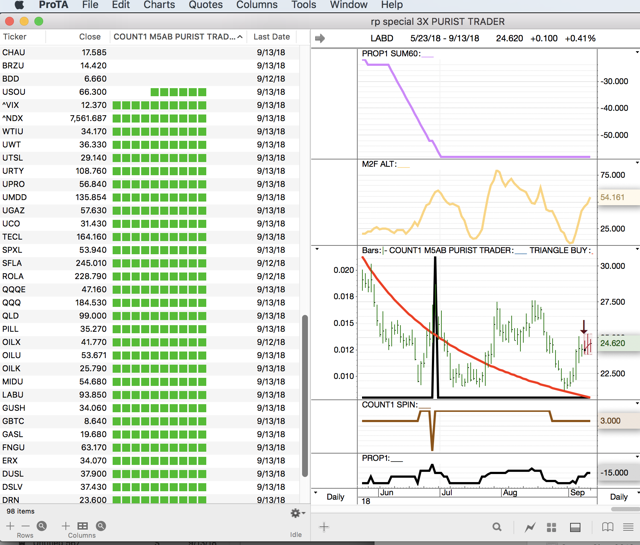 PURIST TRADE 3x, SHORT: continuing SHORT LABD.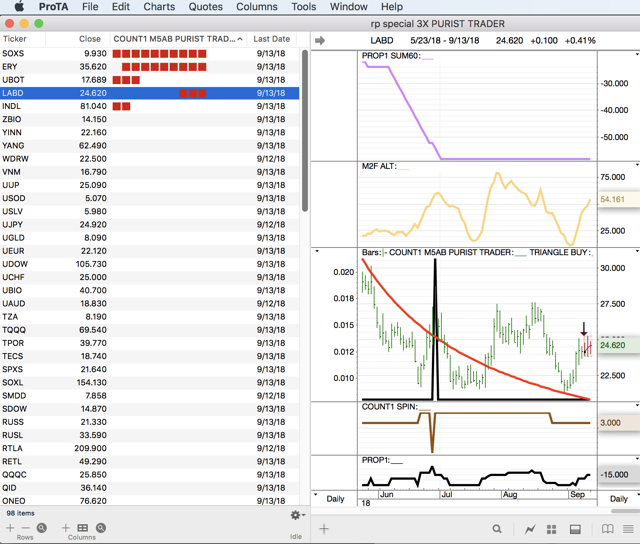 3x-DOUBLE LONG REPORT. BUY DPST, REGIONAL BANKS Bullish.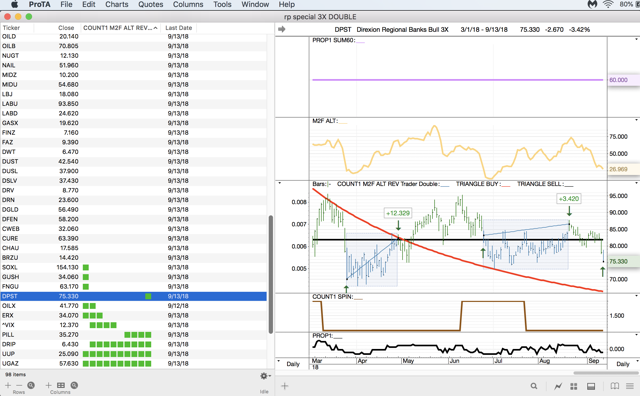 3x-DOUBLE SHORT: continuing SHORT, WDRW, REGIONAL BANKS BEARISH.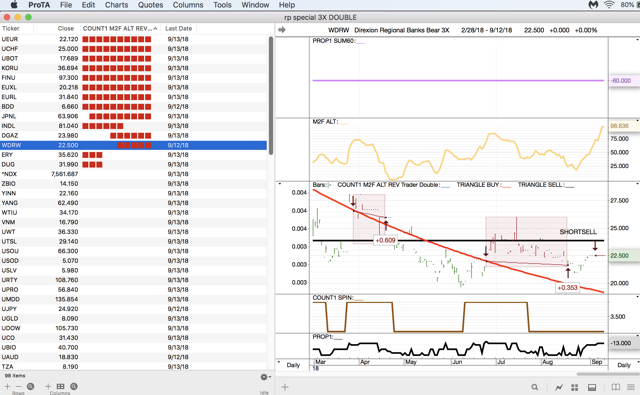 3x-DOUBLE PORTFOLIO. Note all the nice gains in the closed positions at the top.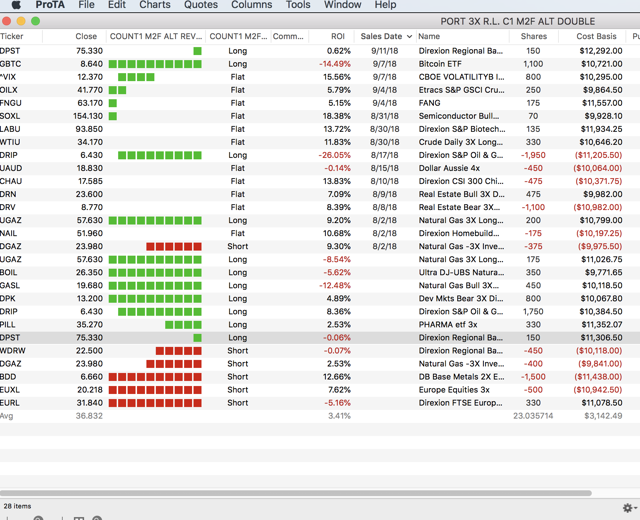 3x-M2F ALT SIMPLE, SHORT: SHORT RUSL, RUSSIAN STOCKS BULLISH. (LONG: RUSS, RUSSIAN STOCKS BEARISH.). Take your pick. Don't buy both.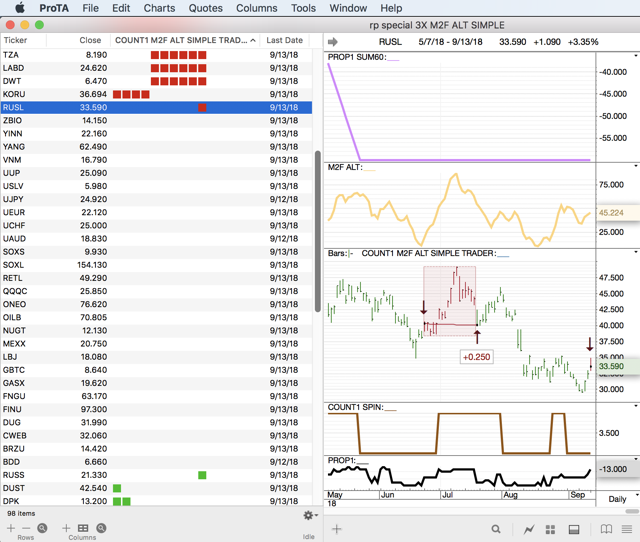 M2F ALT SIMPLE PORTFOLIO.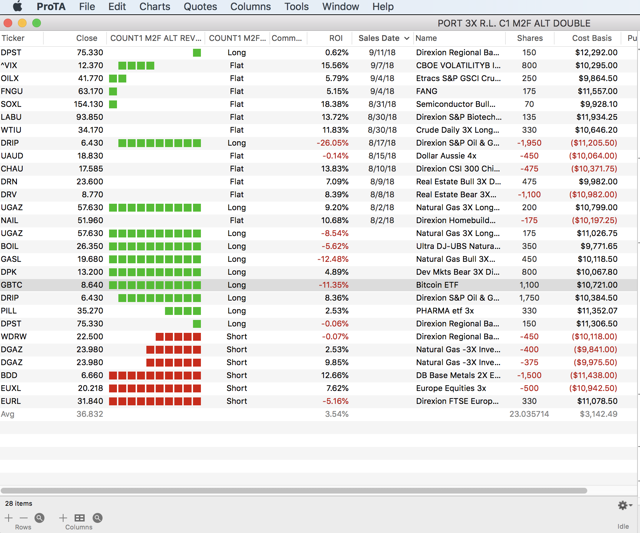 Is GBTC showing some life here -- or is it just another false pulse?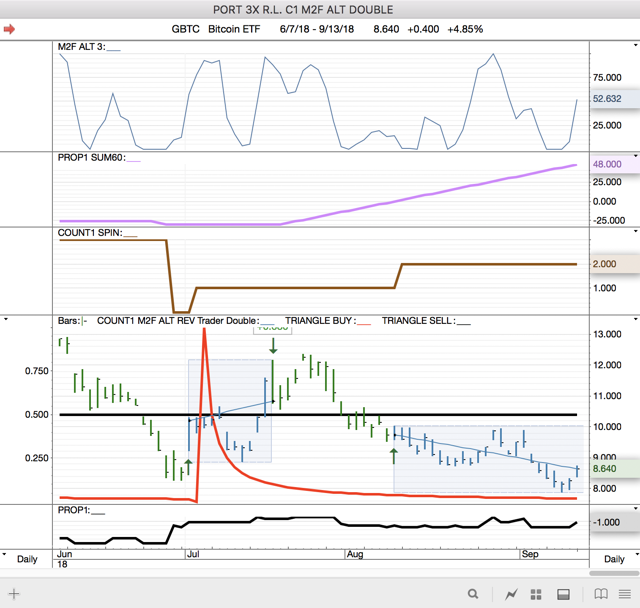 STOCK TRADING. As we said yesterday, out M5AB is on the shelf for the time being; we will track M5 PURIST only, since it is very nearly a duplicate of M5 AB.
M5 PURIST LONG Report. BUY DHI, D.R. HORTON.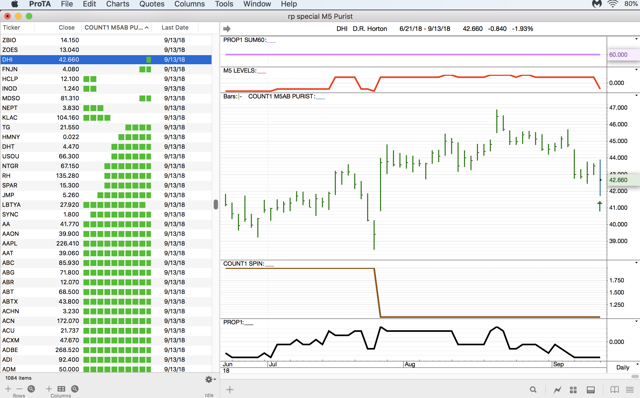 PURIST SHORT REPORT.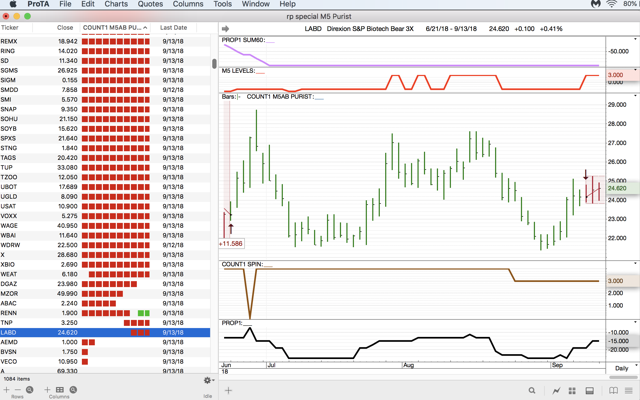 HYBRID-ALT SYSTEM. LONG. BUY TA, NOG, CBMG.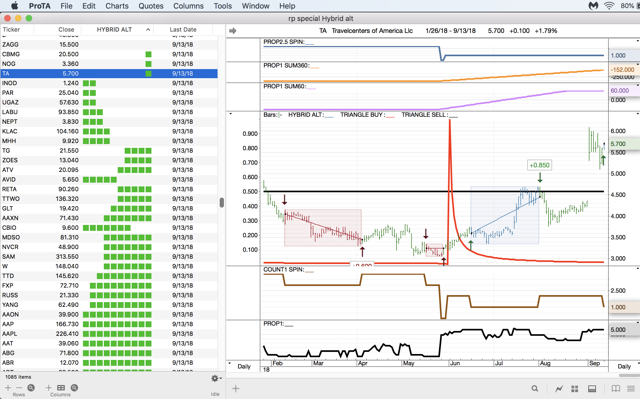 If you are looking to begin adding SHORTS to balance your portfolio -- we are -- here is a possibility.
HALT SHORT Report: SHORT DBX, DROP BOX.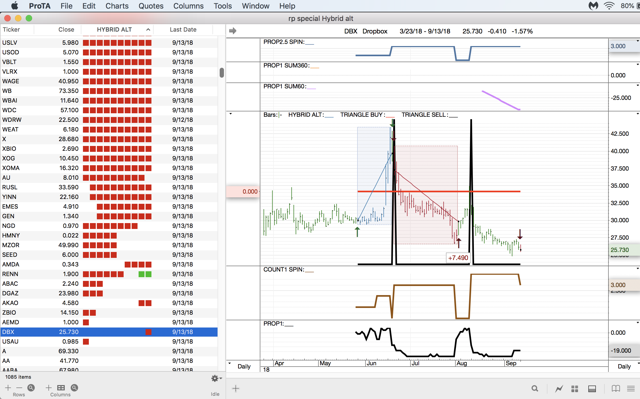 M2F ALT SIMPLE SHORT Report. SHORTSELL EMES; OSTK; RUSL. These all look pretty good. If you are like me, you like PUT OPTIONS more than SHORTSELLING.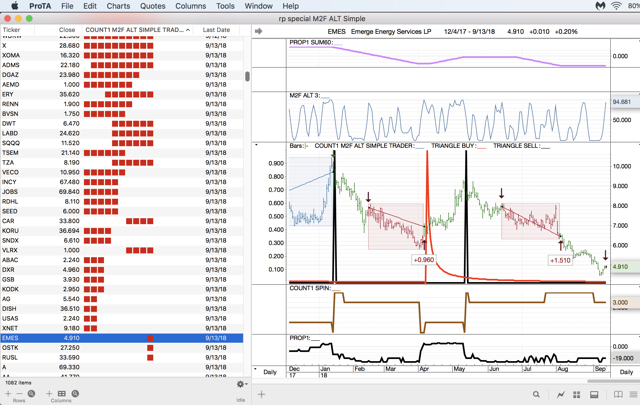 M2F ALT SIMPLE LONG Report. BUY CBMG, CELLULAR BIOMEDICINE. BUY RUSS, RUSSIAN STOCK Bearish.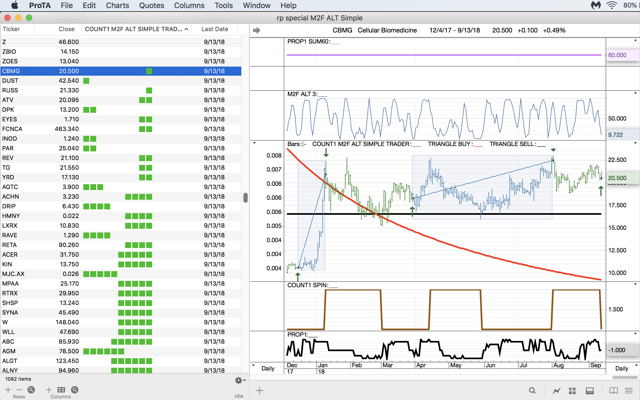 Readers will note than I have also dropped M5 AB Trading System from the RP; I have added M2F ALT SIMPLE in its place. Let me know if this displeases you. The primary reason I have dropped M5AB is that it BOUGHT when C! was either 1 or 2, as long as M5 was OVERSOLD. PURIST system buys only C1=1. I will reintroduce M5 AB if I can make it BETTER THAN the PURIST System. No other system we have will BUY a C1=2 as it is bearish in small case.
We want to look at our INTERNALS. At first glance it looks like a lot of changes. C1=1 is down 14 from last week. But we deleted 14 issues because they were not current. C1=2 was down 1. C1=3 was up 12. C1=4 was down 11; so this interchange is almost perfect. It looks like almost all the deleted issues were C1=1 issues. PROP2 is down to 60% from 62%. ST TREND is down to 59% BULLISH from 62%. Not much. Sum60 was 78.96% BULLISH last week; is 78.57% BULLISH this week.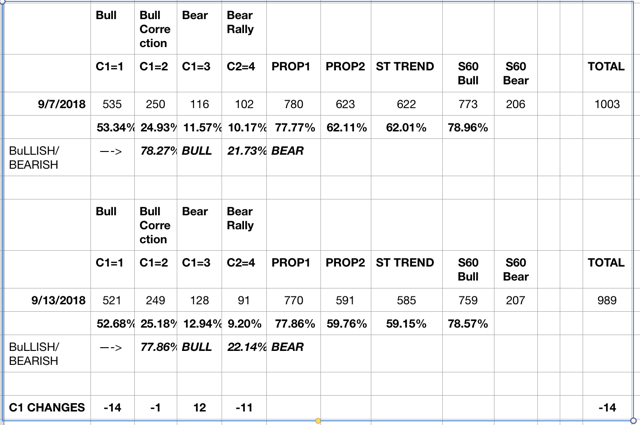 Hope you are all well. NDX is still bullish; although the rally is not what I wanted to see, not straight up as it has been.
MJC, CGTS
Disclosure: I am/we are long M.
I wrote this article myself, and it expresses my own opinions. I am not receiving compensation for it. I have no business relationship with any company whose stock is mentioned in this article.
Disclosure: I am/we are long M.