CGTS Algo Trading System
Tools
CGTS TUESDAY: CYCLES ALL THE TIME; DARKNESS BEGINS TO DISSIPATE DECEMBER 21.
Dec. 11, 2018 10:09 PM ET•Comment!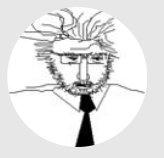 When we write that history goes through a 36-Year Cycle, we must also recognize that there are smaller Day-Night cycles as well. The Microcosm is the Day, with the four parts divided by Dawn, Noon, Dusk, and Midnight. The Macrocosm is the Year. Each year the world is reborn in Spring, March 21 (OTC:DAWN), peaks in terms of Energy Spent at Summer, June 21 (Noon), falls into the shadow or Darkness of Autumn, September 21 (Dusk) and bottoms in Winter, December 21 (Midnight). We are approaching the bottom of Saturn's Cave, December 21. It is dark and cold. It is like we are trying to round the Pole in order to find our way back to the light.
December is very hard on the spirit, which tends to suffocate in the darkness. Christmas celebrates the rebirth of the Soul from the darkness. December 21. Christmas is a celebration of lights, which are needed in the darkest time of the year.
I feel the weight of the winter this year, no question. It is not only the Winter heaviness -- Saturn governs Capricorn, Dec 21, and Saturn is considered LEAD, the metal -- but we are also nearing the MIDNIGHT HOUR in the 36-year Cycle.
Before Christmas, the Romans celebrated SATURNALIA. From WIKI
Saturnalia was an ancient Roman festival in honour of the god Saturn, held on 17 December of the Julian calendar and later expanded with festivities through to 23 December. The holiday was celebrated with a sacrifice at the Temple of Saturn, in the Roman Forum, and a public banquet, followed by private gift-giving, continual partying, and a carnival atmosphere that overturned Roman social norms: gambling was permitted, and masters provided table service for their slaves.[1] A common custom was the election of a "King of the Saturnalia", who would give orders to people and preside over the merrymaking. The gifts exchanged were usually gag gifts or small figurines made of wax or pottery known as sigillaria. The poet Catullus called it "the best of days".[2]

Saturnalia was the Roman equivalent to the earlier Greek holiday of Kronia, which was celebrated during the Attic month of Hekatombaion in late midsummer. It held theological importance for some Romans, who saw it as a restoration of the ancient Golden Age, when the world was ruled by Saturn. The Neoplatonist philosopher Porphyry interpreted the freedom associated with Saturnalia as symbolizing the "freeing of souls into immortality". Saturnalia may have influenced some of the customs associated with later celebrations in western Europe occurring in midwinter, particularly traditions associated with Christmas, the Feast of the Holy Innocents, and Epiphany. In particular, the historical western European Christmas custom of electing a "Lord of Misrule" may have its roots in Saturnalia celebrations.
Saturn brought gifts in the darkness to brighten spirits. SANTA. In Hindu, Saturn was SANAT.
Many historians, scientists and theologians believe that the Star of Bethlehem was actually a conjunction of Saturn and Jupiter, called the GREAT CONJUNCTION.
At the great conjunction in 7 BC, which is said to be the "Star of Bethlehem", the minimum distance between Jupiter and Saturn was around 1 degree, this is twice the Moon's diameter. The next occultation of Saturn by Jupiter will take place in 7541.
Symbolically, this would make sense, because Jupiter-Zeus was the son of Kronos-Saturn, the New Sun Aeon being born from the Old Sun, Saturn. The Greeks considered Jesus to be the reincarnation of Jupiter-Zeus, embraced this religion and even called Jesus the equivalent of "Hail Zeus".
Jesus or "sus" translates as Zeus. The English name "Jesus", therefore, stems etymologically from "Jupiter-Zeus" the chief god of the ancient Greek Olympus." -"Yeshua" or "Jesus" -- according to the Biblical Research Institute; 1996 by Les Aron Gosling -- "'Jesus' is a transliteration of a Latin name Ioesus, pronounced heysus - which means nothing in Hebrew, but in Latin it means 'Hail Zeus'.
Christians fought against this historical asterisk in trying to project the New Religion as having no roots in the old (PAGAN) religion. The New Religion is a new branch on a very old tree. Rejection of roots is a problem for every new idea. Every "new" idea is a permutation of an old idea. Rejecting the roots or the history leads to alienation and a sense of being orphaned. We all come from the same soil and from the same Sun. History is a continuum: Man's history is an extension of the history of the animals on Earth, which is an extension of the history of the plants on Earth, which is an extension of the history of the mineral and metallic formation of the Earth through long aeons. Which is an extension of the planet through its watery history and its gaseous history and its plasmatic history and its solar history. Our history, indeed, stretches back into the SUN, which breathed us out as elements with a building plan. We will eventually, the entire solar system, be reabsorbed back into the Sun and liquidated, moltenly. Back into the melting pot. We will all return to a fiery unity in the furnace of the Sun, the forge from which we all came. The Sun is a forge, as is every stat in the universe. Every planet is a sun wearing "clothes". We speak of the molten core of the planets -- this is the sun inside, trapped by matter, wanting to get out.
Those of you who are familiar with my writing know I am fond of GEMATRIA, which links letters and numbers in a unified field theory.
THE GREAT CONJUNCTION in English Gematria Yields: 1332 — THE STAR OF BETHLEHEM

considered by many to be the conjucntion of Saturn and Jupiter in 7 BC.

INTO THE MELTING POT in English Gematria Yields: 1332 -- the alchemical melting pot is the same melting pot as the American melting pot that creates a new race

SAINT MICHAEL'S RELIGION in English Gematria Yields: 1332

MICHAEL J. CLARK'S BOOK OF MAGIC in English Gematria Yields: 1332

AEONIC CONSCIOUSNESS in English Gematria Yields: 1332

TO DISCERN A TIMAEAN THEME in English Gematria Yields: 1332

REMEMBER, ON THE SECOND DAY OF GENESIS, GOD, THE ELOHIM, DIVIDES THE

SUPERIOR WATERS FROM THE INFERIOR WATERS IN ORDER TO MAKE THE

FIRMAMENT IN THE MIDDLE in Simple English Gematria Yields: 1332

THE OLD MAN OF THE PSYCHE in English Gematria Yields: 1332 -- the Old Man of the Psyche is Saturn, Senex -- The Eternal Youth of the Psyche is Jupiter, Puer Aeturnus

THE AMERICAN POLICE STATE in English Gematria Yields: 1332

HE SHALL GATHER TOGETHER in English Gematria Yields: 1332

I SEE YOU AS A STITCHER in English Gematria Yields: 1332

CHRIST HAD TO DIE IN ORDER THAT ONCE AND FOR ALL MANKIND MIGHT LEARN THE

LESSON THAT BY THE SACRIFICE OF THE HUMAN NATURE THE DIVINE ASPECT

MIGHT BE 'SAVED' in English Gematria Yields: 1332

IT SUPPORTS THE PRESENT in Jewish Gematria Yiels: 1332 -- 'it' being the promise of peace in paradise

THE FATHER AS DEIFIED GHOST in Jewish Gematria Yields: 1332

[Add the numbers 1 through 37 together and the sum is 1332]

[36 x 37 = 1332]
Some readers will scoff at the thought of the 36-year cycle. I have been made aware that the ancient Hebrews believed in a 36-year cycle also. Walter Gorn, who wrote in his book KABALISTIC ASTROLOGY: "The Circle of the Years is divided into periods of 36 years each..." Of course I will be reading this carefully to see if we are describing the same perspective.
Here is another theory I have. The Sun is the Material SPOTLIGHT. It is strongest at June 21. Those born around June 21 will have the most material fame and wealth.

In a very real (metaphorical) sense, we climb the MOUNTAIN OF HEAVEN (OLYMPUS?) from March 21 to JUNE 21.
Those descending OLYMPUS toward Autumn, also have a great deal of light in this world.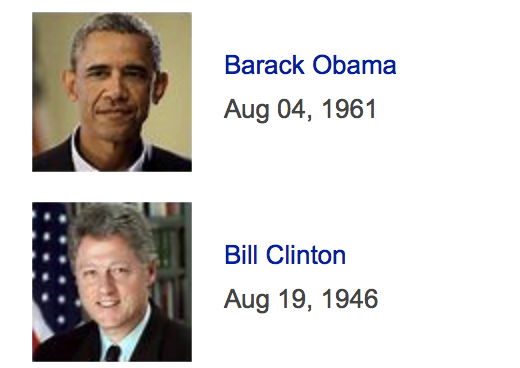 Some people will find this idea irritating. Yes, we will find MANY people born around June 21 who are not rich and famous. So this is not the only determinant. (The Ego wants to insist that he is famous only because of his talent and his determination; perhaps his luck also.)
What about the Lunar Spotlight. Those approaching Dec 21 will be influenced by the great spiritual sun, the moon -- becoming artist, philosophers, and religious leaders.


I will not insist on this. I have not researched this actualy -- it is an intuition.
Those people born closest to March 21 will be more well-balanced, and be renaissance types, good at art and science, both religion and the practical arts.
Those born closest to September 21 will tend to be more balanced also, tending toward romanticism, rebellion against the establishment, hippies and defenders of Female Rights.
THE MARKETS TODAY.
Mostly selling today, with some late recovery.
First let's look at some popular stock-charts to see where they are today. We are looking through the filter of our HYBRID AAA System.
Apple Computer. COUNT1=2, Bullish Correction. PROP2.5=0. Bullish Correction. We want both Count1 and PROP2.5 to equal 1 in order to BUY.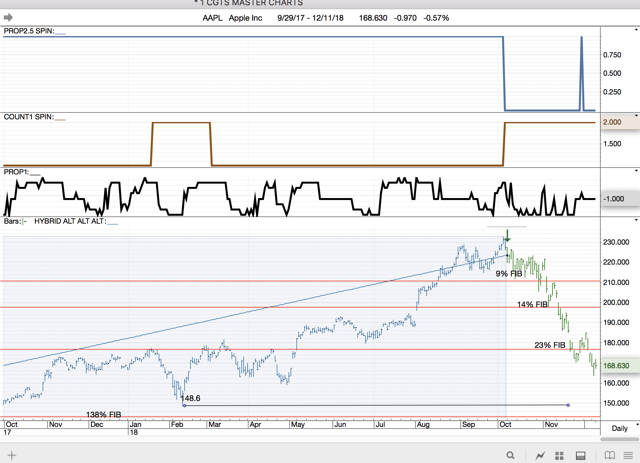 AABA, ALIBABA #2. See where PROP2.5 fell to zero and COUNT1 =2. TRADING SELL. COUNT1=1, which is a BUY; but PROP2.5 has not confirmed this. So we wait.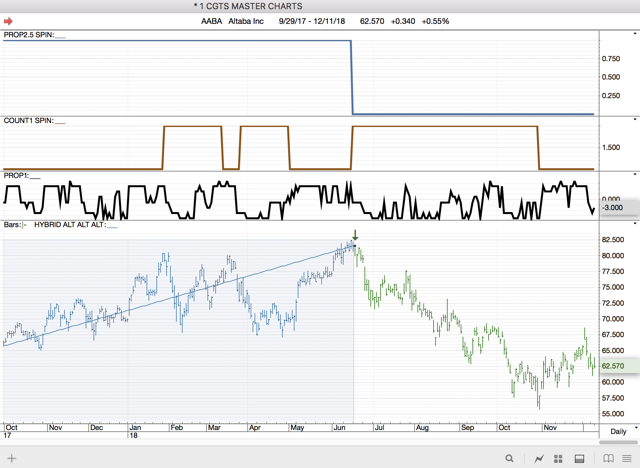 NVDA. COUNT1=4, BEARISH CORRECTION (BEAR RALLY). PROP2.5 = 3, SHORTSELL, which is not yet confirmed by COUNT1=4. Both PROP2.5 and COUNT1 must equal 3 to issue a new SHORT trade.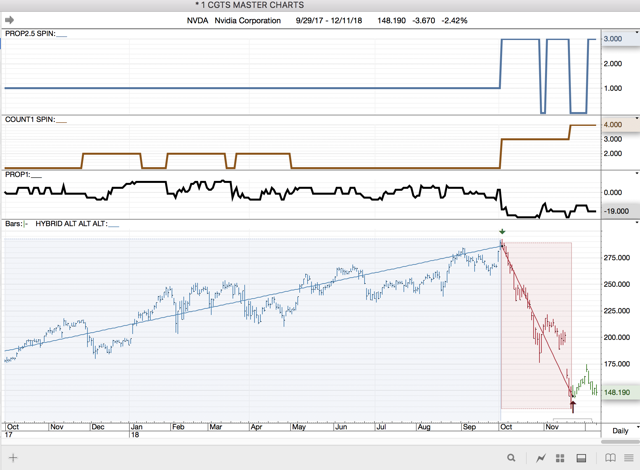 WDC, WESTERN DIGITAL. PROP2.5 = 3; COUNT1=4. Waiting for COUNT1=3 to SHORT WDC again.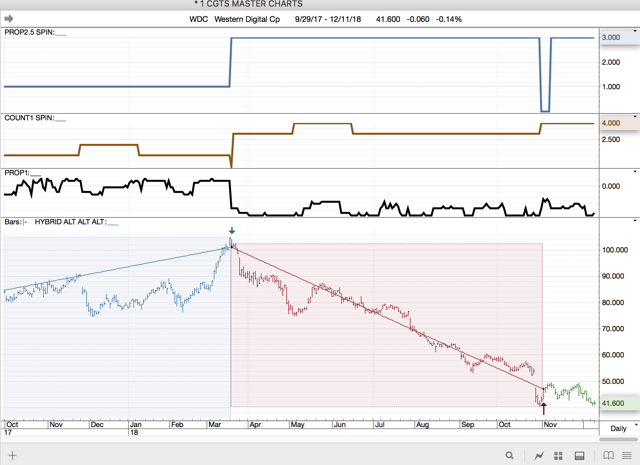 INTC, INTEL. Waiting for PROP2.5 to flip up to 1. COUNT1=1 is a BUY. But this system requires PROP2.5 confirmation.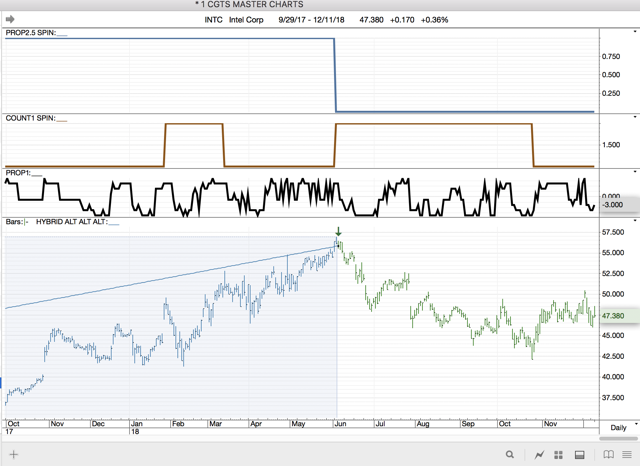 TCEHY, TEN CENT. C1=4, BEAR RALLY. PROP2.5=0, BEAR RALLY. Get ready to SHORT again when both indicators read 3.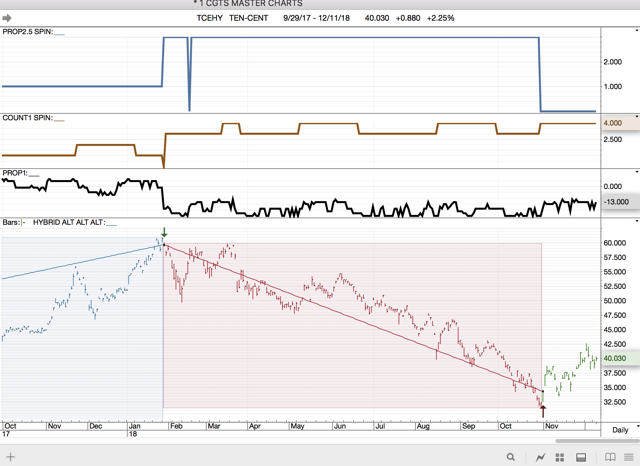 ATVI, ACTIVISION BLIZZARD. SHORTSELL in process since October 2018. COUNT1=3 and PROP2.5=3.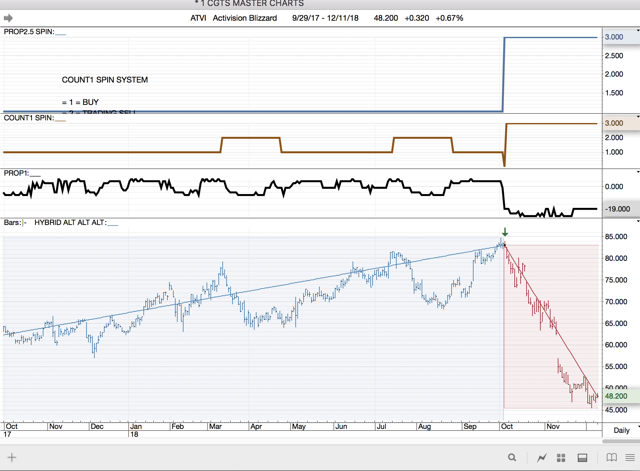 JD. COUNT1=4, BEAR RALLY. PROP2.5=3, SHORTSELL. System ignores COUNT1 COVER SIGNAL unless PROP2.5=0, Cover signal.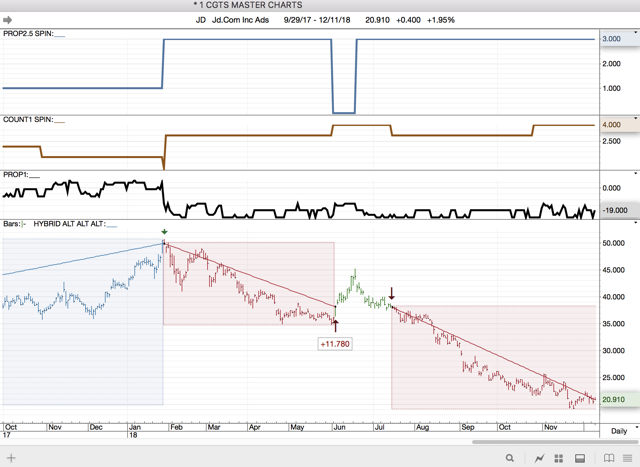 INDL, Bullish India Shares. SELL. COUNT1 pops to 2 (TRADING SELL). PROP2.5 plops to ZERO.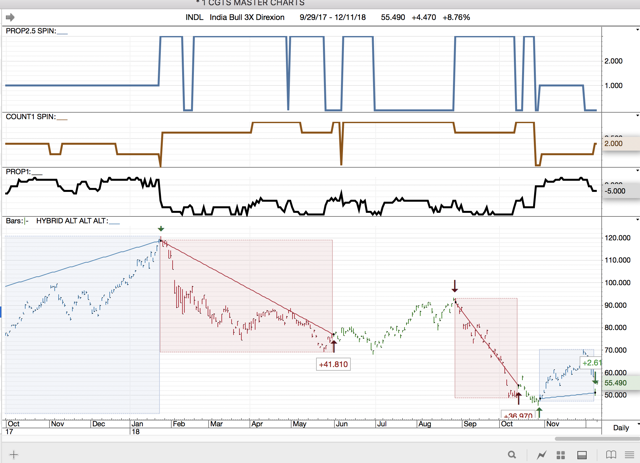 CURRENT LONG SIGNALS, HYBRID AAA.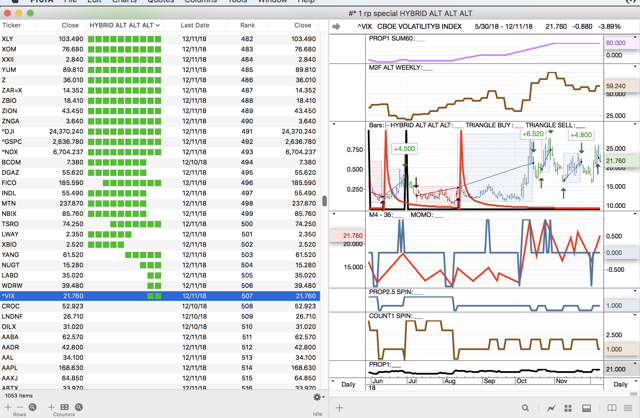 Are BANK shares going lower? Looks like it. Current HYBRID AAA SHORTS. FINU, Finance Bullish Shares, is in the chart window.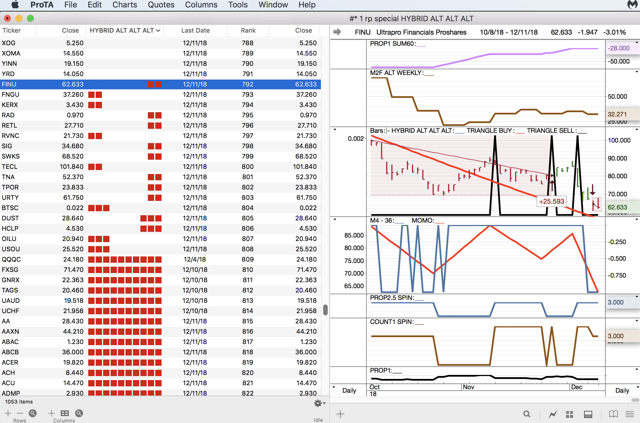 COUNT1 CHANGES for the week. We do have one new LONG SIGNAL (traditional LONG) KTOS. We are emphasizing the SHORT SIDE now however.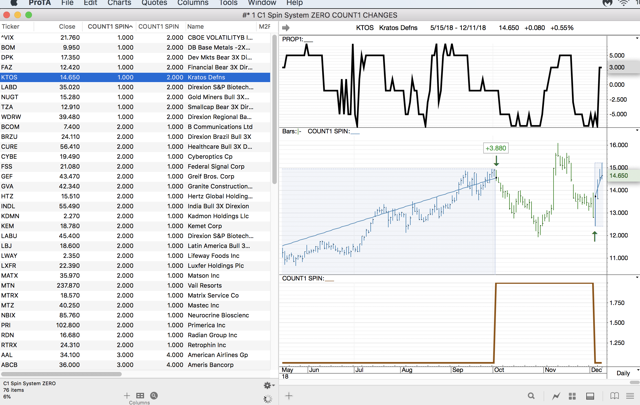 Note both BRZU and LBJ gave SELL signals after a week Plus Trade.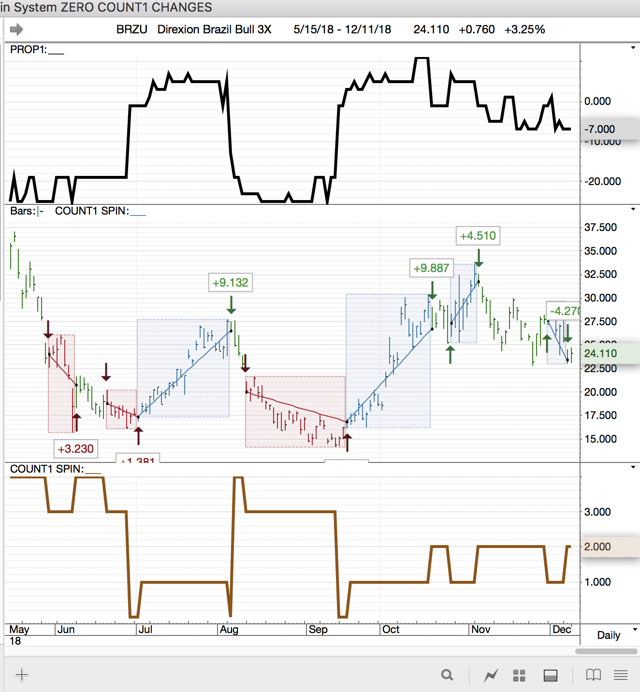 We warned not to trade against the Strong Dollar.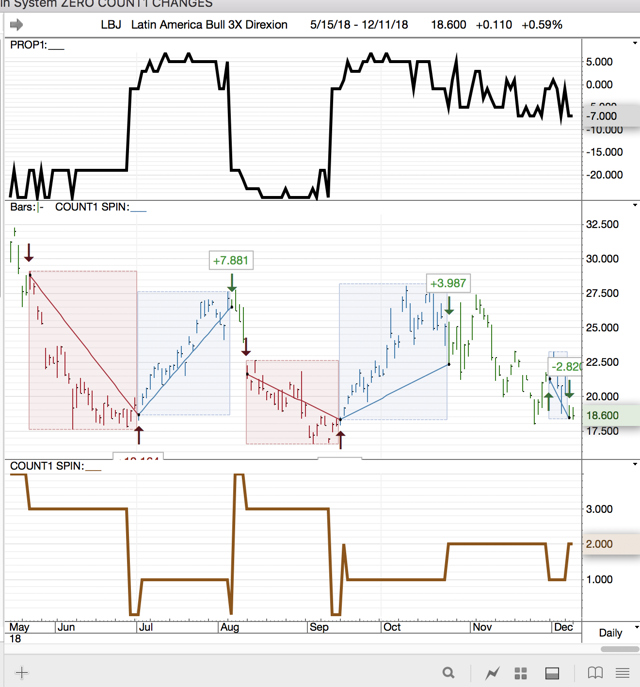 Here is the second pane of COUNT1 CHANGES. SHORTSELL MYL, MYLAN LABS.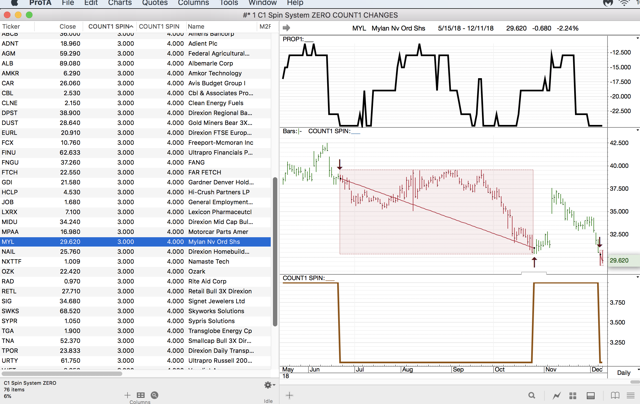 #3 List of COUNT1 WEEKLY CHANGES. COVER SHORT VLRX, USLV.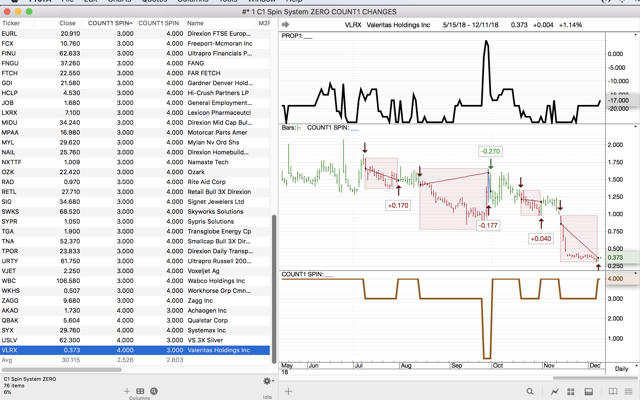 We looked at W, WAYFAIR, last week as a stock that was ready for a BULLISH TAKEOFF. Something happened, and it has stalled. I notice this because it is the only issue in our database with ZERO readings for both C1 and P2.5. It is still PROP1 Bullish. But Sum60, top pane, is flat now, suggesting that the takeoff is in question. Note also M2F ALT WEEKDAY(third pane down) has backed back down. It looks bullish -- but the markets are in turmoil. If you have patience, this is a stock requiring patience.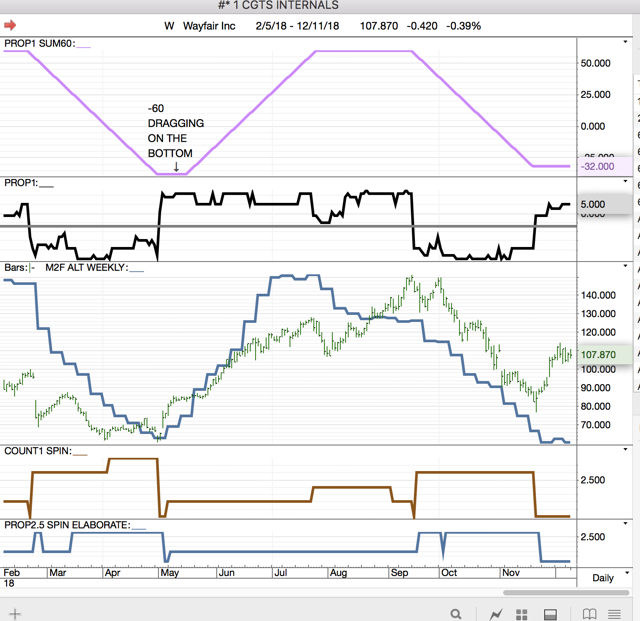 We have a couple of favorite LONG charts: MSFT is #1, SNE is somewhere behind MSFT.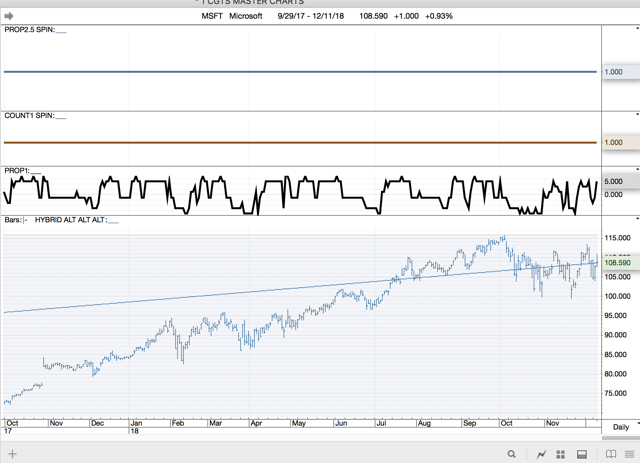 SNE, SONY.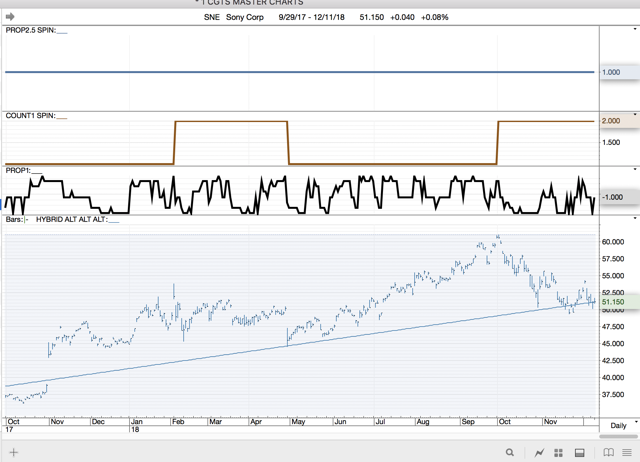 TTWO, TAKE-TWO, is getting ready for a another positive trade. (Is that true?)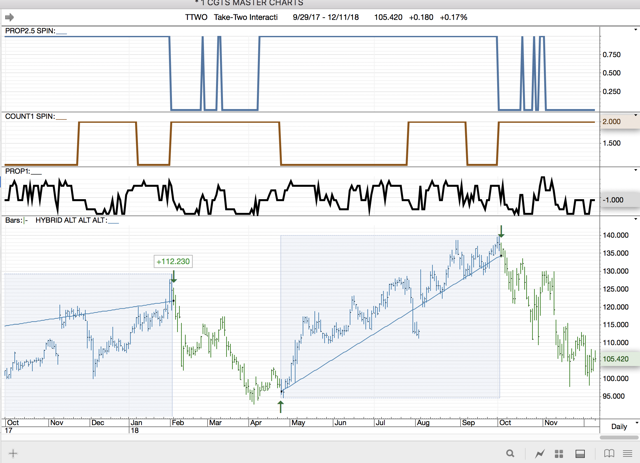 DIS, DISNEY, still looks good.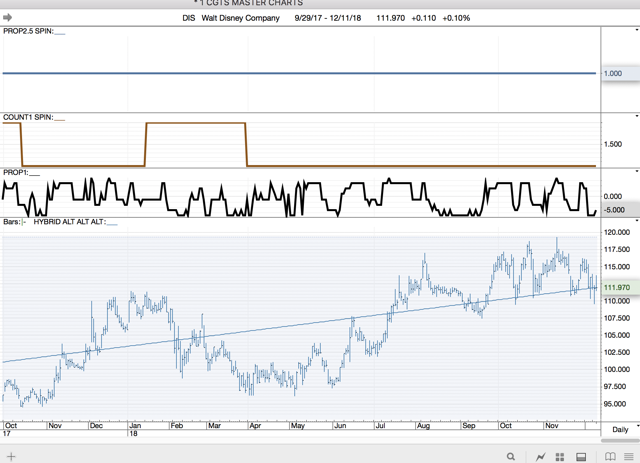 CVS (thanks MXM) looks good also.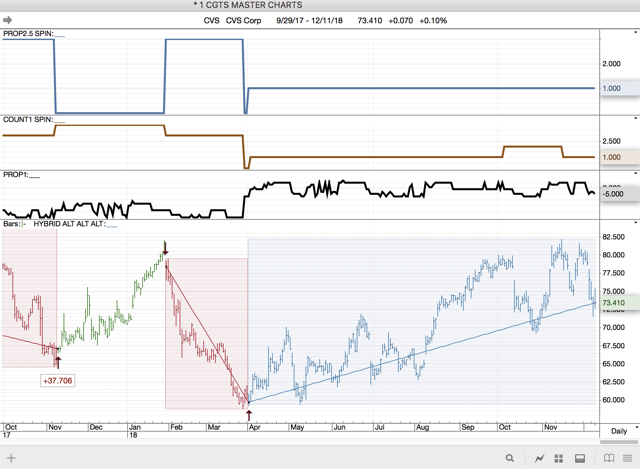 Our RP has changed a bit. We want all 6 of our current trading systems to show up. AND both of our two primary SPIN indicators, COUNT1 and PROP2.5 right at the front of the report. Then come our 6 Trading Systems. We left in one OB/OS measure, M5 Levels. Can you all live with this? If not, let me know which indicators you find most useful that are not there.
Hope you are all well.
MJC, CGTS
Disclosure: I/we have no positions in any stocks mentioned, and no plans to initiate any positions within the next 72 hours. I wrote this article myself, and it expresses my own opinions. I am not receiving compensation for it. I have no business relationship with any company whose stock is mentioned in this article.
Disclosure: I/we have no positions in any stocks mentioned, and no plans to initiate any positions within the next 72 hours.