CGTS Algo Trading System
Tools
CGTS THURSDAY: IS MARGIN DEBT FALTERING?
Dec. 19, 2018 3:25 AM ET•Comment!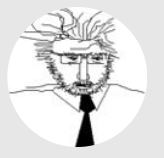 First Idea:
IT IS NOT THE FED'S JOB TO PROTECT YOUR PORTFOLIO. IT IS YOUR JOB TO PROTECT YOUR PORTFOLIO.
We have been in a strange position for the last two decades -- the FED seeing its charge as protecting investor's portfolios. But that has never been the job of the FED. The PLUNGE PROTECTION TEAM, created in 1987 after the Black October Crash, was the beginning to this confused overstepping of proper boundaries.
How do we protect our portfolios? We have to use both sides of the markets, LONG AND SHORT. And do not do this in a knee-jerk way. You need a system that tells you when a trend breaks, and when a stock actually becomes a SHORT. Gut-feelings can work sometimes, but they won't be consistently rewarded.
Second Idea:
One of the things we are watching in Margin Debt. If it declines, this is an issue. Corporate debt is another issue.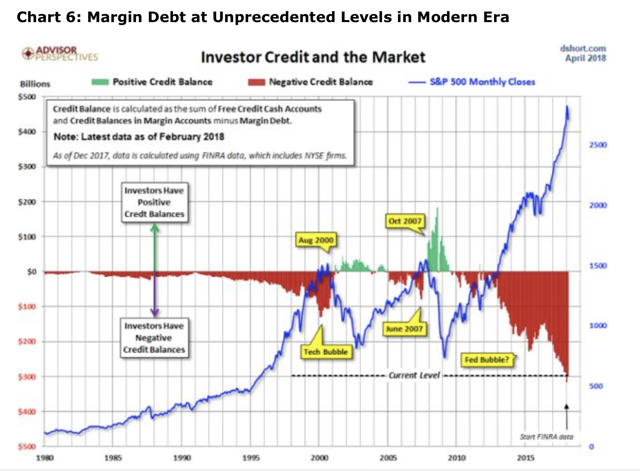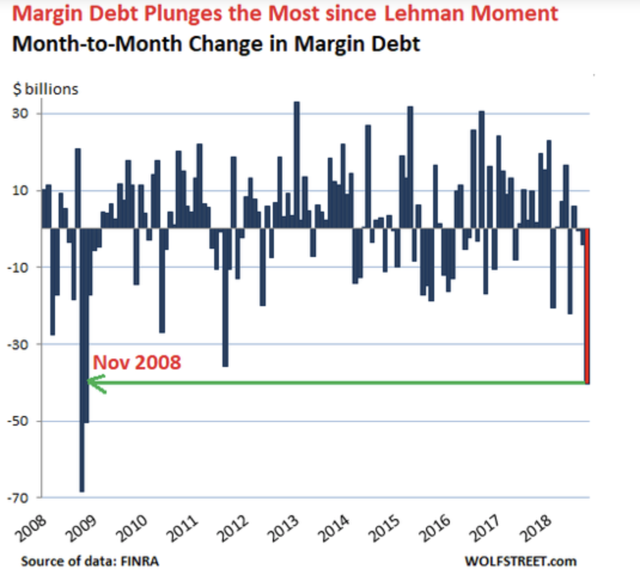 Is Margin Debt breaking?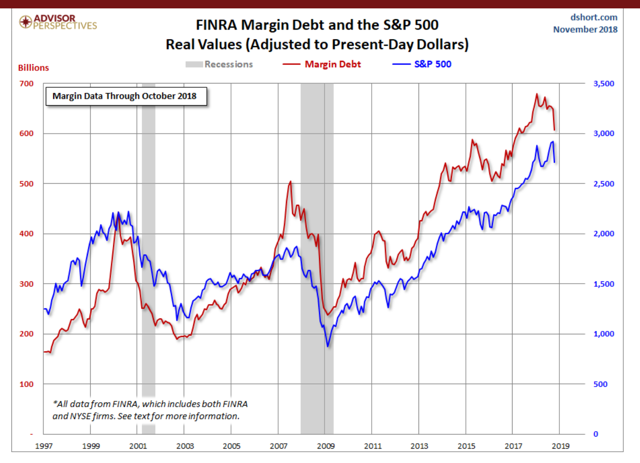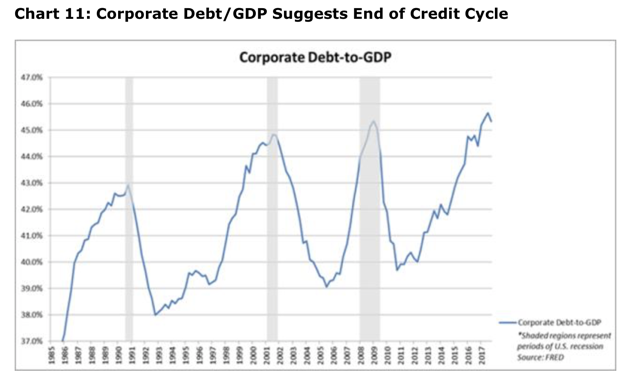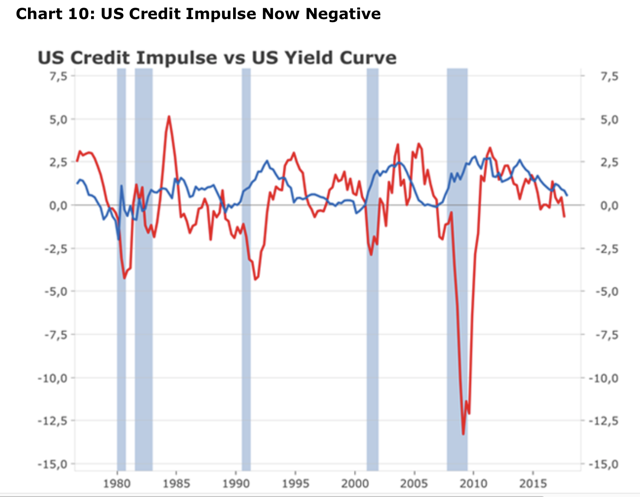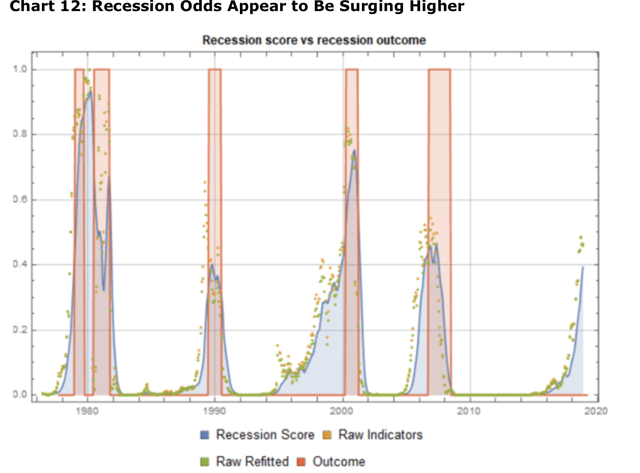 Here is a picture of long-term US interest rates dating back to 1790. Those who think all the FED needs to do is crank back interest rates to support stocks, they should understand that the FED has other concerns beside US market performance. Rates move; they don't stay in one place for very long.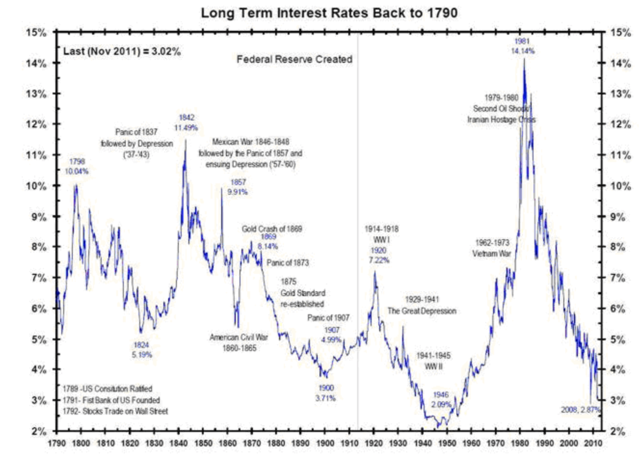 GLOBAL DEBT GROWTH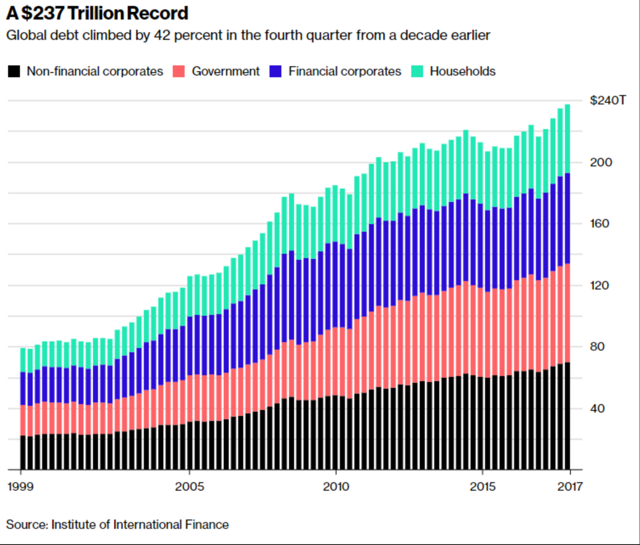 TODAY IN THE MARKET. More selling. Yesterday stocks started strong and faded. Today stocks faded early and did not recover.



Our COUNT1 WEEKNLY CHANGES List was calmer today., Instead of 183 issues, the list was a mere 50 today. Not many new signals either. Three new SHORTSELL SIGNALS listed below. SGYP, Synergy Pharma, is a new BUY SIGNAL that we are ignoring here.
Here's the list, BULLISH on top.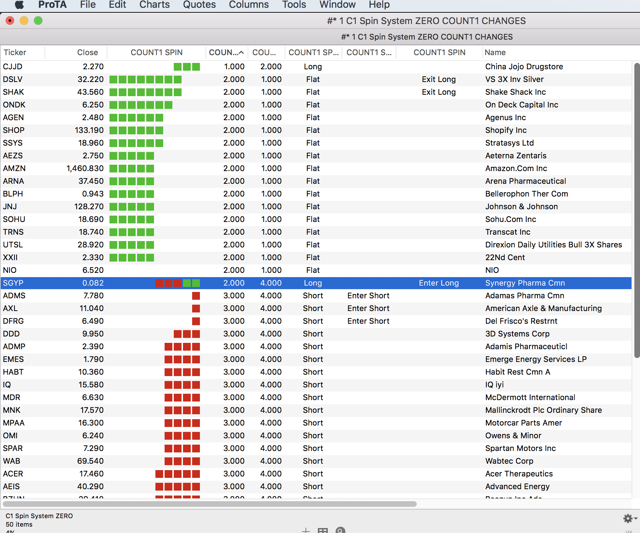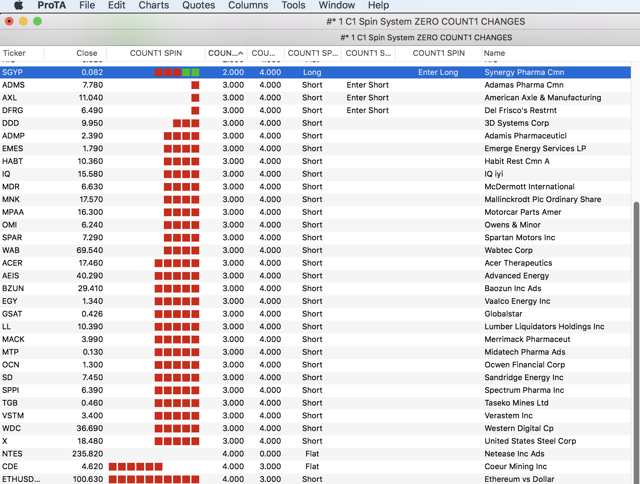 Recent TRADING SELLS (COUNT1=2) show you why you don't want to be LONG in this market. No upward momentum -- not enough BUYERS to fueld the markets higher.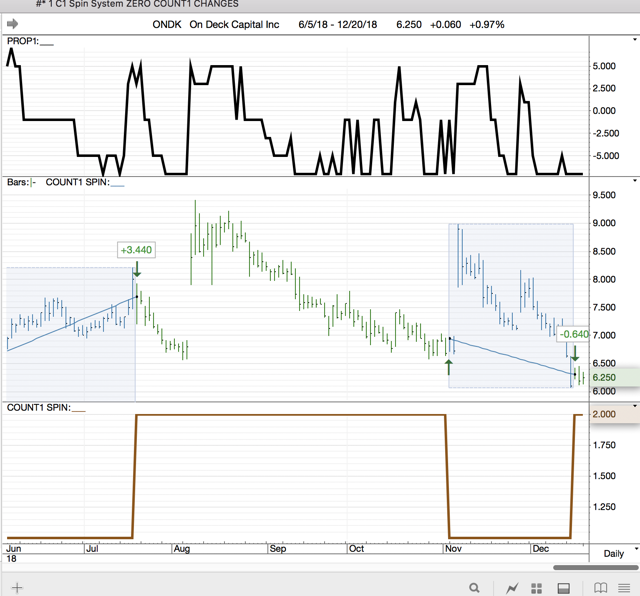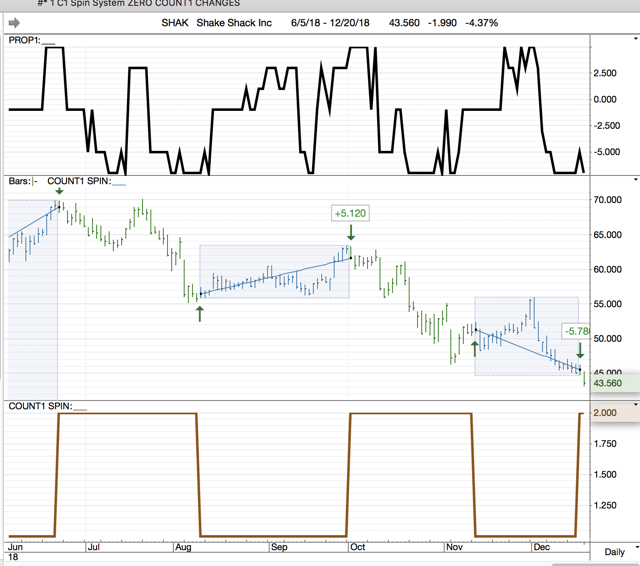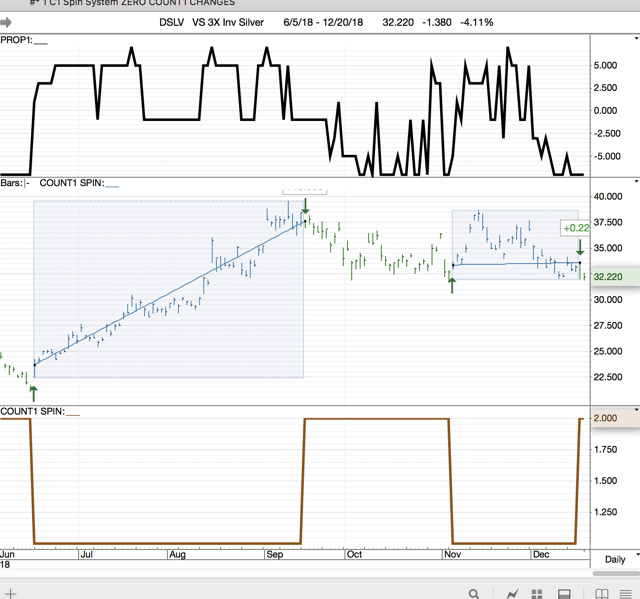 LONG stocks have horizontal energy, not vertical energy.
Here are our three NEW SHORT TRADES.

WHERE SPIN IS COUNT1SPIN, SPINY IS COUNT1SPIN YESTERDAY.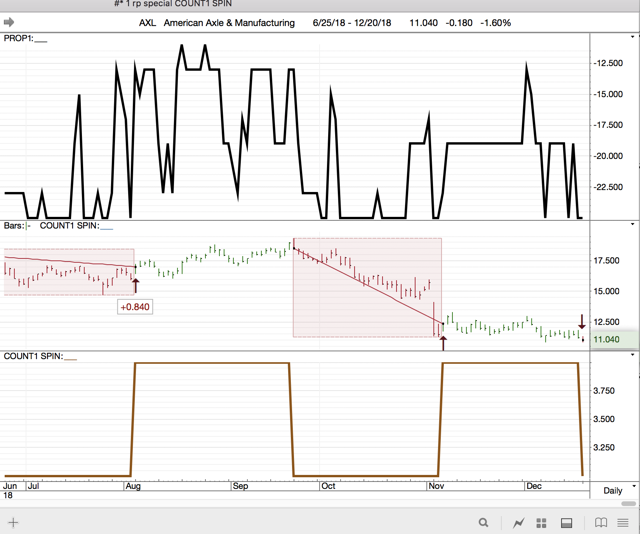 AXL has given us a LOT of trades along the way.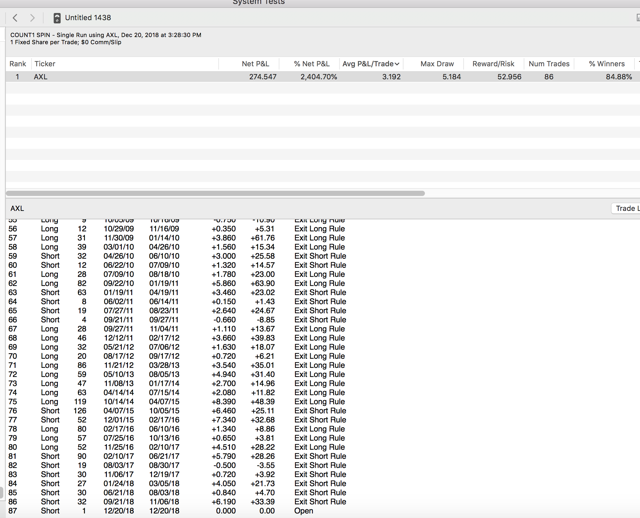 We call COUNT1 a short-term trading system, but you will see trades here lasted a relatively long time, for a short-term system. Four trades lasted over 100 days, or over 5 months.
DFRG, DE FRISCO'S RESTAURANTS, SHORT.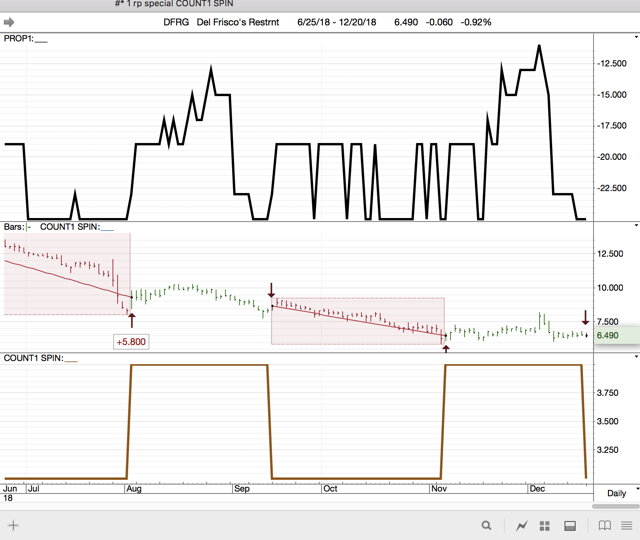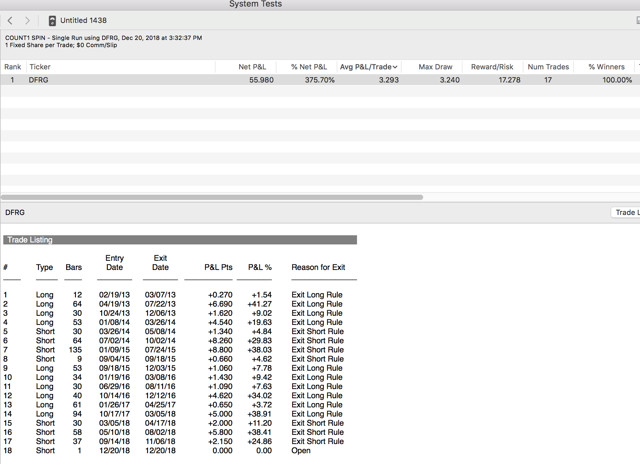 We are pleased but somewhat shocked at the performance of our new systems, especially HYBRID AA and HYBRID AAA in this short time.
HYBRID AA SHORT TRADES are almost perfect.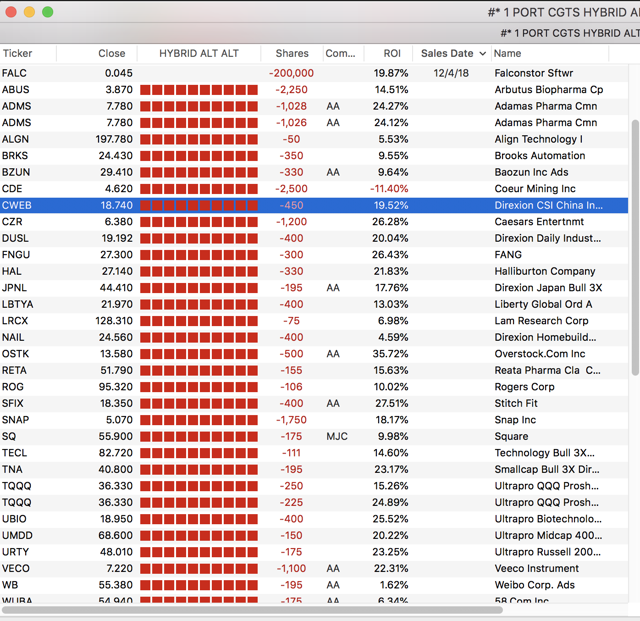 HYBRID AA LONG TRADES are also doing well.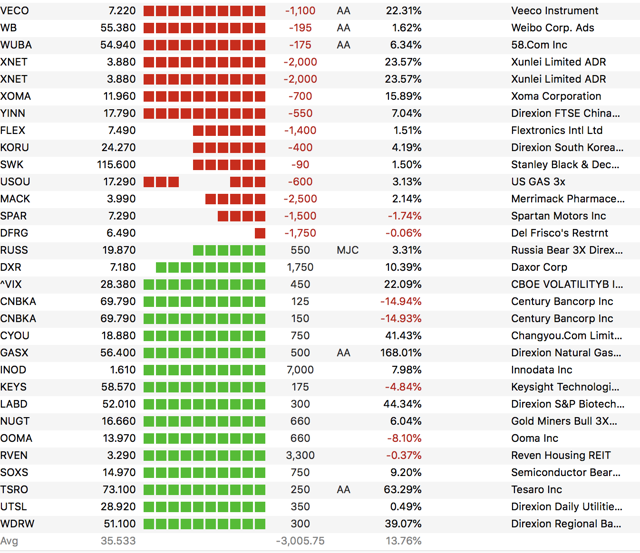 The HYBRID AA Portfolio is up 13.76% since we began trading it on October 12 of this year. This is an annualized gain of 81.6%.
HYBRID AAA is doing even better, up 12.88% since November 27, an annualized gain of 155%.,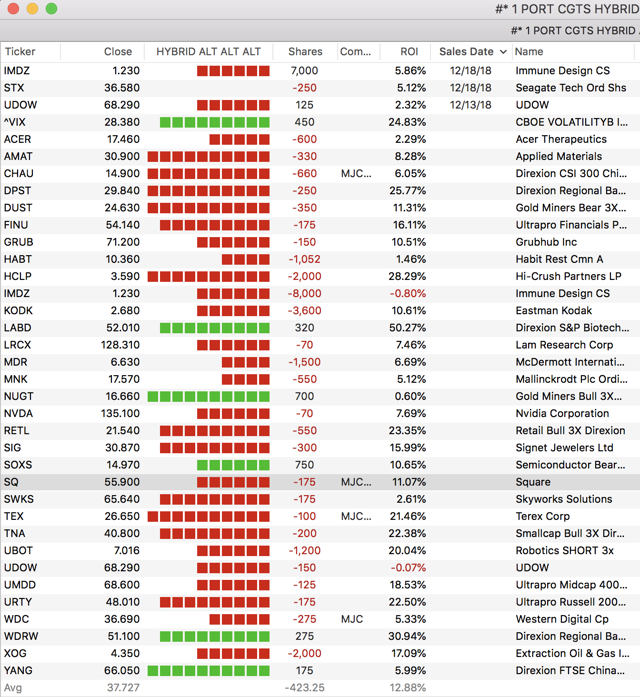 COUNT1 SPIN, our showcase system, is up 11.01% since October 9, 2018, an annualized gain of 88.16%.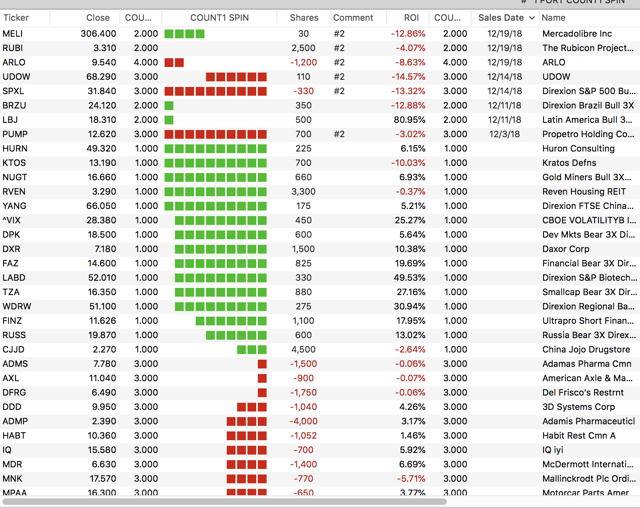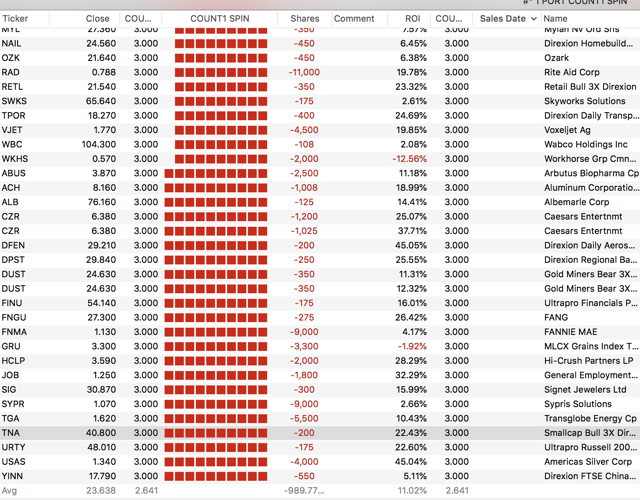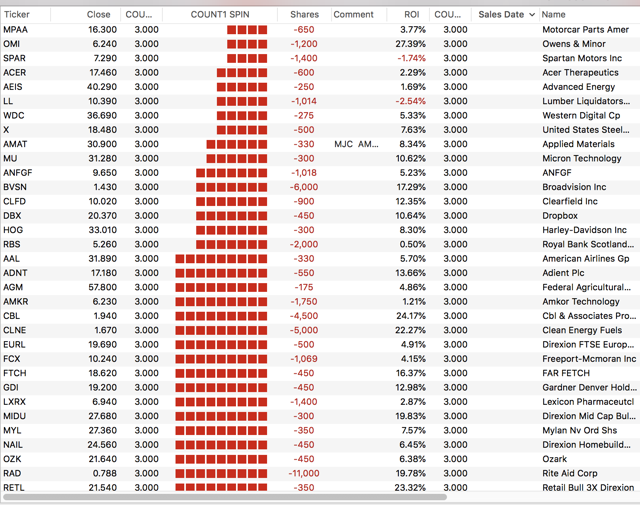 Do these systems work? I'll let you answer that for yourselves. I realize it is very hard to TRUST something you are not controlling. Investors can control fundamental information from a spreadsheet. They FEEL they are in control of data that is an investing mechanism. Of course, the illusion is that the data drives stocks in the direction they wish. Last week MICRON'S DATA was worth $60/share; today it is worth $31/share. Have the fundamentals changed that much? Oh, yes. MICRON issued "soft guidance". Future sales might be less. How much less? Enough to shed 50% of Micron's capital structure. See, it is a game of EMOTIONS, not a game of REASON. As soon as sellers hit the stairs a wave of sellers got onboard.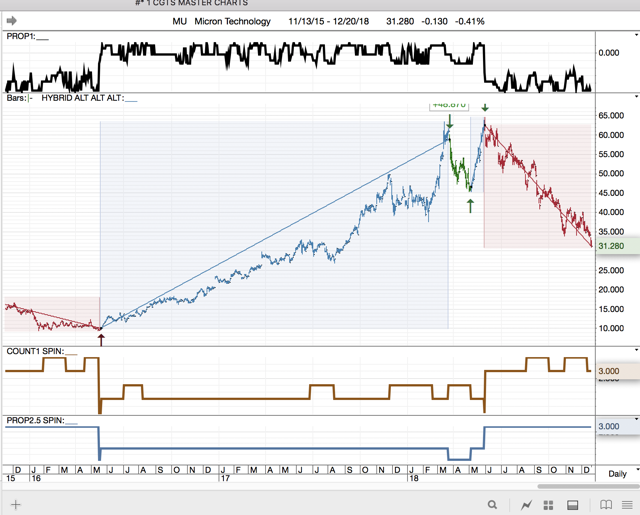 Fundamentals are not enough. Value? Value investors have been warning that NFLX was overvaled for years, back when NFLX sold for $150. So do you sell at $150 when NFLX is overvalued -- or at $420, when NFLX was REALLY oversold.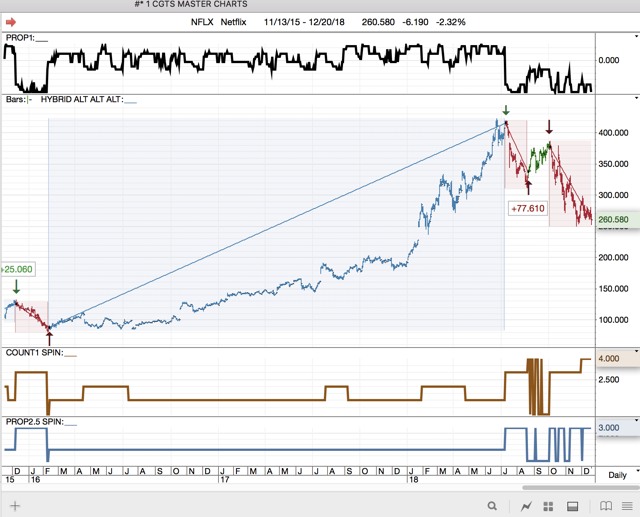 Investors have been screaming that GE was undervalued when it was in the high 20's. GE HAS BOTTOMED!!!! I wish I had a dollar for every GE HAS BOTTOMED HEADLINE. GE was undervalued at 17; was GROSSLY UNDERVALUED at 13. What is it now at 7?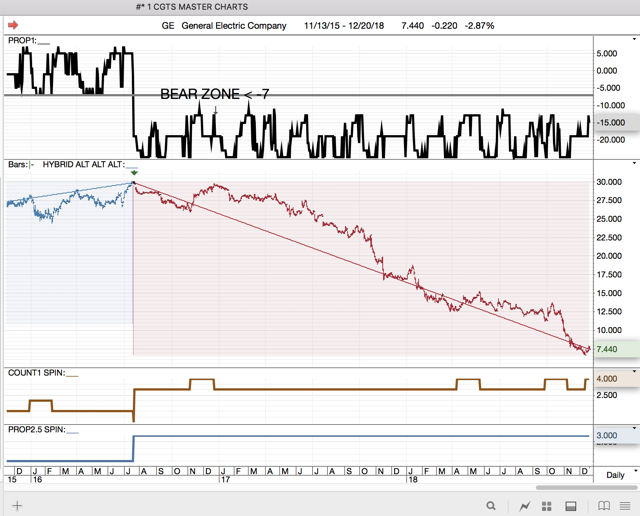 Umm. No one loves to take pot-shots at Technical Analysts like these same fundamentalists who claimed GE was undervalued at $27/share. "I've never see a rich Technical Analyst," they say. "Warren Buffet doesn't use TA."
Yes, and we are not Warren Buffet -- and never will be.
So you want to buy AAPL after it finishes correcting. How can we call a TRADING BOTTOM.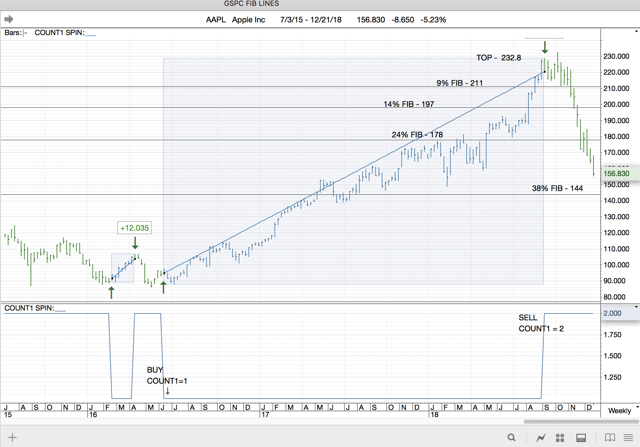 Well, you can use arcane indicators like Fibonnacci retraction levels show in the chart above. The 9% support level has broken, the 14% level has broken; the 24% retraction level has broken; the 38% level is at 144 on the weekly chart, which AAPL is approaching. OR you can simply wait for our COUNT1 system to click back to 1 -- that is your trading bottom.
MU, MICRO, the same is true.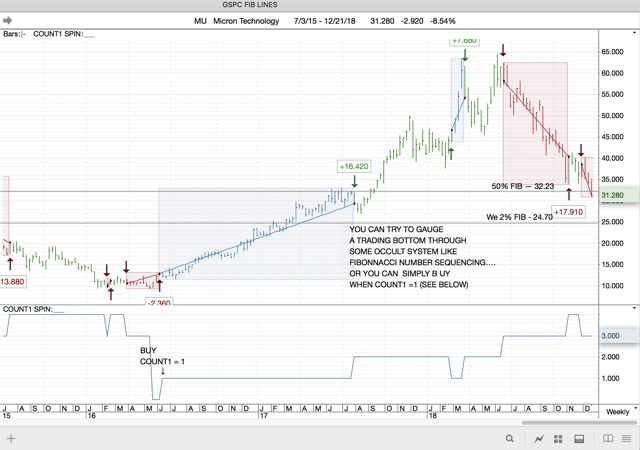 MU has just taken out the 50% FIB level, 32.23. Next target is FIB 64%, 24.75. OR, wait for COUNT1 SPIN to click back to 1.
Recent HYBRID ALT ALT signals, SHORT FIRST. One new SHORT SIGNAL, DFRG.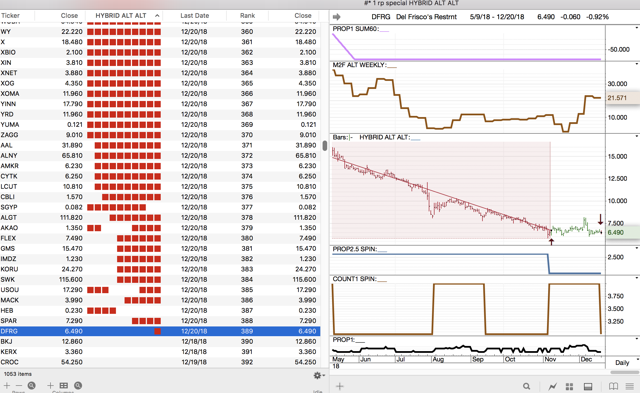 LONG NEXT. No new LONG signals.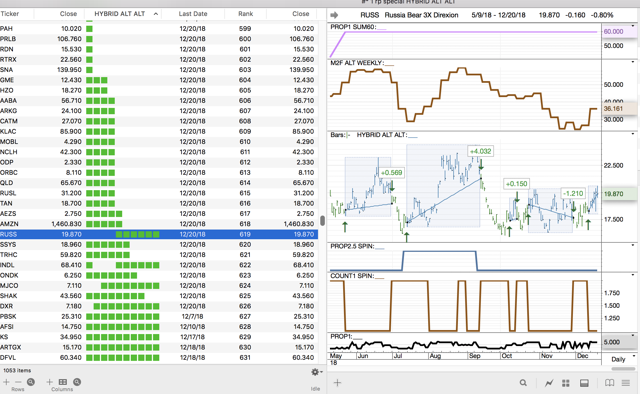 HYBRID AAA. One new SHORT TRADE, ADMS.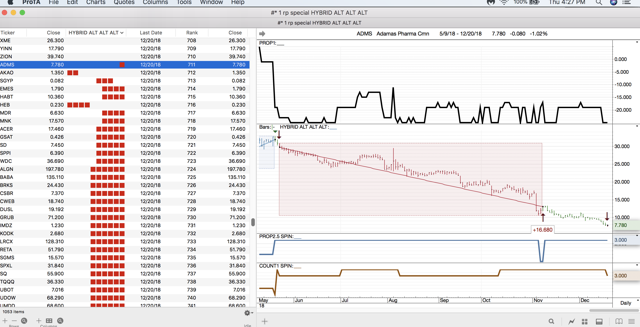 LONG. Nothing new today.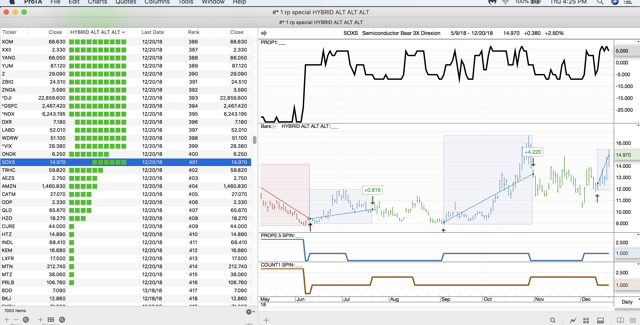 Our HYBRID Systems use COUNT1 SPIN and PROP2.5 SPIN together in varying configurations.
HYBRID ALT ALT first. Where SPIN is COUNT1 SPIN and SPIN2 is PROP2.5 SPIN and SPINY2 is yesterday's PROP2.5 SPIN.

HYBRID ALT ALT ALT now.

In Hybrid AAA, both COUNT1 and PROP2.5 need to agree in both the BUYING and in the SELLING. PROP2.5 =0 is a sell signal in this system.
Disclosure: I am/we are short AMAT, MU, IQ, CHAU, NVDA. I wrote this article myself, and it expresses my own opinions. I am not receiving compensation for it. I have no business relationship with any company whose stock is mentioned in this article.
Additional disclosure: LONG RUSS
Disclosure: I am/we are short AMAT, MU, CHAU, NVDA, IQ, SQ.
Additional disclosure: LONG RUSS