CGTS Algo Trading System
Tools
CGTS THURSDAY: 3X ETF TRADING
Jan. 3, 2019 8:31 PM ET•GUSH, LABU, DRIP•Comment!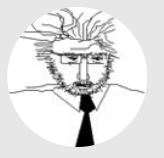 THE SELLING we predicted came today, right on time.



Look at the US DOllAR strength in the charts above. UUP strength was yesterday, in fact, more than today.
Those who think this is the same type of market to which they have grown accustomed during THE FED PUT era are, I think, mistaken. The FED is determined to pop the bubbles that QE created. That is a much different mind-set. It puts Jay Powell on a collision-course with Trump and with almost all politicians who only see their own self-interest. Happy voters make for happy politicians; cheap money makes forl happy voters. Anyone who has read me knows that happiness is the shallow side of the equation; meaning is the other and meaning is often querulous.
Our COUNT1V System Weekly Changes (41, getting back to "normal") tell us a few things. More BUY SIGNALS than there have been. Always keep an EYE (a BIG EYE) on the MOMO SHAPE. Red line, top pane. The shape matters because lower-lows and lower-highs indicate a BEAR MARKET.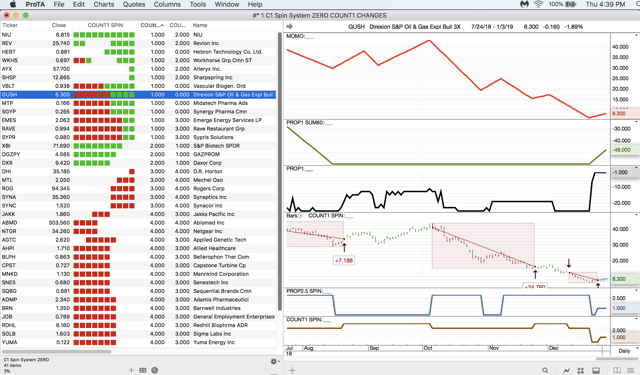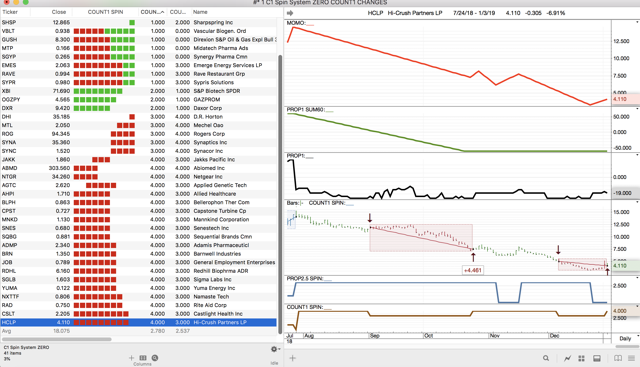 When we get a BUY SIGNAL, such as AYX, at the very least we want to see a MOMO that is holding its own, at the very least moving sideways against the selling tide. Which AYX is doing.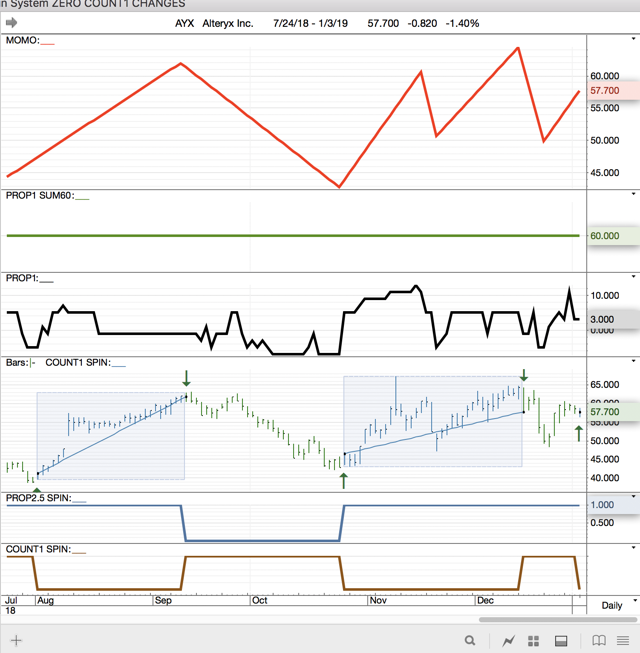 As GUSH is not doing.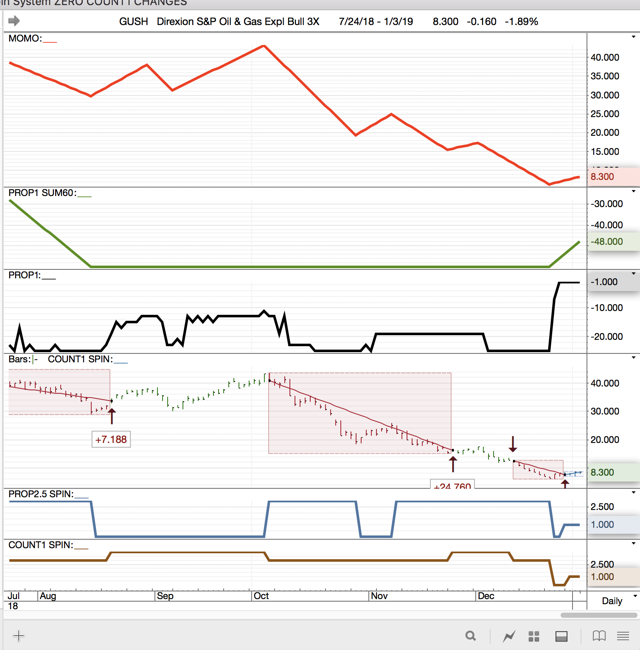 GUSH is a New BUY SIGNAL. But MOMO is decideldy NOT bullish. SUM60 (green) is moving up. PROP1 is back in the BULLZONE. MOMO shows a lot of resistance levels overhead.
Of course, my perspective says OIL (and GOLD) cannot really rally while the Dollar is rallying. What is going to bring the DOLLAR down? Political screaming and threats of a Powell impeachment?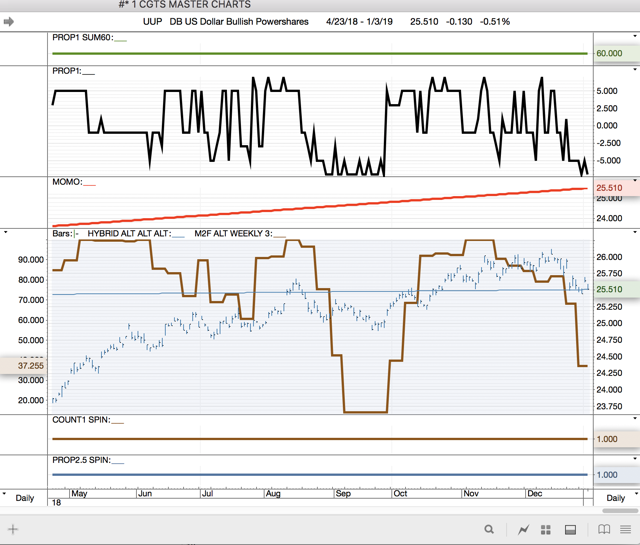 I believe we need to STRONG DOLLAR and have even advocated the Republicans marry the Democrats, since they are both owned by WALL STREET, and a new party be formed, THE NEW GREENBACK PARTY, with the platform of a Strong Dollar to re-create a STRONG AMERICA again. Trump cannot make America Great Again unless he makes the Dollar Great Again. He does not see this. I see this.
I don't want a Strong Dollar perpetually. 18 years for the Weak Dollar (1983-2001) always followed by 18 years for the Strong Dollar (2001-2019). Of course, the FED uses the devaluation of the Dollar to try to avoid Deflation Seasons and so misses out on the silver-lining of Deflation Seasons: destruction of debt; lowering of prices; destruction of asset bubbles; nourishment of Savings; strengthening of the local currency. Instead we have debt piled on top of debt, which is what the FED DOES normally. The FED was created to avoid Deflations, Depressions -- and the only thing it knows to do in order to do this is to destroy the home currency, which eventually destroys the home country. Jay Powell seems to understand this folly.
Do we BUY GUSH, looking at this horrible MOM(emtum)? Is oil going to rally from this point? We know it is oversold. A reflex rally is overdue. If you buy GUSH or SHORT DRIP be light on your feet. The MOMO of DRIP is powerfull and bullish.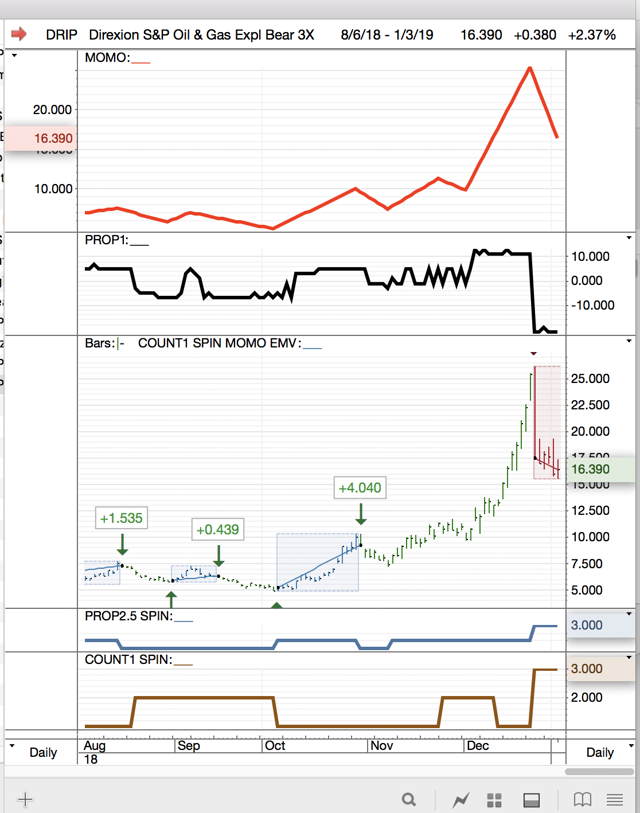 LABU is claiming it is a BUY also. LABU, BULLISH BIOTECH 3x ETF. MOMO says this is a fake news channel.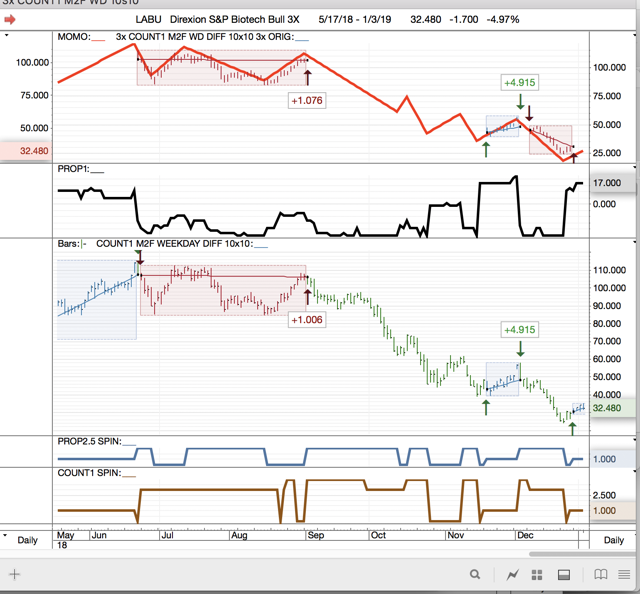 We use two systems to trade 3x ETFs. A TRADING SYSTEM (top pane) and a longer-term system (price pane). Below, in the portfolio, LT is the boxes on the readers' left, short-term is in the boxes on the readers right. Remember, the farthese box on the right is today's trade. Red is SHORT; green is LONG. We won't trade both GUSH and DRIP at the same time; either or.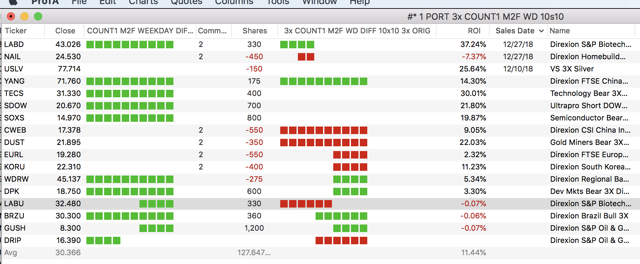 3x Portfolio is doing well, up 11.4% since 12/7/18.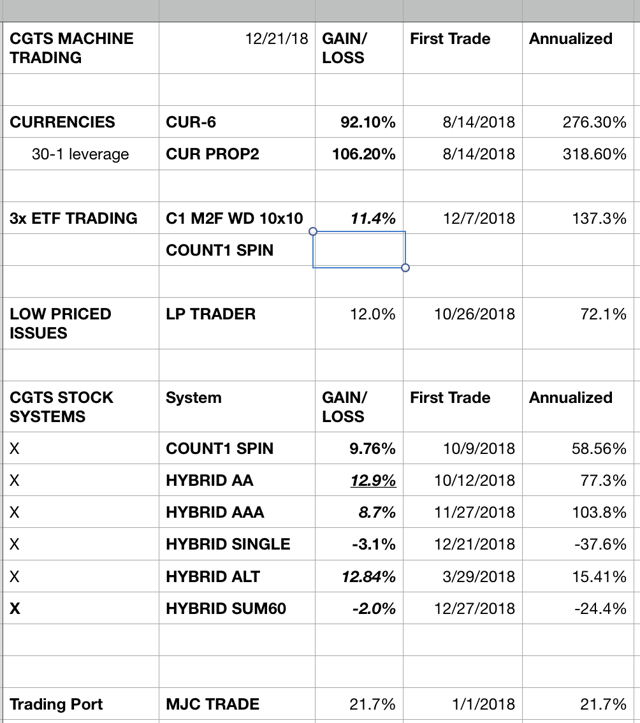 We have a few stocks we would like to look at here. First, a BIG NAME, AMZN. It is a BUY in our HYBRID AAA System. But look at MOMO before buying. MOMO is still down, in a tight range, meaning a lot of resistance to the selling. But still down. Prop1 is second tier positive. It is still above -7, BULLISH, but there is too much activity in bothg COUNT1, bottom pane, and in PROP2.5 Spin, second pane from bottom.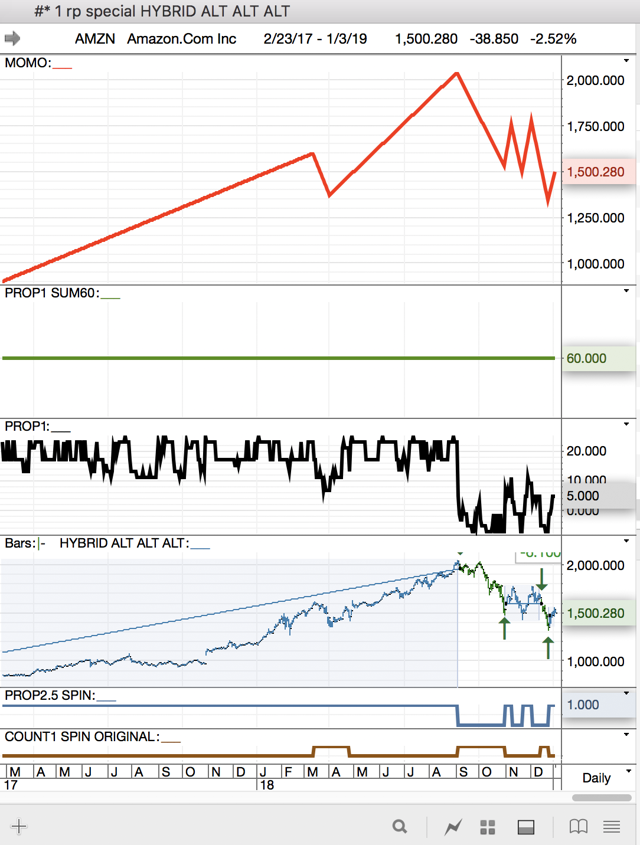 A better buy technically is FIVE, FIVE BELOW.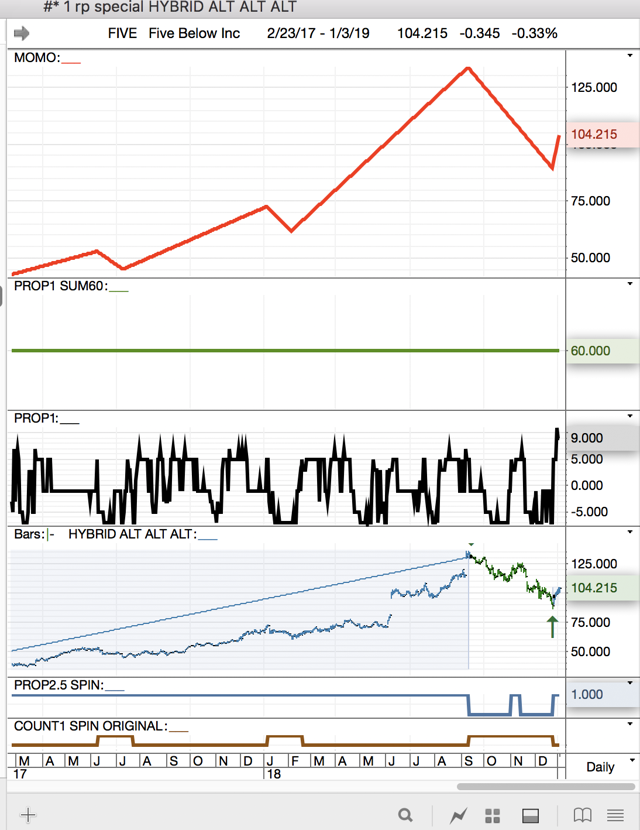 Look at the Momentum!. Not as much chatter in COUNT1 or in PROP2.5 SPIN.
We were SHORT EMES, and it turned into a losing position. We closed it with a losss.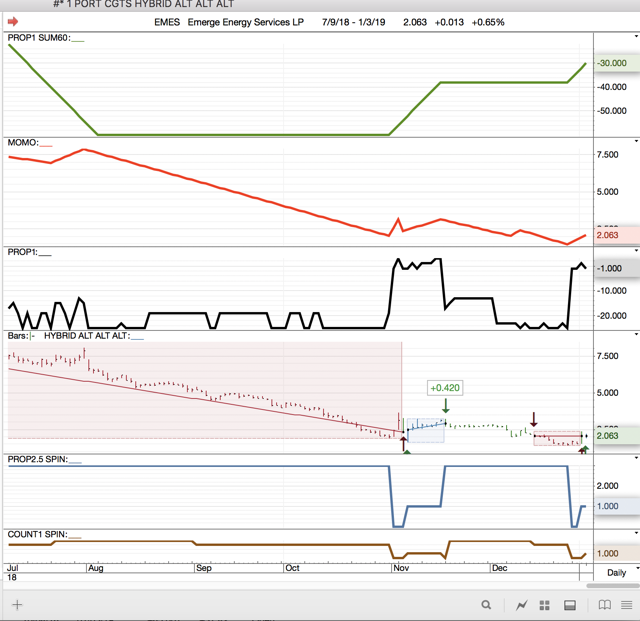 Why don't we go long here? We don't think the OIL recovery is at hand; AND MOMO is still negative. We want RED MOMO to make a new high.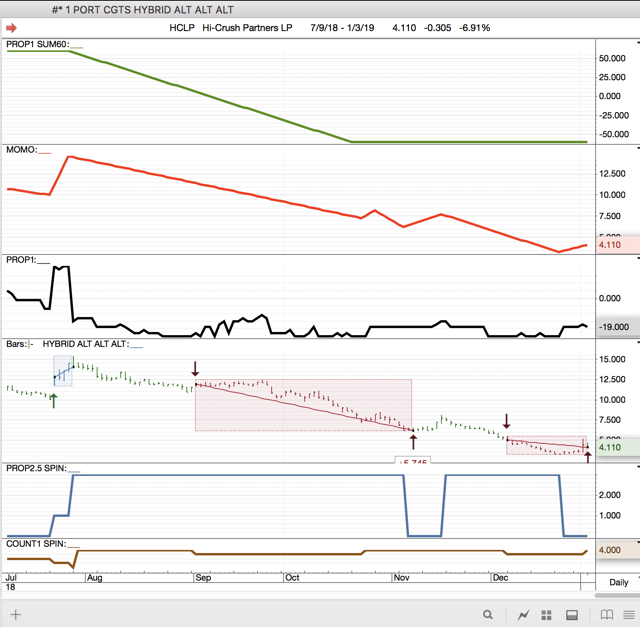 We covered and EMES friend HCLP with a nice trading gain. Look here too, MOMO is saying we will have more losses after an attempted rally.
DOCTOR tomorrow; things to do. Short post tonight.
Still a lot of SHORT signals stacking up in our 3x TRADING SYSTEM, which makes us quite certain and concerned that more selling is at hand. DH HORTON IS A NEW SHORTSELL SIGNAL today.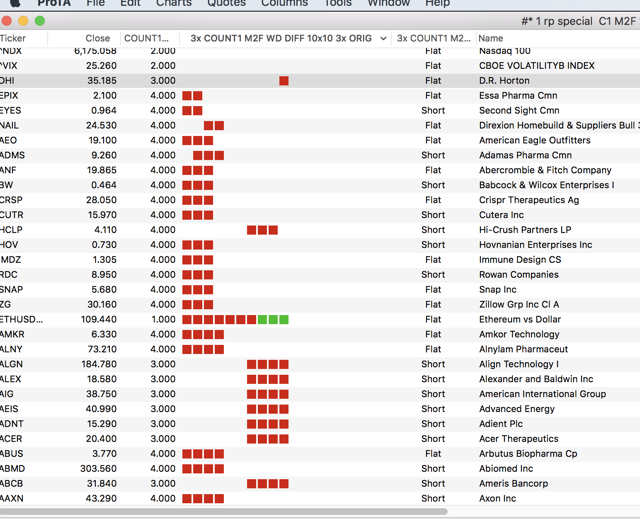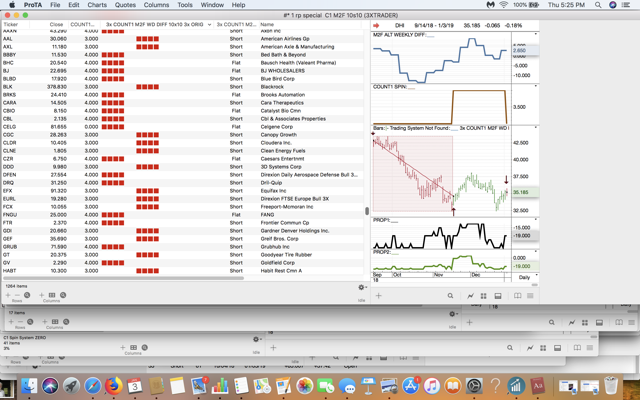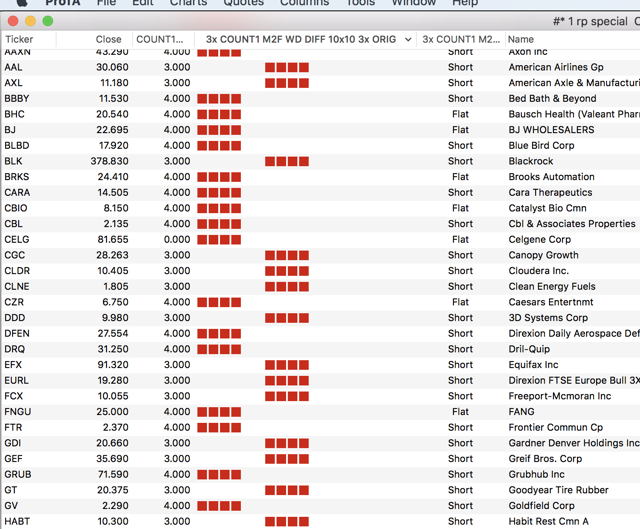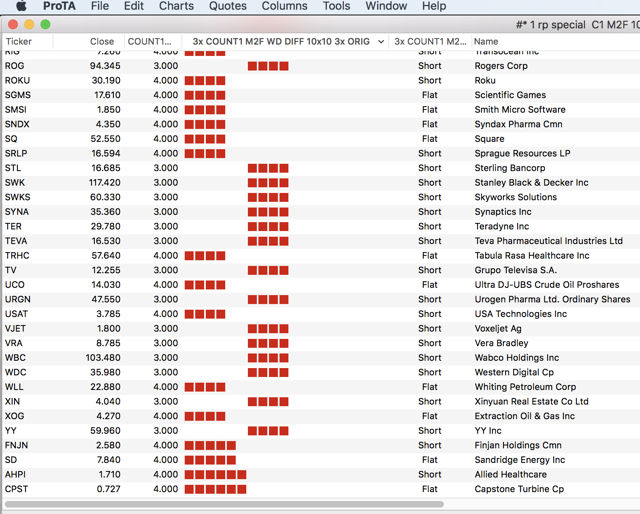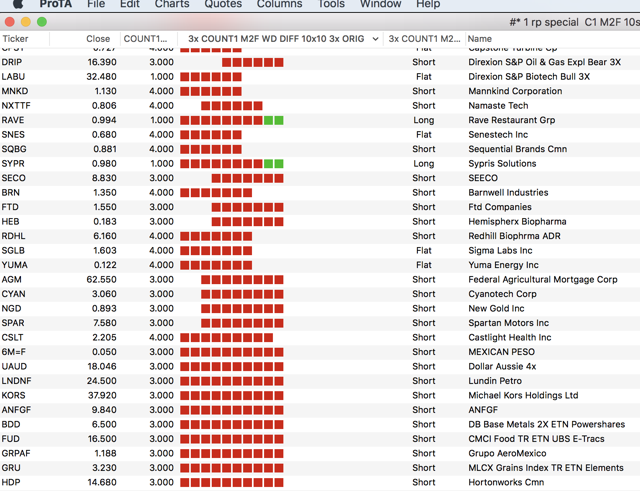 Be cautious LONG; be ready for more selling.
MJC, CGTS
MACHINE TRADING FOR EVERYONE
Disclosure: I/we have no positions in any stocks mentioned, and no plans to initiate any positions within the next 72 hours. I wrote this article myself, and it expresses my own opinions. I am not receiving compensation for it. I have no business relationship with any company whose stock is mentioned in this article.