CGTS Algo Trading System
Tools
CGTS THURSDAY: TIMING OR PRICING? OR BOTH?
Jan. 24, 2019 9:03 PM ET•Comment!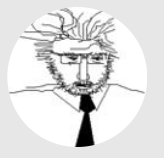 I have been involved in a conversation concerning MU, MICRON. It was up 7% today, as the semiconductors had a good run.
In that conversation I said "timing" was the essence of investing. My conversant argued that "pricing" was. What if we put timing and pricing together?
I am not a big believer in valuation models. Ian Croci, my conversant, suggested his own model of valuation. It is worth a read as it is very interesting.
https://seekingalpha.com/article/4234950-micron-prepared-bust?v=1548369004&comments=show
He knows more about this than I do. I promised to run a CGTS chart of MU. I know that some of our readers are MU holders and admirers (I have been LONG several times in the last decade).
Here is a picture of MU: It is involved. Top pane, PROP1. This is our gold standard. Above or equal to -7 is bullish. -7 is the BULL ZONE FLOOR; -11 or -13 is the BEAR ZONE CEILING. A Bear Move banding on the BEAR ZONE CEILING is still a BEAR. It is trying to break through the ceiling.
Pane 2 down: MOMO, RED LINE. This is the engine of our trading system. When it is UP, stocks move up -- it is up now. However, PROP1 is bearish; and the "shape" of MOMO is bearish: MOMO is making lower lows and lower highs. A bull move is making higher highs and higher lows. (I will show this down below). M2F (oscillator, BROWN LINE) is short-term OVERBOUGHT.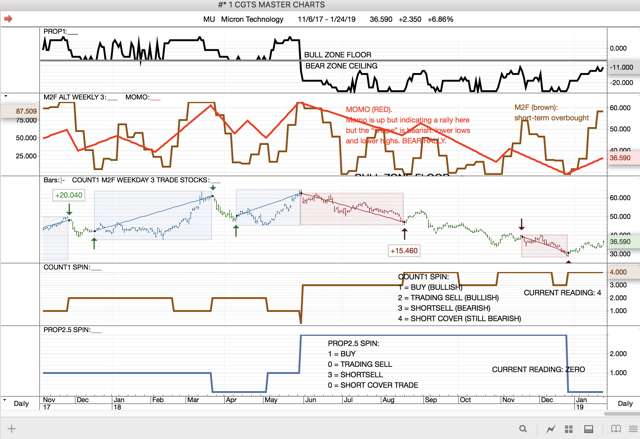 The trading system shown above is a very basic system:

Where spin is Count1 Spin. SO COUNT1 SPIN (brown line, second from bottom) =4, which is a signal to COVER SHORT because it is going to rally, which is has, as you can see in the chart. But it is still BEARISH. COUNT1=3 is BEARISH, SHORTSALE. COUNT1=4 is a BEAR RALLY. COUNT1=1 will be BULLISH, a BUY SIGNAL.
I started to explain the trading signal in the chart. MOMO (red) second pane down is UP; M2F (Brown) second pane is less than 30, OVERSOLD. And COUNT1 = 1 or 2 -- that is a BUY SIGNAL.
A SHORTSELL SIGNAL is MOMO down; M2F greater than 70, OVERBOUGHT; and C1 SPIN = 3 or 4.
Our best trading systems require that the bottom two panes agree, which we call our HYBRID SYSTEMS. COUNT1=1 and PROP2.5 Spin =1, to BUY. COUNT1=3 and PROP2.5 SPIN =3 to SHORTSELL.
We never BUY a stock that is in the BEAR ZONE (PROP1, top pane); and we never SHORT a stock that is in the BULL ZONE.
MU is bearish. Some people argue that it is a sector issue. NO. Not in the largest sense. INTC is bullish; and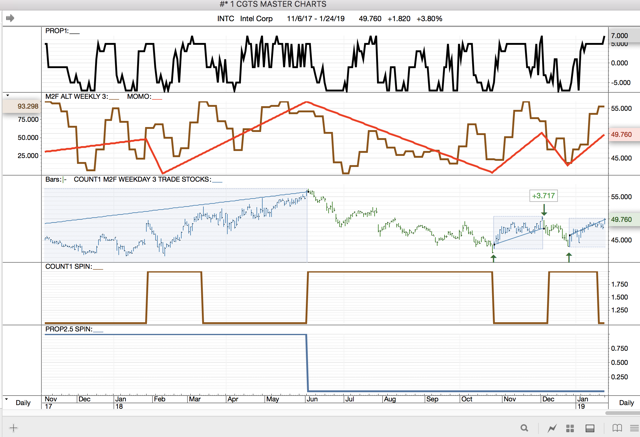 And SOXL, Bullish Semiconductor 3x ETF, is also bullish.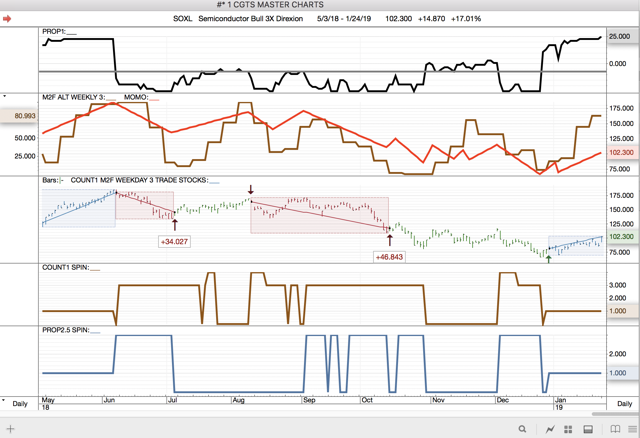 I said I would show a stock with an impeccable MOMO "shape". Here it is, with a close-up. LADR,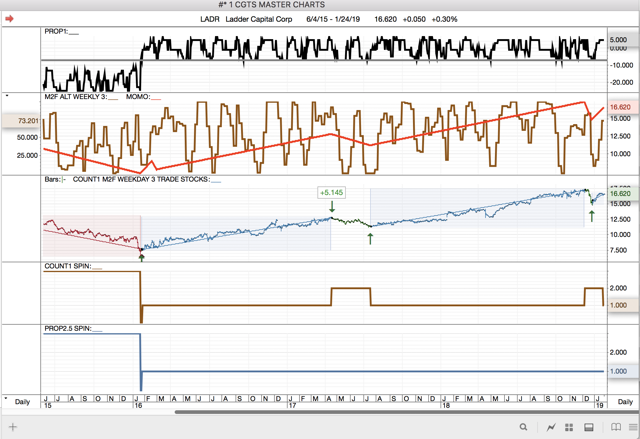 Close-up: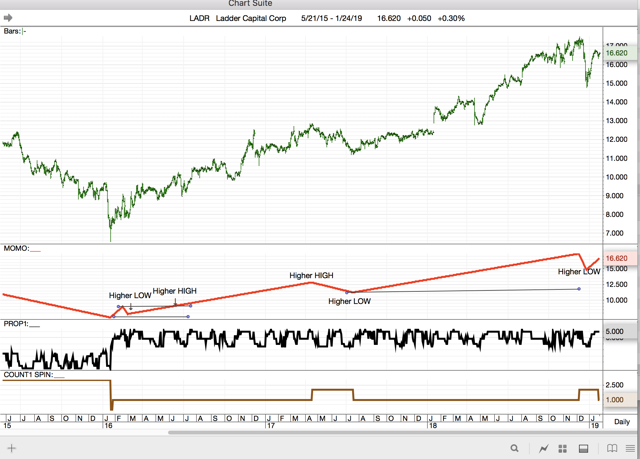 I have a couple more similar charts. FB, Facebook. Is it coming back, according to our system? No. Not yet.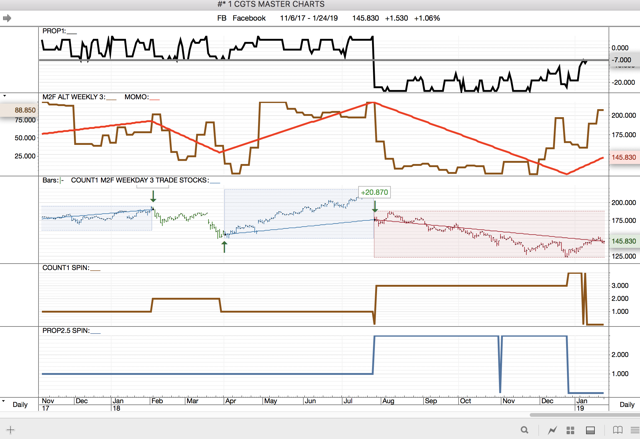 We have been warning GE investors for more than a year that GE is a BEAR picture. GE was, according to many value investors, a strong buy when it started to sink in July 2016. Here is where TIMING comes in. NOTE GE is NOW PROP1 POSITIVE. However, MOMO "Shape" is still bearish, lower lows and lower highs. It is trying to bottom here, at least. MOMO needs to move up, move back down, but hold above the current low of 6.775 OR have MOMO break up through 13.591 creating a higher high. This is unlikely. We think it is quite likely that GE will break lower instead.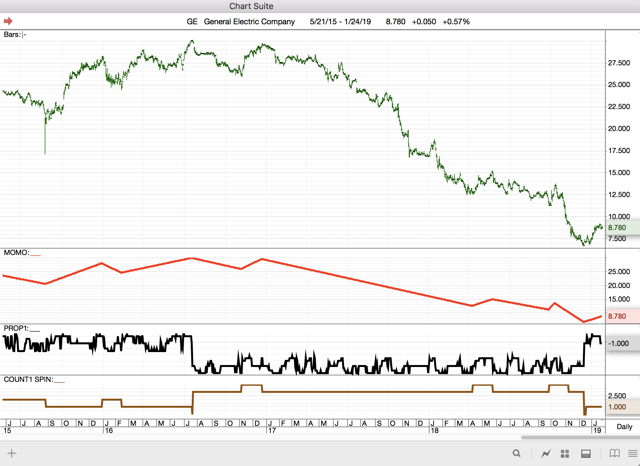 CGTS CHART OF THE DAY:
CBLI, Cleveland Labs, is giving a BUY SIGNAL in all or our HYBRID Systems today. MOMA has made a higher low also. You will notice, below, that COUNT1 SPIN has just touched 1 again, a BUY, and PROP2.5 SPIN is also 1.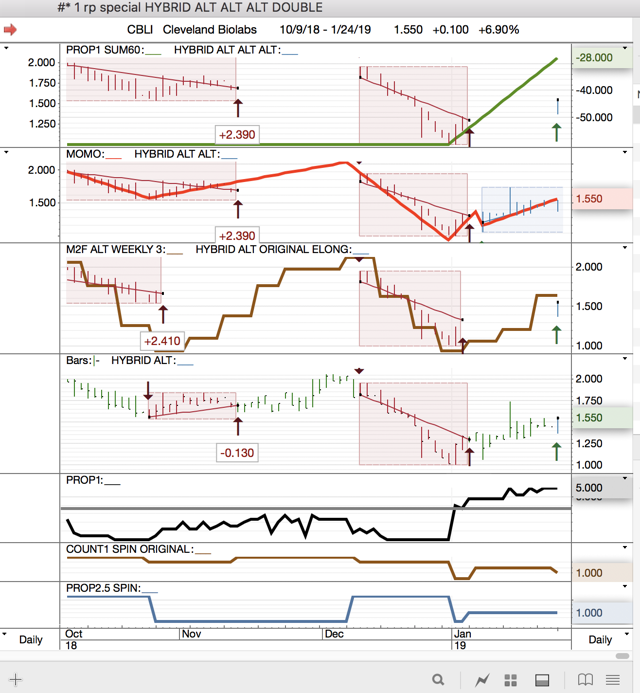 Best to all.
MJC, CGTS
UPDATE: MU current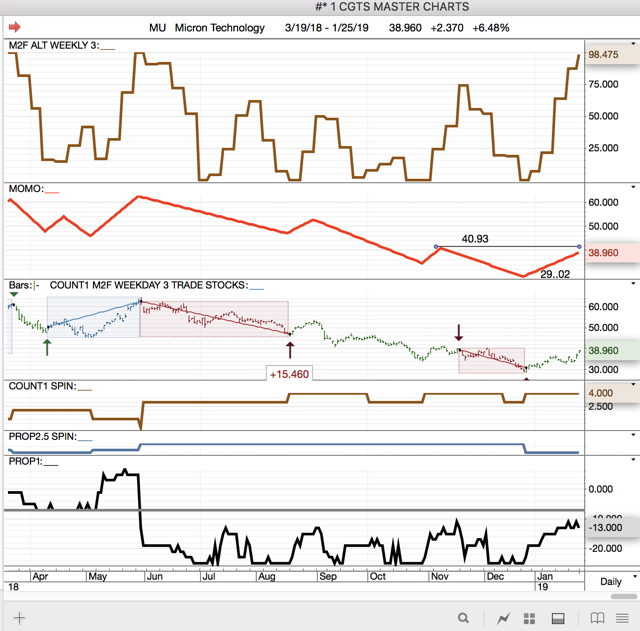 As of 25 Jan, MU must break 40.93 to make a Higher High; or decline but bottom ABOVE 29.02 to make a Higher Low.
Disclosure: I/we have no positions in any stocks mentioned, and no plans to initiate any positions within the next 72 hours. I wrote this article myself, and it expresses my own opinions. I am not receiving compensation for it. I have no business relationship with any company whose stock is mentioned in this article.
Disclosure: I/we have no positions in any stocks mentioned, and no plans to initiate any positions within the next 72 hours.