CGTS Algo Trading System
Tools
CGTS MONDAY: DOLLAR, BITCOIN, GOLD -- WILL LOWER RATES SPUR THE PRICE OF GOLD?
Jun. 17, 2019 7:09 PM ET•UUP, GBTC, GLD, CJJD•Comment!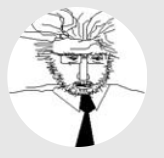 THERE is a lot of noise out in the investment press about "the end of the Dollar" and the coming rise of gold. Do I believe it? Not really. Here is a picture of the Dollar (UUP), which is supposed to be weakening, right, with so many global interests throwing over the Dollar for...what, the Yuan...the Ruble? Not very likely. It looks like new highs for UUP, after a bit of selling in early June.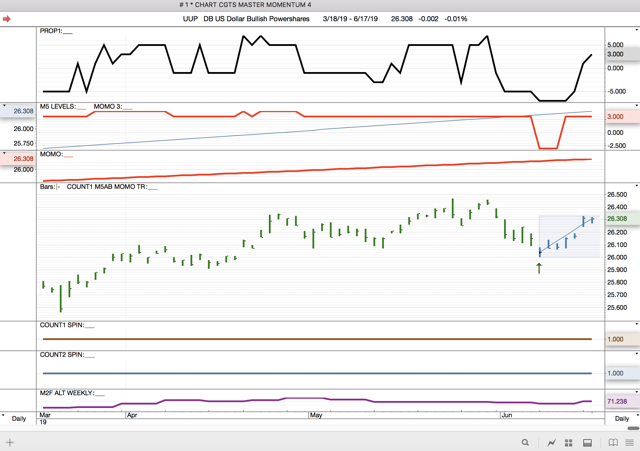 What about gold? A lot of people are expecting FED easing, Dollar crunching, and gold escalation -- how likely is that? First, let's look at the current gold chart, GLD, GOLD ETF, which has been in a BEAR MARKET since 2011. It has rallied recently -- but the rally has not broken out of the PROP1 BEAR ZONE.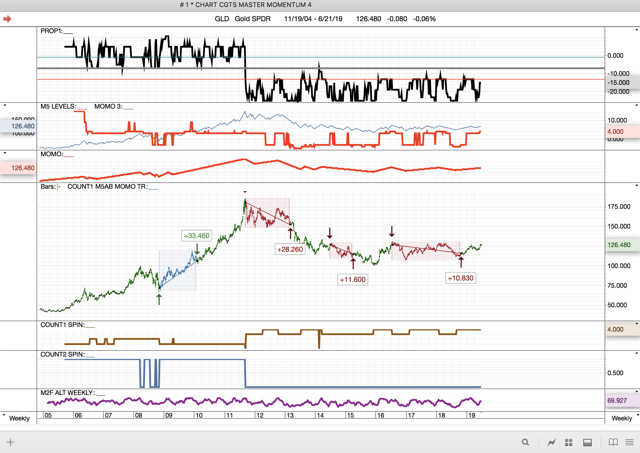 The idea that another round of QE will be good for gold? Maybe it will; maybe not. Here is how QE and GLD reacted the last time.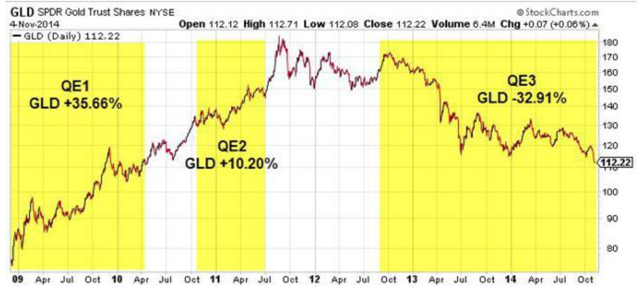 Those who have read me for awhile know that I believe in historical cycles. 2001-2019 was supposed to be GOLD-BULLISH, as were 1965-1983 and 1929-1947. Something happened in 2011 to short-circuit gold ascent. Will gold now buck the trend of horrible gold prices in the Business Cycle seasons -- 1911-1929; 1947-1965; 1983-2001...? Why would it?
It is interesting to see BITCOIN moving with the Dollar recently.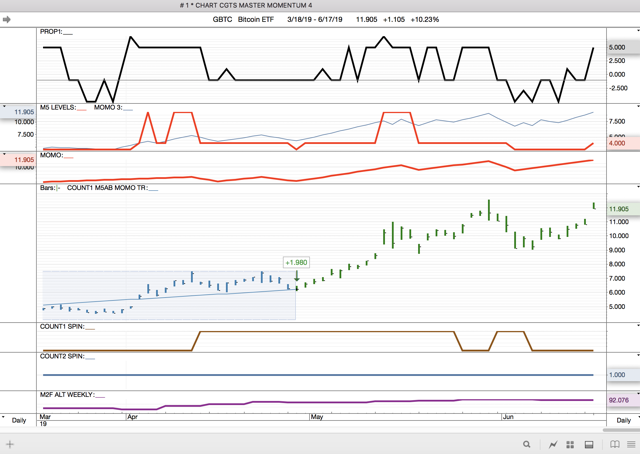 We would love to see it take out the old high from back in May, 12.58. If it does, then hold on to your hat.
Look at this closeup of GBTC. Note how PROP1 has a magnetic line at -1 and above. We have a system that trades C1=1 and PROP1>=-1 as a BUY and C1=2 and PROP1<-1 as a TRADING SELL. Of course, PROP1 below -7 is a SHORTSELL.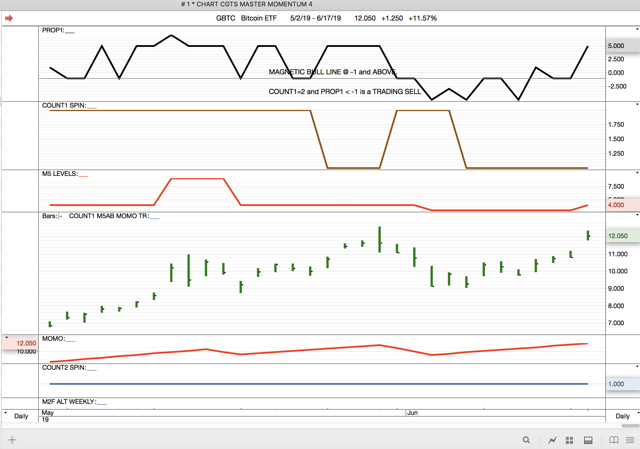 There are those who say gold is in a ready-to-breakout mode. CNBC for instance:
Gold is prime for a bigger breakout, according to these charts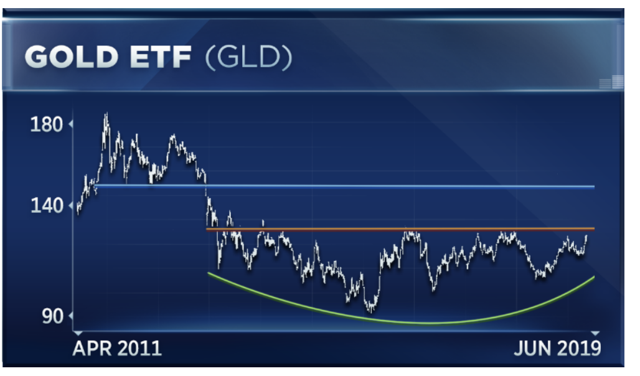 I am not on that bandwagon yet.
The FED is still unwinding its balance sheet, in terms of mortgage bonds at least, which will end this September-- and this is dollar-positive. Dollar-positive is gold-negative, is it not?
Silver? Say NO to CDE.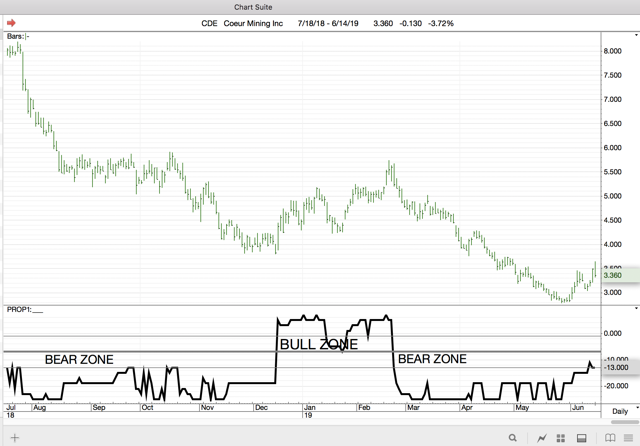 Say YES to USAU, US Gold Corp. Gold and silver stocks are all over the board, in fact -- some yes, some no.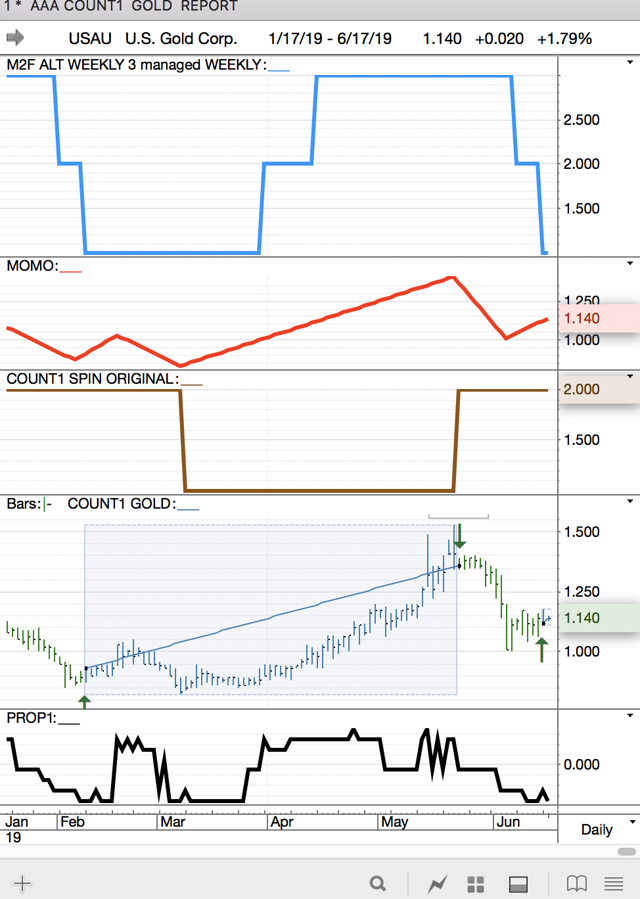 We have a few stocks making BULLISH COUNT1 SPIN transitions: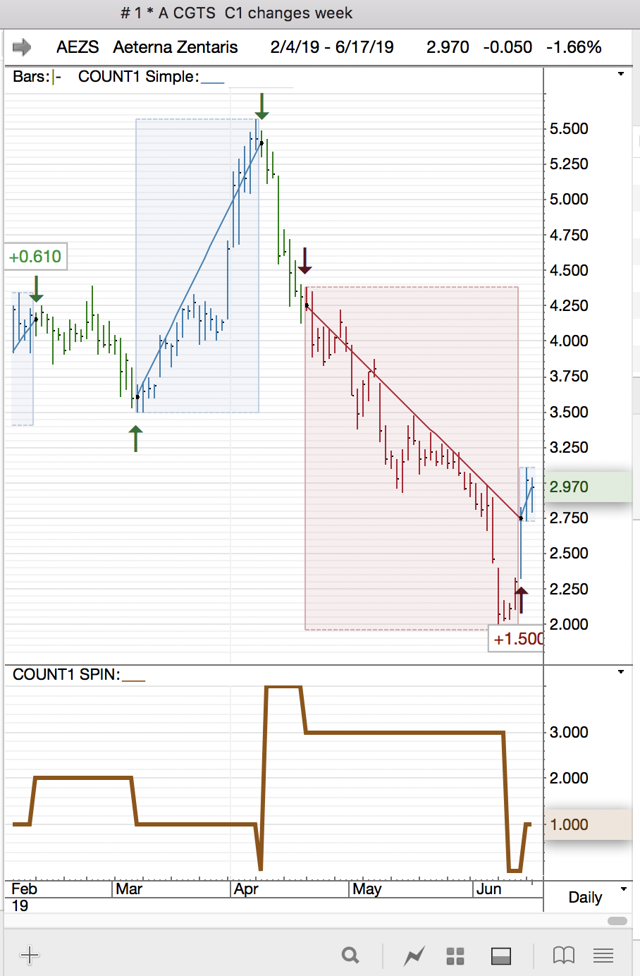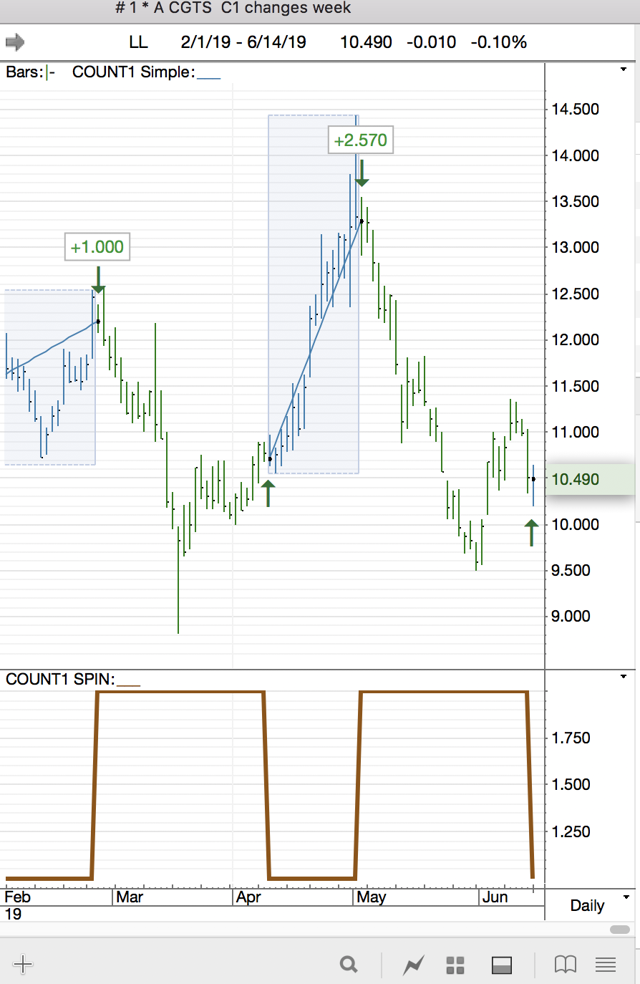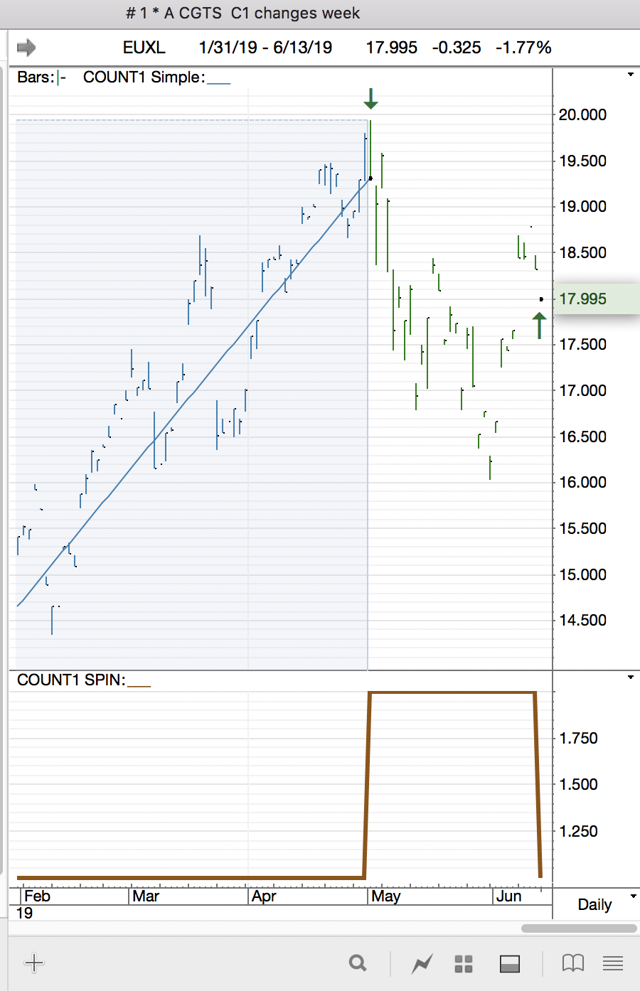 BEARISH TRANSITIONS? ACER.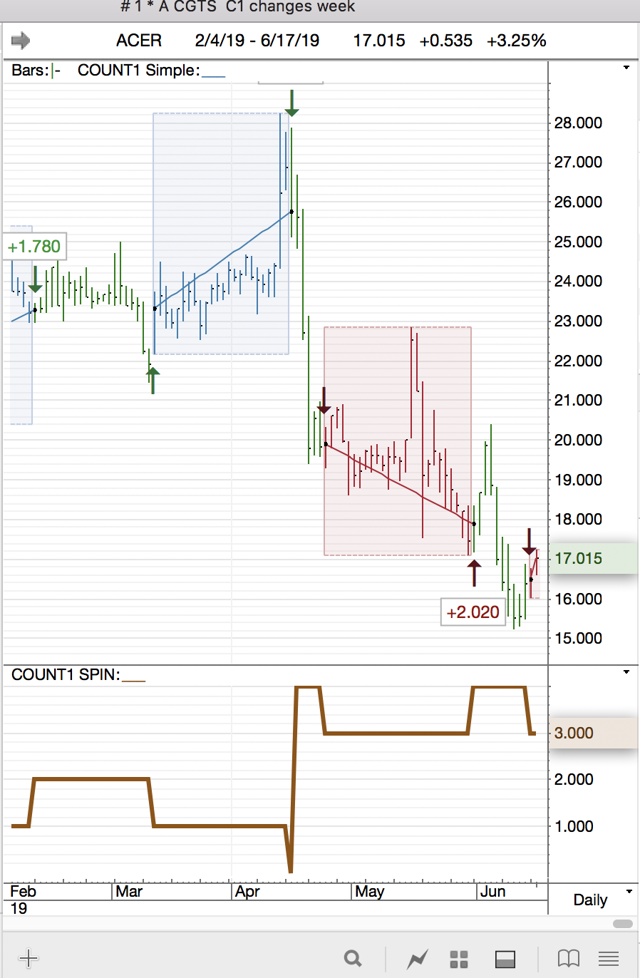 We have been LONG WKHS, WORKHORSE, for some times. C1SPIN has it as a C1=2, TRADING SELL. Long-term holders will like this chart.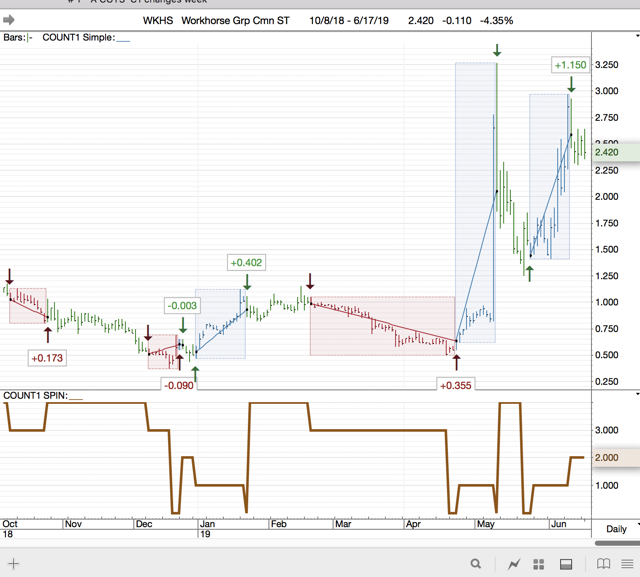 We have also been LONG SNAP for some time. Here is its chart.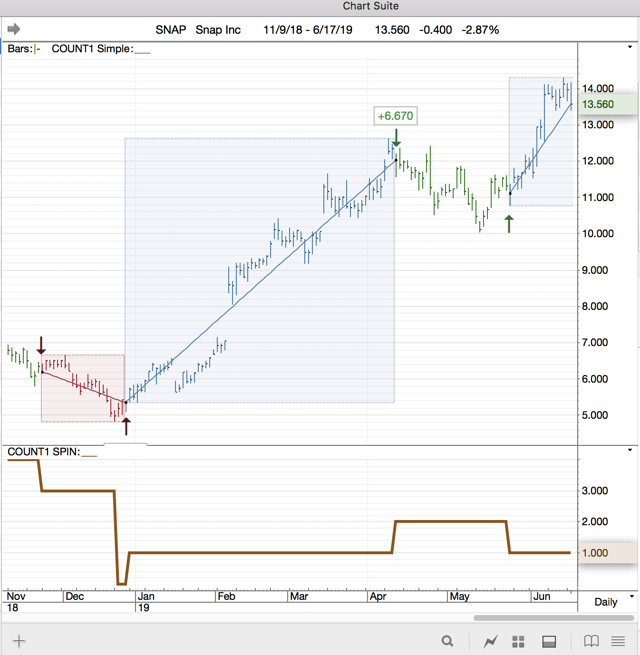 Here are some interesting charts, all giving C1=0 readings, which means the stock is trying to make up its mind. Generally this happens when PROP1 breaches the BULLZONE LINE in a volatility move.
TSLA. Generally, a stock with a COUNT1 move from 4-to-ZERO signifies more downside movement to come, as in September 2018.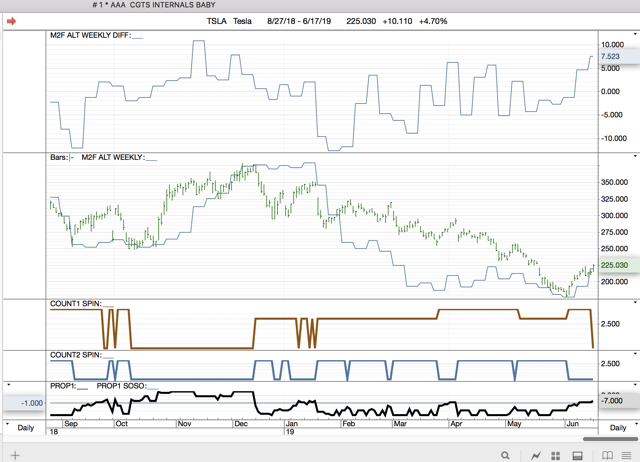 SOXL. Chart looks a bit scary. Note how COUNT1 move from 4-to-zero (Sept 2018) leads to more selling; but the move from 3-to-zero (Dec 2018) signals a reversal back up. I think we will see SOXL giving up more ground before a recovery.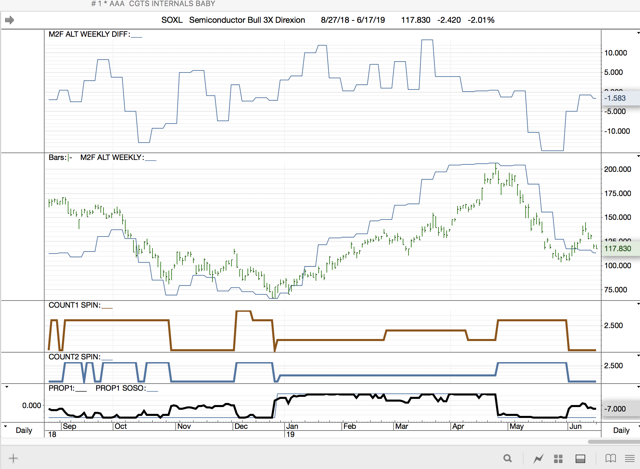 I post this chart of TLT in reference to a SA Contributor with whom I have a running disagreement in tone mostly who recently posted an article claiming that he was the only one in the world that proposed or supported a "BUY" of TLT in May. Of course, CGTS has had TLT LONG -- BULLISH since 2001. If you are trading TLT, note that it is NOW COUNT1=2 TRADING SELL as of today (brown line, four panes from the top). Take some profits here if you are trading TLT, and wait for the next "1" or "BUY" signal.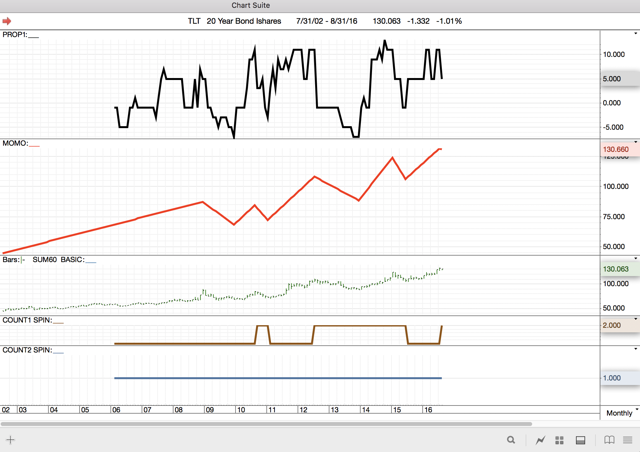 Jeffrey Snider has reminded us again and again that EURO$ yield. So we will try to remember this.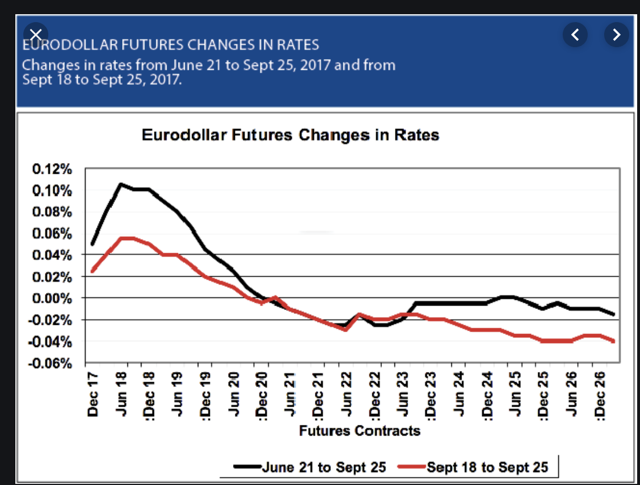 What this all means to CHINA?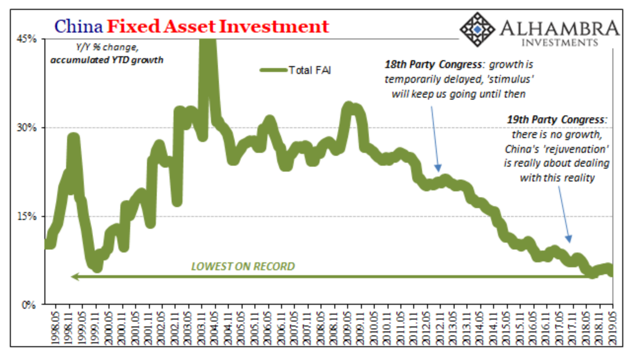 Of course, Jeffrey is also saying this means recession in America. I am not sure of this yet.
TODAY'S REPORT
We have a NEW COUNT1 DELUXE System trade, the same one shown above as a COUNT1 SPIN CHANGE, AEZS.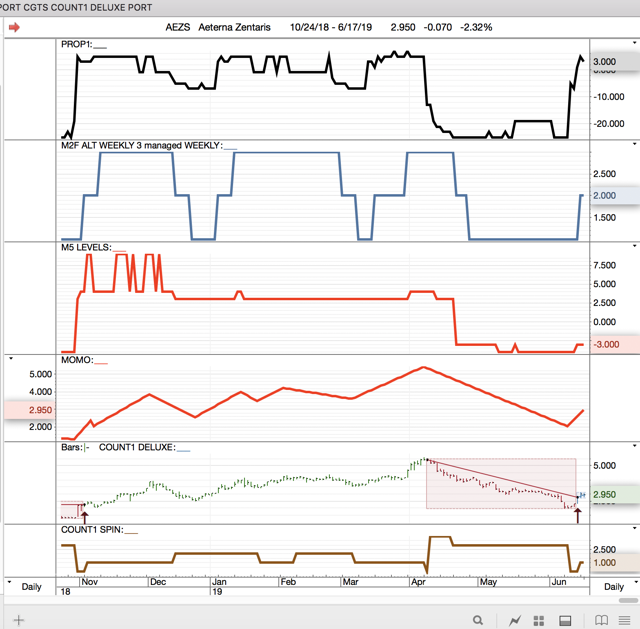 Here is a nice DELUXE SHORT COVER signal on RETL.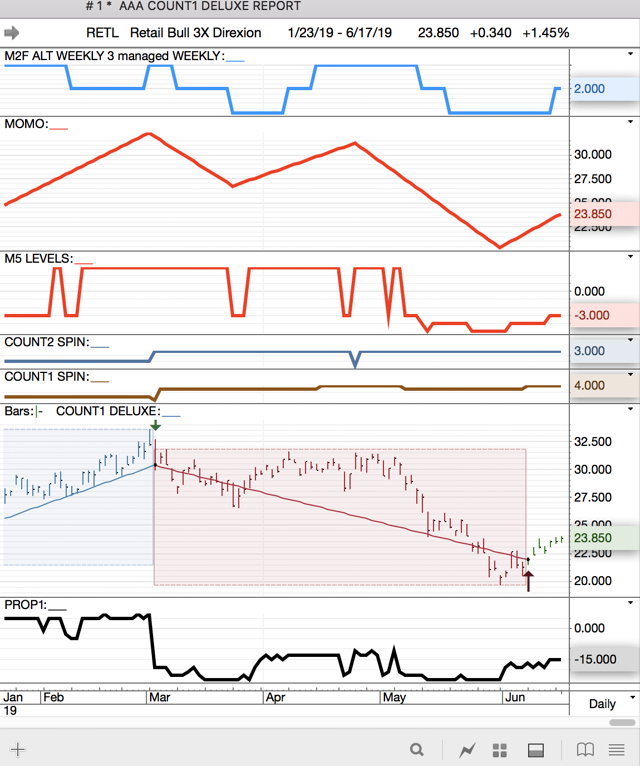 C1M5 AB TR #2 System. Here is a. picture of our portfolio.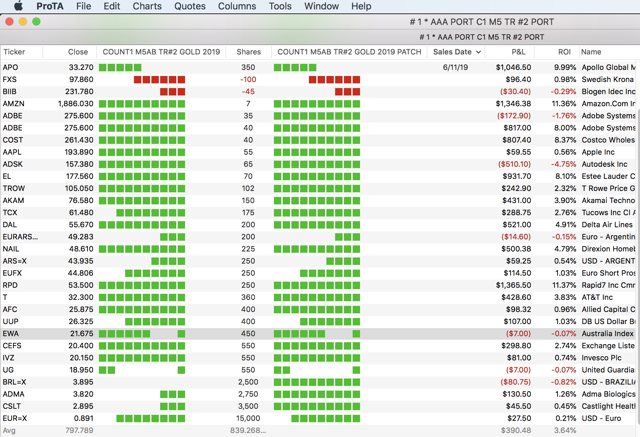 A couple new trades here: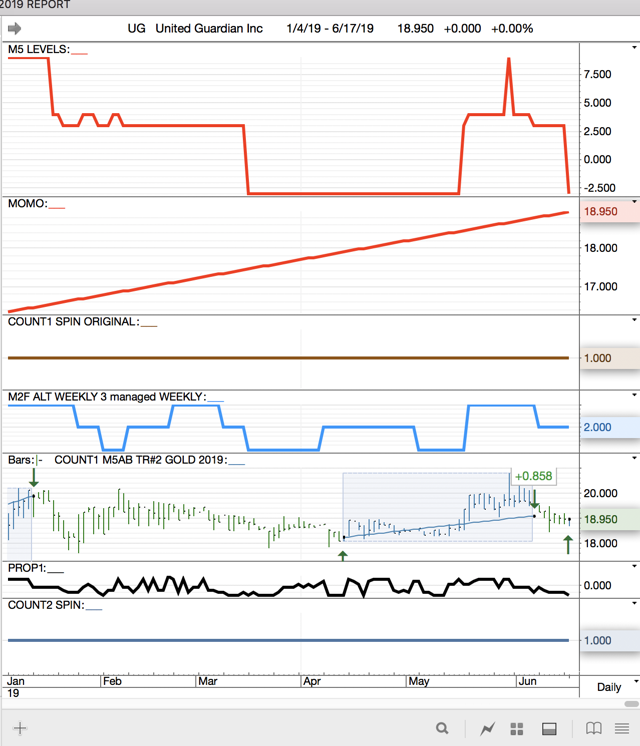 AND: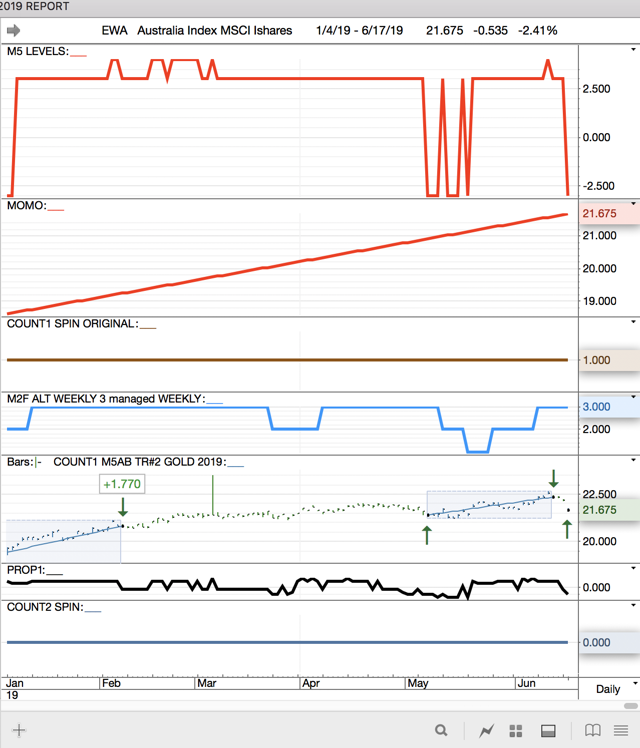 One (relatively) new SHORT TRADE: CBS.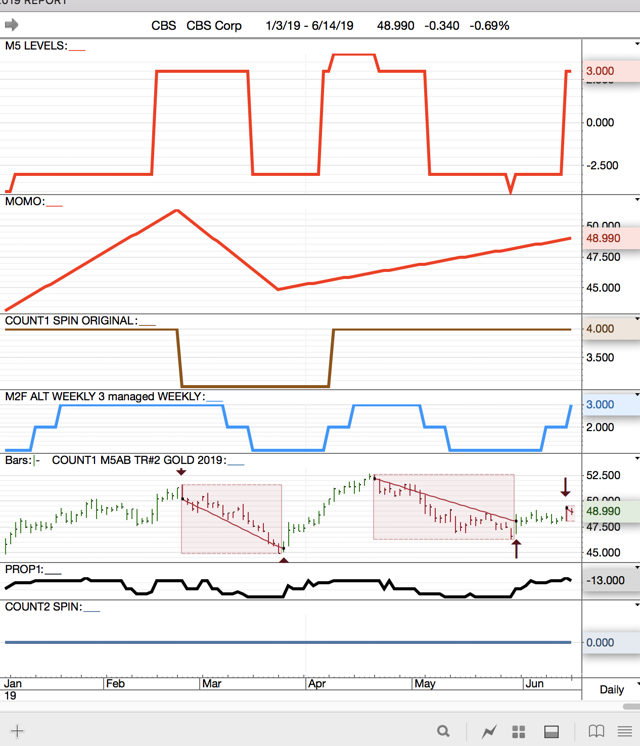 We closed a LONG 3x Trade in NAIL, COUNT1 GOLD System.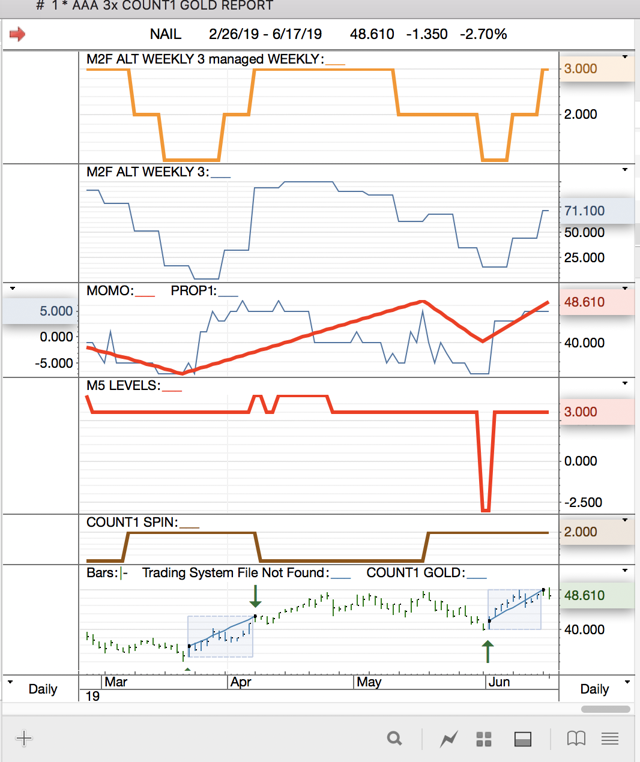 What about CRUDE OIL? BEARISH.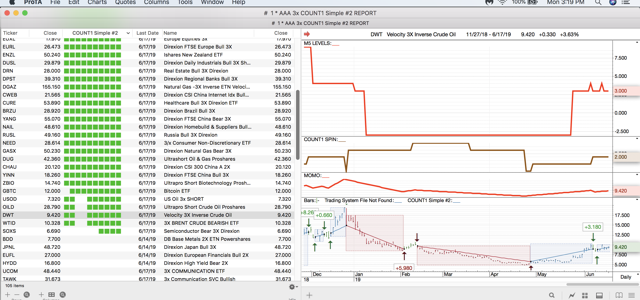 Look at the odd shape of the green boxes for the SHORT OIL 3x issues.
SOXS LONG is also in that group (see above).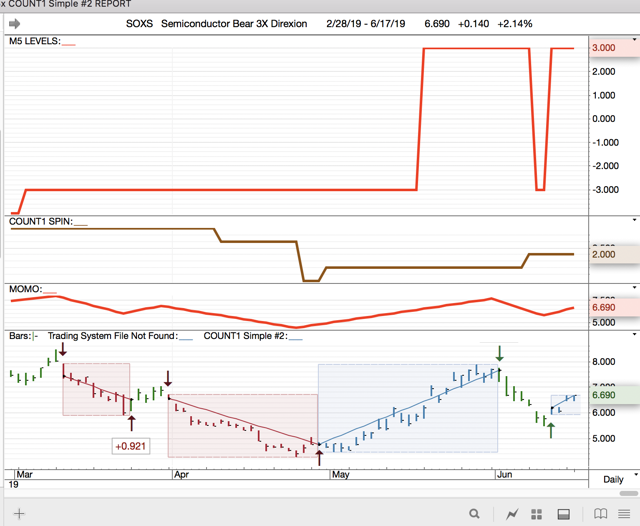 We would expect to see a similar shape in the SHORT boxes of this system. And we do.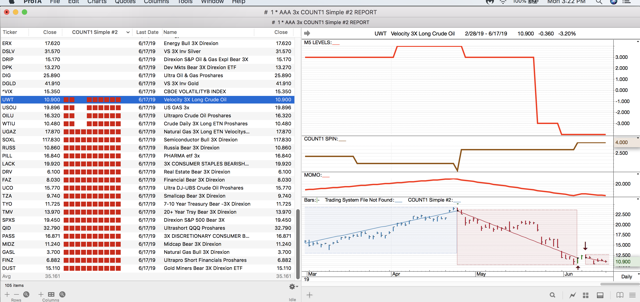 This system is a strange adaptation of COUNT1 Simple, which trades....well, let me show you.
COUNT1 SIMPLE first. As simple as can be. "SPINY" is COUNT1 SPIN's reading from yesterday.

Then we wanted something even better. MOMO often sneaks in a change early. If MOMO turns positive while COUNT1=2, we get a head start on a LONG position. IF MOMO turns down while COUNT1=1, we get out early.

Both systems seem to work, but the MOMO System, COUNT1 SIMPLE #2, seems to work better.

Here is our COUNT1 GOLD Portfolio in 3 parts. We cannot be accused of not publishing our trades.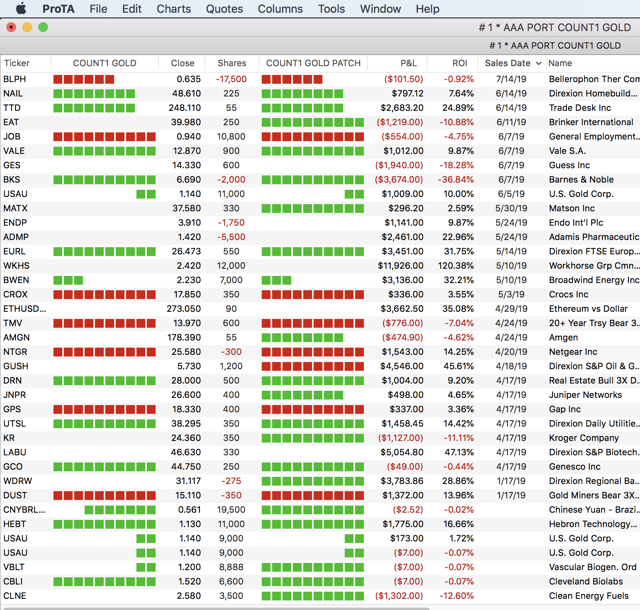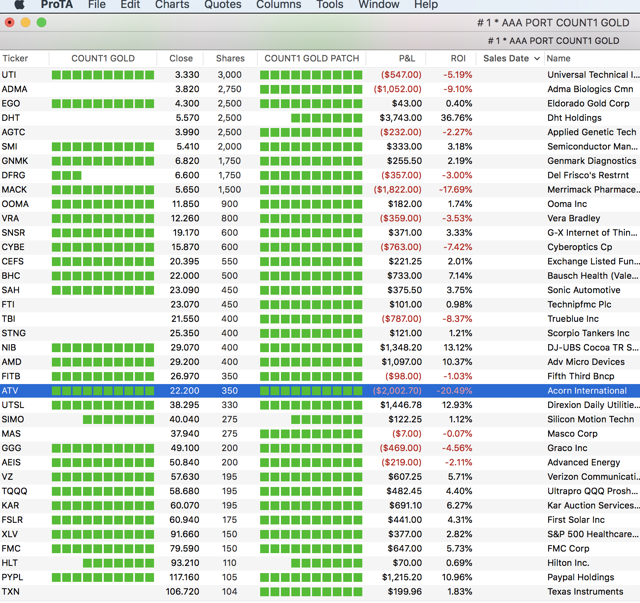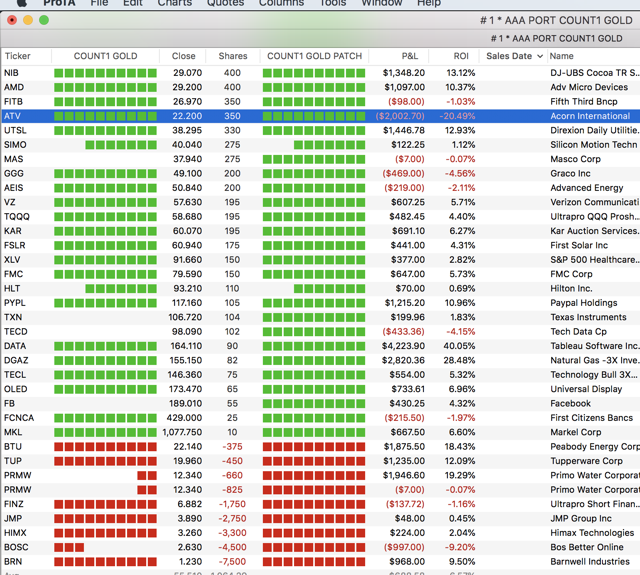 There is a lot of panic in the air. One of my SA adversaries claims that "sentiment" moves the markets, with which I agree, but he also argues that news, rumor, fact, expert opinion, FED operations, earnings reports play NO ROLE is fashioning that "sentiment", that it, sentiment, is, instead, a function of biology. We BUY when GREED wins; we SELL when FEAR wins. But our sensual and mental experience plays no role in forming these sentiments? I don't think FIBONACCI would argue that. Can Biology be separated in any reasonable way from our sensual, emotional and mental experiencing of the world? I think not.
For me, I'd say, don't give in to all the FEAR, which I claim is hitting its apex in 2019, until the main stock indexes crash below PROP1=-1 and COUNT1=2. Since July 2018, this has happened once in the SPX (below).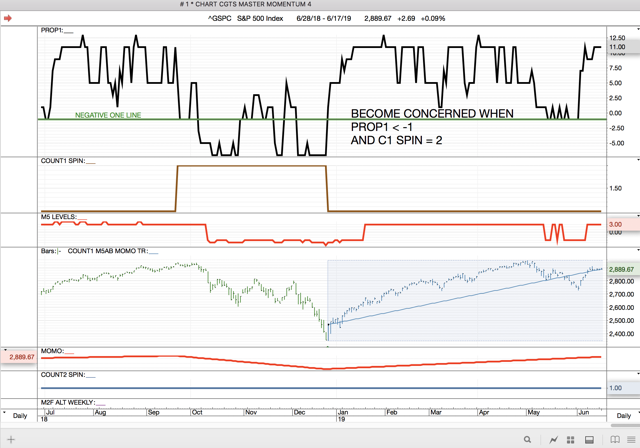 If we look at the WEEKLY chart of GSPC, SPX, we see this "concern" yardstick unfolding only twice since 2001, in 2001 and in 2008. All these "experts" screaming CRASH with every jerk of the knee should be urged (forced) to be more rational.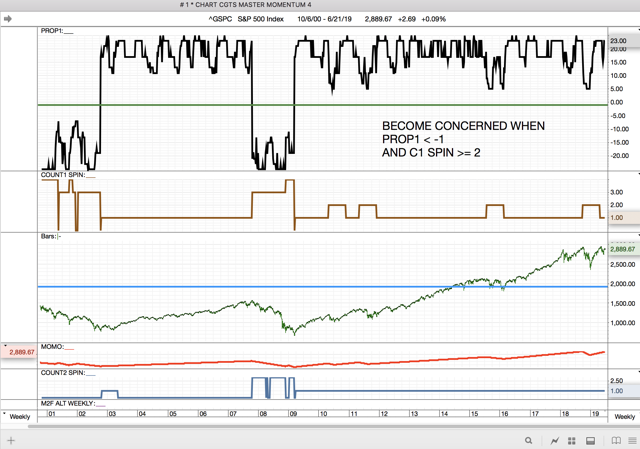 Here is a new SHORT TRADE in the COUNT1 GOLD System, a Chinese company, CJJD, JOJO DRUGSTORES.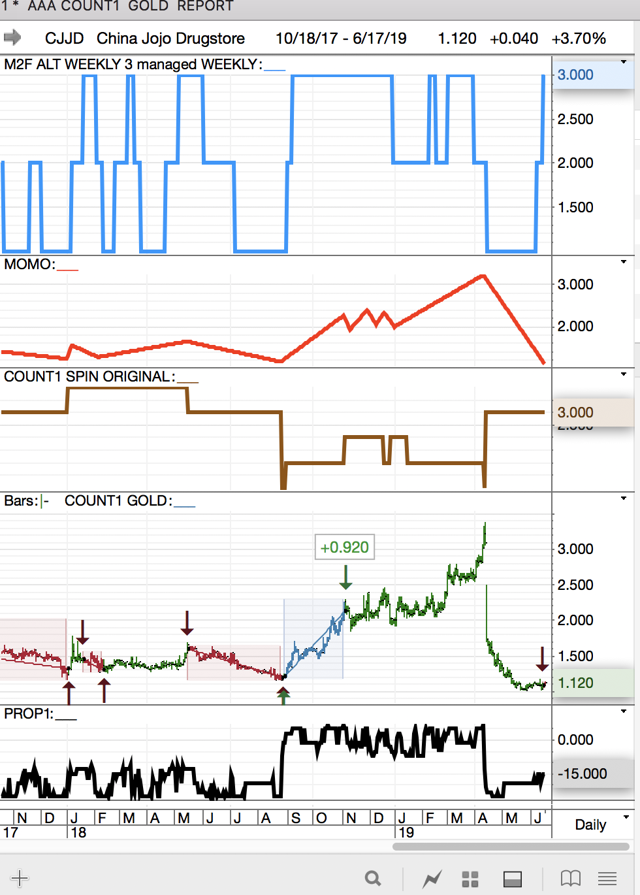 Hope you are all well.
MJC, CGTS
Disclosure: I am/we are long GBTC. I wrote this article myself, and it expresses my own opinions. I am not receiving compensation for it. I have no business relationship with any company whose stock is mentioned in this article
Disclosure: I am/we are long GBTC.