CGTS Algo Trading System
Tools
CGTS MONDAY: THE NEW PARADIGM
Jul. 22, 2019 9:42 PM ET•NFLX, ILMN, AAPL, GBTC, BTC-USD, RRC, GLNG, FIVE, MSFT, WKHS, SNAP•Comment!
What is the NEW PARADIGM?
I write that MACHINE TRADING is a new science of investing. Fundamental Analysis is a science of business; and this has always been linke to and confused with the science of investing. Business schools and universities teach students how to analyze the health of a business. through understanding of business vectors that appear (or don't appear, are hidden) in a company's earnings report. The assumption is that successful businesses will be good investments; and weak businesses will not. An investor who buys stocks of a business that has growing earnings will ALWAYS do well as an investor -- that is the assumption.
This assumption is NOT proven, not science -- at least, there is no guarantee that business gains AUTOMATICALLY translate into stock gains. Assumptions are NOT science.
Fundamental analysis is expert at the first part of the equation, analyzing businesses. Analyzing stock markets is another beast, in fact.
The science of investment MUST FOCUS on the stock market AS A MECHANISM , and its own mechanism. Stocks are clearly influenced by fundamentals, no one should doubt this. Stocks are influenced by news, by rumors, by weather, by fake news, and by inherent trends. When stocks collapse, in most cases, all stocks collapse together, those with strong business fundamentals and those with weak business fundamentals. This suggests something else at work in the stock markets, something other than reason, something emotional, something irrational.
Analyzing stocks is a different mechanism than analyzing businesses. Analyzing businesses does not have, nor does it need to have, understanding of an irrational component.
Traditional investors praise fundamental analysis and look down on technical analysis as some kind of sorcery that does not work. Technical analysis encompasses a wide range of practitioners with widely disparate results.
MACHINE TRADING is the next stage of technical analysis, one that is computer-based analysis of price patterns at speeds and with complexities never before imagined. Fractal analysis. Repeating patterns. Which have never before been available; which have more recently been available only to rich investment firms that could afford high-speed computing. As the quality of computing has gone up and the prices have come down, program trading is now accessible to everyday investors, FINALLY.
MACHINE TRADING, as I understand the term, MUST focus, to be successful, on the emotional struggle between BUYERS and SELLERS, as they struggle for advantage, gaining and losing ground, very much like a war. Greed and Fear are not present in the Earnings Statement of individual companies -- but they are the TWIN FORCES that are ALWAYS present in the stock market, and are the essence of understanding the stock market mechanism on which I focus.
***********
I HOPE you all read yesterday's (today's first) post. In it we outline our hopes for the elusive UNIVERSAL SELL SIGNAL.
CGTS EXTRA: THE SEARCH FOR THAT ELUSIVE UNIVERSAL SELL SIGNAL OR HOW TO AVOID THE NFLX CRASH - Michael Clark
We want a trading system that will be largely impervious to a CRASH. We had another individual stock TREMOR today.

ILMN, ILLUMINA, lost 18%.
Our trading system C1 EMV W is explained in the post linked above. When C1 EMV W breaks down from +1 to ZERO we sell. No COUNT1 confirmation is required, which, as a trend reading, tends to be conservative.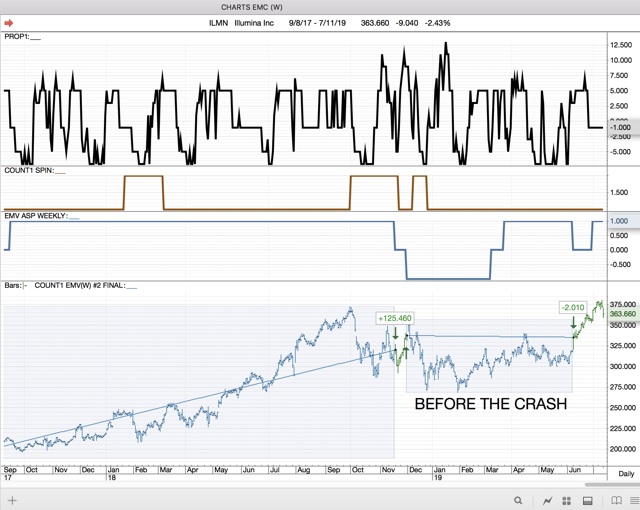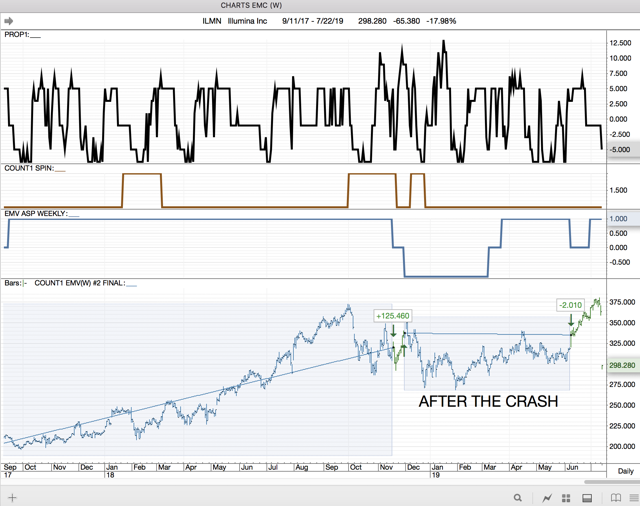 We have tinkered with a couple of EMV W trading systems. One allows a BUY if EMV W moves back up to +1 from ZERO IF SPIN, COUNT1, = 1. This system is NOT CRASH PROOF. So we are moving away from it. (EMV W PLUS below),.

Note, EMV W PLUS is still LONG on the day of the CRASH. Also note returns are slightly better for the EMV W System. The EMV W System has fewer trades.
Ok; so we start the report with a TOP WATCH, based on EMV W. All the stock on this list have TOPPED, broken down from +1 to ZERO in terms of EMV W. If a stock you are holding shows up on this list, you should take noTe.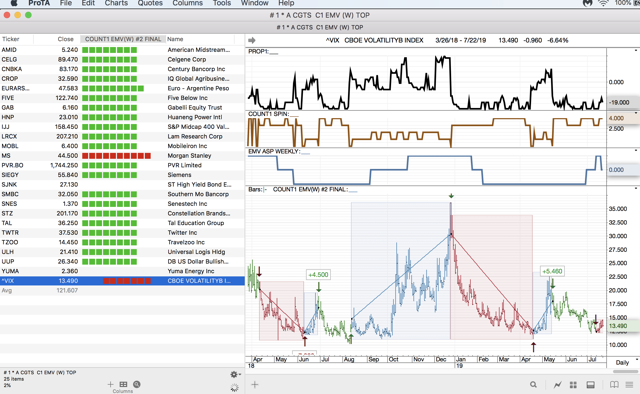 BOTTOM WATCH.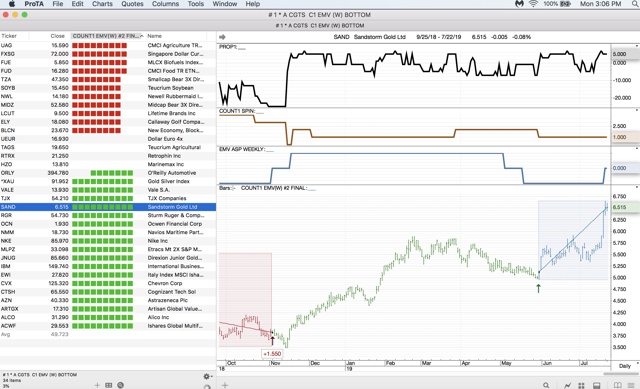 BITCOIN WATCH. First let's look through the New (EMV W) Paradigm.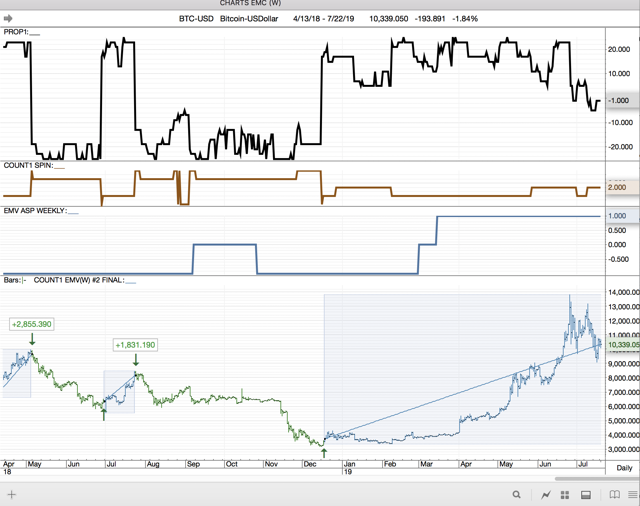 And GBTC.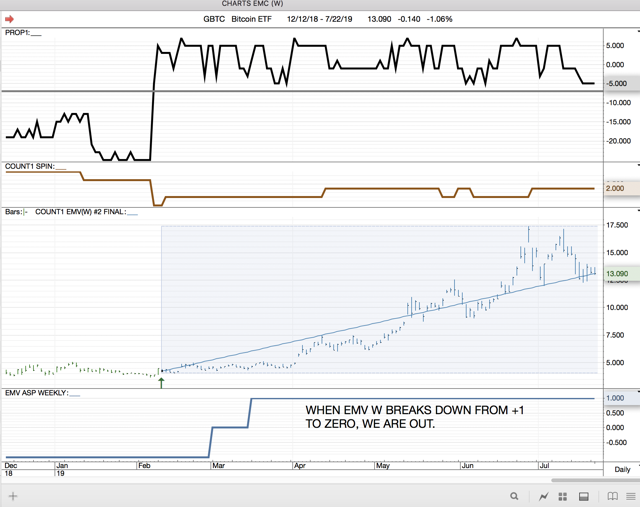 We have an old paradigm as well. PROP TA is a "trading" system, in contradistinction to EMV W. Note that EMV (Daily, GREEN) is OVERSOLD; COUNT1=2 (resting) -- but the SUPPORT-RESISTANCE band is holding. We will know the "next" BULL MOVE has begun when C1=1.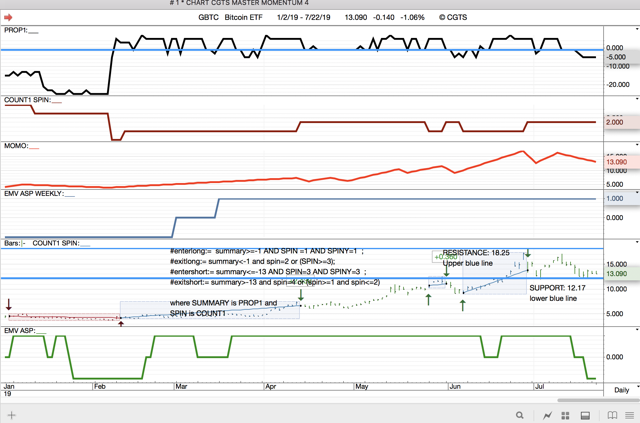 BTC-USD as a "trading System".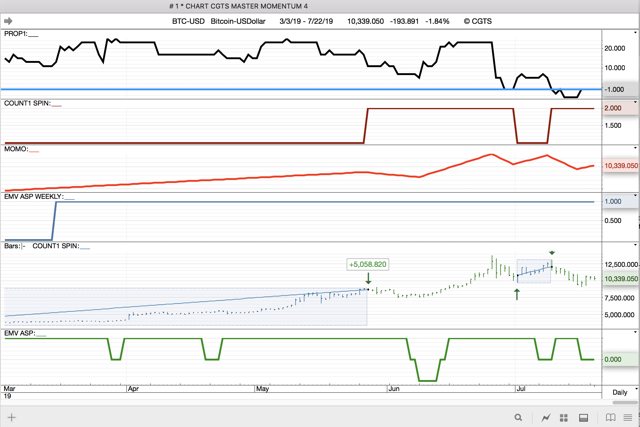 THE MARKET.
Note GSPC gave a SELL SIGNAL early in the Winter 2018 correction. The DJIA did even better.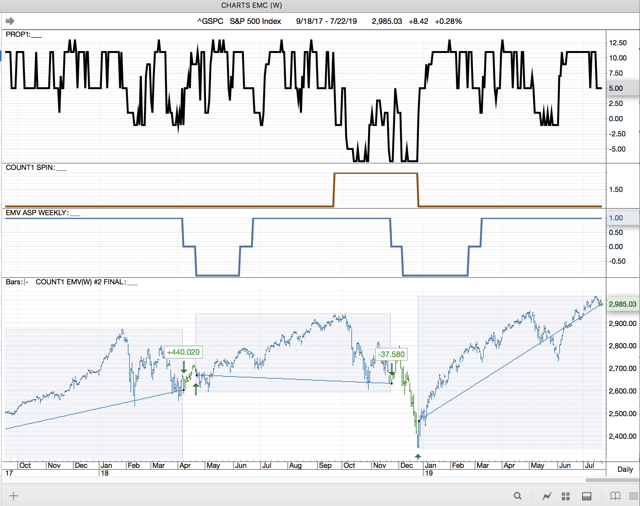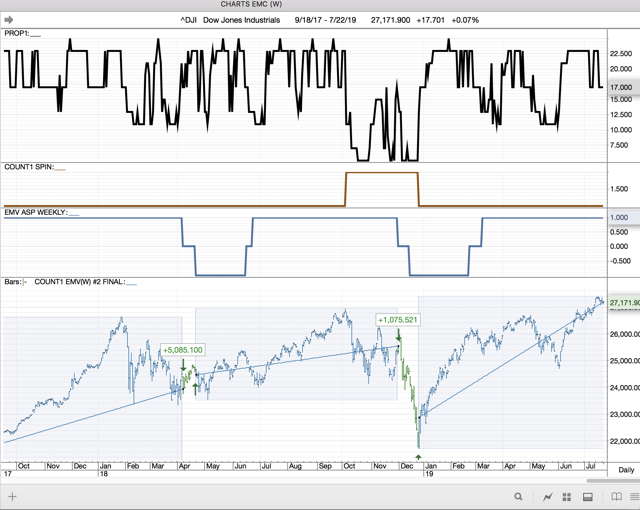 How does this NEW PARADIGM trade the UDOW? Pretty well. Still LONG here.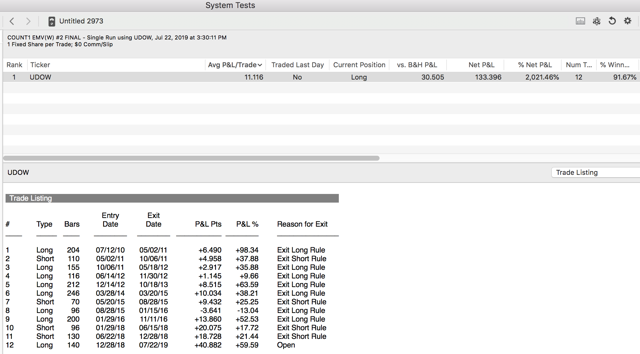 One of our readers is following two Nat Gas sector stocks. How do they look under this new microscope?
GLNG. BEARISH now. Too late to SHORT. Note how it SOLD somewhat before the top in May 2018 but avoided being LONG when the CRASH hit.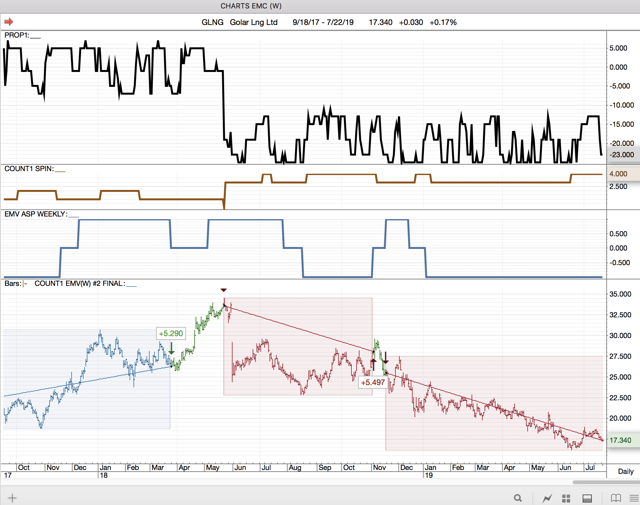 RRC, RANGE RESOURCES. Bearish now; too late to SHORT. This one also SOLD before the CRASH.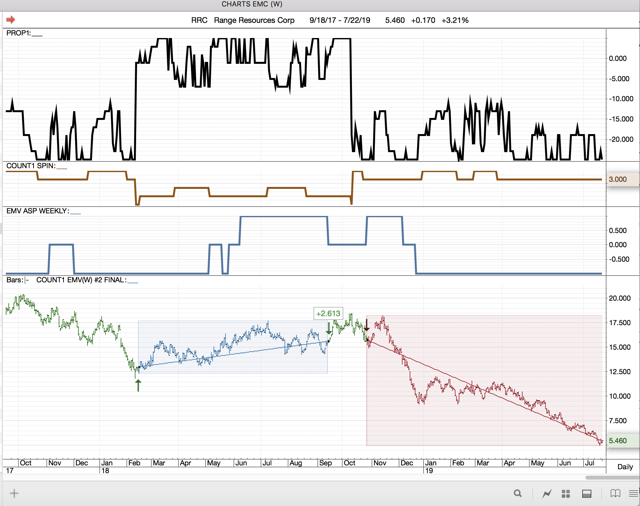 Readers are also interested in WKHS and SNAP. Is it too late to get in?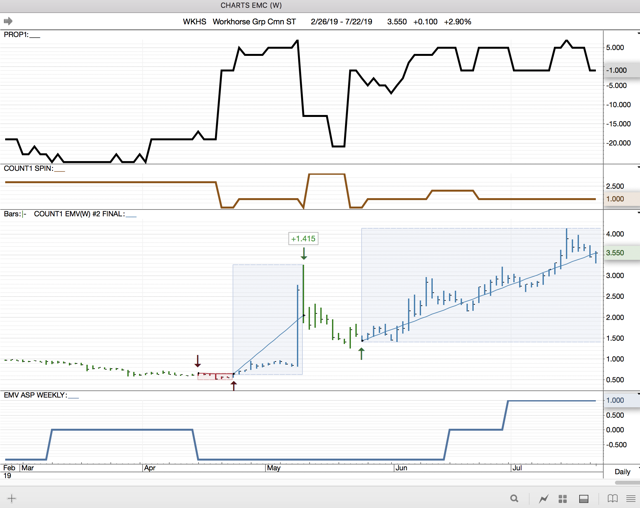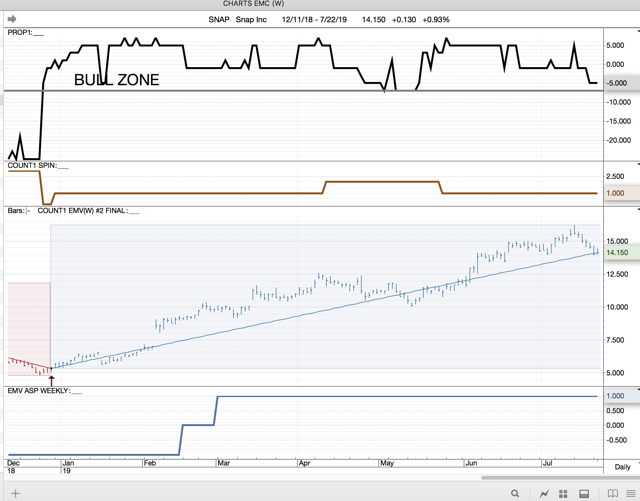 Well, both have rallies that are "long in the tooth". I would wait, although I like both and am LONG both.
FIVE. Take a 28 point profit and wait for the next BUY SIGNAL.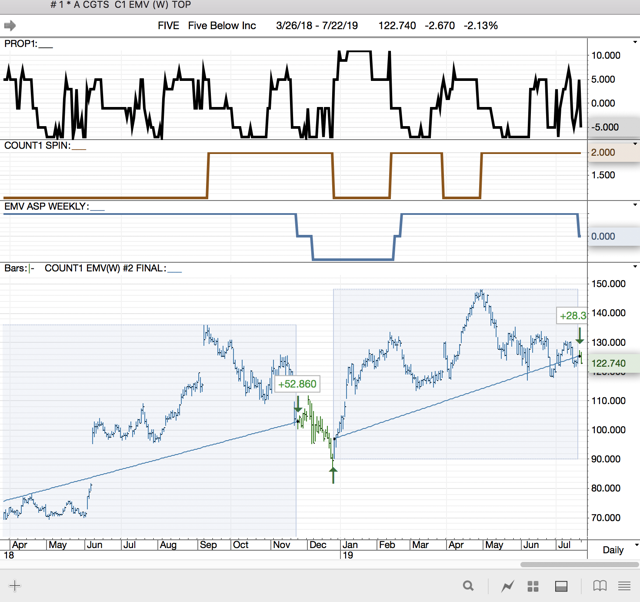 FB? All the rumors of Facebook's death have been exaggerated up to now.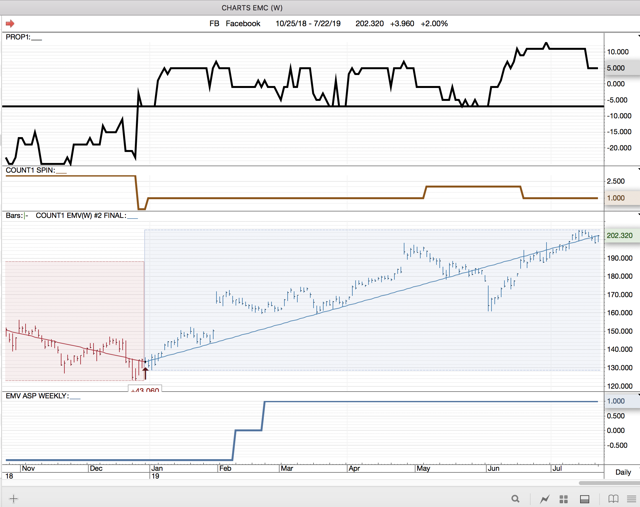 AAPL. We ran this last night. TAKE PROFITS. (Excuse all the text cluttering the chart. It all MEANS SOMETHING.)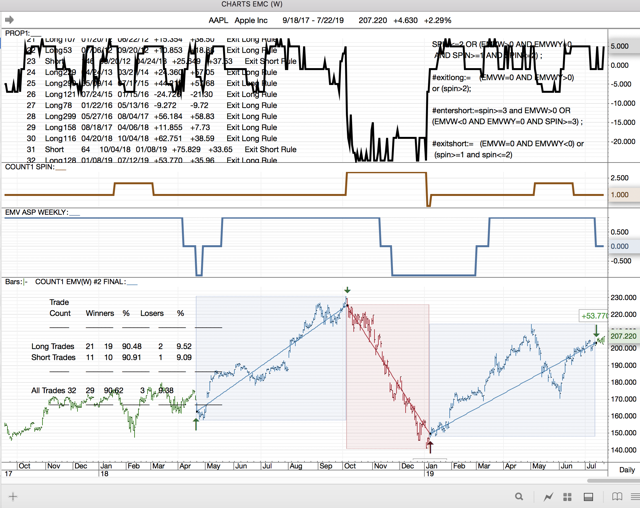 MSFT. Have to like it still.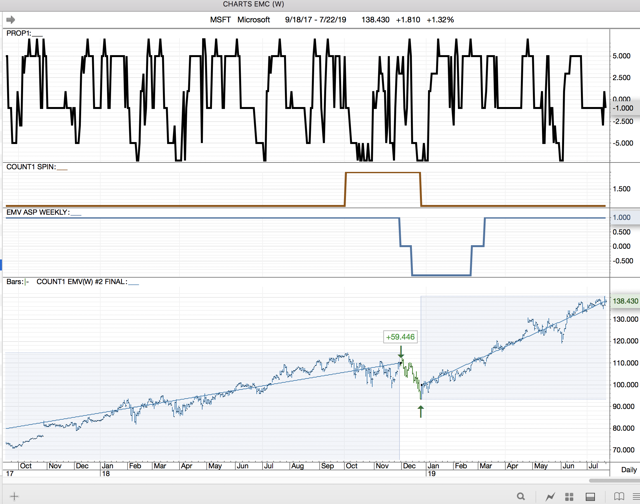 TENCENT? The System says get back in. (What do I say?)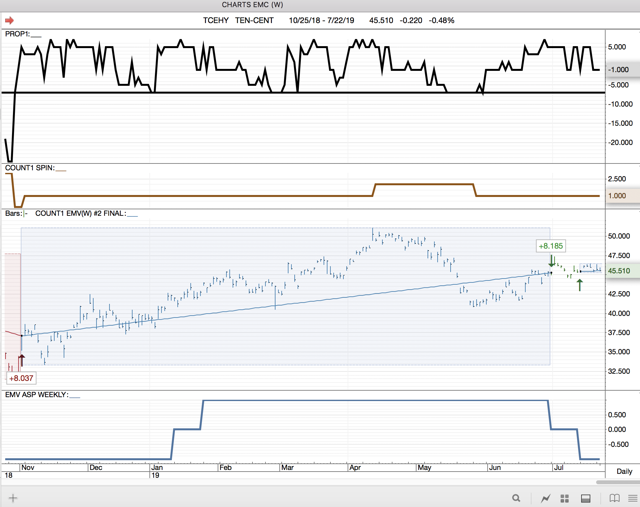 REQUESTS. If you would like to see a chart, let us know.
C1 SPIN CHANGES for the week. I will remind you that low-priced stocks are volatile by nature.
C1 SPIN CHANGE, SHORT SIDE.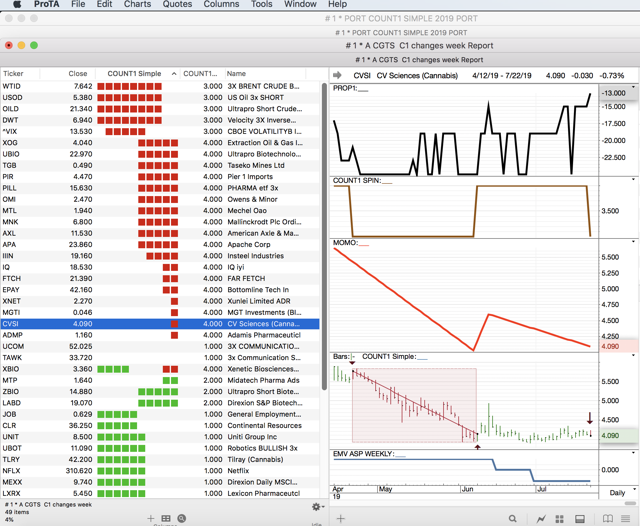 C1 SPIN CHANGES, LONG side. A lot of CLOSED LONG positions on this list. Compared with a lot of NEW SHORT positions taken. Does this means the market is deteriorating? Our portfolios have shown only sluggish gains of late.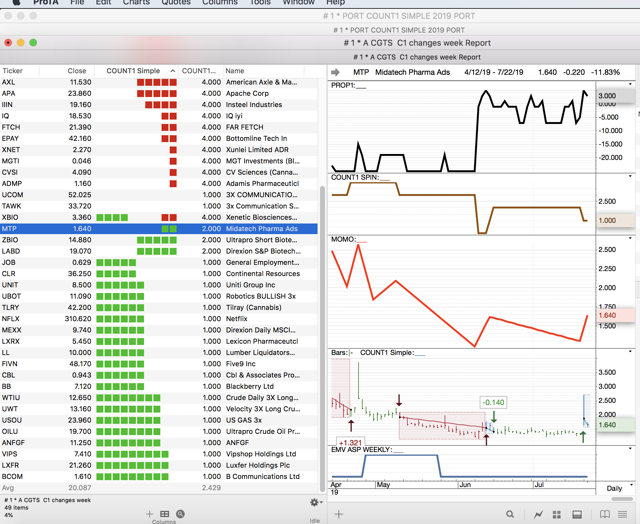 INTERNALS: Some weakness this week.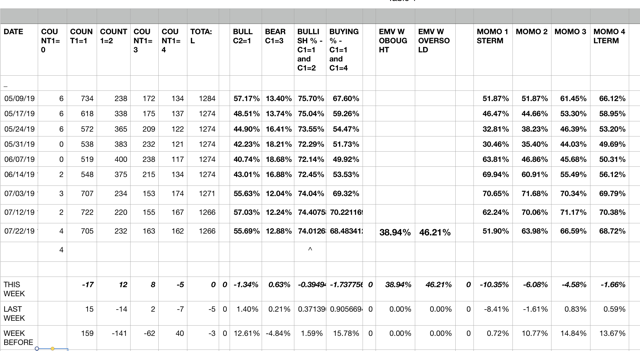 I say our portfolios have been sluggish recently. They are still doing well.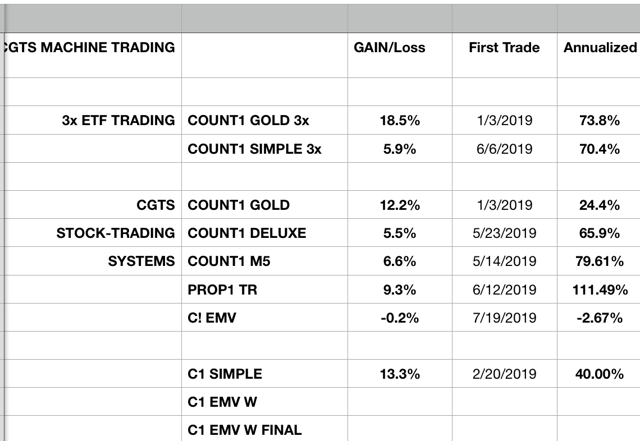 PROP1 TR and COUNT1 SIMPLE are VERY similar. We might stop reporting the latter. Although the COUNT1 CHANGES are useful.
SLIDE SHOW. M5 System CLOSED TRADES.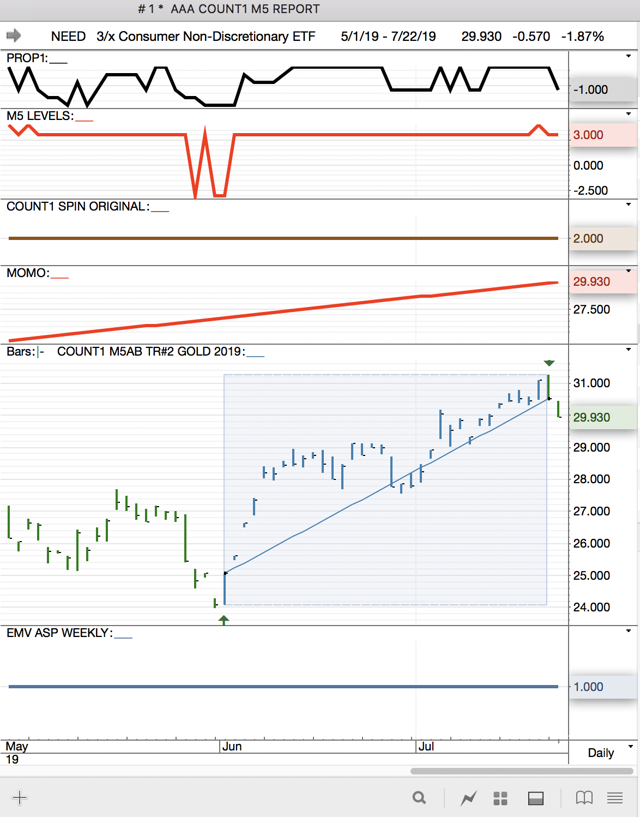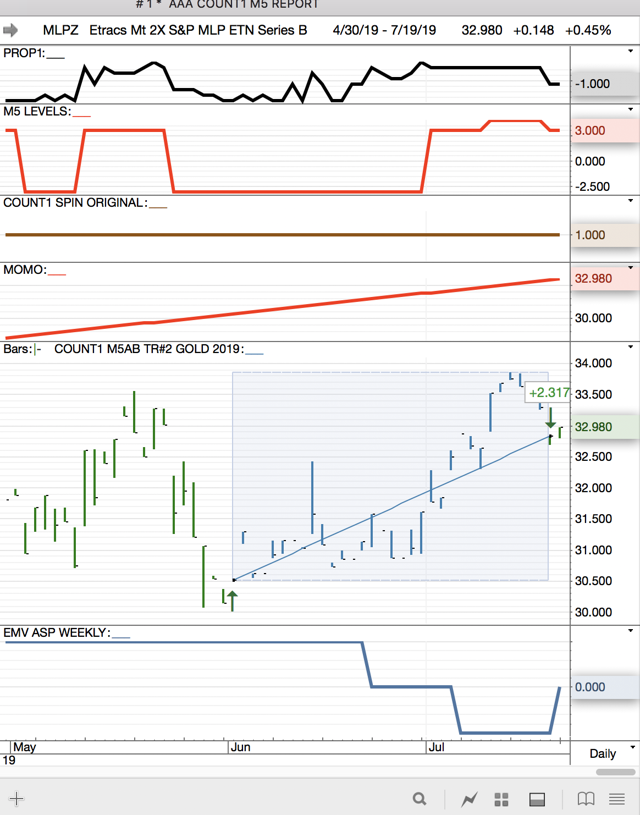 \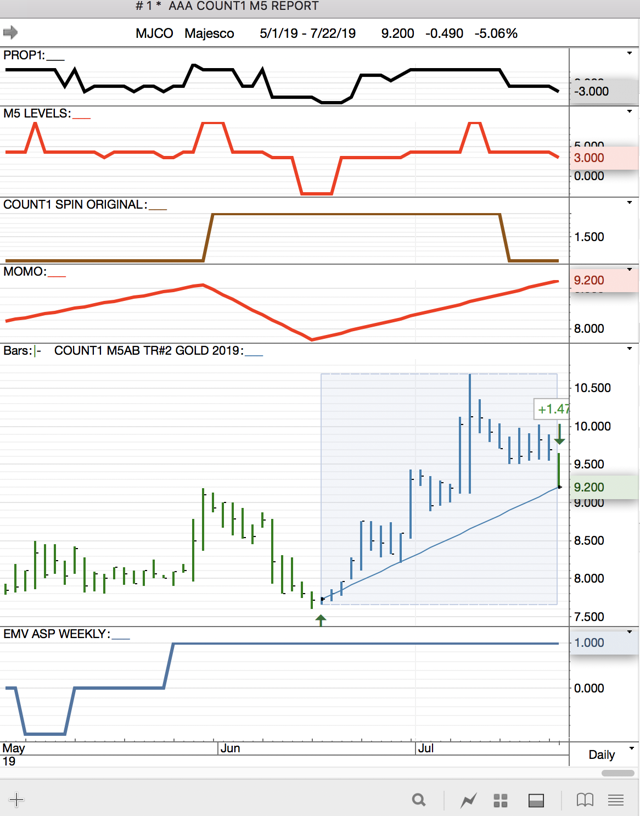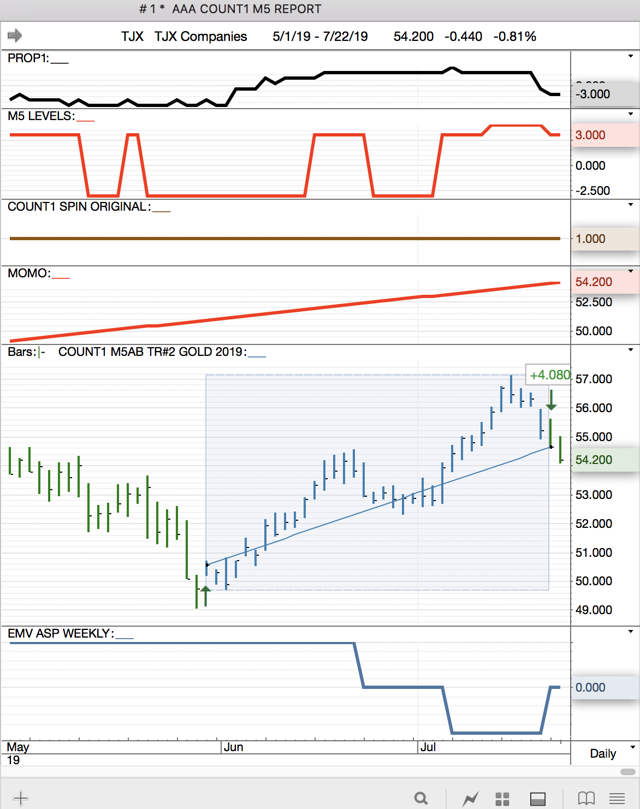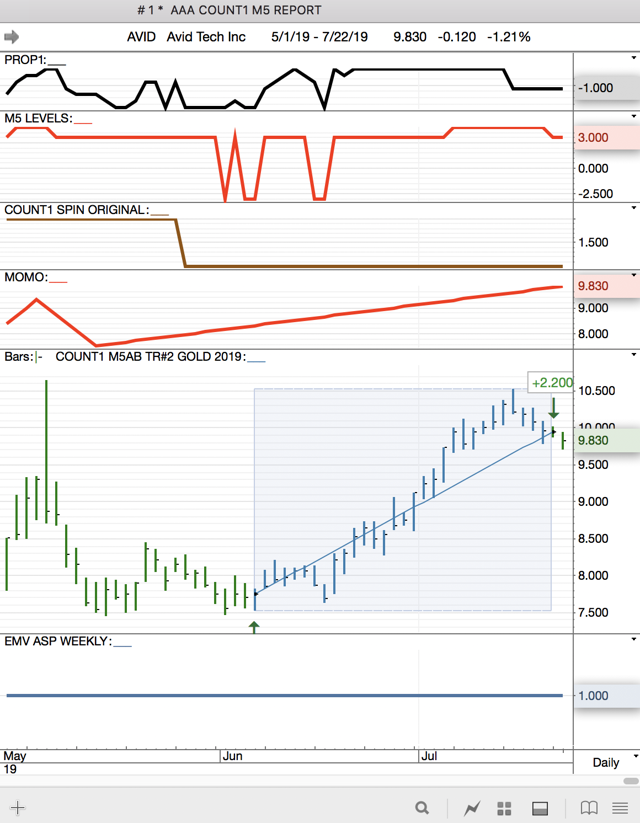 Best.
MJC, CGTS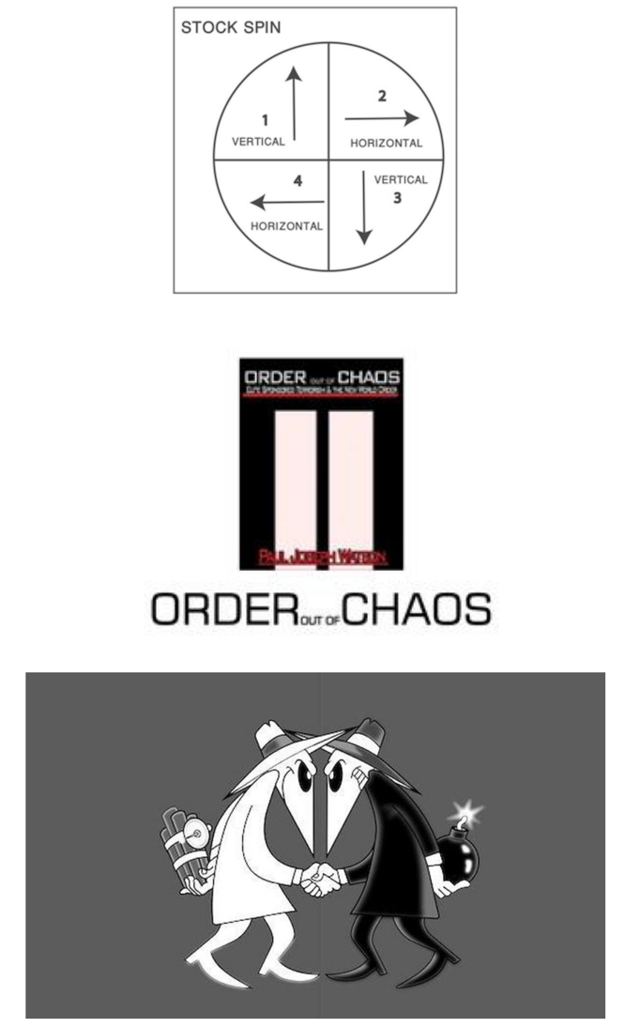 Disclosure: I am/we are long GBTC. I wrote this article myself, and it expresses my own opinions. I am not receiving compensation for it. I have no business relationship with any company whose stock is mentioned in this article.
Disclosure: I am/we are long GBTC.