CGTS Algo Trading System
Tools
CGTS FRIDAY: BEARS BEWARE! MINI-CORRECTION OVER! SHORT THIS MARKET AT SIGNIFICANT RISK!
Aug. 9, 2019 9:09 PM ET•BRZU, INTC, SPY, TCEHY•Comment!
Summary
NOTICE: BUY BRZU, BRAZIL STOCKS BULLISH, BRZU SEPT 32 calls @ 3.4.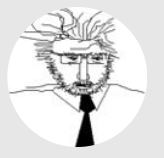 This round of selling is over. Yes, there will be other rounds. We know. Bulls will win the round that has just started however.
A lot of pundits are writing off the markets again.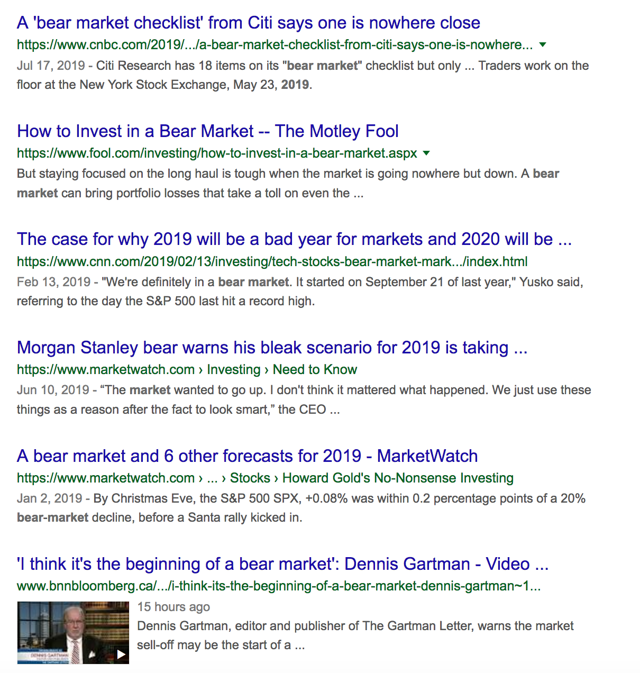 Of course, if Dennis Gartman says it is the beginning of a bear market -- IT IS NOT. Some of our local (SA) writers:




We don't want to pick on those who see the world differently than we do. We are all working with different indicators and different systems. The more subjective the systems, the more room for error. But be careful to whom you listen. (Cliff Droke seems to understand. Widespread "CRASH PHOBIA" is bullish.)

COUNT1 GOLD is arguably our best system.

We took the COUNT1 GOLD Trading System and replaced COUNT1 with our MOMO indicator. Why would we do that? MOMO is more sensitive to trend changes.

So, MOMO must be greater than 0, that is, it must be moving up. And "M2W" (M2F ALT 3 Managed Weekly) must be 1 (OVERSOLD) -- and "Spin" (COUNT1 must be either 1 or 2, bullish).
We sell when Momo is down and M2W=3, if (relatively) OVERBOUGHT.
COUNT1 SPIN moves to the background; MOMO moves into the foreground.
Look what comes up BULLISH today: TQQQ, FINGU, BRZU, TECL.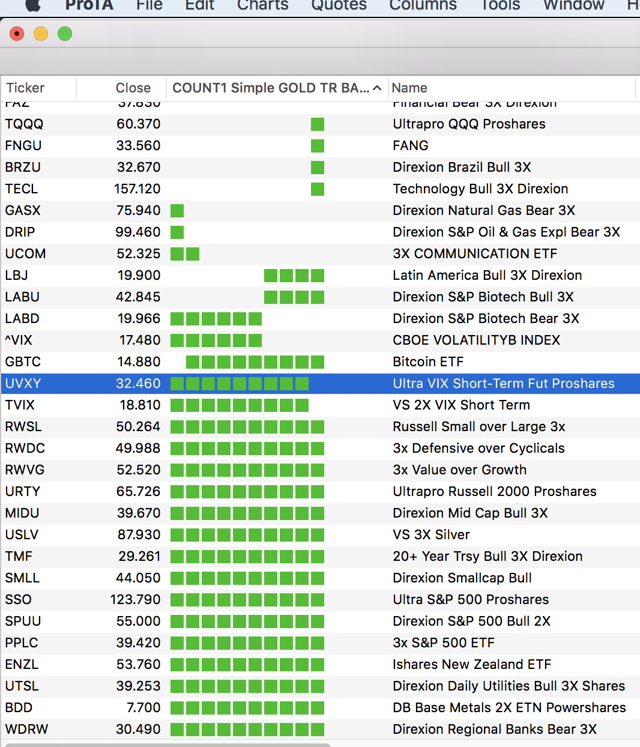 Pictures: TECL. MOMO (red, second pane down) is UP; and M2W (orange, top pane) equals 1; AND C1=2. Two moving parts; one background part.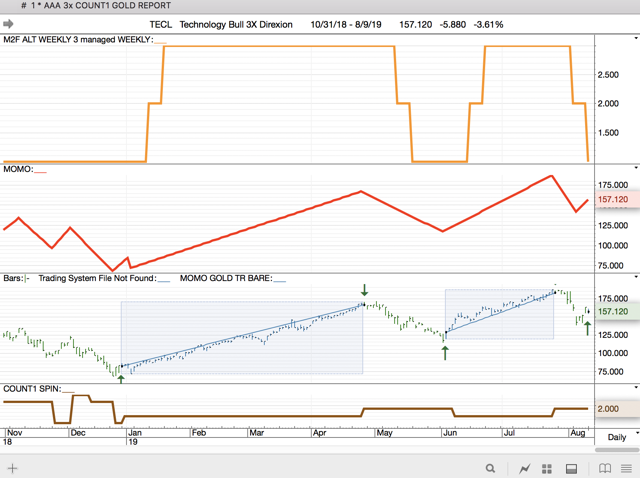 BRZU, BRAZIL BULLISH 3x ETF, BUY. This is my favorite; why? Not sure. Gut feeling.
Call options, 4-6 weeks to expiration. In-the-money-calls. BRZU 32 call is selling for 3.1-3.4.
FNGU, FANG Bullish ETF. I like almost all the FANGs here. MOMO is more volatile with this one, which stopped us out of an earlier trade.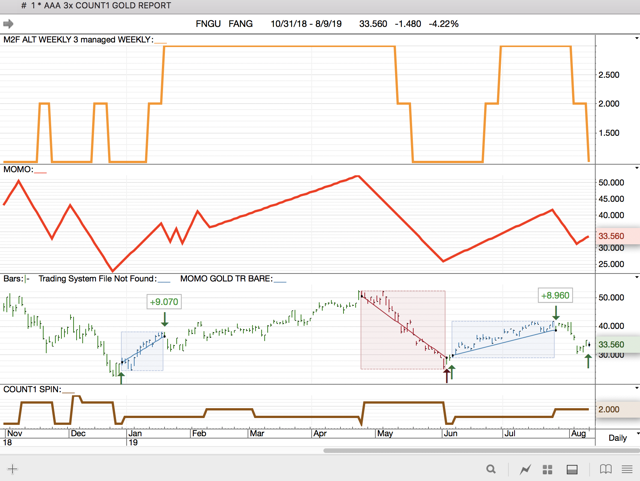 TQQQ, ULTRAPRO QQQ, NDX Stocks.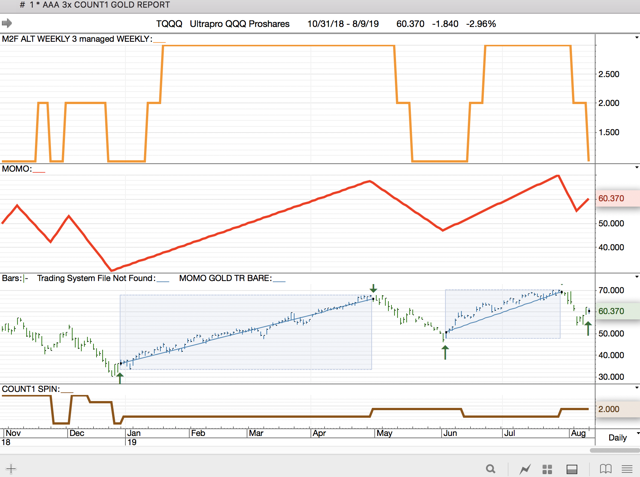 If TECL is bullish, should not TECS be bearish? I'm glad you asked. Yes; it should be; and is.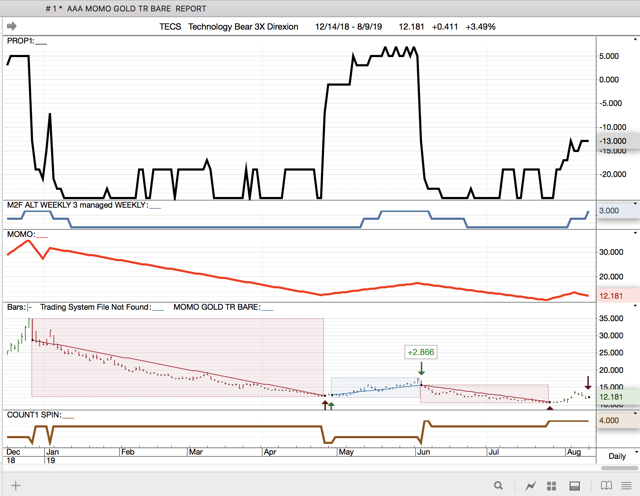 That's not all: MYL, MYLAN LABS, is also BEARISH.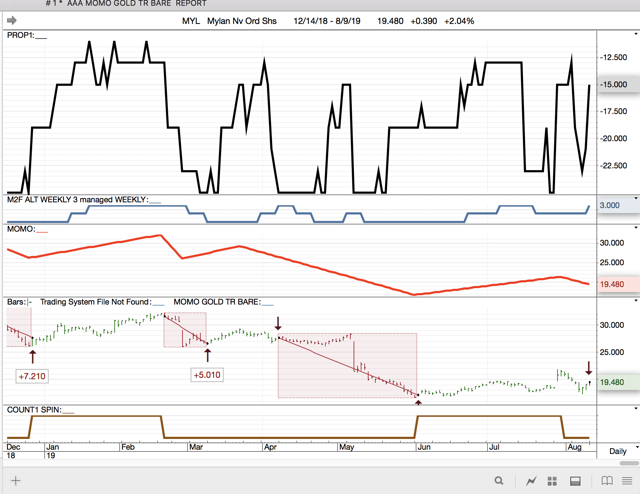 Look how MYL broke down today: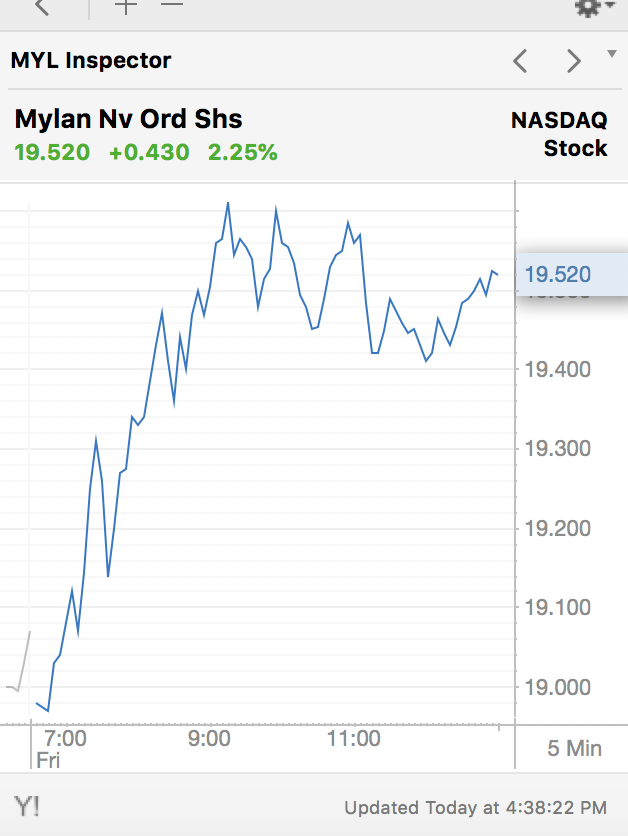 As is FRD, FRIEDMAN INDUSTRIES.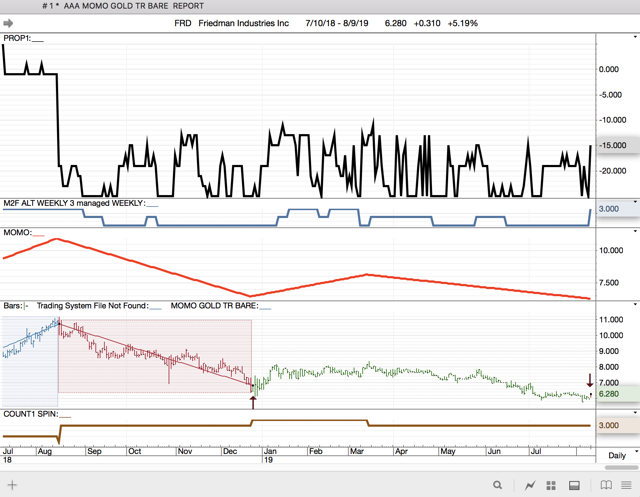 Ok; so this is the basis of my warning to BEARS? Part of it.
Speaking of COUNT1 GOLD System. COUNT1 GOLD is giving a BEAR-BRUTALIZING report today, which tells us the selling is OVER. We first saw this. Remember, the small green box on the right side of the column tells us what is a BUY TODAY.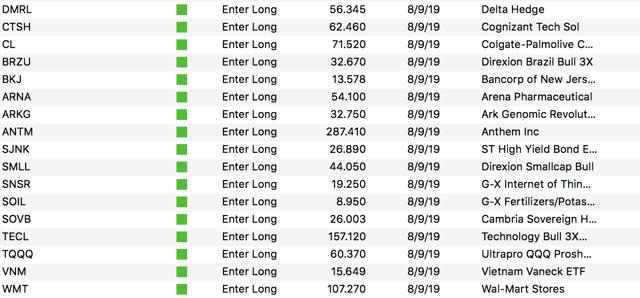 BRZU, TECL, TQQQ we expected to re-appear. SOVB, JUNK Bonds? VNM, VIETNAM -- be careful with anything Asian. Haven't I been saying that? Looks bullish? Wait. That was just the beginning.
TEN-CENT? Did you say TEN-CENT?

And look at all of those indices below: DJIA, GSPC (SPX), NDX, OEX. Look how the DJIA recovered today from early selling, off over 800 points.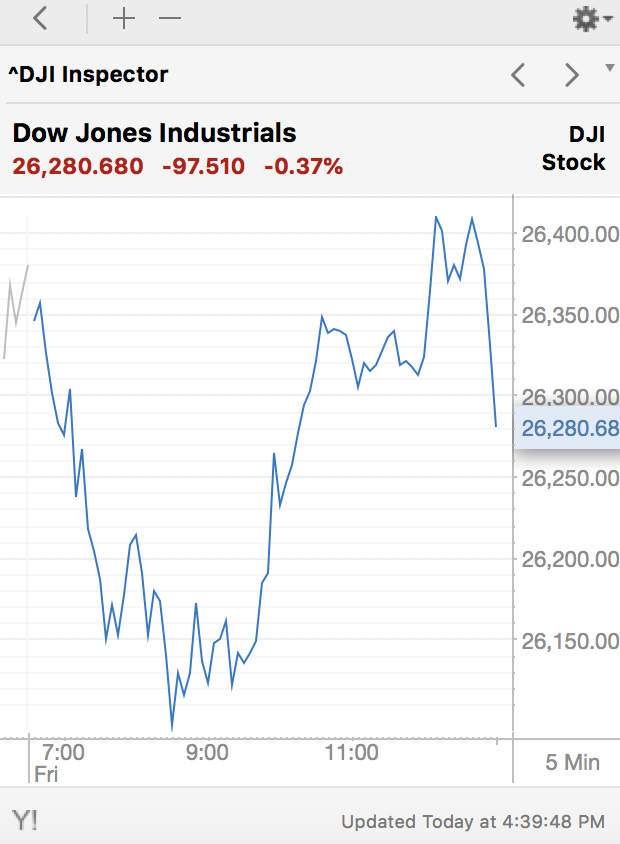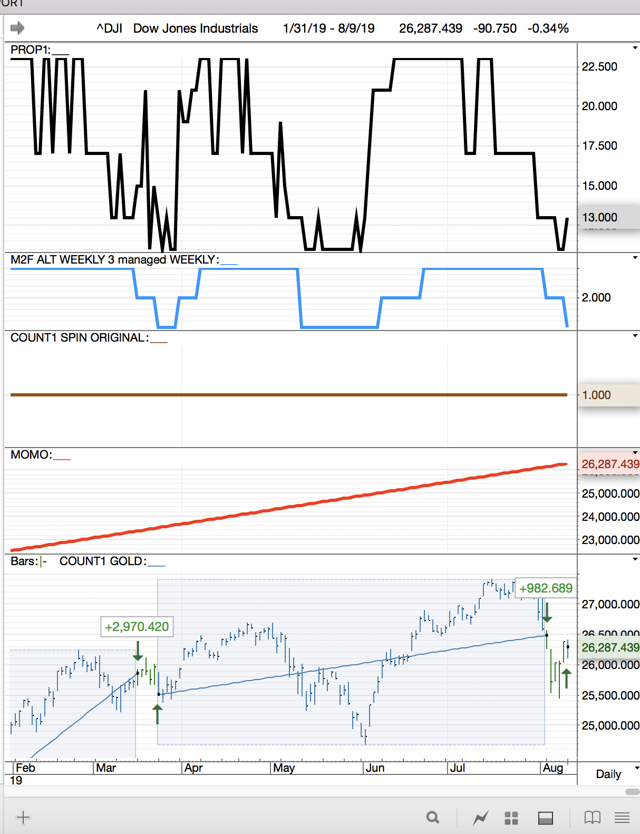 Ok, let's hear (SEE) about TEN-CENT.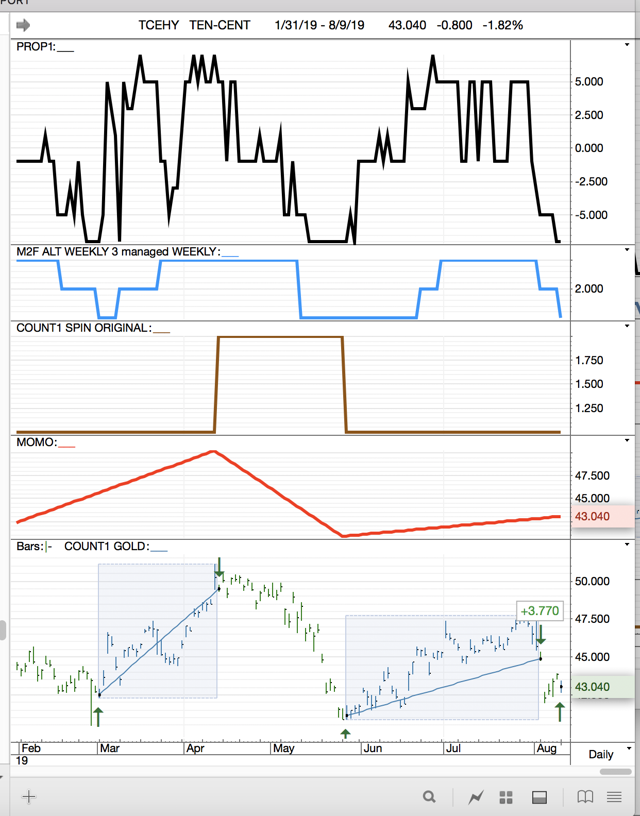 Remember, in the C1 GOLD System, COUNT1 MUST EQUAL 1.
And that is NOT the end of it. Brace yourself: this is a FLOOD of BUY SIGNALS.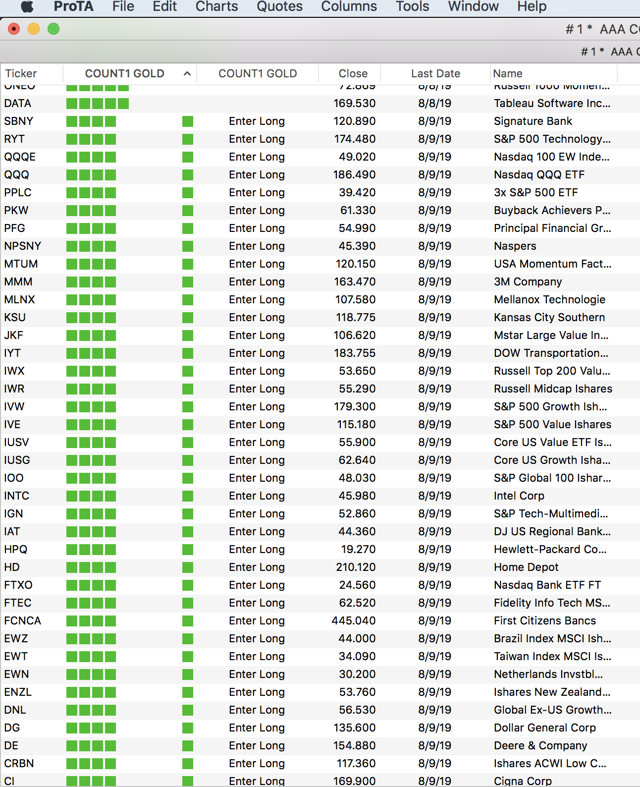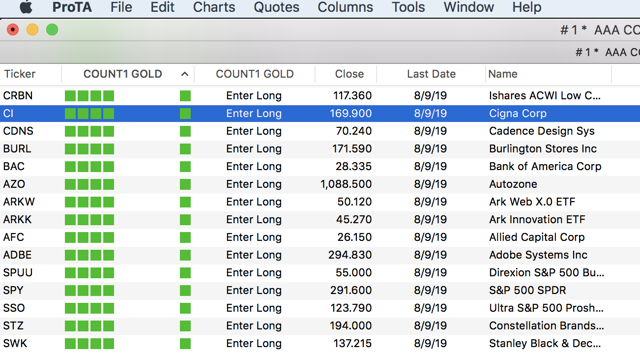 One of my favorites on this list is ADBE, ADOBE.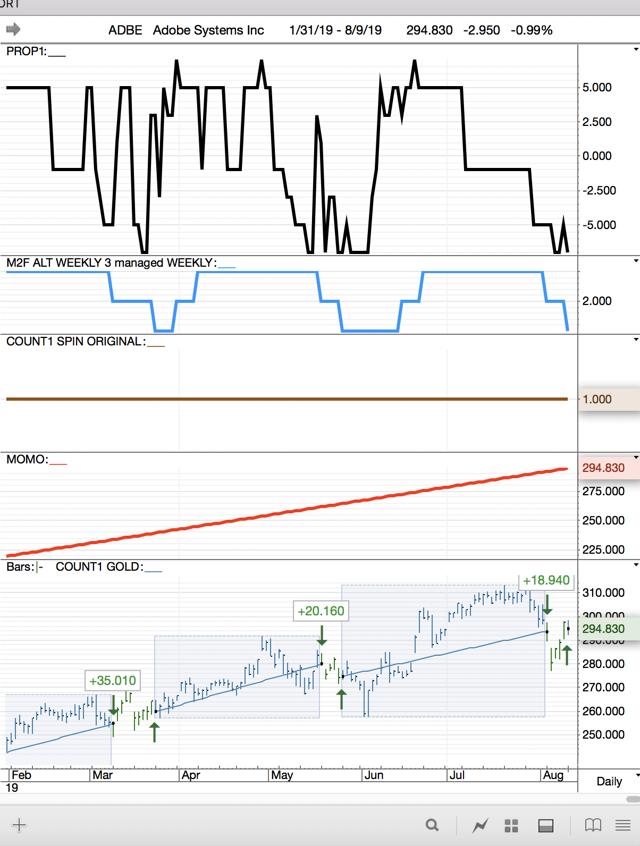 AZO.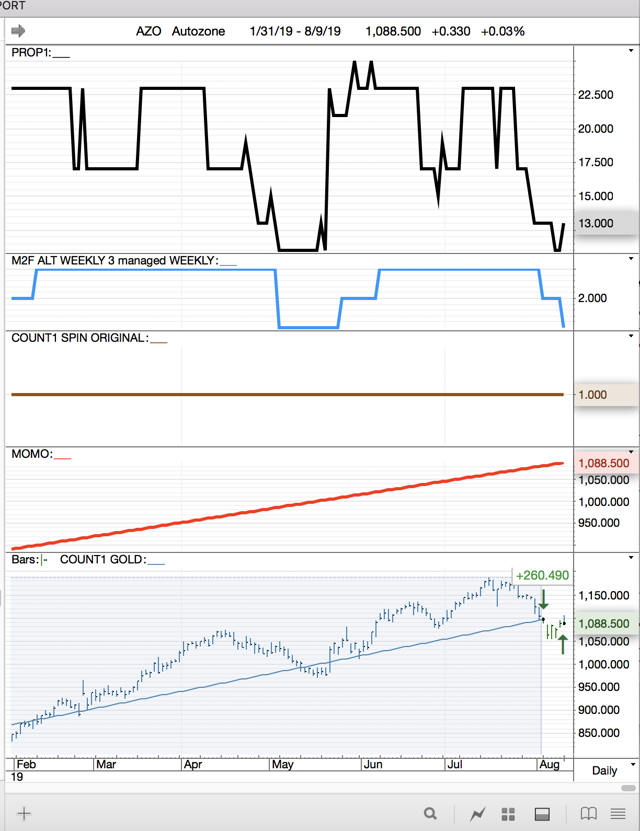 INTC, INTEL. How is INTEL not one of your favorites?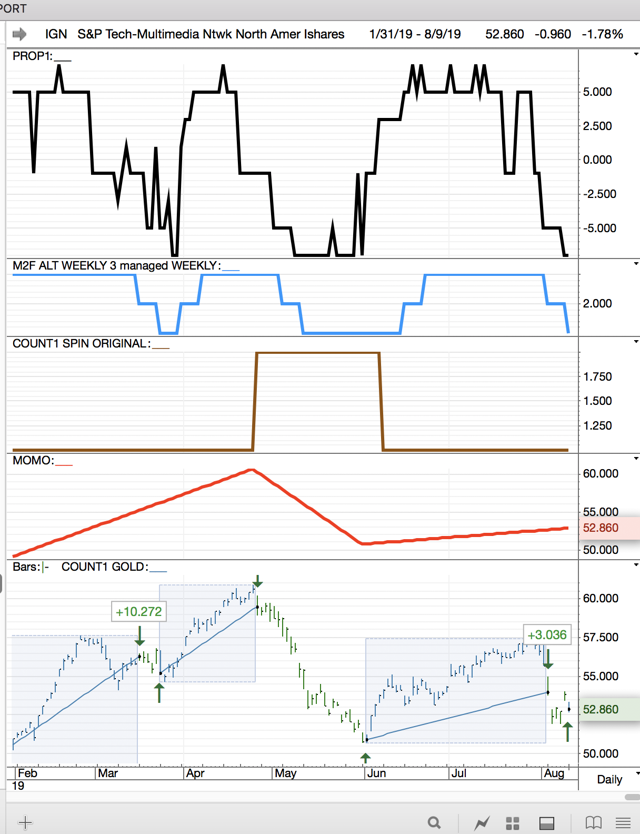 There are NEW SHORTS too? A few. And they are NOT ALL Inverse ETFs -- although some of them are. For instance, PSQ, NDX SHORT. And DOG, SHORT THE DOW.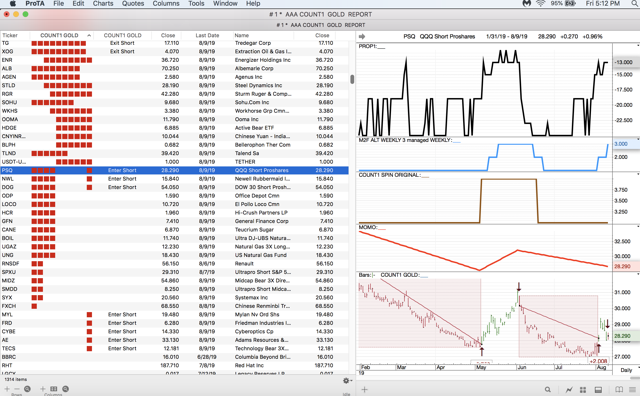 We have some COVER SHORT signals as well. Note, XOG.

EXIT LONG? Yes, but pay attention. GBTC is on this list, but it IS NOT a SELL.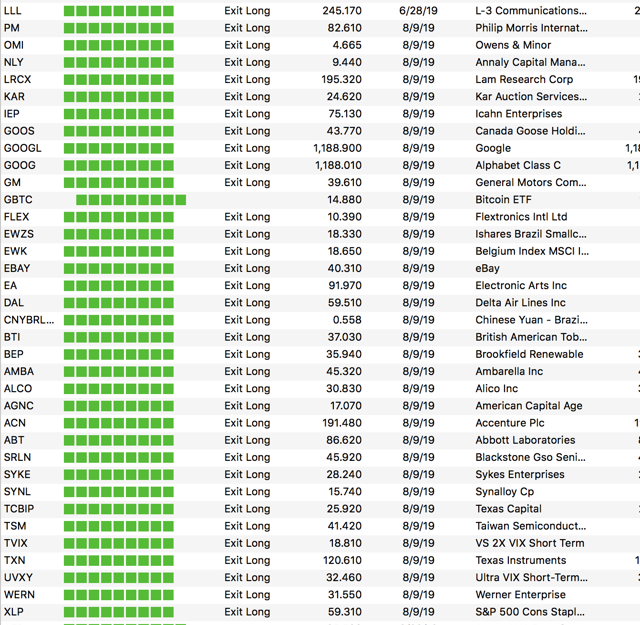 That was a BIG mouthful. I would be scared if I was short this market.
C1 CHANGES. Pay attention BITCOIN investors.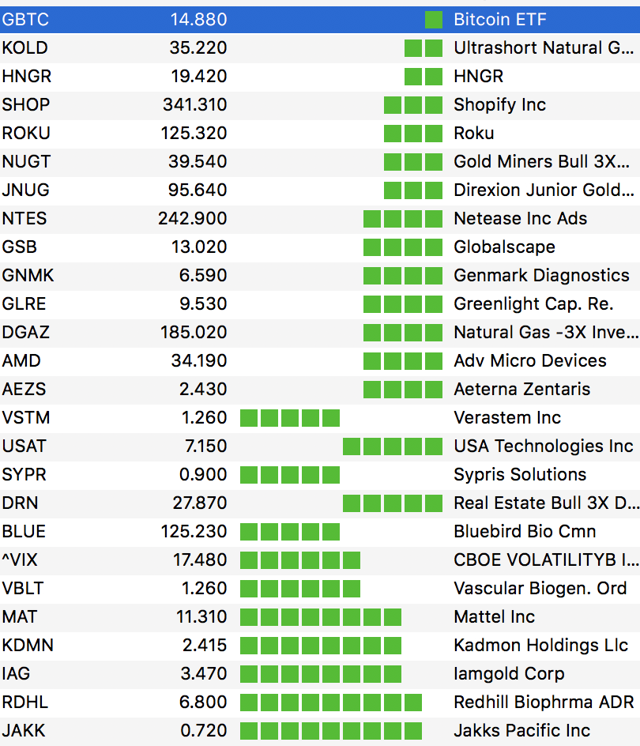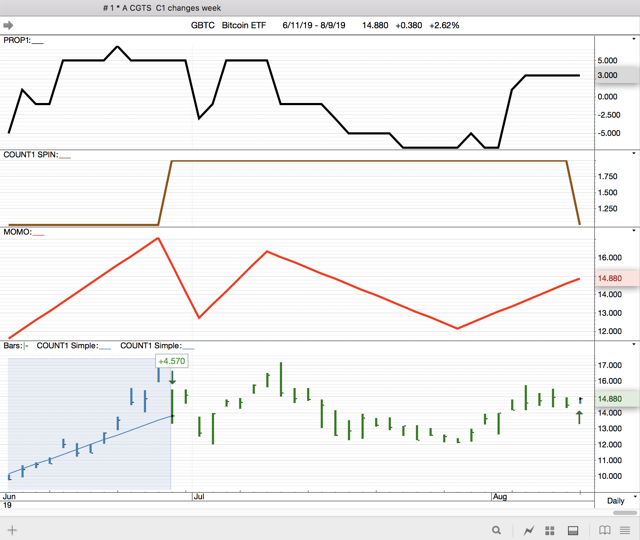 COUNT1 Simple System says it is (finally) time to get LONG GBTC again.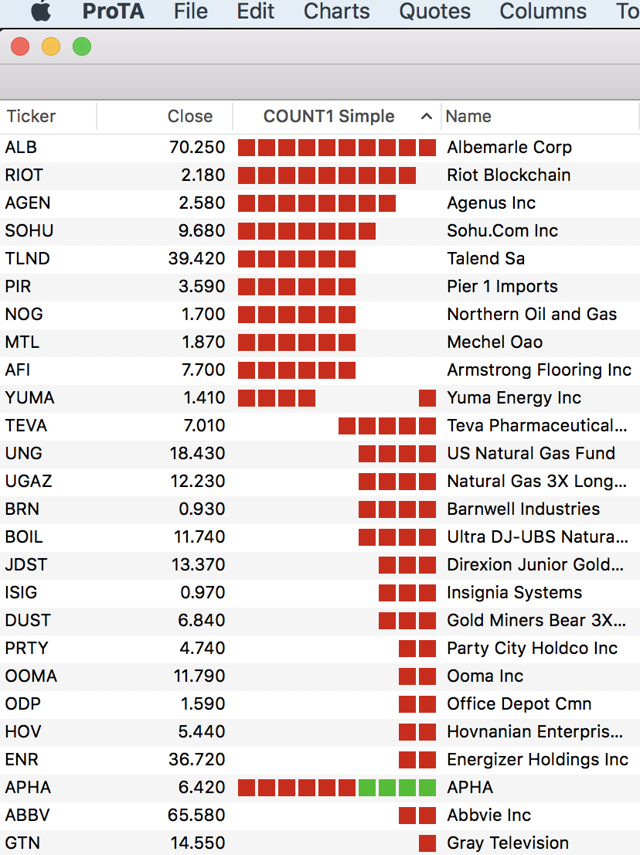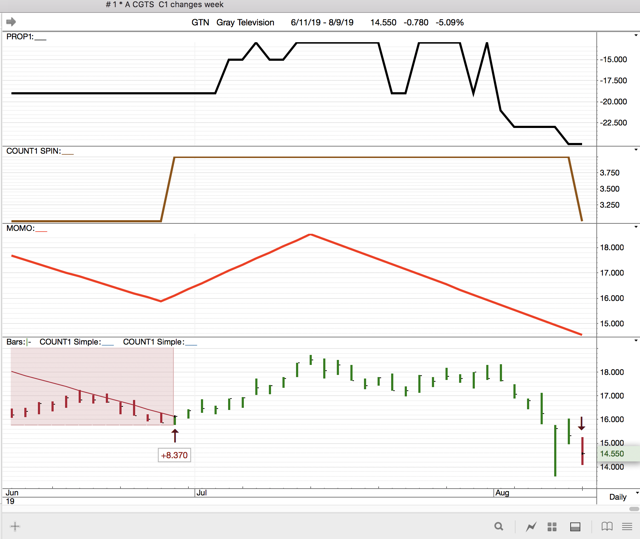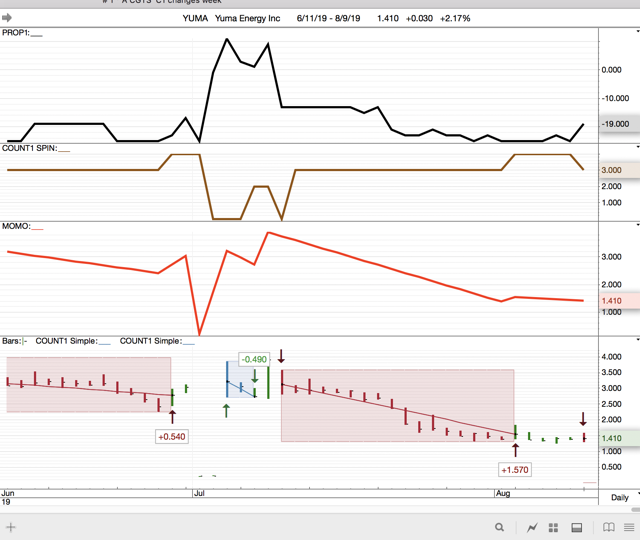 We are waiting for a chance to get our readers into WKHS, WORKHORSE, again. The price for the past week shows consolidation in a triangle pattern. Triangles can be bullish or bearish, depending upon in which direction the price breaks as the price runs toward the apex.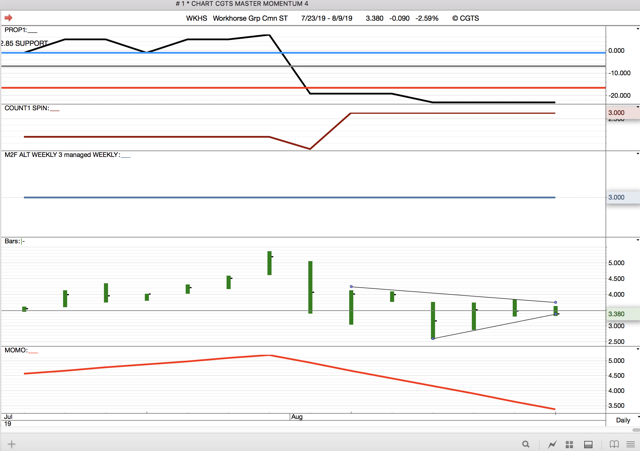 Interesting weekend reading on the EURO$?
The Real Power Behind Currency Wars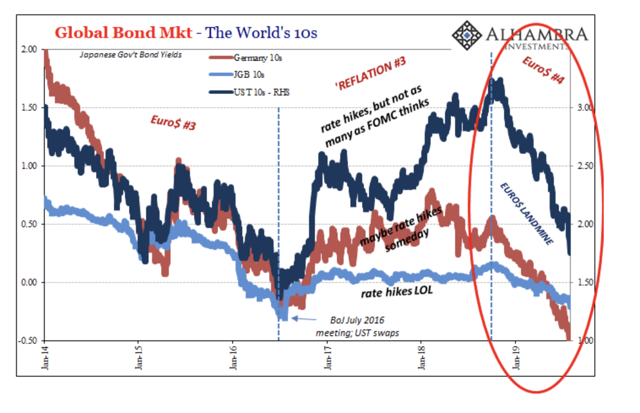 HEADLINE REVIEW, SLIDE SHOW: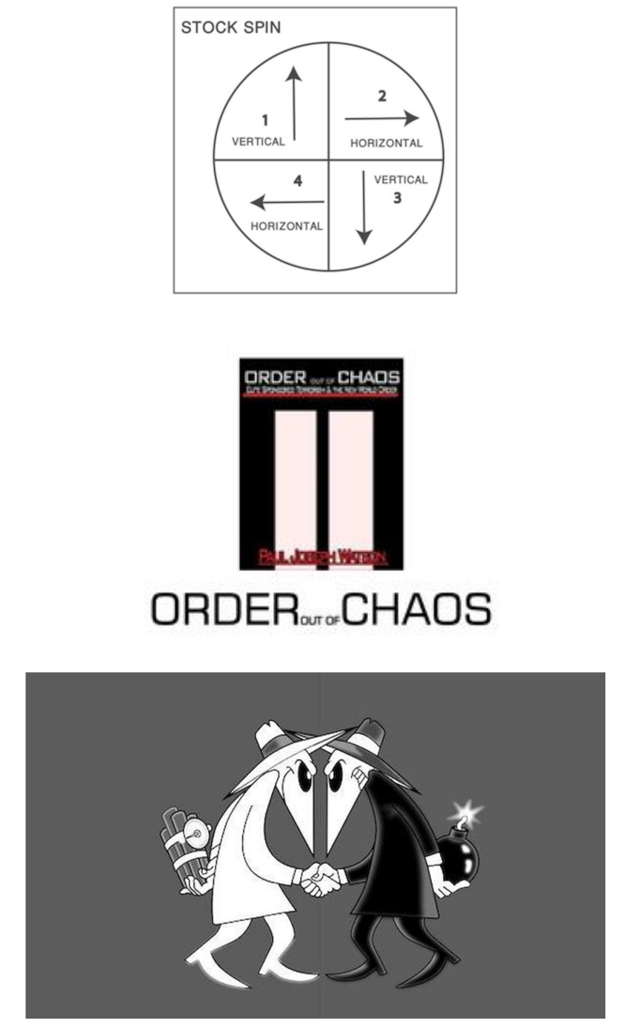 Disclosure: I am/we are long GBTC. I wrote this article myself, and it expresses my own opinions. I am not receiving compensation for it. I have no business relationship with any company whose stock is mentioned in this article.
Disclosure: I am/we are long GBTC.