CGTS Algo Trading System
Tools
CGTS THURSDAY: CHINA'S ECONOMY IS AT THE MERCY OF A FORCE COMPLETELY BEYOND ITS CONTROL
Aug. 22, 2019 10:48 PM ET•TSLA, NFLX, NEM•Comment!
Summary
CHINA is the victim now of a STRONG DOLLAR, as the Weak Dollar was once at the mercy of CHINA.
COVER SHORTS: ACER, RIG, KORU.
TSLA, NFLX: wait; not yet time to BUY.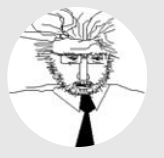 I've quoted from this article before and I found myself re-reading it again today. I think it is more relevant today than it was in 2017 when it was written.
China's economy is at the mercy of a force completely beyond its control

The strength of the US dollar is forcing China down a path it has been trying to avoid for years, pushing it to slow the money machine that has propelled its economy since 2008.

The course of this path could mean strange and terrible things are in store for economies around the world. A slower, weaker Chinese economy — and the resulting weakness of the yuan — will create competition for other developing-market exporters in a race to the bottom.

This is a moment many China watchers have been waiting for — it just didn't come how, when, or why they thought it would.
PEOPLE argue against this, proclaim that THE DOLLAR IS DYING, losing its power, and that CHINA is just waiting for the right moment to deliver the nuclear financial strike-out punch against the US, selling TBonds to force TBond yields through the roof. Remember that claim? THE NUCLEAR OPTION? It's not happening.
Jeffrey Snider writes about the so-called NUCLEAR OPTION.
In escalating trade war sparring, another such media report has been issued just today. The Chinese have hinted how they are once more thinking they might sell their UST's. Predictably, our media, quoting all the right "bond king" experts, sees it as a powerful threat.

For one, a Chinese reduction of Treasurys [sic] could weaken the dollar and make U.S multinationals more competitive. For another, Treasury yields would rise and thus cause prices to fall, lowering the value of China's portfolio…

"To me, that is the biggest worry. This is really the biggest weapon they have," said Sung Won Sohn, professor of economics at Loyola Marymount University and president of SS Economics. "They need to do more to counter the United States. So if push comes to shove, that's what they are going to resort to."

Again, were these people not paying the smallest bit of attention to what was going on the last five years? Did the dollar weaken as UST's "disappeared" from reported Chinese custody? Were Treasury yields shooting upward as they did?

No. In fact, it was the opposite in each of those. The dollar goes up, yields go down, and all because of what the Chinese are actually saying. Even in 2017, everything was in reverse: UST yields rose because of reflation, the dollar fell, and China added a huge amount of UST's while they did. Things get bad when Treasuries vanish from China's official hands.

The fact that they are attempting to take credit, almost, ahead of time merely confirms the weak and desperate position they find for themselves in 2019. Just like 2013 and to a lesser extent January 2018. CNY DOWN = BAD, for China, certainly, but not just in China.
Continuing from the BUSINESS INSIDER article written by Lynette Lopez:
You can see where this change comes from: At the end of 2016, the US dollar started rising, the yuan started weakening, and people started to quickly take money out of the country to keep their savings from losing value.

Now "we are in uncharted territory," Charlene Chu, a famed China analyst at Autonomous Research, wrote in a recent note titled "The war on outflows."

We are now seeing that as the US gradually ends its post-crisis monetary easing program, China will be forced, in some measure, to do so as well. In many ways, though, the country is not ready.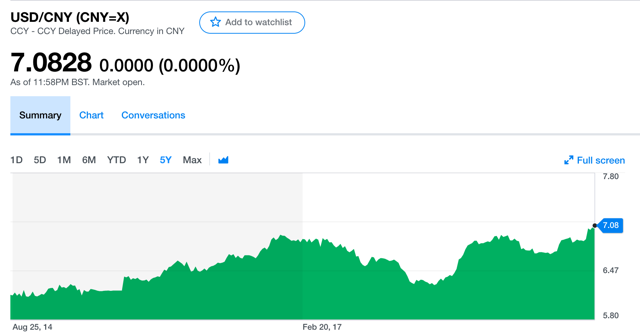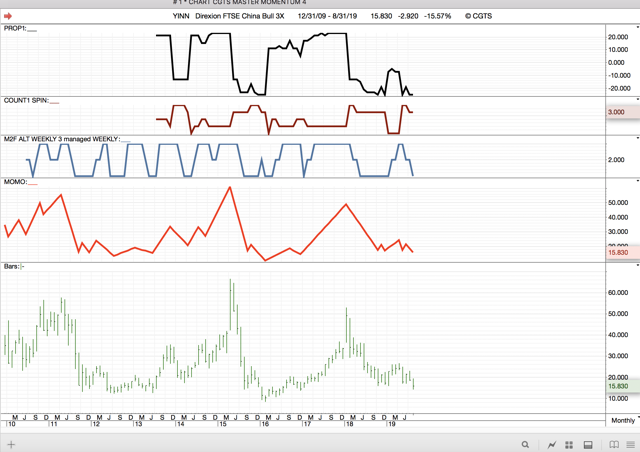 We are told that a weaker YUAN will make China more competitive in global trade; but a weaker yuan will also lead to capital flight from China as the rich try to make investments that won't lose because of a currency differential. The so-called FLIGHT TO QUALITY. This is why US Stocks are flying higher; foreign money is chasing the strong dollar. (There are other reasons as well: THE FED's PUT; and rates low enough to reward corporate BUYBACKS.)
Let's read more from the BUSINESS INSIDER article:
A series of unfortunate events

To understand how it's ever so slowly falling apart, we have to understand how the Chinese economy held together in the first place.

After 2008, the Chinese government kicked off its own program to avoid the global financial crisis. It did not do it the way the US did, though. Instead of having its central bank buy bonds, the Chinese government instructed its banks to lend. And they did, adding 30% or more credit to the economy every year, according to Chu.

Now there is 165 trillion more yuan ($23.8 trillion) in circulation than there was eight years ago. At the same time, the value of the yuan has remained virtually the same — an unnatural state in economics, to be sure.

The result has been an increase in purchasing power for Chinese people — a promise the Chinese Communist Party made and kept.But it also created an imbalance between the increasing amount of yuan in circulation and the steadiness of the currency's value that " will only continue to grow if the CNY does not weaken materially and China's financial sector continues to expand at double-digit rates," Chu wrote (emphasis ours).
Which is not happening. A chart from Jeffrey Snider: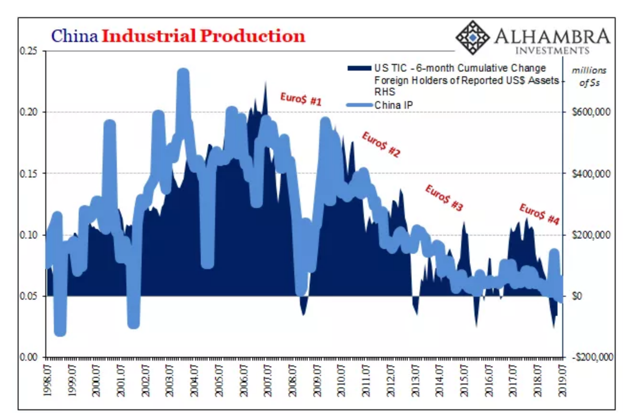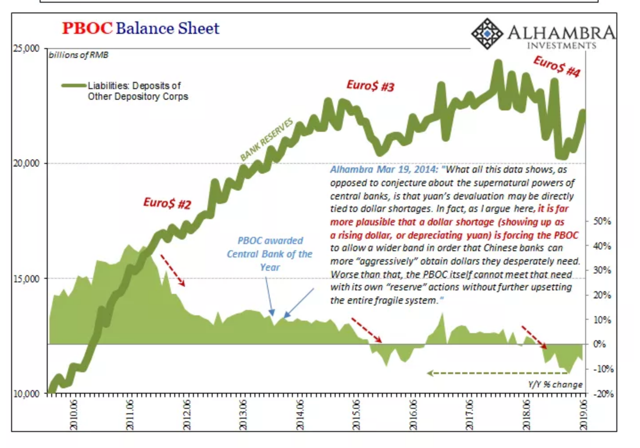 Continuing the Business Insider article
Now, keep in mind that a double-digit expansion of the banking sector is something of a jog considering what China's used to.

"Total banking sector assets in China will increase [by 30 trillion yuan] to [228 trillion yuan] in 2016 alone, and another [100 trillion yuan] will be added to this by 2020 if the banking sector grows at 10% per annum, which, we would note, would be the lowest growth rate on record," Chu wrote.

Last month, $82 billion left China, as the government was forced to fix its currency lower and lower against the dollar and people worried about the value of their assets.

And despite the fact that China's leaders have tried to tell the world that the yuan is now fixed against a basket of currencies, not just the dollar, it doesn't matter. We still live in a dollar world.
We still live in a Dollar World. Many people don't like this; they want the Dollar to fail, to be replaced. They want America to fall. They make rationalized arguments against the Dollar, fueled by their passionate feelings, sometimes connected to moral outrage. But moral outrage connected to passionate feelings ARE NOT REASON, are, ion fact, the opposite of REASON. The Dollar will fall some day. But not today; and probably not tomorrow.
BUSINESS INSIDER continues:
Consequences

Now instead of growth, the Chinese government's main concern is keeping capital in the country.
This is the KEY story of this article. A lower currency generates a flight to quality. That is why money in vast amounts is leaving China, fueling housing price appreciate in Australia, Canada, North America, Germany,
Douglas Todd: Is China bursting Vancouver's housing bubble?

Western Cities Want to Slow Flood of Chinese Home Buying. Nothing Works.

Foreign purchases of American homes plunge 36% as Chinese buyers flee the market
We continue:
To do so, it has instituted several capital controls for individuals and corporations, but, of course, there are always ways to get around things like that.

Plus, holding the yuan steady comes at a cost. The Chinese government is spending its foreign-exchange reserves to prop up the currency. Right now it's holding about $3 trillion, but Chu sees this working for only the next two quarters. A more permanent solution must be found.

So the government also has to think about attracting money to the country, and that's where the gears of this great money-making machine start to ever so slowly grind down.

One way China can attract money is by raising interest rates, which would have consequences for all the borrowers who have taken on unprecedented levels of debt.The flow of yuan around the country would tighten, cooling the property market. This is important. Property-market growth is part of what turned 2016's rocky start into a net positive year for China.

"Liquidity and market risk vulnerabilities in the financial sector will be more on display," Chu wrote. In other words, some of the hands that distributed yuan around China would be impaired, taking a toll on the country's heavily indebted corporations

This is why the Chinese government is being forced to prepare its people, and the world, for a slowdown. For the world, this ultimately means deflation — a force it has been fighting since the start of the financial crisis — as the yuan declines and other countries try to keep up (or down). All China can do in the meantime is what it's doing right now: fixing the yuan higher, no matter what the dollar does.

Regardless, as the economy slows the currency will glide down. It will have to. Chu estimates that if the government continues to support the yuan against market pressure, it could blow through its foreign-exchange reserves in a couple of years.
In 2014, Gordan Chang wrote this in FORBES:
China is only theoretically immune from the crises that ravished East Asia in 1997 and Russia in 1998, both triggered by a strong buck.

For one thing, the link between the Chinese and American currencies costs China dearly: a rising dollar pushes the renminbi higher and the Chinese economy lower. Net exports, dependent on a cheap currency, are now the main prop for China's growth as consumption is falling and investment stagnating. A strengthening renminbi will not affect sales to the U.S., China's most important customer, but it will price Chinese manufacturers out of their newest markets, where margins are already thin.
What WILL affect sales to the US? Well, tariffs might.
China is caught in a STRONG DOLLAR VISE which now has a political ratchet attached, named TRUMP. China's conquest of the world has hit a bump; and China seems unable to do anything about it.
Related reading:
Is China's US dollar shortage risk forcing companies to sell assets?
++++++
Market action today. Pictures provided by YAHOO.
We closed some trades today. ACER, ACER THERAPEUTICS. CLOSE SHORT. Gain 30%.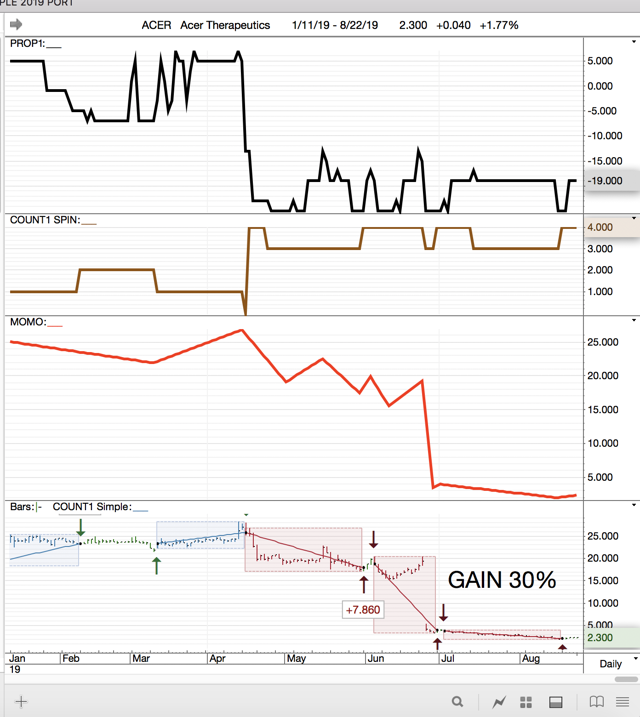 We gained only 30% because we were bit bit sluggish in getting in and out.
We closed a SHORT position in RIG.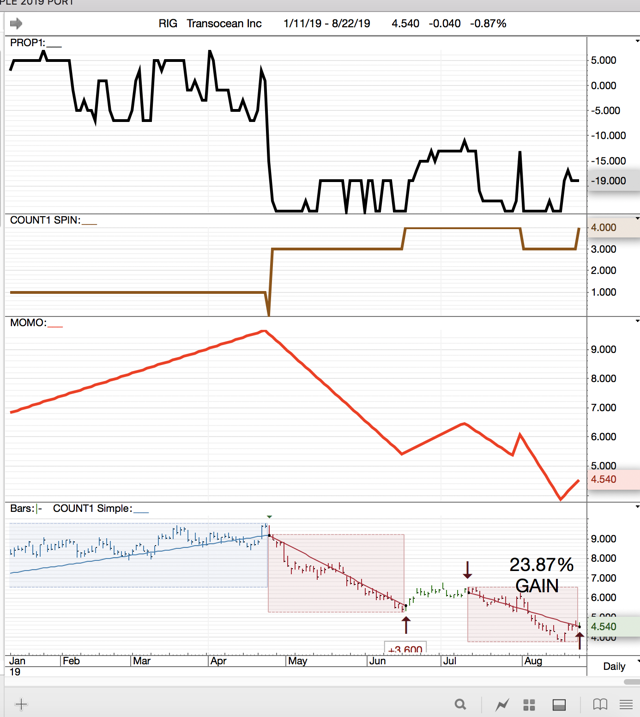 We got in to this one a bit late, gaining 24% instead of 27.56%.

KORU, KOREAN Bullish ETF. CLOSE SHORT. Gain 28%. We're still BEARISH KORU. But the SELLING is now taking a rest.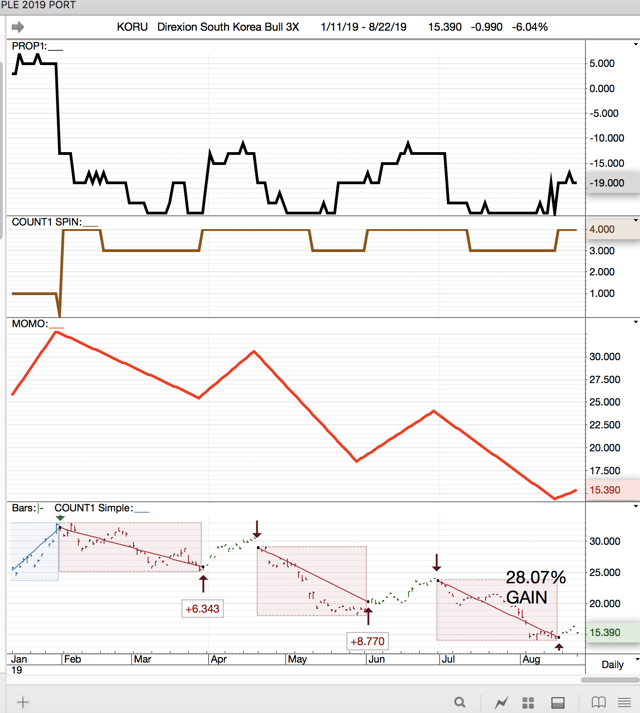 We are SHORT XBIT. Our position is struggling. Note now MOMO has broken resistance and made a HIGHER HIGH. This is something worth noting. PROP1 cannot get up through the BEAR MARKET ceiling of -13/-11. What gives?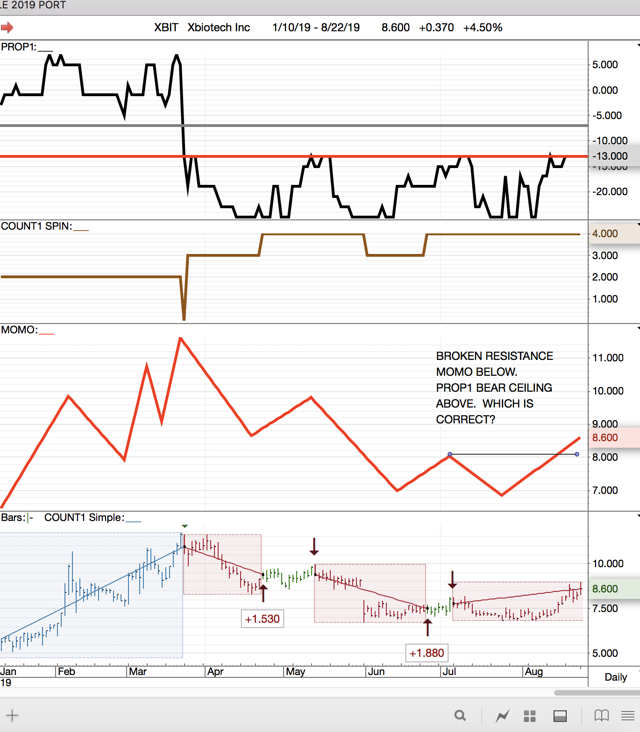 XBIT could (we expect it, in fact) bust up through the BEAR CEILING -- but we will wait until it does. Patience is a good thing. No need to hurry here.
Speaking of patience, WKHS still has not flipped to BUY, despite MOMO activation. WKHS broke up out of a TRIANGLE pattern, which is almost always a bullish sign. But we remain patient.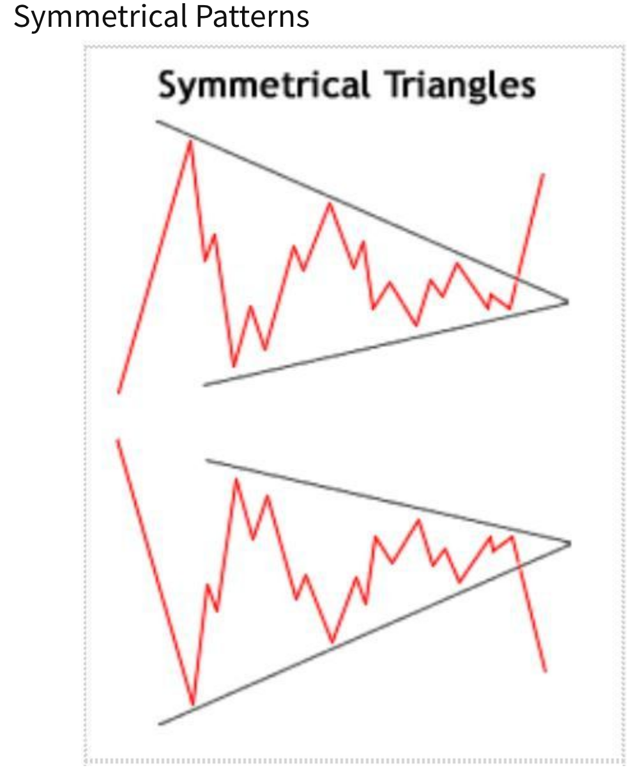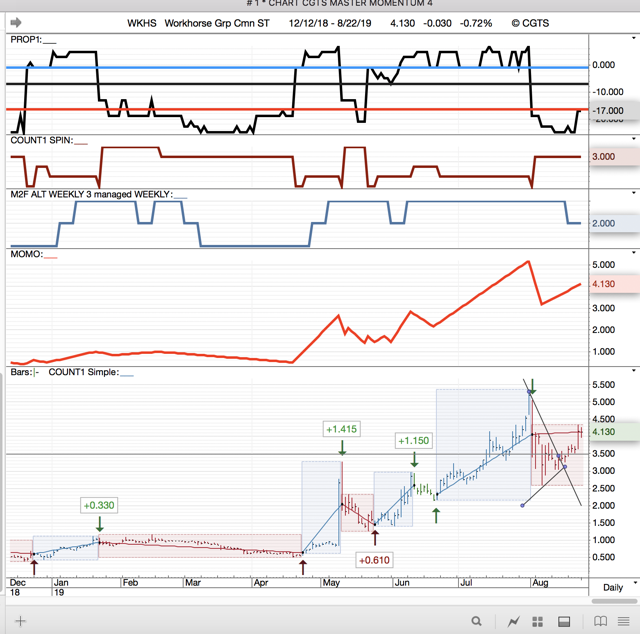 Here's today's C1 CHANGES, SHORT List. We tend to focus on stocks changing today, but we added both FTCH and JOB to our portfolio late, because they still look good here.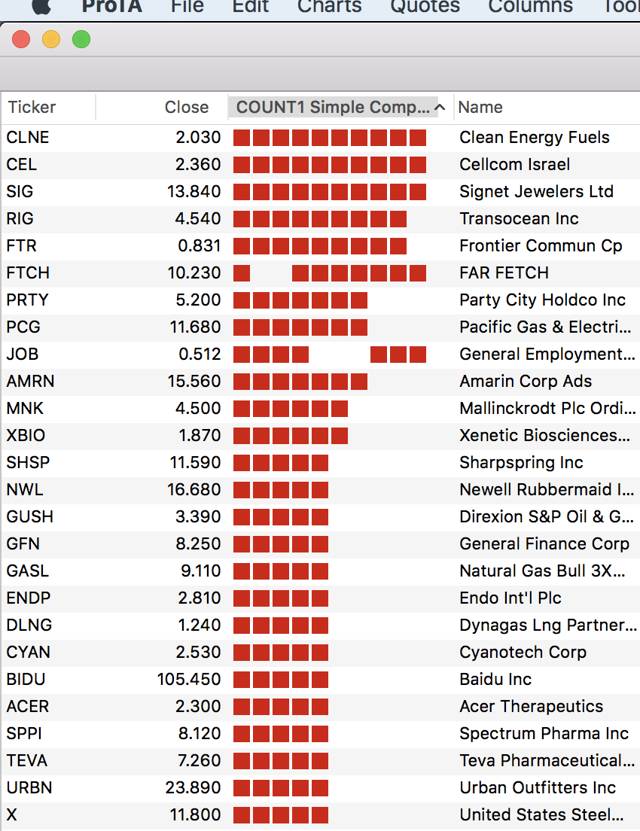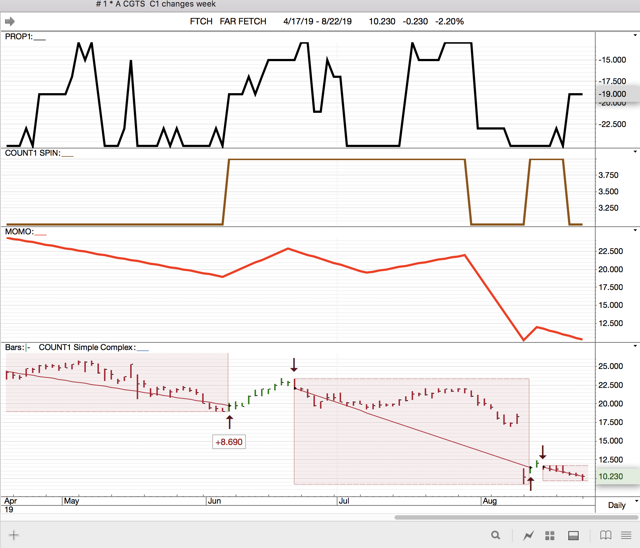 C1 CHANGES, Long List. Nothing NEW today,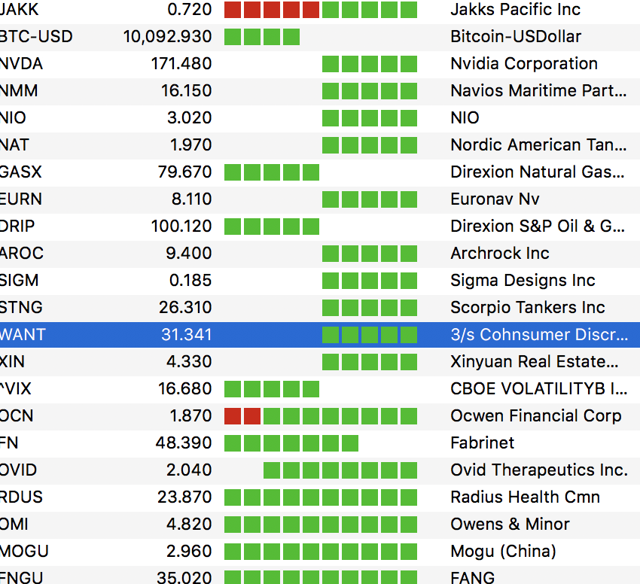 We added WANT to our portfolio. We ignored the signal on XIN since it is a Chinese stock which we are de-emphasizing. WANT is in the early stage of an advance (it appears).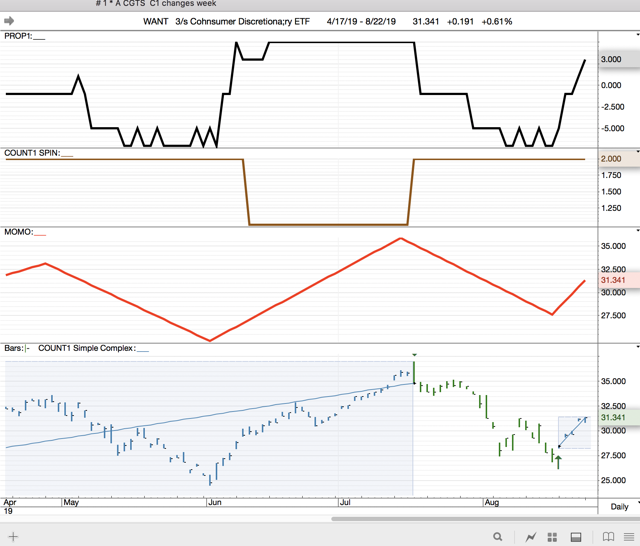 AROC. One of our readers likes this one a lot. Notice that MOMO is showing a BEAR patterns of LOWER LOWS -- so we would be careful here.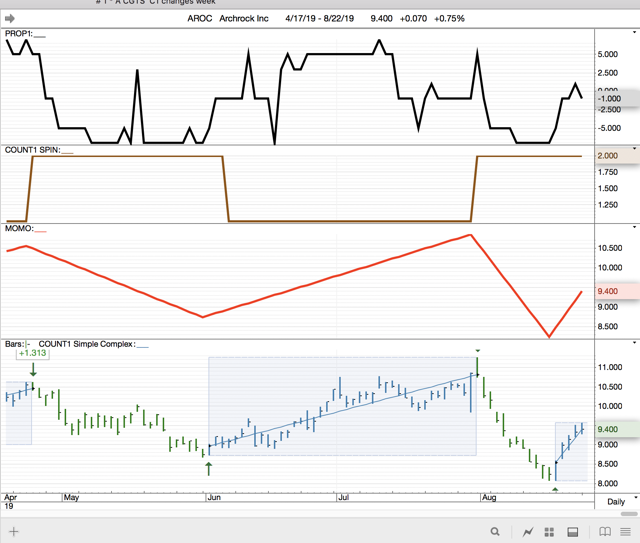 NAT, NORDIC AMERICAN SHIPPING. BUY but with a MOMO CAVEAT: higher highs and lower lows mean TRADE ONLY. Take profits when they come and re-evaluate when the MOMO changes.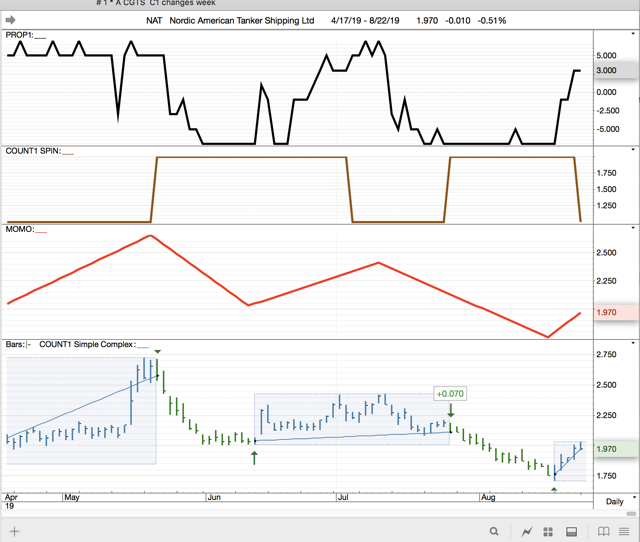 We stumbled a bit last week when we unveiled a new "trading" program that tries to get in early, using MOMO as a supplement to COUNT1. The result was quick losses.
We said we would recover. Lost time but not lost capital. TQQQ and BRZU, and LC all became short-term problems. Now not as much. Battling back from that temporary stumble.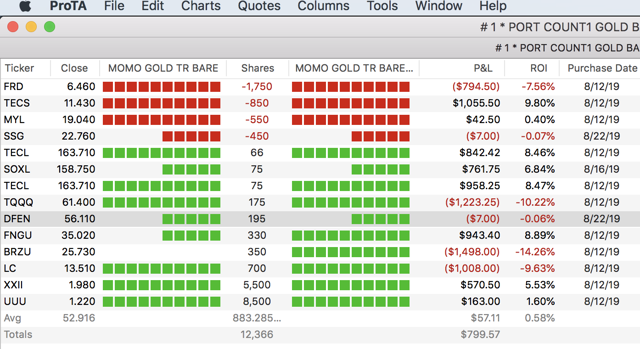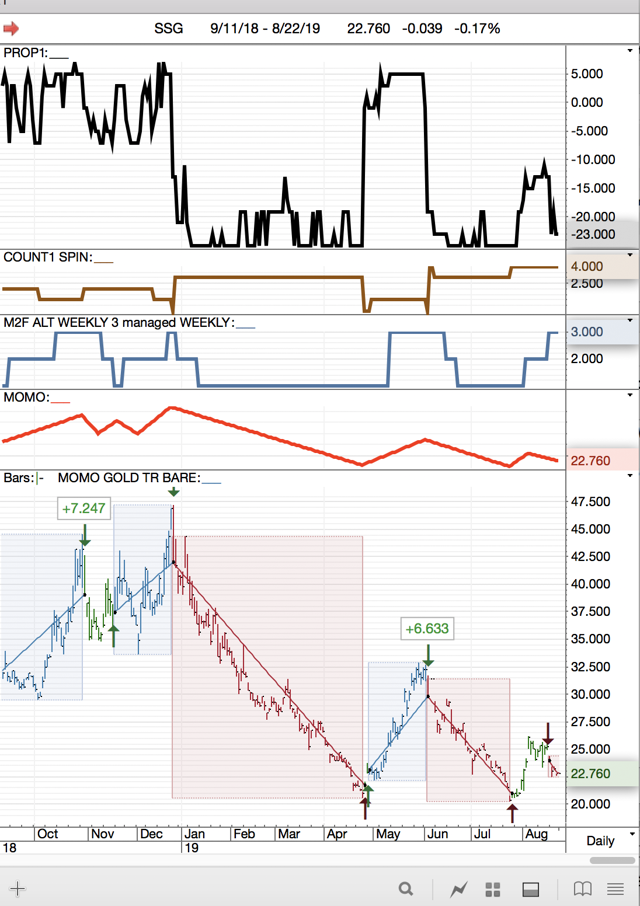 Our second "trading" system, based in Count1-EMV (the above is based in COUNT1-M2F WEEKLY GOLD) has also bounced back.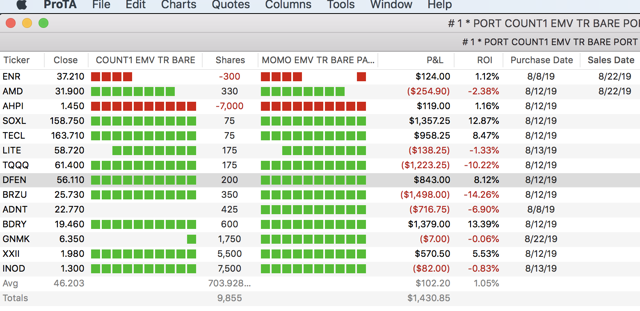 We are still BULLISH on the US markets -- at the moment, not on many others. GOLD, yes. The US DOLLAR, yes. How can that be? Is not GOLD the ANTI-DOLLAR? Yes; the DOLLAR is the ANTI-GOLD.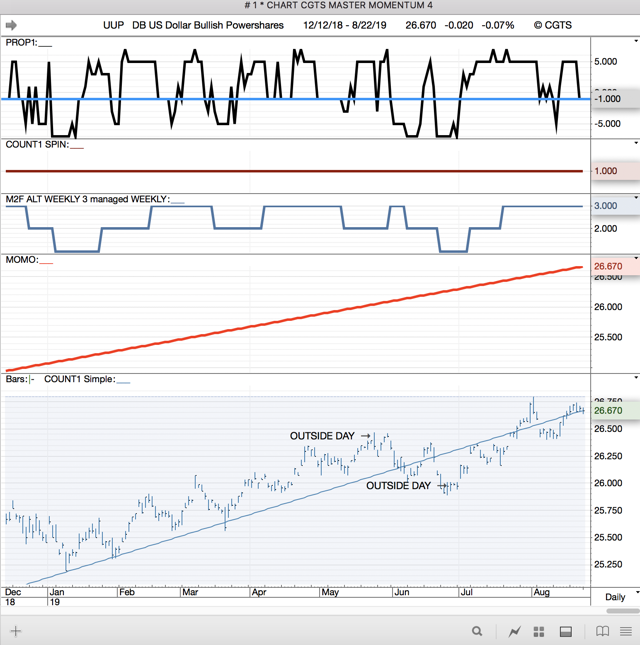 GLD?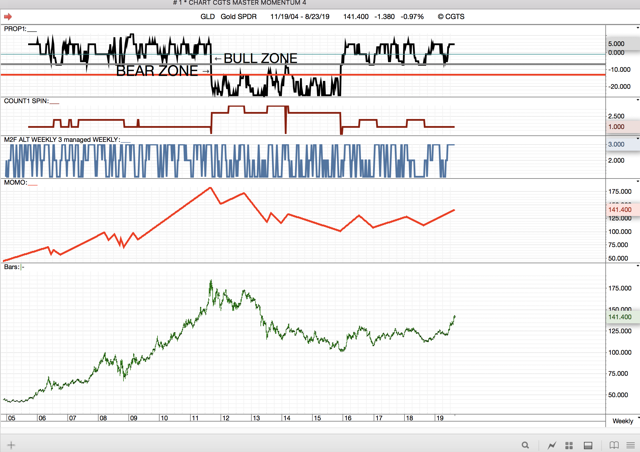 It is a strange constellation of forces that make the DOLLAR and GOLD rise together. BUT WE ARE LIVING THROUGH A STRANGE CONSTELLATION OF FORCES.
Updates:
Love TSLA/ Hate TSLA. One or the other. If you are trading TSLA, then wait. It is finally BULLISH again, it has its move up (C1=1) and now it is resting (C1=2). It is trying to reconstruct its MOMO pattern. To do so it will need to break through resistance (291.81) in the next rally; before than it will need to hold above support (178.97) during its current correction (REST). If it holds above 178.97, then it will re-establish the first of two pillars of a BULL MOVE, a HIGHER LOW. Then it will need to break through 291.81 on the upside to establish the second pillar, the HIGHER HIGH.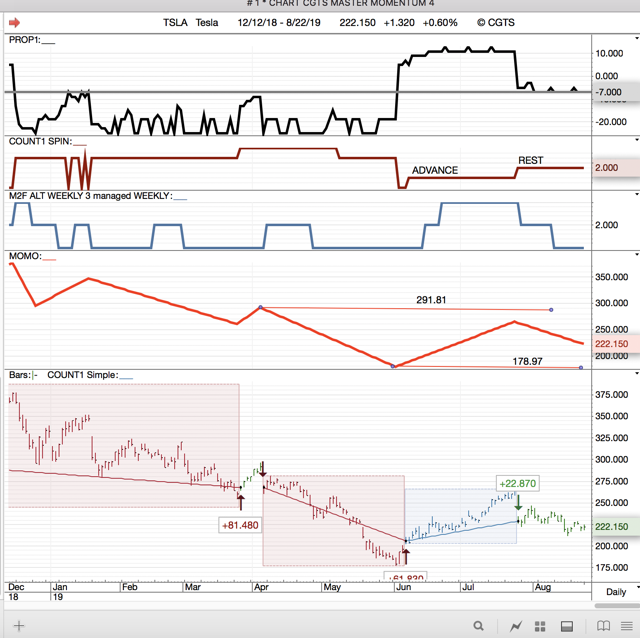 We are still LONG XOMA. Why? We like the HIGHER MOMO HIGH in the last rally.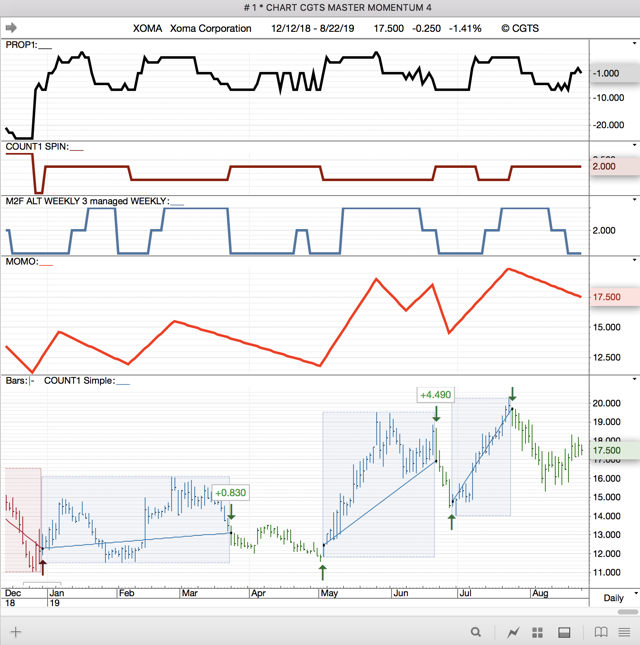 We also like MOMO support in the Monthly Chart NOT being broken. 18.72 must be broken in the next rally in order to make another HIGHER HIGH in the monthly chart. It has made a HIGHER LOW already; and a HIGHER HIGH.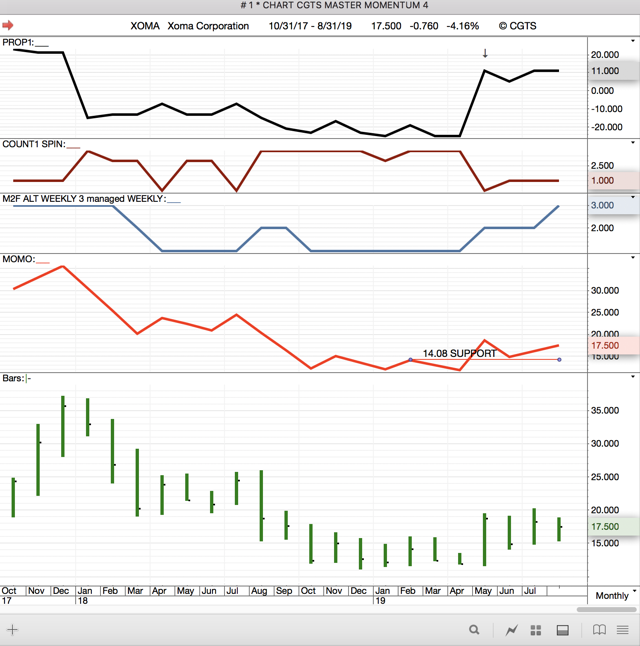 NFLX, another LOVE/HATE emblem. Hated by the VALUE INVESTORS, loved by the GROWTH STOCK CROWD. We have it right at support now, 290.3, which MUST hold. COUNT1=2; so it is resting. This is the natural process of stocks in a BULL MARKET. Advance; and then REST. Wait for COUNT1=1; then BUY.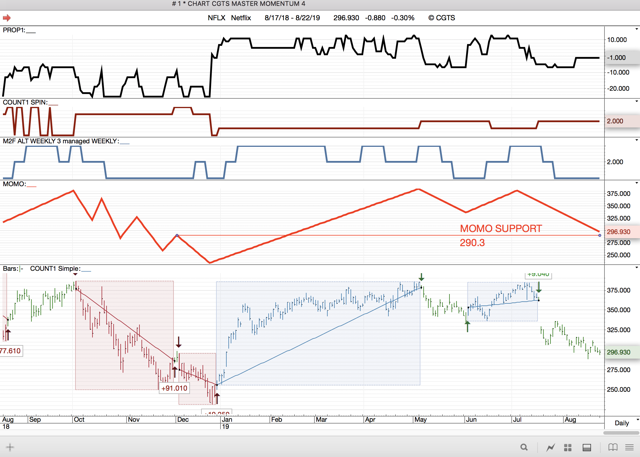 NEM, Newmont Mining. One of the first stocks I ever bought, back in 1987. It went through the roof; then got ripped apart in October of that year. I also bought LUK, LUKENS STEEL at the same time. More than doubled; and was taken out, much to my delight.
NEM looks very good here.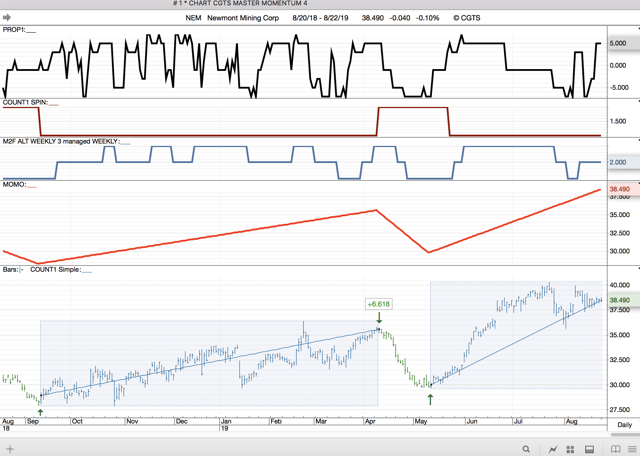 GLNG. We have readers who want to buy this; or who are already LONG this -- not because of our recommendation. Still very negative. It is still going lower. What to do with it? Depends on your situation. Nat Gas and commodities are not the place to be when the Dollar is strong.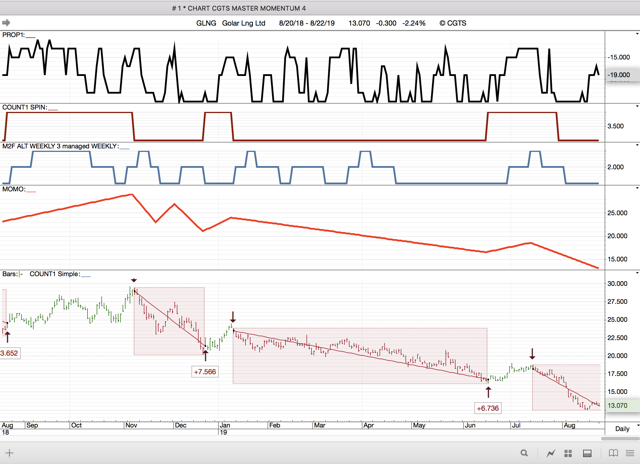 Anyway, avoid CHINA and commodities stocks and commodities countries (sorry Canada and Australia, China). The housing bubbles of Canada and Australia are apparently finally winding down as China becomes more able to limit capital flight? Is that true.
The chart says "maybe, maybe not". As the YUAN weakens, more pressure for Chinese flight to quality, or Western housing.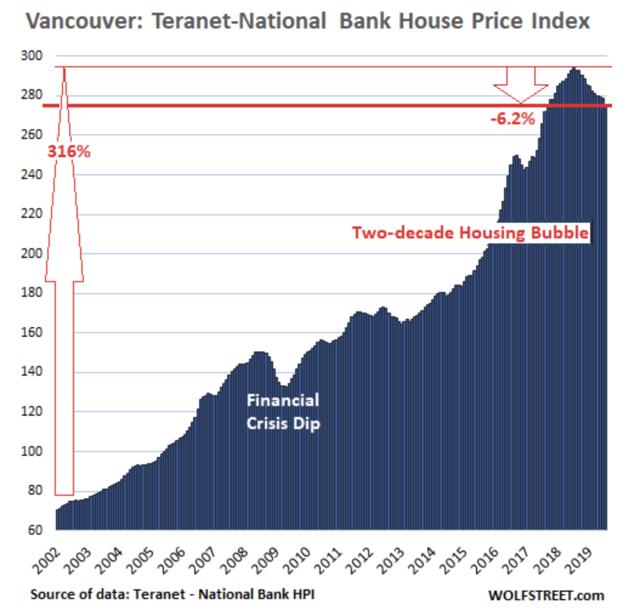 AUSTRALIA?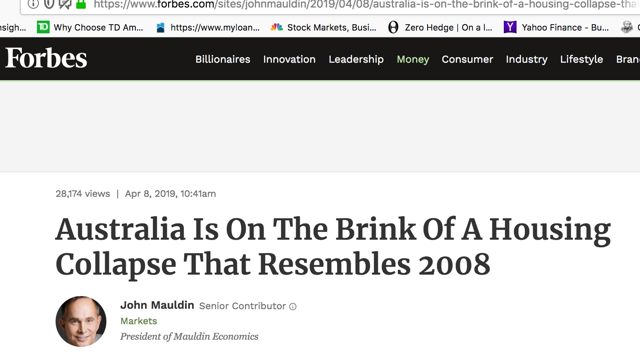 Thanks again to Mr. Wolf.
Looks like Sidney is an affirmative. Housing crash in progress.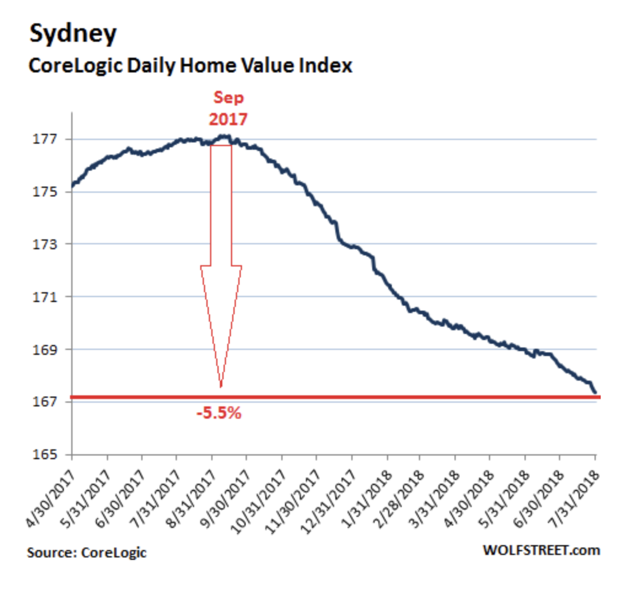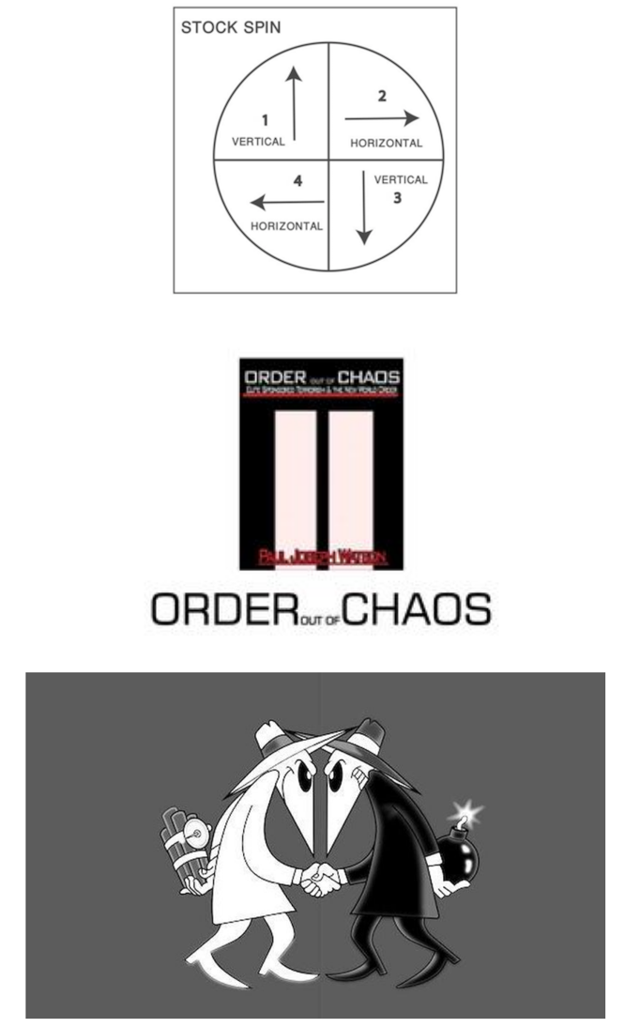 Disclosure: I am/we are long GBTC. I wrote this article myself, and it expresses my own opinions. I am not receiving compensation for it. I have no business relationship with any company whose stock is mentioned in this article.
Disclosure: I am/we are long GBTC.