CGTS Algo Trading System
Tools
CGTS FRIDAY: WHERE DID THE RALLY GO?
Sep. 21, 2019 6:45 PM ET•ODP, HIMX, TLT, WKHS, SNAP•Comment!
Summary
We will begin today including excel files of our portfolios so readers can trade along.
COUNT1 SIMPLE and CGTS GOLD included.
BUY ODP,.
Suddenly, the markets are moving in slow-motion. (Is it a slow-motion train wreck? or a slow-motion hillside scenic route?) Where is that rally we have been promising?
Remember 2019 (or was it 2016?) is the apex of CHAOS. The apex of the REBEL ANGELS control of the Earth. The apex means the high point. From the apex, CHAOS will dissipate over the next 18 years. So we should not be surprised that the world remains (for some time) in an hysterical state of off-the-wall CHAOS.
The Night-Cycle forces of world-destruction CHAOS -- those who HATE the world because it is not the way they want it to be -- does not meet their ideal, whether a religious ideal, a scientific ideal, or a moral ideal.

The crux of this issues is only partially IS THE EARTH WARMING. Does the Earth warm cyclically? We remember than Greenland had a tropical climate with vinyards all over the continent when the Vikings settled there from 950 AD-1200 AD.
Is the Sun-Spot cycle the cause of periodical cooling and warming on the earth? Some scientists think so.
A few years ago my family had a reunion at the Oregon Coast., My brother-in-law was a rabid Al Gore supporter, politically and in terms of climate hysteria.
He eased into a discussion of global warming with me. I responded: "Every planet in the Solar System is warming. Hard to believe that human industry and human use of SUV's are hearing Mars and Venus." He disappeared back into the house, into his basement room, to search the internet to see if what I said was true.
He did not emerge from his exile the rest of the weekend.
Man-haters want to blame Man for every problem in the world. Man-haters are that same FORCE of WORLD-DESTROYERS I call the Night-Cycle Rebel Angels. They refuse to honor God's creation. They worship the negation of God's creation. They honor Death and Destruction. They WANT the world to be destroyed -- they argue for different CAUSES of the END OF THE WORLD. They see no place for themselves in the New World of Day-Cycle Growth and Re-Creation, so they insist the world end and not be re-born.
DE-BUNKING is their art. THE CRITICAL MIND. They have no place (or so they believe) on the positive side of the planet (the Day), so they wish to remain the solitary king of the Negative World.
Will climate-change-reform (banning SUVs, punishing global industries?) "save" the earth from warming, or cooling, whichever it is? Or is Climate-Change actually a subterfuge proliferated by anti-capitalists as a new wave putsch from the FAR LEFT communists who have apparently LOST the political battle for relevancy?
And, speaking of this, is NIRP an attempt to redistribute income -- another LEFTIST SCAM, another subterfuge?

Will the beginning Day-Cycle save us from this political hysteria?

This is a provocative headline. The idea that women are good and victims of men is a Night-Cycle Idea. The Day-Cycle Idea is that women are not good, as almost all historical religions believe. Chaos is not good for social survival. And that the weak are sometimes weak for reasons other than oppression by the strong: let's have more marijuana, cocaine and sex, please?
Sex, drugs and rock-and-roll is a definite Night-Cycle Idea. Decadence. Let's live for today, for tomorrow we die. Who needs education? Hip-Hop Culture. TIME TO WAKE UP?

That all white people are evil is another Night-Cycle Idea.
Racism is a two-sided coin, a two-edged sword.

We know that gold-rigging is a national sport.
Central banks have an impossible task of inflating currencies and, at the same time, deflating gold/silver -- or any alternative to the currencies they are attempting to inflate/debase. They need to make/keep precious metals an unattractive alternative to the currencies they are debasing through interest rate repression.
Repressed interest rates ALWAYS make gold rise, don't they? Apparently not any longer.
Naked Gold Shorts: The Inside Story of Gold Price Manipulation - Global Research
Does the US go to war with Iran to protect Saudi Arabia? Will sanctions be enough?

Speaking of Trump, is the witch-hunt over? Is the lead witch giving up on the three-year old hunt for the Great White Whale of Impeachment?

Democracy is supposed to be ruled and determined by elections, not by Impeachment quests. Both parties need to remember this.
---
Yes; much CHAOS. So where is that stock rally we have been promising? No evidence of it today (again). We have some new LONG-TERM TURNAROUND BUY SIGNALS, CGTS GOLD.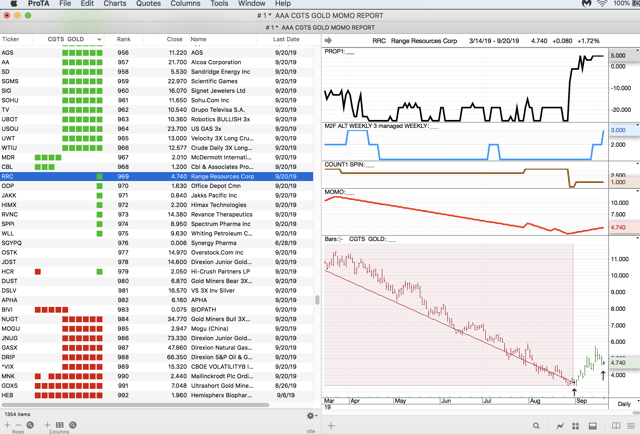 We have one reader who asked us to keep an eye on RRC. See the picture above. Here is a closer look at each of these new signals.
Office Depot, BUY.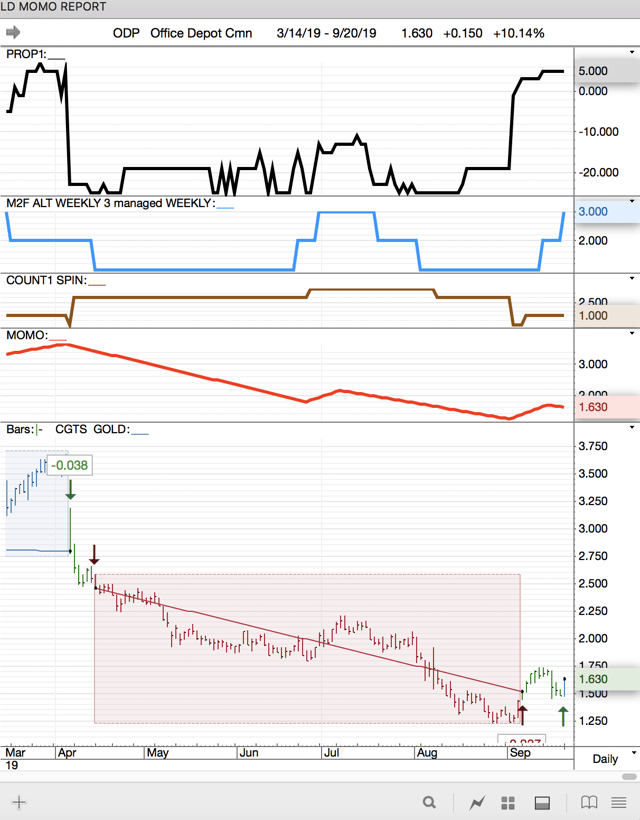 JAKX, BUY. Games anyone?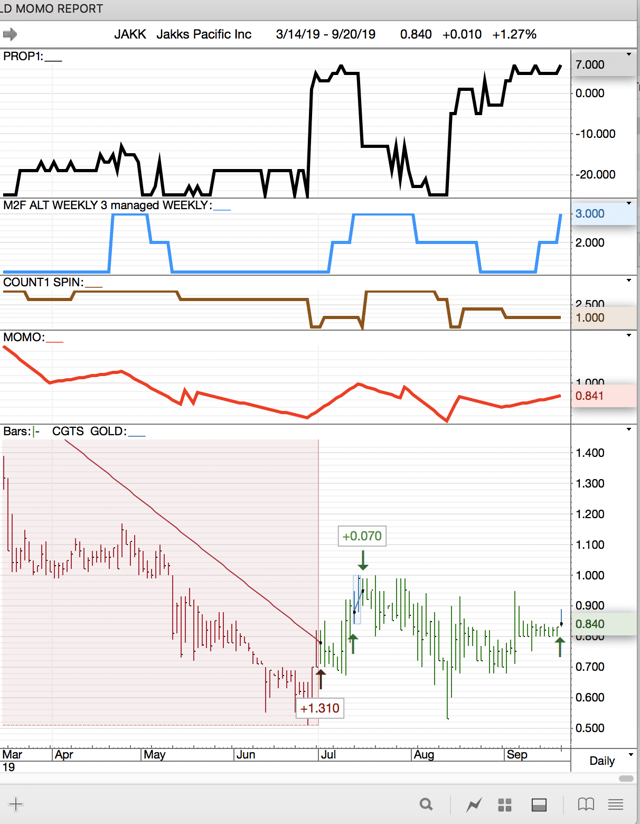 HIMX, HIMAX TECHNOLOGIES. BUY.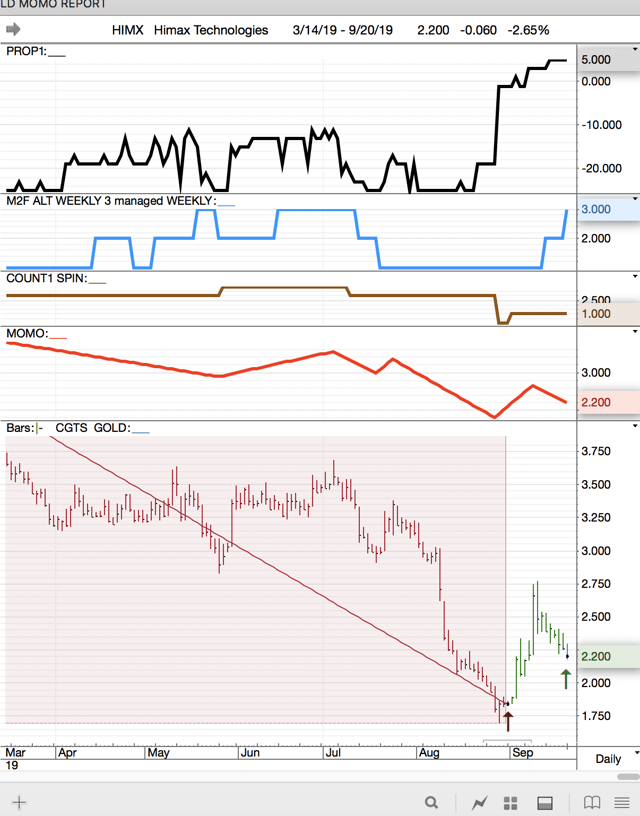 SPPI, SPECTRUM PHARMA. BUY.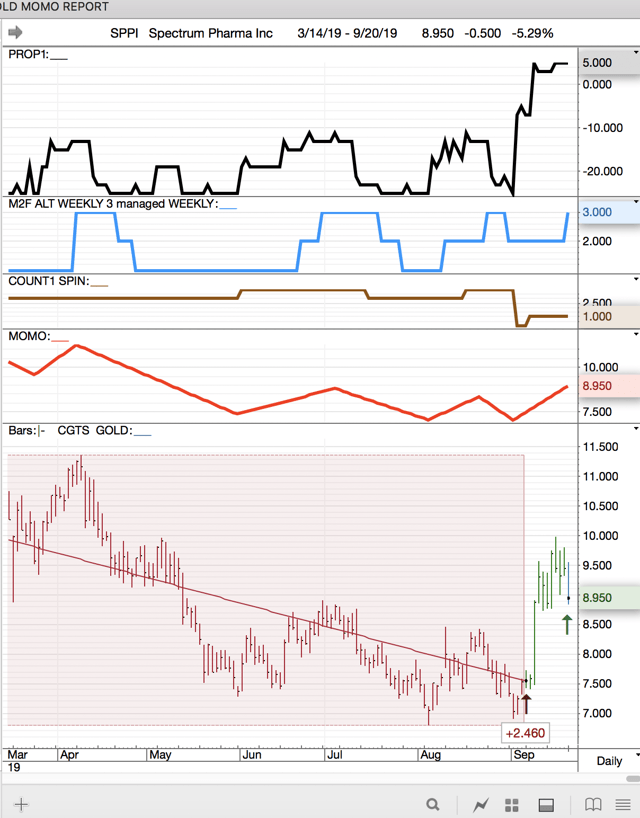 WLL, WHITING PETRO, BUY. Is the Oil Rally dying? See below.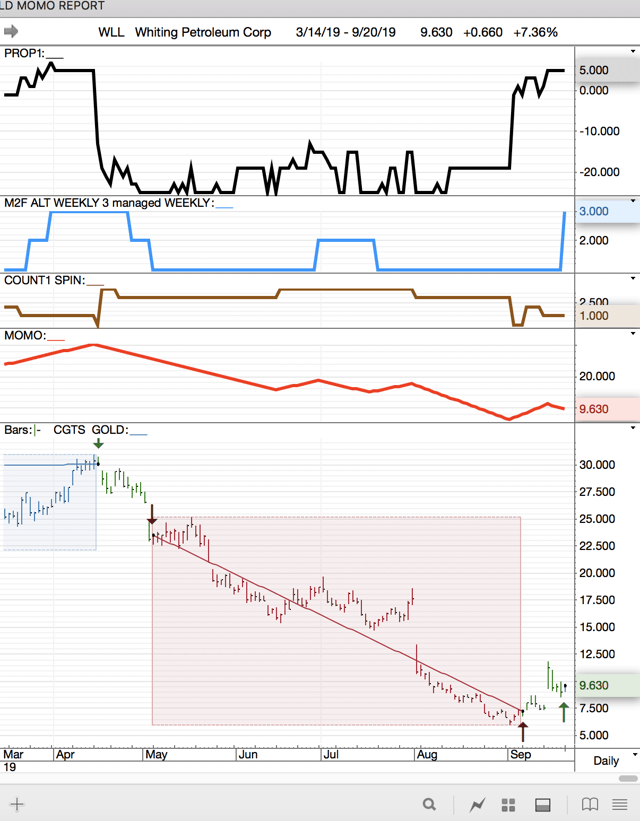 HCR, HI-=CRUSH PARTNERS: BUY.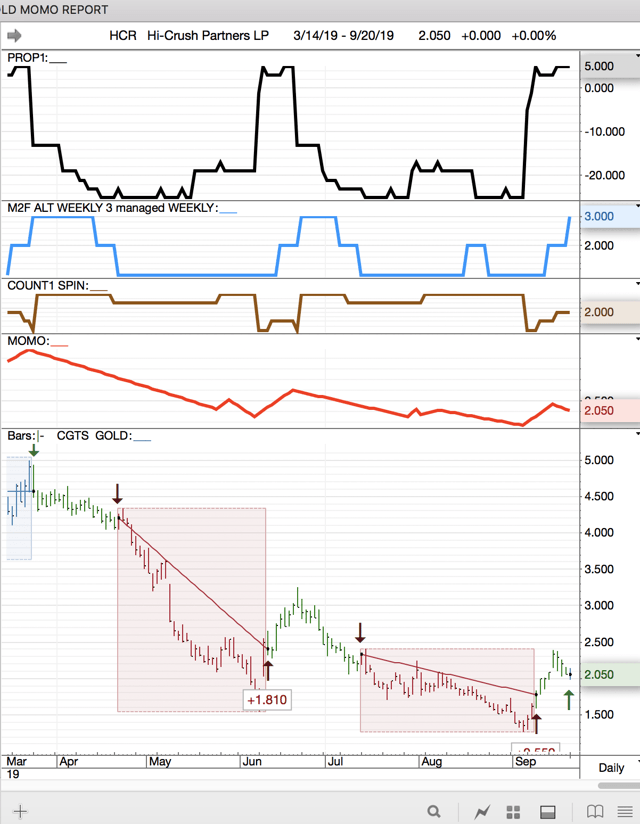 So, where is the rally? Of course, the legend is that ("SELL IN MAY") stocks appreciate most from December - June, and suffer through trading doldrums from June-December. But our claim was/is that we are WATERSHED BULLISH. So where is the upside we "promised"?
Look what has happened to the oil rally we also saw forthcoming.
COUNT1 CHANGES for the week.
We were excited by the OIL RALLY last week. WE considered it an ALL ABOARD announcement of the conductor. Did the Oil Train stop?
Suddenly the oil stocks stopped in their tracks: WTIU, UWT, USOU, OILU. The reverse picture in the inverse issues: the SHORTSELL signals stop in their tracks.
What happened? We remember that Oil prices went through the roof when the attack on the Saudi oil facilities happened last weekend, with drones and cruise missiles fired by Iran or Yemen (or perhaps someone else) destroying up to 50% of Saudi refining capacity. The upside reaction was overdone.
Then the downside reaction occurred, also (probably) overdone.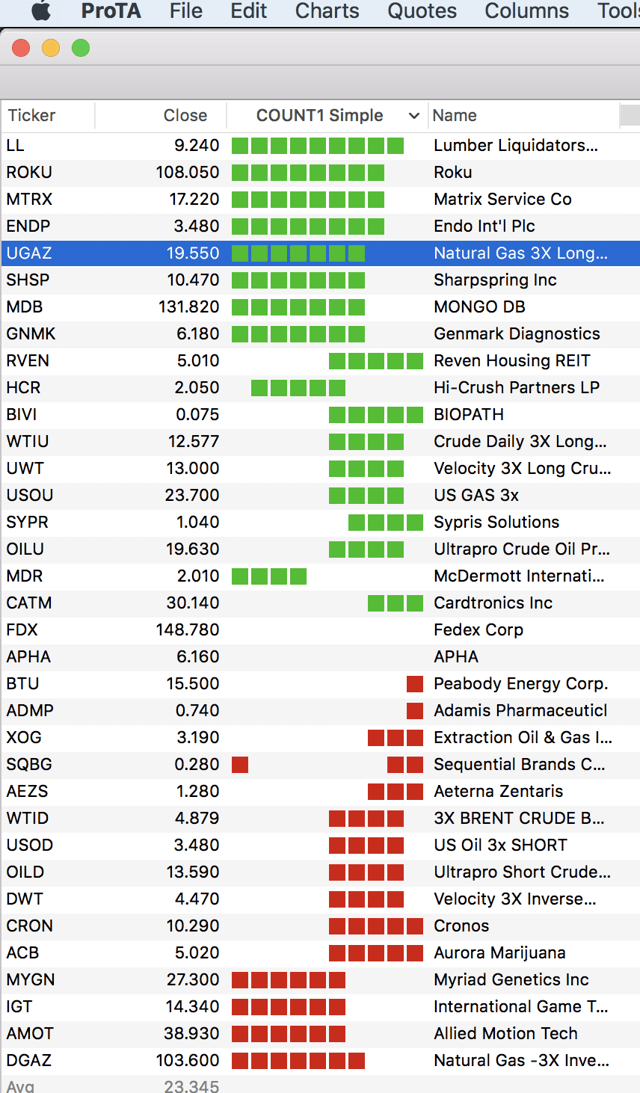 We told our readers to GET INTO ERX. We did.We also bought UGAZ. These signals are in our LT TURNAROUND System, CGTS GOLD: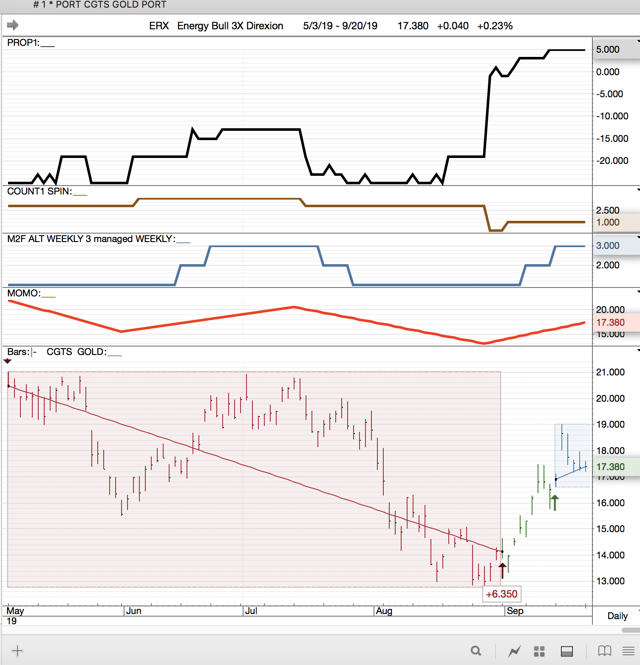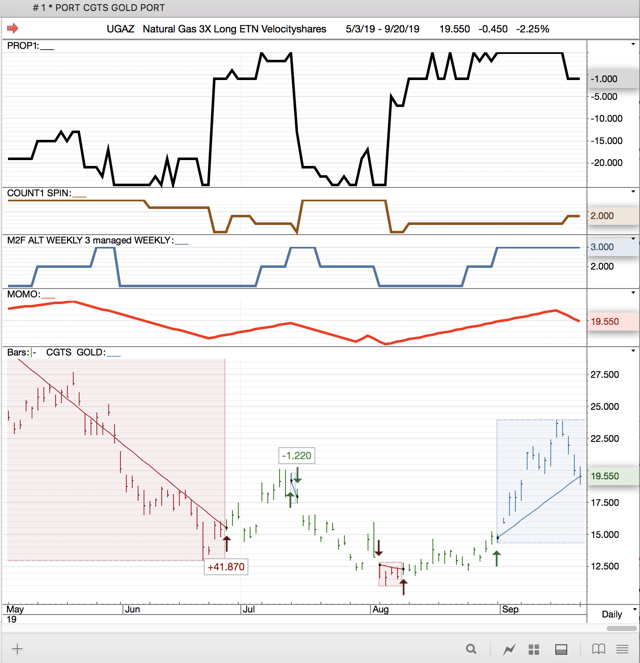 We took profits last week in UGAZ in our COUNT1 Simple Trading System.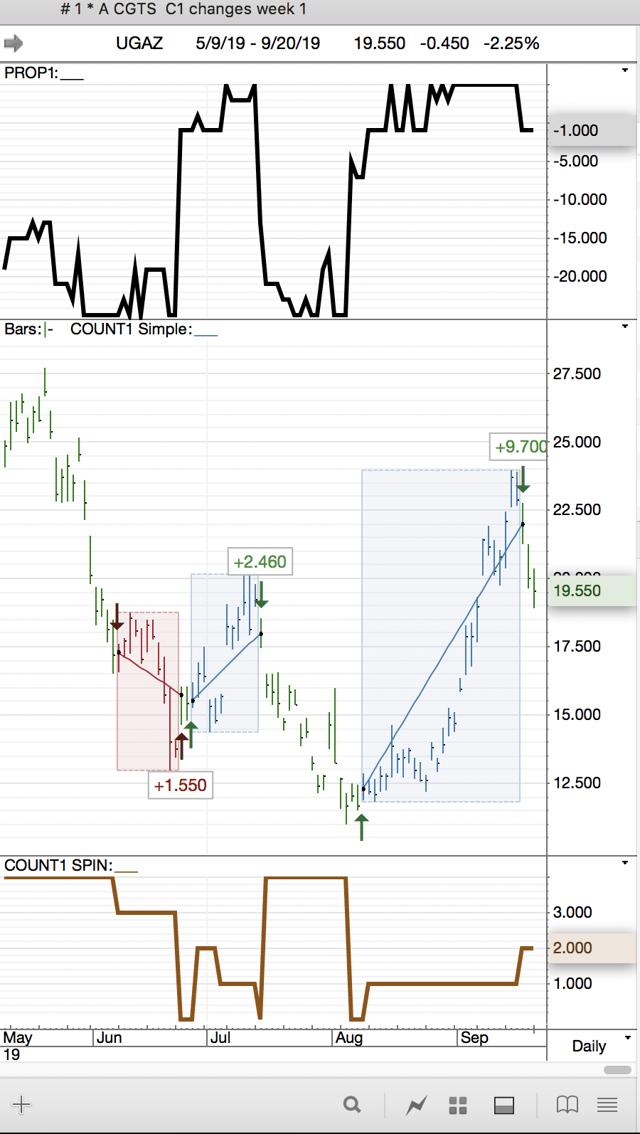 This all seems like a simple pull-back, or rest period.
Our weekly internals indicate that C1=1 is still growing, up 31 issues over last week.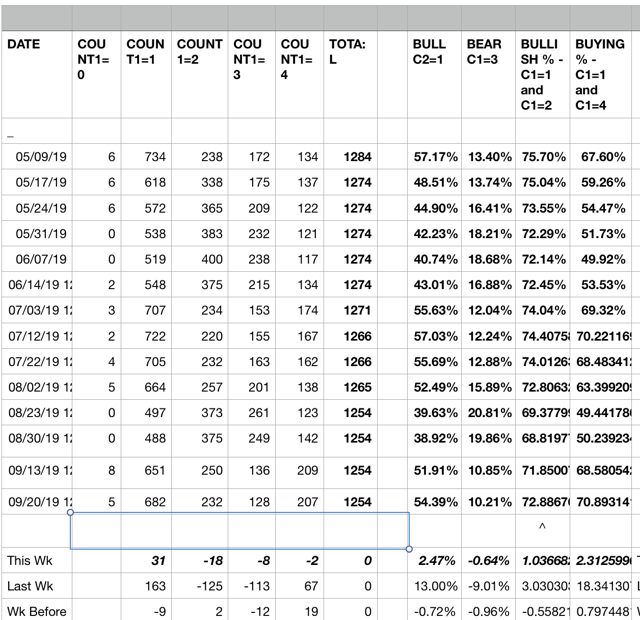 63.88% of the issues in our database are now M2F ALT 3 WEEKLY OVERBOUGHT (up 4% over last week) and 16.43% are OVERSOLD. Looking at our MOMO1 indicator, we fell from 72.33% BULLISH last week to 58.86% BULLISH, representing a short-term top in this indicator. MOMO4 is now 70% BULLISH, up from 51% BULLISH two weeks ago.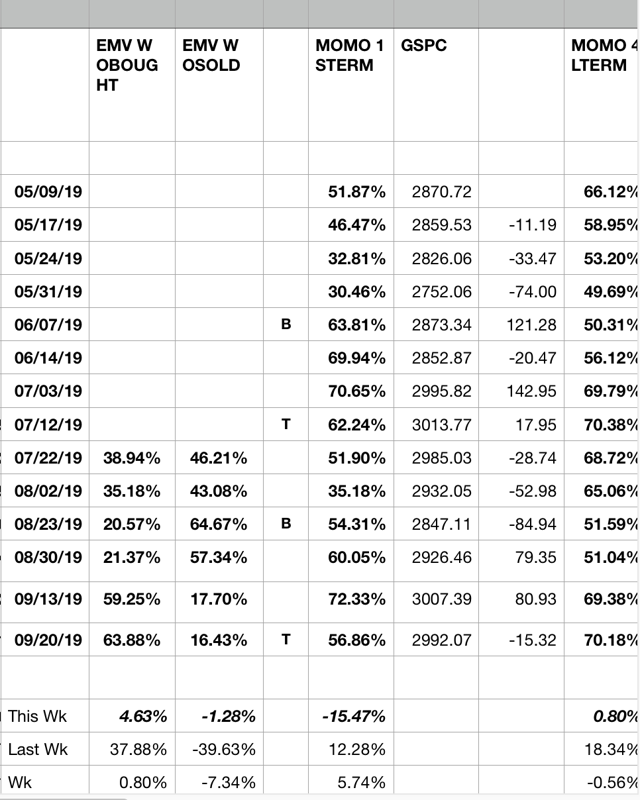 We did not sell the small (7%) pull-back in TLT, US T-BONDS. COUNT1 SPIN did not flip to 2 (see top pane of chart below). We are still BULLISH on BONDS and on the US DOLLAR.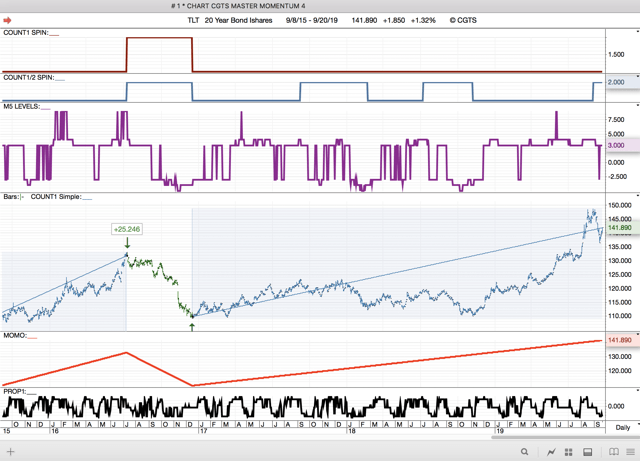 More proof the selling is over in TBonds?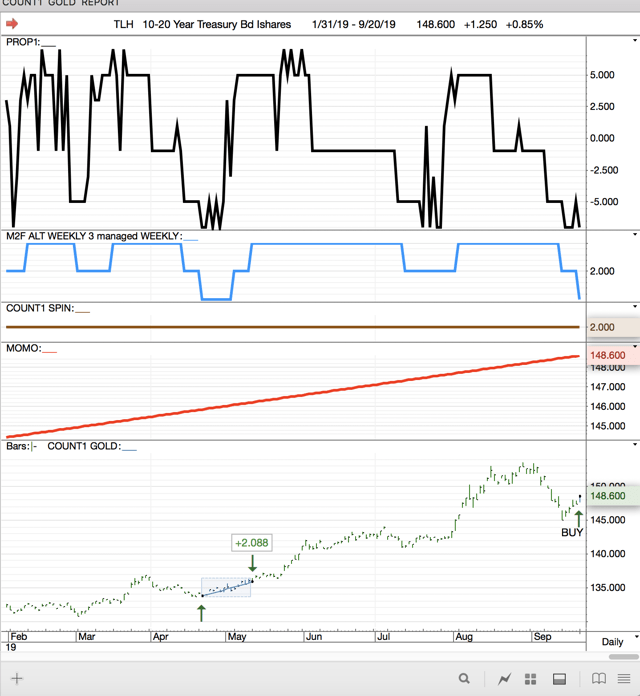 The US Dollar does not show any signs of weakening. Why are TBonds so strong? Every institution in the world wants to own the ONLY TBonds that are safe AND earning something yield-wise in the world. The strength of buying sends yields lower and lower. Lower yields help to spur more buying of the Dollar already needed (and in a state of shortage) by foreign borrowers to refund major amounts of US Dollar-based debt.
Has anything changed? I don't think so. One thing, of course, is the LIQUIDITY CRISIS as shown through the FED emergency REPO operations. IF the REPO crisis has been spurred by the FED FUNDS RATE increases to the top band of acceptable FED FUNDS RATES -- what I wonder is what is making the FED FUNDS rate rise?

Reuters says this:
The exact cause of the squeeze is a matter of some debate, but most market participants agree that two coincidental events on Monday were at least partly to blame. First, corporations had to withdraw funds from money market accounts to pay for quarterly tax bills, and on the same day the banks and investors who bought the $78 billion of U.S. Treasury notes and bonds sold by Uncle Sam last week had to settle up.

On top of that, the reserves that banks park with the Fed and are often made available to other banks on an overnight basis are at their lowest since 2011 thanks to the central bank's culling of its vast portfolio of bonds over the past few years.
This suggests this LIQUIDITY CRISIS is temporary.

If this is a quirk in the calendar only, then the short-term demand for overnight financing will calm down again., This suggests that nothing has changed, long-term.
What all this DOES SHOW, however, is how quickly the FED acted to keep rates down. "INSURANCE" the FED called it. The FED is aware today that their job includes ensuring that liquidity crises do not last and that threats to the money markets are their responsibility. This seems to be a new (relatively new) recognition, one not recognized in 2007 or 2008. Those betting on higher rates (BEARISH ON BONDS) will have to keep in mind the FED does not want higher rates at the moment, which means there is a pretty powerful TAILWIND at the back of the bonds, stocks, and US Dollar rallies.
GBTC? BITCOIN?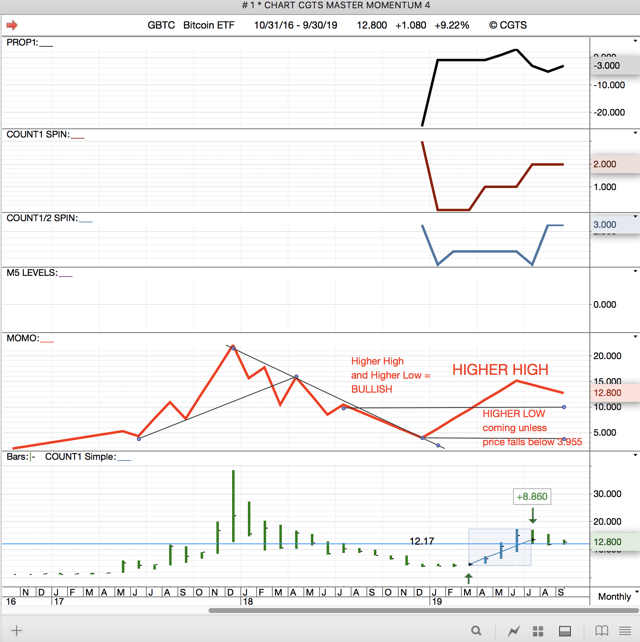 All the charts are a bit ambiguous except the monthly, which is unabashedly bullish.
The Economy? I think it is stronger than we all realize. 2019-2037 is a Growing Season. Who can stop growth in nature?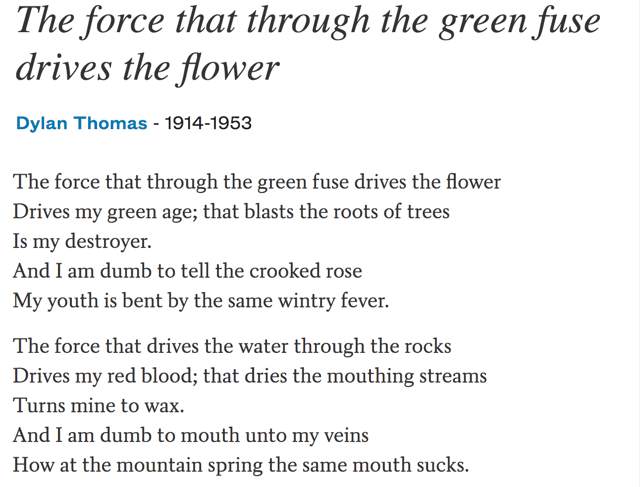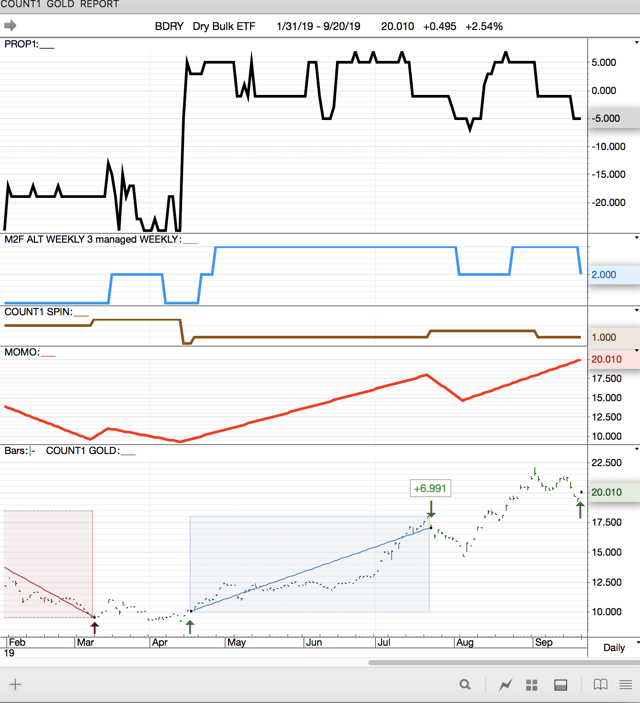 Here's a couple of our long-time LONG positions.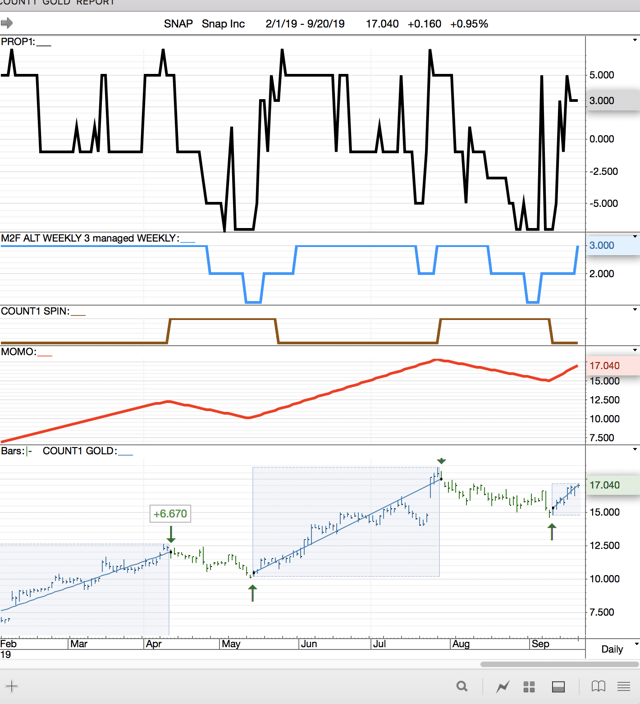 And: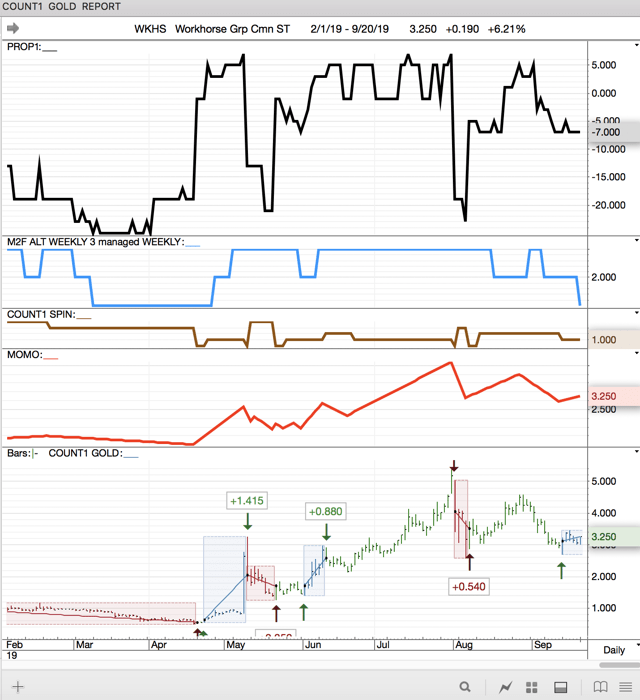 Here are our returns: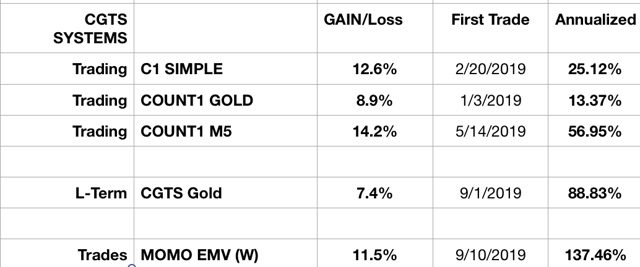 Patience with this market. The forces of ORDER is returning. The forces of DIS-ORDER are being sent off to bed.
Enclosures: rp; COUNT1 SIMPLE PORT; CGTS GOLD PORT
Have a good weekend.
MJC, CGTS
COUNT1_SIMPLE_for_EXPORT_Excel_92019.xlsx
CGTS_GOLD_for_EXPORT_excel_92019.xlsx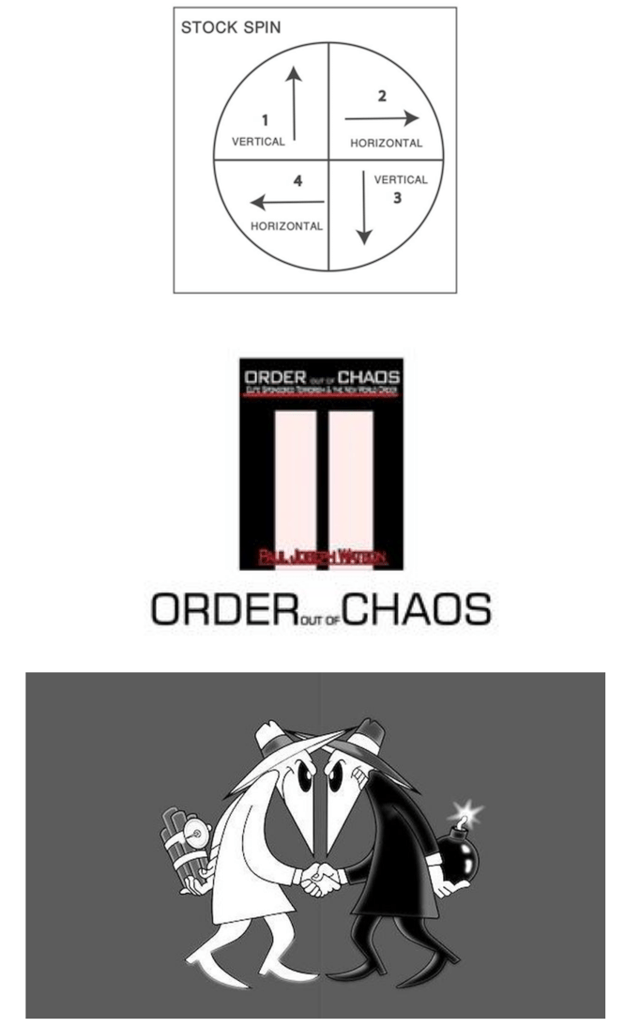 Disclosure: I am/we are long GBTC, WKHS,, SNAP. I wrote this article myself, and it expresses my own opinions. I am not receiving compensation for it. I have no business relationship with any company whose stock is mentioned in this article.