CGTS Algo Trading System
Tools
CGTS FRIDAY: 3x-ETF CENTRAL
Nov. 1, 2019 9:33 PM ET•Comment!
Summary
GBTC: SHORTSELL SIGNAL TODAY.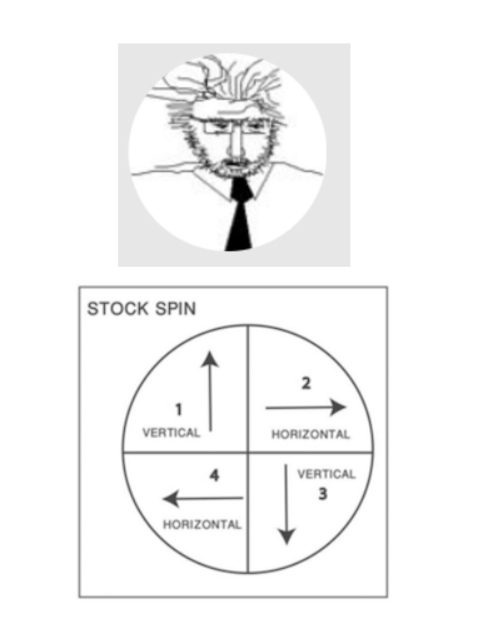 Stocks rocked higher today.

We have a new trading system we call COUNT1 COMPLEX. It is not really complex; we call it this to distinguish it from COUNT1 SIMPLE. COUNT1 Simple operates on COUNT1 alone. COUNT1 COMPLEX operates on COUNT1 SPIN and M2F ALT 3. Two moving parts.
M2F ALT 3 is a daily indicator that moves between zero (OVERSOLD) and 100 (OVERBOUGHT). To BUY, SPIN=1 and M2F ALT 3<10. It has had its selloff; it is still a BUY in COUNT! or has become a BUY. W3 SELL when Spin=2 and M2F ALT 3 again<10.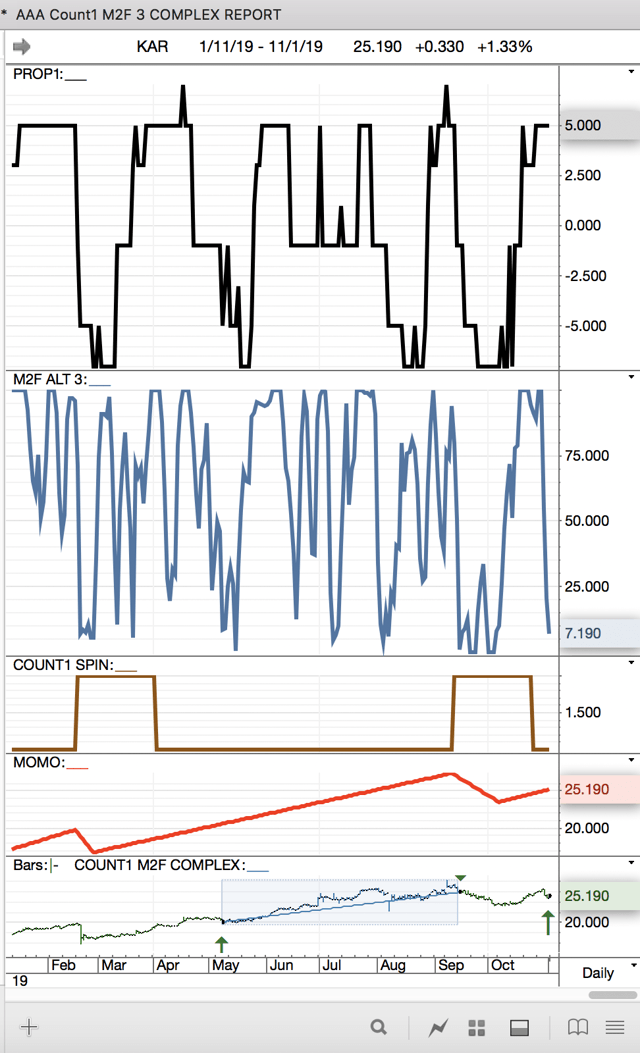 We began trading this system in our 3x Systems yesterday.


Up 3% in a day is a good start.
We have a few new BUY SIGNALS in this system today: KAR, NLS, OMI, VOXX.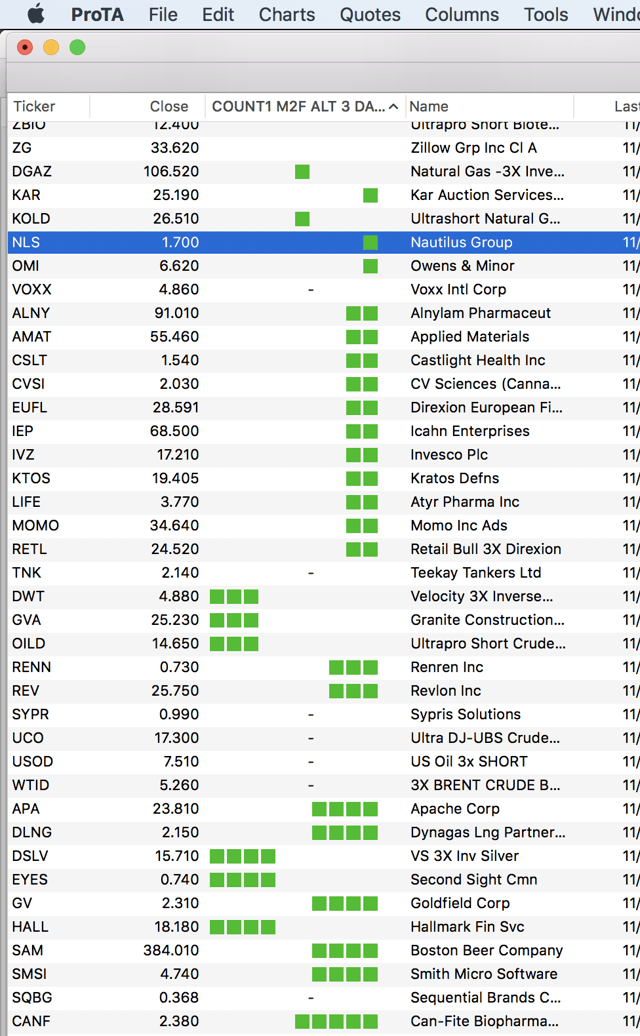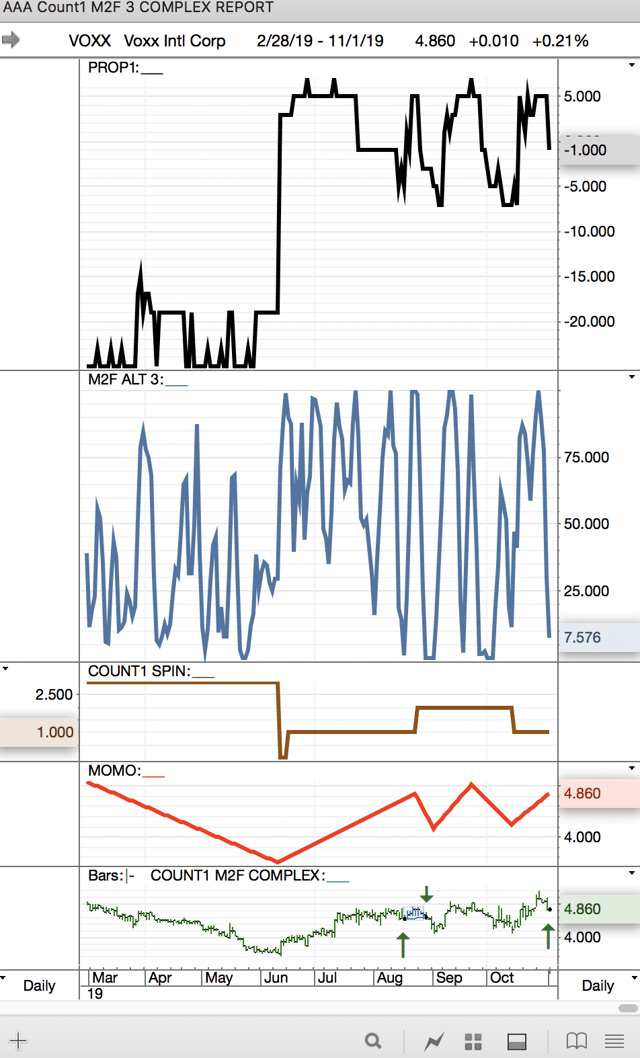 How does this system do? VOXX.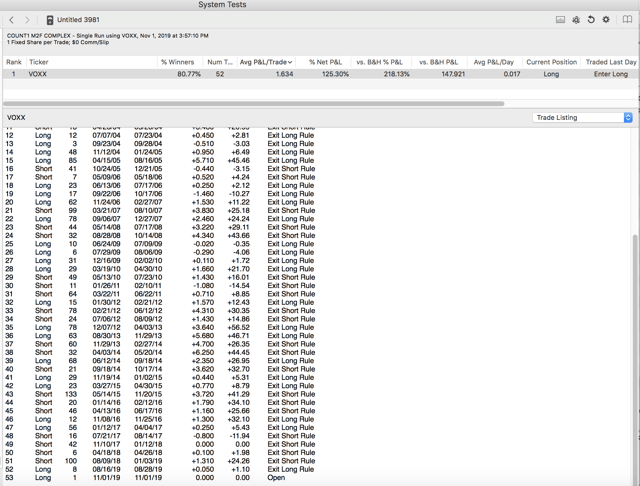 We are LONG GBTC, BITCOIN ETF. GBTC is giving us a CGTS GOLD TRADE SHORTSELL SIGNAL TODAY. We are LONG GBTC with a few shares we intend to hold longterm.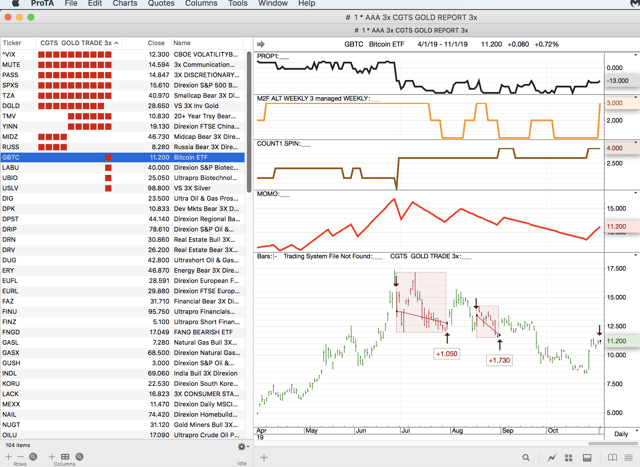 Other CGTS GOLD TRDE 3x SHORTSELL Signals.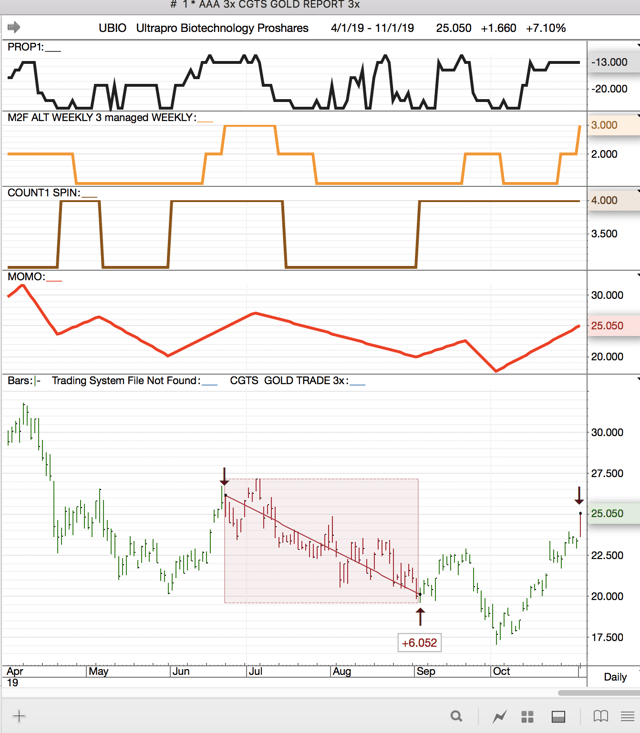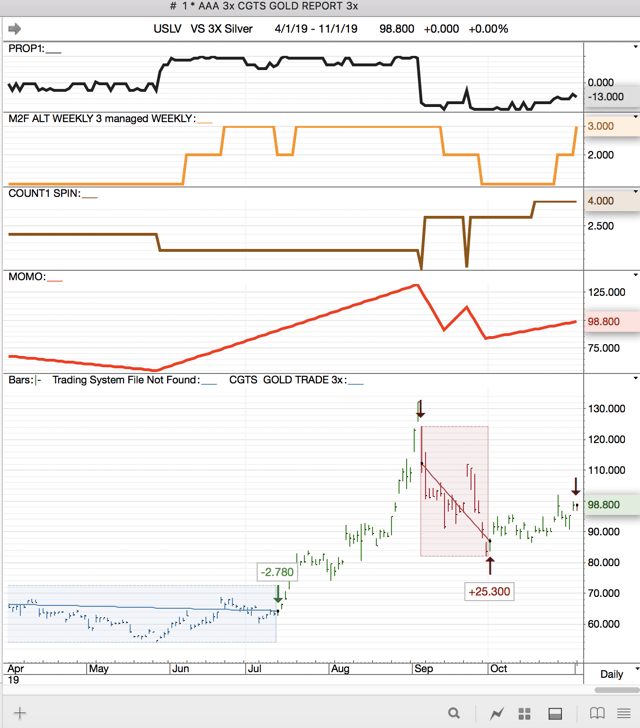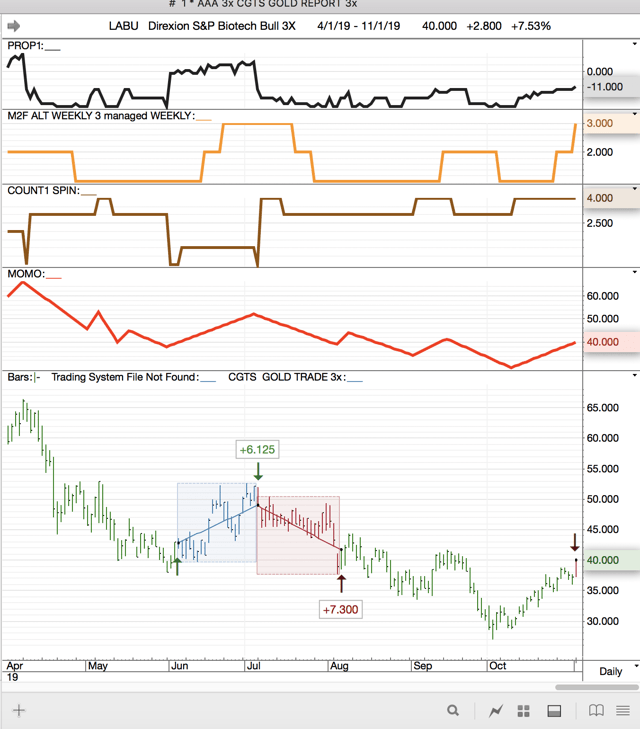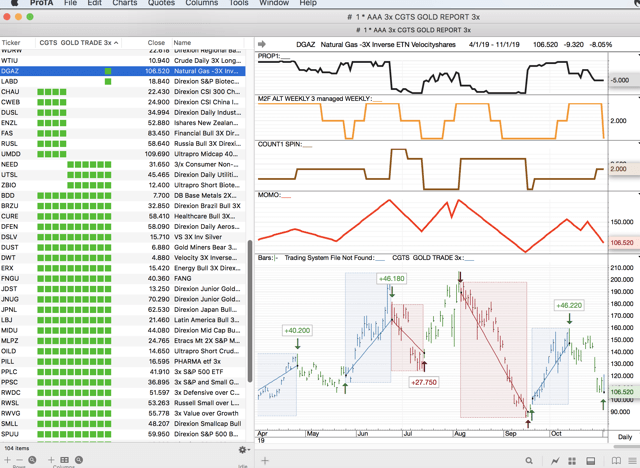 DGAZ is LONG, according to this reading. Our C1 M2F (W) System is LONG both DGAZ and UGAZ. This should not be happening. The Energy Sector has been in CHAOS since the Iranian attack on Saudi Arabia. It does not know if it is coming or going.
If LABU is a SHORT, LABD should be a NEW LONG. It is.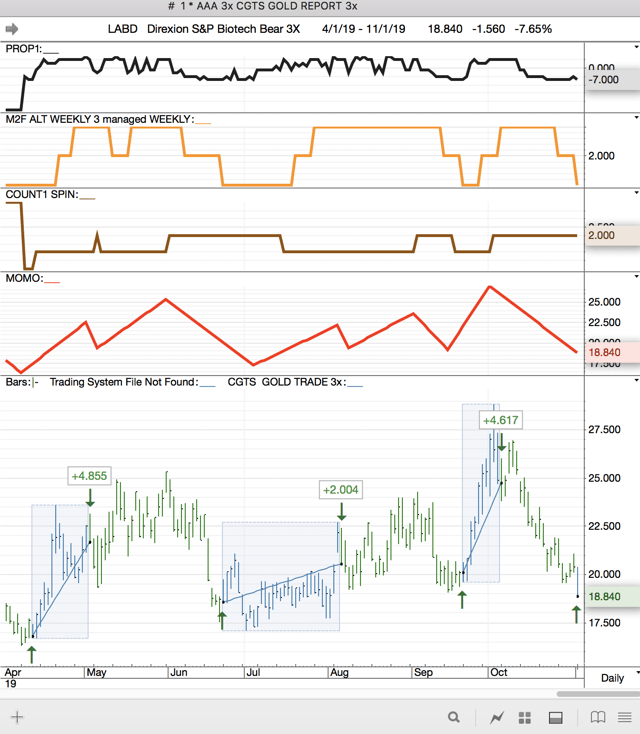 One of our best 3x Systems is COUNT1 M2F (W). Not a losing trade so far, fingers-crossed.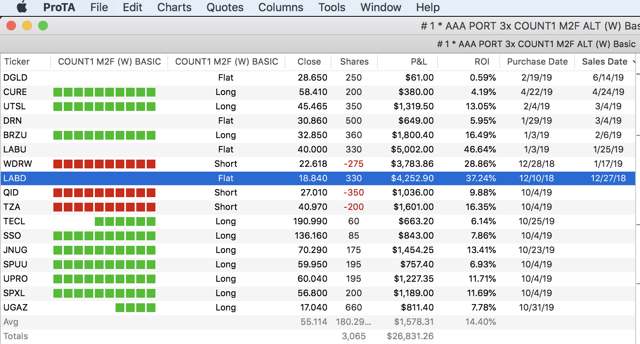 We have new LONG SIGNALS in our CGTS GOLD TRADE (non-3x) System.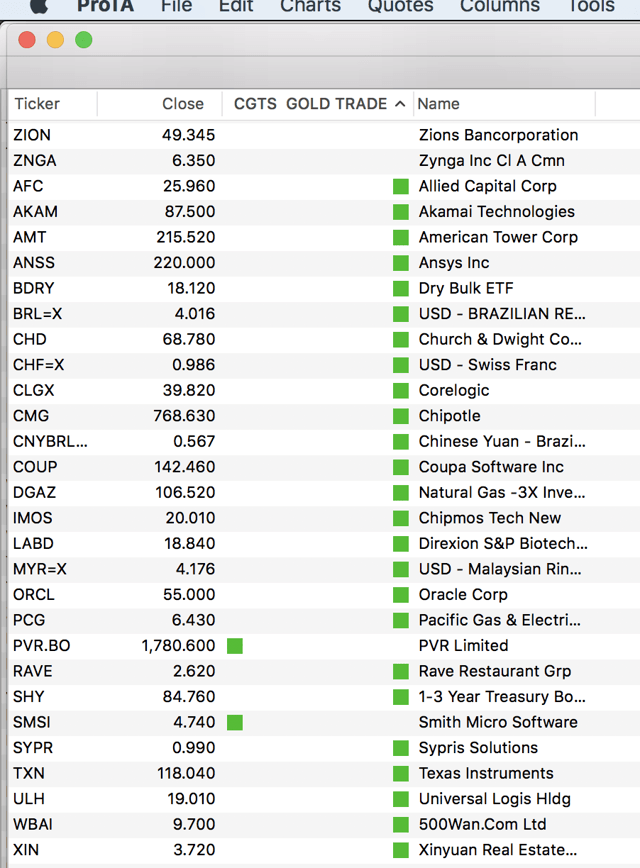 A few more:

CGTS GOLD TRADE is doing well so far.

Here are some pictures.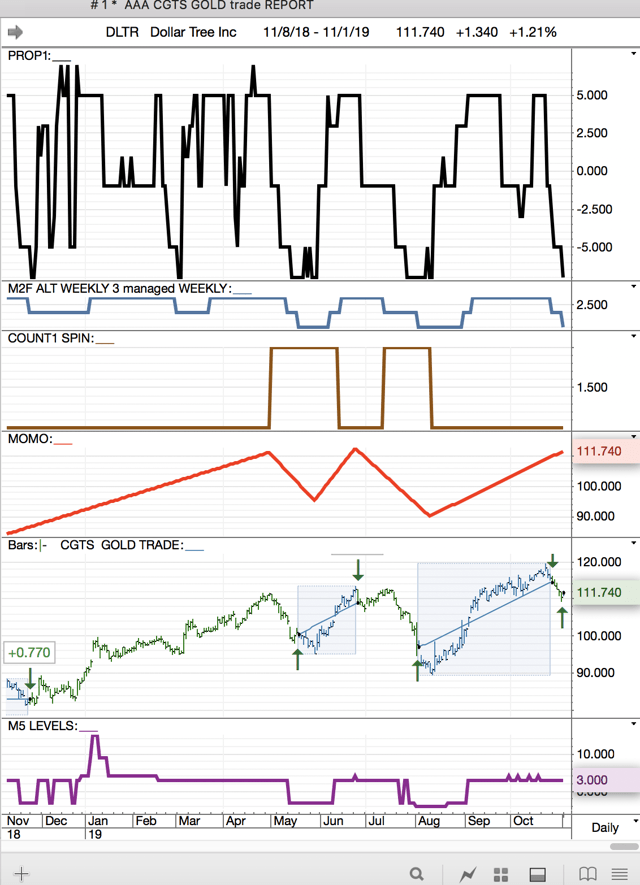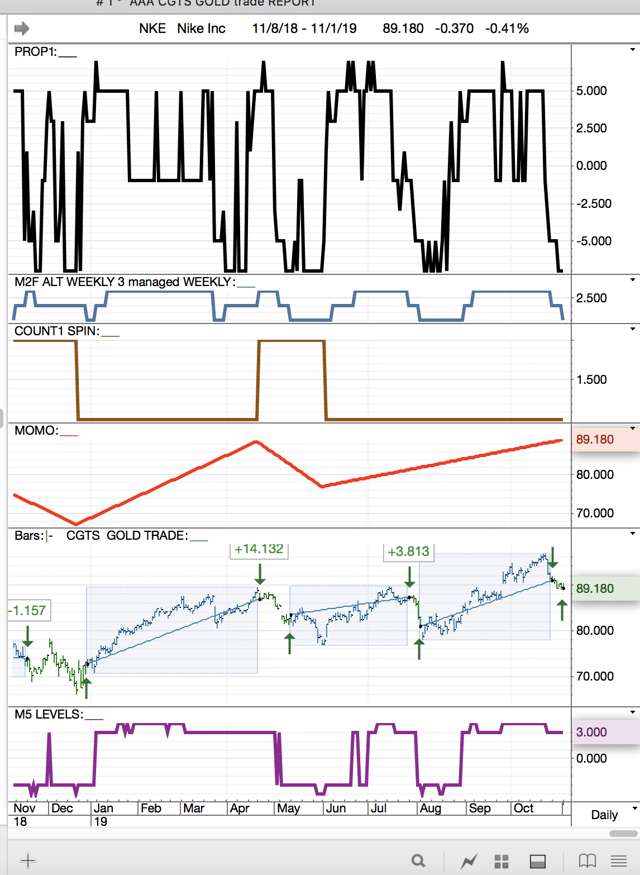 There are some SHORTSELL SIGNALS in the same system.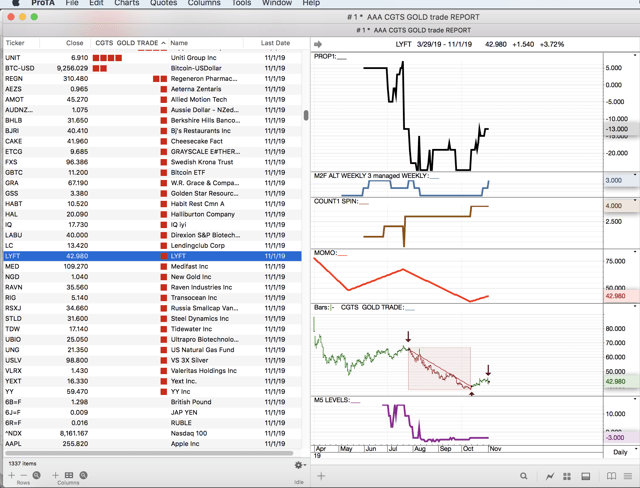 INTERNALS: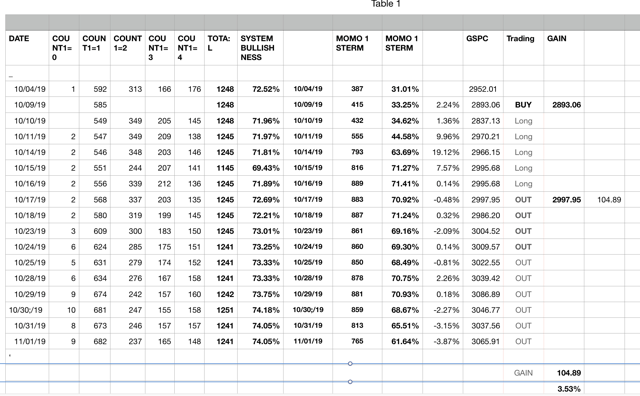 MOMO1 is overbought and bouncing up and down. Our weekly system seems to work better as a trading signal.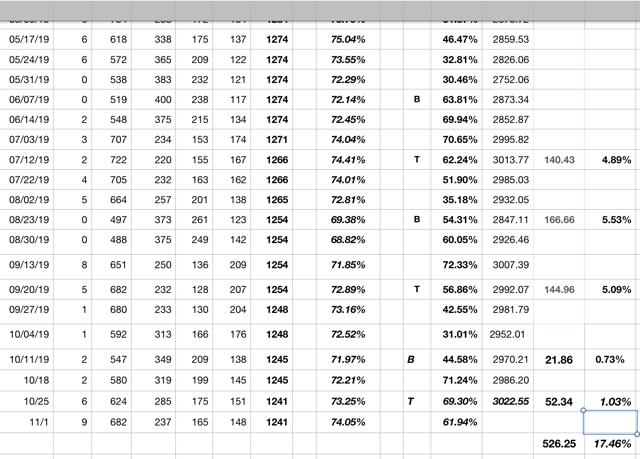 RP: RP_NEW_2019_excel_11119.xlsx
Have a great weekend.
MJC, CGTS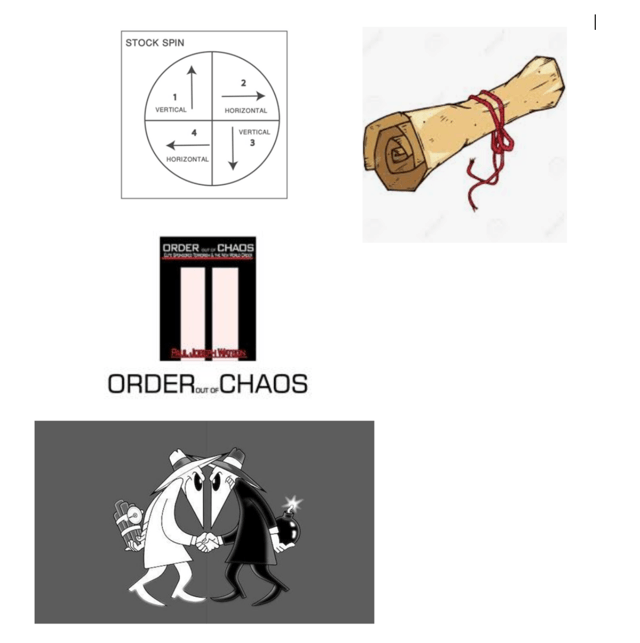 Disclosure: I am/we are long GBTC, TLT, SNAP. I wrote this article myself, and it expresses my own opinions. I am not receiving compensation for it. I have no business relationship with any company whose stock is mentioned in this article.
Disclosure: I am/we are long GBTC, TLT, SNAP.