CGTS THURSDAY. 2 July 2020
Please Note: Blog posts are not selected, edited or screened by Seeking Alpha editors.
Long/Short Equity, Special Situations, Currencies
Seeking Alpha Analyst Since 2009
Michael J. Clark was born and raised in Sinclair, Wyoming. He is a poet, novelist, artist, historian, and market analyst. He began investing in 1985. He read ˜The Technical Analysis of Stock Trends" by Edwards and Magee and was hooked. From 1985-1987 he made astonishing gains in the stock market; and then stocks collapsed in 1987. Since then he has been attempting to 'solve the stock market', with many failures and some successes. The system he developed, called CGTS, Clark's Gate Timining System, is algorithm-based. What this fancy word means is that he proposes a series of necessary steps based on technical analysis propositions, which, when met, trigger trading signals. His four main trading systems are up a combined 31% for 2015. From his website: INVESTMENT PHILOSOPHY Now that QE is supposedly ending, markets are already becoming more tradable, with opportunities to make money on both long and short trades at the same time. QE tended to make all boats rise, except precious metals. This made it more difficult to play the short side of the markets. Now, both sides seem to be more accessible to successful trades. This will also be more of a challenge for investors. The FED will have to eventually abandon the markets to their own destinies, and stop spending trillions to protect investors AND corporations from their mistakes. As this begins to happen (I am not sure it has happened yet), informed advice will become even more necessary for investors. Rules of Investment Rule #1: Never go against the trend. The majority is often wrong; but the minority is often wrong also. The sticky issue with this advice is at transition points, at which a Bull Market turns into a Bear Market or vice-versa. Big Money often anticipates and/or causes this transition. So pay attention to what Big Money is really doing, not what they say they are doing. Rule #2: You don't need a broker who makes his living off of your money. Most brokerage firms buy a position in a stock quietly and slowly. When the stock has appreciated significantly they add the stock to their buy recommendations. Then they begin selling their position while they are encouraging their clients to buy the stock. Most firms never issue sell recommendations. If they do, beware: they are probably trying to buy your stock after a huge sell-off. Rule #3: Watch your own emotions because they are often signaling something. When fear turns to greed and visions of unlimited wealth, we are probably near a top in a trade and we should get ready to sell. When hope and denial turn to fear and visions of an unlimited loss, we are probably approaching a bottom in a trade. (See Rule #1 however.) Rule #4: Trade with a system to complement your gut reactions. Follow the system no matter what, even if it means taking a loss. Don't get lazy with your money and sink into denial. Use a system to help you refrain from 'playing a hunch'. Rule #5: HEDGE YOUR PORTFOLIO AGAINST LOSSES. How does one do this? By having a balanced portfolio of long and short positions. But have a system that signals both long and short positions, and keep your portfolio balanced around 50% long and 50% short. This may seem to contradict Rule #1. It does not. When something is in a long trend, something else is in a short trend. Find what is long and what is short. If stocks are long, gold or oil may be short. Use ETFs and options to help establish this portfolio balance. Our system gives trading signals every day for both long and short positions. More information on CGTS is available at: http://home.mindspring.com/~mclark7/CGTS142.htm His fine arts portfolio can be found at the following address: http://www.hoalantrangallery.com/MJC2.htm His writing portfolio can be found at: http://www.hoalantrangallery.com/MJCwriting.htm Those interested in his book "Turn Out the Lights", a description of the metaphysical causes of the 2008 financial meltdown, can access the draft at: http://www.hoalantrangallery.com/Turnoutlights.htm Michael Clark has retired after working 30 years in academia, relocated to Hanoi, Vietnam for six years, and has returned to America in 2014.
CGTS: THE NEW SCIENCE OF INVESTING

CGTS Algo Trading System
CGTS THURSDAY. 2 July 2020
Jul. 4, 2020 3:56 PM ET•NMM, DLNG, MTZ, AAT, BDRY, AAL•Comment!
Summary
If a DAILY SYSTEM is good, will a WEEKLY SYSTEM be even better? Or at least as good?
Don't trust the BEARS unless the VIX is out of its cave -- and it is not.
TRIANGLE TRADE WEEKLY: #1 BUY, DLNG.
SOLO? Can it do what WKHS has done?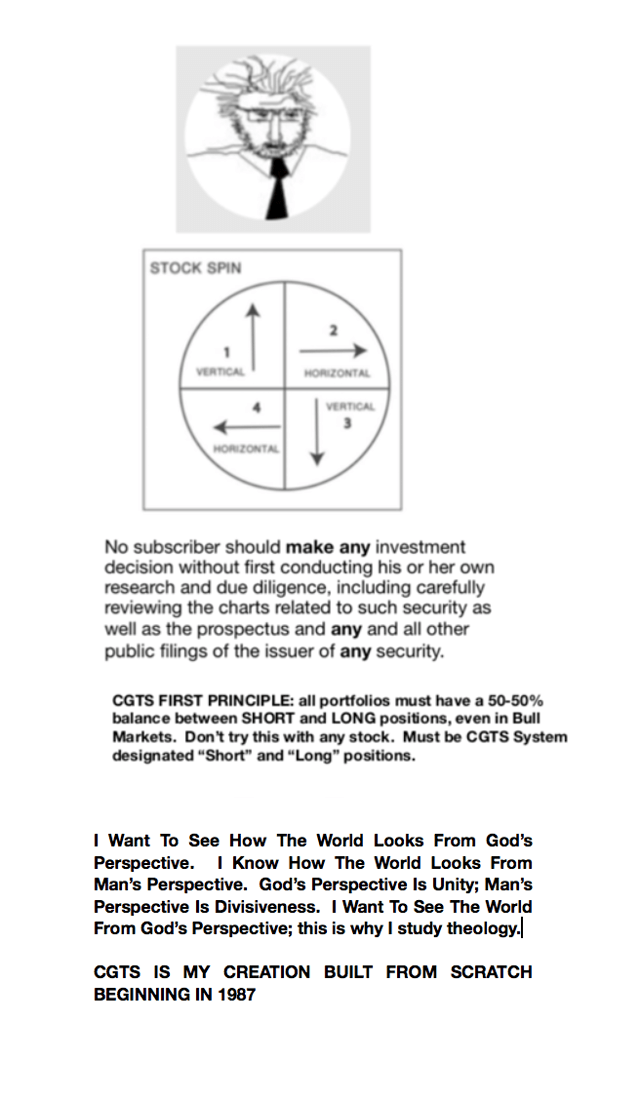 First, the market. What happened to that waking BEAR? He went back into his cave. CORRECTION CANCELLED.
BEAR WATCH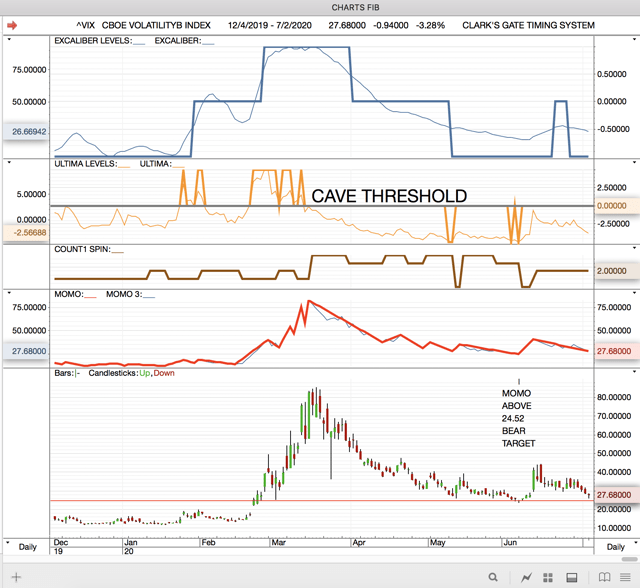 DSS shows us an example of how quickly things can change.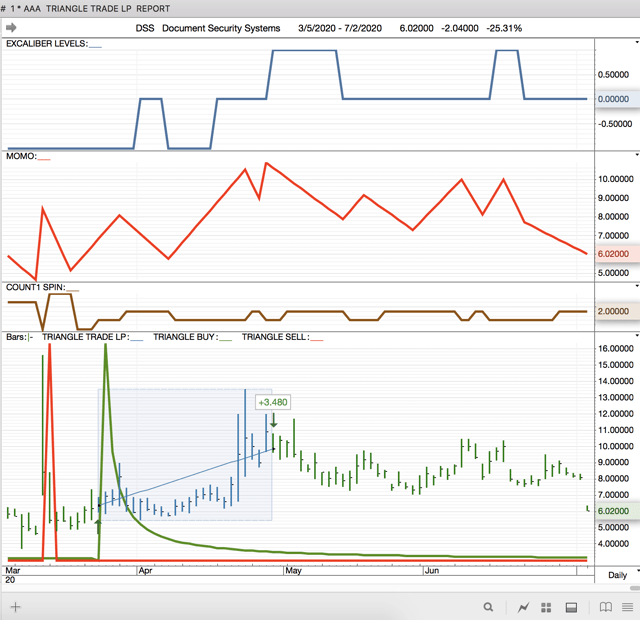 Look how MOMO broke like a twig and broke down.
If you are LONG DSS, you can expect attempted SUPPORT at 6.36 and 5.89. DSS could not get through RESISTANCE @ 10.26. It battled; made two tries; then succumbed to the SELLERS.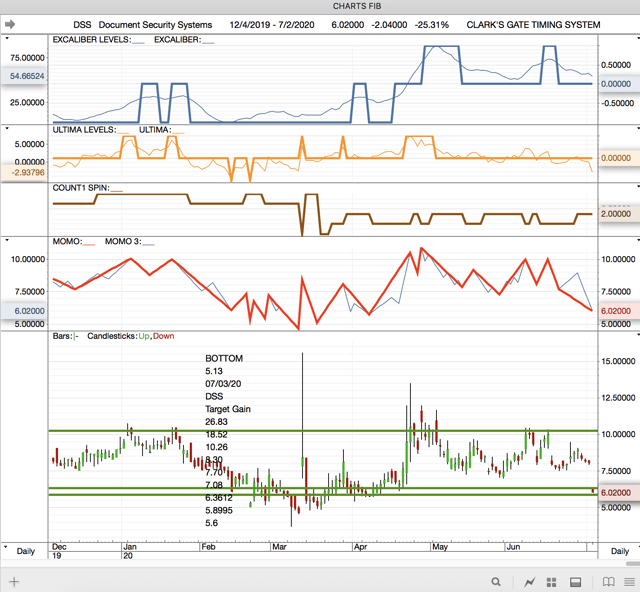 BULL WATCH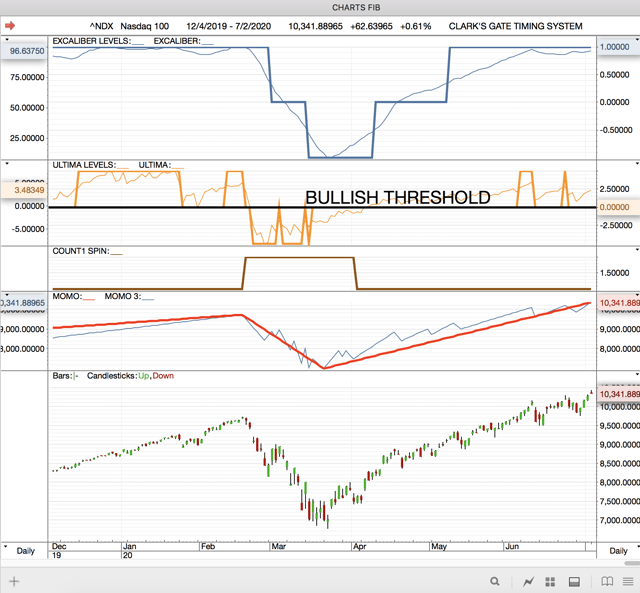 No clouds in sight. High-pressure zone, sunny.
Favorite BULL PICTURE:AKAM spent two months attacking RESISTANCE @ 102.13. Finally, broke through, and broke all the way to our next RESISTANCE# LEVEL: 113.67.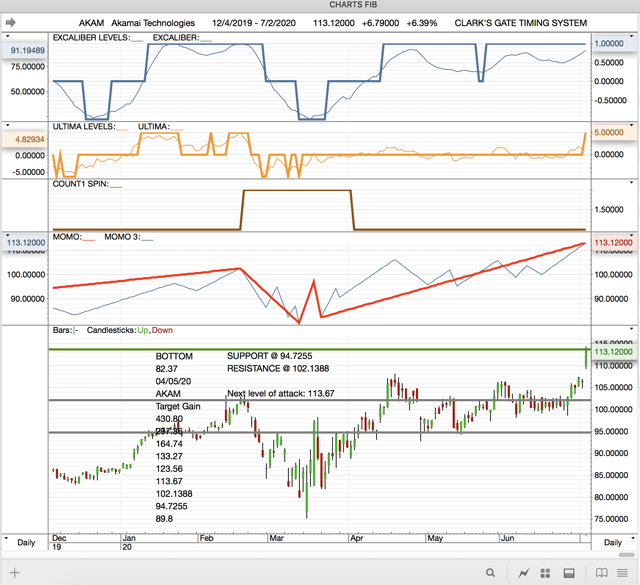 THE INSTRUMENT ROOM
Summary Statement. CROSSOVER = +71. Bullish. CROSSOVER<0= TRADING SELL.

MOMOBULL % fell to 51.68%, then turned back up. If it does fall below 50%, we are being warned. It tends to not want to warn us, it seems.
THE CONTROL PANEL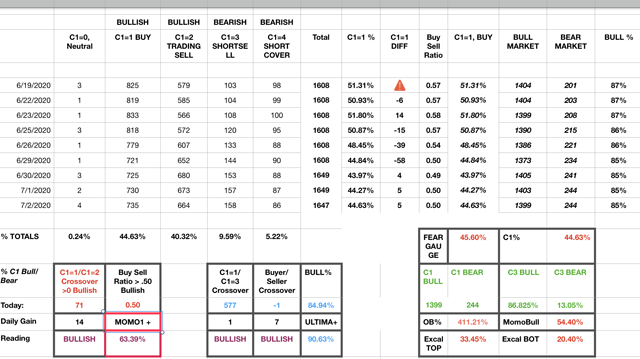 VERDICT: Bullish, full speed ahead.
-------------------------------------------------------------------------------
I was going to write about the EURO$ again. And how it looks like we may be on the verge of a GLOBAL RALLY here.

Stocks soared; or did they? Stocks shimmied higher. VIX sank.
Job gains dominated the news.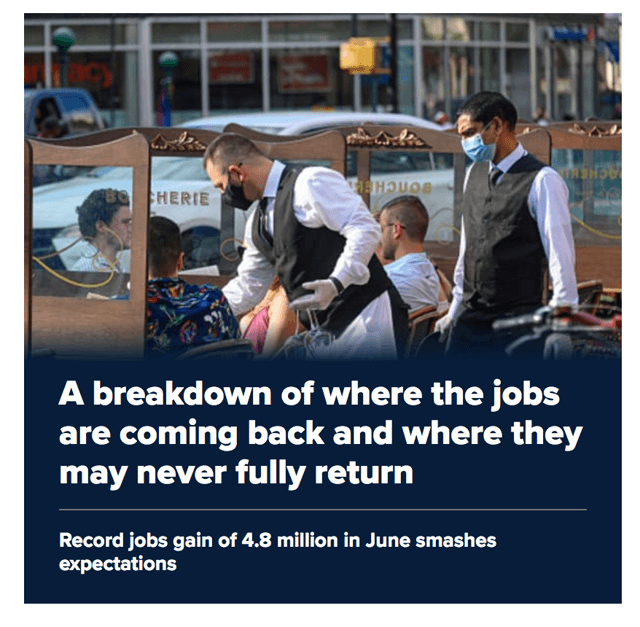 This makes the TRUMP-BASHERS furious, i know.
WORKHORSE gained again.

Is SOLO the next in line for an impeccable BULL RUN?

We think it might be.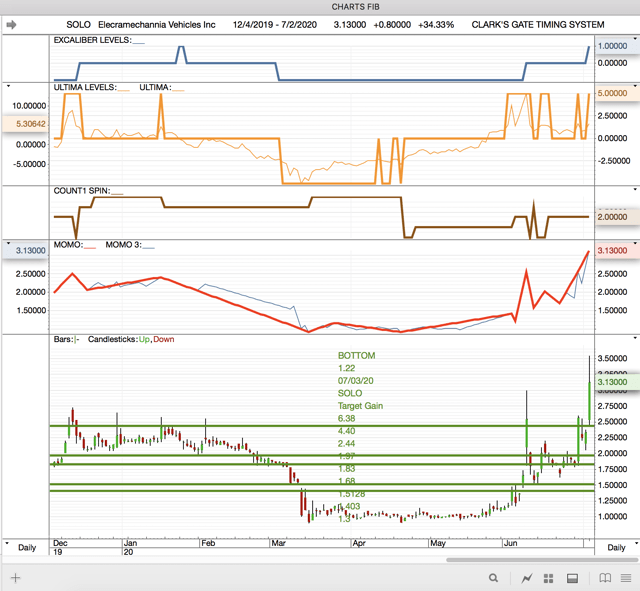 We have been trying to EXTEND the scale of our TRIANGLE TRADE LP System, which has been so efficient for us.
We have recently created a weekly version of the original. TRIANGLE TRADE WEEKLY. We will discuss this below.
We also re-formulated our TRIANGLE TRADE LP DAILY SYSTEM. Our original system works with a re-calibrated EXCALIBER indicator, which we generalized into a LEVELS indicator.
The SOLO chart below show both EXCAL indicators, top pane -- bold, EXCAL LEVELS; light line, EXCAL RAW.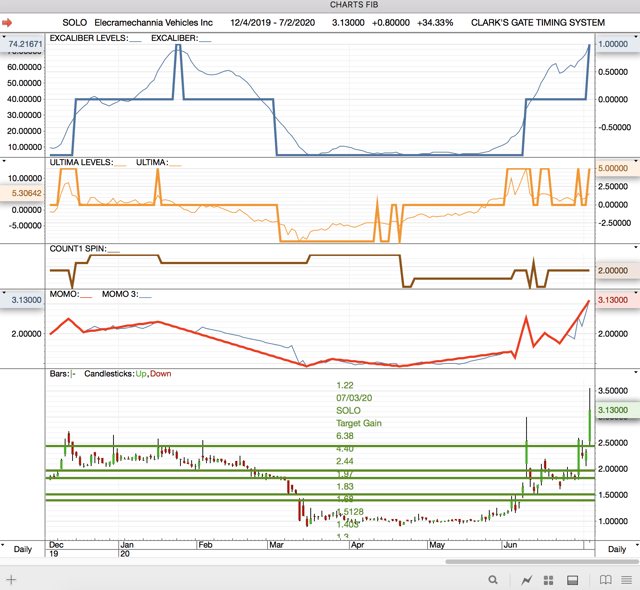 TRIANGLE TRADE LP works with the EXCAL LEVELS indicator. We BUY when COUNT1=1 and EXC<0; as soon as EXC>0, we close the LONG trade. Very simple.

We wanted even more trades out of this system. We were greedy. We went back to the RAW DATA of EXCALIBER. We BUY when C1=1 and EXC (RAW)<70. We SELL when EXC (RAW)>90.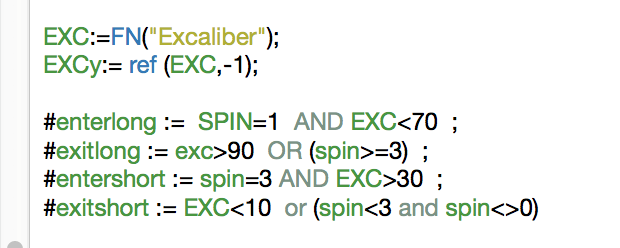 TRADING MSFT TRIANGLE TRADE RAW seems to be the winner. More trades (35 to 22) and a higher % of gains (5.221 to 4.416).
Here is a stock that does not show up as a TT LP BUY today, but does show up as a TT RAW BUY.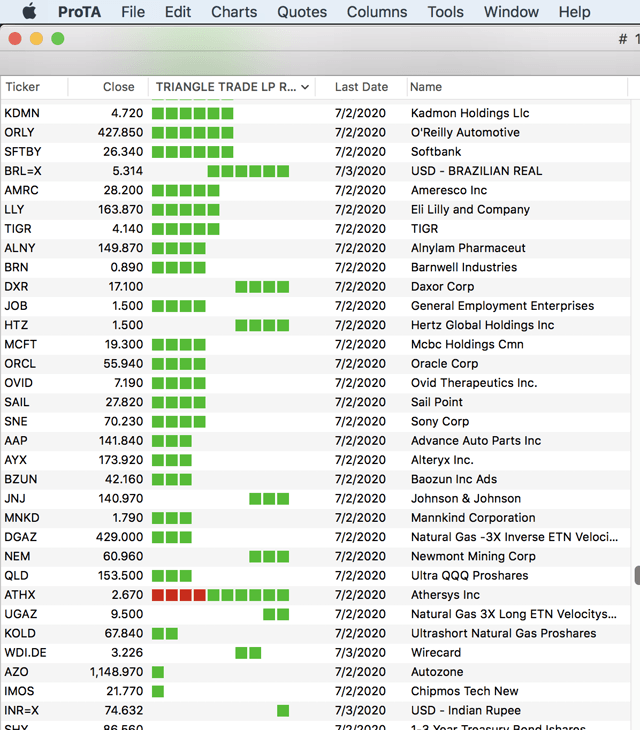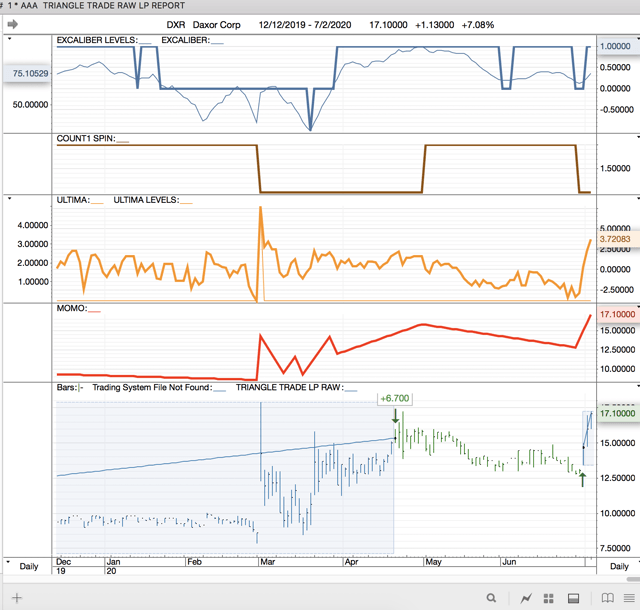 To be a BUY, EXCAL LEVELS (top pane) must be below zero. It is not below ZERO in the JNJ chart below, but EXCAL (RAW) is below 70/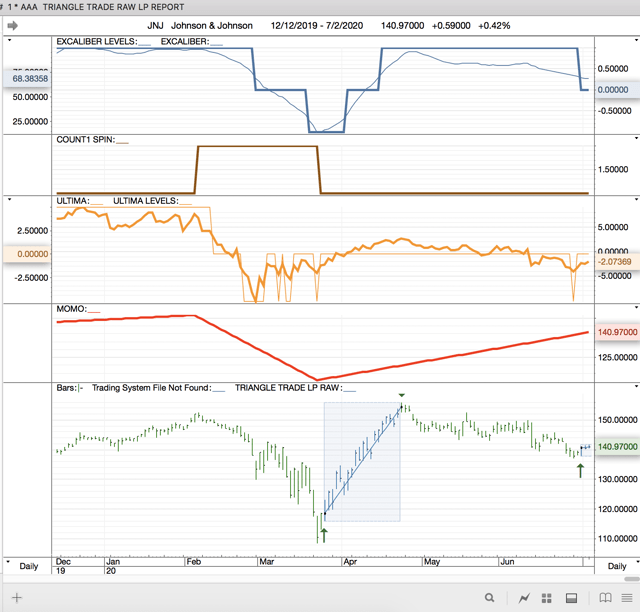 The same is true for NEM, NEWMONT GOLD MINING.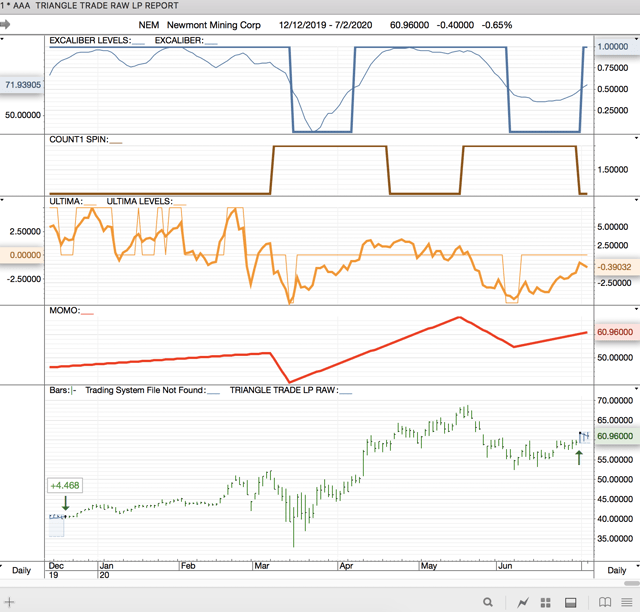 ATHX shows EXCAL LEVELS at zero, not below zero. EXCAL RAW is below 70.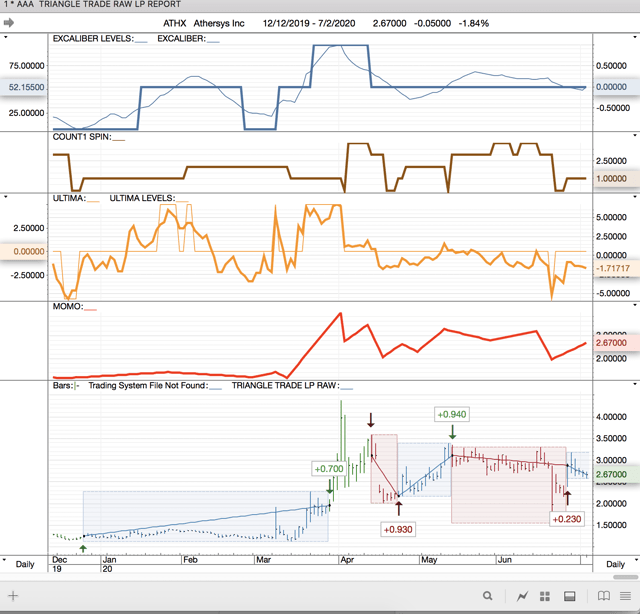 HGEN is the same.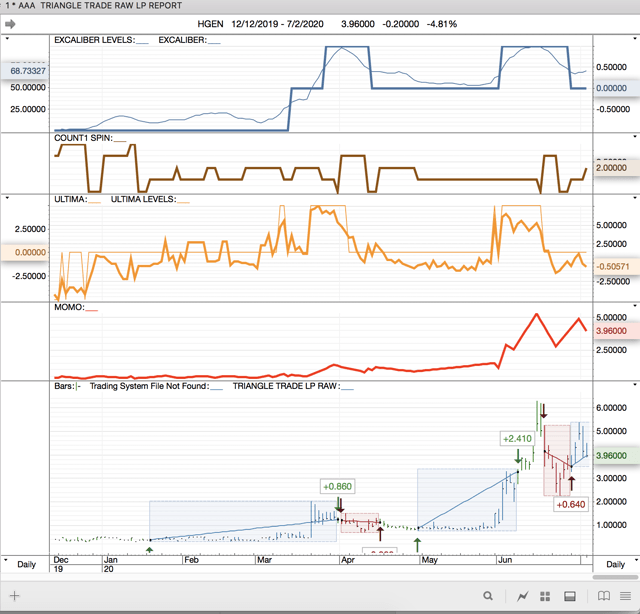 Here are some SHORTS in this amplified TRIANGLE TRADE SYSTEM.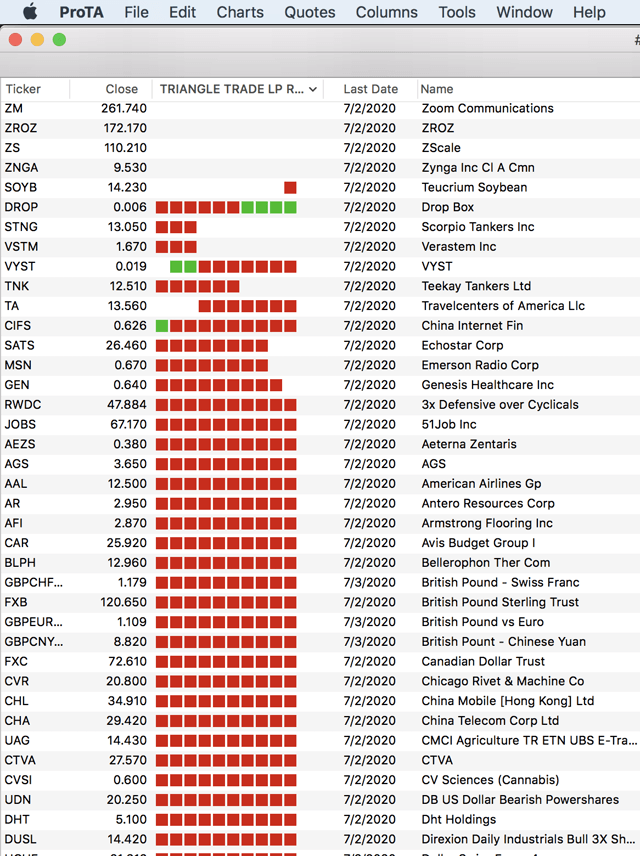 SOYB is not a SHORT in TT LP. EXCAL LEVELS is not >0. But it is a SHORT in the amplified system, TT RAW.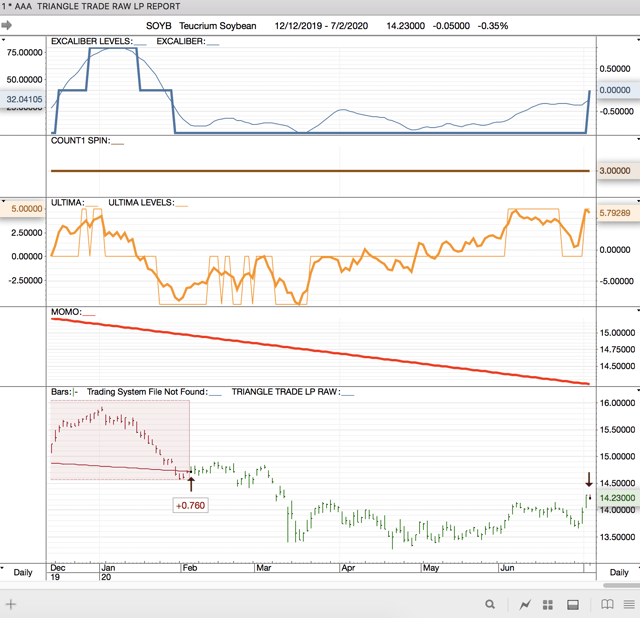 TRADING RETURNS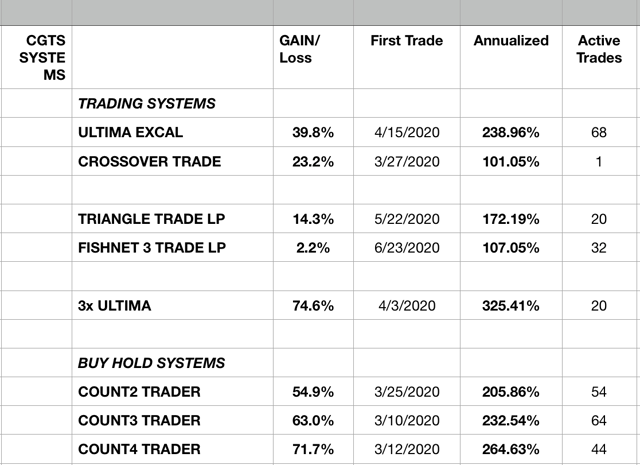 2020_PORT_TRIANGLE_TRADE_LP_PORT_7220.xlsx
2020_PORT_ULTIMA_EXCAL_3x_PORT_72_20.xlsx
2020_PORT_ULTIMA_w__EXCAL_PORT_7220.xlsx
2020_PORT_TRIANGLE_TRADE_WEEKLY_7220.xlsx
RP: coming later, takes longer to calculate.
What about TRIANGLE TRADE WEEKLY? (See the portfolio embedded above, SUBSCRIBERS.) It is the same system, but on a weekly data basis. We will not buy a stock that is not MOMO bullish. For instance SAFT is not MOMO BULLISH.
MOMO has LOWER LOWS and LOWER HIGHS: BEARISH by definition.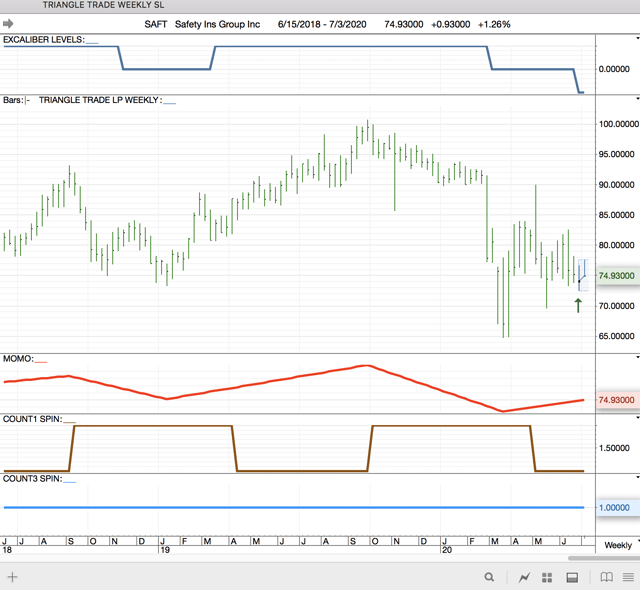 Here is our WEEKLY report.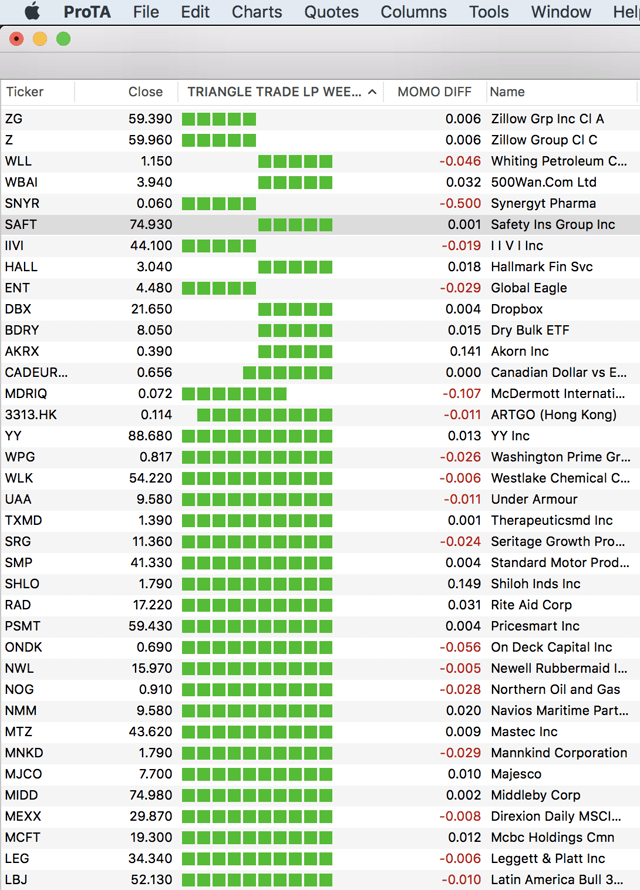 What about DBX, DROP BOX?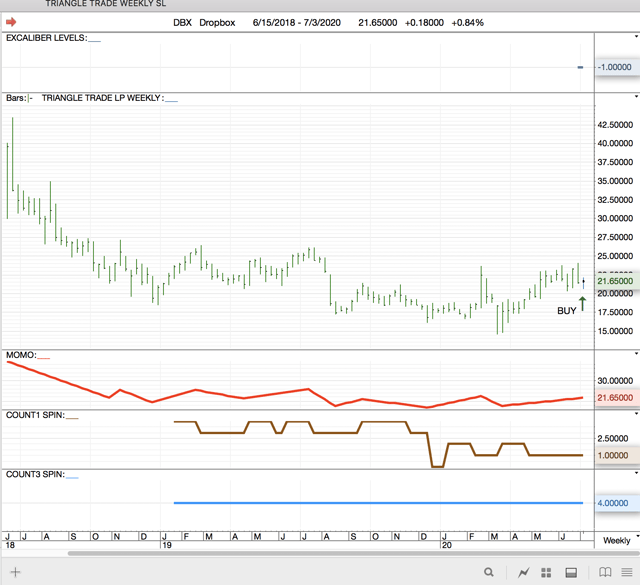 MOMO has made a HIGHER LOW. This is enough for us.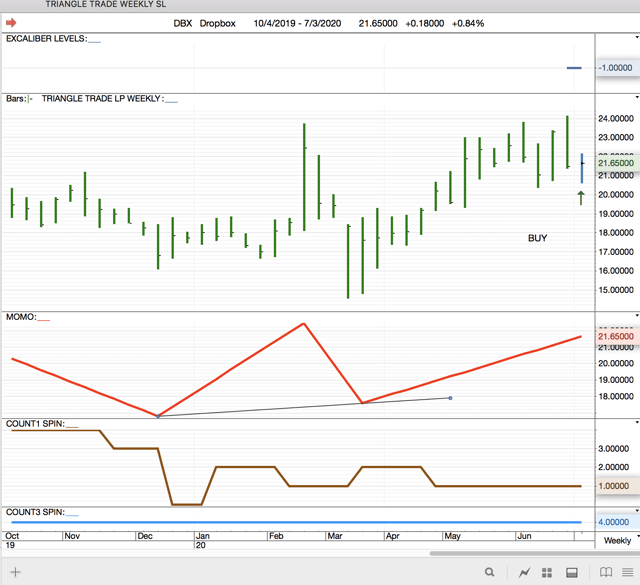 We are, in fact, VERY excited by this weekly system.
BDRY, DRY BULK. BUY.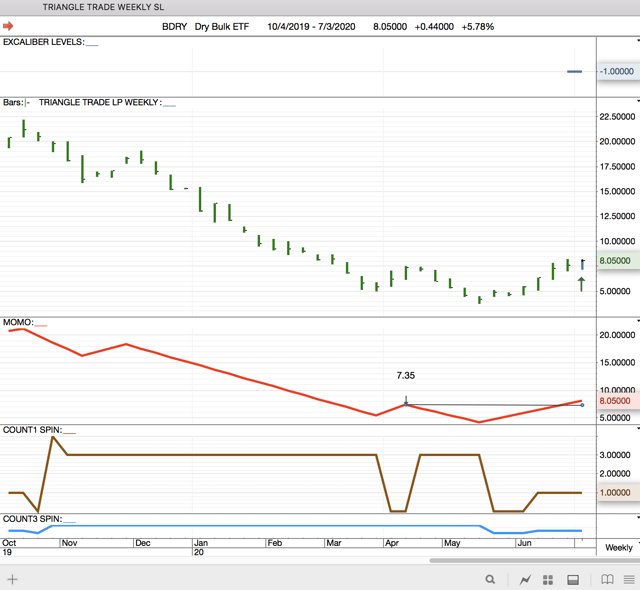 These are NOT our favorite charts on this list. Perhaps we should show our favorite charts.
1. DLNG, DYNAGAS LNG PARTNERSHIP.
Favorite chart from this list without a doubt is DLNG. MOMO is cascading (?) higher.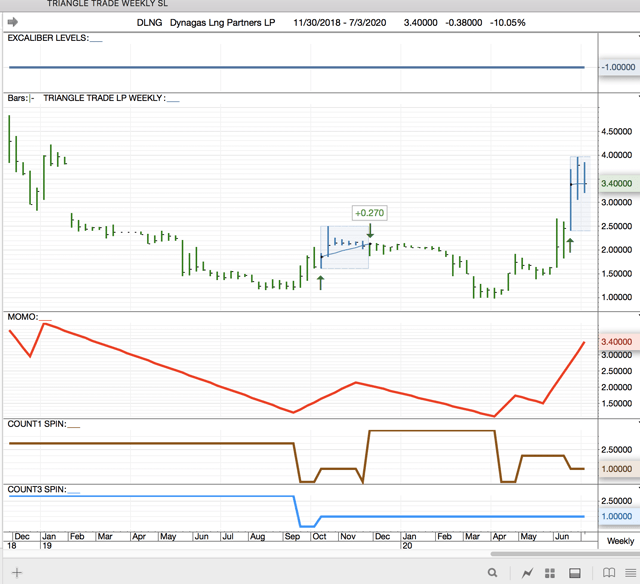 2. NMM, NAVIGOS MARITIME PARTNERS.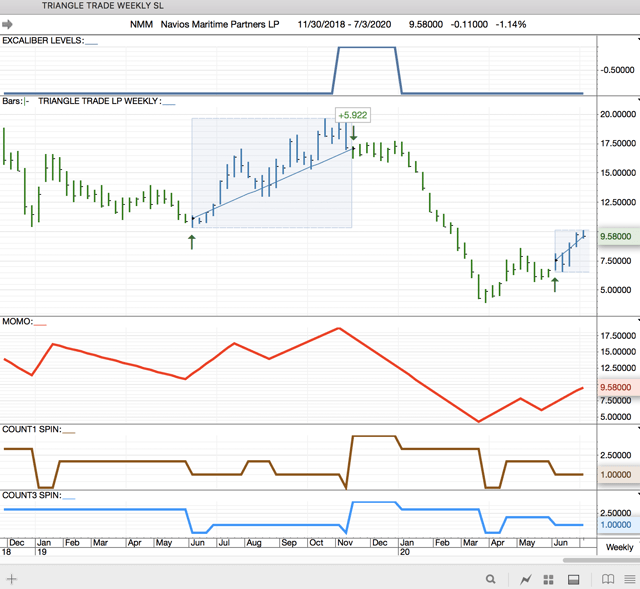 3. MTZ, MASTEC. We want EXCAL to be OVERSOLD and RISING -- or at least OVERSOLD.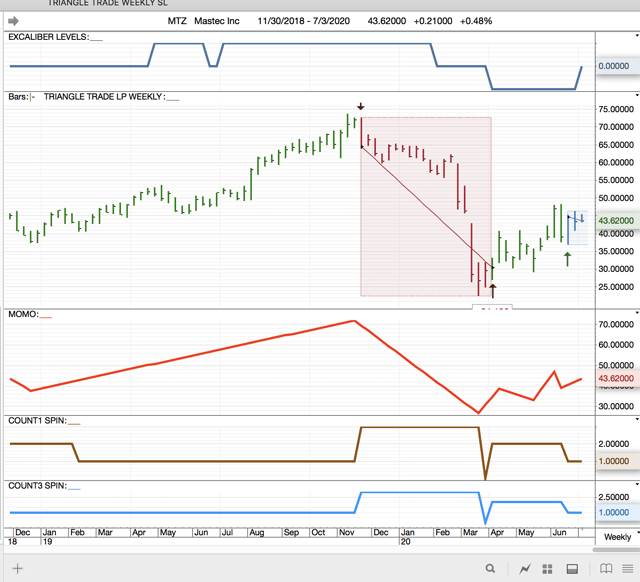 4. WLK, WESTLAKE CHEMICAL. MOMO (red line) is beginning its walkabout.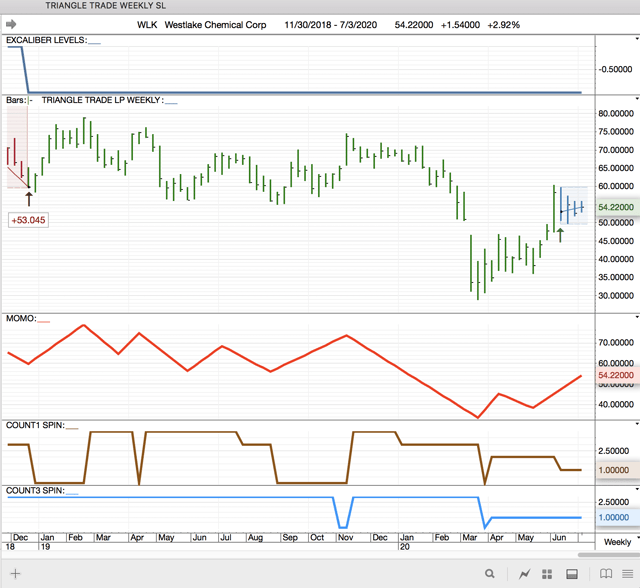 5. AAT, AMERICAN ASSETS TRUST.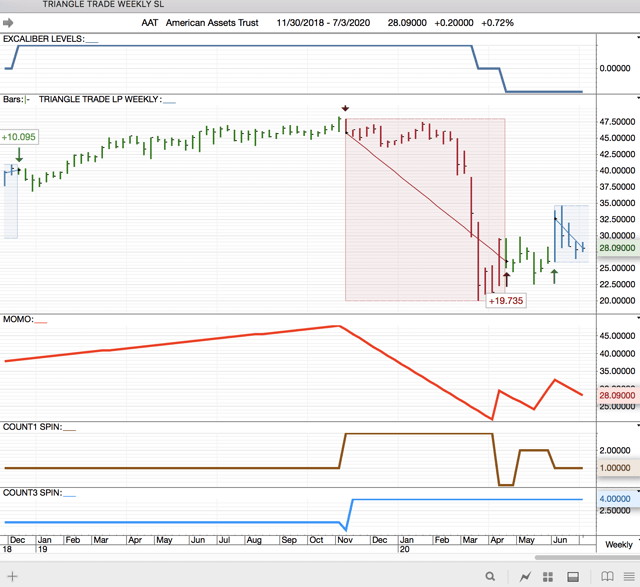 6. AAL, AMERICAN AIRLINES.
Note AAL has pulled way back (NASDAQ:MOMO) but it is still in a MOMO BULLISH HIGHER HIGH AND HIGHER LOW situation.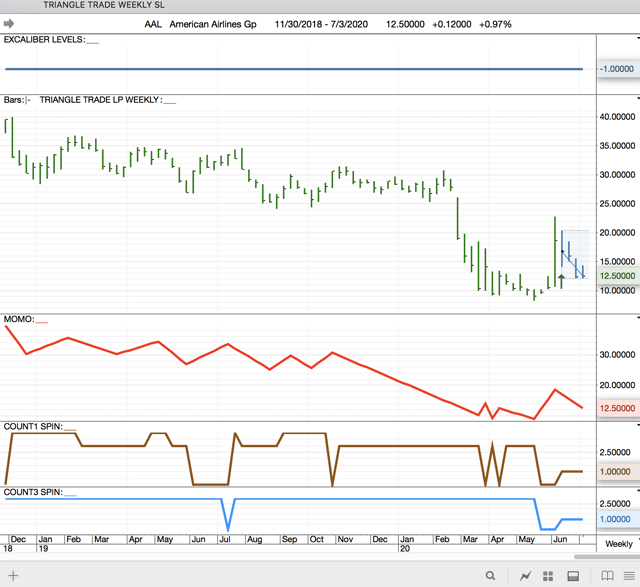 One could buy a JAN 2022 12 CALL for 4 points today. FEELS like a winner to me.
See how (long-term) COUNT3 has just flipper back to C1=1 (bottom pane, blue) after a long decline.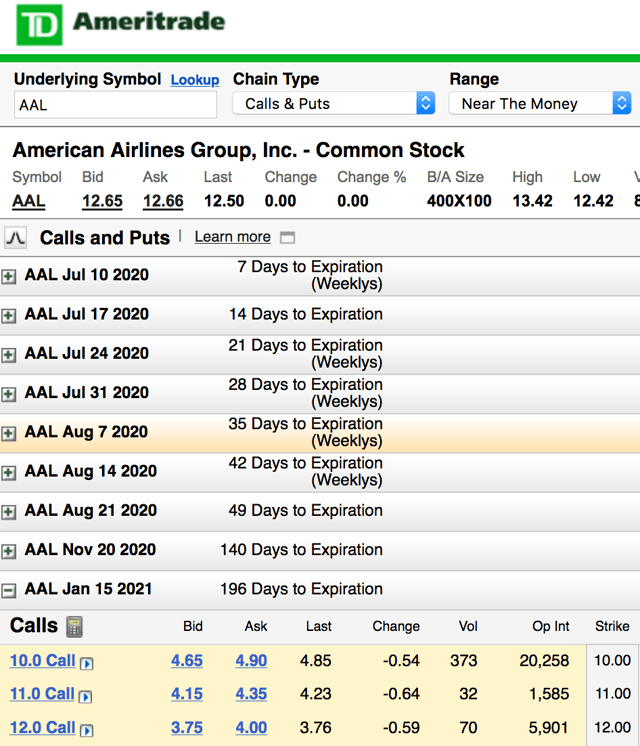 In fact, we are now tracking a TRIANGLE TRADE WEEKLY Portfolio also, which is a bit of an overlay on our daily record.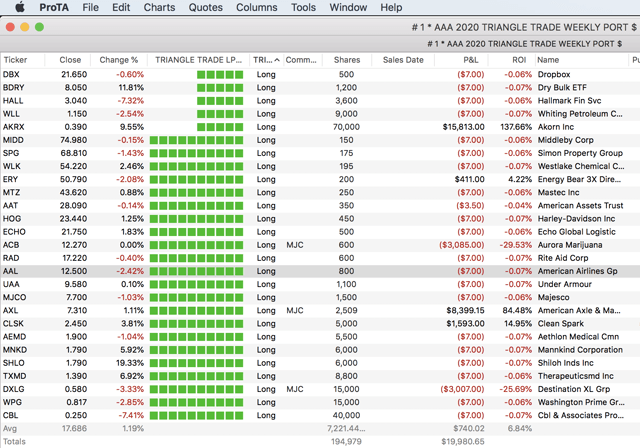 Let's look at a couple of recent SELLS (and COVERS) in this group.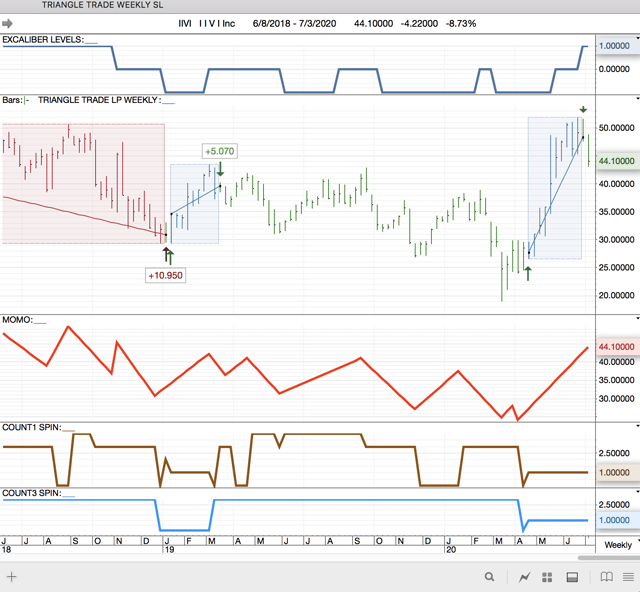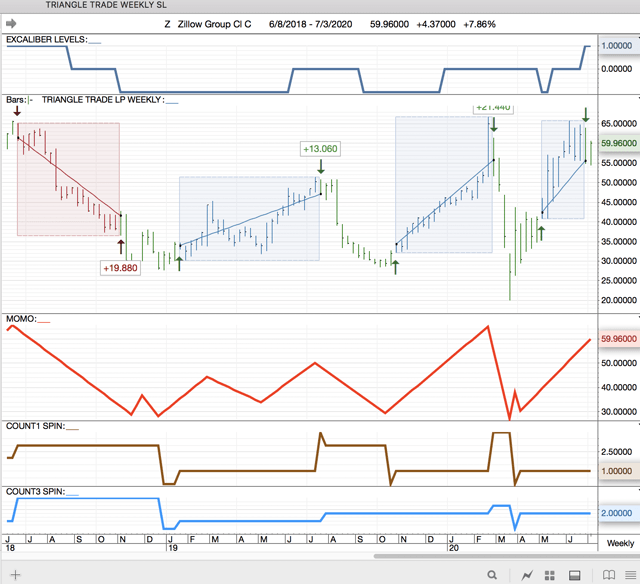 SHORT COVER.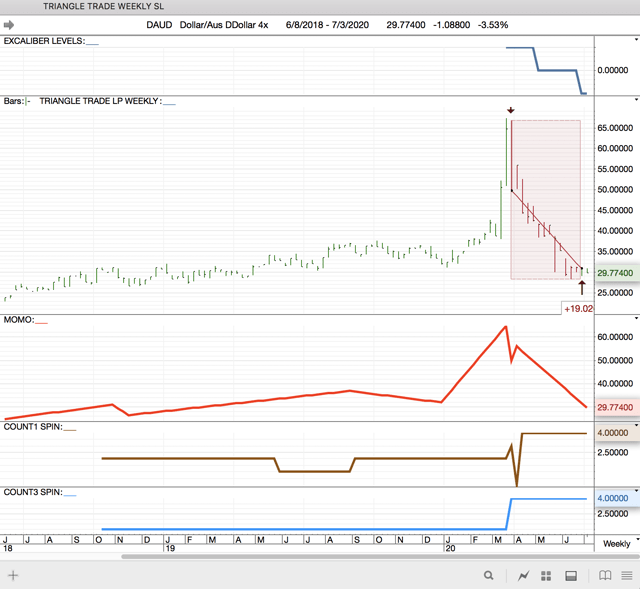 We had a bit of a surprise, after suggesting UGAZ was a TRADING BUY here -- VELOCITY SHARES is apparently jerking some of its 3x ETFS off the market -- including UGAZ and others we follow. As soon as last Friday.
| | | | |
| --- | --- | --- | --- |
| VelocitySharesTM 3x Long Gold ETNs linked to the S&P GSCI® Gold Index ER due October 14, 2031 | UGLD | The Nasdaq Stock Market | 22542D316 |
| VelocitySharesTM 3x Long Silver ETNs linked to the S&P GSCI® Silver Index ER due October 14, 2031 | USLV | The Nasdaq Stock Market | 22542D290 |
| VelocitySharesTM 3x Inverse Gold ETNs linked to the S&P GSCI® Gold Index ER due October 14, 2031 | DGLD | The Nasdaq Stock Market | 22542D670 |
| VelocitySharesTM 3x Inverse Silver ETNs linked to the S&P GSCI® Silver Index ER due October 14, 2031 | DSLV | The Nasdaq Stock Market | 22542D654 |
| VelocitySharesTM 3x Long Natural Gas ETNs linked to the S&P GSCI® Natural Gas Index ER due February 9, 2032 | UGAZ | NYSE Arca | 22539T183 |
| VelocitySharesTM 3x Inverse Natural Gas ETNs linked to the S&P GSCI® Natural Gas Index ER due February 9, 2032 | DGAZ | NYSE Arca | 22542D282 |
| VelocityShares™ Daily Inverse VIX Medium Term ETNs linked to the S&P 500 VIX Mid-Term Futures™ Index due December 4, 2030 | ZIV | The Nasdaq Stock Market | 22542D829 |
| VelocityShares™ VIX Short Term ETNs linked to the S&P 500 VIX Short-Term Futures™ Index due December 4, 2030 | VIIX | The Nasdaq Stock Market | 22542D266 |
| VelocityShares™ Daily 2x VIX Short Term ETNs linked to the S&P 500 VIX Short-Term Futures™ Index due December 4, 2030 | TVIX | The Nasdaq Stock Market | 22542D258 |
Our ULTIMA System has been getting the GOLD BUG FEVER lately. XAU today, along with GDX and GDS. If you are not familiar with GDS (no, it is not a gold mining company), here is a portrait.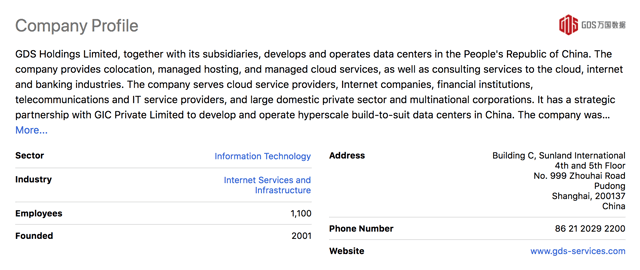 Do we suddenly like Chinese companies now? (Umm, sounds like a trick question.)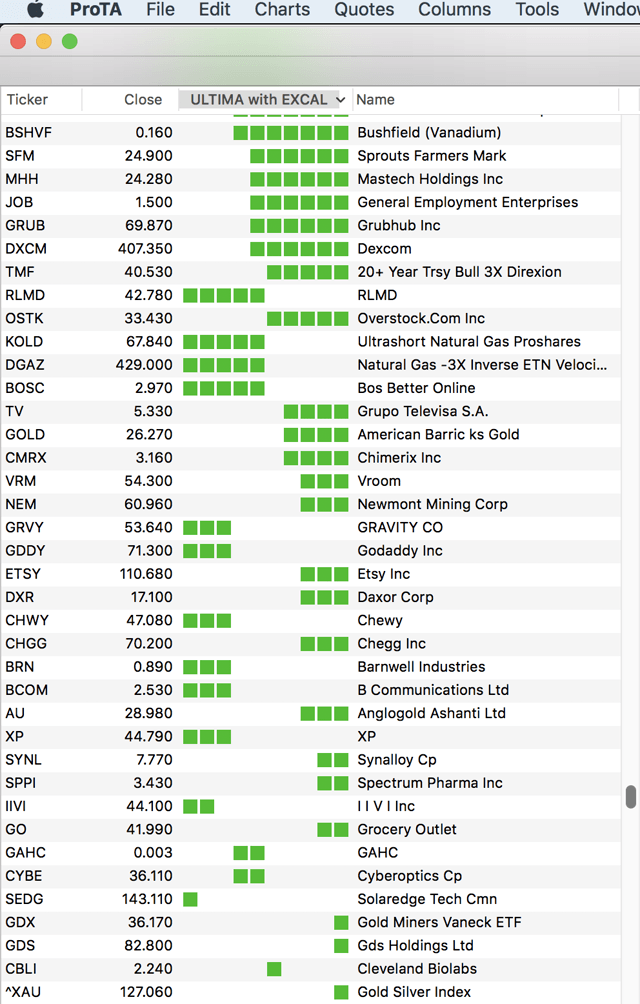 With some matching GOLD INVERSE ETF SHORT positions -- as well as a NEW SHORT position in WIRECARD. SHORTS in Aston Martin, Madison Square Garden (imagine the continuing COVID fallout hysteria here), and CHESAPEAKE ENERGY.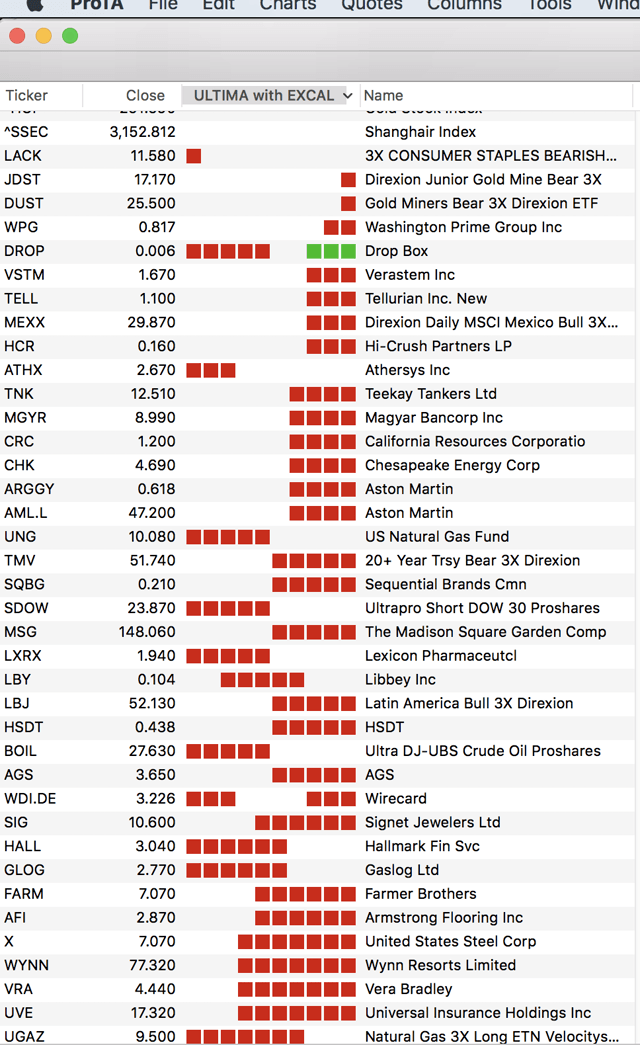 Happy Fourth of July. The "Critical" Principle is heading toward silence.
Peak of power 2019.
Silence: 2028.
MJC, CGTS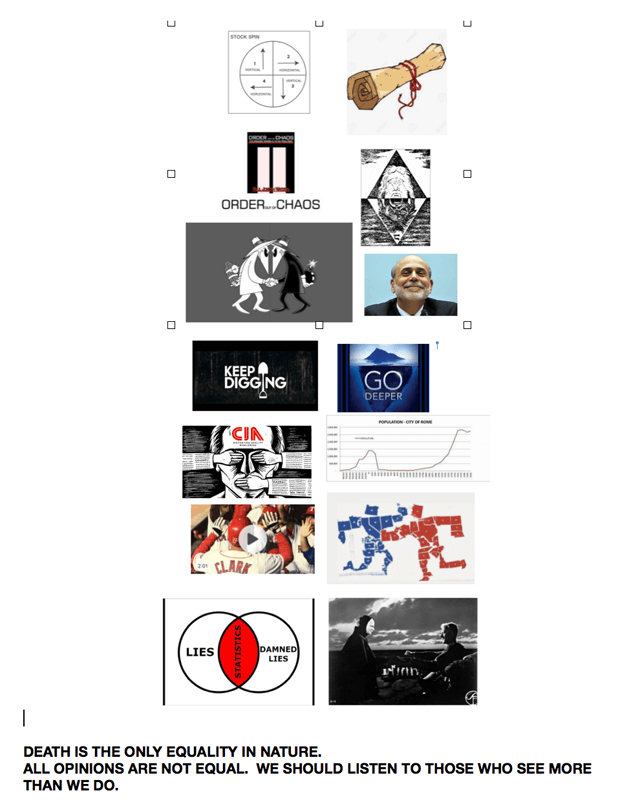 Disclosure: I am/we are long GBTC, WKHS, SOLO. I wrote this article myself, and it expresses my own opinions. I am not receiving compensation for it. I have no business relationship with any company whose stock is mentioned in this article.
Analyst's Disclosure: I am/we are long WKHS, GBTC, SOLO.
Seeking Alpha's Disclosure: Past performance is no guarantee of future results. No recommendation or advice is being given as to whether any investment is suitable for a particular investor. Any views or opinions expressed above may not reflect those of Seeking Alpha as a whole. Seeking Alpha is not a licensed securities dealer, broker or US investment adviser or investment bank. Our analysts are third party authors that include both professional investors and individual investors who may not be licensed or certified by any institute or regulatory body.