CGTS WEDNESDAY: BRACE YOURSELF, NEXT LEG OF BULL MARKET SAYS "BIG RALLY COMING"
Please Note: Blog posts are not selected, edited or screened by Seeking Alpha editors.
Long/Short Equity, Special Situations, Currencies
Seeking Alpha Analyst Since 2009
Michael J. Clark was born and raised in Sinclair, Wyoming. He is a poet, novelist, artist, historian, and market analyst. He began investing in 1985. He read ˜The Technical Analysis of Stock Trends" by Edwards and Magee and was hooked. From 1985-1987 he made astonishing gains in the stock market; and then stocks collapsed in 1987. Since then he has been attempting to 'solve the stock market', with many failures and some successes. The system he developed, called CGTS, Clark's Gate Timining System, is algorithm-based. What this fancy word means is that he proposes a series of necessary steps based on technical analysis propositions, which, when met, trigger trading signals. His four main trading systems are up a combined 31% for 2015. From his website: INVESTMENT PHILOSOPHY Now that QE is supposedly ending, markets are already becoming more tradable, with opportunities to make money on both long and short trades at the same time. QE tended to make all boats rise, except precious metals. This made it more difficult to play the short side of the markets. Now, both sides seem to be more accessible to successful trades. This will also be more of a challenge for investors. The FED will have to eventually abandon the markets to their own destinies, and stop spending trillions to protect investors AND corporations from their mistakes. As this begins to happen (I am not sure it has happened yet), informed advice will become even more necessary for investors. Rules of Investment Rule #1: Never go against the trend. The majority is often wrong; but the minority is often wrong also. The sticky issue with this advice is at transition points, at which a Bull Market turns into a Bear Market or vice-versa. Big Money often anticipates and/or causes this transition. So pay attention to what Big Money is really doing, not what they say they are doing. Rule #2: You don't need a broker who makes his living off of your money. Most brokerage firms buy a position in a stock quietly and slowly. When the stock has appreciated significantly they add the stock to their buy recommendations. Then they begin selling their position while they are encouraging their clients to buy the stock. Most firms never issue sell recommendations. If they do, beware: they are probably trying to buy your stock after a huge sell-off. Rule #3: Watch your own emotions because they are often signaling something. When fear turns to greed and visions of unlimited wealth, we are probably near a top in a trade and we should get ready to sell. When hope and denial turn to fear and visions of an unlimited loss, we are probably approaching a bottom in a trade. (See Rule #1 however.) Rule #4: Trade with a system to complement your gut reactions. Follow the system no matter what, even if it means taking a loss. Don't get lazy with your money and sink into denial. Use a system to help you refrain from 'playing a hunch'. Rule #5: HEDGE YOUR PORTFOLIO AGAINST LOSSES. How does one do this? By having a balanced portfolio of long and short positions. But have a system that signals both long and short positions, and keep your portfolio balanced around 50% long and 50% short. This may seem to contradict Rule #1. It does not. When something is in a long trend, something else is in a short trend. Find what is long and what is short. If stocks are long, gold or oil may be short. Use ETFs and options to help establish this portfolio balance. Our system gives trading signals every day for both long and short positions. More information on CGTS is available at: http://home.mindspring.com/~mclark7/CGTS142.htm His fine arts portfolio can be found at the following address: http://www.hoalantrangallery.com/MJC2.htm His writing portfolio can be found at: http://www.hoalantrangallery.com/MJCwriting.htm Those interested in his book "Turn Out the Lights", a description of the metaphysical causes of the 2008 financial meltdown, can access the draft at: http://www.hoalantrangallery.com/Turnoutlights.htm Michael Clark has retired after working 30 years in academia, relocated to Hanoi, Vietnam for six years, and has returned to America in 2014.
CGTS: THE NEW SCIENCE OF INVESTING

CGTS Algo Trading System

CGTS WEDNESDAY: BRACE YOURSELF, NEXT LEG OF BULL MARKET SAYS "BIG RALLY COMING"
Jul. 22, 2020 11:31 PM ET (ALGN), AXL, BGS, GPRO, LL, MED, TSLA, YY
Summary
SHOW-DOWN DAY FOR TSLA, RIGHT? TESLA SHOWED UP.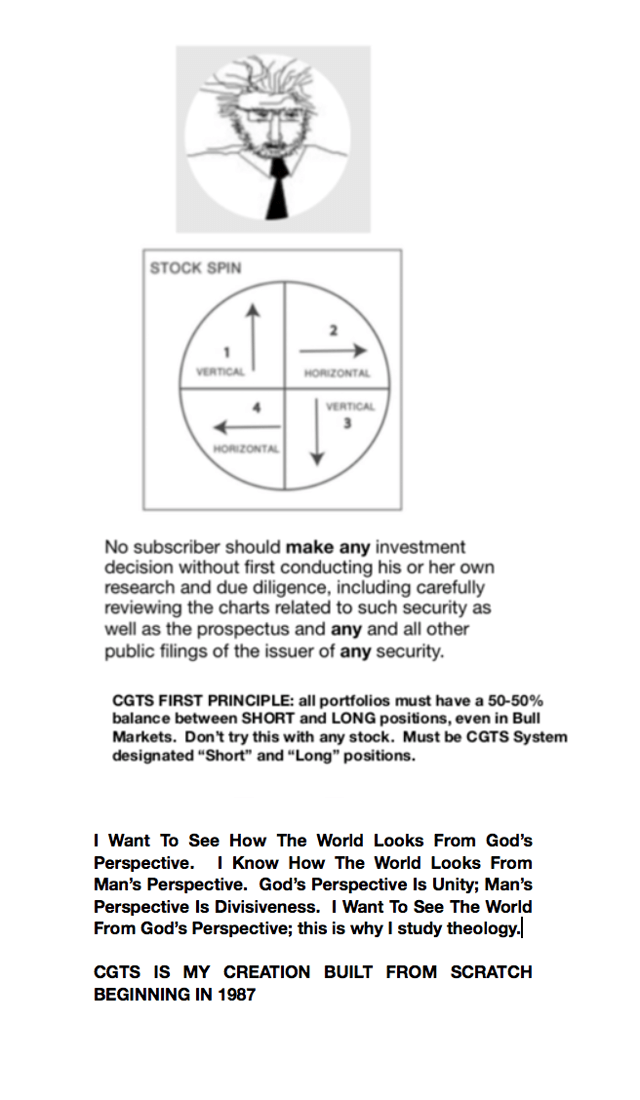 SHOW-DOWN DAY FOR TESLA? SHOW-UP DAY INSTEAD, I guess.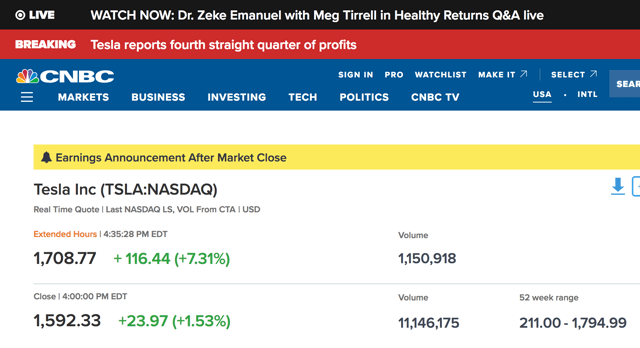 If you are a BEAR and you cannot believe in TSLA's collapse, what can you believe in?
Also, it looks like the downturn in stocks is OVER. Our C1=1/C1=2 CROSSOVER will give us a SELL SIGNAL when it GOES NEGATIVE. It got as low as +51 last week. Now it is back up to +500,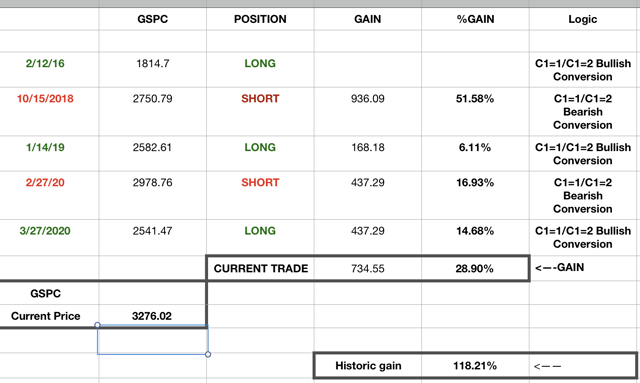 When this indicator went positive again on 3/27/2020, we went LONG the market. That trade is now up 28.9%. The historic gain since 2016 is up 118.21%.

Does this mean there will be a HUGE rally here? If you understand our COUNT systems, COUNT=1 means a stock is going up; COUNT=2 means a stock is going down or at the very least resting, the stock moving sideways.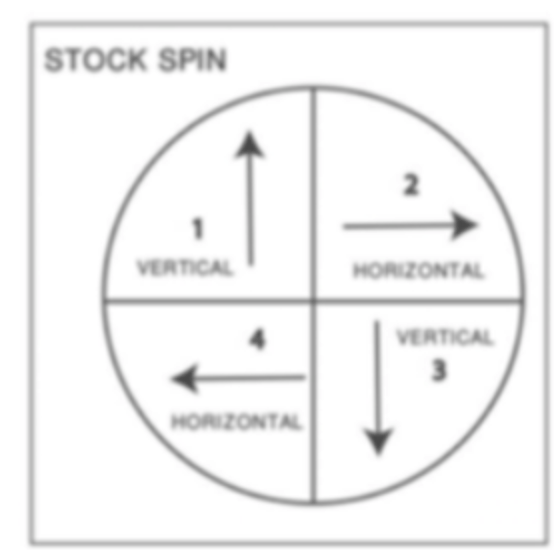 Here is a list of stocks that have transitioned from COUNT1=2 to COUNT1=1, BUY.
I'm sorry the report is not sorted in alpha order; the report shows CLOSE, TODAY's C1 reading; and LAST WEEK'S C1 reading.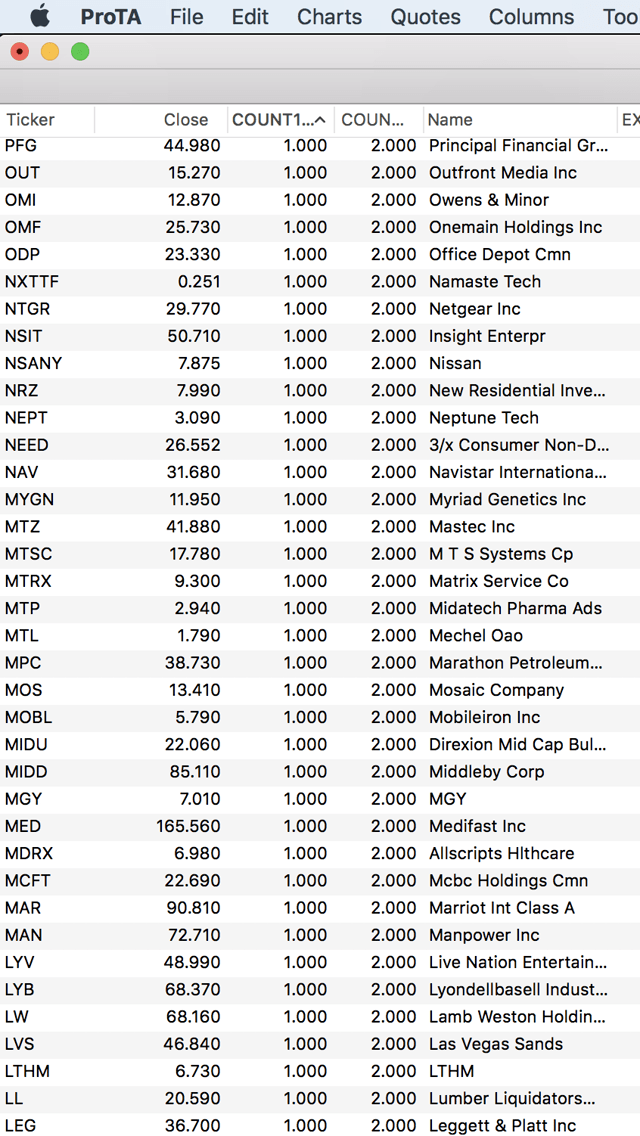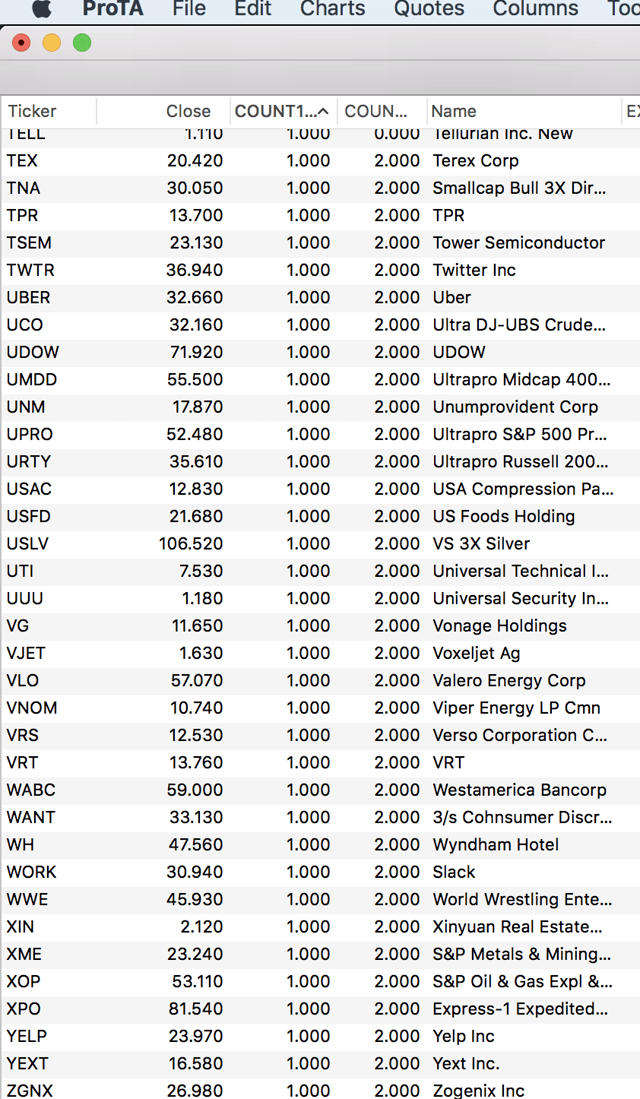 AM I saying the markets are going up from here with even more gusto? YES.
We are testing a NEW 3x trading System, EXCAL P2 -- here is today's signals:
I don't want to become COMPLACENT now that the BEAR's have been pushed back into the cave -- I am committed to keep a wary eye on the VIX BEAR PROTOTYPE on pretty much a daily basis.
In the weekly chart, 23.54 (as a low) becomes a pretty important number for BEARS, since it represents a LOWER LOW and confirmation of VIX Bearishness.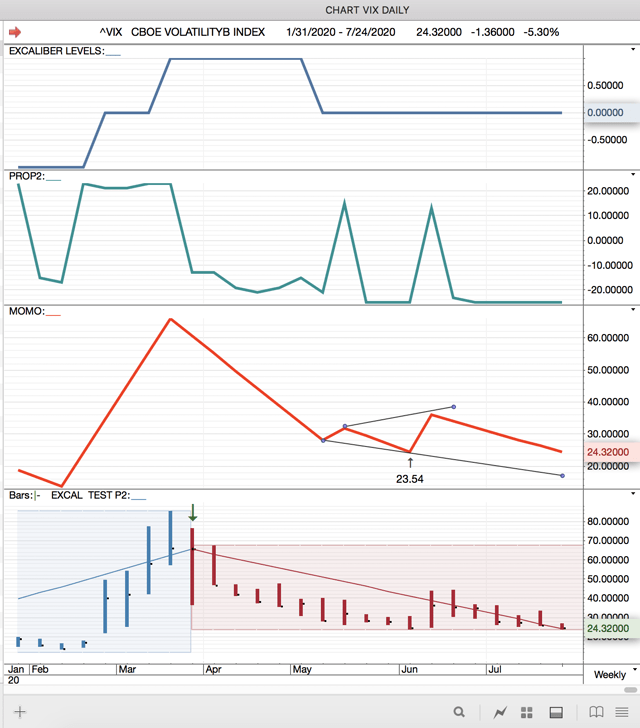 Ok, remember when I wrote that TBOND BUBBLE stories were worthless. We shorted TBT and suggested you all do this as well. TBT has gone down and the WEEKLY CHART is giving a new SHORTSELL SIGNAL for TBT. Bond yields are going even lower.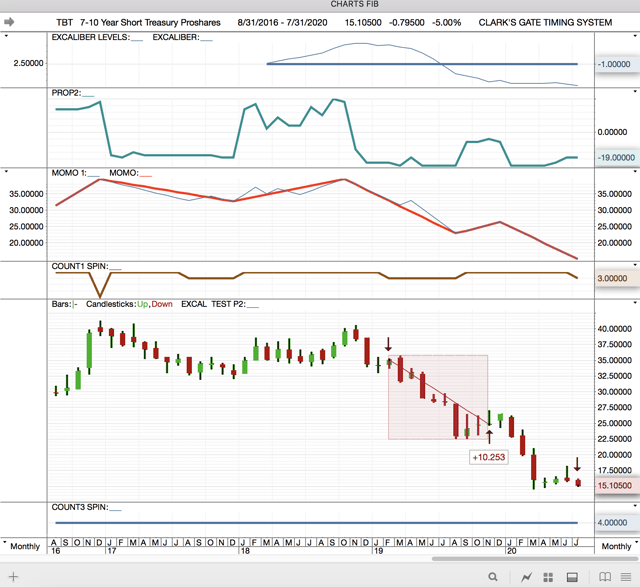 Look at the ULTIMA BULLISH NUMBERS, which record (the. number of) stocks that are are recording ULTIMA>0; those with ULTIMA<0 are considered BEARISH.
We have not been tallying these numbers for long. The column on our left is BULLISH; the second column is BEARISH; the third column is the difference between the BULLS and BEARS in terms of this indicator; and the fourth colum is a percentage of BULLS vs BEARS.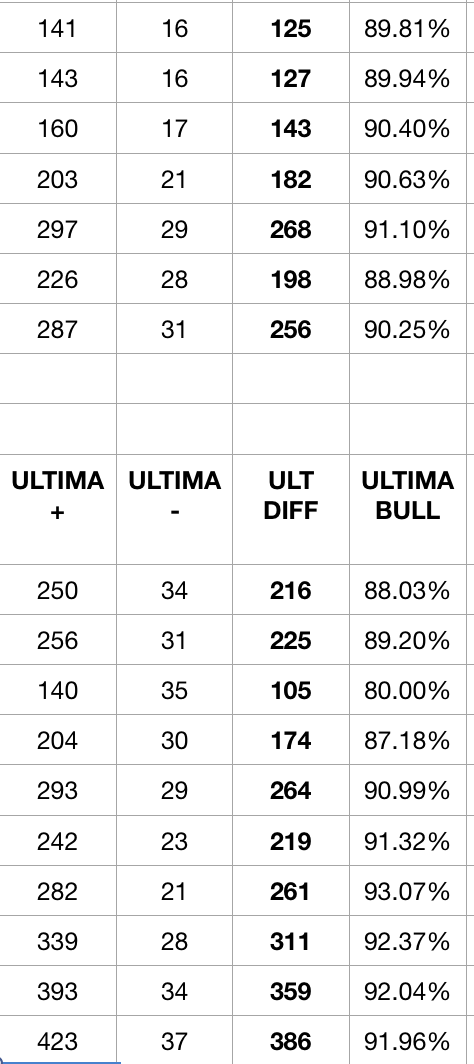 It has been a steady march higher.
NEW TRADING RECOMMENDATIONS
ULTIMA-EXACAL System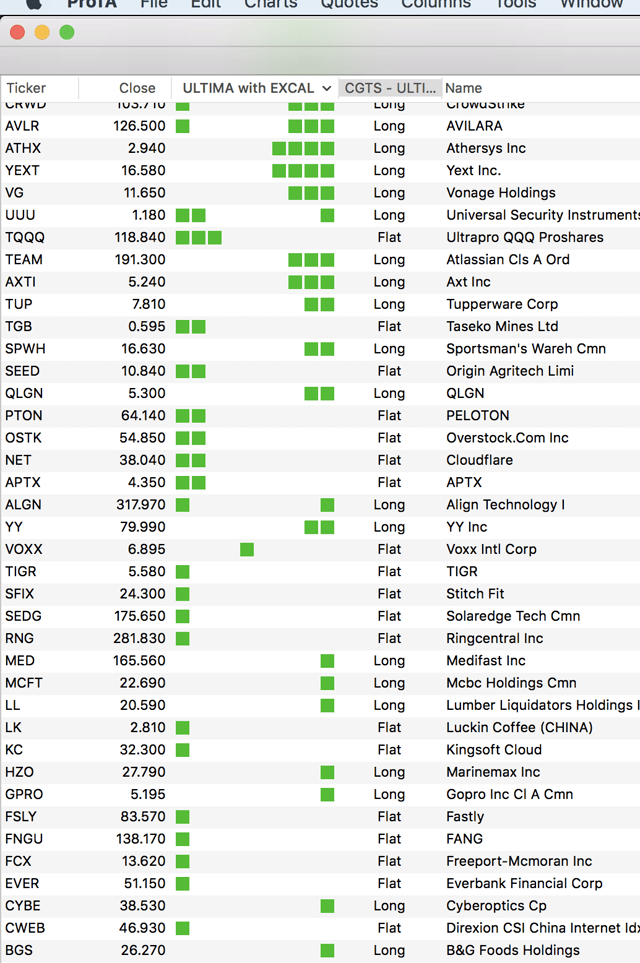 B&G FOODS, which we like as a WEEKLY TRADE.
Yo9u will note that this system is quick to get back on the horse after a TRADING SELL signal.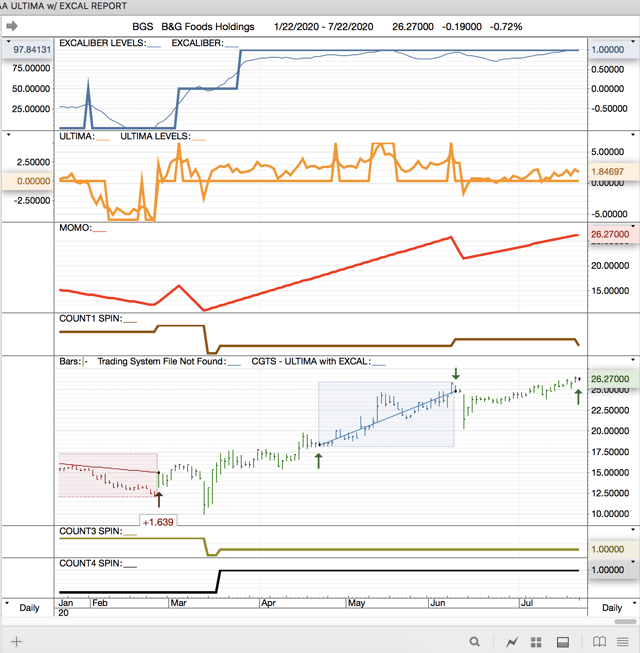 This system does not require EXCAL to return to oversold (less than zero) in order to generate a new BUY, unlike our TRIANGLE TRADE.
The next chart will show a basic flaw with this getting back on the horse idea. See the aborted trade in JUNE when C1=1 lasted just a few days and convert4ed to C1=2 and EXCAL (still) = +1, a SELL SIGNAL. How do we solve that problem? There is no way, unless we want to force the EXCAL transition all the way back to LESS THAN ZERO.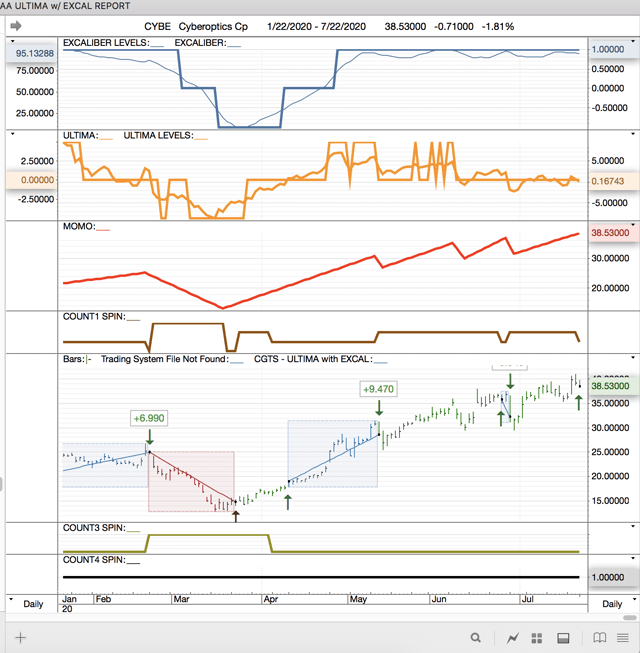 We have tested these alternatives, the once forcing EXCAL to return to OVERSOLD (which we call ALT, ALTERNATIVE) in the test:

Both are quite accurate; one has 11 trades vs 39. One makes 717 points in trading vs. 208. So our choice is rather easy.
UUU, UNIVERSAL SECURITY INSTRUMENTS. MOMO is still breaking higher.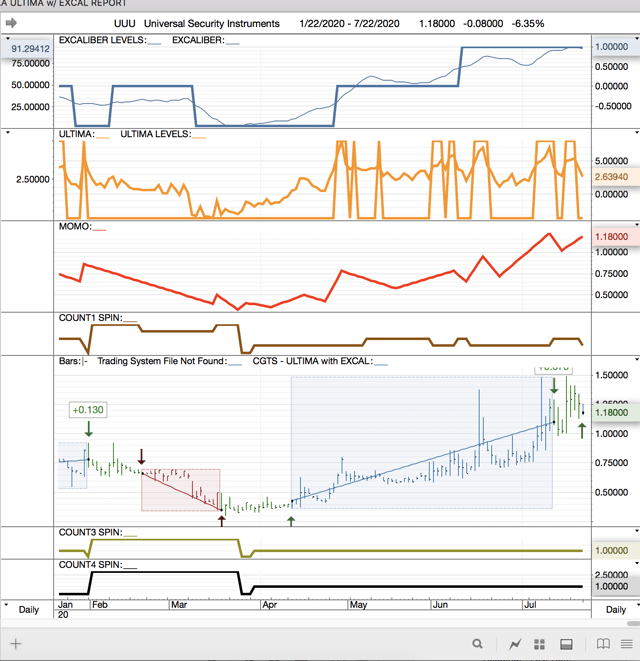 INOD, INNOData. BUY.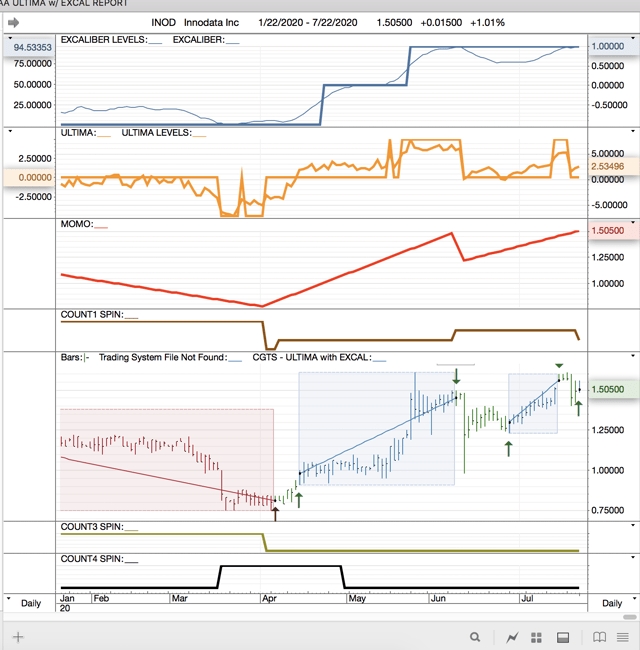 The best chart of our new LONG signals, probably HZO.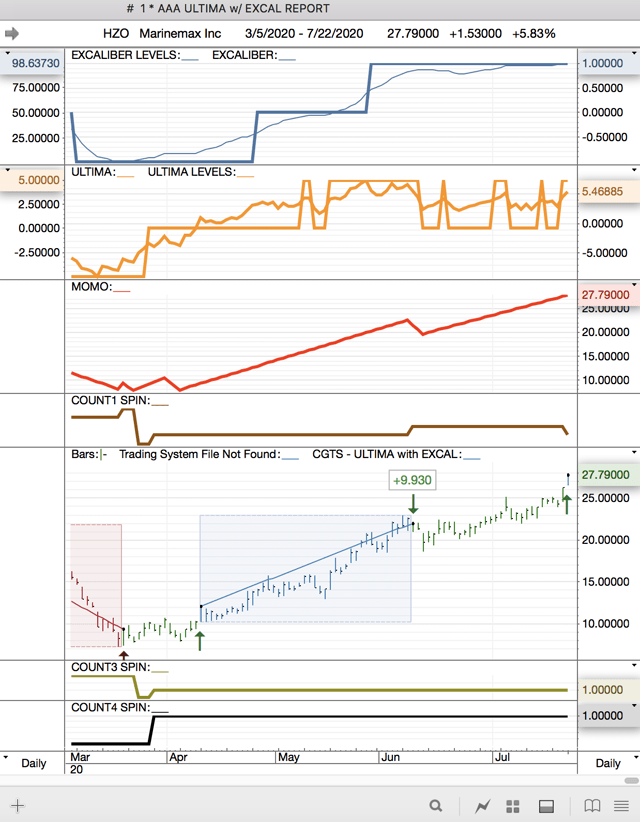 Unless you look at ALGN, ALLIGN TECH.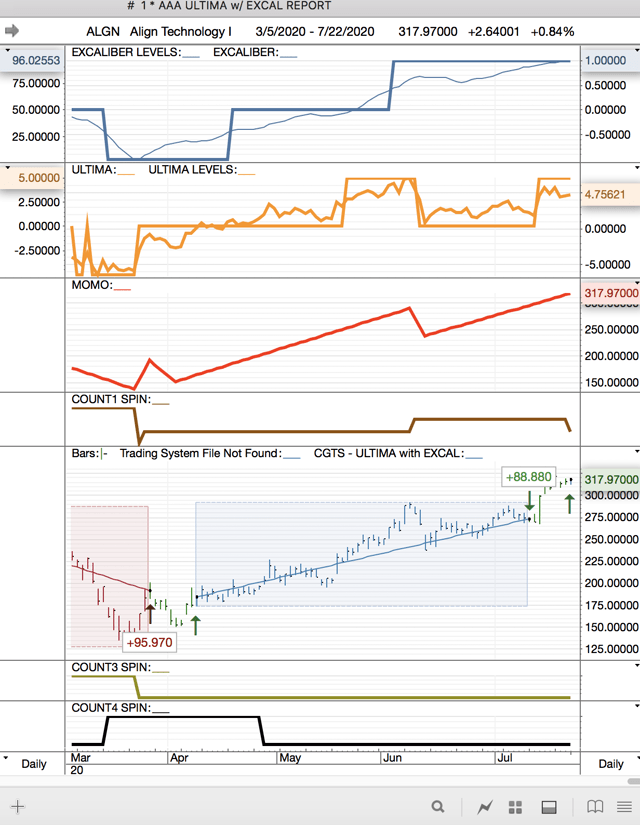 All of these stocks are on our BUY SHEET BECAUSE Count1 has returned to the BUY MODE.
The best chart, unless you consider LL, LUMBER LIQUIDATORS,.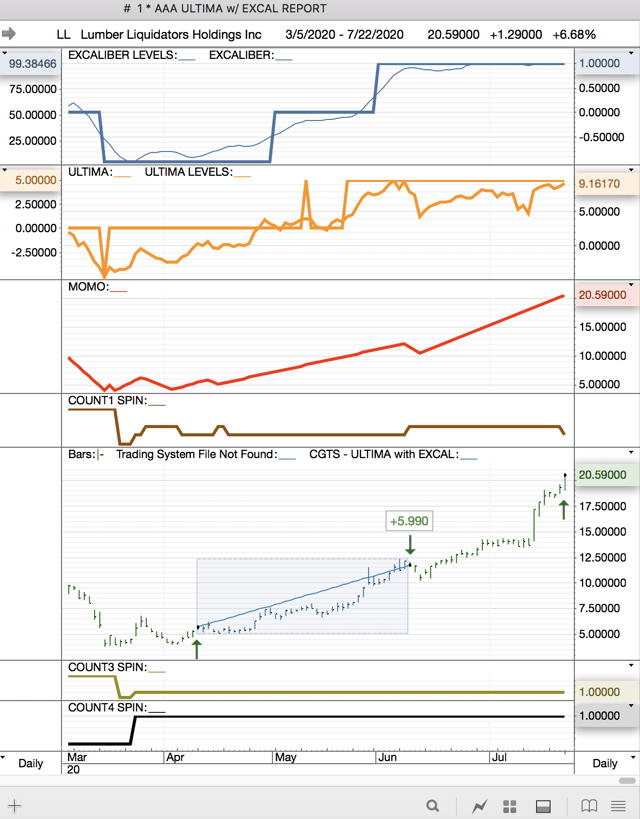 UNLESS you also consider MED, MEDFAST.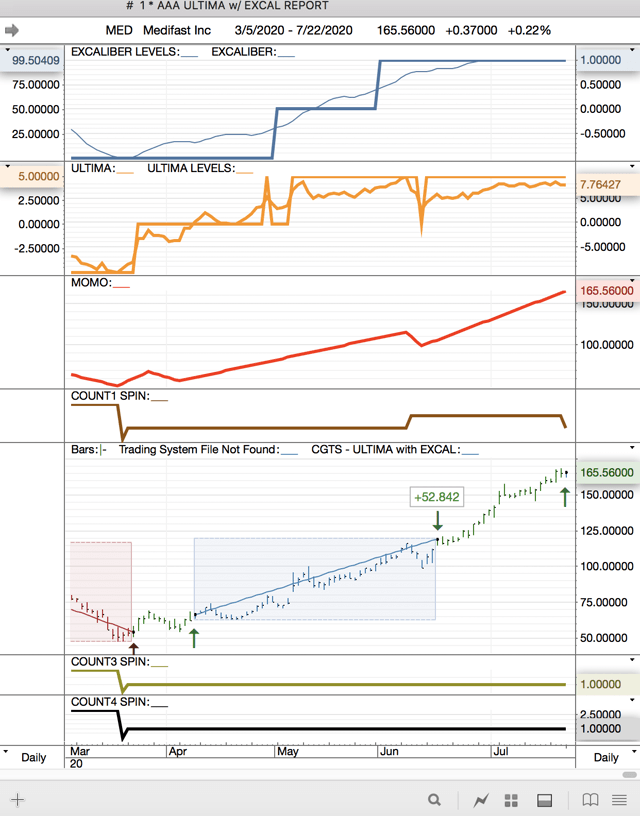 Please also consider GPRO, GO PRO.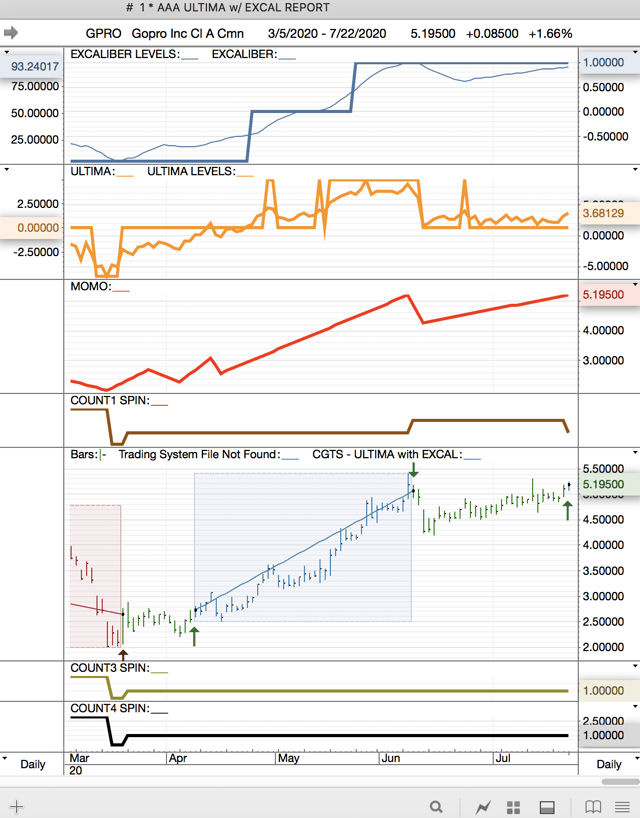 Ok; you get the point.
We had some new BUYS also click up on the radar in our TRIANGLE TRADE LP System --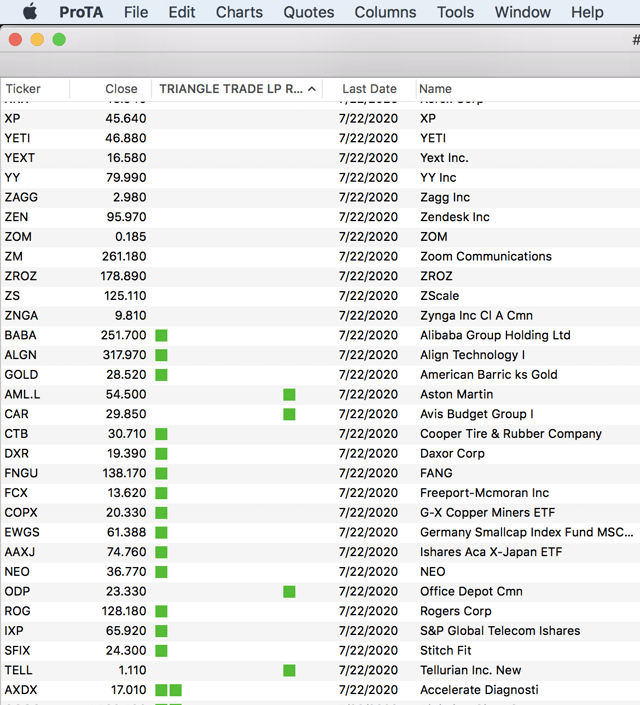 Headline News: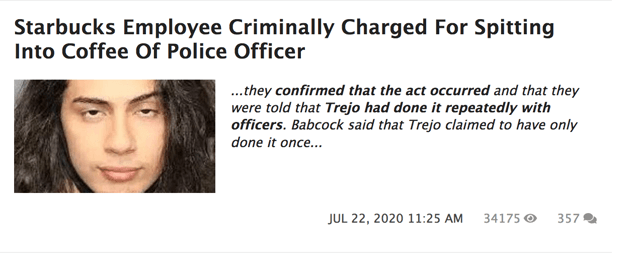 And I say stocks are going up. Whom do you believe? I am not just "selling" my perspective on stocks, but on history and metaphysics also. Are you buying?
DON'T DESPAIR. AMERICA IS STRONG.

Patience. The SHADOW gained strength from 2001-2019. Now the SHADOW will begin losing strength from 2019-2037.

2001- SHADOW ATTACKS NY CITY. Shadow is Islam. 2019: shadow begins to evaporate.

1965: SHADOW brings Communism to most of Asia and some parts in the West. Shadow was Communism. 1983: Shadow begins to evaporate

1929: WALL STREET CRASH. Eastern Fascism on the rise. 1947: Eastern Fascism defeated, evaporating....

When it is Day in the East it is Night in the West. When it is Day in the West, it is Night in the East.

No panic (or despair) required. The Sun eclipses the Moon, Wisdom eclipses Despair. God is on the side of evolution on Earth. Two steps forward; one step back.
MJC, CGTS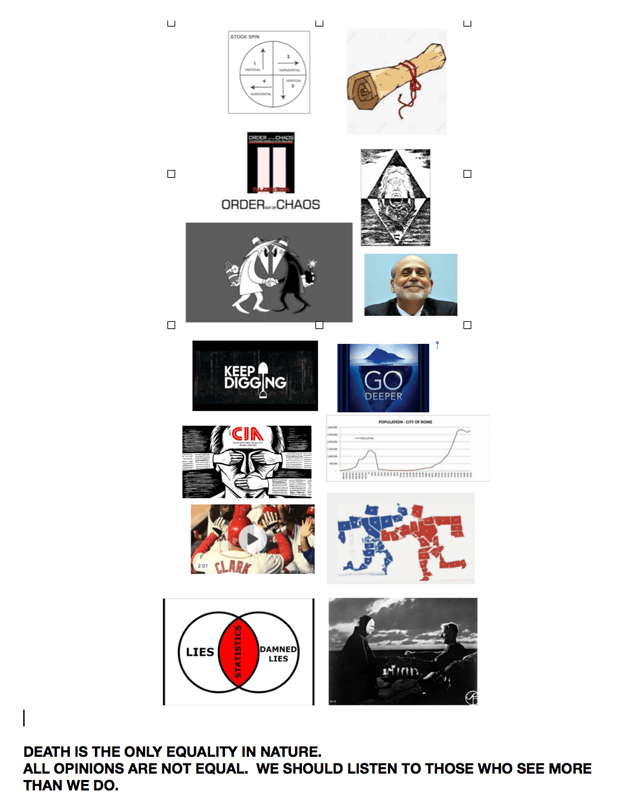 Disclosure: I am/we are long GBTC, SOLO, WKHS.
I wrote this article myself, and it expresses my own opinions. I am not receiving compensation for it. I have no business relationship with any company whose stock is mentioned in this article.
Seeking Alpha's Disclosure: Past performance is no guarantee of future results. No recommendation or advice is being given as to whether any investment is suitable for a particular investor. Any views or opinions expressed above may not reflect those of Seeking Alpha as a whole. Seeking Alpha is not a licensed securities dealer, broker or US investment adviser or investment bank. Our analysts are third party authors that include both professional investors and individual investors who may not be licensed or certified by any institute or regulatory body.