CGTS FRIDAY: VIX RISES FROM THE DEAD. DOES THIS MEAN SELL?
Please Note: Blog posts are not selected, edited or screened by Seeking Alpha editors.
Summary
Once weekly full CGTS REPORT FOR ALL.
CGTS Algo Trading System

CGTS FRIDAY: IS THIS A CRASH OR JUST MORE HYSTERIA FROM THE DISCONTENTS AND DRAMA QUEENS?
Sep. 05, 2020 3:56 AM ET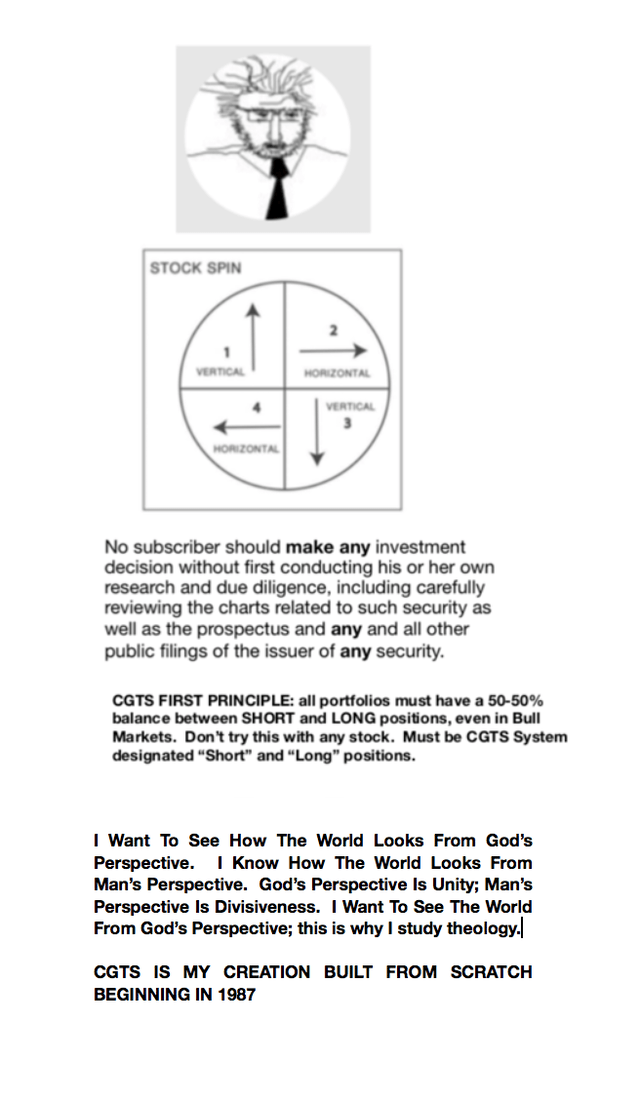 The TUG OF WAR continues.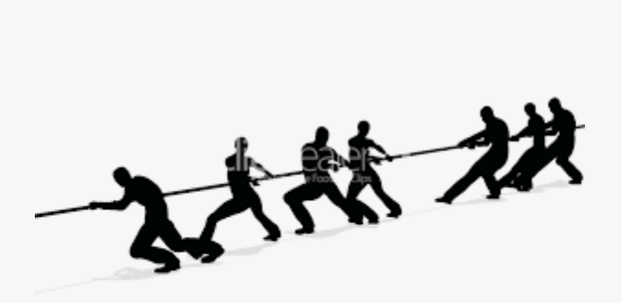 TODAY was actually a very positive day. We opened with the requisite follow-through selling. But the selling seemed to dry up. By the end of the day, stocks were almost positive; and might have ended greed except for some last minute selling.

Notice some strength in the EV stocks.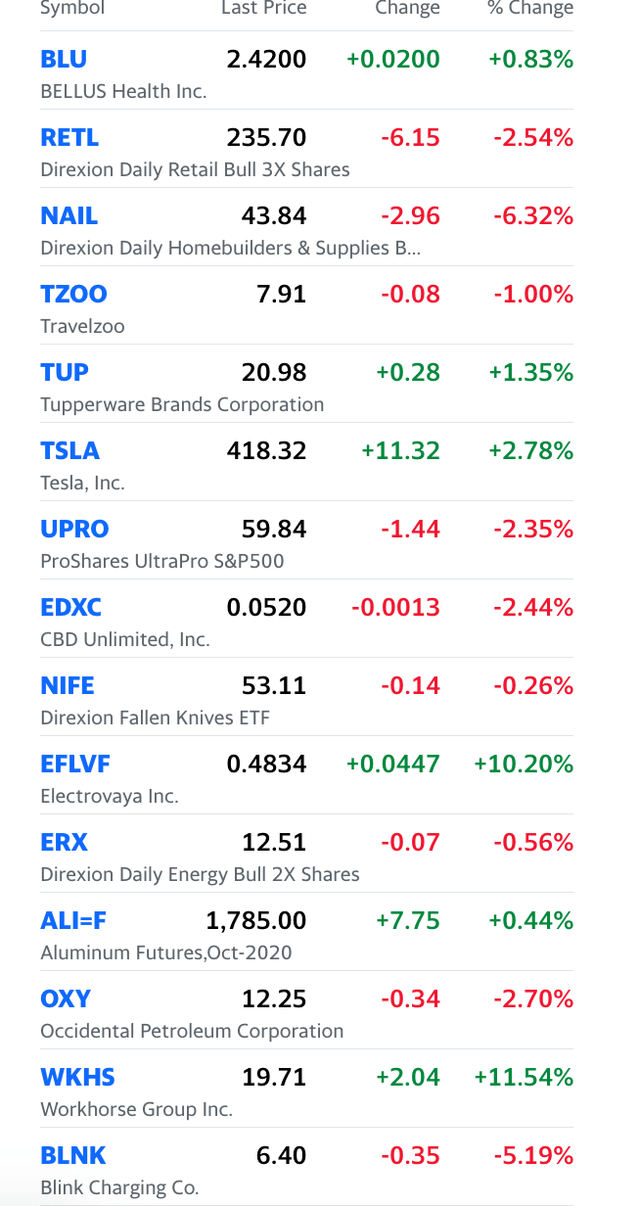 HYSTERIA has been rampant for several years now, as I said it would be.
HYSTERIA marks the culmination of the Night-Cycle. Metaphorically, the FEMALE PRINCIPLE is pregnant and trying to give birth to a New World. Throes and pangs of childbirth. THIS IS WHAT WE ARE EXPERIENCING IN A METAPHORICAL SENSE. Symbolically, the child (SON) is the New World. Hysteria is part and parcel of the death of the OLD and the beginning of the NEW.
This is no small thing. Feminists look down on motherhood and choose that mimicking men is more important, competing with man. It is interesting that in the Book of Revelations, the Virgin Mother, who is pregnant with the New World, is protected by the angel and harassed by the Devil -- while the Scarlet Woman, the Harlot, the Liberated Woman, Lilith remains the consort of the Devil, the BEAST, in the world below.
The Female Principle is reborn at the end of the world also, as the Virgin Mother, a conversion from the Whore of Babylon, the Night-Cycle Liberated Woman. Lilith.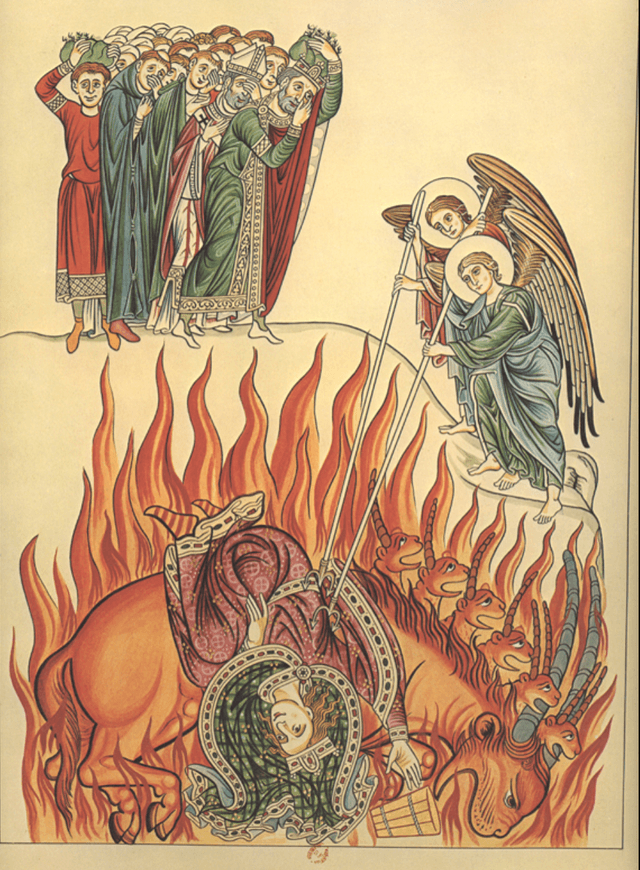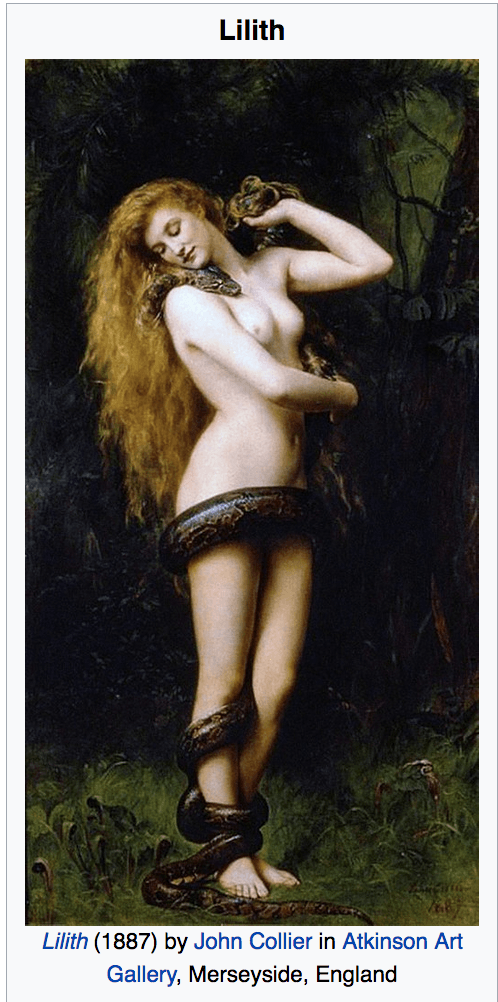 I don't want to get going so that I lose my focus. SELLING in the markets. Yes, the VIX IS BACK. C1=1, BUY; C3=1, BUY. What does it mean longer-term?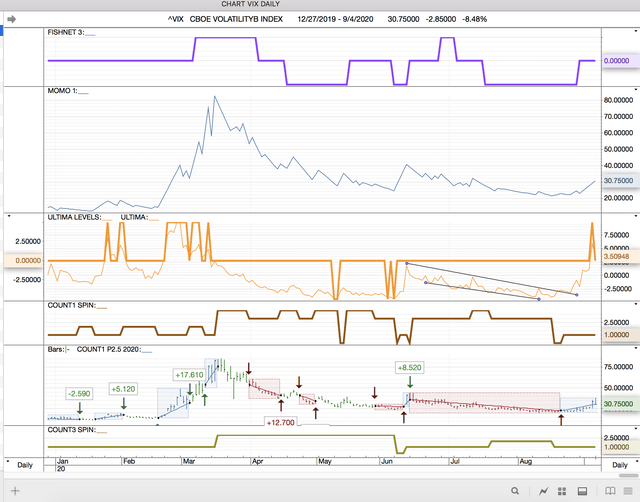 The VIX is back; BUT the NDX looks positive. MOMO1 in the top pane is still BULLISH. THIS IS A TUG OF WAR, I guess. Between BUYERS and SELLERS.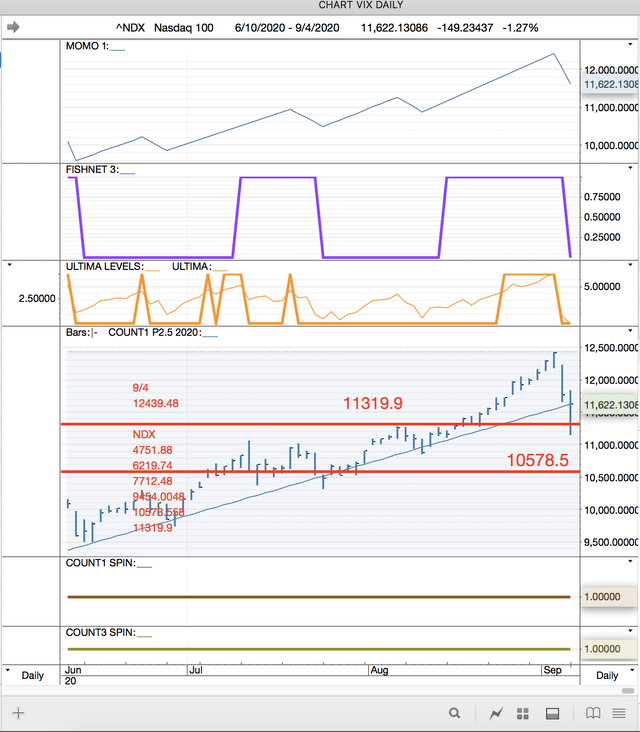 We did close our short-term LONG CALL position in NAILS. C1=1 became C1=2,; so we sold. CANCEL CULTURE.
Short-term RETL call options are still holding tough.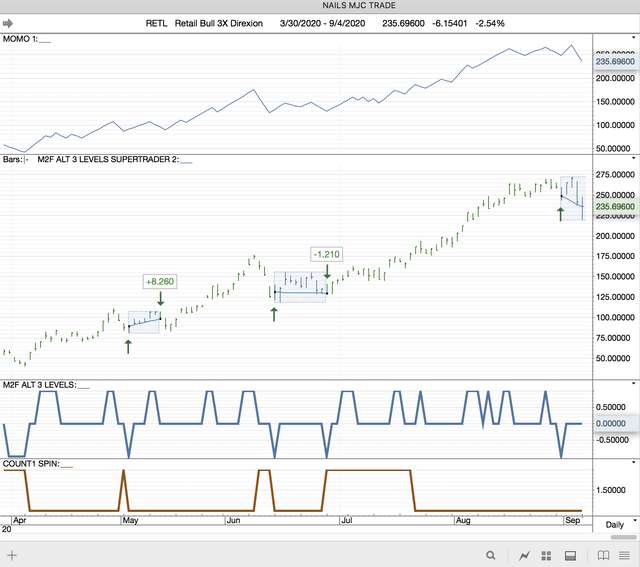 We are tempted to remove our CAUTION TRAFFIC SIGN. But we won't. VIX is bullish; this generates the CAUTION SIGN.

HYSTERIA?

I guess 'tumbles' is better than 'crashes'. Stocks do go down. Does this look like a stock in crisis? (I need to update my SUPPORT LINES after the split anyway.) The real question for me is "Will 430 be as low as it goes?" See how the magnetic power of a support zone is significant and tends to exert an attractive power, like a magnet -- until it does not when the attraction breaks.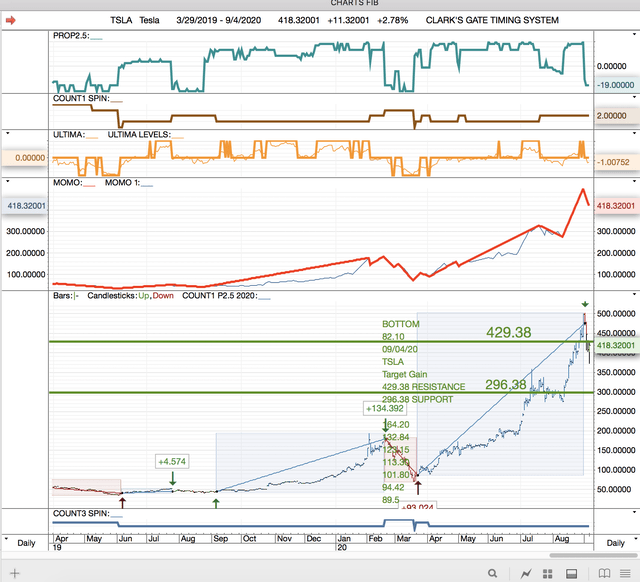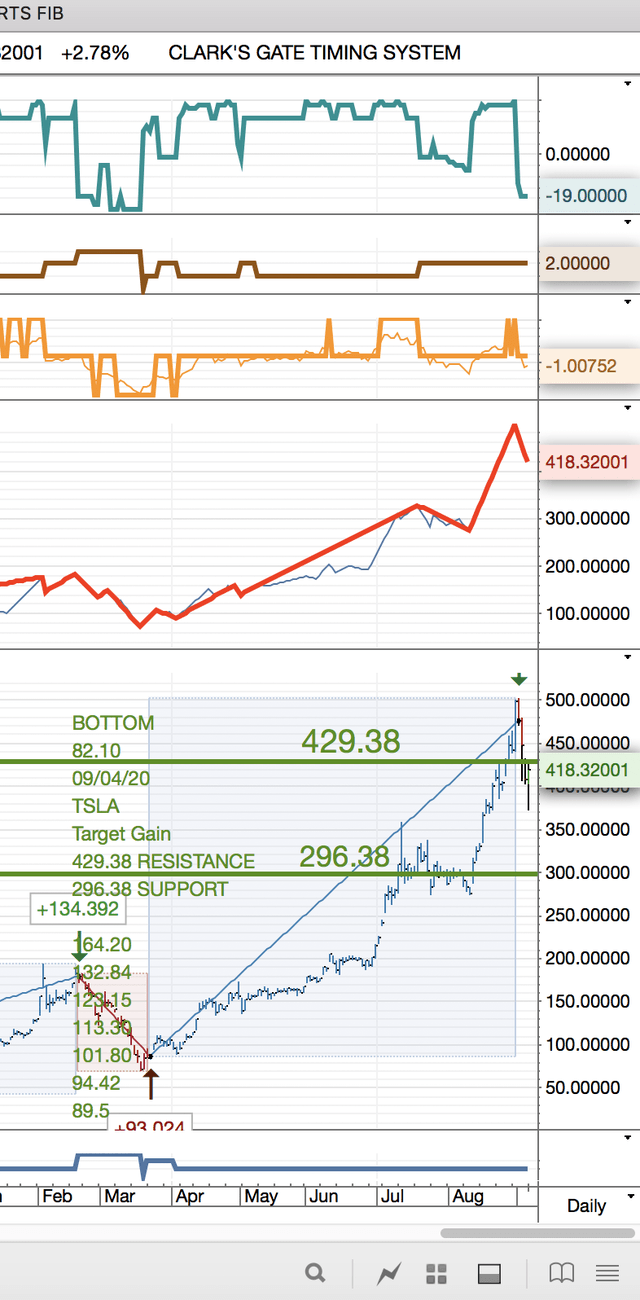 AAPL also needs to be updated after its split. MOMO1 (BLUE) has dipped down; but remains in a positive trend. SUPPORT? 113.3, LONG SUPPORT. What about SHORT SUPPORT? Look below, and look for RED.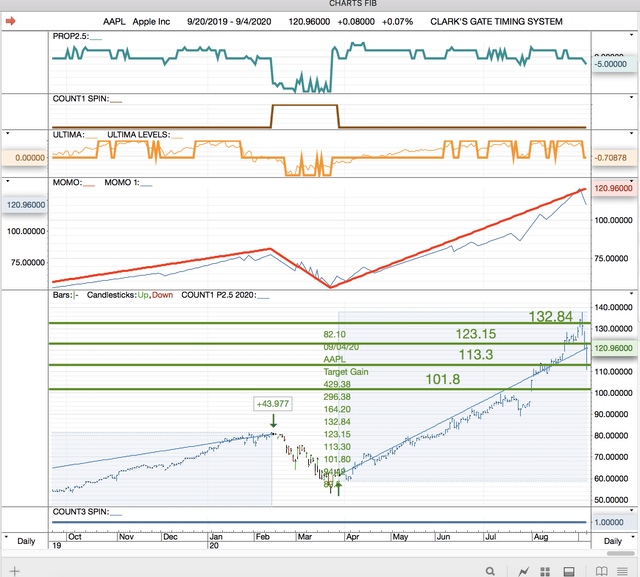 What is the difference between LONG SUPPORT and SHORT SUPPORT? Those are my terms. Simply, LONG SUPPORT is FIBONACCI sequencing from the bottom up; SHORT SUPPORT is FIBONACCI sequence from the top down. We will write about this more later.
SO, yes, we are still SINGLE CAUTION. In our parlance, a CAUTION does not necessarily means a STOP follows. A SELL.

Let's get to the diagnostics. Our MOST sensitive indicator is MOMO1. MOMO1 BULLISH - MOMOM1 BEARISH is now negative, below the 50% threshold, 36.75% It is no guarantee that others indicators will follow this. PROP2 is very sensitive also, but it remains bullish at 65.73%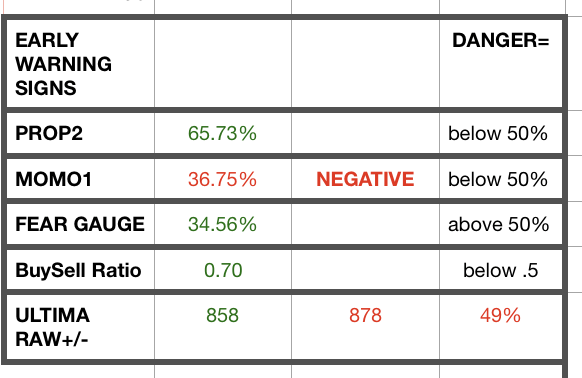 FEAR GAUGE is good, 34.56%. The FEAR GAUGE is volatile. See how the CGTS FEAR GAUGE went from the high 30's to 57.10 two days after stocks topped back on 2/20/20.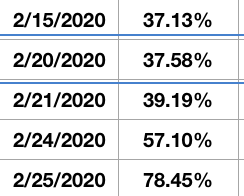 Our ULTIMA indicator seems to be very sensitive also. ULTIMA RAW measure ULTIMA above zero vs ULTIMA below zero. It has also reversed from BULLISH to BEARISH.

ULTIMA LEVELS does not work with the RAW ULTIMA indicator but with a derivative version of ULTIMA that works with ULTIMA LEVELS instead. This concerns us a bit because this indicator has been very strong for some time.
EXCALIBER is less volatile. Slower moving.
We have jumped from 74 ULTIMA LEVEL BEAR readings 10 days ago to 191 today. This indicator is on the verge of a CROSSOVER -- +9 -- we have not studied this indicator long enough to know if this is significant. The GOOD NEWS is that these indicators are sensitive to selling.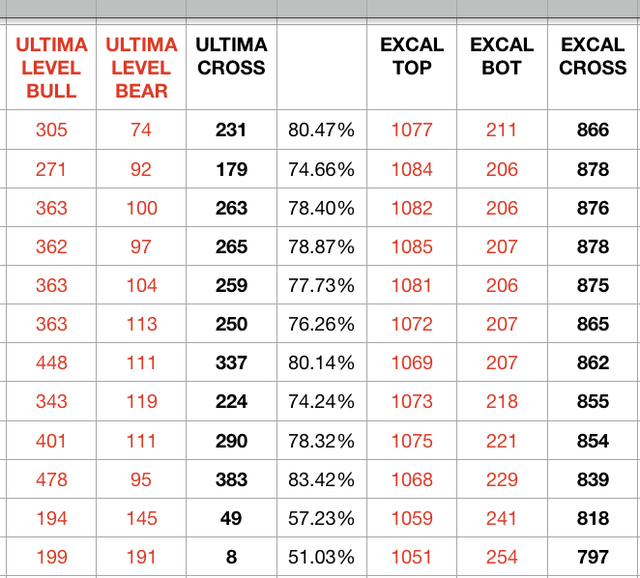 Our main CROSSOVER systems are intact. We realize, of course, that these are structures that resist SELLING until they break, and can't resist any longer. So far they are holding up nicely.
MOMODIFF is our regular MOMO indicator, today's reading vs yesterday's. This is less volatile than MOMO1. At the moment 82% of our system is C1 Bullish. C3 is 86% Bullish.
Still Bullish, +607.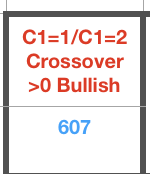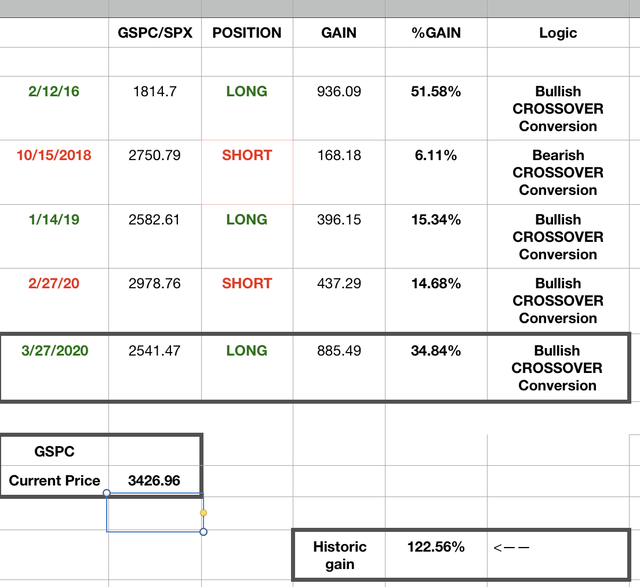 Deterioration in COUNT1 READINGS? Some. C1=3, SHORTSELL has grown from 175 to 195. C1=1 has lost some ground, 1011 from 1046; but most of these have moved to C1=2 instead of C1=3, which is a good sign. TRADING SELLS and not BEARISH CHANGES OF STATE.

RAW DATA, CGTS DIAGNOSTICS.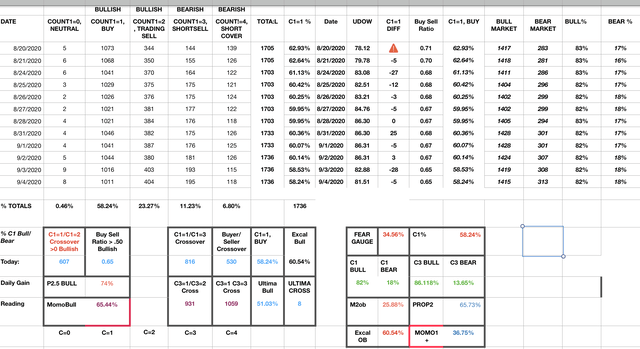 A CAUTION is clear not a STOP light.
RETURNS
Paper losses but not many turnovers in our portfolios.

2020_PORT_TRIANGLE_TRADE_PLUS_PORT_9420.xlsx
2020_PORT_TRIANGLE_TRADE_PLUS_WEEKLY_9420.xlsx
TRIANGLE_TRADE_PLUS_MONTHLY_9420.xlsx
DAILY TRIANGLE report, SHORTS first.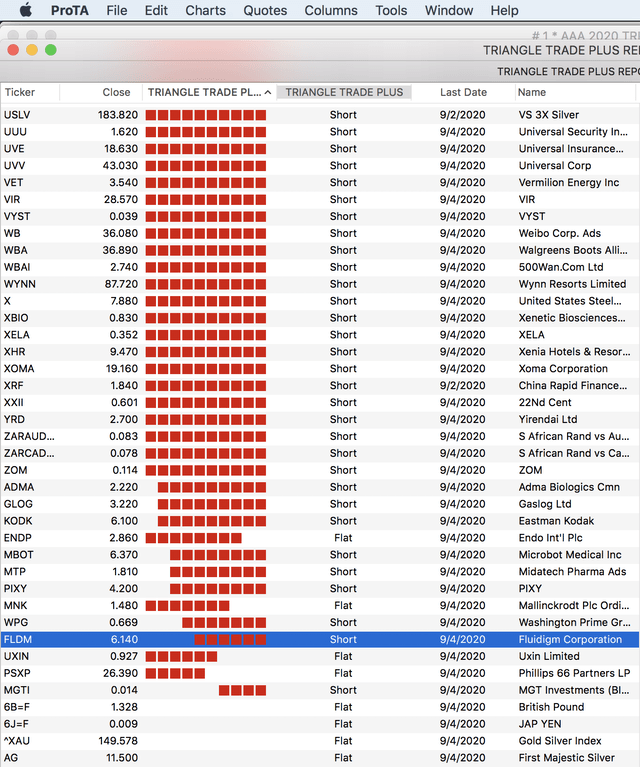 FLUIDGIM? This is one of those stocks that jumped from the BULLISH to the BEARISH ORBIT.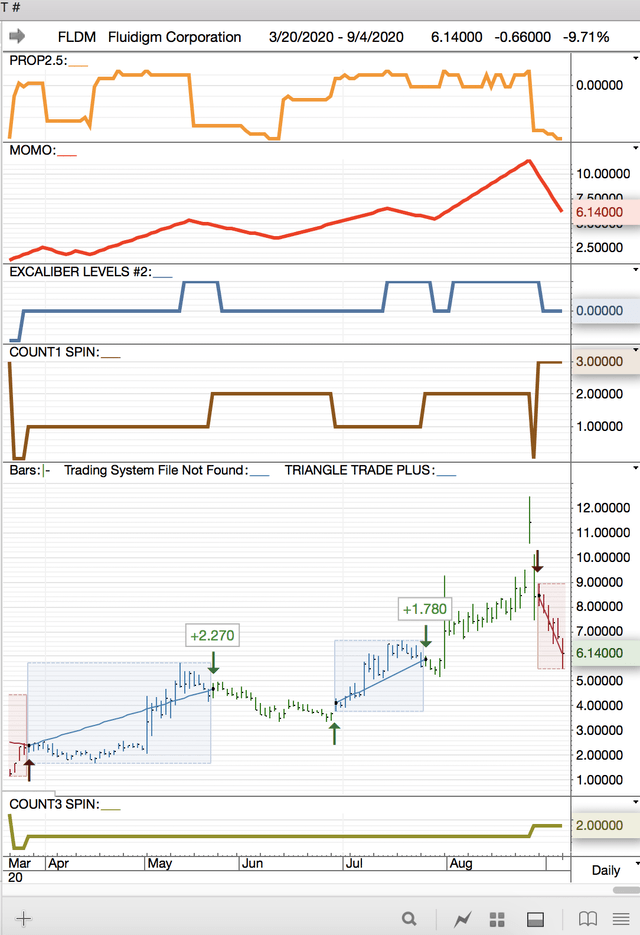 MBOT is another,.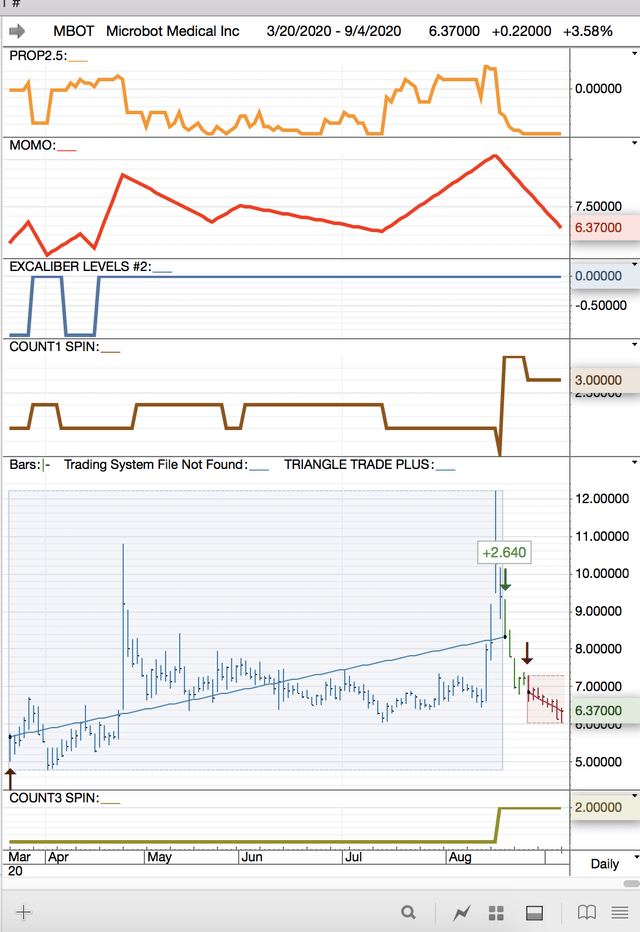 LONG TRADES?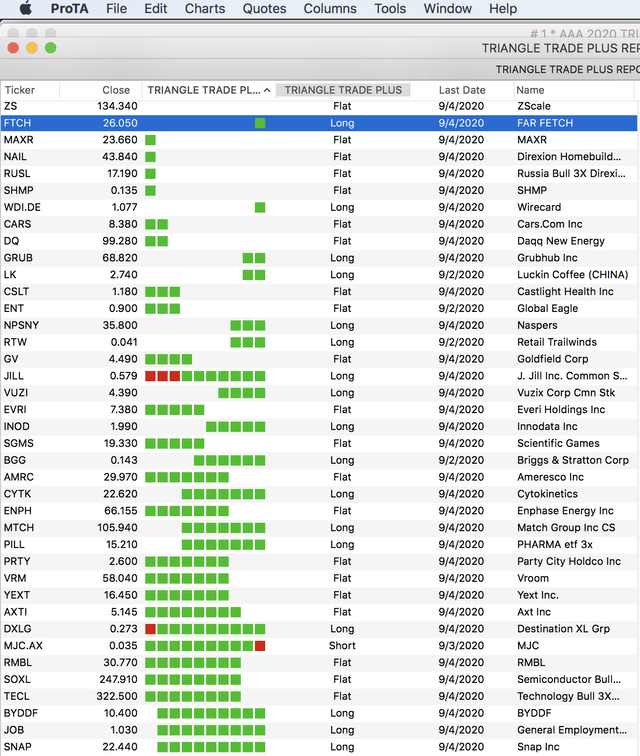 We have some TRADING SELLS from this list.
RMBL is a big winner, up 679% in 58 WEEKS.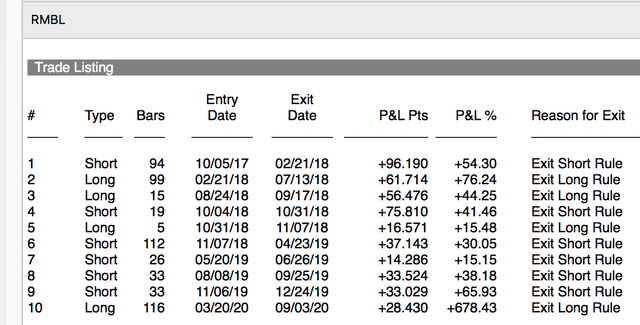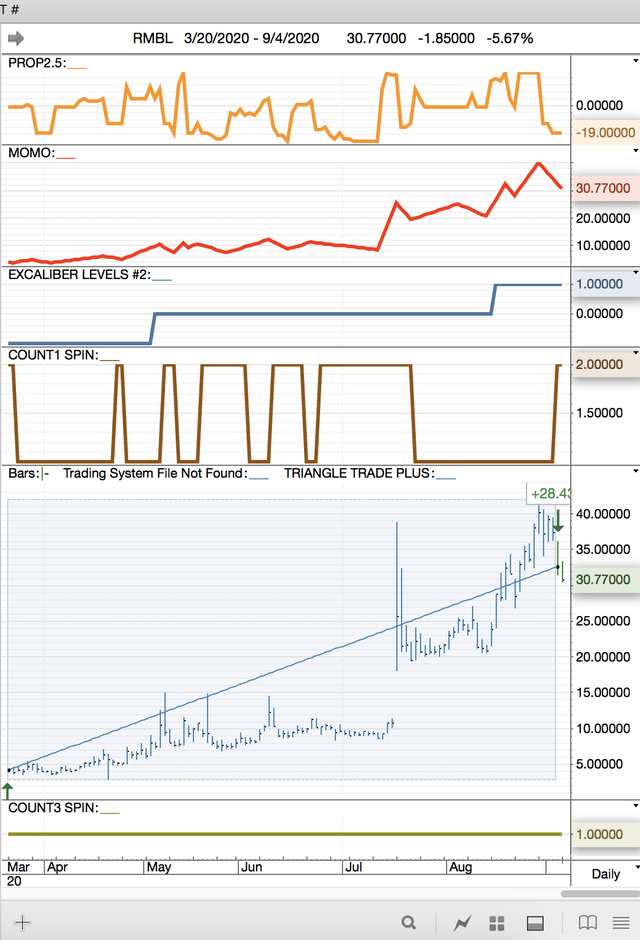 ALso note that two premium 3x ETFS in technology stocks also gave TRADING SELL signals.
SOXL, a 172% gain.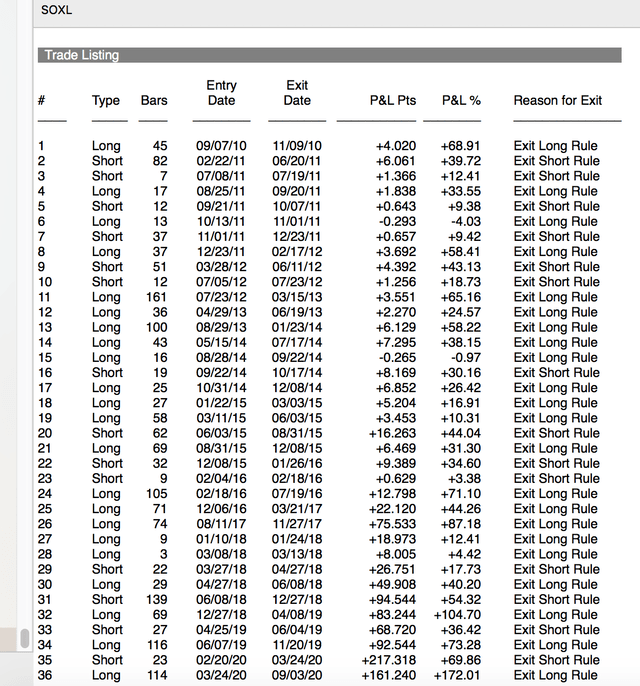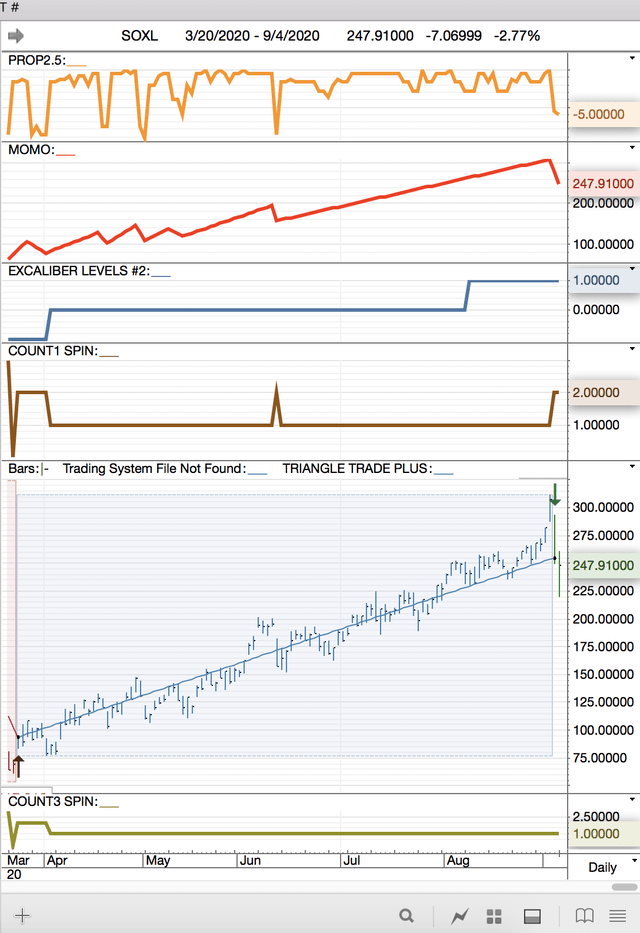 And TECL, a gain of 216%.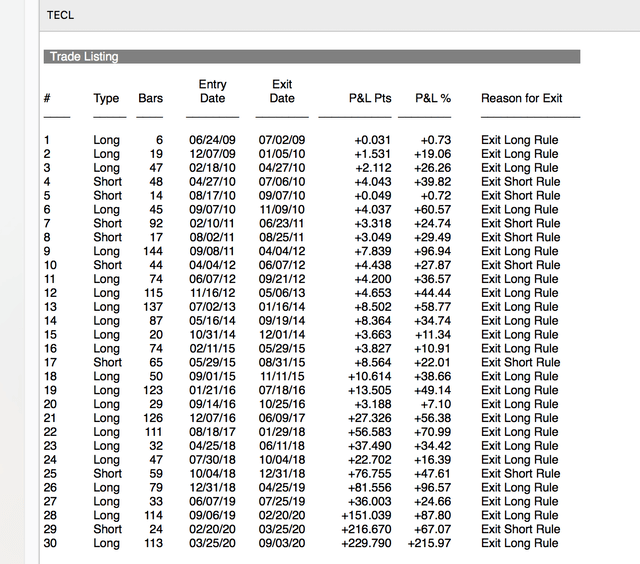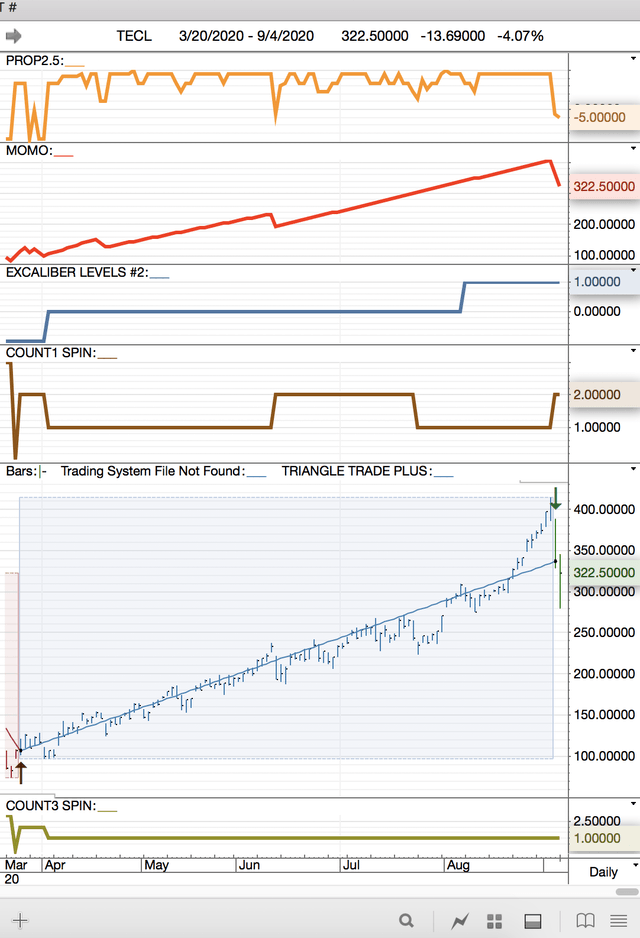 PRTY, a 105% gain.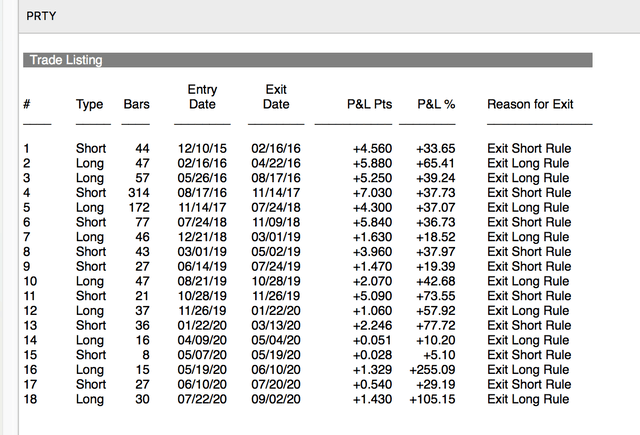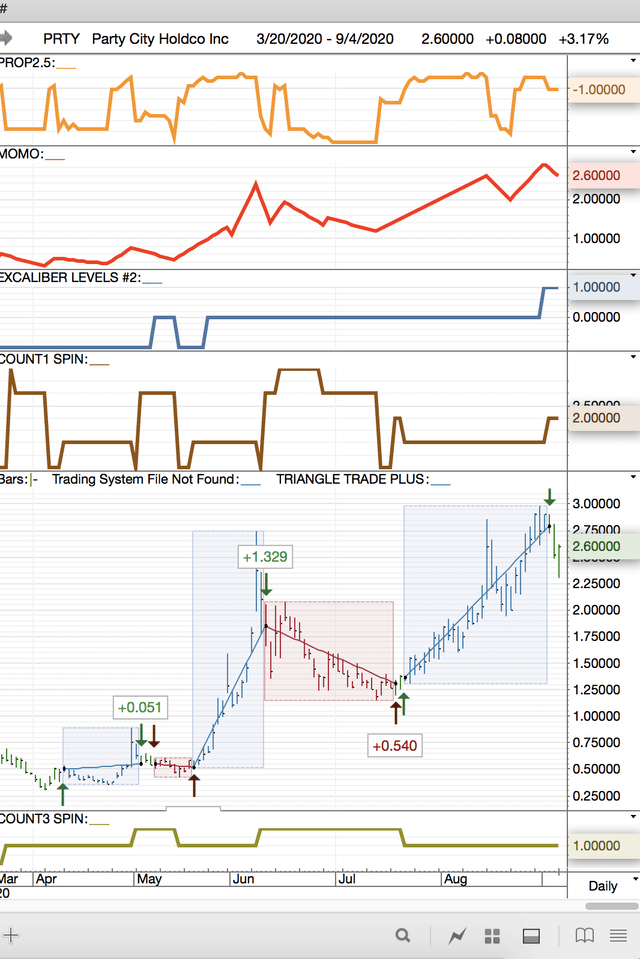 We sold ANGI, ANGIE'S LIST, because of system deterioration -- MOMO shows the deterioration clearly.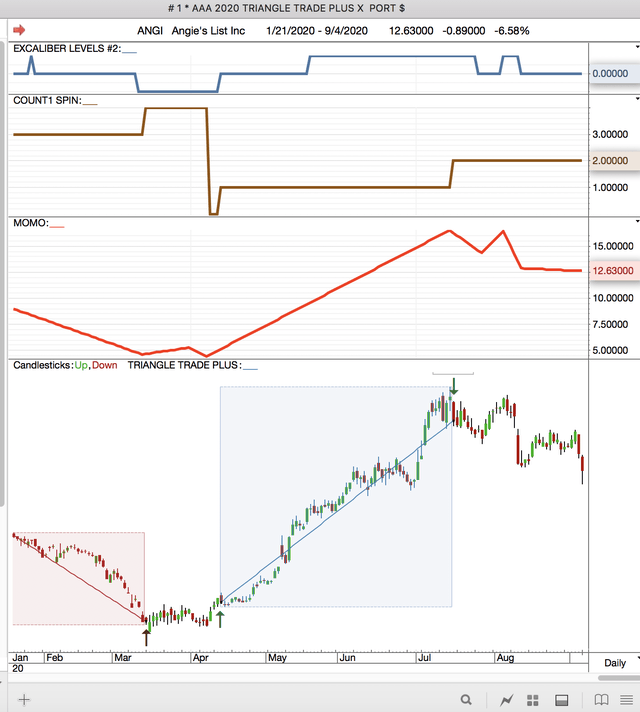 WIRED CARD is one of the worst stocks of the year, embroiled in corruption and criminality. Is it a BUY now? C1 is what we call a backdoor buy, C1=2 and C1yesterday=0. C3=1.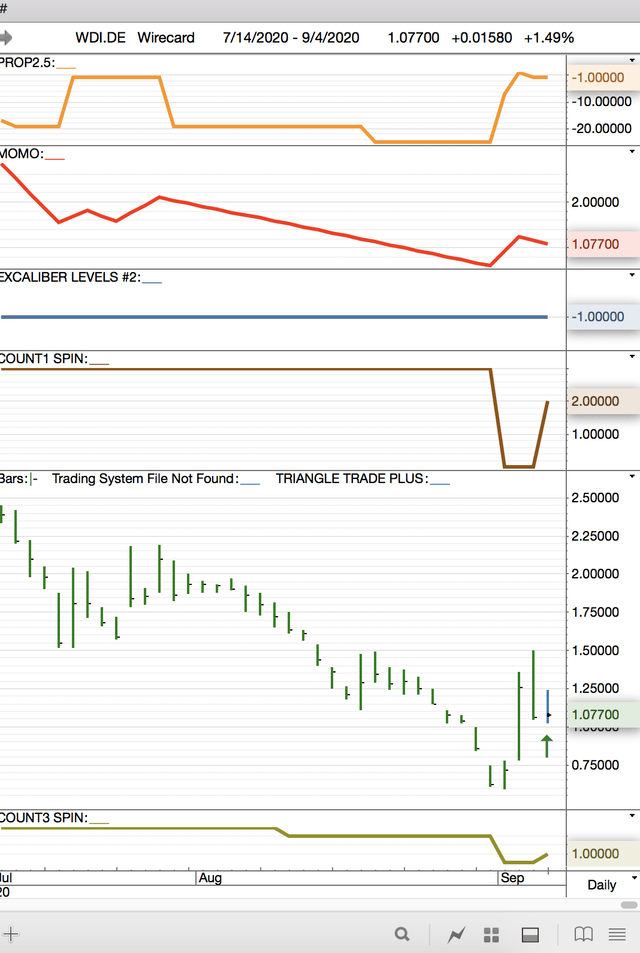 And FTCH, FAR FETCH, is another BUY. Since we only BUY C1=1 and EXC<=0 we have a long uptrend with C=1 that we did not act. It is a flaw to this system; but one we are accepting at the moment. We are willing to miss chances for gain if it measns a system with more overall integrity.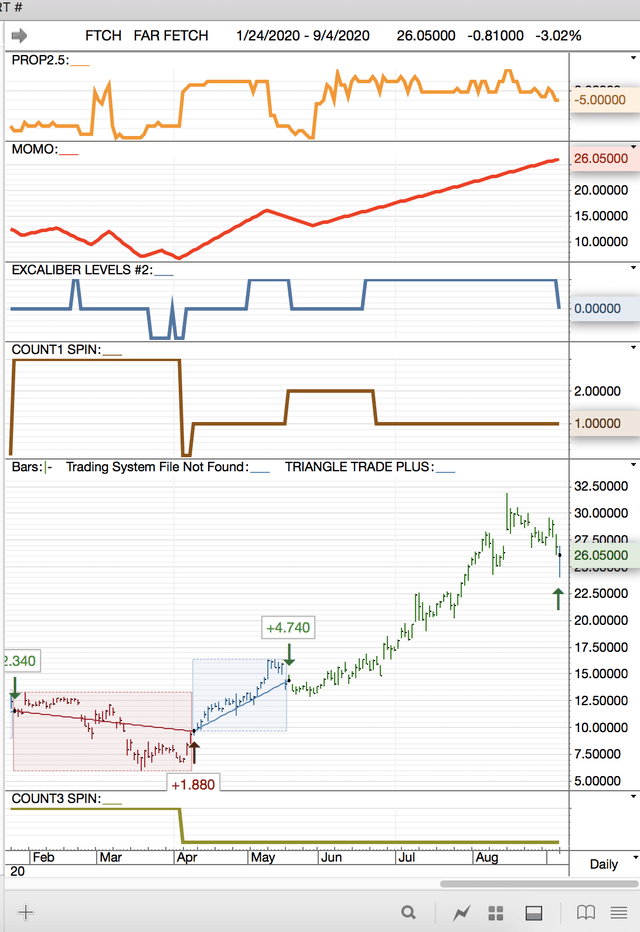 TRIANGLE TRADE WEEKLY Report.
We have a lot to look at here. New BUY SIGNALS.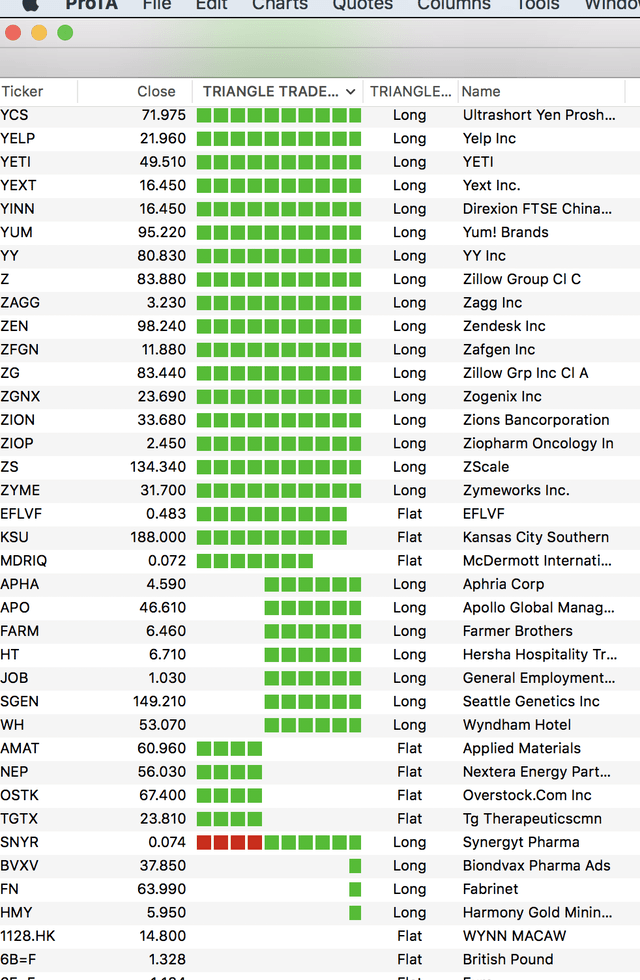 BVXV, BIONDVAX PHARMA. A major hill-climb and then a rest; it looks like its ready to run again.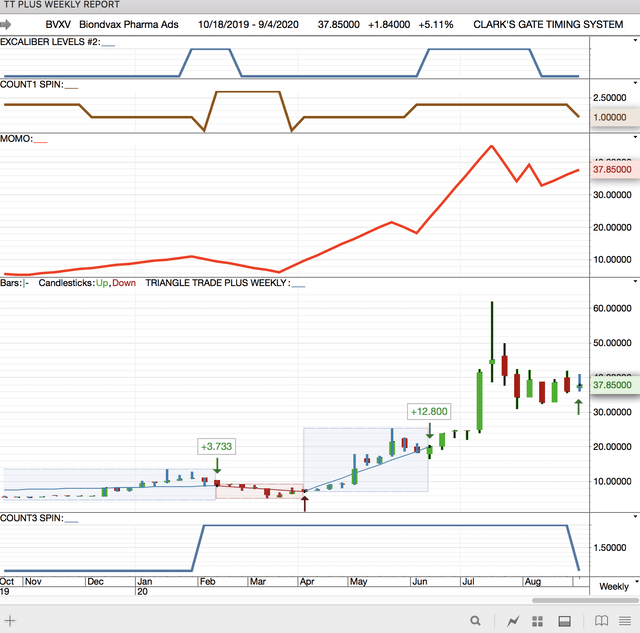 FN, FABRINET. When we see a candlestick with a thick body on top and a long thin tail this means generally that the selling came early and then there was a strong recovery from the selling. We are seeing a lot of these today.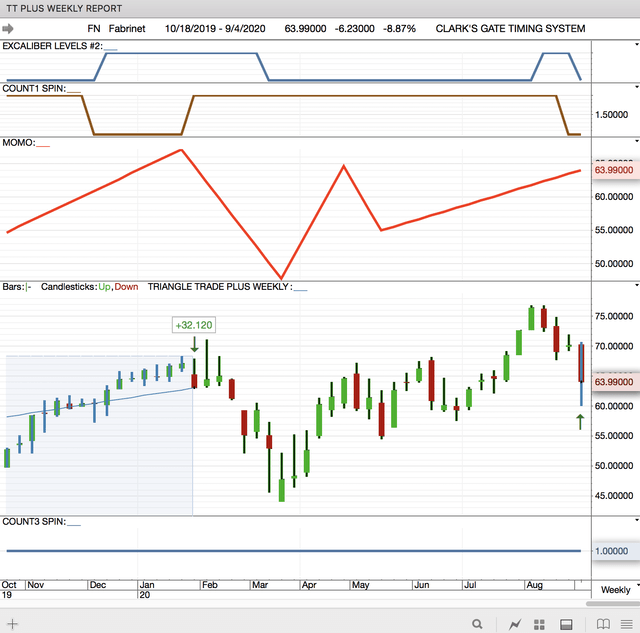 HMY, HARMONY GOLD. Like BVXV -- a hard climb up the mountain; then a rest; now ready to continue UP.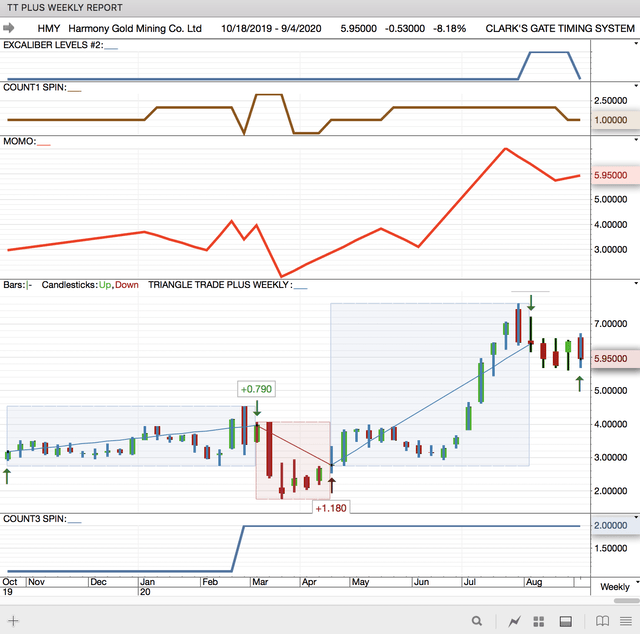 WHAT ABOUT SHORTS in TT+ WEEKLY? Three new SSELLS and a very interesting VIX chart.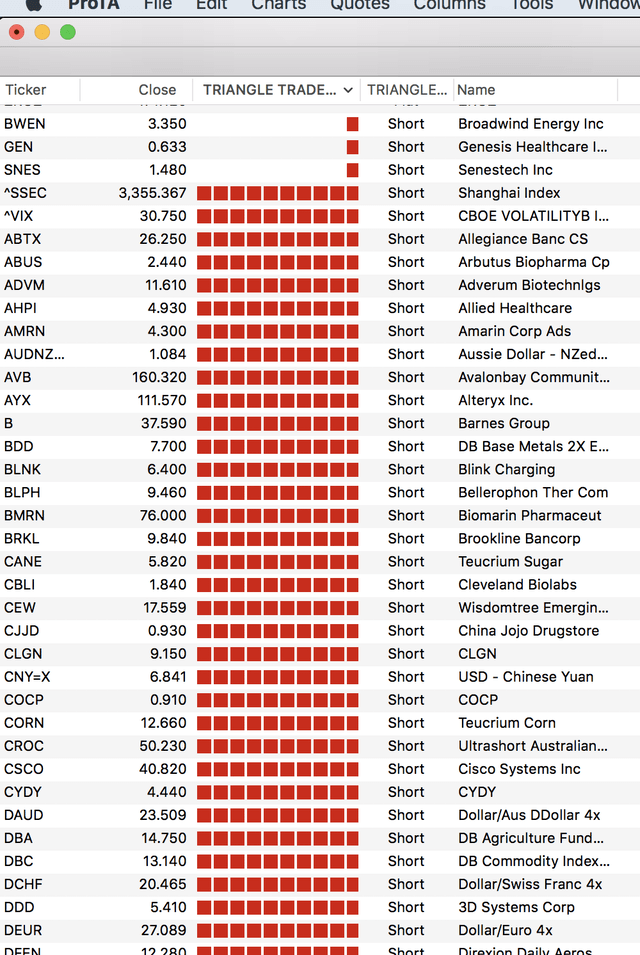 BWEN BROADWING ENERGY.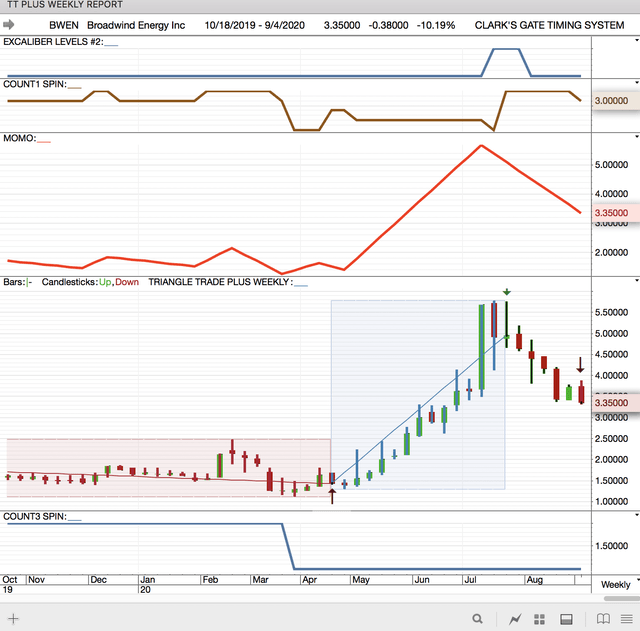 GEN, GENESIS HEALTHCARE.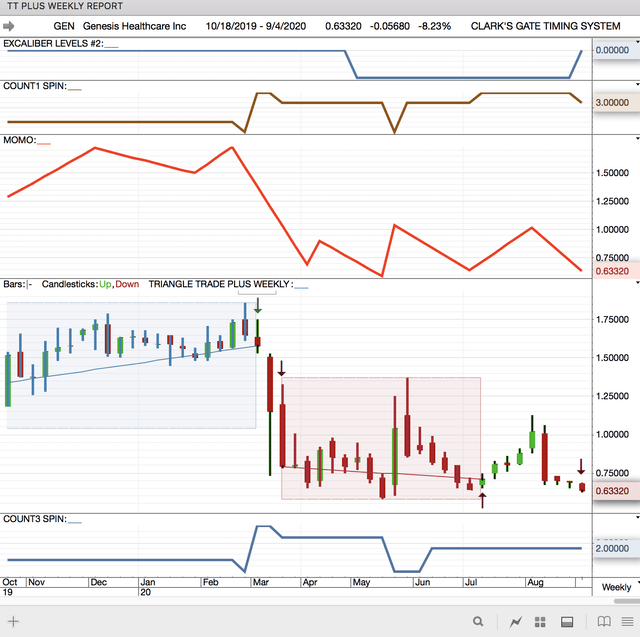 SNES, SENESTECH. Look at the MOMO BEARISH TREND.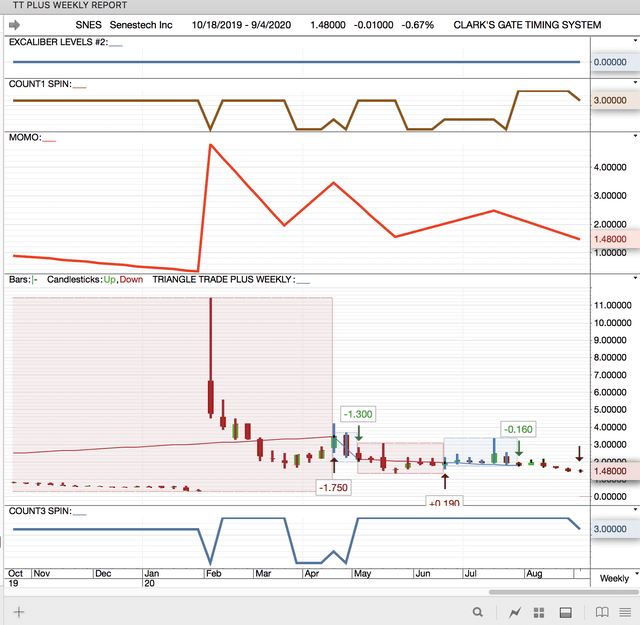 Those of you who want to invest in CHINA should look at this chart. SSEC, SHANGHAI INDEX. Note how C3=2 is a BEARISH SIGNAL, and almost always leads to a sharp and extended decline, until C1=2, which COUNT System is more muted.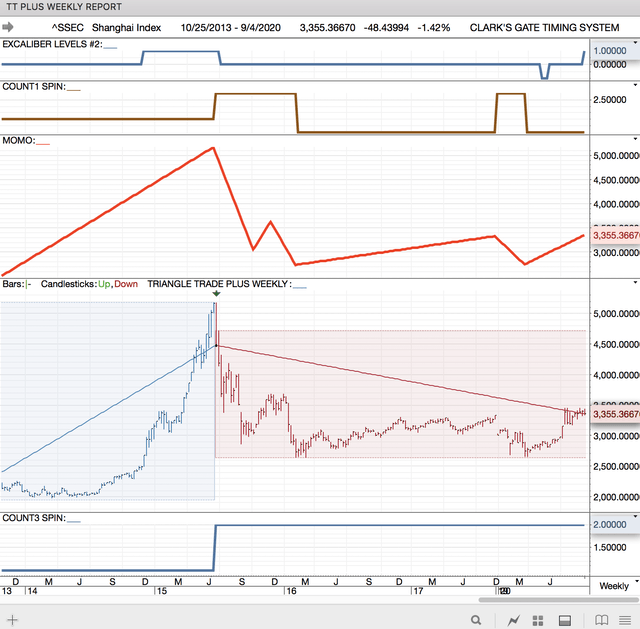 This chart might scare all of us a bit. VIX. VIX is still bearish in this chart; but MOMO appears to be a SWINGING GATE, heading UP. YIKES. MOMO has made a BULLISH HIGHER HIGH; and has refused to make a LOWER LOW, YOWKS! C1=3, SHORTSELL; C3=3, SHORTSELL. So there is some divergence here in this picture. A TUG OF WAR. Yes.
The more I look at the MONTHLY System charts the less I can see the BEAR perspective. I DO see the Bear' rationale. But not the BEAR' perspective.
System Report. SHORTS.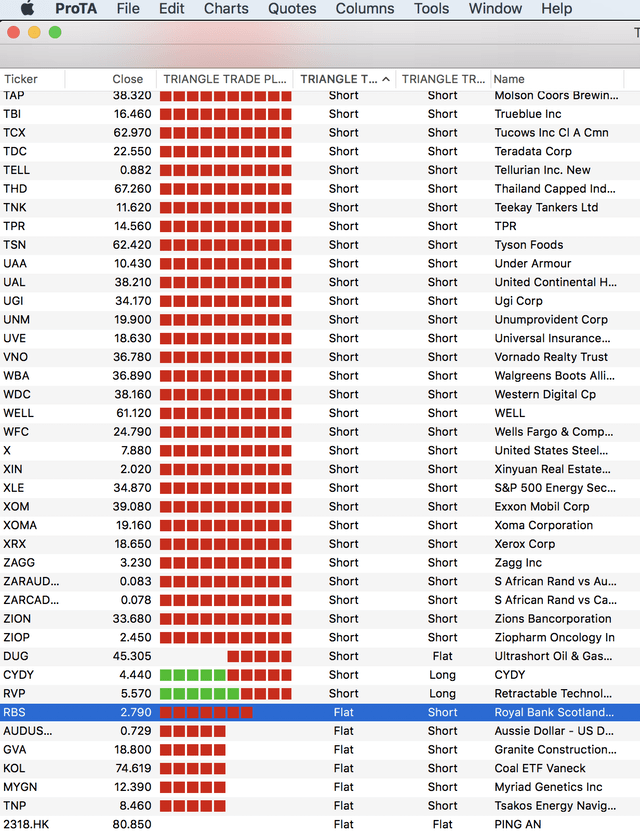 Not many NEW Shortsell signals. If a BEAR MARKET is brewing would we not see new SHORTSELL SIGNALS lining up? I would think so.
We do see some CLOSED SHORT SIGNAL, which is Bullish at least on the surface, suggesting more buying, even if only as C3=4, SHORT COVERING.
RBS, SHORT COVER, ROYAL BANK OF SCOTLAND, 31% gain.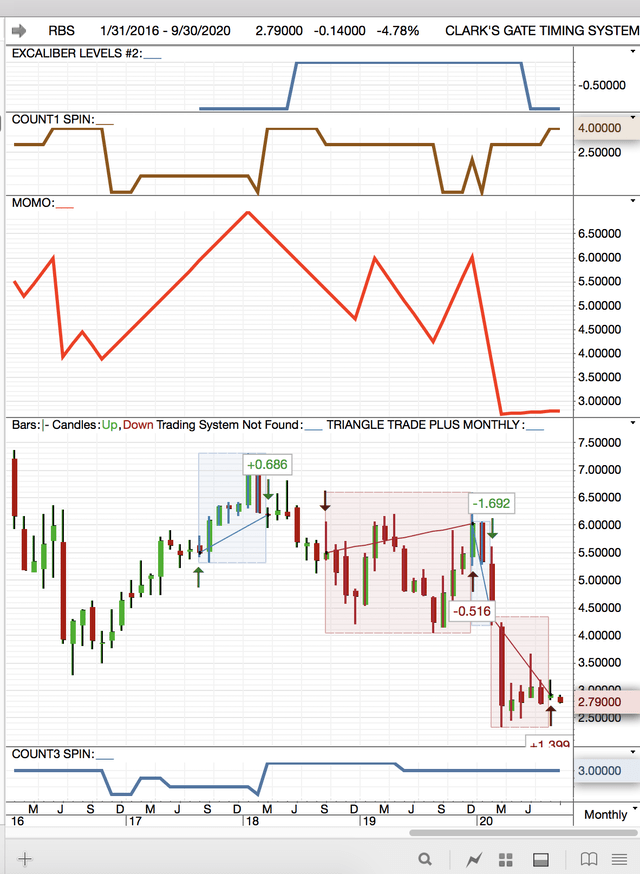 GVA, GRANITE CONSTRUCTION, SHORTCOVER, GAIN OF 63%.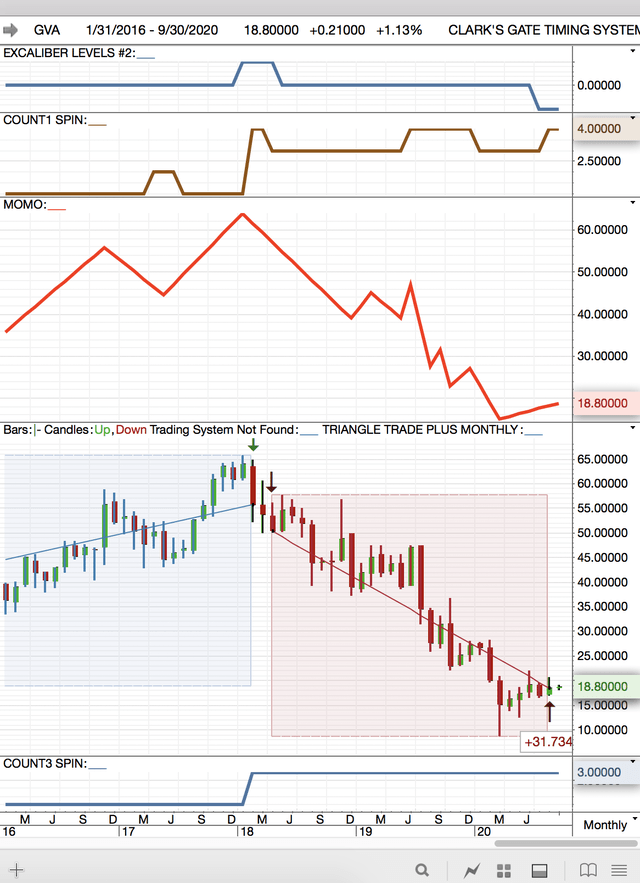 KOL, COAL ETF, GAIN OF 44%.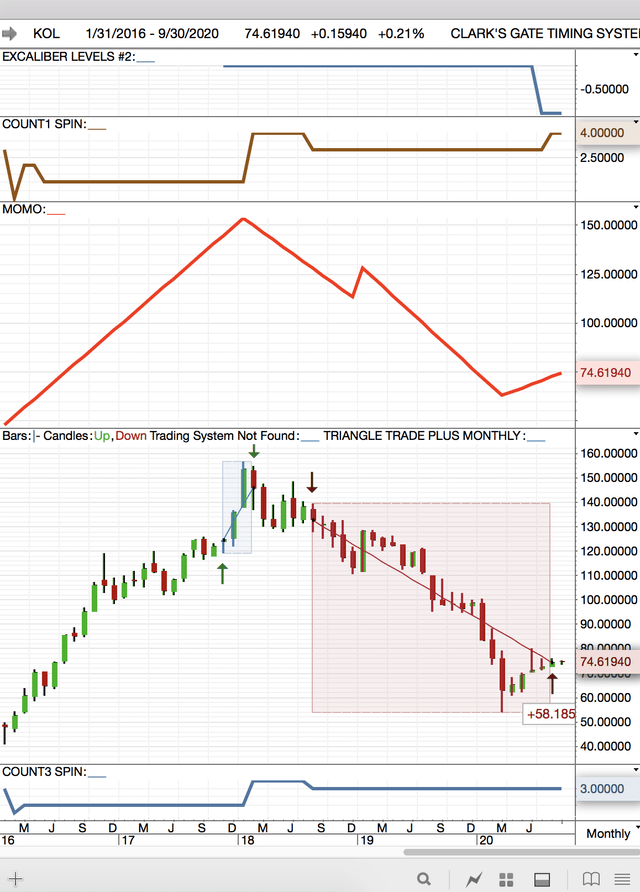 OK; let's look at the LONGS. Even though these are MONTHLY SYSTEMS, the COLOR-GAUGE below is limited to two days in single days.
So, MDRIQ is a new BUY. In fact, issues from MDRIQ-CHIM are new buys this week.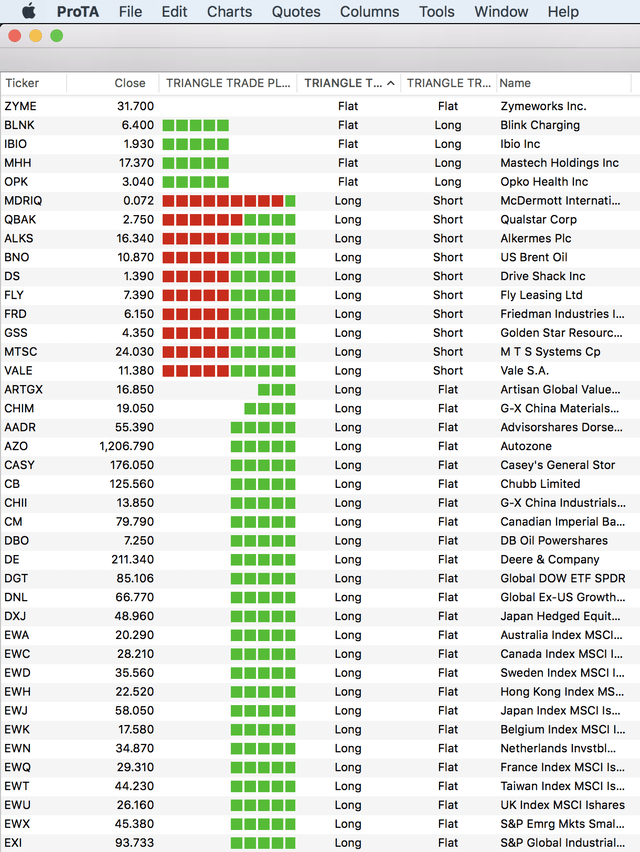 FLY, for instance, is a new BUY.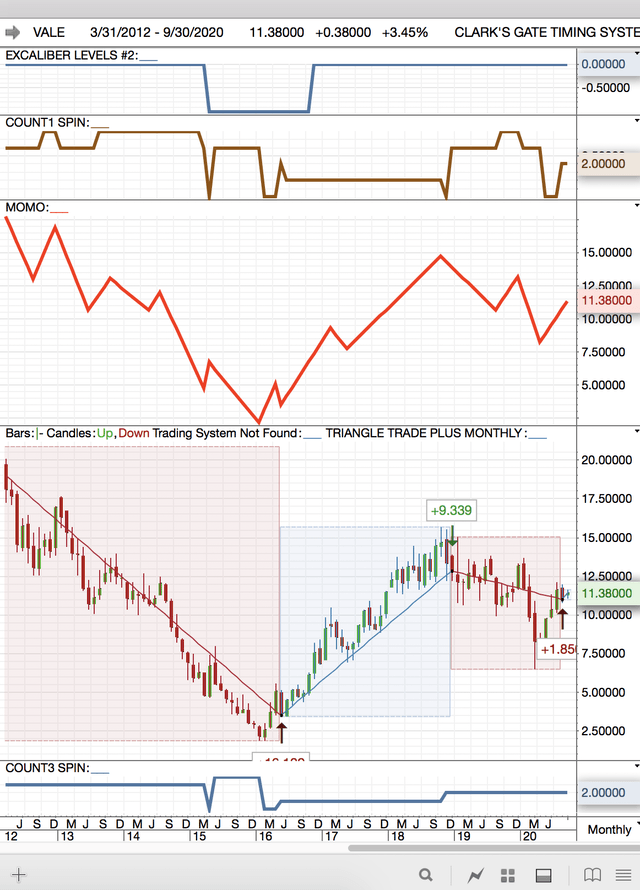 From MDRQ down through XLI, these are all BUYS in the last week and one day, 50 issues in fact. This is a LOT of new BULL SIGNALS that will have to be WRONG if, in fact, the BEAR is coming out of hiding to take over the world.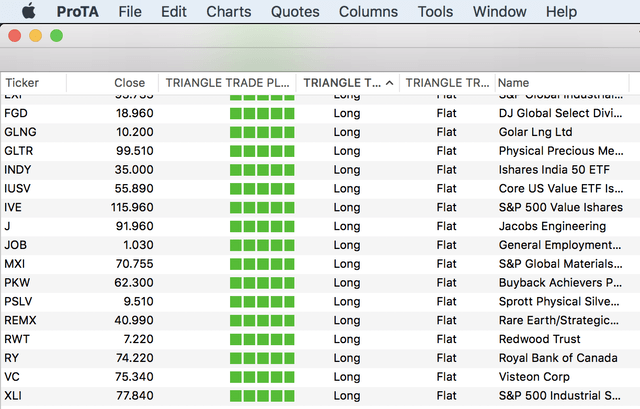 Anything is possible, i guess. Time will tell.
I ran these charts to show some of our LONG positions after today. I will post them but not comment. For the most part, they are all weathering the mini-storm nicely.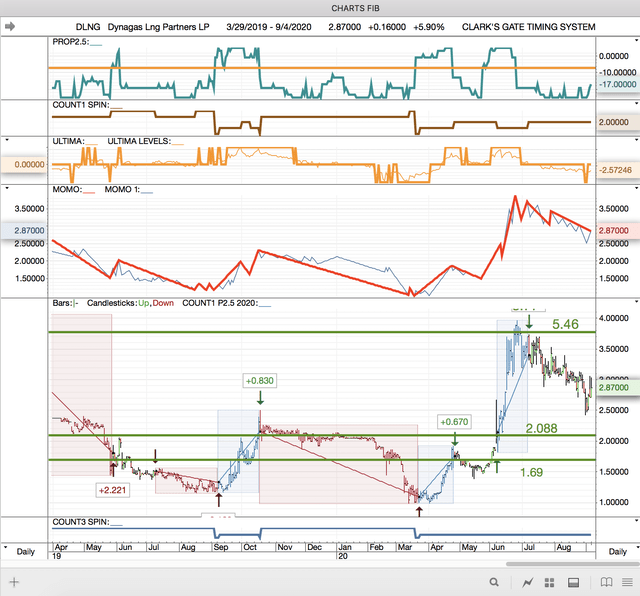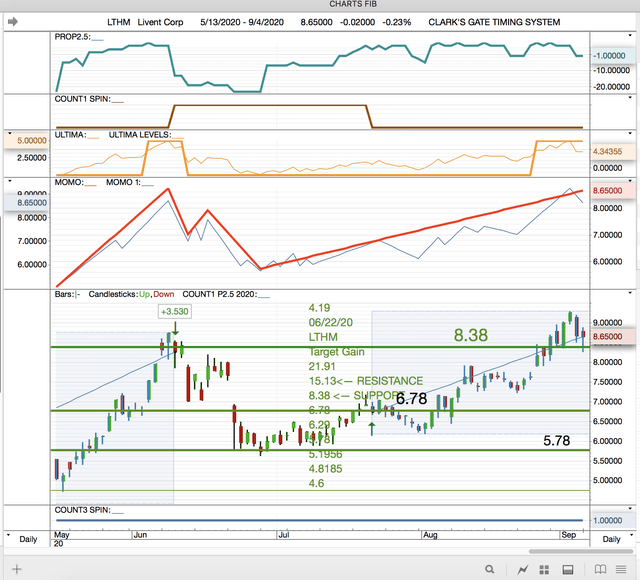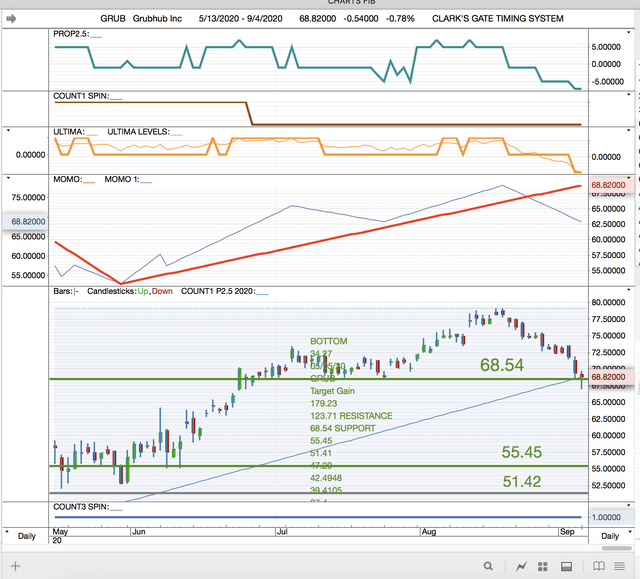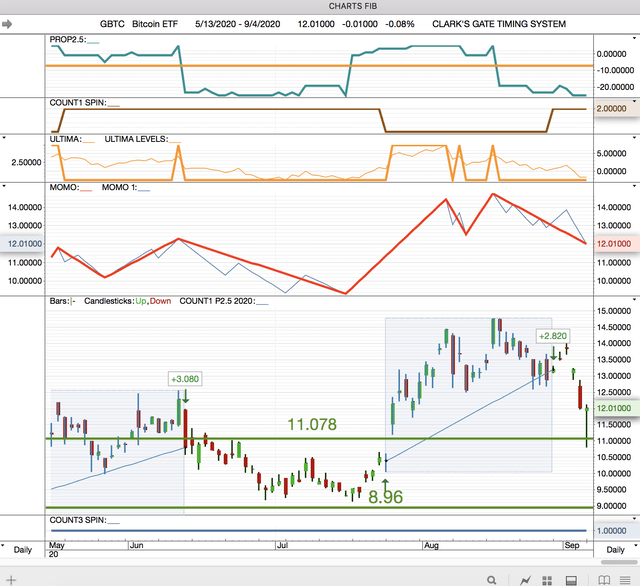 This chart makes a point, a good point. But some cycles are much longer than other cycles.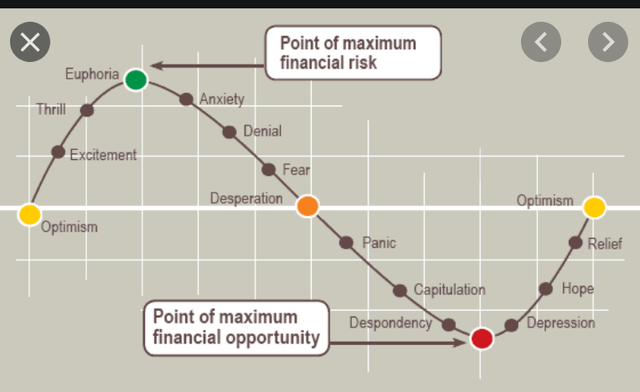 Remember the Jewish Shemitah Cycle. 6 Years of creation; and 1 Year of Rest, Sabbath, or SLEEP. In stock market language, CRISIS or CRASH.

BEWARE 2022.
HEADLINE NEWS.

This is more important than people might think. HOW CAN STOCKS GO DOWN IF THIS IS TRUE?


That's right, MOBY DICK is coming also.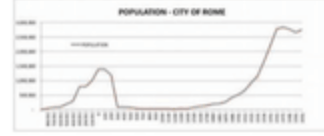 WAS THE MAYAN CALENDAR CORRECT ABOUT 2012? We laughed when the Earth did not get hit by a Comet. Maybe God's Ways are more subtle. COVID is ot a Comet, but what if the result is the same? See the ROME chart above.
Is he supposed to pay workers who do nothing? (Anyway, the name of the team insults all BLACK PANTHERS and needs to be changed immediately!)

UNREQUITED LOVE?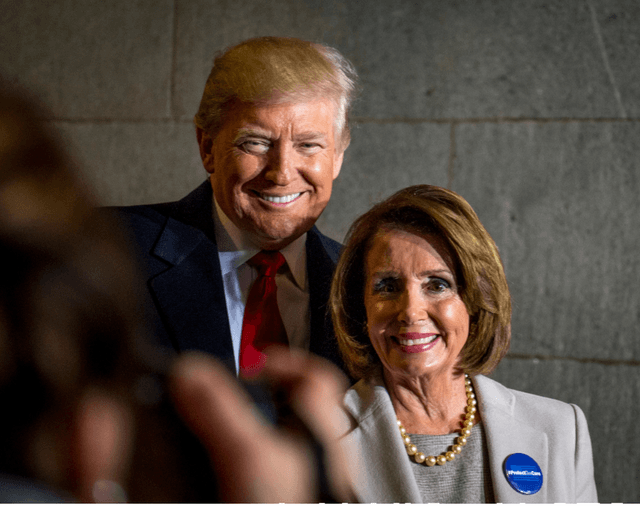 Have a good weekend.
MJC, CGTS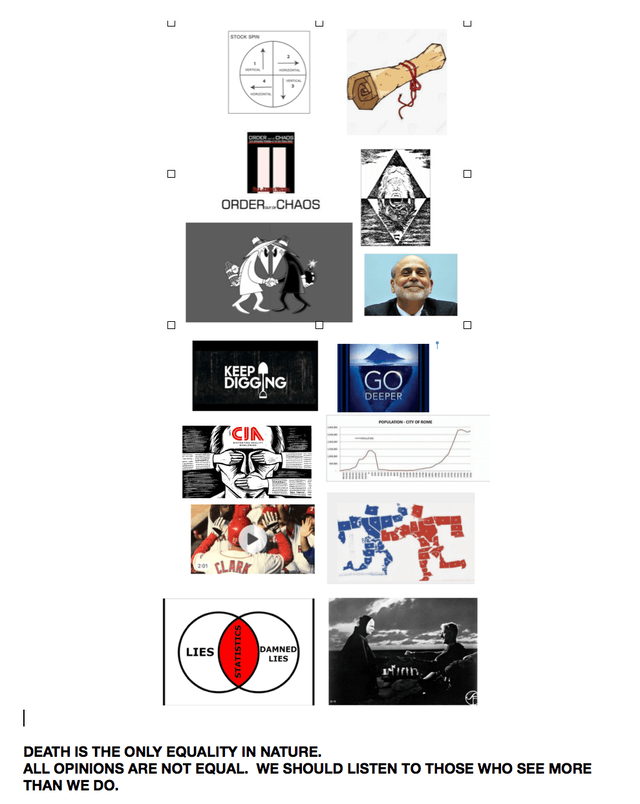 Disclosure: I am/we are long TSLA, WKHS, BLNK.
I wrote this article myself, and it expresses my own opinions. I am not receiving compensation for it. I have no business relationship with any company whose stock is mentioned in this article.
Seeking Alpha's Disclosure: Past performance is no guarantee of future results. No recommendation or advice is being given as to whether any investment is suitable for a particular investor. Any views or opinions expressed above may not reflect those of Seeking Alpha as a whole. Seeking Alpha is not a licensed securities dealer, broker or US investment adviser or investment bank. Our analysts are third party authors that include both professional investors and individual investors who may not be licensed or certified by any institute or regulatory body.