CGTS TUESDAY: MARKETS SKATING ON THIN ICE; BUT STILL SKATING. DON'T SELL YET!
Please Note: Blog posts are not selected, edited or screened by Seeking Alpha editors.
CGTS Algo Trading System

CGTS TUESDAY: MARKETS SKATING ON THIN ICE; BUT STILL SKATING
Sep. 22, 2020 8:47 PM ETARLO, ATOM...
Summary
As much as I want or try to be BEARISH, I just can't bring myself to it.
BUY BLNK, GOLD, PSNL, QRVO, TRUE, ARLO, ATOM, HOLX.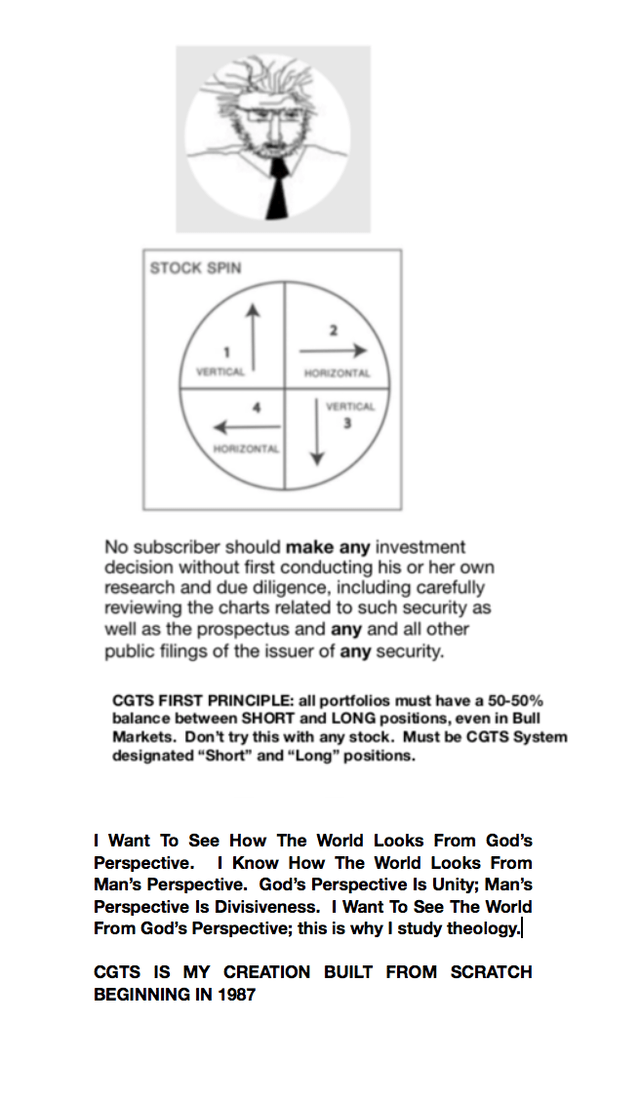 WE NEEDED A RALLY -- AND WE GOT ONE. Let's hope it does not stop here. I don't think it will.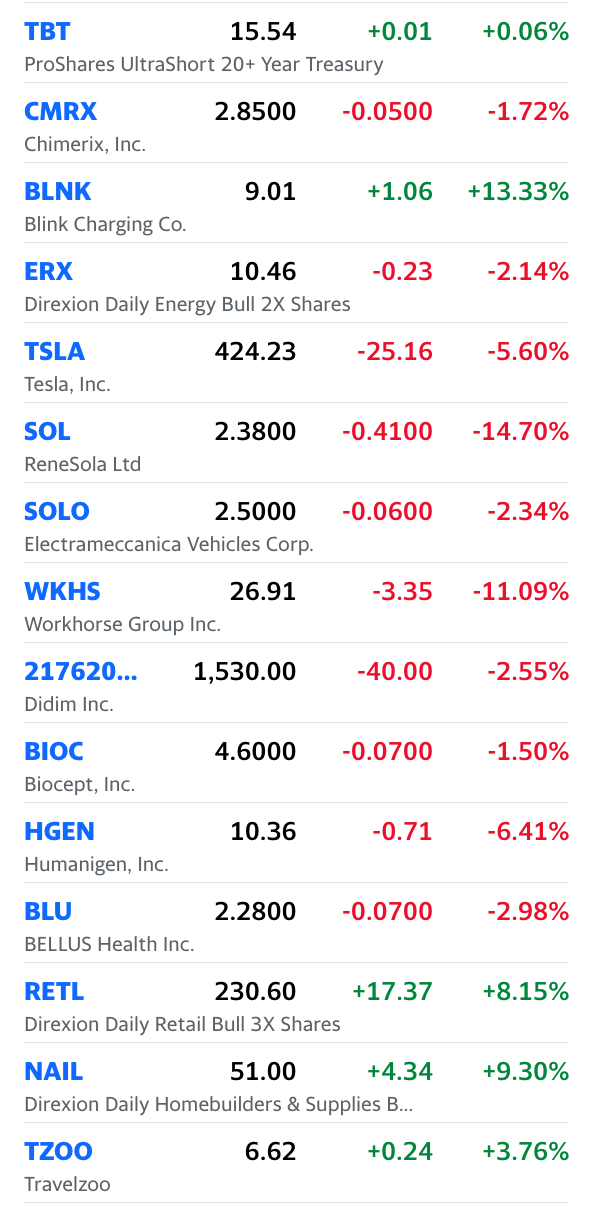 We based much of our recent (weekend, for instance) bullishness on the BUY SIGNALS we received from our FISHNET-EXCAL system, both in 3x-options and stocks.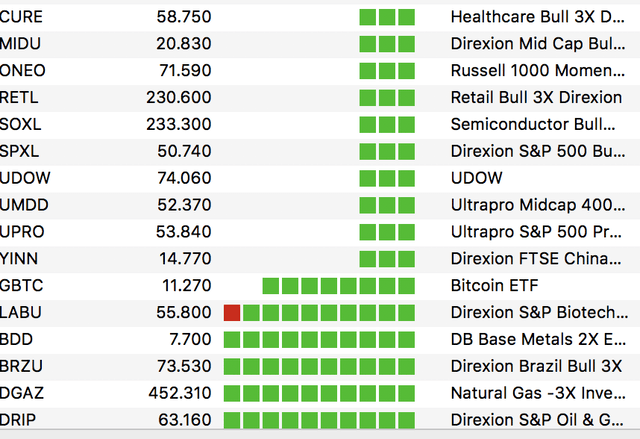 These are still saying the market is going UP. WHEN? That is the key question isn't it? (See post below.) UDOW is on this BUY LIST ABOVE. It went down for two days after we posted the BUY. In April, it did the same thing.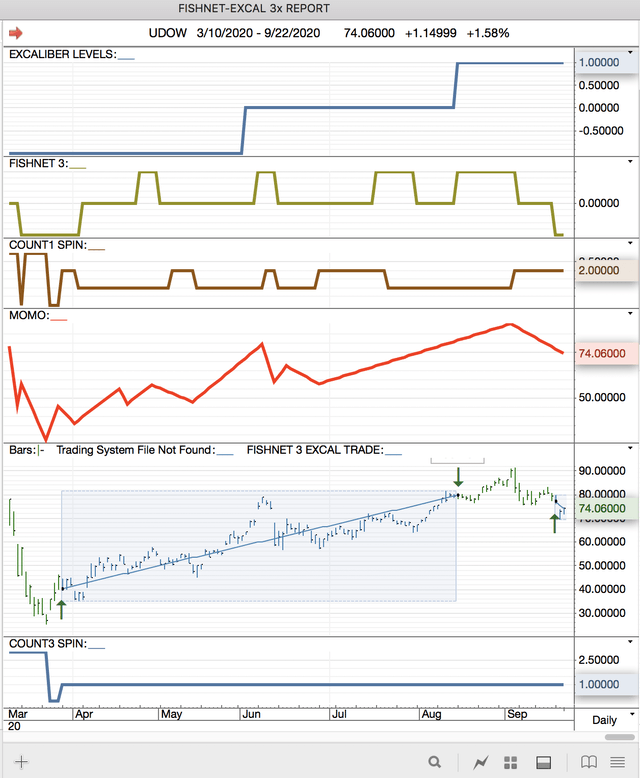 SOXL did the same thing. Look how HEALTHY MOMO looks below, after a correction. SOXL is not on thin ice.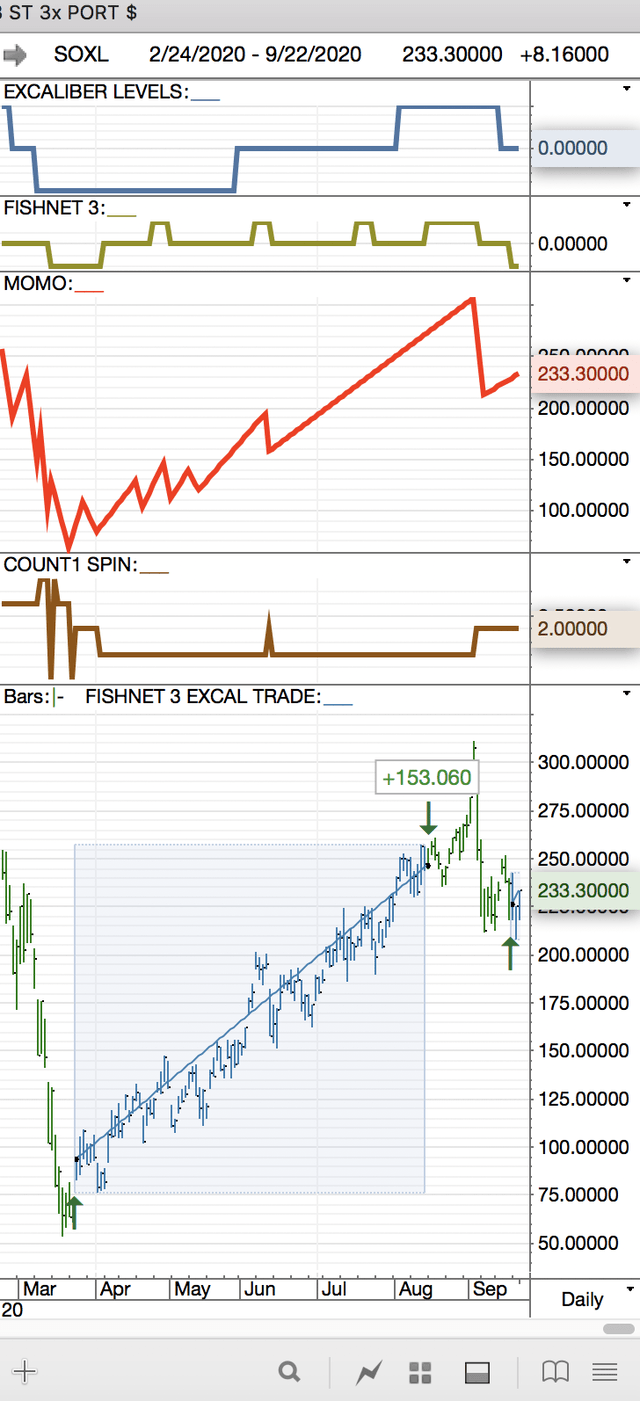 NDX is continuing to dodge the 10,876 bullet. See how NDX approach the support zone (10578.5) and has, so far, resisted that level. We'll see if it can hold this pattern of strength.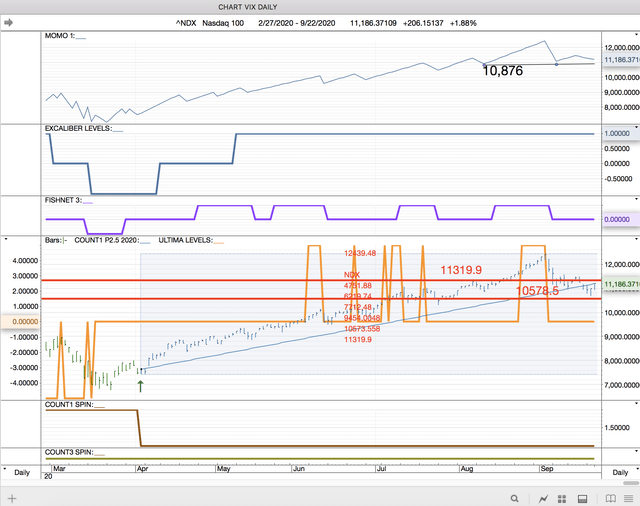 VIX is topping.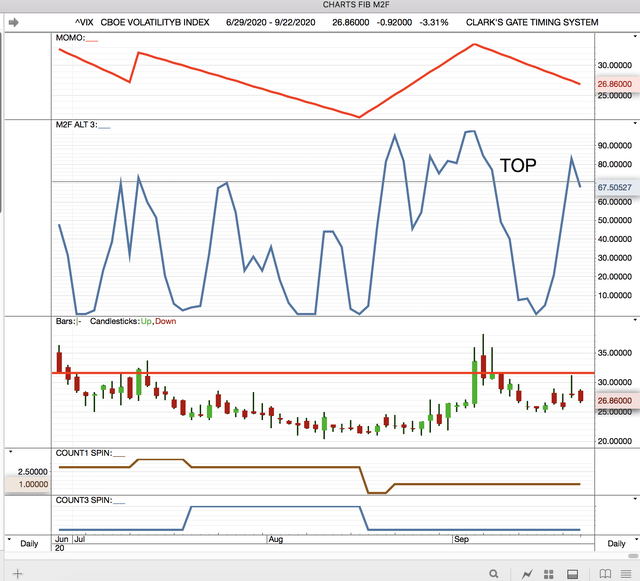 S&P 500 is BOTTOMING.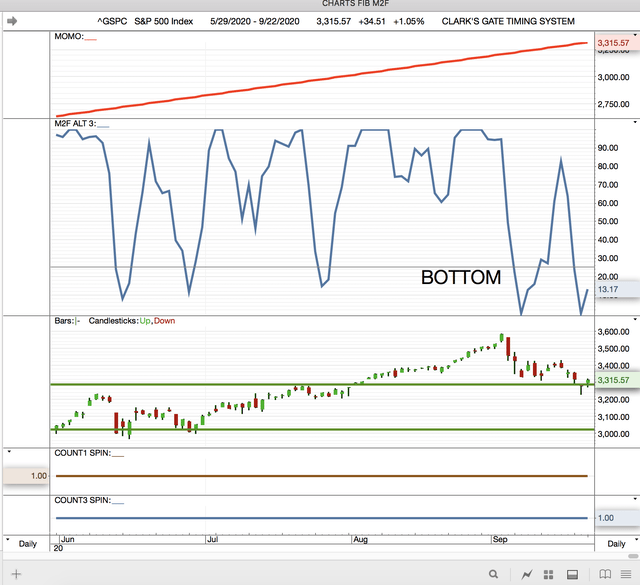 WHAT THIN ICE? Yes, well I write THIN ICE to describe our C1 CROSSOVER, which has been weakening over the last two weeks.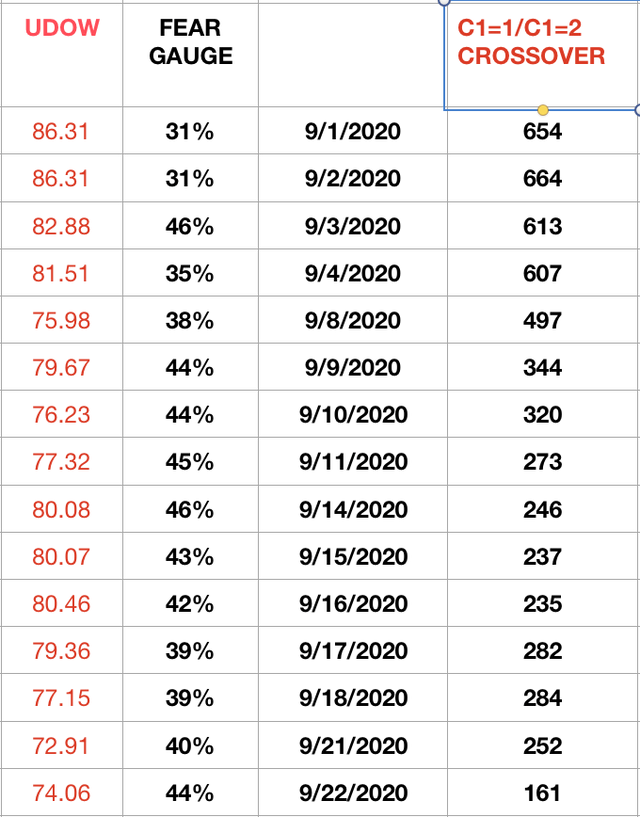 Is the ice getting thinner? We DO need a rally here.
CROSSOVER TRADE
Still bullish. + 161. When this goes negative, we sell and short.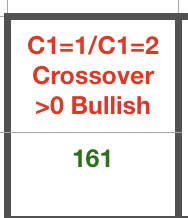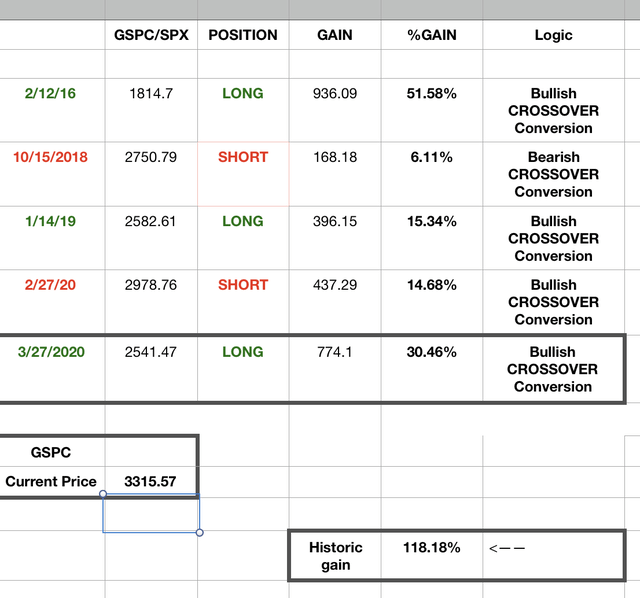 CGTS TRADING POSTURE: (SINGLE) CAUTION

Why? Two Short-term indicators have turned negative. MOMO1 and ULTIMA. If PROP2 goes negative we will go DOUBLE NEGATIVE. If CROSSOVER goes negative, we will go RED, STOP, SELL AND SHORT.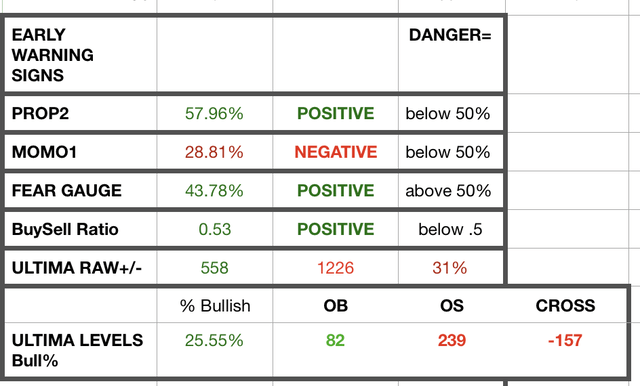 I have been exchanging barbs with an SA author, who publishes regular BEARISH pictures of the market, David Haggith. After agreeing about almost nothing for a long time, I wrote about my long-term view of the market, with which David agreed, at least partially.
I agree with your philosophy, not the Fed's, but the Fed doesn't listen to me either. So, my biggest reason for writing my blog was to lay out all along the way why the Fed's plan would fail.
My reponse:
I still argue that markets are not logical (all the time, or by nature). And when they are not logical logic will not work.

You mention you don't work with charts. So you just work with LOGIC. I see.

I was predicting a MAJOR BEAR market from 2001-2019 based on historical patterns and on our HUGE debt load. I was correct from 2001 through 2012. Something changed. My logic did not change. But FED liquidity-process did change.

My perspective is that the FED should have raised rates from 2001-2019, to defeat debt and to reward saving, to protect the US Dollar and American international strength, to limit new debt and to lower prices. The FED did not listen. It took another path, to give the public everything it thought it wanted.

Ok; my logic was not wrong (I think) but the market did not follow my logic. I have developed a lot of indicators that measure the market, and have almost nothing to do with my logic and my perspective. The market has its own logic, which measure the strength of BUYERS vs SELLERS. If the BUYERS are winning, even if their logic is flawed, the market follows the BUYERS. Simple as that.

By the way, both NDX and FNGU (FANG STOCKS BULLISH) are giving WEEKLY SYSTEM BUY SIGNALS in today's post. This is the logic I work with. Algorithmic logic.

I think FED policy will fail also, and will result in a destroyed banking system and a DEBT JUBILEE when all debt is forgiven -- is that what ZIRP almost is?

I stopped ranting at the FED when I realized no one was going to voluntarily accept Economic Depression and higher rates as NECESSARY ingredients. No one likes to be THAT unpopular -- remember Paul Volcker barely escaped impeachment when he raised rates violently in the early 1980's. The FED wants to be liked. They want to be the one that SAVES the world instead of destroys it.

Greenspan understood that expansion was over in 2001 and slowly began raising rates but then realized he would be blamed so he retired, took the BIG MONEY, and let Bernanke have the mess.

So, the FED has decided that discipline is NOT needed. LIQUIDITY is the new normal.

I think they are WRONG. But the markets LOVE liquidity. Don't fight the FED.

MJC

I am bullish for the time being. I am NOT a perma-bull. I lost some money from after 2012 insisting the market HAD TO GO DOWN, because I was right and the FED was wrong. Then I realized the FED had a lot more power (to move markets) than I did.

Now we have a HUGE amount of debt. Everyone is afraid to address it. Also, my system tells me to be BULLISH when the markets are BULLISH and to ignore my own feelings about it.

Does this all end in disaster? Probably it does. But WHEN. WHEN is the essence of investing much more than being "Right" long-term.
THIN ICE MAYBE -- WILL THE ICE HOLD?
IT IS HOLDING NOW.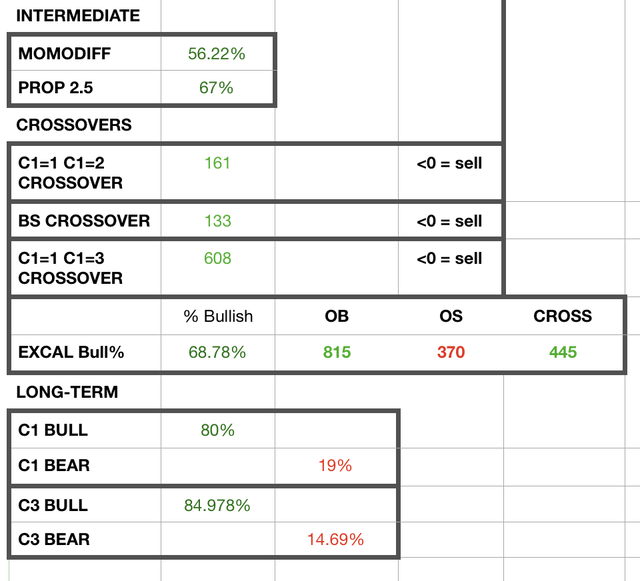 C3 IS A LOT MORE BULLISH THAN C1.

RAW DATA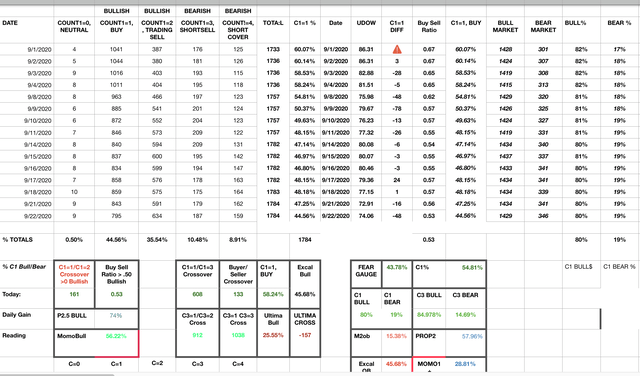 WE SOLD a group of stocks today in our EXCAL PROP2 System. Not all were winners; all but one we
Excal Systems are a couple of our favorites. Excal-PROP2 is up 63% since March.

e have these OPEN positions in EXCAL-PROP2.

In EXCAL-PROP2.5 we have these OPEN positions.

Not much RED in the second one.
We have some NEW BUYS in TRIANGLE TRADE PLUS (Daily): BLNK, BLINK CHARGING, It was racing higher, was derailed by a couple of major SHORTSELLERS; it looks like it is back. C1=1; C3=1; BOTH BUYS.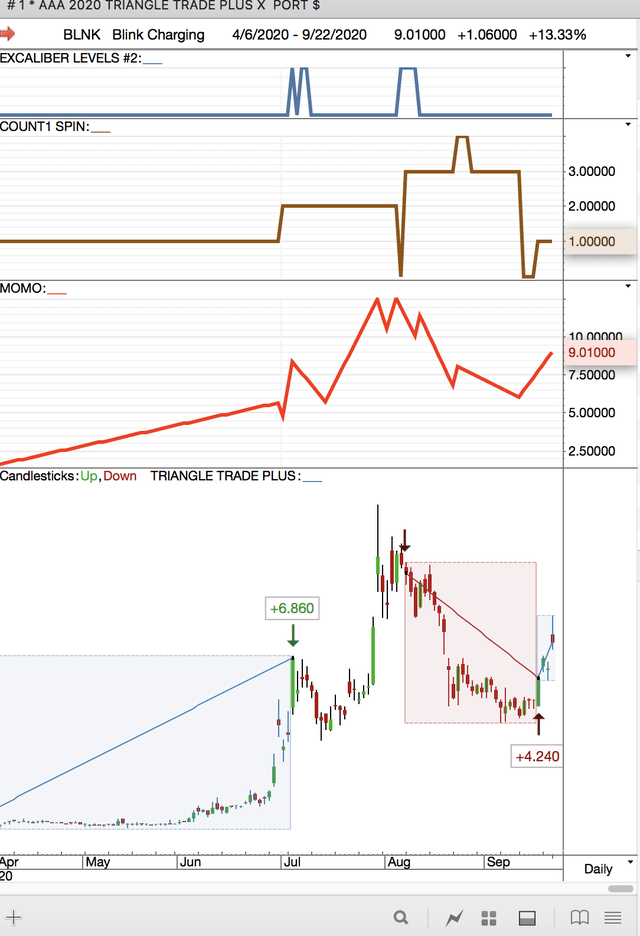 GOLD, AMERICAN BARRICKS: BUY.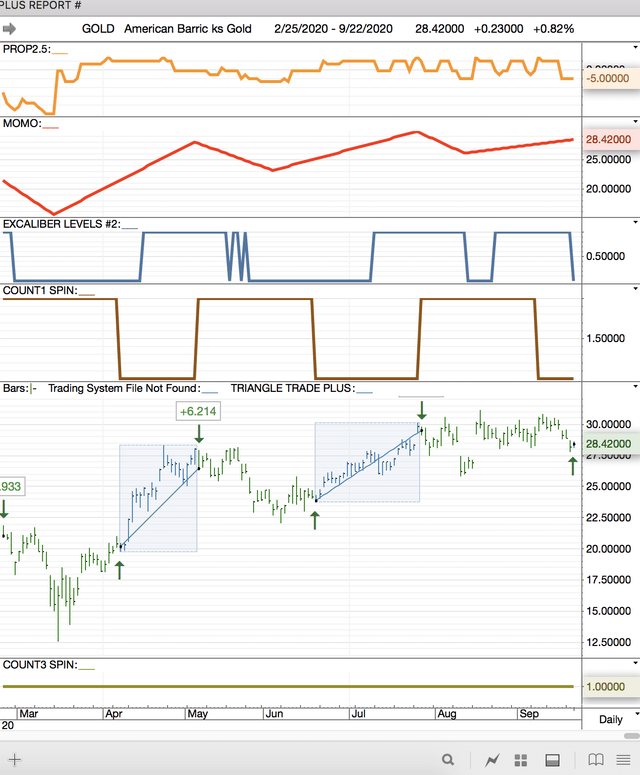 ARLO, BUY.
ATOM, BUY.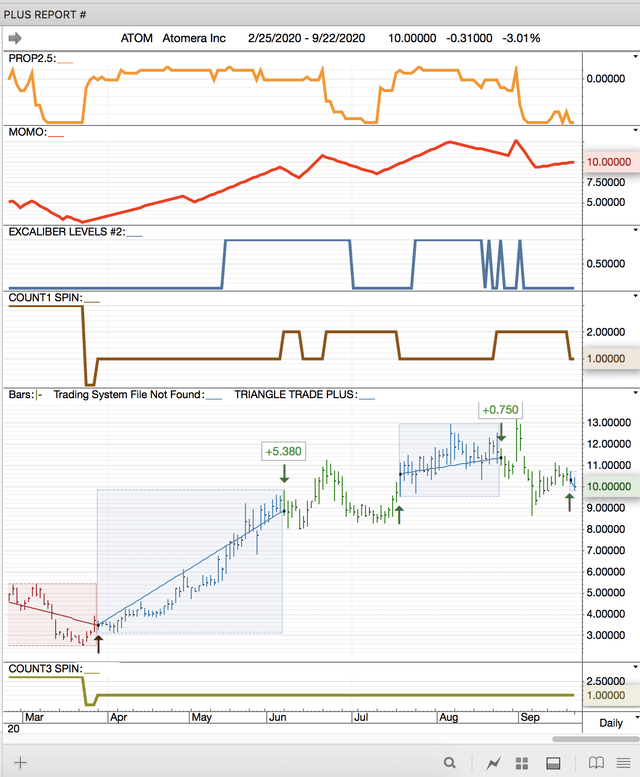 CLOSING A SHORT in TTPLUS.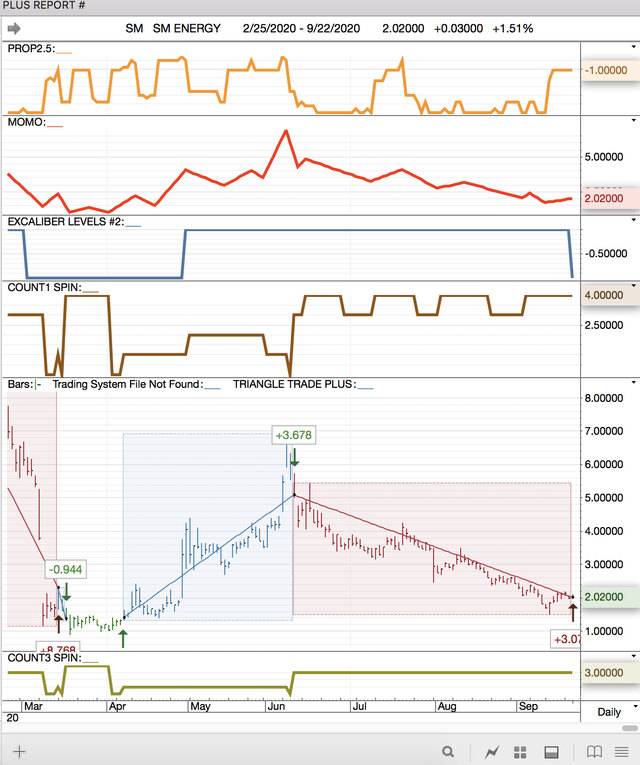 TRUE, TRUE CAR. I traded this in the last year and did really well. It's back. Look at MOMO (red) taking off.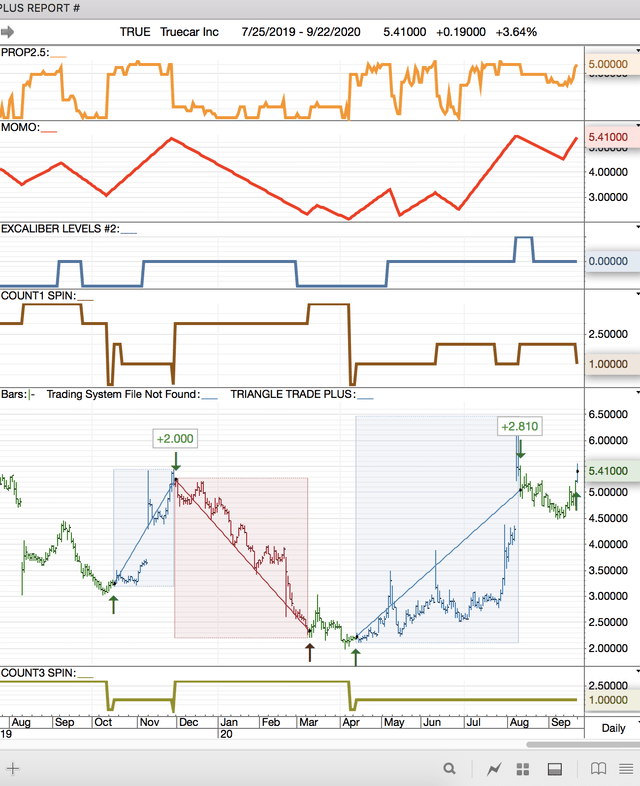 An even better picture in the WEEKLY CHARTS. Think about this one. I AM. MOMO is standing on its head.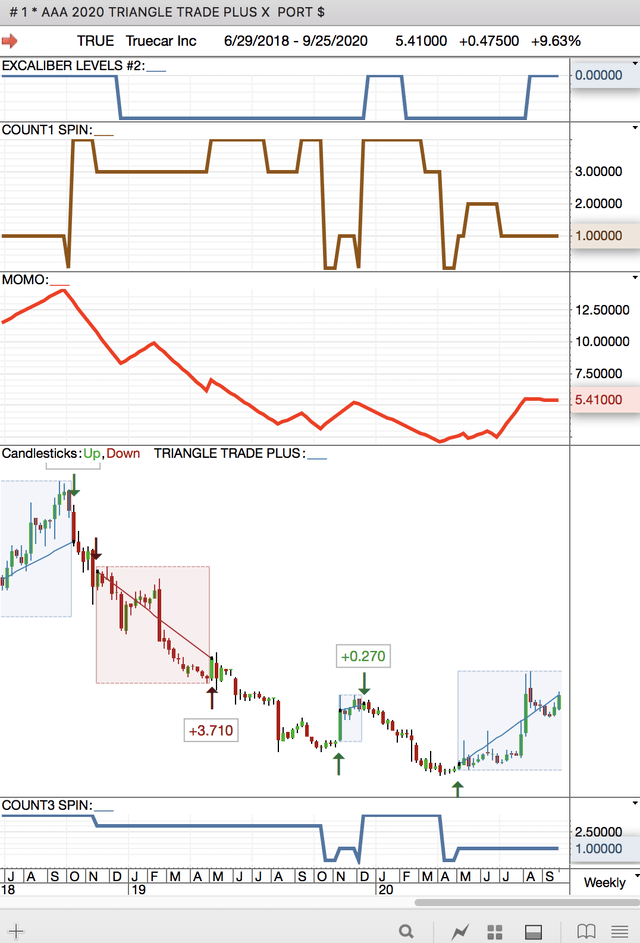 APRIL 5 calls look very attractive here.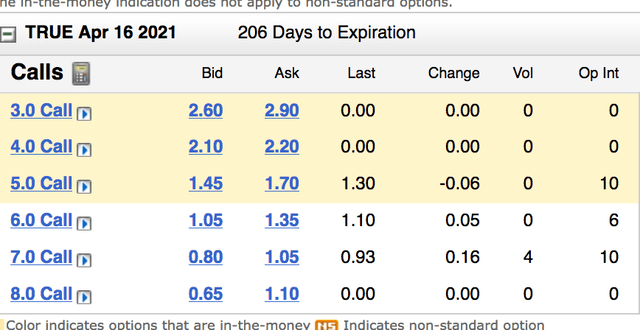 Ok; so I am not BEARISH I guess.
QRVO, BUY. Nice looking also.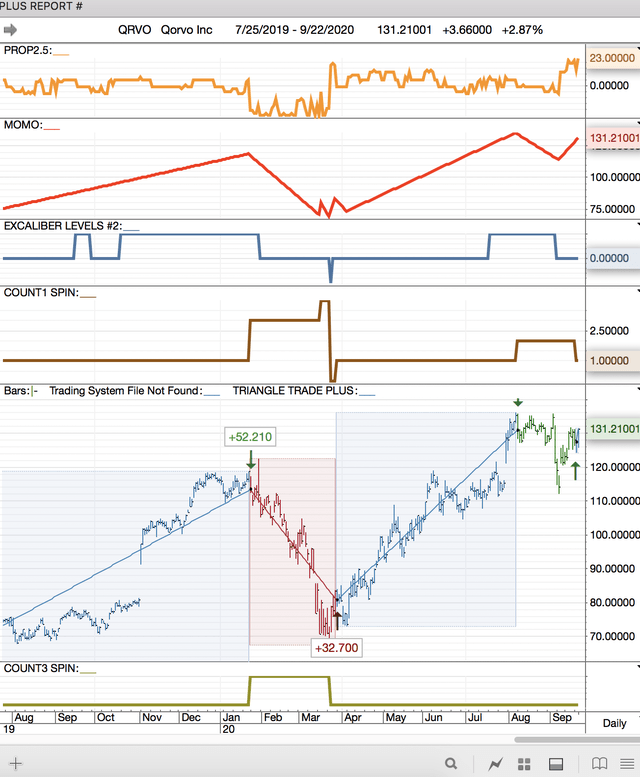 HOLX, BUY.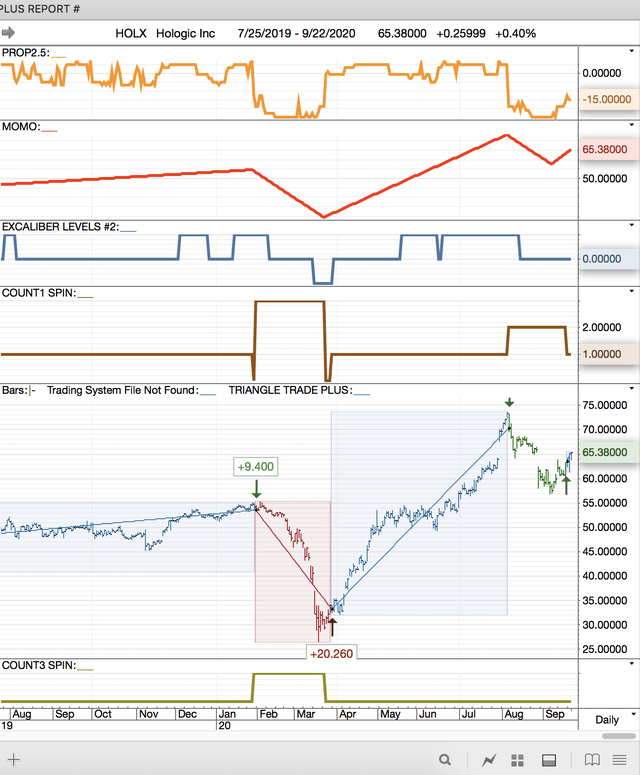 PSNL, BUY.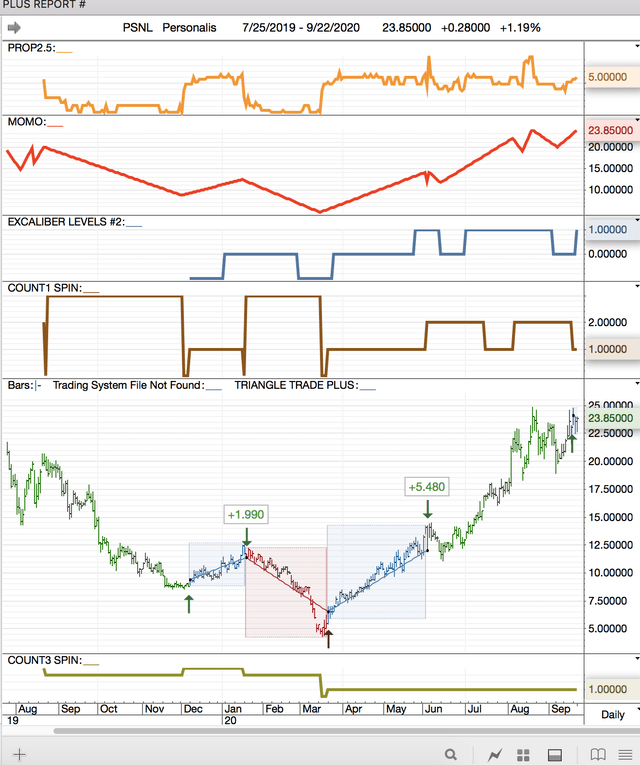 2020_PORT_3x_ULTIMA_EXCAL_3x_PORT_92220.xlsx
2020_PORT_3x_FISHNETEXCAL_PORTFOLIO_92220.xlsx
2020_PORT_TRIANGLE_TRADE_PLUS_PORT_92220.xlsx
RP is not computing. We will send it later to subscribers.
Troubling chart of the day for those of us who still care about debt.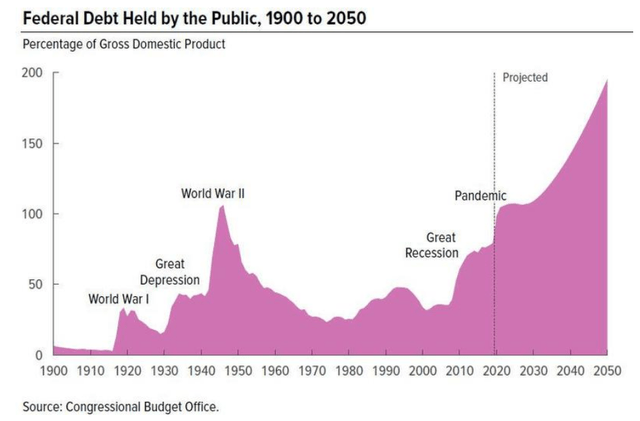 POLITICS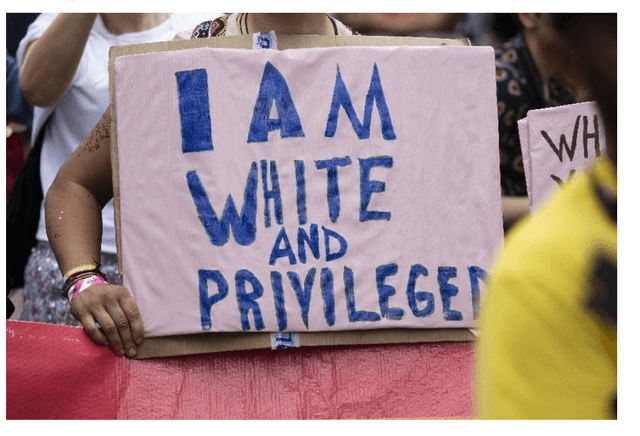 The 10 Most Extreme "Critical Race Theory" Classes & Trainings At US Colleges
Meanwhile, colleges across the country are seeing a growing trend of racial sensitivity classes and trainings, and Campus Reform has rounded up some of the most extreme examples.
1. Workshop on "deconstructing whiteness" for white-identifying students
Columbia University hosted a five-week "deconstructing whiteness" lecture series for white-identified students in July. The goal was to "engage in exploration of their white identities and build community and accountability around deconstructing whiteness and white privilege to facilitate the development of an antiracist lens." In an email reportedly sent to students, the university's law school said the workshop "will not be a support group for white students. Nor will it be comfortable or easy."
2. Mandatory reading on race for cadets at military academy
In the West Point Military Academy's "Behavioral Science and Leadership" seminar, cadets are required to read "Critical Race Theory: An Introduction." The school website said the school's leadership course is an "introduction to the concepts of race, gender, and sexuality in the American political system" with a focus on the "inherent inequalities found."
3. Mandatory anti-racism course for all first-year students
All freshmen at the University of Pittsburgh will be required to take the one-credit course. One goal outlined in the syllabus is to provide an overview of the Reconstruction Amendments and "the agenda of Radical Republicans." Other lessons included focusing on challenging a student's past education in regards to American history and "ritual practices that teach anti-Black and pro-White sentiment..."
4. Course on Christianity's role in racial hierarchy
Houghton College in Houghton, New York announced a course to "explore the complex role of American Protestant Christianity in the construction of historic and contemporary notions of race and U.S. systems of racial hierarchy." In the course to be launched in spring 2021, students will be asked to "interrogate the role of race and faith in the formation of your values..." One of the course outcomes is to be able to assemble a framework and vocabulary that "connects theories about race, racism, white supremacy, theology, resistance and anti-racism to justice-seeking liberatory movements and praxes for social transformation."
5. Workshop on "white supremacy and music"
The University of Illinois at Urbana-Champaign hosted various weekly online workshops to "explore the ways that white supremacy manifests in our lives, our communities, and our work" at the School of Music. The workshop description stated that it was intended for "students who hold white privilege" but all students were welcome. Participants were required to read the book Me and White Supremacy by Layla Saad.
6. Course on whiteness and violence
A University of Arizona course is set to explore "the various sources of white power and privilege." The six sessions are designed for people who are interested in "unpacking the ways we are constantly bombarded with messages that uphold white superiority and racial hierarchy" and "how racial violence works in conjunction with other forms of structural racism."
7. "Interrogating whiteness" course
In this three-credit course at American University in Washington, D.C., students will develop "strategies for antiracist engagements." Students will examine "the social, legal, and media constructions of white racial identities in relation to issues of racial justice."
8. Course on "racial capitalism"
The course at Williams College in Williamstown, Massachusetts focuses on "cultural politics, political geographies, and historical development of racial capitalism." According to the school's website, the course will do this "through and against a history of racial capitalism that privileges the U.S. nation-state in particular."
A course at Smith College in Northampton, Massachusetts is "an entry-level overview of the white supremacist movement in the U.S." Some mandatory readings include, "Trump Uses Right-Wing Populism to Unite Divergent Groups" and "Make America White Again?"
10. "Is God a white supremacist?" course
This one-credit course at Swarthmore College in Swarthmore, Pennsylvania will "address religious theories justifying racial domination." In particular, the class will highlight and discuss practices foundational to the process of "whiteness-making."
The Night-Cycle is evaporating. (The NIGHT-CYCLE hates the DAY; the DAY-CYCLE hates the NIGHT. That is the way it is.)
You understand the melody.

You understand tht dissonance is the devil's music.

The spreading of discord, dissent and discontent.

This is Decadence in action.

Yes; we know the world is not perfect.

The world is not supposed to be perfect.

The world is perfect in your mind.

Yes, we also understand this.

That is the way it is.

That is the nature of Duality.
Medical day tomorrow; not today.
Hope to write on Wednesday; let's see.
MJC, CGTS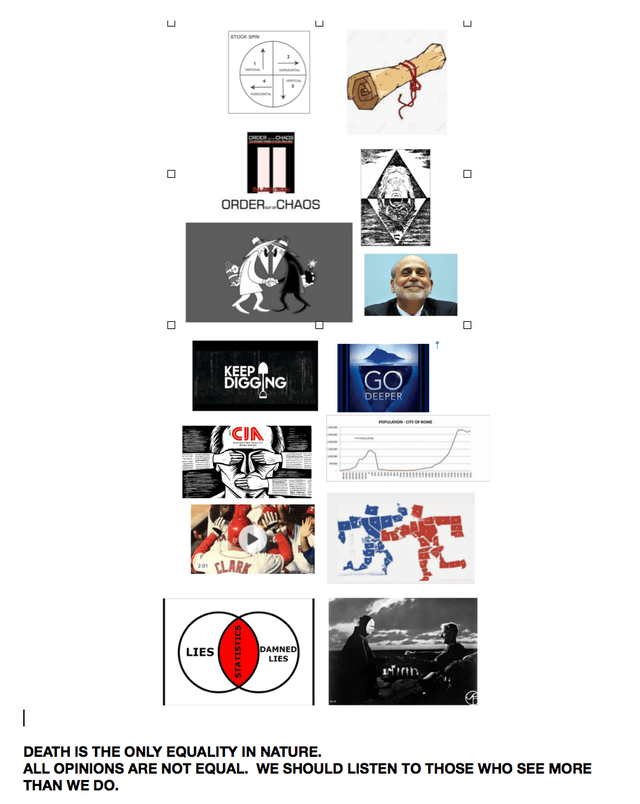 Disclosure: I am/we are long blnk, wkhs, true, solo.
I wrote this article myself, and it expresses my own opinions. I am not receiving compensation for it. I have no business relationship with any company whose stock is mentioned in this article.
Additional disclosure: short: ERX, TBT
Seeking Alpha's Disclosure: Past performance is no guarantee of future results. No recommendation or advice is being given as to whether any investment is suitable for a particular investor. Any views or opinions expressed above may not reflect those of Seeking Alpha as a whole. Seeking Alpha is not a licensed securities dealer, broker or US investment adviser or investment bank. Our analysts are third party authors that include both professional investors and individual investors who may not be licensed or certified by any institute or regulatory body.