CGTS WEEKEND: THE HEALTH OF THE MARKETS
Please Note: Blog posts are not selected, edited or screened by Seeking Alpha editors.
CGTS Algo Trading System

CGTS WEEKEND: HEALTH OF THE MARKETS?
Dec. 20, 2020 10:32 PM ET
We forgot to include our DIAGNOSTICS REPORT on Friday.
NO BIG DEAL. Markets are about the same as they were of Thursday.
CROSSOVERS still VERY POSITIVE. Our CROSSOVERS (top two below) hae to go negative for us to end our CROSSOVER TRADE. About the C1 Buy/Sell CROSSOVER: there current 1022 more CGTS issues that are C1=1 than c1=2.
There are 1192 more CGTS issues that are CGTS=1 than are CGTS=3.
PROOF? 1300 C1=1; 278 C1=2; 108 C1=3. It is NOT hocus-pocus.

The bottom two CROSSOVERS are the same for COUNT3.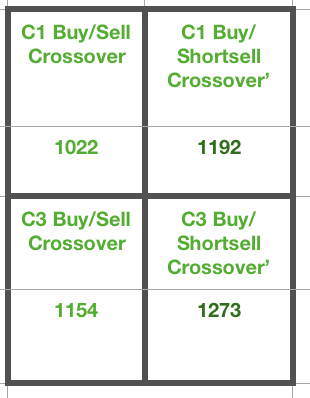 CROSSOVER TRADE: LONG, UP 42.58% this year, 2020.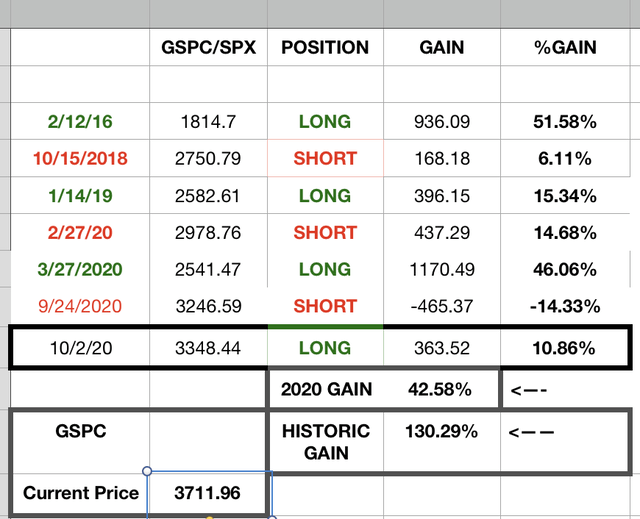 PROP 2.5 Bullish = 85%. Below 50% is BEARISH.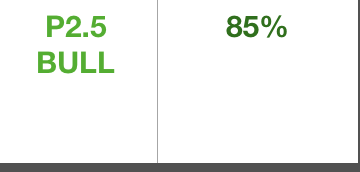 C1=1, BUY % = 72.35%. BELOW 50% is worrisome.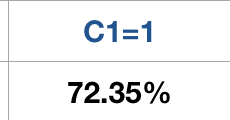 DIAGNOSTICS SCORECARD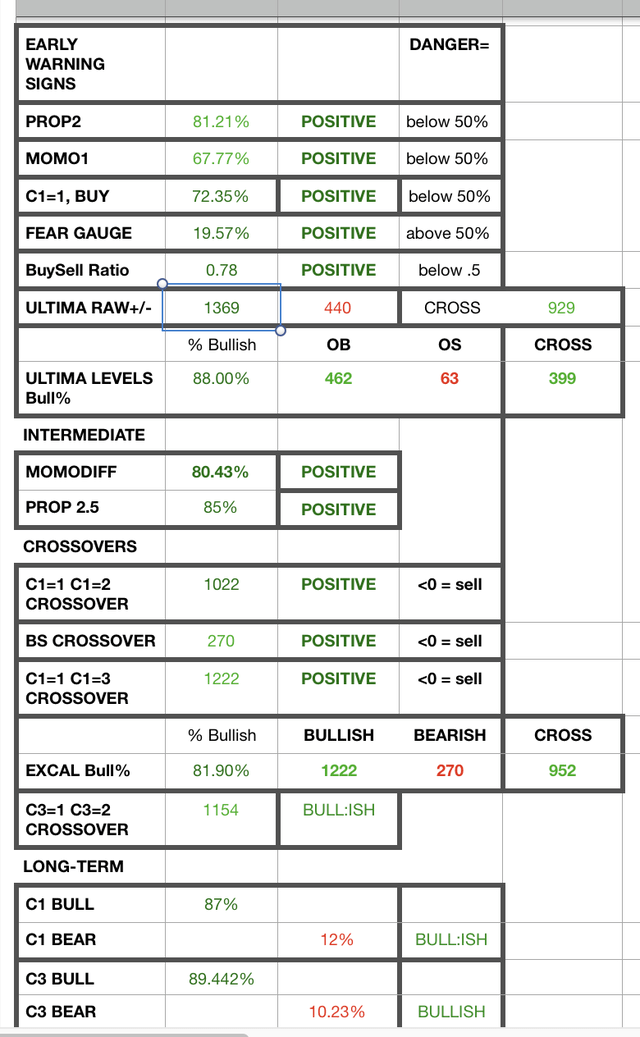 Nothing here remarkable. No portents of a change.
DATA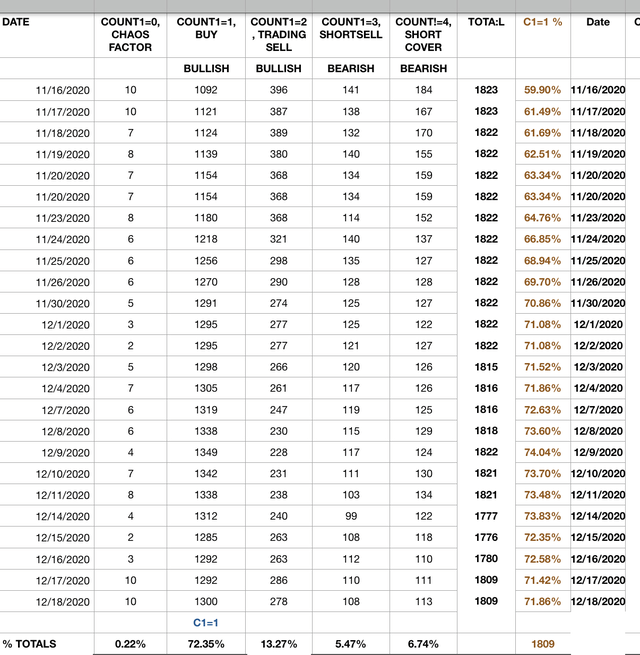 CGTS TOP-HEAVY WITH BUYERS, as defined as C1=1+C1=4. No correction until C1=2 and C1=3 brings this back into balance, and more.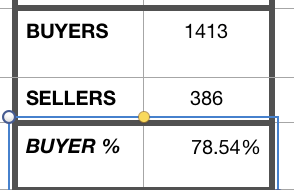 Again, these numbers are systemic proofs. (Does the system work? That is a separate question. But these numbers represent SOMETHING.)
Our best systems are clearly COUNT1, COUNT2, and COUNT3, systems which we just let run, with very modest oversight. With weekly re-adjustments. A runaway Bull Market may have something to do with this.

The Weekly Systems at the bottom are from between four months and two weeks old.
COUNT1 has a new list of BUY SIGNALS. Remember this C1 System is linked with EXCAL; C1=1 and EXCAL<0.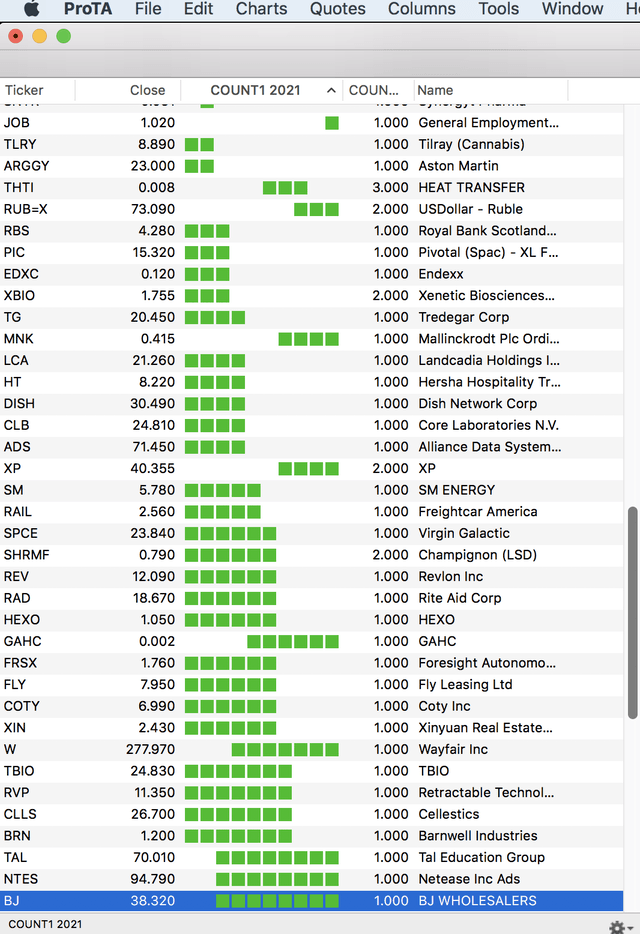 My two favorite charts of this group are BJ and NTES. Both just seem to be starting their move.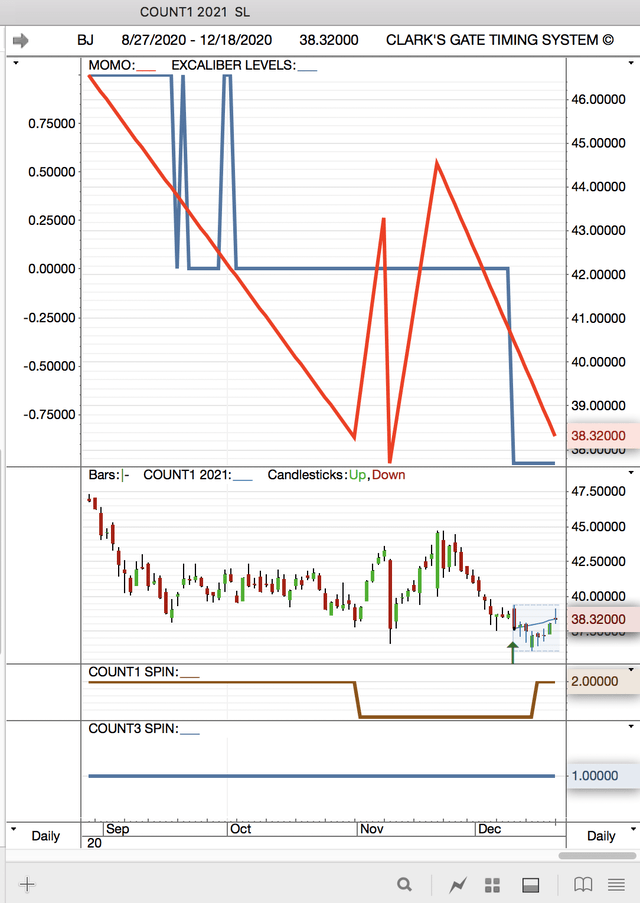 MOMO is positioning itself for a sudden pivot higher in NTES.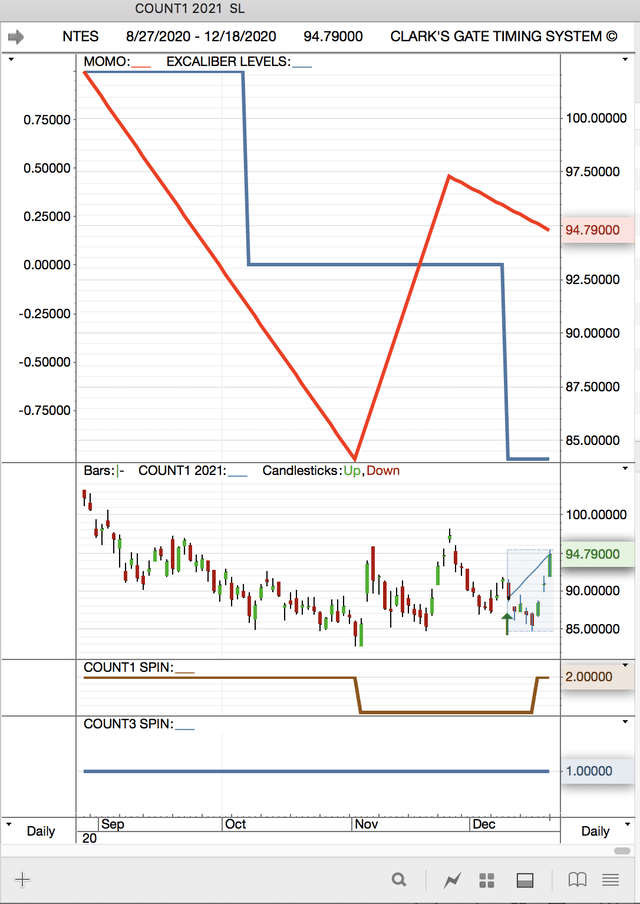 COUNT2.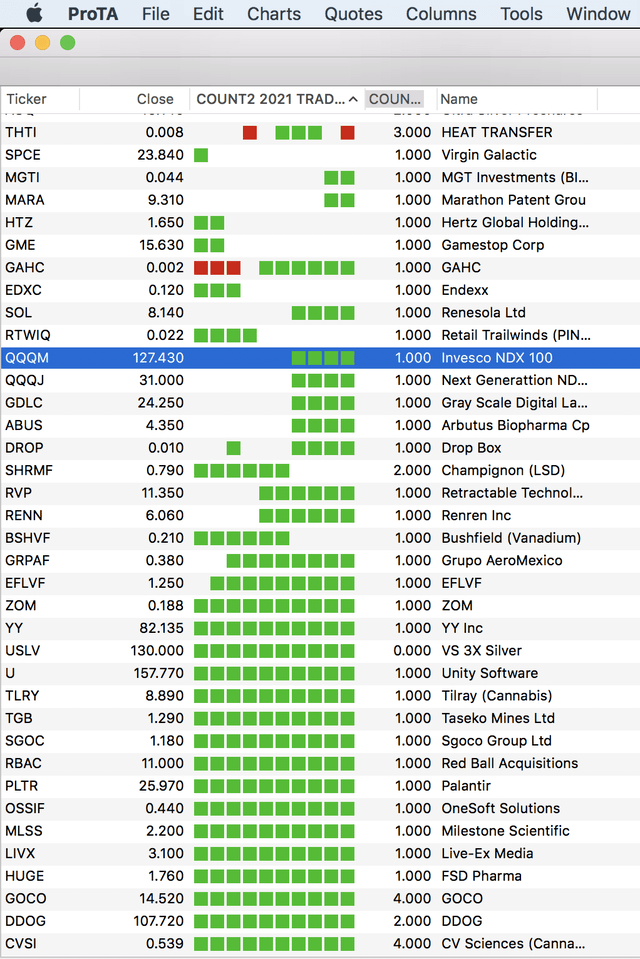 We like some of these. MARA, for instance.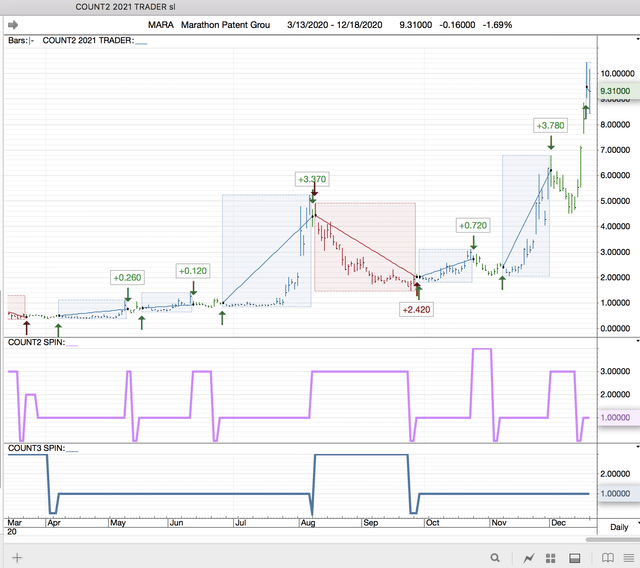 QQQM and QQQJ just qualified for PROP2 and PROP3. We would rather BUY it closer to a trading bottom. Because of the paucity of data, we are not buying these at a trading bottom. Makes us nervous. Should we wait?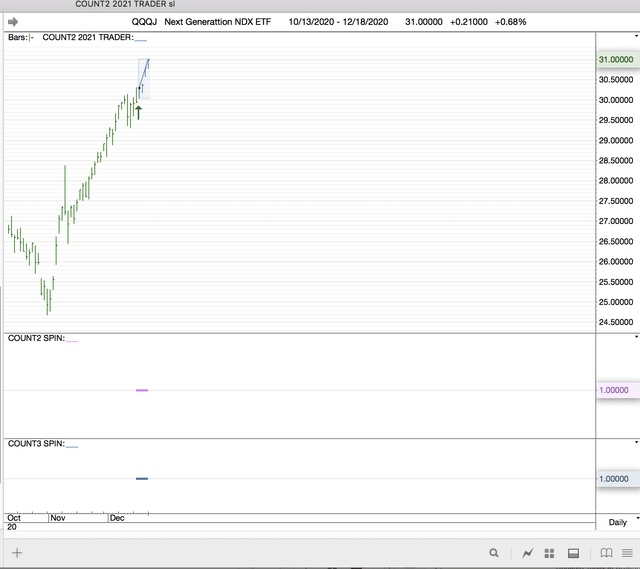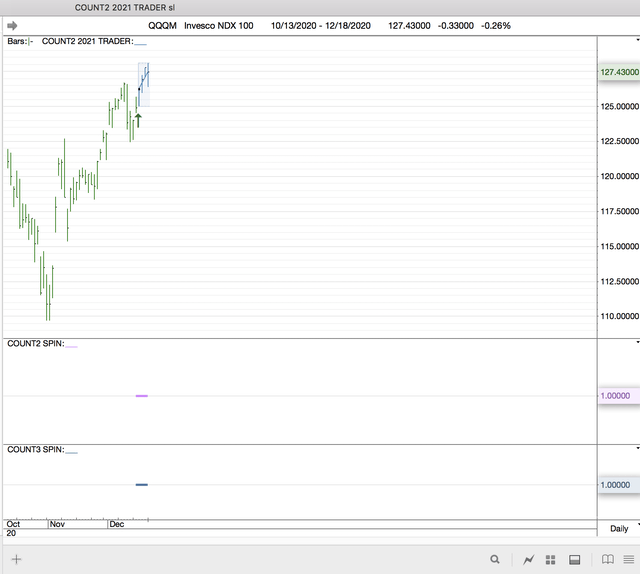 ABUS is at a trading bottom. Almost all stocks make a trading bottom, rally for a short time, and then pull back to test that bottom. That is what ABUS is doing here.,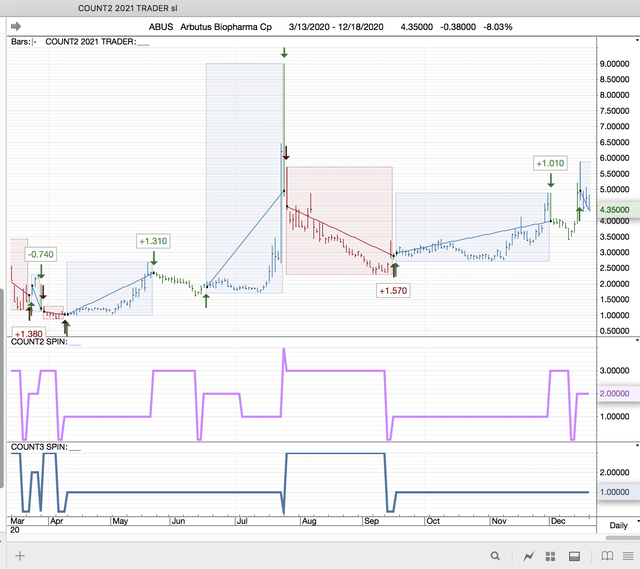 RVP, similar story.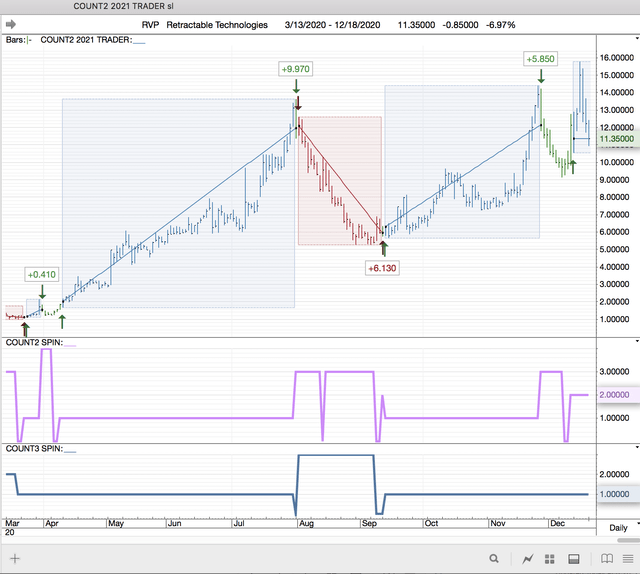 GLDC, GREY SCALE DIGITAL LARGE CAP FUND. Is this the beginning of a long-term rush higher?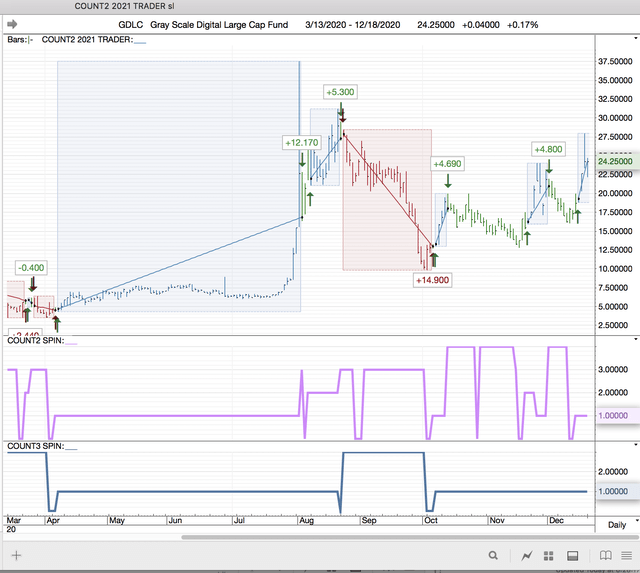 COUNT 3. I should say something about the COUNT Systems in a general sense. COUNT1 is the shortest frequency, the most energetic, volatile. COUNT2 is a bit longer, a bit slower. COUNT3 is even longer, even slower. COUNT4 is almost too long, almost too slow.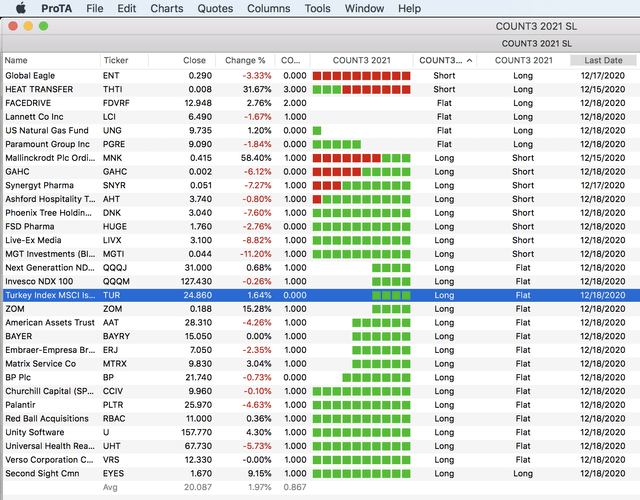 TUR, TURKEY, has not been an especially reliable trade in the C3 System. But it is giving another BUY SIGNAL. I would not recommend this trade. Although this system does work well with this issue, as you can see below.
COUNT_1_TRADE_PORTFOLIO_121820.xlsx
HEADLINE NEWS
RACISM ON THE LEFT is out-of-control.



We understand that Racism Against Black Americans is not tolerable; but why is Racism Against White Americans tolerable?
Understand, if you will, that the Marxist LEFT hates whites (their own shadow) because WHITES ARE CAPITALISTS and CAPITALISTS ARE EVIL. Is this what the LEFTISTS on college campus are teaching our children? If so, why do we allow it? THE LEFT wants a race war in America. They are trying to fan the flames of a RACE WAR in America. But most Americans, and most LEFTISTS in America, do not want a Race War in America, which no one will win. Why is the LEFT trying to hard to vitalize the RACE WAR narrative in America? IS THAT THE ONLY MESSAGE THEY HAVE?

COVID.

IS THE ELECTION OVER?

AND IT ONLY TOOK...HOW LONG?...HOW MANY MONTHS? BILLIONS FOR THE CORPORATE ELITE; $600 FOR THE PEASANTS? PORKIES REVENGE?


$15BN For Airlines, Corporate Meal Tax Breaks And Other Pork: What's Inside The $900BN Stimulus BIll
Direct payments of $600 to most Americans ($600 per adult and $600 per child); the amounts decrease for individuals with more than $75,000 in income and $150,000 for couples.
$300-per-week in enhanced unemployment benefits through March. Expiring programs for gig workers and the long-term unemployed also would continue.
$284 billion for the Paycheck Protection Program that provides grants forgivable loans to small businesses, arguably the most successful and also most abused program of the CARES act. This represents the bulk of the $325 billion the bill puts toward small businesses
$82 billion for education: includes $54.3 billion for K-12 schools and $22.7 billion for colleges; governors would get $4.05 billion to spend on education aid at their discretion. For-profit colleges would get $908 million for grants to students, and another $1.7 billion would be set aside for historically black colleges, tribal colleges, minority-serving institutions
$10 billion for child care.
15 billion in grants for theater operators and owners of small performance venues.
$25 billion in rental assistance and an extension of the moratorium on evictions
$13 billion in funds for food-stamp and child-nutrition benefits.
$30 billion for the procurement and distribution of a Covid vaccine, as well as testing and tracing.
$1.8 billion in tax credits for businesses to provide paid leave.
BITCOIN
IS GOD GOING TO RESCUE US?
OH, THAT'S RIGHT, THE ATHEISTS CONTROL THE MEDIA AND ALMOST EVERYTHING ELSE IN AMERICA. I FORGOT. (THE STAR OF BETHLEHEM? RIGHT-BRAIN SAYS ONE THING; LEFT-BRAIN ANOTHER. WHICH BRAIN IS CORRECT?)

Best to all.
MJC, CGTS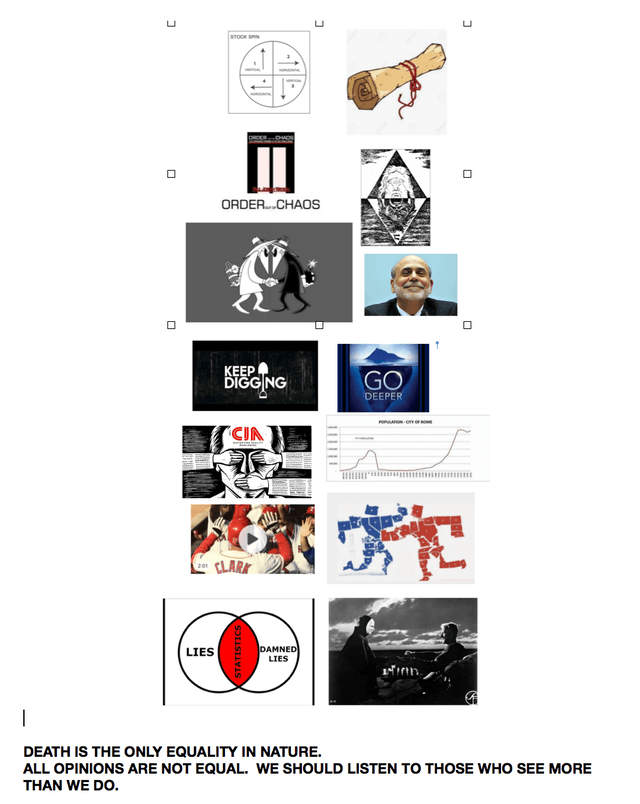 Disclosure: I am/we are long GBTC, BLNK, TSLA, SOLO.
I wrote this article myself, and it expresses my own opinions. I am not receiving compensation for it. I have no business relationship with any company whose stock is mentioned in this article.
Seeking Alpha's Disclosure: Past performance is no guarantee of future results. No recommendation or advice is being given as to whether any investment is suitable for a particular investor. Any views or opinions expressed above may not reflect those of Seeking Alpha as a whole. Seeking Alpha is not a licensed securities dealer, broker or US investment adviser or investment bank. Our analysts are third party authors that include both professional investors and individual investors who may not be licensed or certified by any institute or regulatory body.