CGTS WEDNESDAY: WASHINGTON RIOTS THE BEGINNING OF SOMETHING, NOT THE END OF SOMETHING
Please Note: Blog posts are not selected, edited or screened by Seeking Alpha editors.
Long/Short Equity, Special Situations, Currencies
Seeking Alpha Analyst Since 2009
Michael J. Clark was born and raised in Sinclair, Wyoming. He is a poet, novelist, artist, historian, and market analyst. He began investing in 1985. He read ˜The Technical Analysis of Stock Trends" by Edwards and Magee and was hooked. From 1985-1987 he made astonishing gains in the stock market; and then stocks collapsed in 1987. Since then he has been attempting to 'solve the stock market', with many failures and some successes. The system he developed, called CGTS, Clark's Gate Timining System, is algorithm-based. What this fancy word means is that he proposes a series of necessary steps based on technical analysis propositions, which, when met, trigger trading signals. His four main trading systems are up a combined 31% for 2015. From his website: INVESTMENT PHILOSOPHY Now that QE is supposedly ending, markets are already becoming more tradable, with opportunities to make money on both long and short trades at the same time. QE tended to make all boats rise, except precious metals. This made it more difficult to play the short side of the markets. Now, both sides seem to be more accessible to successful trades. This will also be more of a challenge for investors. The FED will have to eventually abandon the markets to their own destinies, and stop spending trillions to protect investors AND corporations from their mistakes. As this begins to happen (I am not sure it has happened yet), informed advice will become even more necessary for investors. Rules of Investment Rule #1: Never go against the trend. The majority is often wrong; but the minority is often wrong also. The sticky issue with this advice is at transition points, at which a Bull Market turns into a Bear Market or vice-versa. Big Money often anticipates and/or causes this transition. So pay attention to what Big Money is really doing, not what they say they are doing. Rule #2: You don't need a broker who makes his living off of your money. Most brokerage firms buy a position in a stock quietly and slowly. When the stock has appreciated significantly they add the stock to their buy recommendations. Then they begin selling their position while they are encouraging their clients to buy the stock. Most firms never issue sell recommendations. If they do, beware: they are probably trying to buy your stock after a huge sell-off. Rule #3: Watch your own emotions because they are often signaling something. When fear turns to greed and visions of unlimited wealth, we are probably near a top in a trade and we should get ready to sell. When hope and denial turn to fear and visions of an unlimited loss, we are probably approaching a bottom in a trade. (See Rule #1 however.) Rule #4: Trade with a system to complement your gut reactions. Follow the system no matter what, even if it means taking a loss. Don't get lazy with your money and sink into denial. Use a system to help you refrain from 'playing a hunch'. Rule #5: HEDGE YOUR PORTFOLIO AGAINST LOSSES. How does one do this? By having a balanced portfolio of long and short positions. But have a system that signals both long and short positions, and keep your portfolio balanced around 50% long and 50% short. This may seem to contradict Rule #1. It does not. When something is in a long trend, something else is in a short trend. Find what is long and what is short. If stocks are long, gold or oil may be short. Use ETFs and options to help establish this portfolio balance. Our system gives trading signals every day for both long and short positions. More information on CGTS is available at: http://home.mindspring.com/~mclark7/CGTS142.htm His fine arts portfolio can be found at the following address: http://www.hoalantrangallery.com/MJC2.htm His writing portfolio can be found at: http://www.hoalantrangallery.com/MJCwriting.htm Those interested in his book "Turn Out the Lights", a description of the metaphysical causes of the 2008 financial meltdown, can access the draft at: http://www.hoalantrangallery.com/Turnoutlights.htm Michael Clark has retired after working 30 years in academia, relocated to Hanoi, Vietnam for six years, and has returned to America in 2014.
CGTS: THE NEW SCIENCE OF INVESTING

CGTS Algo Trading System

CGTS WEDNESDAY: WASHINGTON RIOTS THE BEGINNING OF SOMETHING, NOT THE END OF SOMETHING
Jan. 06, 2021 9:53 PM ETCLSK, OTC:GBTC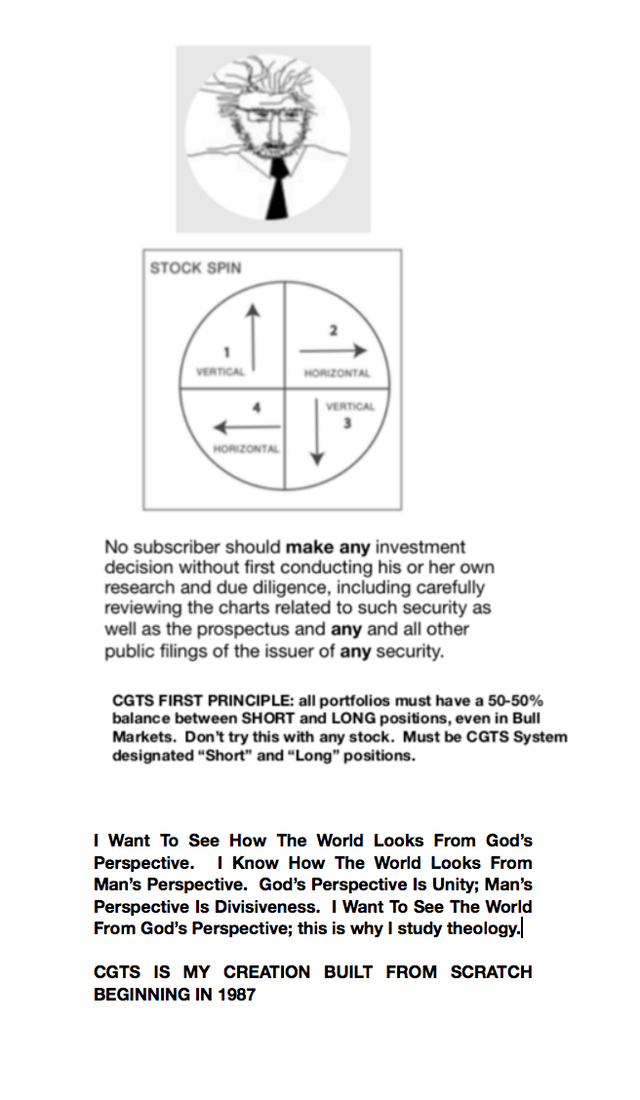 Where do we start today? Protestors breached the US Capitol to interrupt the process of certifying the Joe Biden election.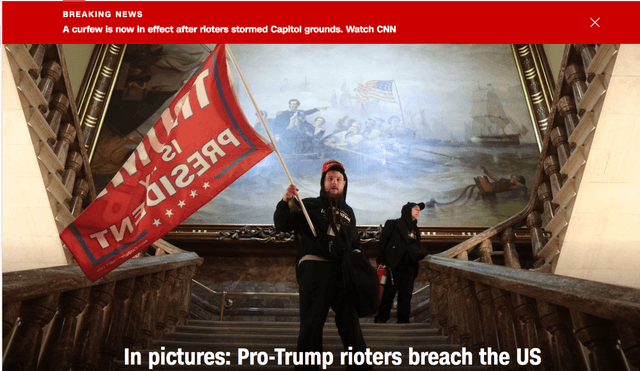 ARE THESE people TERRORISTS? The MEDIA says they are. There was not much violence. No looting. Not buildings burned. The only death was an unarmed woman, a demonstrator, shot dead by a police officer. This was a democratic process demonstration. People are angry. Of course the power structure (both parties) was shaken to its bones. That is good; they need to be shaken.
OUR DEMOCRACY IS BROKEN; THE DEMOCRATS BELIEVE THE REPUBLICANS ARE NAZIS AND THEY BELIEVE THEY MUST DO ANYTHING THEY CAN TO KEEP THEM FROM POWER. CHEATING IS FINE; LYING IS GOOD; CHEATING IS NECESSARY, JUSTIFIABLE. THE ANTI-WHITE REVOLUTION HAS ACHIEVED IT'S COUP. Obviously, when you are fighting "Hitler", ANY METHODS to defeat this enemy (this HORRIFIC EVIL IMAGERY) are permitted. Of course, TRUMP is NOT HITLER. The perception of the LEFT is mired in backward-looking imagery. TRUMP is NOT HITLER. And America is NOT Germany in 1930. The LEFT is sleepwalking, mired in an illusory image that is a nightmare from which they cannot awaken.
Anyone surprised by what happened today in Washington DC has NOT BEEN PAYING ATTENTION.
The RIGHT in America has been insulted, degraded, humiliated, belittled ("a basket of deplorables", remember) ever since 2015. The smug LEFT needs to wake up to the fact that their disrespect for true democracy is the cause of all this. Their attempts to de-legitimize and even criminalize people and ideals on the opposite side of the political spectrum will lead this country to ruin. LEFTIST arrogance is the problem, not populism. Populism is a response to ELITIST ARROGANCE. This is just the beginning, if they (the LEFT) does not wise up.
Remember the RUSSIAN COLLUSION: Remember the UKRAINE PHONE CALL IMPEACHMENT attempt. This was ELITIST ARROGANCE trying to change the 2016 election after the fact.

Trump Supporters Swarm Governor's Mansion In Washington State
On Wednesday afternoon, supporters of President Trump breached the gates at the Governor's Mansion in Olympia, Washington.

According to local news KING 5, "hundreds of protesters gained access to the property, with flags, signs, and megaphones."

KING 5 reporters were on scene and confirmed Gov. Jay Inslee was home as protesters, some armed, were at his doorstep.

The Daily Beast's Shauna Sowersby said, "protesters are now standing outside of Gov. Jay Inslee's mansion on the Capitol campus chanting, "open the gates!" Some are banging their flags on the metal gates."

Protestors are now standing outside of Gov. Jay Inslee's mansion on the Capitol campus chanting, "open the gates!" Some are banging their flags on the metal gates. No word if Inslee is currently here or not. #OlympiaProtest pic.twitter.com/haeR5xR4JH

— Shauna Sowersby (@Shauna_Sowersby) January 6, 2021

Sowersby captured the moment when protesters broke through the security gate and stormed the grounds of Inslee's mansion.

Protestors have breached the gates of the governor's mansion. #OlympiaProtest pic.twitter.com/RCP6ifF1jn

— Shauna Sowersby (@Shauna_Sowersby) January 6, 2021

Protesters swarmed the front yard of the mansion.

Protestors now on the lawn of Gov. Inslee's mansion #olympiaprotest pic.twitter.com/MgwtlLZmst

— Shauna Sowersby (@Shauna_Sowersby) January 6, 2021

They were met by police officers in riot gear at the front door of the home.
SECESSION FROM THE SWAMP COMES NEXT, IF IT REFUSES TO LEARN.
Move the Capitol to OMAHA. DRAIN THE SWAMP.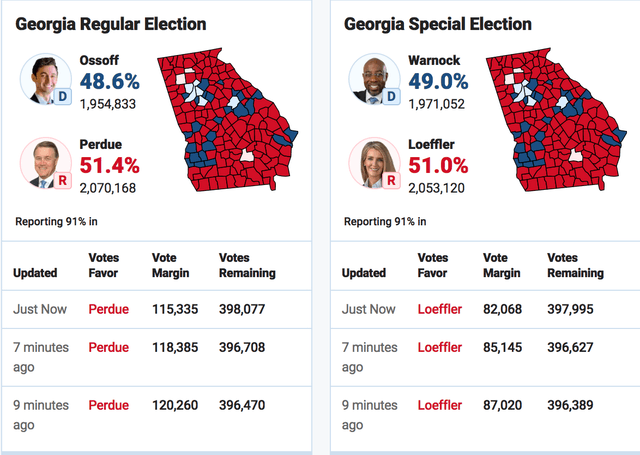 With 390,000 votes outstanding last night, Georgia Senate Republican candidates were in control of the voting -- both Democratic candidates carried the final 396,000 votes by about 73% to 27%. Who believes this?

We really can't have democracy unless we have a verifiable national electoral process. We need national identity cards and voter registration based on US citizenship. Attempts to corrupt the democeratic process should become a felony with harsh punishments.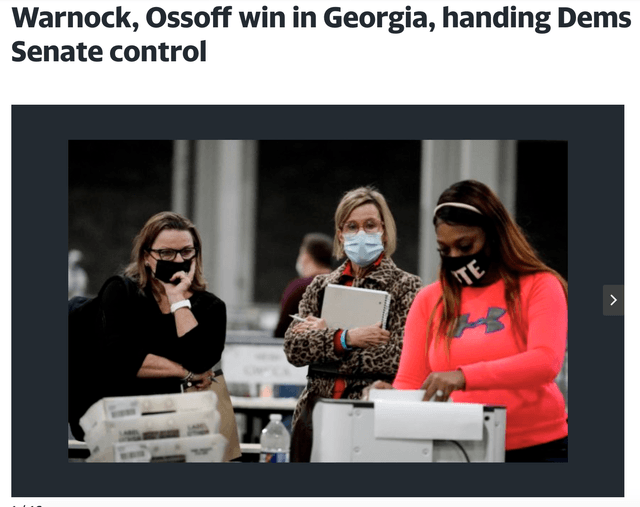 Umm, where was that box of votes; I think we are going to need them.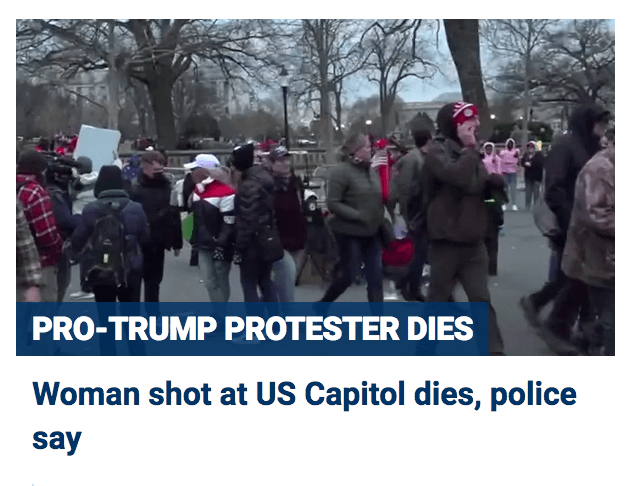 STOCKS.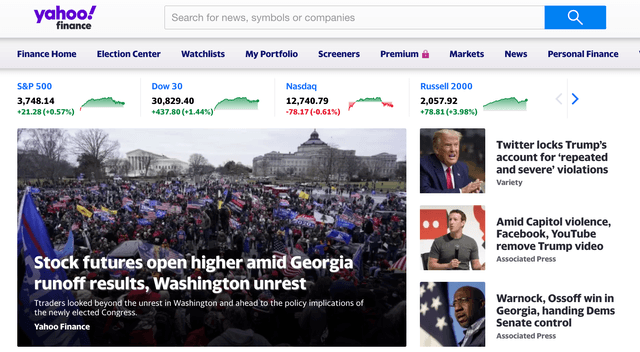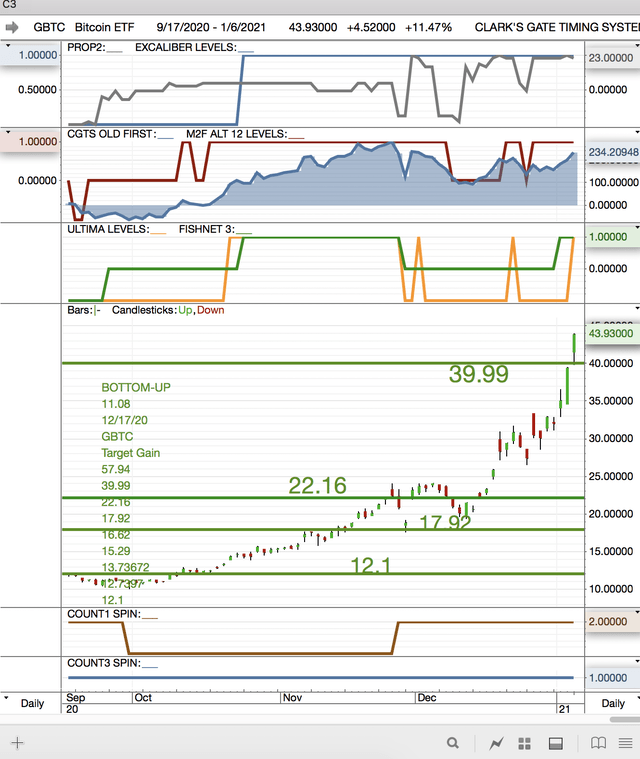 CLEAN SPARK, CLSK, up 27%.
QS, QUANTUMSCAPE, works to close down-gap.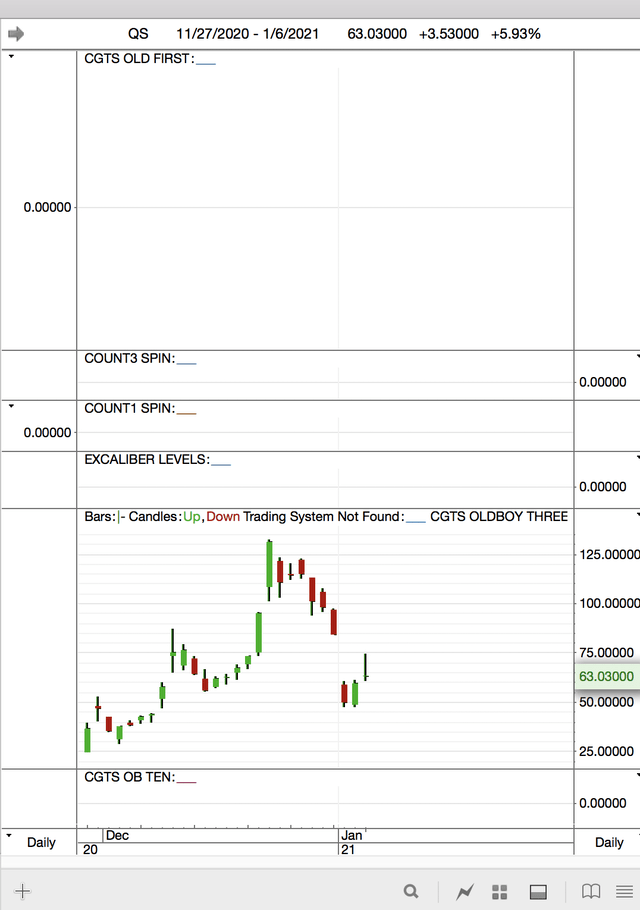 CGTS MARKET DIAGNOSTICS
We expect MOMO1 and PROP2 to decay first when the BEARS return. Decay means fall below 50%. MOMO1 jumped from 54.22% to 66.83% today; PROP2 jumped from 75% to 77%. Clearly today was bullish.
Don't believe the BEARS. We do not need to LONG DARK WINTER RE-SET the Democrats are seeking to bring about through COVID hysteria and political authoritarianism. The RIGHT is going to Heaven; the LEFT is going to HELL.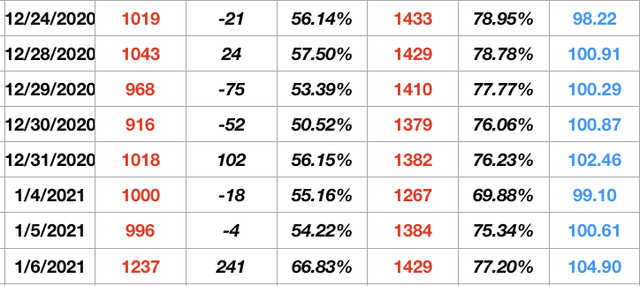 CROSSOVERS.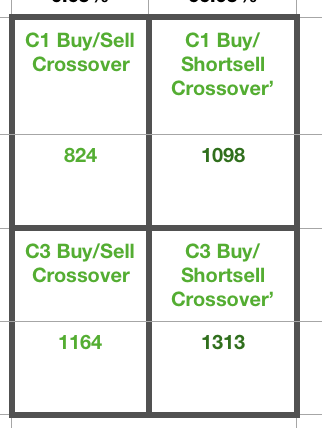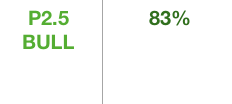 CROSSOVER TRADE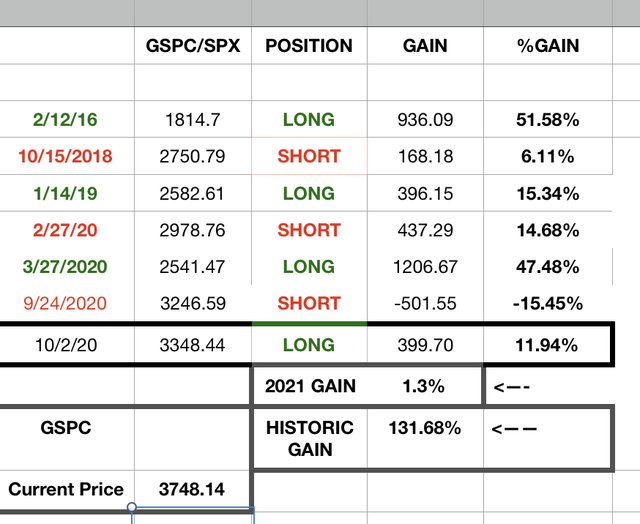 EARLY-WARNING SYSTEM. Do not listen to the BEARS here.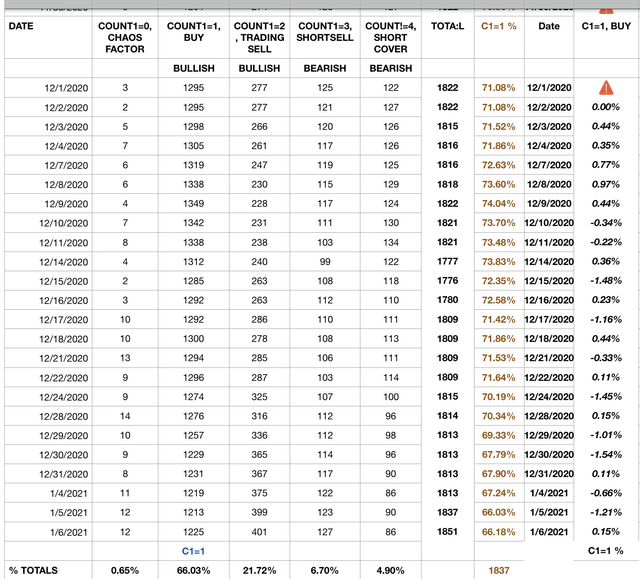 New rush apparently to IMPEACH TRUMP again, saying he incited violence today.

I thought this woman was in prison. Hasn't she been convicted of misuse of campaign funds for her husband, her brother, on whom she is apparently cheating?
Ilhan Omar is accused of illegally using campaign cash on her lover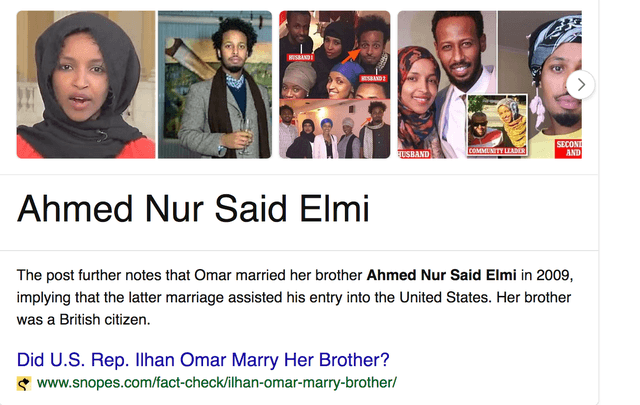 Where is the Senate censure for unethical behavior?



The explosive story is NOT verified.


Who elected TWITTER to act as conscience of America?

One new LONG position in our 3x portfolio: WEBL, INTERNET BULL, BUY.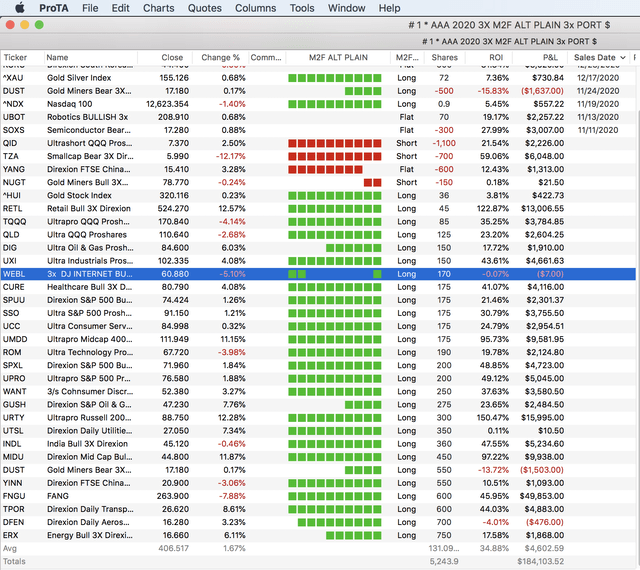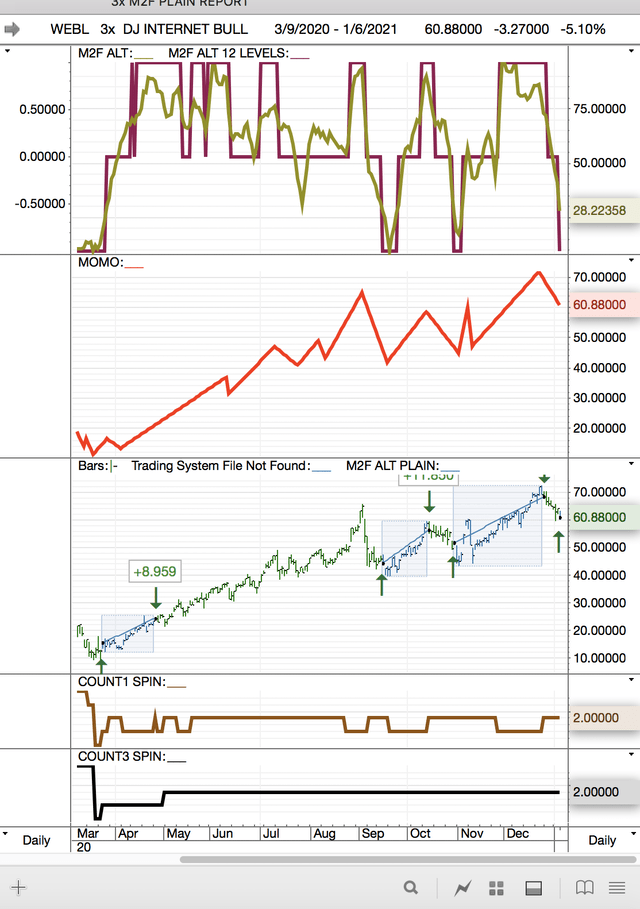 We closed a nice gain today in BWEN in our FISHNET System, up 111%.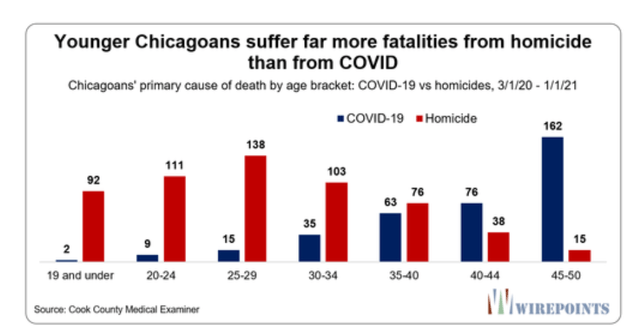 THE DEMOCRACY IN AMERICA IS NOT UNDER ASSAULT, THE CORRUPTION OF OUR DEMOCRACY IS UNDER ASSAULT.
MJC, CGTS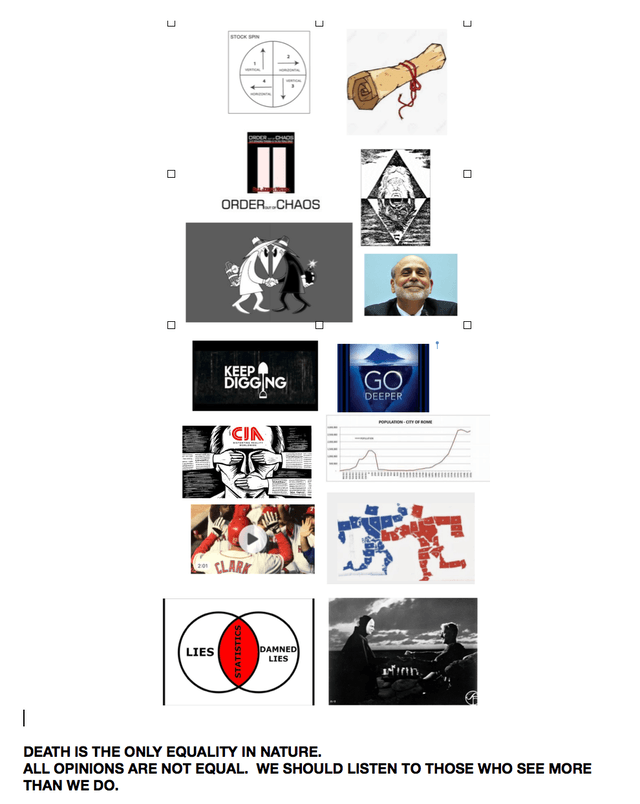 Disclosure: I am/we are long CLSK, GBTC, WKHS.
I wrote this article myself, and it expresses my own opinions. I am not receiving compensation for it. I have no business relationship with any company whose stock is mentioned in this article.
Additional disclosure: ETC.
Seeking Alpha's Disclosure: Past performance is no guarantee of future results. No recommendation or advice is being given as to whether any investment is suitable for a particular investor. Any views or opinions expressed above may not reflect those of Seeking Alpha as a whole. Seeking Alpha is not a licensed securities dealer, broker or US investment adviser or investment bank. Our analysts are third party authors that include both professional investors and individual investors who may not be licensed or certified by any institute or regulatory body.