CGTS THURSDAY: STOCKS REFUSE TO RETREAT. TBONDS ARE NOT CRASHING
Please Note: Blog posts are not selected, edited or screened by Seeking Alpha editors.
Summary
SO, WHO IS OUR MARK ANTONY?
CGTS Algo Trading System

CGTS THURSDAY: STOCKS REFUSE TO RETREAT
Jan. 07, 2021 11:45 PM ETCLSK, DESP...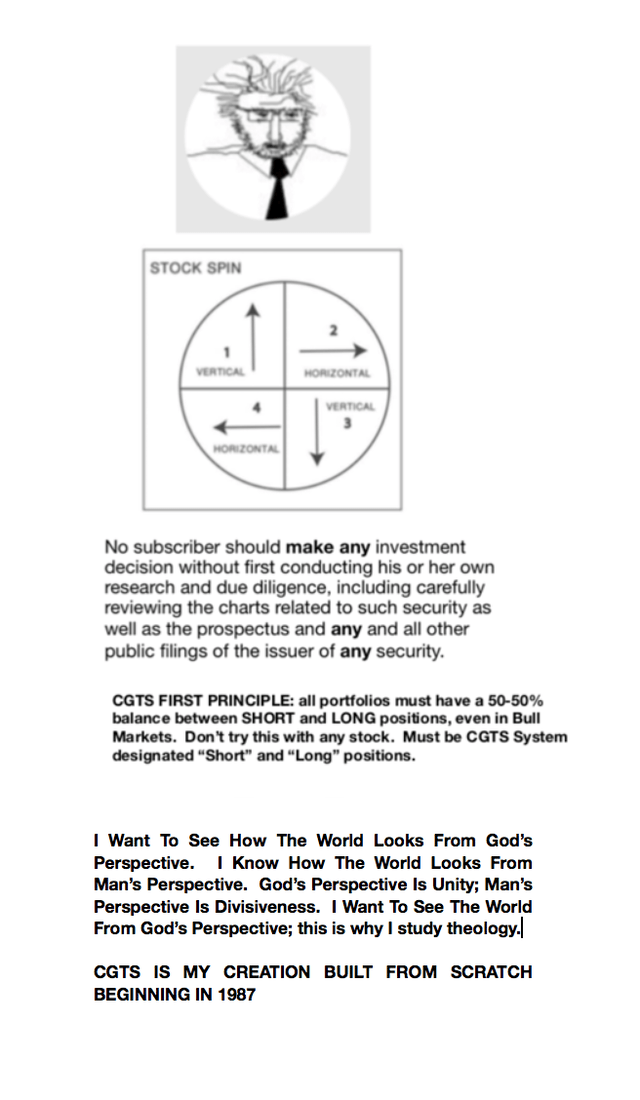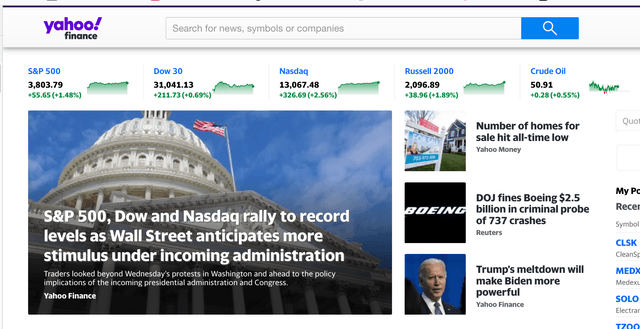 IS THIS THE GOOD-LUCK ZONE on the calendar I have written about? NOTE: we are SHORT YANG and DUG.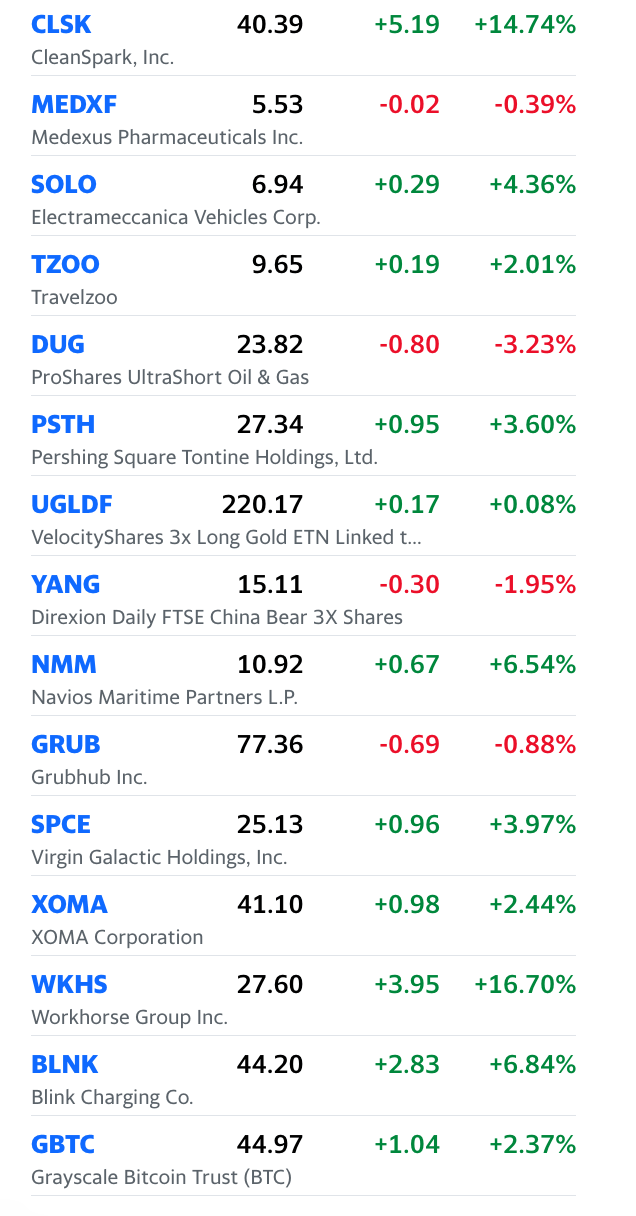 Let's look at TBONDS. Are interest rates going to pivot higher and crush stocks? Many experts are predicting this.
TBT is a SHORT 10-YEAR TREASURY ETF, LONG 10-YEAR YIELD. YIELDS have risen and a trader has made money on the long side this past month. But the TREND is still decidedly BEARISH, which means rates are going lower over time and stocks continue to be the only game is town, until 26.45 is breached on the upside -- or until MOMO re-positions itself with HIGHER HIGHS AND OR HIGHER LOWS. Higher Highs or Higher Lows suggests a bottom; HIGHER HIGHS AND HIGHER LOWS IS A BULL MARKET.
BONDS ARE STILL BULLISH; Bond Yields are still BEARISH, LONG-TERM.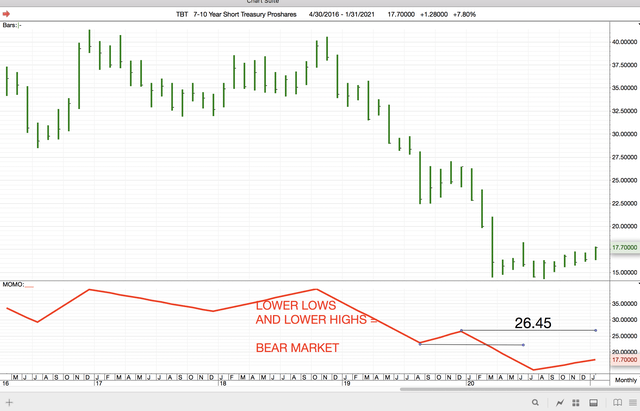 In fact, we just got SHORTSELL SIGNALS on TBT and TMV in our highly-successful 3x M2F ALT PLAIN System.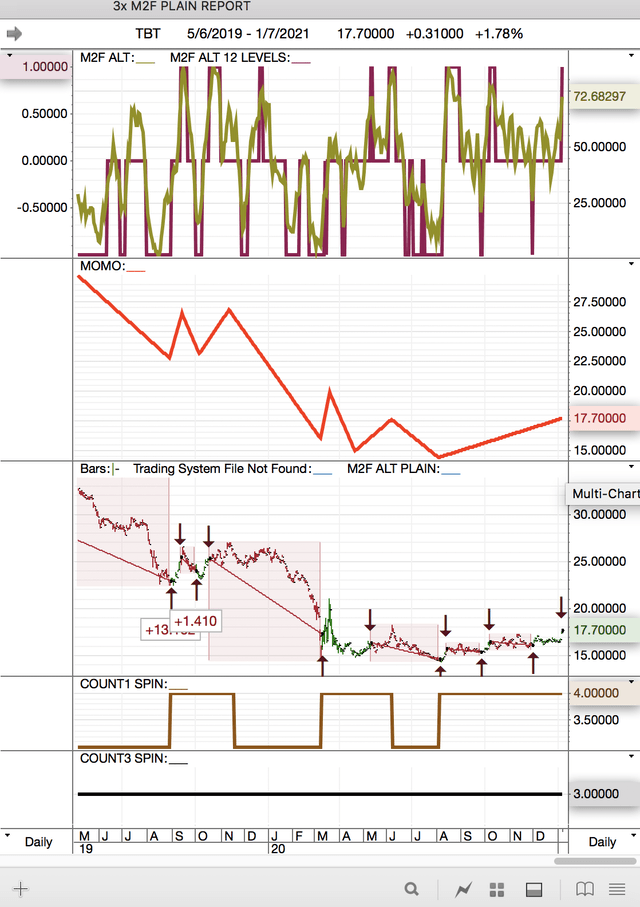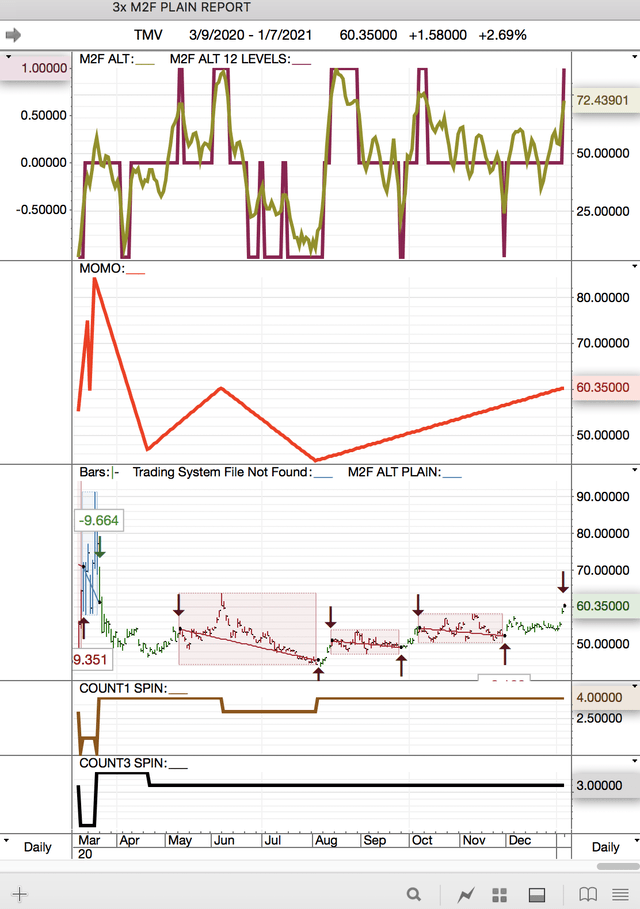 THE US DOLLAR is still long-term bullish.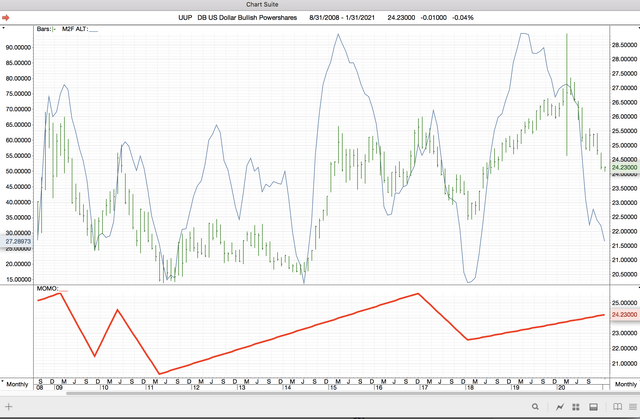 GOLD looks more like a TRADING TOP than a TRADING BOTTOM -- but it is still long-term BULLISH. MOMO HHIGHS, HLOWS.
BITCOIN?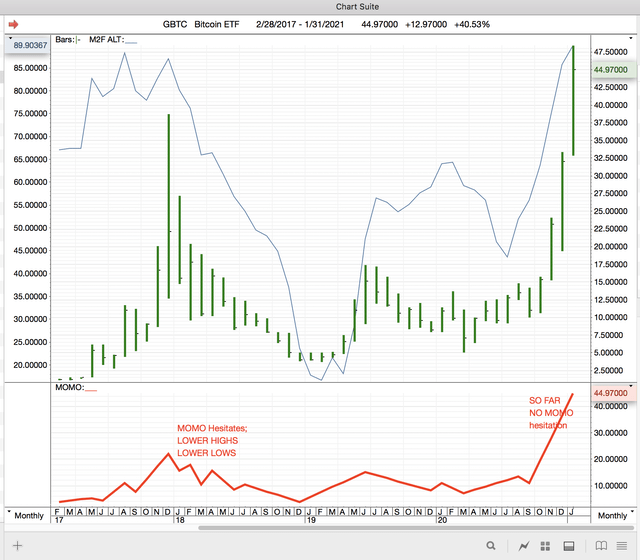 IDEX continues to rebel against our SHORT-TERM TRADING COUNT System.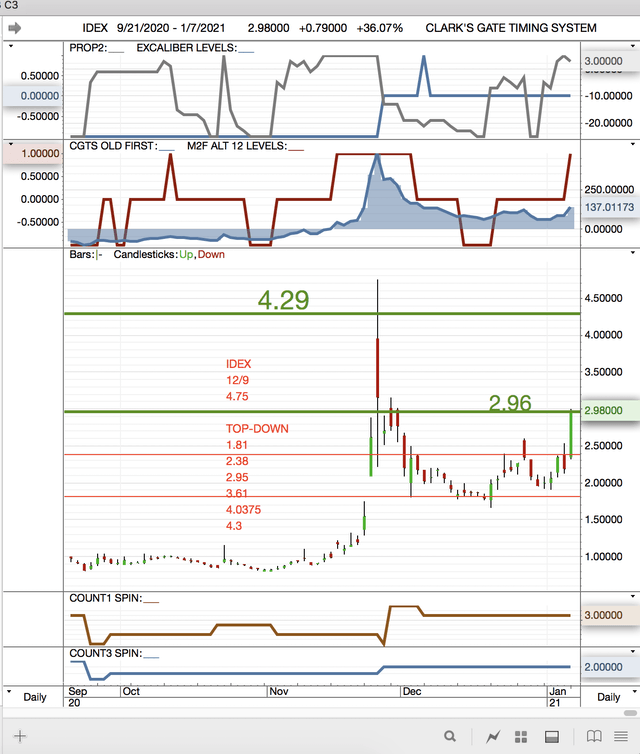 LAZR had a nice day also; we are LONG. C1=2, TRADING, BULLISH, SELL; C3=1, BUY.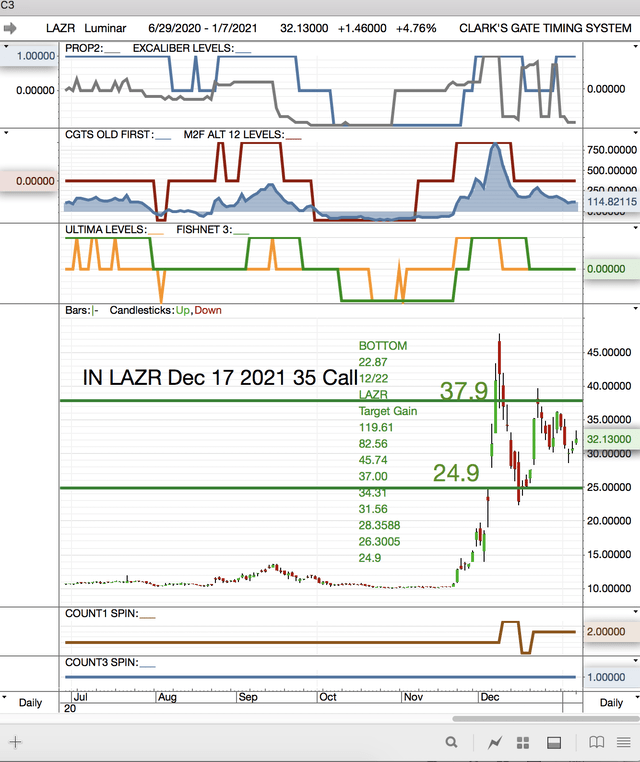 BLNK is coming back for more.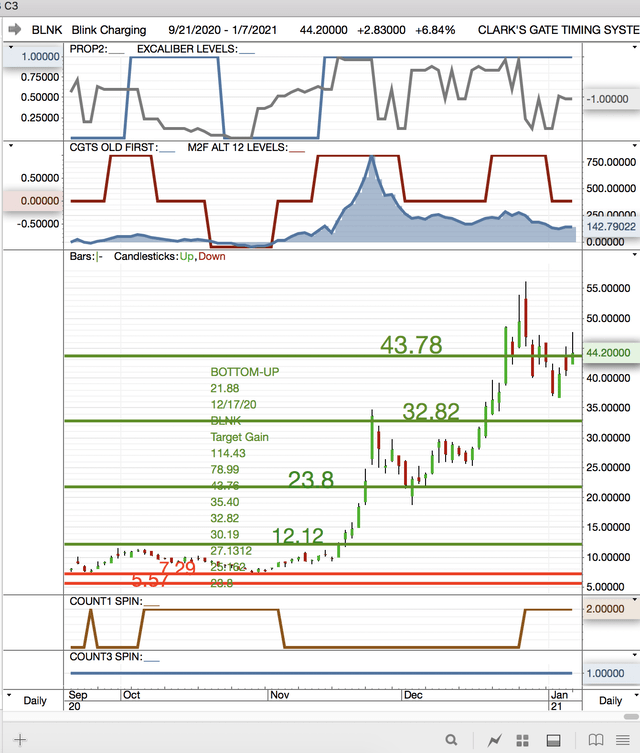 We have a reader who is LONG ATHX and wanted to see some charts. Clearly today showed a LOT of buyers getting in; but a strong retreat by the end of the day -- note the "bearish" tail in the candlestick today. C1=2, TRADING (still Bullish) SELL; C3=4, BEAR RALLY. The message is mixed.
No question, a positive day.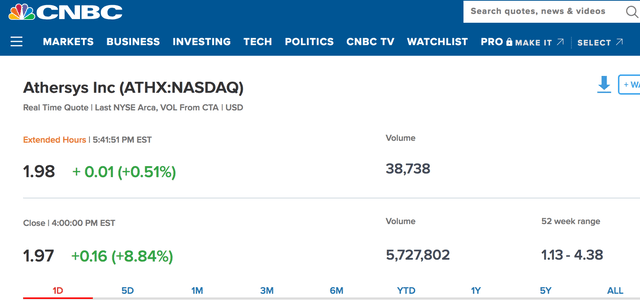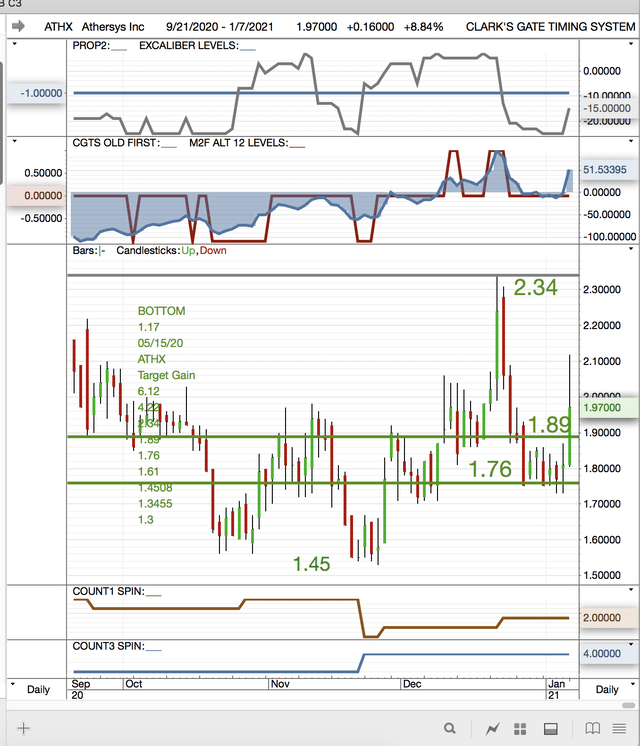 I don't buy the idea that a BEARISH Long-Tailed pin is always bearish (see below). The fact that a LOT of buyers appear suddenly; and then the BEARS sell into the rally and force the price back DOES NOT SUGGEST that the BEARS won. Every rally is a tug of war between buyers and sellers. When all the SELLERS are absorbed, the BUYERS win.
ATHX closed at 1.97, above 1.89 RESISTANCE. This is positive.
6 Types of Tailed Bar Candlestick Trading Strategies " Learn To Trade The Market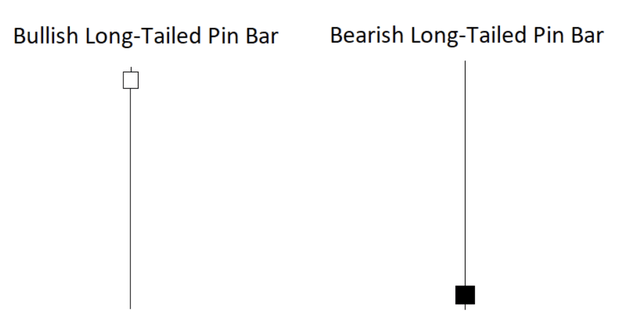 The MONTHLY chart shows a long sideways consolidation -- and shows BULLS AND BEARS roughly at equal strength here.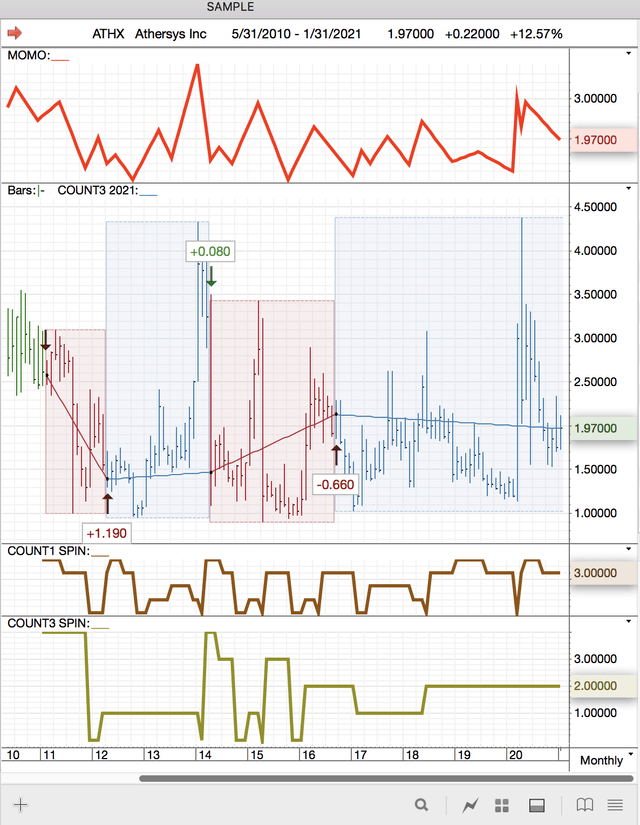 We owned ATHX for a while and did not like its inability to move higher. We sold; we have not got back in.
CLSK, CLEAN SPARK, has a been a winner. We are in no hurry to get out.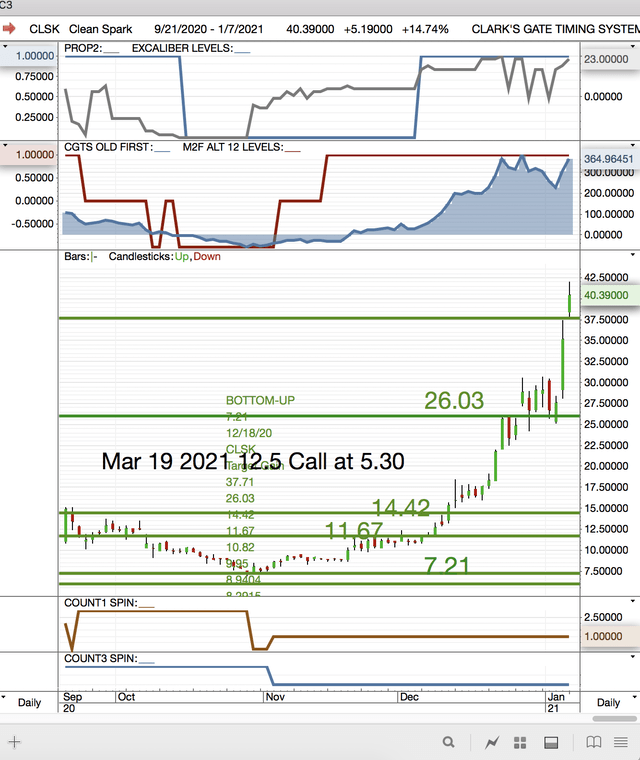 CLSK is not at all time highs, but does seem destined to go there.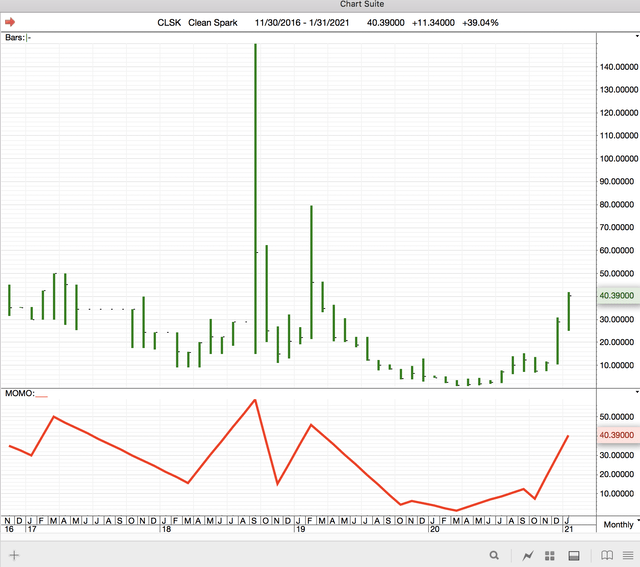 GBTC. Next target: 57.94.
We are being told that stocks are overvalues and MUST fall. This is clearly not so; this is an opinion.
The last two days: C1=1 is growing, not as a % it is true. C1=2 is growing; C1=3, SHORTSELL, is weakening, 127 to 120, even as we added 8 stocks today. We want the action to be confined to C1=1 and C1=2. This means the BULLS are in control. C1=2 is a normal selling correction. C1=1>C1=2 is our primary CROSSOVER; C1=1>C1=3 is our secondary CROSSOVER. As long as both CROSSOVERS stay above zero, we are LONG the markets.

CROSSOVERS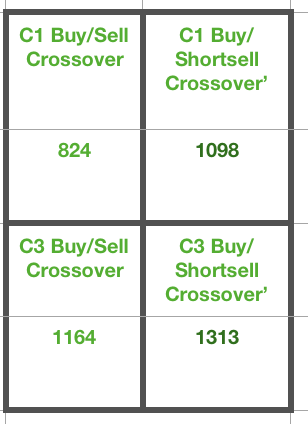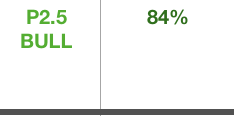 CROSSOVER TRADE: LONG, up 2.8% this year; up 16.4% since 10/2/20.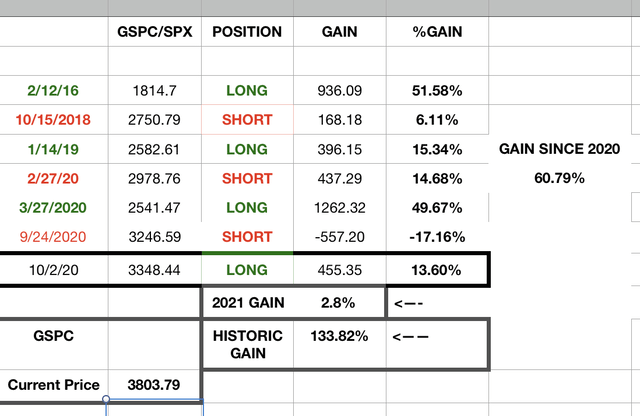 We had an "attempted correction" last week, which is shown in our very volatile, sensitive MOMO1 indicator. RED: If it goes below 50% bullish, we start to worry. It hit 50.52 on 12/30/20. Look how it pivoted back up, and the strength it has shown the last two days.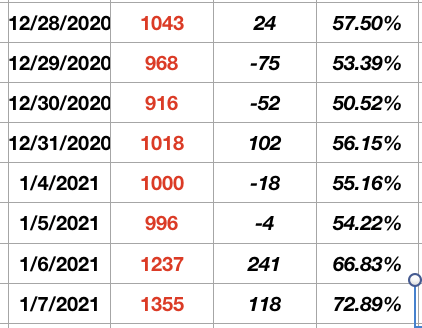 MOMO1 and PROP2 tend to move together (a three legged sack race?). PROP2 is the second red date, on the reader's right.
It sank, as a bullish %, from 81.21% on 12/18/20 to 69.88% on 1/4/21. Then it recovered with a strong bullish push the last three days.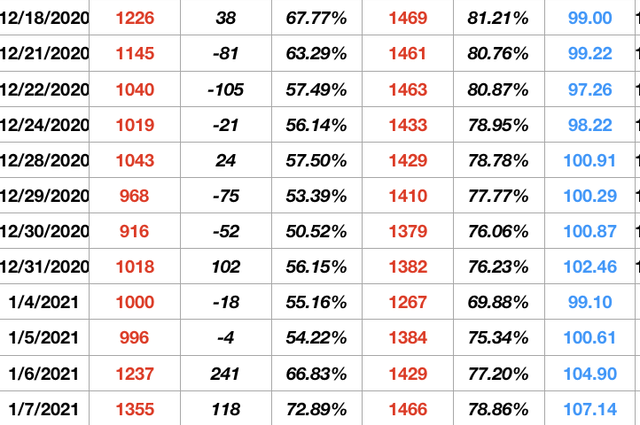 ULTIMA RAW shows the same is also sensitive. Contract reversed after 1/4/21.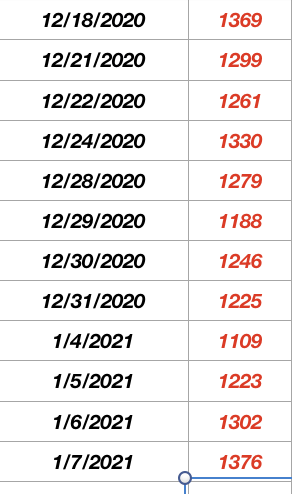 ULTIMA LEVELS shows both Bullish (+), Bearish (-), and Neutral (zero), in transition.
BULLISH fell from 12/17/2020 but so did BEARISH. The fact that BEARISHNESS did not grow was a positive sign. Most BULLISH strength lost simply fell into the REST ZONE, WAITING, recovering strength.

SCORECARD:
EARLY-WARNING. Bullishness intact. FEAR GAUGE falling, 22.54%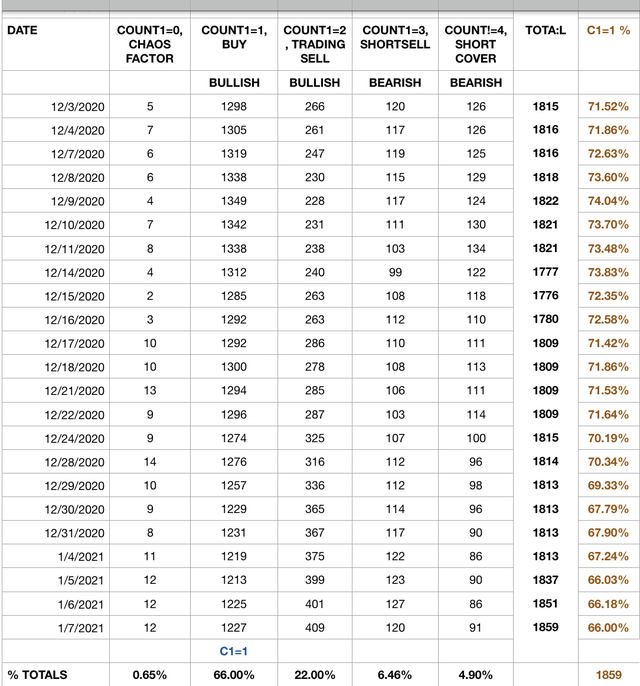 We have been trying to develop a "day trading" system for some time. Not really day-trading per se; but a system that will work for very short term trades. Our EUREKA system(S) are giving us hope here.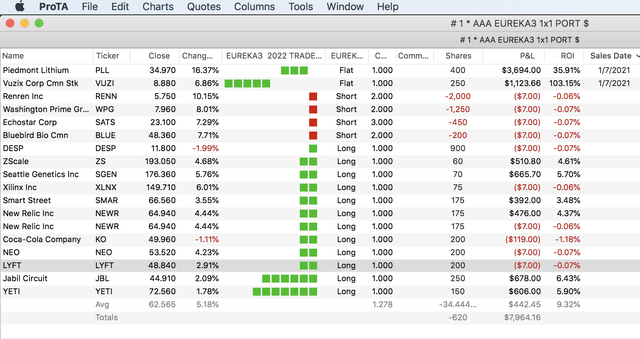 Eureka 3 is a short-term version of EUREKA. Here is how it trades DESP historically, a new signal today.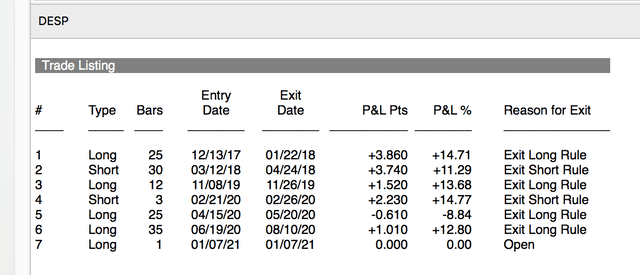 This comes out to about 1% every two days. How useful is this?
Here is how it trades YANG, BEARISH CHINA Stocks.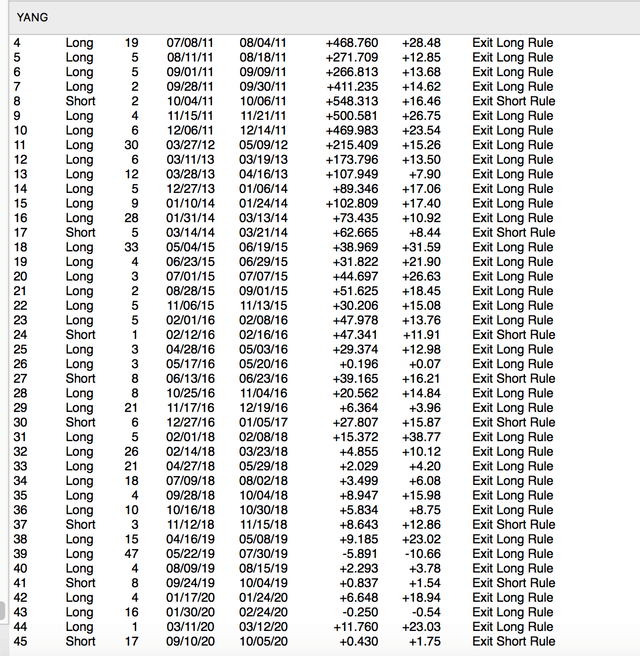 Think about options and short-term trading. Speaking of which, we closed our SHORT TRADE OF YANG, 3x M2F ALT PLAIN, today, a 14% gain. Not much to write home about, but, still, a winning trade.
2020_PORT_FISHNET_EXCAL_1721.xlsx
THE DRAMA IN WASHINGTON
The DRAMA in Washington reminds me of the archetype of Cain and Abel. Cain's sacrifice is not accepted by God. Abel's sacrifice is. Abel is rewarded by God with wealth, children (wealth) and heath. Cain hates God and becomes a REBEL, and an ATHEIST. Abel becomes the enemy, because he loves God and is rewarded; Cain can't kill God, but he can kill Abel. And he does.
Abel is the light of civilization, law, order. Cain is the opposite.
Abel is crucified; Cain is the crucifier.

Is that Nancy Pelosi?

(Looks like a demon face standing over Pelosi's left shoulder, a LUNAR DEMON FACE. Umm. Too much imagination? Or is a truth being revealed?)
The DARKNESS, the Female Principle, the MOON, needs to be vanquished. We will continue to suffer as a nation from PANDORA'S BOX until the SUN is on top again, the MOON and the EARTH below.

The 25th Amendment is the cross, in this picture. Mike Pence has refused to follow this path to Calvary. That does not mean the ritual has ended.
The Son of God who is loved and approved by God, who loves God, is the universal force who is crucified. The crucifier is the darkness.
TRUMP is a leader, like Napoleon; the WASHINGTON Establishment, THE SWAMP, does not wish to risk their cushy existence. Watch the CAREER POLITICIANS run and hide. EXILE HIM TO ELBA? I can hear the professional cowards scrambling, like mice.
If the Democrats want to make 50% of America the enemy, then civil war is inescapable.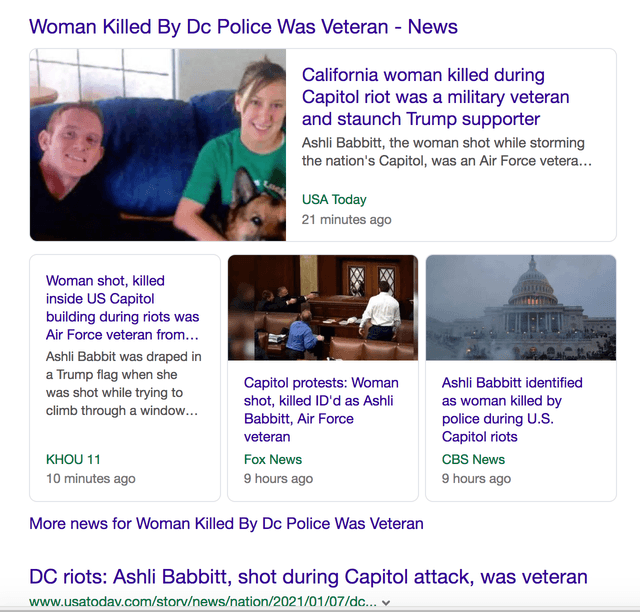 Apparently rioting, looking, killing police and others, injuring, burning businesses is ok if it is a BLACK MOVEMENT.

Sorry. One shoe fits all. We are all a part of this same nation; one law applies to all. (Listening to these millionaire politicians claim they speak for THE POOR is ludicrous; BERNIE SANDERS hates billionaires, loves millionaire politicians, he is one, and says he speaks for the poor. Right.)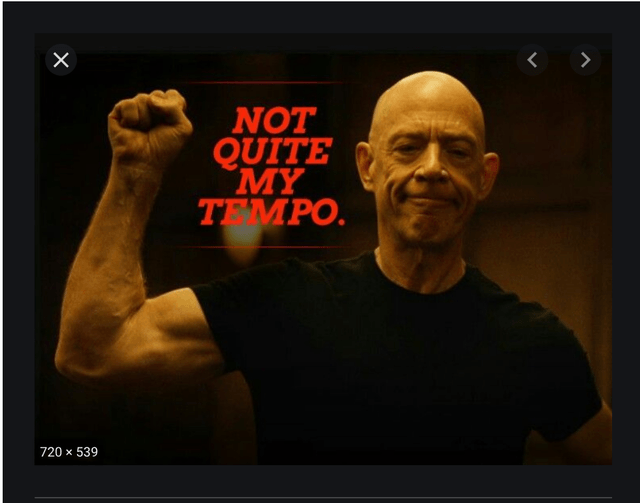 I don't believe ANY of Kamala Harris's relatives were SLAVES in AMERICA. She is rich, well treated, and look at her status in WASHINGTON. She is much richer and much more powerful than most white people in America. If America is so bad, why did her parents move here? She needs to recognize that the AMERICAN DREAM has to be earned, by individuals, through hard work, genius, effort, and it is not legislated for entire races by kind-hearted motherly politicians hungry for power through votes.)
THE MASTER OF OVERSTATEMENT APPEARS. TRUMP NEEDS TO BE WHAT....EXECUTED? Sorry, Michael. I know you have a good heart and good intentions -- but, stop the DRAMA QUEEN act.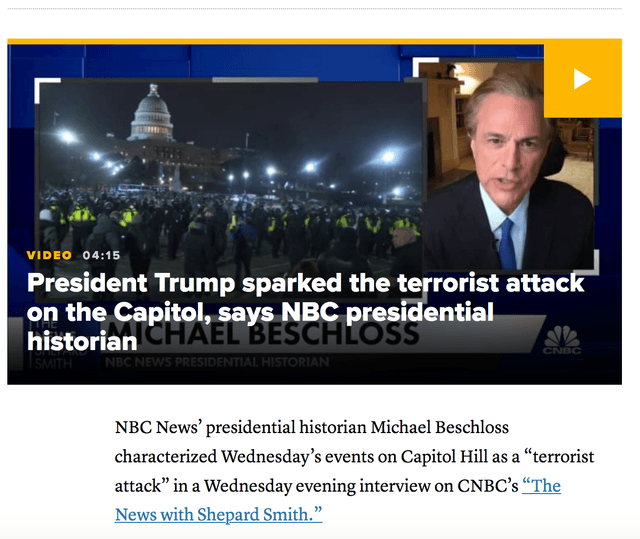 First time I have agreed with Peter Schiff in years.

DEMOCRATIC POLICY?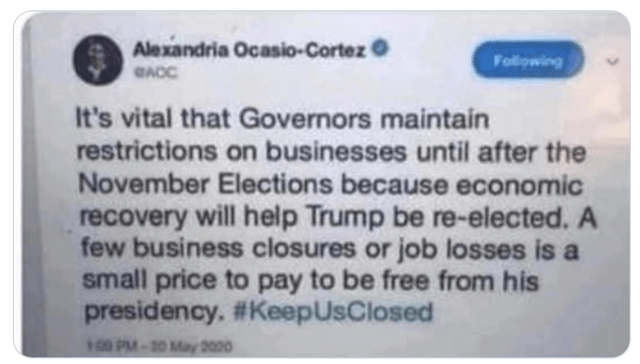 CANCEL THE PARASITE MEDIA?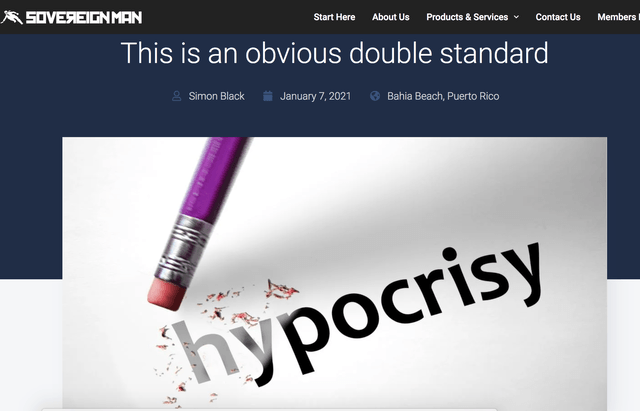 This is an obvious double standard
Kamala Harris went on The Late Show while looting, rioting, and arson peaceful protests took place across the country and told the host Stephen Colbert:

"They're not going to stop. And everyone beware. Because they're not going to stop before Election Day in November, and they're not going to stop after Election Day . . . they're not going to let up, and they should not."

Meanwhile, the media went out of its way to present the protests in the best possible light.

Even if a reporter was literally standing in front of a blazing inferno, they still called the protests "mostly peaceful." And they applauded vandalism and destruction of public property.

The Associated Press 'stylebook', which is sort of the syntactical bible in journalism, told reporters never to use the word "riot", and instead replace it with "unrest".

Back in August, a BLM leader stood on a street in Washington DC and said,

"I'm at the point where I want to put these police in a fucking grave. I'm at the point where I'm ready to burn the fucking White House down. I want to take it to the Senators. I want to take it to the Congress. I want to take the fight to them. And at the end of the day, if they ain't gonna to hear us, we burn them the fuck down."

Another told supporters, "We about to go get that motherfucker," referring to the President of the United States, and then led the crowd in chanting "It's time for a revolution!"

But the media and politicians still had nothing but support. The message was clear: "We hear you, and we understand your anger. We want to help fix it."

This is what a hurt loved one often needs: Respect. Empathy. Understanding. They need to feel like someone is really listening.

And lately this sort of empathy and understanding is being extended to every possible group or identity that feels oppressed.

We've covered so many of these stories– like the child molesters and rapists who have been released from prison or had their sentences reduced simply because they're trans. Or the masktivists who aren't charged with a crime when they pepper spray other people who aren't wearing masks.

If you feel victimized, the media and political establishment now showers you with respect, empathy, and understanding…

… unless, of course, your problem is with the media and political establishment, in which case you are a treasonous conspiracy theorist whose assertions are completely baseless.

And this is what we saw yesterday.

Regardless of how you feel about yesterday's events– whether you're horrified or happy– a rational person should at least be able to acknowledge the massive double standard.

For example, the media wasted no time in calling the events of yesterday "treason".

This is bizarre, because the Article III of the Constitution clearly defines treason. And the Supreme Court has clarified it in numerous cases, like Cramer v. United States in 1945, in which the Justices stated:

"the crime of treason consists of two elements. . . breaking allegiance. . . and rendering [the enemy] aid and comfort. . . if there is no intent to betray [the country], there is no treason."

What did we see yesterday? Thousands of people waving American flags on the balcony of the US Capitol chanting "U-S-A! U-S-A!".

CNN seriously thinks that such actions constitute an intent to betray the country. Yet BLM activists wanting to murder police, burn down the White House, and "go get that motherfucker" is totally fine.
MEDIA EXPERTS. Where has the quality in our country gone?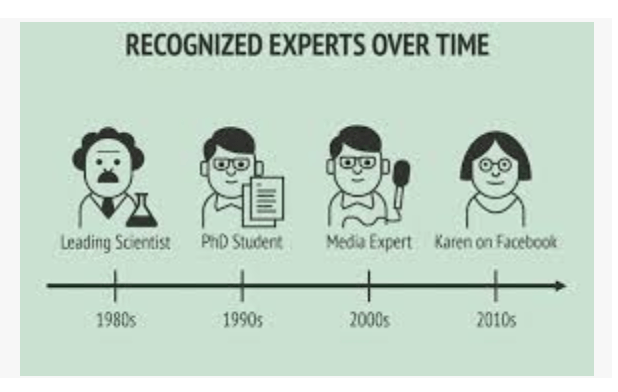 This is where too much equality leads? Children on FACEBOOK are not equal with their parents. We need to wake up.
Good question: WHO IS OUR MARK ANTHONY.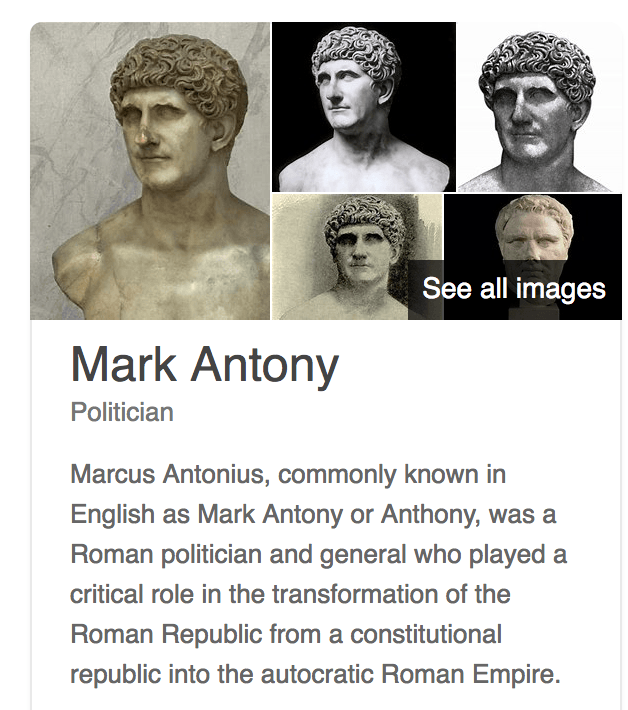 ET TU, BRUTE. THE COMING ASSASSINATION OF DONALD TRUMP - Michael Clark
MJC, CGTS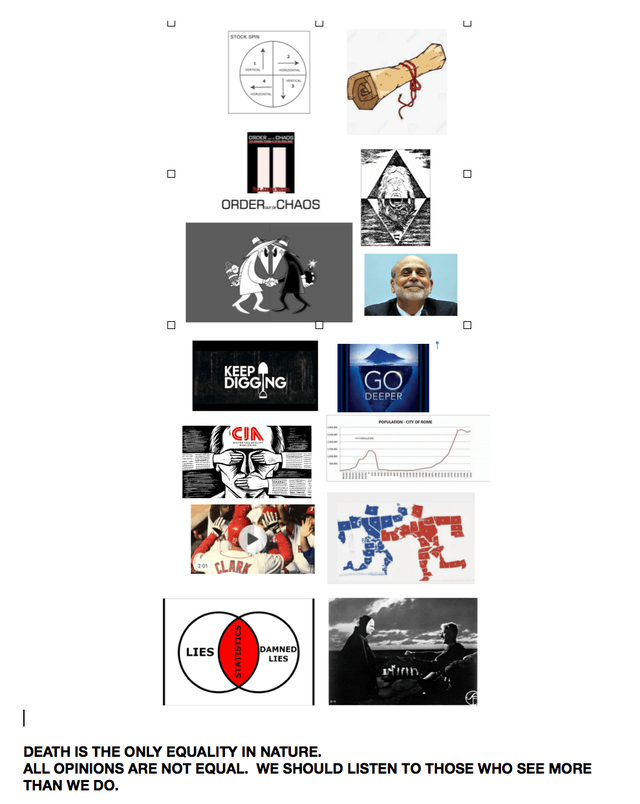 Disclosure: I am/we are long BLNK, CLSK, TSLA, WKHS.
I wrote this article myself, and it expresses my own opinions. I am not receiving compensation for it. I have no business relationship with any company whose stock is mentioned in this article.
Additional disclosure: ...and many more.SHORT TBT.
Seeking Alpha's Disclosure: Past performance is no guarantee of future results. No recommendation or advice is being given as to whether any investment is suitable for a particular investor. Any views or opinions expressed above may not reflect those of Seeking Alpha as a whole. Seeking Alpha is not a licensed securities dealer, broker or US investment adviser or investment bank. Our analysts are third party authors that include both professional investors and individual investors who may not be licensed or certified by any institute or regulatory body.