CGTS THURSDAY: REASON IN THE STOCK MARKET
Please Note: Blog posts are not selected, edited or screened by Seeking Alpha editors.
Long/Short Equity, Special Situations, Currencies
Seeking Alpha Analyst Since 2009
Michael J. Clark was born and raised in Sinclair, Wyoming. He is a poet, novelist, artist, historian, and market analyst. He began investing in 1985. He read ˜The Technical Analysis of Stock Trends" by Edwards and Magee and was hooked. From 1985-1987 he made astonishing gains in the stock market; and then stocks collapsed in 1987. Since then he has been attempting to 'solve the stock market', with many failures and some successes. The system he developed, called CGTS, Clark's Gate Timining System, is algorithm-based. What this fancy word means is that he proposes a series of necessary steps based on technical analysis propositions, which, when met, trigger trading signals. His four main trading systems are up a combined 31% for 2015. From his website: INVESTMENT PHILOSOPHY Now that QE is supposedly ending, markets are already becoming more tradable, with opportunities to make money on both long and short trades at the same time. QE tended to make all boats rise, except precious metals. This made it more difficult to play the short side of the markets. Now, both sides seem to be more accessible to successful trades. This will also be more of a challenge for investors. The FED will have to eventually abandon the markets to their own destinies, and stop spending trillions to protect investors AND corporations from their mistakes. As this begins to happen (I am not sure it has happened yet), informed advice will become even more necessary for investors. Rules of Investment Rule #1: Never go against the trend. The majority is often wrong; but the minority is often wrong also. The sticky issue with this advice is at transition points, at which a Bull Market turns into a Bear Market or vice-versa. Big Money often anticipates and/or causes this transition. So pay attention to what Big Money is really doing, not what they say they are doing. Rule #2: You don't need a broker who makes his living off of your money. Most brokerage firms buy a position in a stock quietly and slowly. When the stock has appreciated significantly they add the stock to their buy recommendations. Then they begin selling their position while they are encouraging their clients to buy the stock. Most firms never issue sell recommendations. If they do, beware: they are probably trying to buy your stock after a huge sell-off. Rule #3: Watch your own emotions because they are often signaling something. When fear turns to greed and visions of unlimited wealth, we are probably near a top in a trade and we should get ready to sell. When hope and denial turn to fear and visions of an unlimited loss, we are probably approaching a bottom in a trade. (See Rule #1 however.) Rule #4: Trade with a system to complement your gut reactions. Follow the system no matter what, even if it means taking a loss. Don't get lazy with your money and sink into denial. Use a system to help you refrain from 'playing a hunch'. Rule #5: HEDGE YOUR PORTFOLIO AGAINST LOSSES. How does one do this? By having a balanced portfolio of long and short positions. But have a system that signals both long and short positions, and keep your portfolio balanced around 50% long and 50% short. This may seem to contradict Rule #1. It does not. When something is in a long trend, something else is in a short trend. Find what is long and what is short. If stocks are long, gold or oil may be short. Use ETFs and options to help establish this portfolio balance. Our system gives trading signals every day for both long and short positions. More information on CGTS is available at: http://home.mindspring.com/~mclark7/CGTS142.htm His fine arts portfolio can be found at the following address: http://www.hoalantrangallery.com/MJC2.htm His writing portfolio can be found at: http://www.hoalantrangallery.com/MJCwriting.htm Those interested in his book "Turn Out the Lights", a description of the metaphysical causes of the 2008 financial meltdown, can access the draft at: http://www.hoalantrangallery.com/Turnoutlights.htm Michael Clark has retired after working 30 years in academia, relocated to Hanoi, Vietnam for six years, and has returned to America in 2014.
CGTS: THE NEW SCIENCE OF INVESTING

CGTS Algo Trading System

CGTS THURSDAY: REASON IN THE STOCK MARKET
Feb. 11, 2021 9:07 PM ETABNB, GBTC...
A long day of sideways consolidation. What is consolidation? Sellers and Buyers are at equal strength. Sellers push the price down; buyers respond to push it back up. Rough equality.

Bumble fumble, really?

A dating site for females? Is that the Night-Cycle top symbol? The LAST HURRAH of the "it's our bodies" and we will do with it as we please political philosophy? What did the Greeks call it, EPICURIANISM?
"Women making the first move, indeed!" If that is not a symbol of THE END I don't know what is.

What does that mean to our CLOSELY-WATCHED STOCKS? More red than green. SPCE and GBTC have saved the day.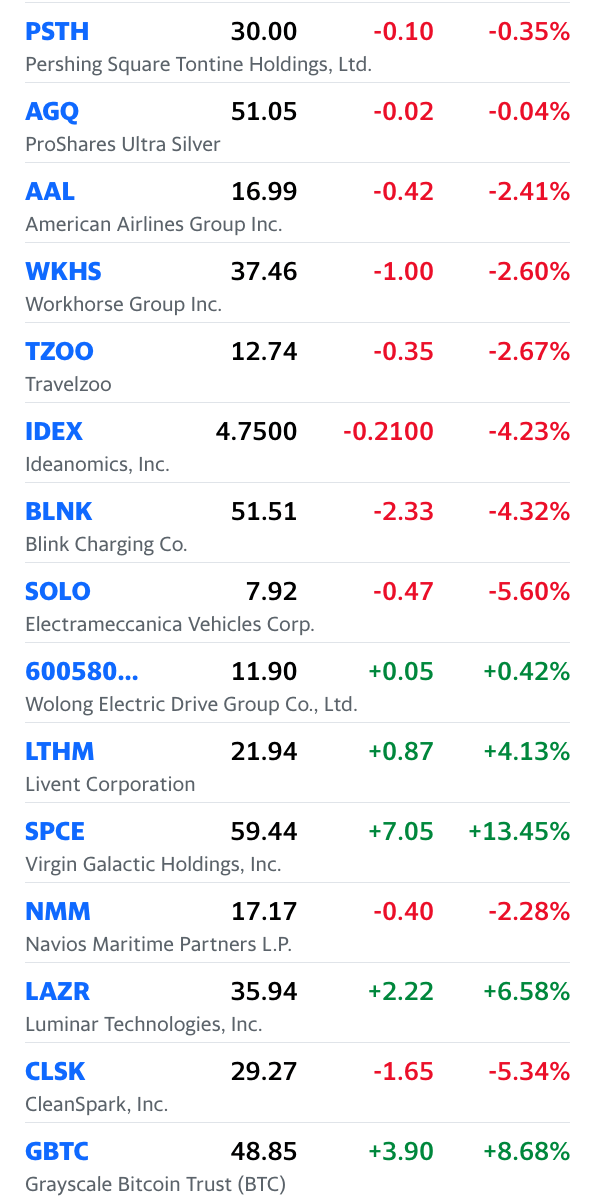 We have some charts from this group.
Keeping an eye on QS. We almost bought it at 108. We want to buy it at 31. Still sinking.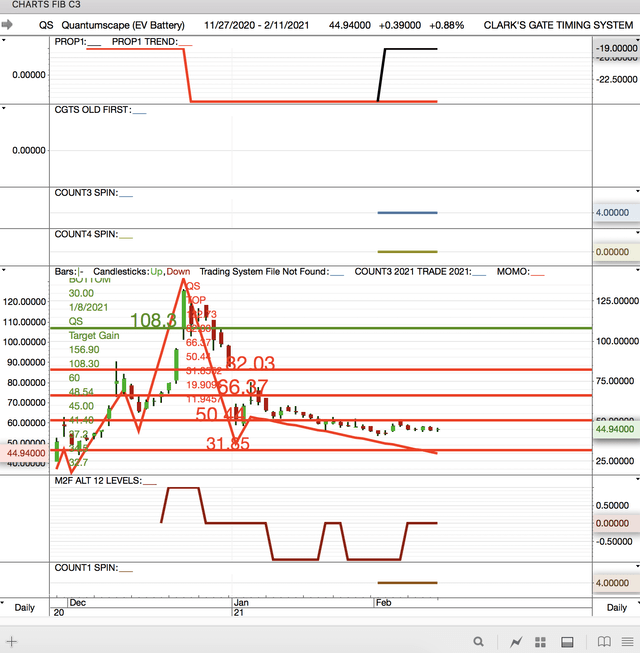 PSTH. Hugging SUPPORT line at 29.67. Reason in the market? Reason in the market is not value investing alone. If one looks at and understands RESISTANCE AND SUPPORT, one sees REASON in the markets.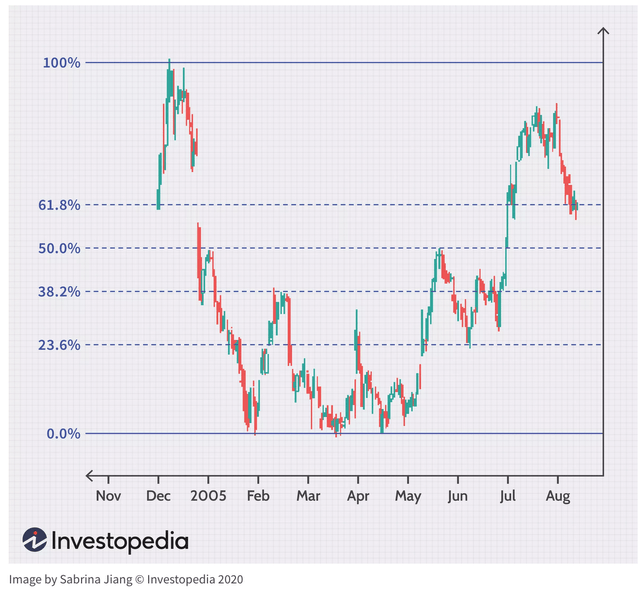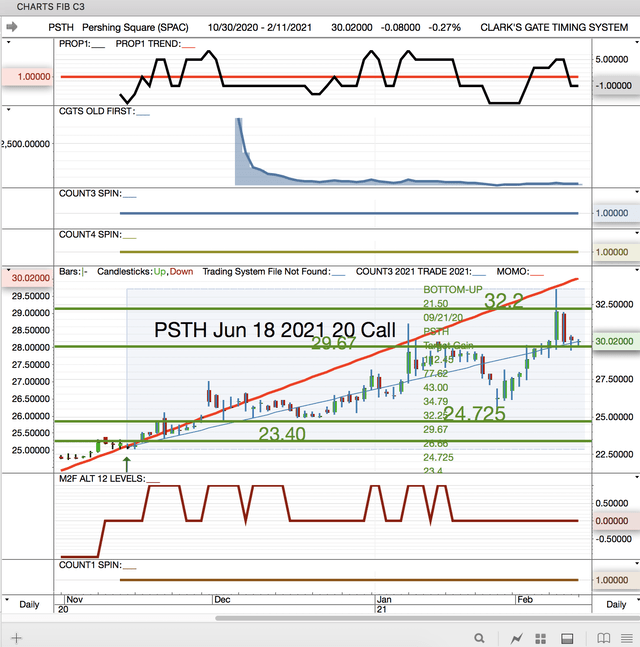 My big winner today. A couple months ago, when I said it had a chance to hit 61.09, I'm sure most people that I was loony.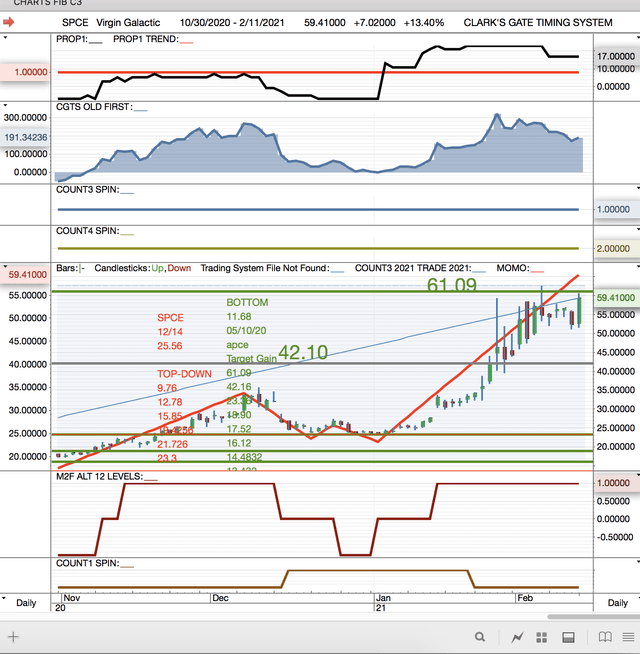 AACTF, AURORA SOLAR. Thanks to one of our readers for the tip to add this stock to our database, thanks Great North.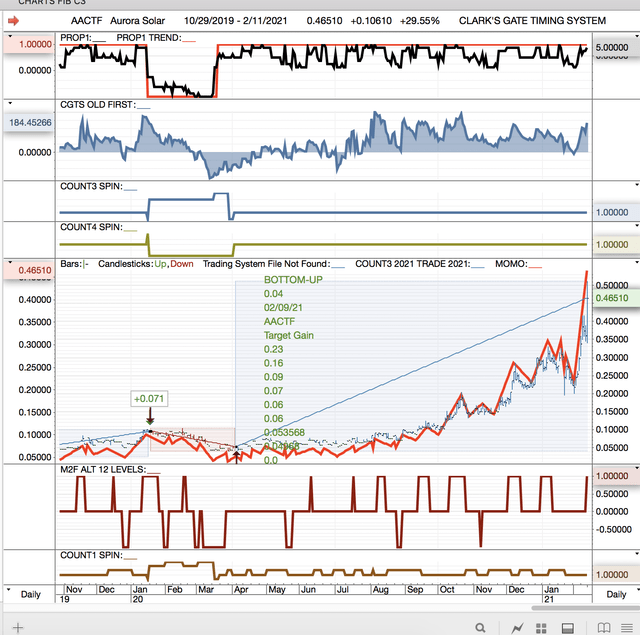 Last week we recommended these two stocks. We hope some of you got in to the former, MVIS.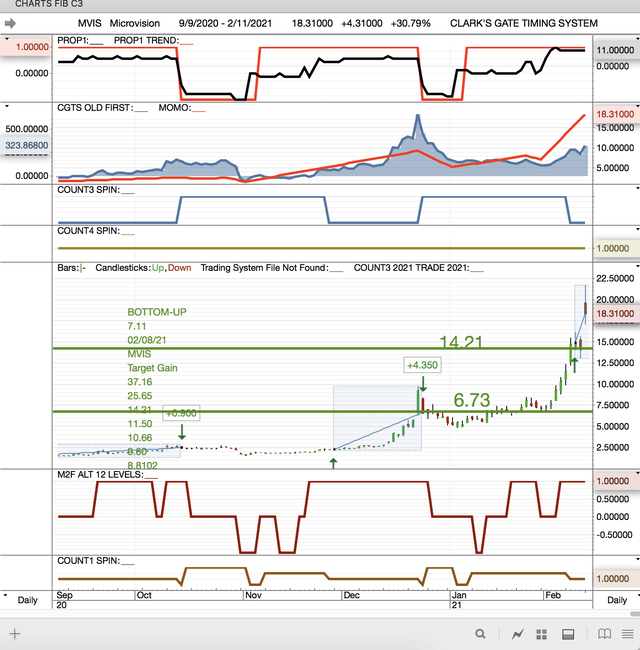 FUBO is yet to move. It will.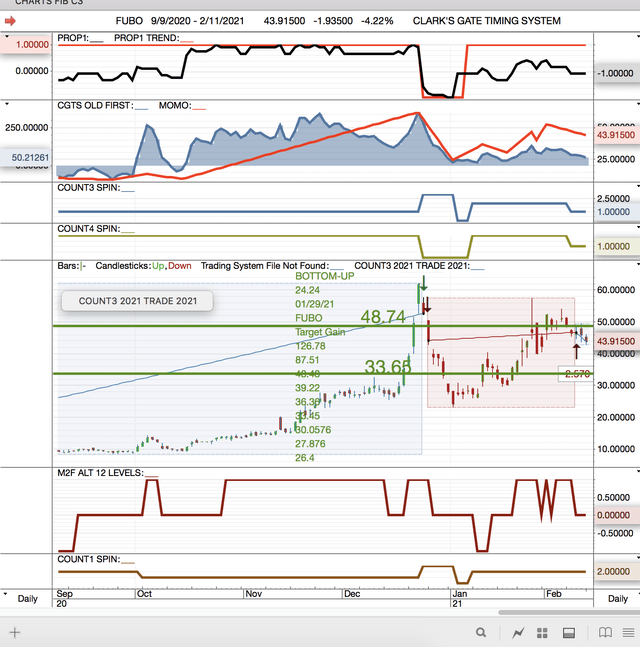 FUTU made a move up and is now pulling back.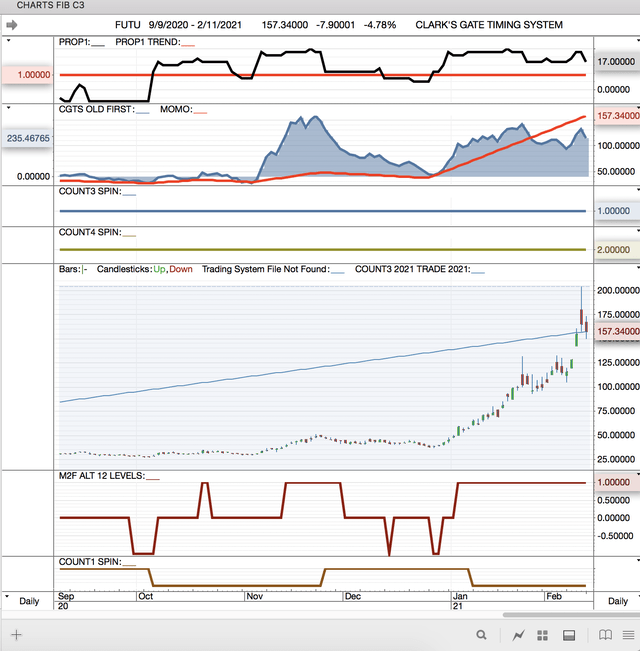 One of the big LOSERS of the day,
TLRY lost 50% today, and is still in an uptrend. Sort of. Look how it hit its TARGET of 66.06 before it crashed today. See the red column, which speculates on SUPPORT during this reversal. 33.36, as a TARGET on the DOWNSIDE. Today it fell to 32.16. Next level down, 25.44. 29.61 is more UPSIDE-DOWN SUPPORT here.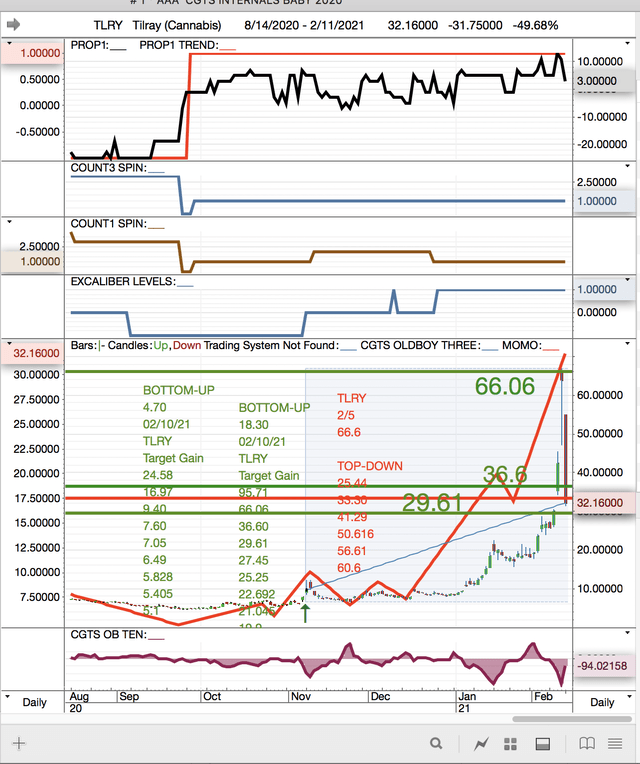 3x TRADES. Some SELLS today.
FAZ, COVER SHORT. 3x System. Gain of 58.3% on trade.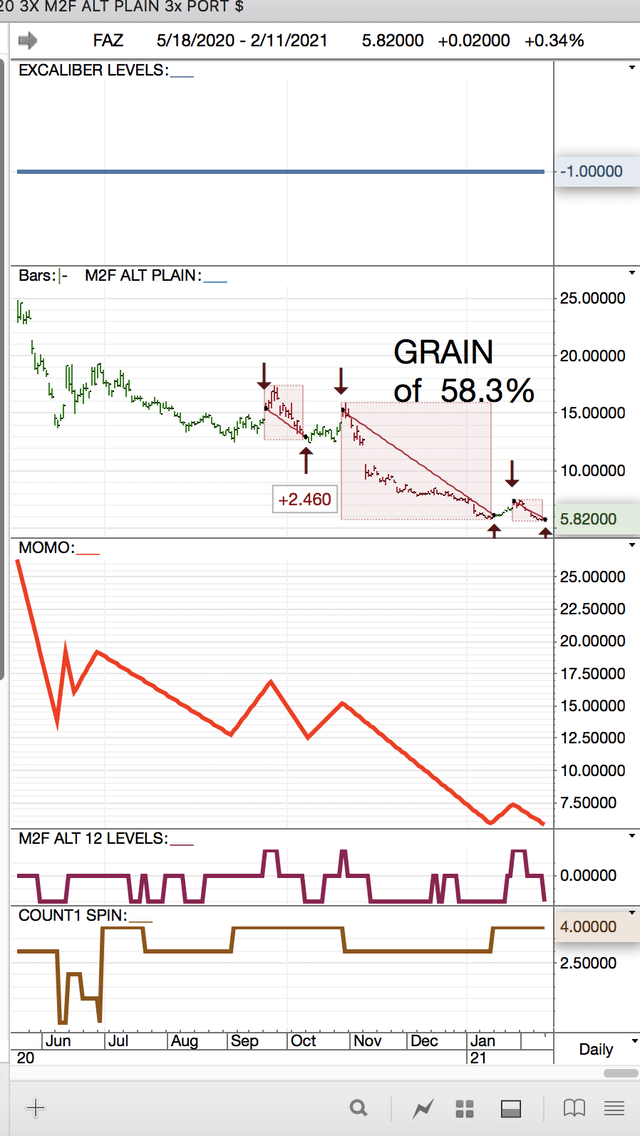 It is hard to make money SHORTING in this market.
SELL DPST, GAIN of 36.53%.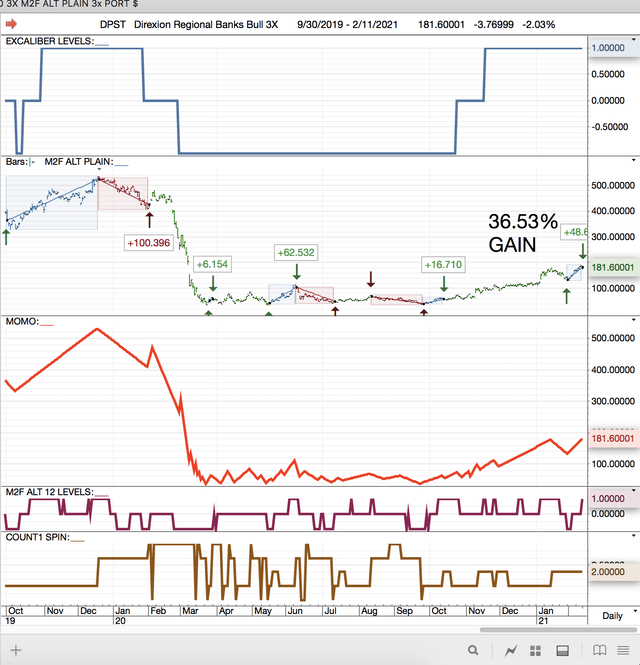 SELL INDL, INDIA BULLISH STOCKS: GAIN OF 61.87%.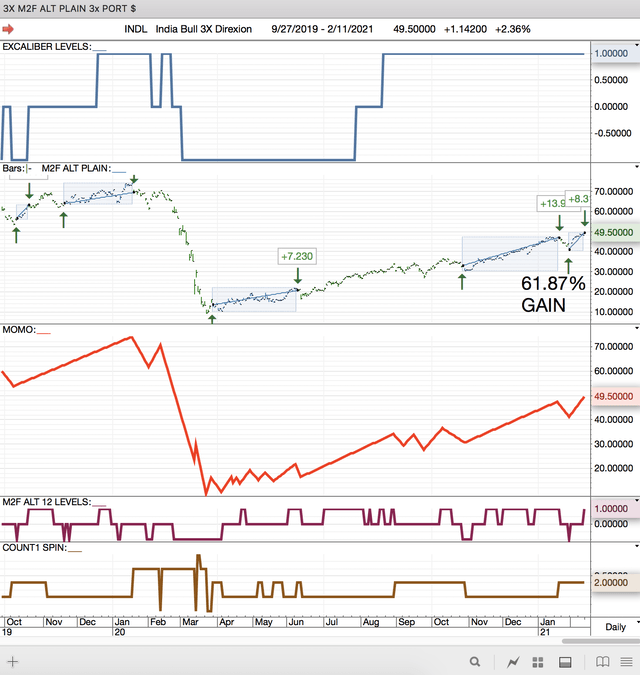 New TRADE: LONG NEW ZEALAND STOCKS. ENZL. Is this a 3x ETF? Doesn't feel like one. It is an ETF that probably should not be on our 3x list. But it IS giving a (3x) BUY SIGNAL.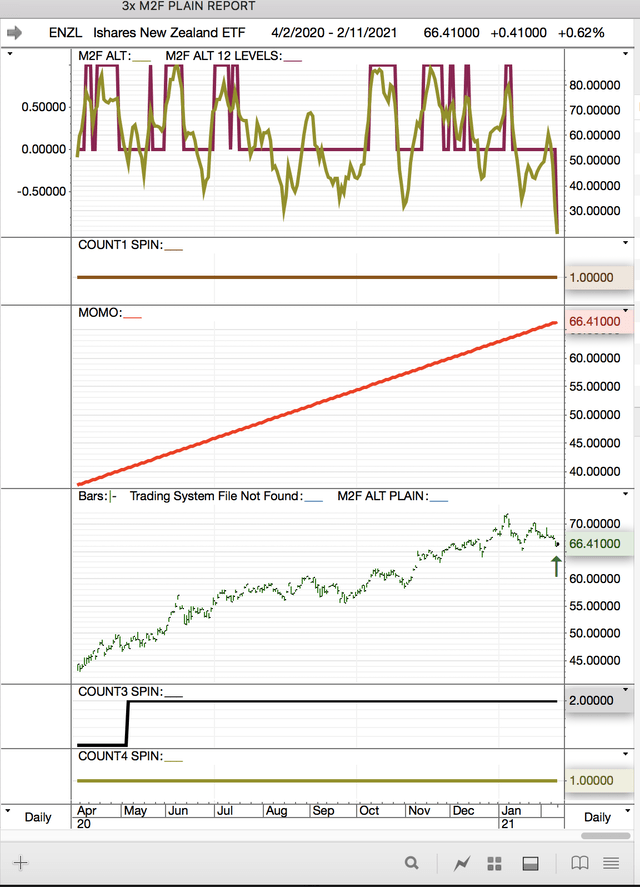 Yesterday, SHORT LABD, SHORT BIOTECHOLOGY STOCKS. Not too late to get in.
3x_M2F_ALT_PLAIN_PORTFOLIO_2_11_21.xlsx
Other stock trades:
OLDBOY SYSTEM. No new trades today.
OLDBOY_100_PORTFOLIO_2_11_21.xlsx
M2F ALT PLAIN x3.
COVER AMLM, AMERICAN LYTHIUM, GAIN OF 9.31%.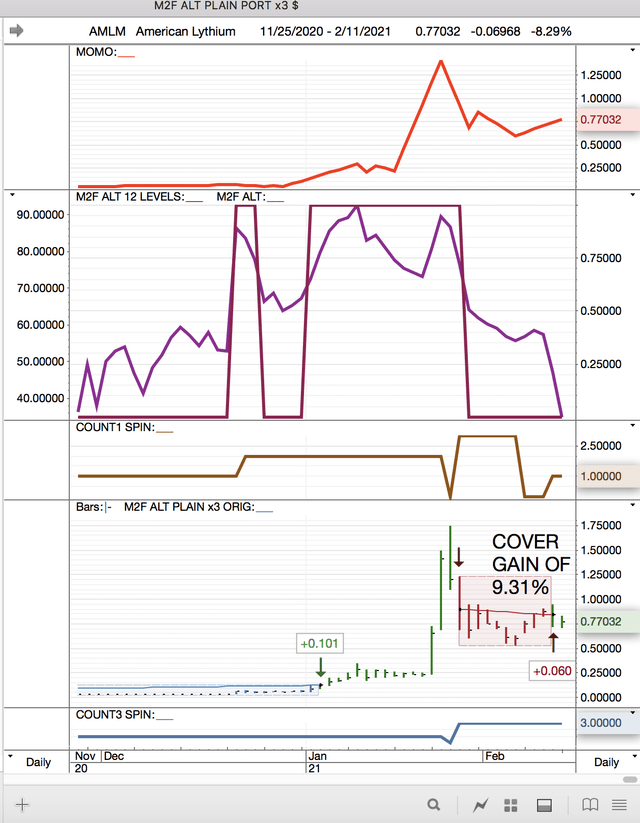 NEW TRADES
We have owned XOMA for a long time. BACK in today, buy the dip.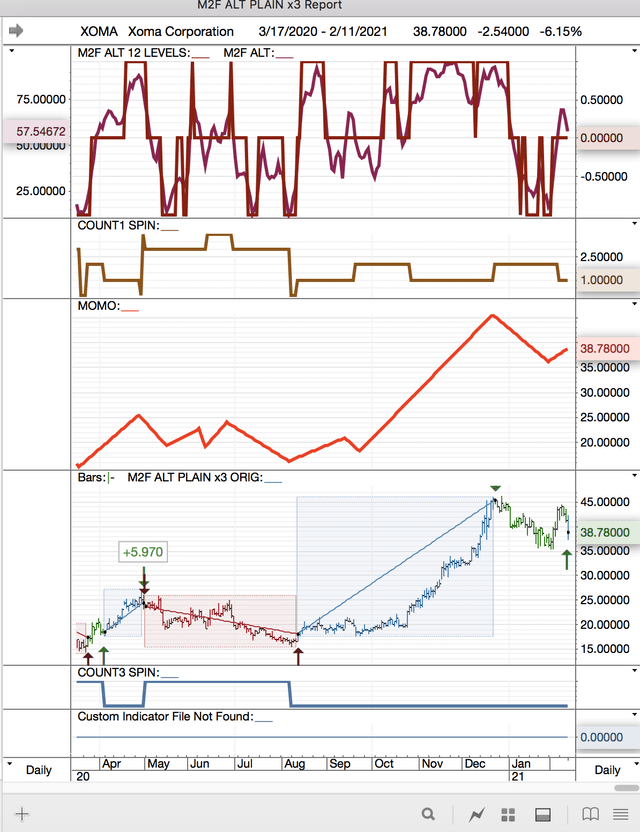 ASLE, AERSALE. BUY. We have issued a BUY for this in another of our systems. Now this one.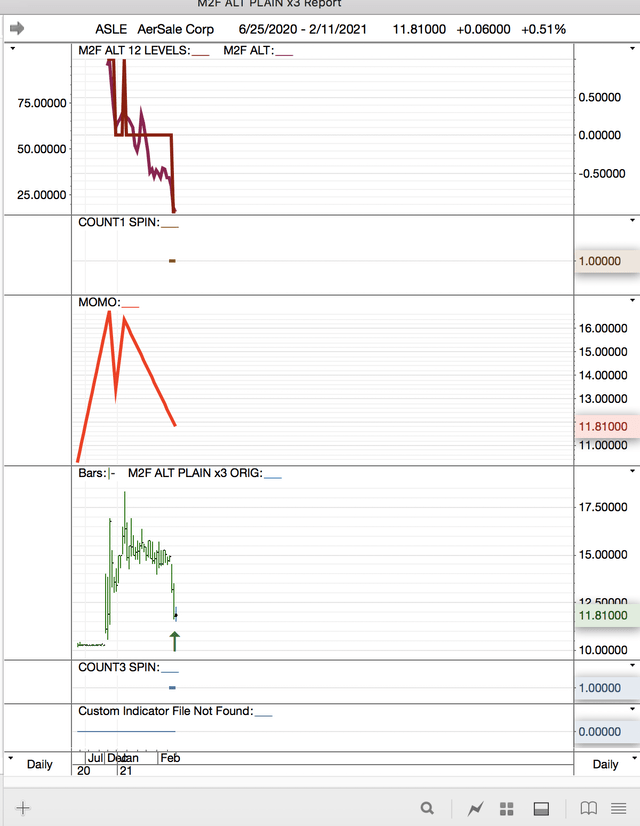 M2F_ALT_PLAIN_PORTFOLIO_x3_2_11_21.xlsx
FISHNET SYSTEM
A couple SHORT COVERS today, which did not do well. SHORTS are tough in a melt-up market.

Active SHORTS in this system are hit-and-miss.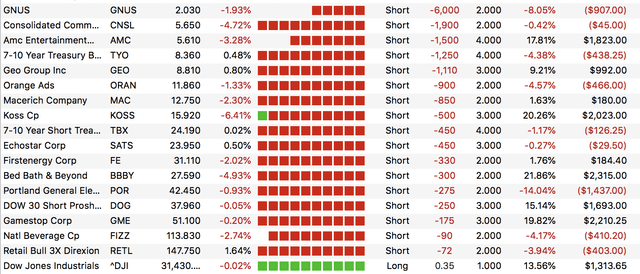 One new SELL, TAKE PROFITS, trade: TDC, TERADATA, GAIN OF 106.39%.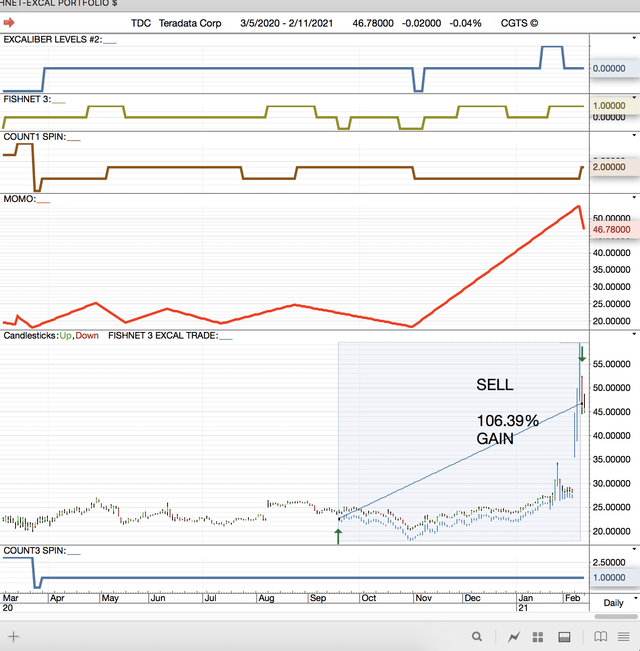 No new FISHNET Trades initiated.
FISHNET_DAILY_PORTFOLIO_2_11_21.xlsx
COUNT3 TRADE
Two new trades, both LONG. ABNB, AIR BNB.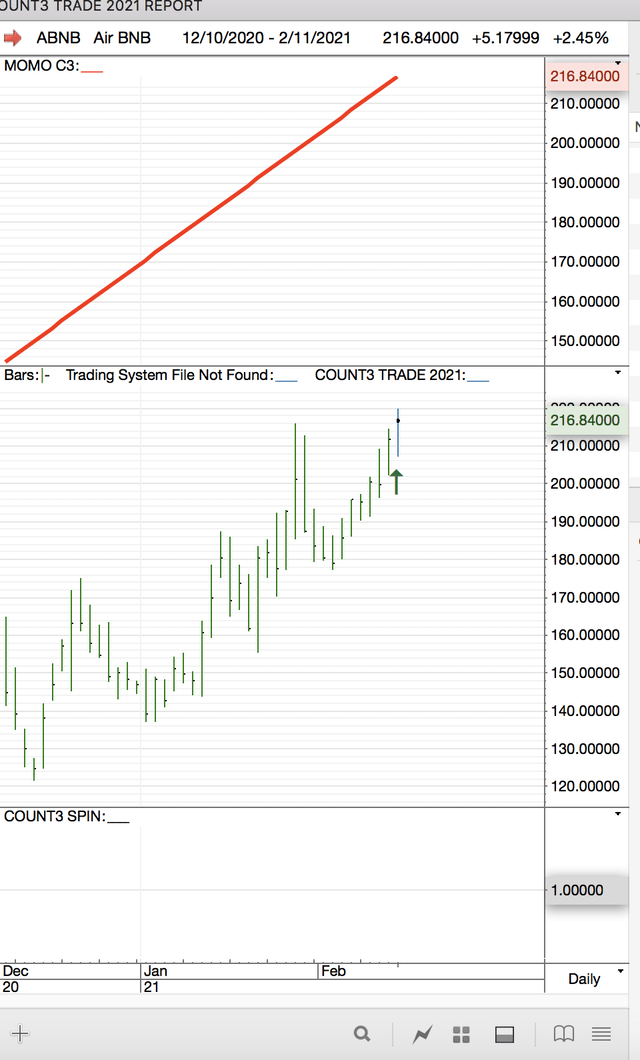 AND DASH, DOOR-DASH. (Is that a NEW trade? I thing we gave this NEW trade yesterday. I guess it is insistent.)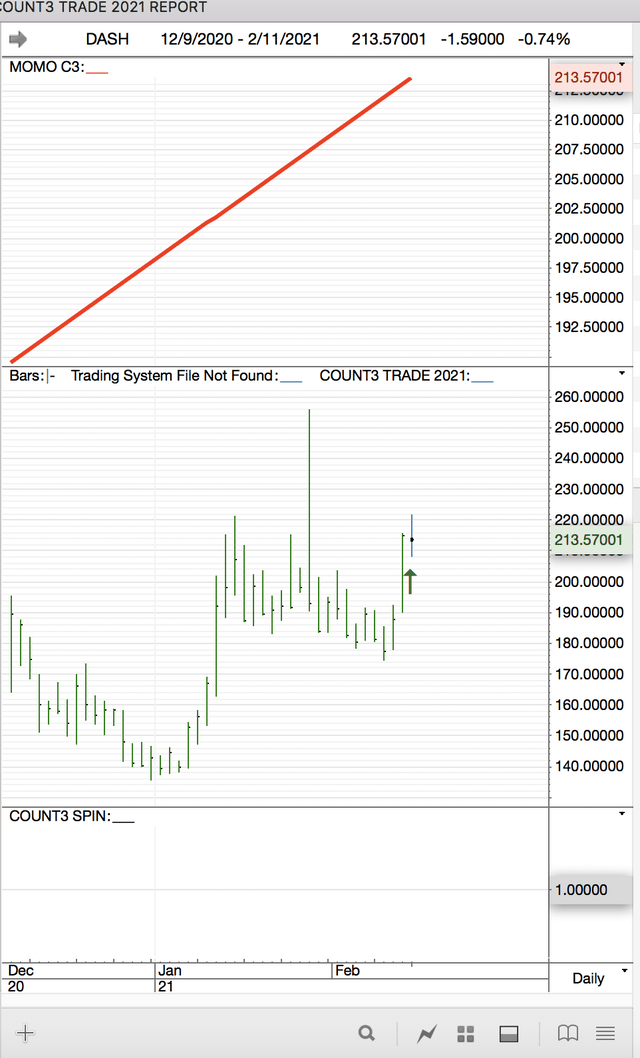 This is how it looks in our report.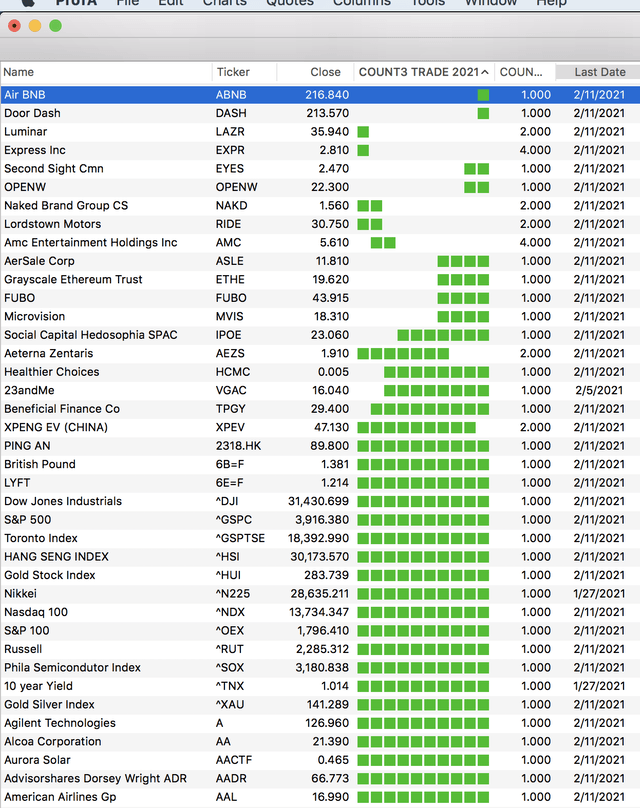 C3_TRADE_PORTFOLIO_2_11_21.xlsx
I am finished with this part of the report, at 4:26. But the RP is only about 1/3 done. So I am dropping two systems from the RP, COUNT2 2021 and COUNT3 2021. We don't really focus on these and I need to speed up the RP.
RP: RP_2_11_21.xlsx
CGTS MARKET DIAGNOSTICS
Not much changed todayl Does the SELLING, when it happens, move the NEEDLE? Not so far it has not.
CROSSOVERS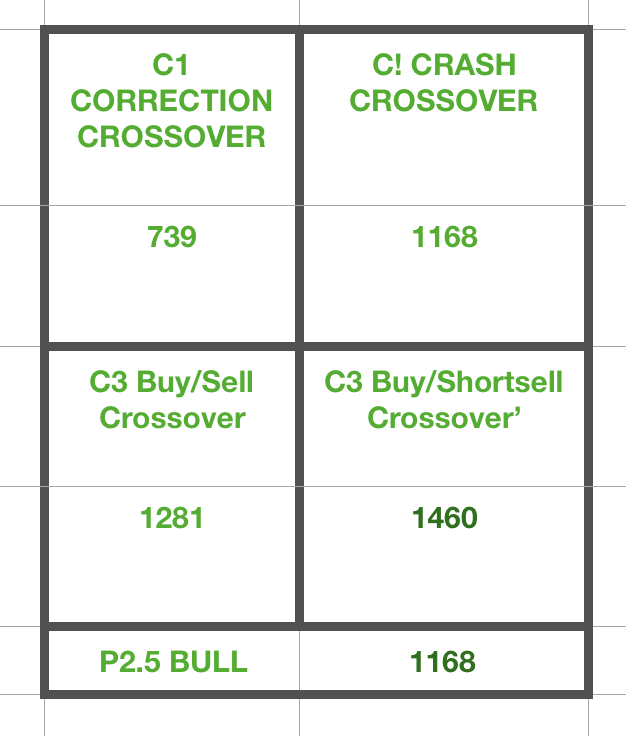 CROSSOVER TRADE: still LONG. LONG TRADE up 16.96%. 2021 gain: 5.8%.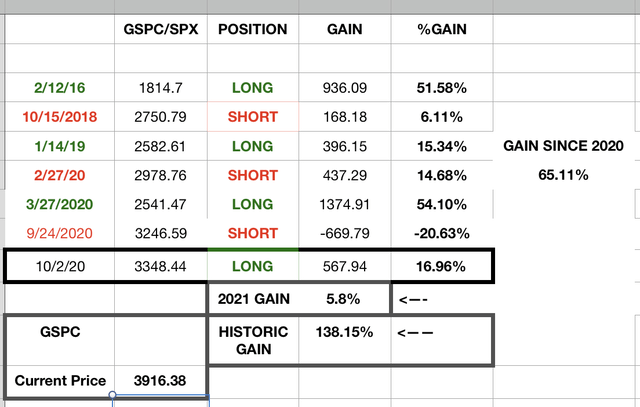 EARLY WARNING SIGNS: all bullish.
MOMO1 moved a bit back today. Still +73.05%. It needs to be below 50% before we notice. We really notice when MOMO AND PROP2 are both below 50%. FEAR GAUGE 20.67%. Not much FEAR in the markets.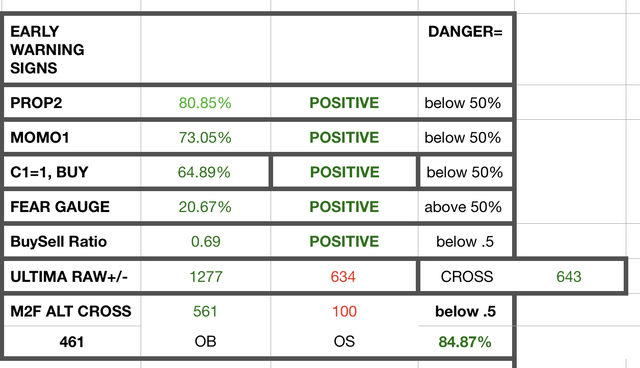 Intermediate Numbers: still bullish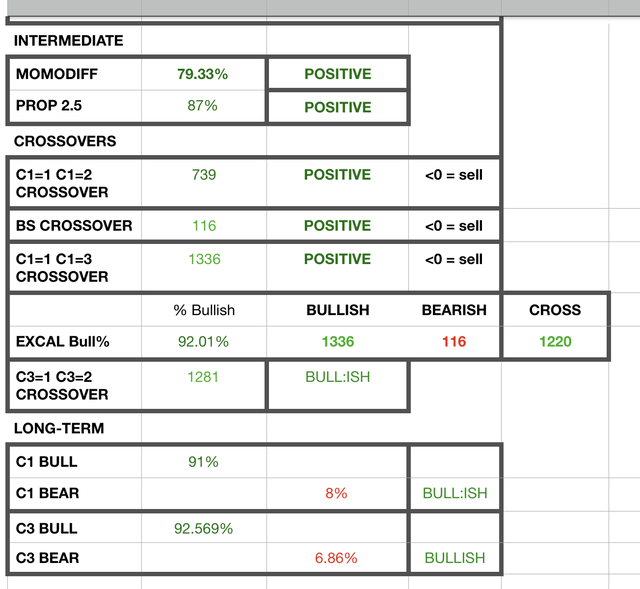 DATA
Nothing to worry about here, yet. We know things can change quickly.
HEADLINE NEWS.


A whole lot of doxing going on (much of it by doctors, doctors of philosophy, who are NOT the real thing). CANCEL higher education until the politics catches up with the philosophy.


Are these two engaged now? Is that doxing? Love is NOT a many splendored thing, I guess. Time to shut down the SELF-LOVE of the ENLIGHTENED?
So, they were scared. Maybe that's a good thing.

TALK ABOUT MS. IRRELEVANCE. WHAT happened to all those male sterroid injections that made her believe she was a man?

Suddenly TEXAS IS RELEVANT, and Washington, New York, California and Wasshington State (and Oregon) are not.


LIBERAL PROPAGANDA BANNED. Umm, interesting idea.

BIDEN,IS THAT YOU?

LIBERALS romanticize being victimized. They ARE THE DUSK MENTALITY. THE SKY IS FALLING FOR THEM. (And they want it to fall for everyone. That is REALITY, right?)

JOE, remember, duck, bob, lead with the jab.

IS THIS THE CASTRATION PRINCIPLE IN ACTION? THE LEFT thinks America NEEDS to be castrated -- see Hillary Clinton above, this has been here driving political understanding for 40 years.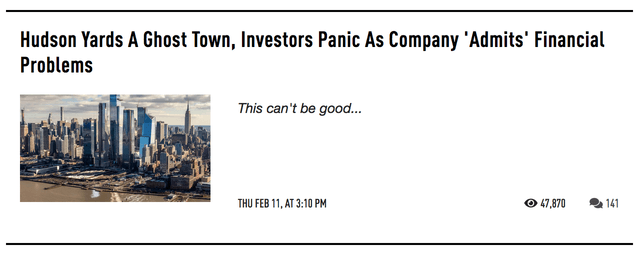 A LOT OF GHOST-TOWNS IN THE MAKING. Those who honor death create ghost-towns.


FAKE NEWS (Propaganda) has always existed. MOST People already understand this. The REALITY CZAR is designed to tell us all that propaganda IS reality (The Deep State or Military Industrial Complex must be smiling ear to ear. They have been the REALITY CZAR for centuries already.)
IMPEACHMENT TRIAL Yawn. Do we care? Political propaganda.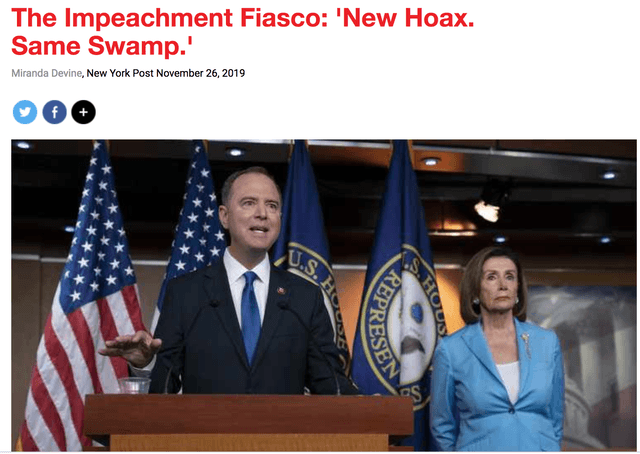 Do the Democrats really think they are making TRUMP LESS ATTRACTIVE to his followers? We know they are making TRUMP less attractive to his adversaries, if that is even possible. But what is the real goal here? To make TRUMP be seen as a martyr at the hands of elitist Democratic swamp-dwellers running a sham trial presided over by DEMOCRATS? If that is the goal, then it seems to be working.
Donald Trump is attractive to his followers because he is the ANTI-POLITICIAN. He does not care about the hallowed rituals of the professional politicians in Washington. Washington is NOT America. They do not understand this. AMERICA first; Washington next. Washington is the symbol. AMERICA is the reality.
Democrats wrapping themselves in the flag of Washington DC does not protect them from the slings and arrows of judgment and fortune, outrageous as it may be, any more than Rome was protected by the rituals and chauvinistic, sentimental rhetoric idealizing the Senate and the Republic. Rome is still here. The Republic has been gone for more than 2000 years.
The Republic is temporary. The People are for ever.
In the 1960's the LEFT honored the idea of THE PEOPLE and felt it, the LEFT, represented THE PEOPLE. Today the LEFT represents the Elitists; and Trump represents the PEOPLE. How did this happen? Time flips reality inside-out and upside-down.
The LEFT needs to really think about this, and begin to comprehend that they are the WRONG SIDE suddenly; not just "on the wrong side'; they ARE the wrong side.
The counter-culture in the WEST is an image (a mirror-image) of the EAST. The counter-culture in the EAST is an image of the WEST. The counter-culture does not win in either the WEST or the EAST. The culture ALWAYS wins, because that is how the REALITY has been designed. The counter-culture attempts to balance the CULTURE; but it never overthrows the culture. The EAST will never be WEST; and the WEST will never be EAST -- at least not until the world ends.
MJC, CGTS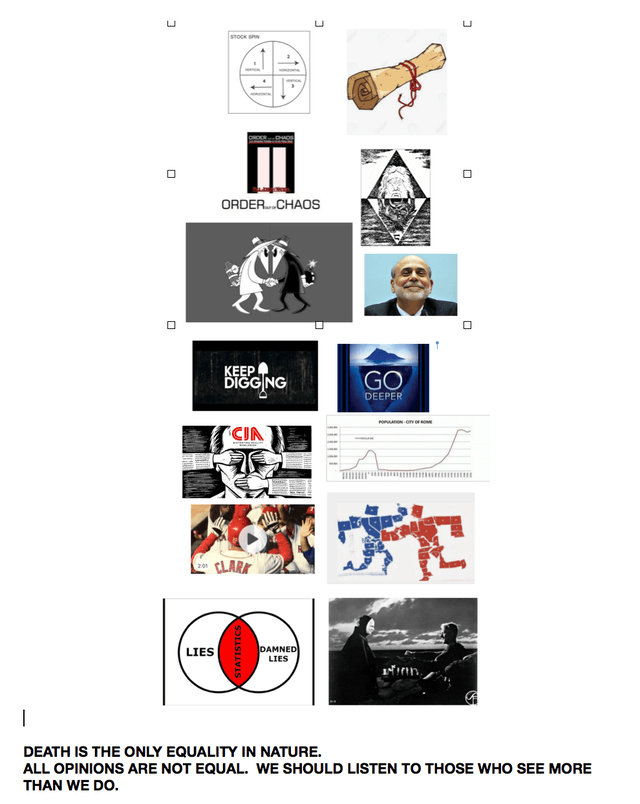 Disclosure: I am/we are long blnk, lzr, lthm, spce.
I wrote this article myself, and it expresses my own opinions. I am not receiving compensation for it. I have no business relationship with any company whose stock is mentioned in this article.
Seeking Alpha's Disclosure: Past performance is no guarantee of future results. No recommendation or advice is being given as to whether any investment is suitable for a particular investor. Any views or opinions expressed above may not reflect those of Seeking Alpha as a whole. Seeking Alpha is not a licensed securities dealer, broker or US investment adviser or investment bank. Our analysts are third party authors that include both professional investors and individual investors who may not be licensed or certified by any institute or regulatory body.