CGTS TUESDAY: WE CONTINUE TO CARVE OUT A TRADING BOTTOM
Please Note: Blog posts are not selected, edited or screened by Seeking Alpha editors.
CGTS Algo Trading System

CGTS TUESDAY: WE CONTINUE TO CARVE OUT A TRADING BOTTOM
Mar. 02, 2021 11:50 PM ETBZUN, CWEB...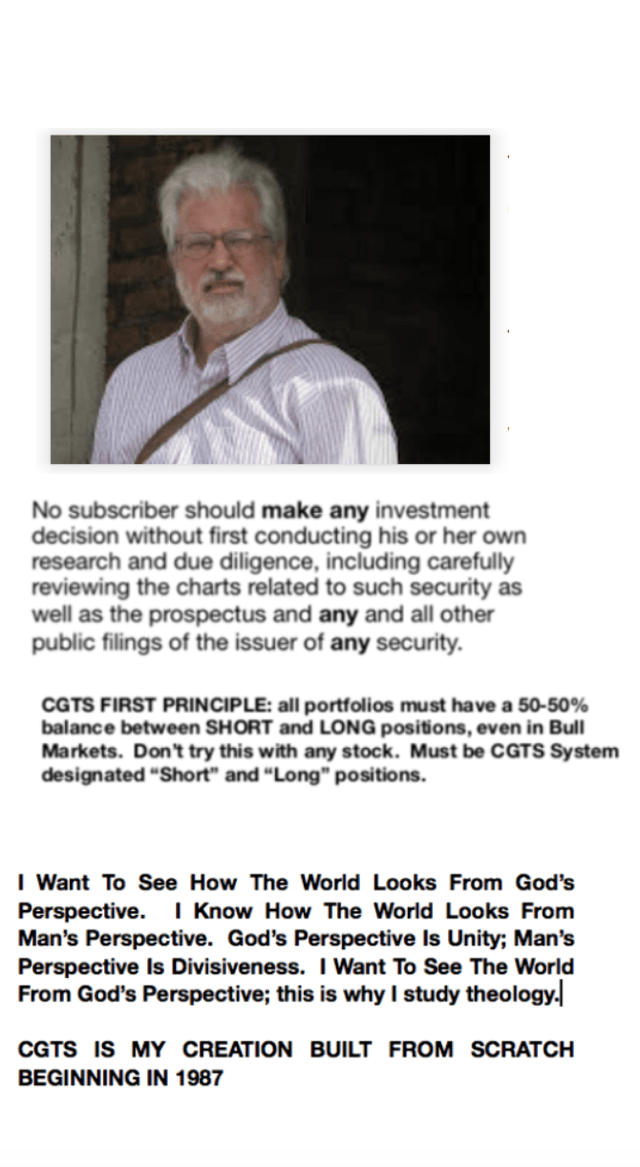 Not a nice day today. But constructive.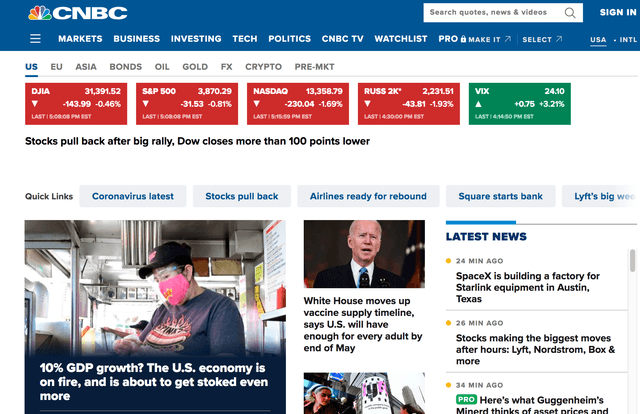 What happened in the last hour?

Most of the stocks were are trading has a RED DAY.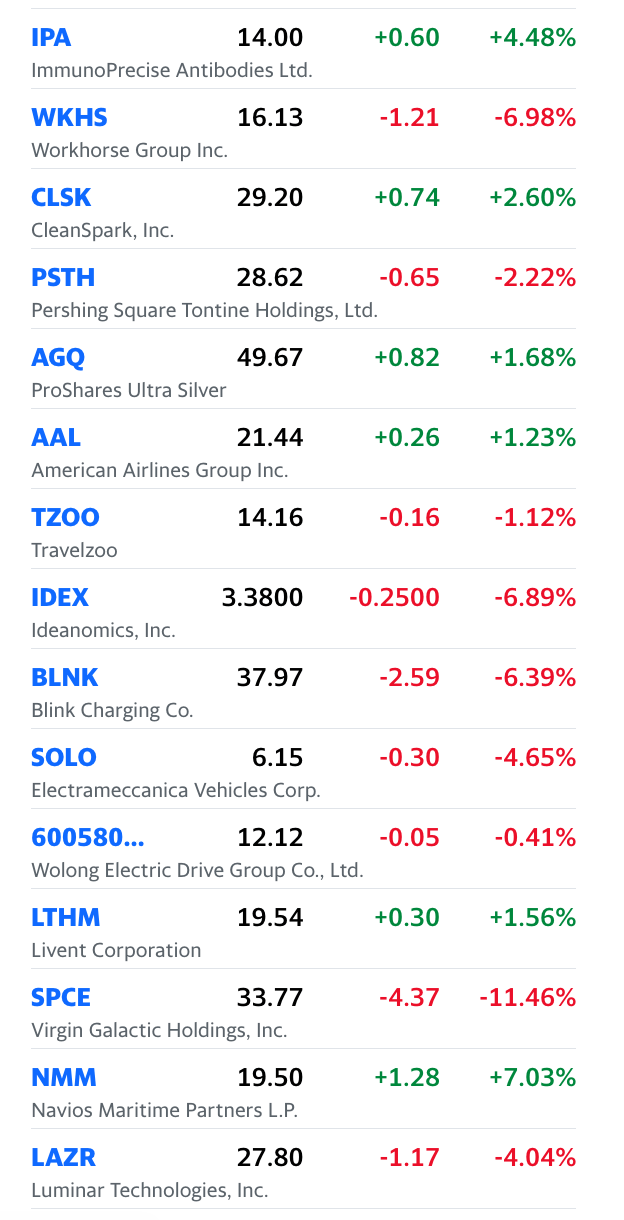 There is still SELLING ENERGY in the markets.
But look at our 3x report. A lot of new trading signals, BUY, in fact.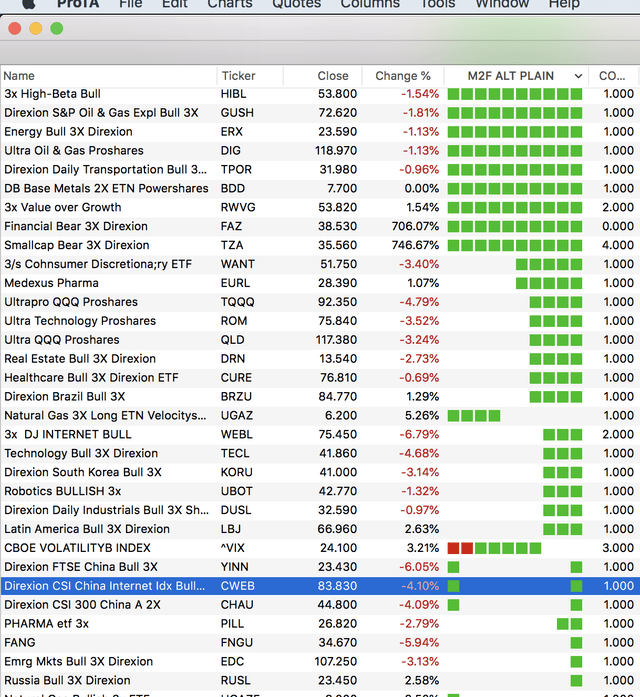 YINN, CHINA, LONG; CWEB, CHINA INTERNET BULLISH, LONG; CHAU, CHINA 300, LONG; FANG, LONG; EMERGING MARKETS BULLISH, LONG; RUSSIAN STOCKS BULLISH, LONG.
That's after TECL, KORU, UBOT, DUSL, LBJ, all LONG three days ago.
SHORT? YANG, CHINA BEARSIH; TECS, TECH BEARISH'; QID, NDX BEARISH; SQQQ, NDX BEARISH.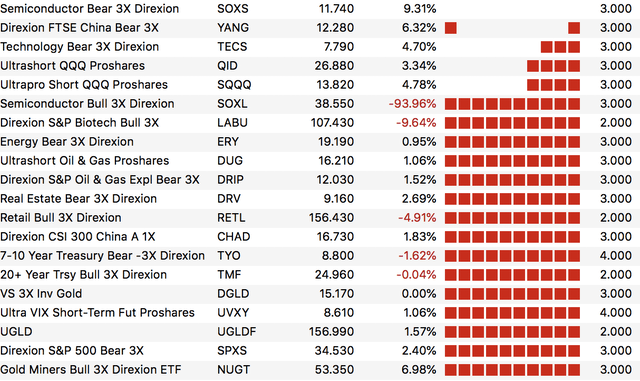 How can the markets not be bullish when they are3 giving us these Bullish signals?
(You will notice in the M2F ALT Levels pane our new VIX TRADING SYSTEM trading record.)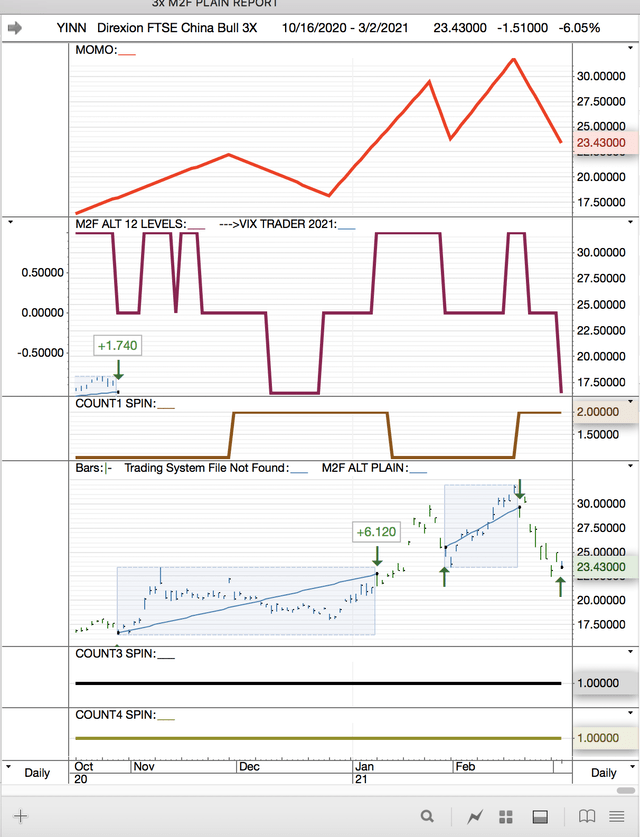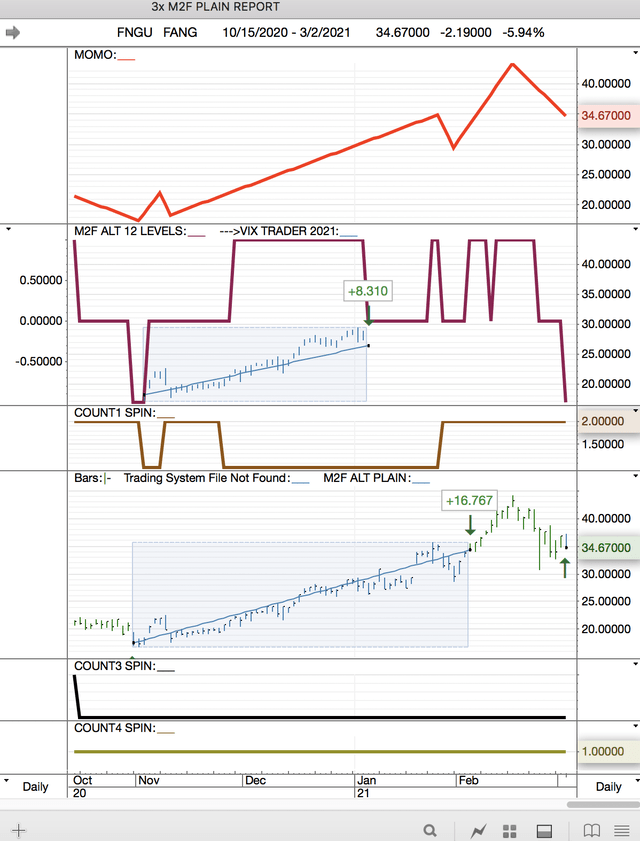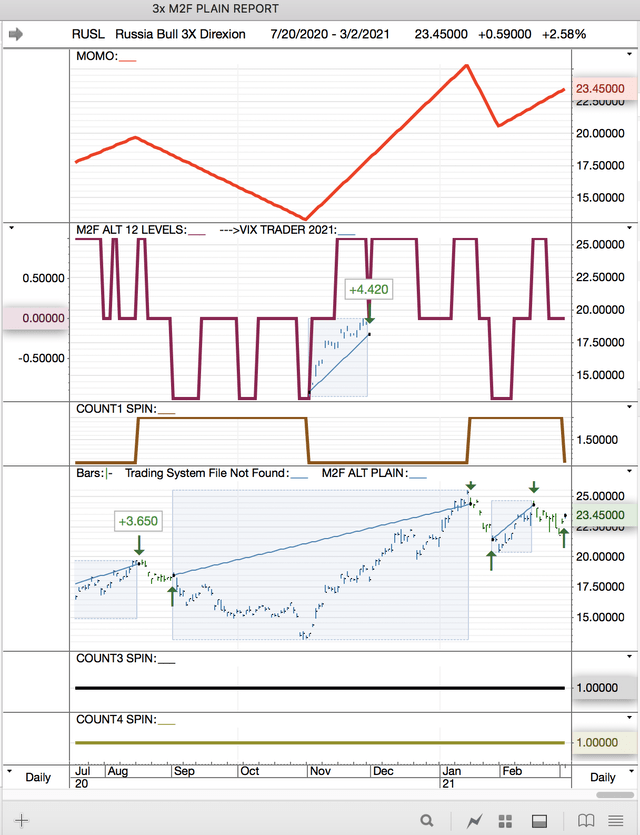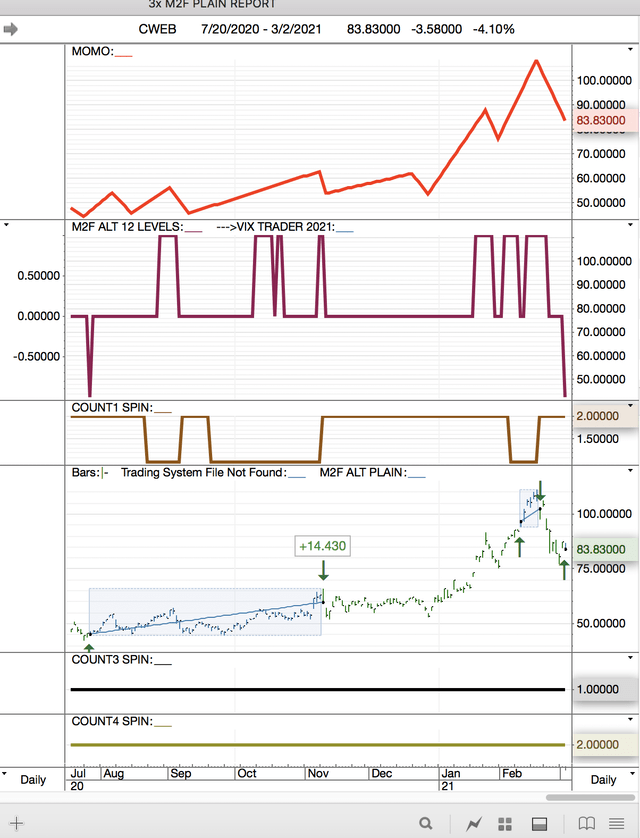 Our VIX TRADE is neutral again today.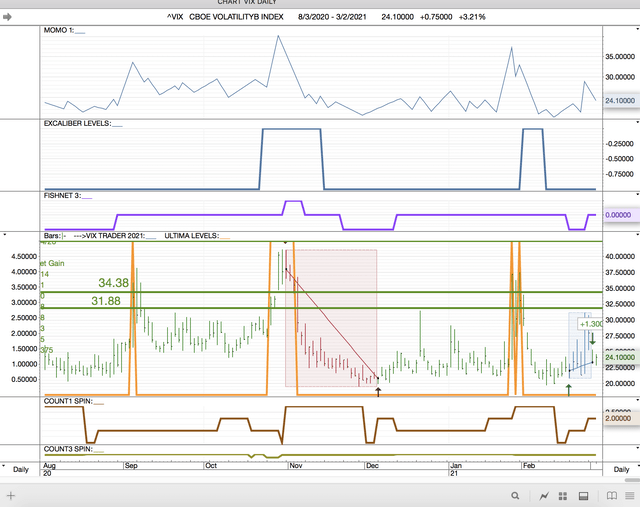 3x_M2F_ALT_PLAIN_PORTFOLIO_3_2_21.xlsx
How do we trade the VIX? I trade with Options, UVXY. Call options for LONG position; Put options for a SHORT position.
If you want to trade VIX ETFs, I think there is only one INVERSE VIX ETF now, VXY. I may be wrong about this. Below is a site about MANY ETFS, including VIX LONG and VIX SHORT.
One chart today, RKT, which rocketed up today. Up 71% today.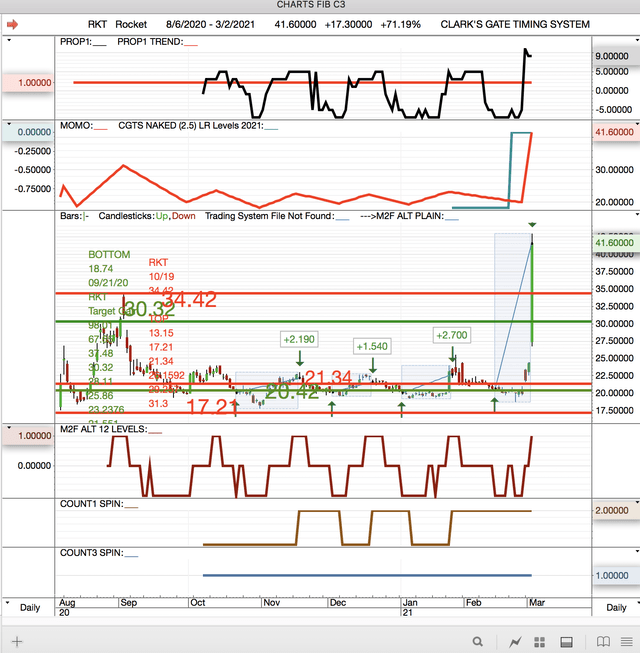 Was it another goose-job from the STOCK SOCIAL EXPRESS? Apparently so.


It is nice if you are LONG the stock. It is hared to go chasing the SHORT-SQUEEZES however.
THE INSTRUMENT ROOM
What are we looking for in the Instrument Room. We are looking for C1=1, BUY, to turn back up.

We got what we wanted. C1=1 finally bottomed.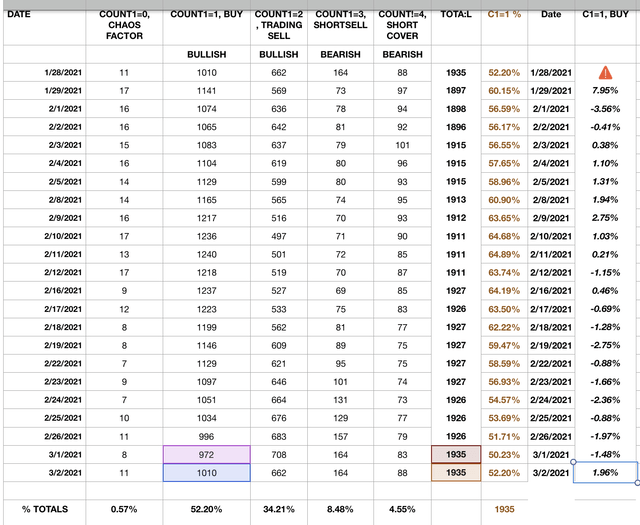 MOMO1, which bottomed out yesterday, falling from 904 to 589 jumped back up to 1056 today.


PROP2 did not fall. Very positive.
CROSSOVERS. It looks like CROSSOVER 1 is not going negative; no CORRECTION, by our own definition.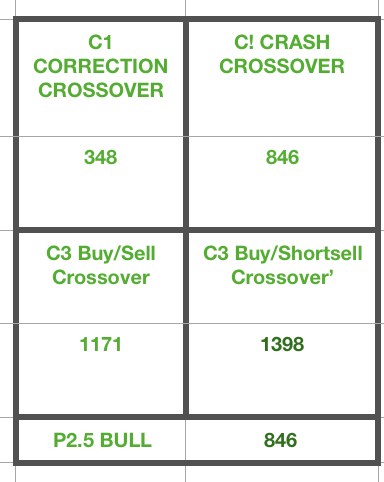 CROSSOVER1 DIFFERENTIAL:
FEELS LIKE A TRADING BOTTOM. Looks like one too.
CROSSOVER TRADE: LONG.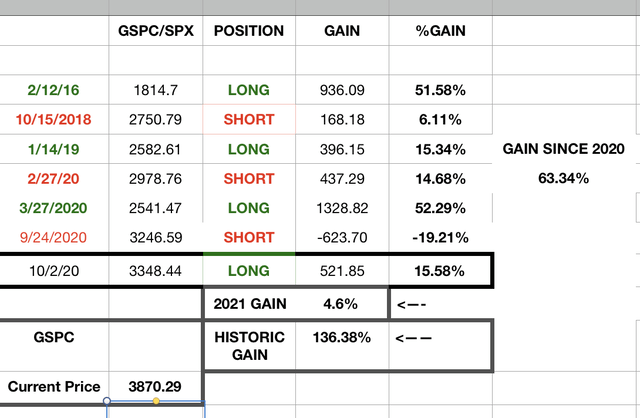 EARLY WARNING SIGNS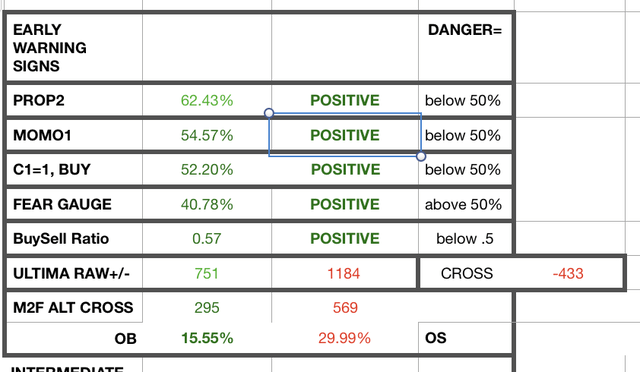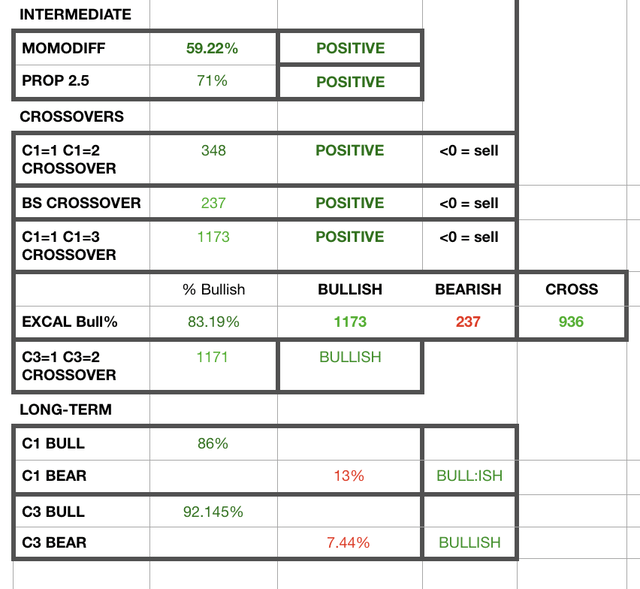 Does this mean the BULLS have absorbed the SELLING? We would say YES, FOR THE MOST PART.
STOCK TRADING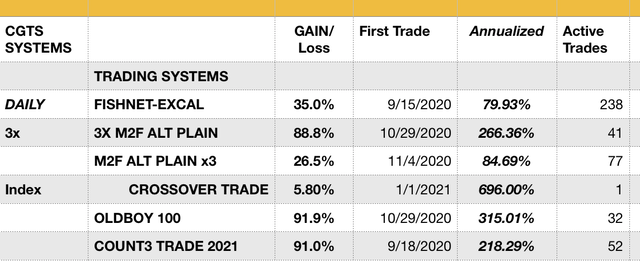 3x_M2F_ALT_PLAIN_PORTFOLIO_3_2_21.xlsx
FISHNET_DAILY_PORTFOLIO_3_2_21.xlsx
M2F_ALT_PLAIN_PORTFOLIO_times_3_3_2_21.xlsx
OLDBOY_100_PORTFOLIO_3_2_21.xlsx
C3_TRADE_PORTFOLIO_3_2_21.xlsx
If we look at our M2F ALT PLAIN x3 Stock Report, we see a LOT of BUY SIGNALS. Again, a sign of a NEW BULLISH transition.
One of our readers asked us to add BZUN. We did. It is a new BUY HERE.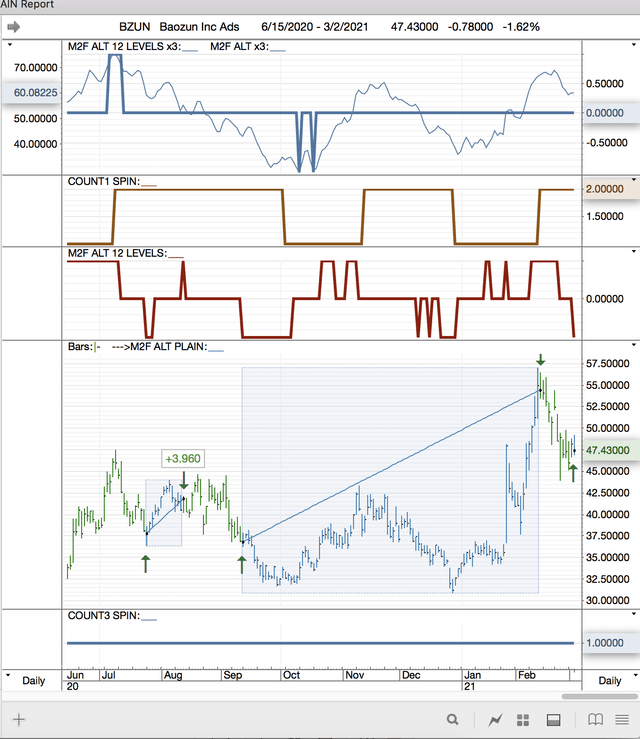 We closed a very nice SHORT TRADE in OLDBOY today, BLUE, BLUEBIRD BIO, a GAIN of 37%.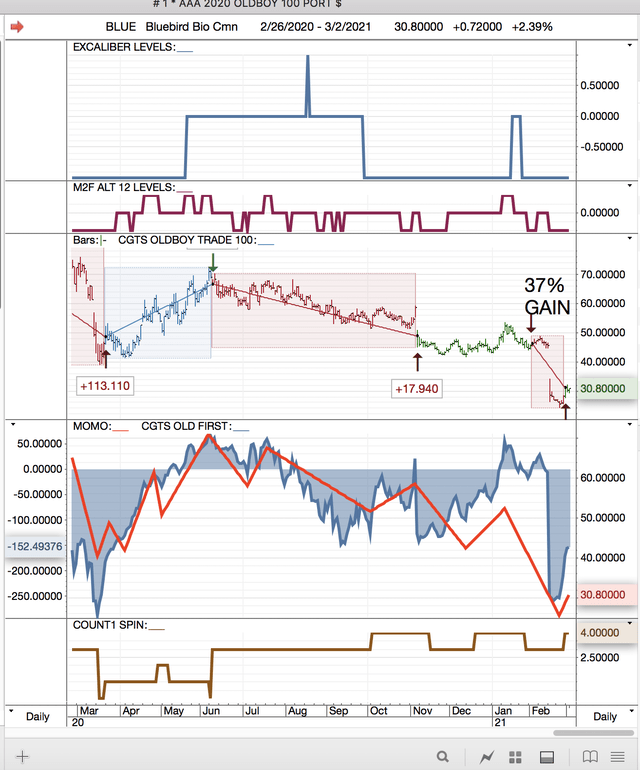 We have some new OLDBOY TRADES as well.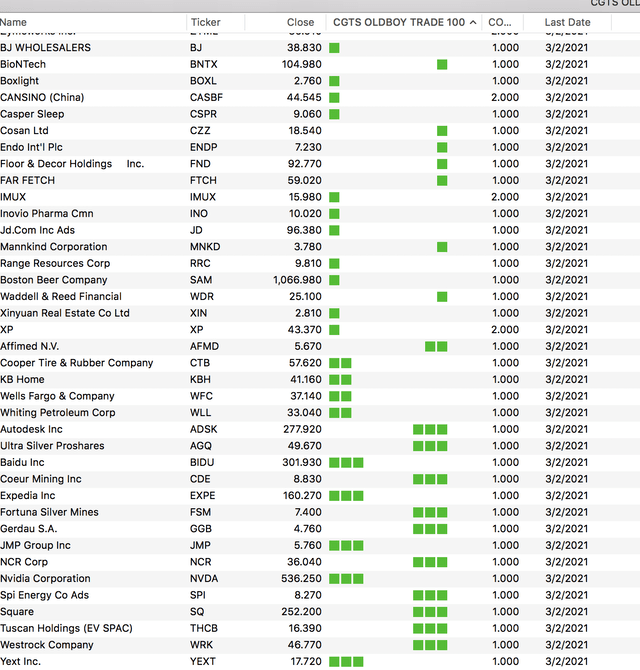 We are short on charts tonight. Sorry. It will take us some time to update our portfolios with so many BUYS today.
I wrote this last night, when musing on rising interest rates. I believe that the West is in a GROWTH STAGE. And the East is going to sleep. My wife and I watch YOUTUBE and we are amazed that Vietnam has the fastest growing economy in Asia while Hanoi and Saigon are both shutting down because there are no tourists. No money coming in. Is China the same, or similar?
WHY DO Bond rates rise? In a normal market, it is part of the pricing function of bonds. When bonds don't see, rates rise to induce more buying. Rates rise to where they are needed to balance out an apparent lagging demand.

Of course, we are not in a normal market. In the FED market, bond yields rise because there is not enough money chasing bond purchases and as deficits rise more bonds are needed. Have foreigners turned their back on US bonds? That is somewhat true. Foreigners buy US TBONDS because their yield is already higher than most of the world's. But foreign nations also need their own bonds to sell, to finance their own deficits.

Does this mean the FED needs more QE because they are not buying enough US TBONDS -- hence, rates go up.

Is inflation a problem? Well, commodity prices have jumped up out of the grave suddenly not because of great demand but because of a weaker Dollar. Commodities are priced in US Dollar; when the Dollar sinks, commodity prices rise. When the Dollar rises, commodities lose value. So there is nominal inflation because of this mechanism. But looking at the world, it is hard to see real inflation but it is easy to see REAL DEFLATION.

It is hard to see the global economy turning up the heat and demanding higher rates to slow the burn of economic growth. We have not had our DEFLATION yet, which always comes BEFORE REFLATION. The FED has been delaying DEFLATION not curing it -- DEFLATION includes massive destruction of global debt, which we have not had yet. 1) DEFLATION; 2) REFLATION; 3) INFLATION; 4) DISINFLATION, in this order.

WE still have the spectre of ZERO Interest Rates and the spectacle of DEBT FORGIVENESS ahead of us, which includes the collapse of the banking system as we know it.

The FED has been DELAYING since 2001. Nothing is better. The FED COULD raise rates and begin DEFLATION suddenly (another GREATER DEPRESSION) but there is no apparent political appetite for TRUTH and PAINFUL TRUTH at that -- so the lie will probably continue.

When the FED was founded in 1913, its implicit if not its explicit task was to find a way to neuter DEFLATION, which seemed a part of the natural cycle of economic events. Every 36 years another depression came along. The FED's JOB was to destroy this cycle, the BUSINESS CYCLE and its SHADOW, DEFLATION. The FED tried to neuter Deflation in 1929-1947 and failed; it tried to neuter Deflation in 1965-1983 and had some success, afterall, STAGFLATION was minor, deformed versions of DEFLATION. Then came the 2001-2019 DEFLATION. And the FED has done a noteworthy job. The problem, of course, is we still have DEBT, and we don't really have GROWTH. Isn't it clear now that GROWTH comes AFTER debt destruction, not before.

So, the FED redoubles its efforts to buy all the bonds they need to buy to keep interest rates down, stocks continue to rally with this liquidity, the housing bubble does not pop, ZIRP becomes the new rule globally.....and growth grinds to a halt until political DEBT FORGIVENESS -- THE LEFT should love this -- the BANKING SYSTEM breaks and the wall of water we have been delaying since 2001 drowns the whole world -- the SWAMP also gets drowned -- America moves is political capital to Omaha and its financial capital to Dallas -- and we get to try to survive the greatest depression the world has every seen, at least since the fall of Rome. The world goes dark. America gets its Dark Age. The Western World gestates in the Dark Ocean of its own CHAOS.

As the CHAOS evaporates slowly, city-states appear in America, and the New-Greece is born. Or the New-Europe.

It is not all bad. As the American Civilization over-ripens and the apples fall back to Earth seeds are buried mostly locally but also are carried by the wind and water all over the continent and to neighbors to the south. The seeds of Rome became the flowers of Europe. So it will be with the seeds of America. That is how Nature re-seeds its civilization with 1080 years of life and the expression of the knowledge of men, and 1080 years of Dark Age, Night, when man gets on his knees again and rediscovers the knowledge of God.

2160 years per civilization; 12 civilizations in all; 25.920 years in all in the Platonic Year, the Great Year, by which the Sun makes a complete circle in the sky.

That is enough, I guess.
HEADLINE NEWS

Capitol Breach scorecard: 4 dead demonstrators; 0 dead police. Not much of an insurrection, was it? A real insurrection would not have looked like this.

Is this because he acted like a man around women?

What a year for Texas.

Now that is GROWTH.

Deflation or Stagflation? Remember, Stagflation when the world has no debt, like in 1965-1983. Deflation when the world has debt, like 1929-1947 and like 2001-what was that year again?


On an unrelated note, CANCEL DR. SEUSS books because he portrayed two characters in one book as coming from Africa and wearing grass skirts and no tops.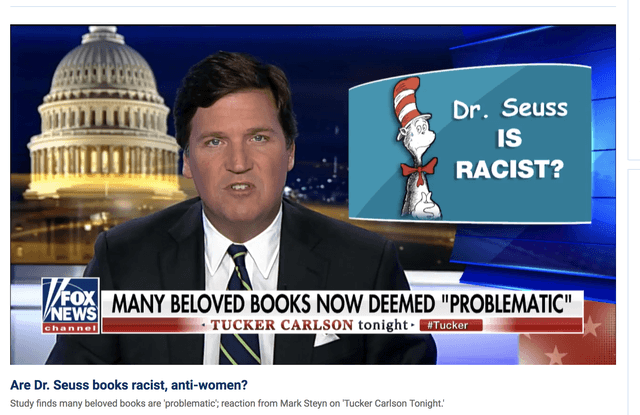 CANCEL THE CANCELLERS.



Yes, too many topping patterns to see. (Maybe they aren't there.)

Maybe that's why people are leaving Goldman.



WHOSE IDEA WAS IT TO SHUT DOWN THE SOCIETY AND THEN EXPECT IT TO BE THERE WHEN THE VIRUS WENT AWAY AGAIN?
MJC, CGTS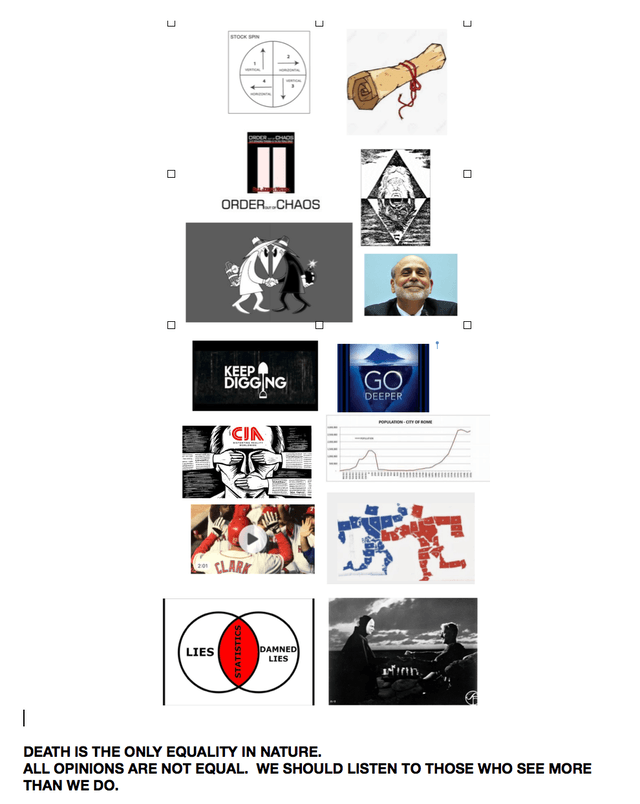 Disclosure: I am/we are long blnk, CLSK, FSLR, TSLA.
I wrote this article myself, and it expresses my own opinions. I am not receiving compensation for it. I have no business relationship with any company whose stock is mentioned in this article.
Seeking Alpha's Disclosure: Past performance is no guarantee of future results. No recommendation or advice is being given as to whether any investment is suitable for a particular investor. Any views or opinions expressed above may not reflect those of Seeking Alpha as a whole. Seeking Alpha is not a licensed securities dealer, broker or US investment adviser or investment bank. Our analysts are third party authors that include both professional investors and individual investors who may not be licensed or certified by any institute or regulatory body.