CGTS WEDNESDAY: IS THE FED STILL DRIVING THE TRUCK?
Please Note: Blog posts are not selected, edited or screened by Seeking Alpha editors.
CGTS Algo Trading System

CGTS WEDNESDAY: IS THE FED STILL DRIVING THE TRUCK?
Mar. 03, 2021 11:10 PM ETDQ, ETCG...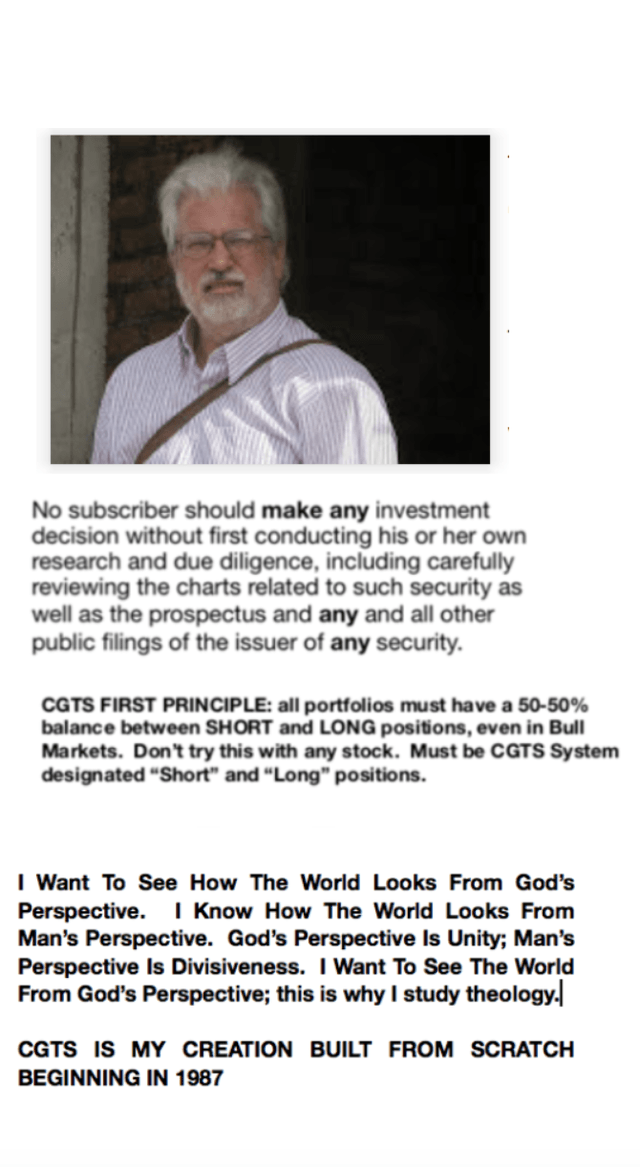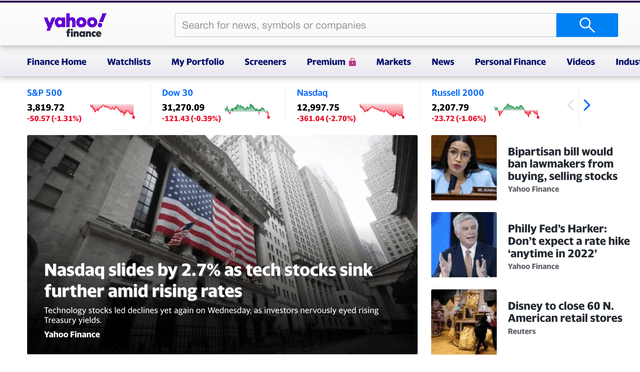 Stocks fought all day, then relinquished ground even further in the last hour.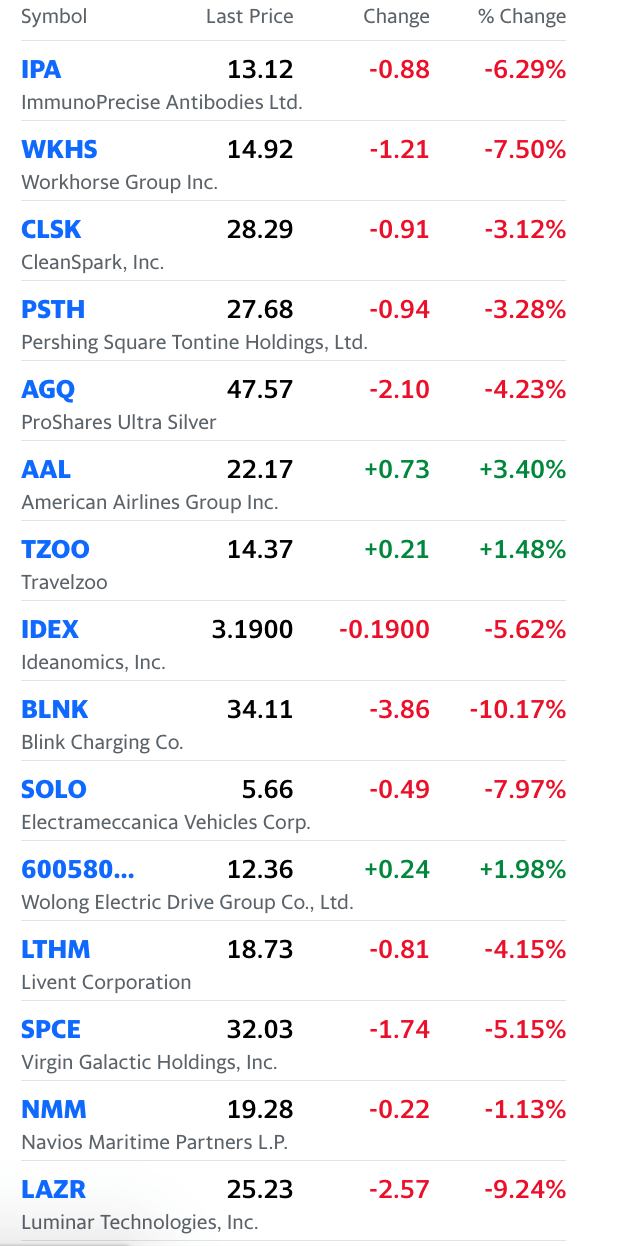 TECH STOCKS still have profit-takers. Something we have to live with, until all are absorbed.
VIX TRADE: neutral.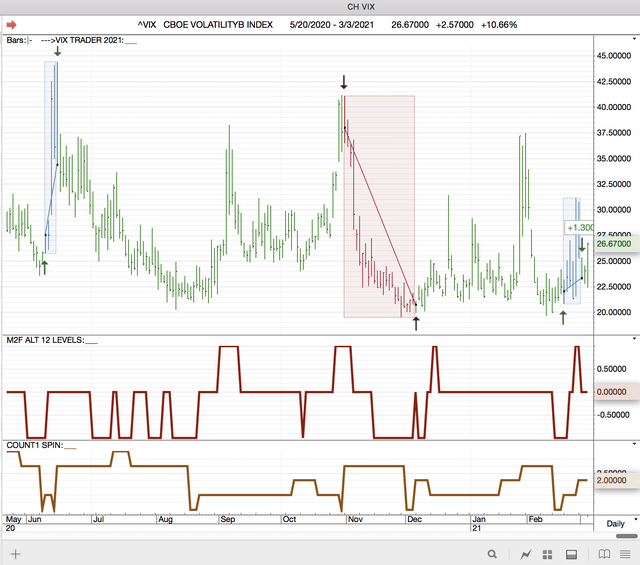 Here is UVXY, VIX ETF, which is my trade of choice.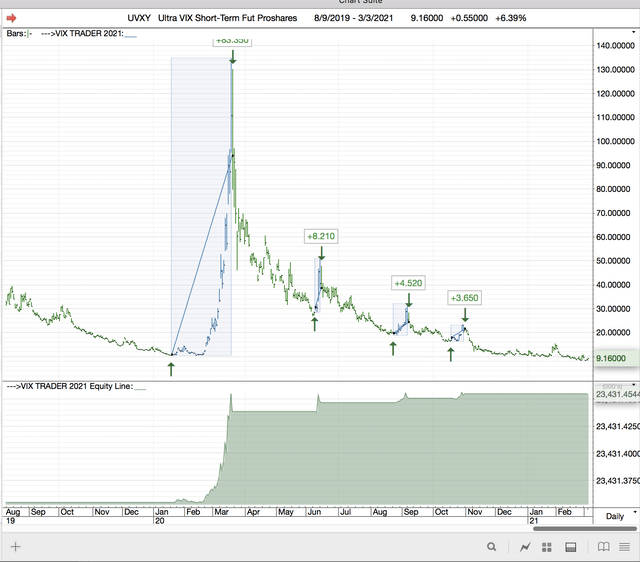 I am actually SHORT UVXY and have been for some time.
THE VIX TRADER is neutral.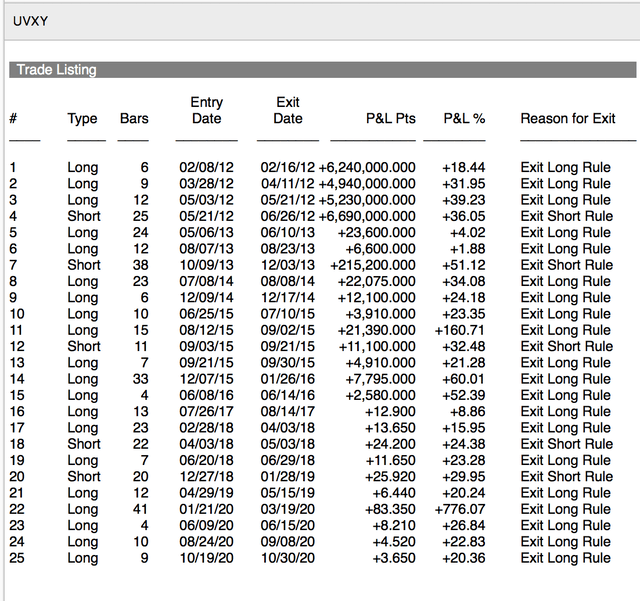 RESISTANCE: 9.09; SUPPORT: 7.32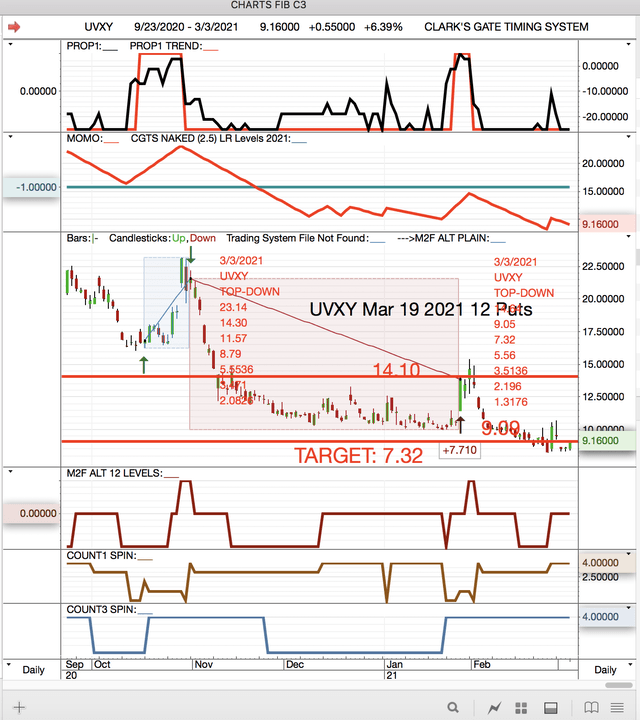 WORKHORSE: trying to plant a pivot here. Note the UPGAP in JAN that was filled with the recent collapse; note the DOWNGAP that needs to be filled with the current collapse.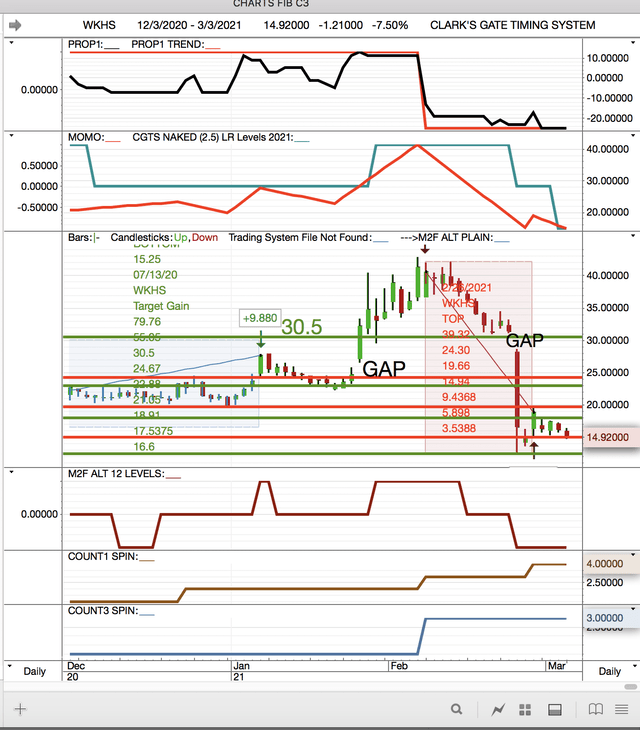 FSLR, LONG. 67.49 TOP-DOWN Support.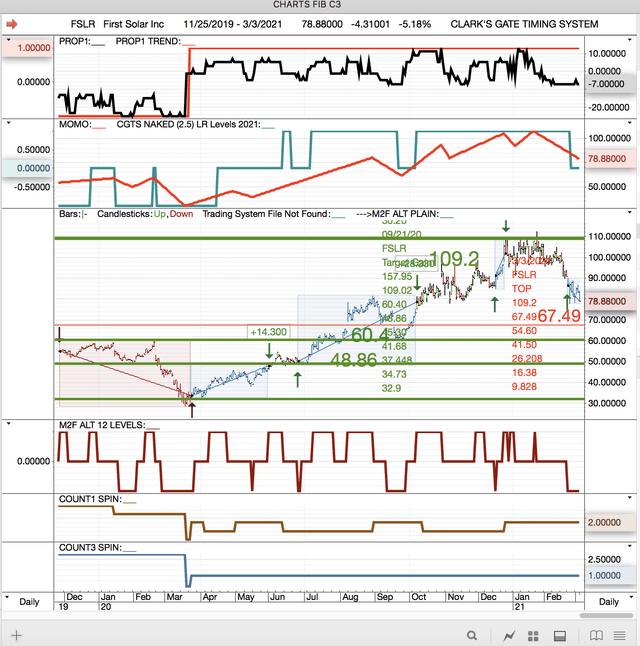 NMM, nice momentum. 19.71; then 28.56.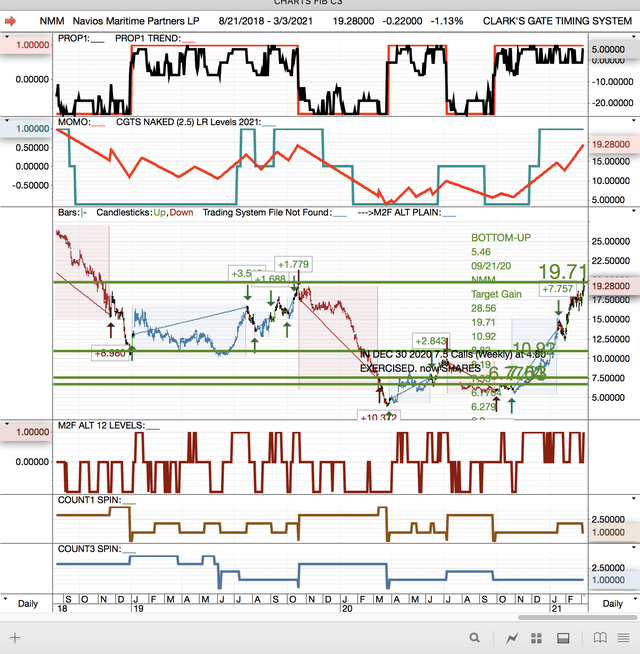 SPCE. Buckled at 61.09 RESISTANCE. 30.55 TOP-DOWN SUPPORT.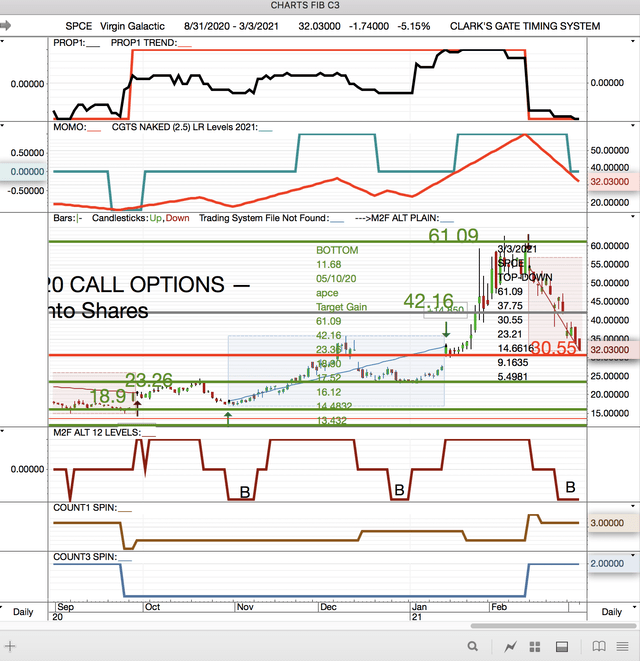 XOMA. Has held up nicely so far.
To sell of not to sell? That is the question. In some ways it makes sense to take profits regularly and avoid sell-offs. And then buy back when the selling is done. The tendency for me is to fall in love with stocks that are doing so well for you; then to watch them fall back.
But if they fall back to support; and the support holds. Then we enjoy the next leg up.
One of our problems is that we have more than one trading system. If we get a TRADING SELL signal in one system and not in the next, the temptation is to shift to the focus to the system that is not giving a SELL signal.
If we were to report only one trading system, in order to simplify and clarify, which system would it be. Below shows most of our system and how they trade ADBE, ADOBE.
MAESTRO you do not know. It is new.
The 8th Column shows the number of trades in each system.

I should apologize. Last night I published a list of NEW BUYS from M2F ALT PLAIN x3 Stock System. Those stocks were actually from a defunct system, M2F ALT PLAIN...which is the same system without the x3 juice. THE M2F ALT PLAIN is a very good system, the one I use with the 3x trades. Here is today's (and yesterday's) M2F ALT PLAIN x3 System report. New trades, as always, one green box to our far right in the Heat-Meter column.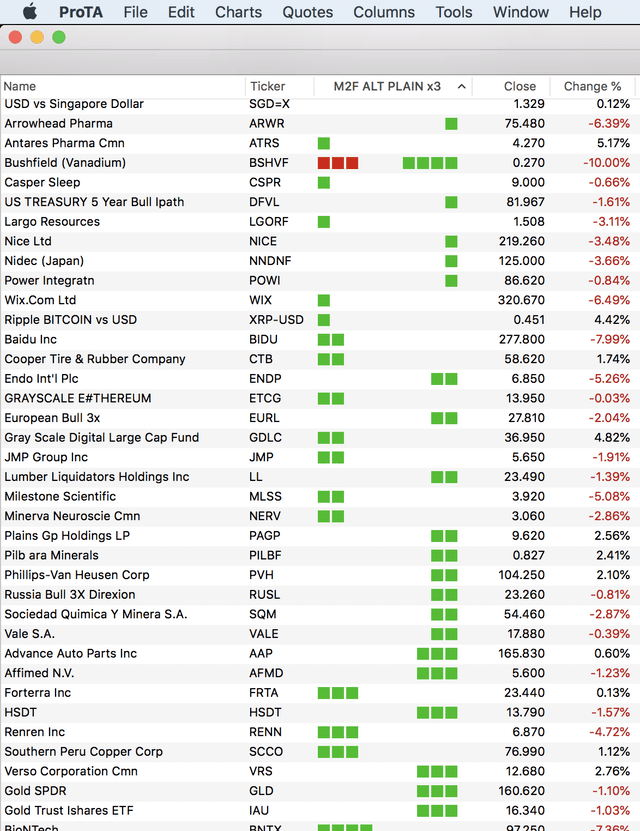 M2F_ALT_PLAIN_PORTFOLIO_times_3_3_3_21.xlsx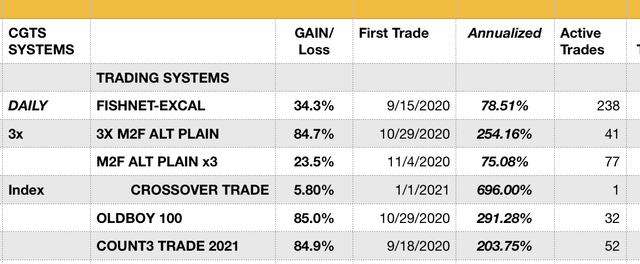 COUNT3 TRADE nice gain of 329.87% in DDD LONG. You will note that COUNT3 has a LAG. It gave a SELL SIGNAL today. A nice gain nonetheless.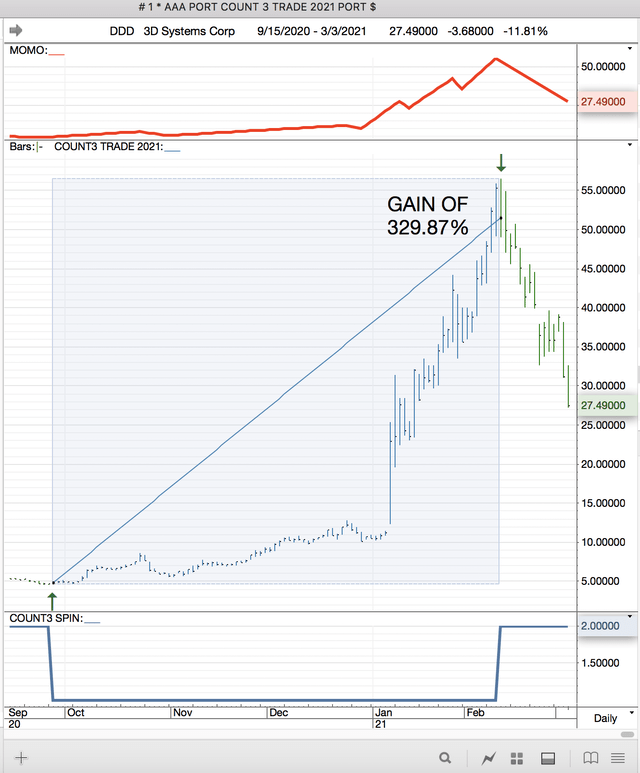 C3_TRADE_PORTFOLIO_3_3_21.xlsx
FISHNET_DAILY_PORTFOLIO_3_3_21.xlsx
OLDBOY_100_PORTFOLIO_3_3_21.xlsx
3x_M2F_ALT_PLAIN_PORTFOLIO_3_3_21.xlsx
OLDBOY New Trades.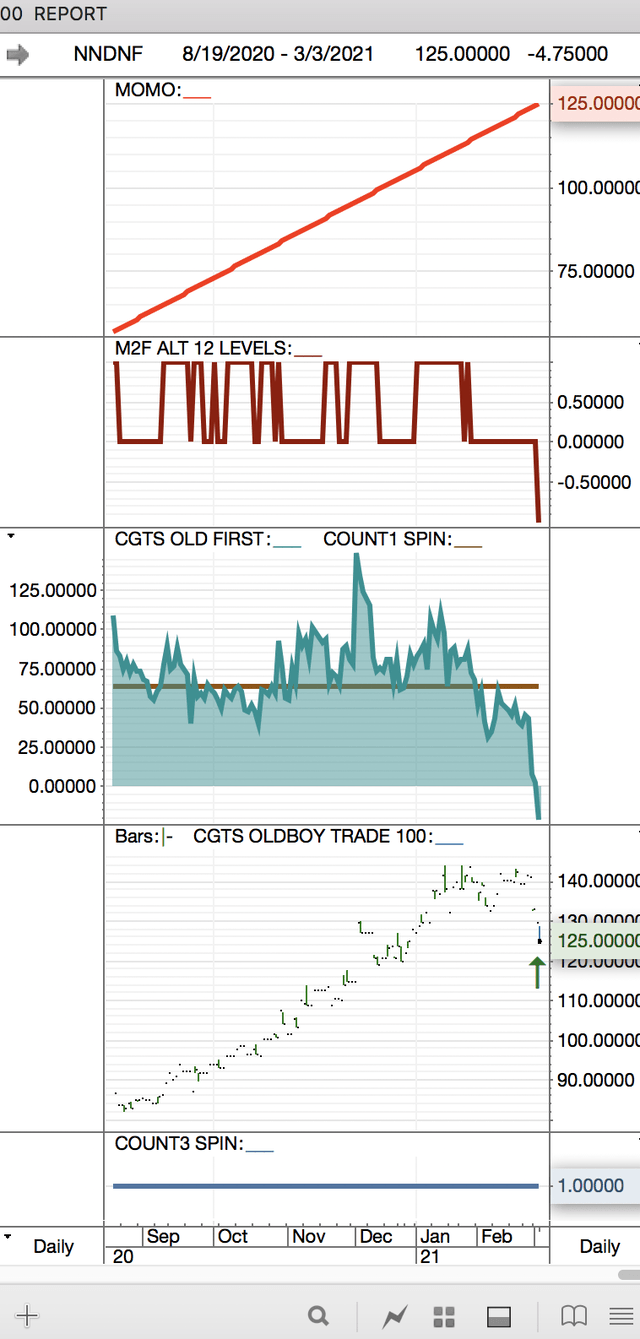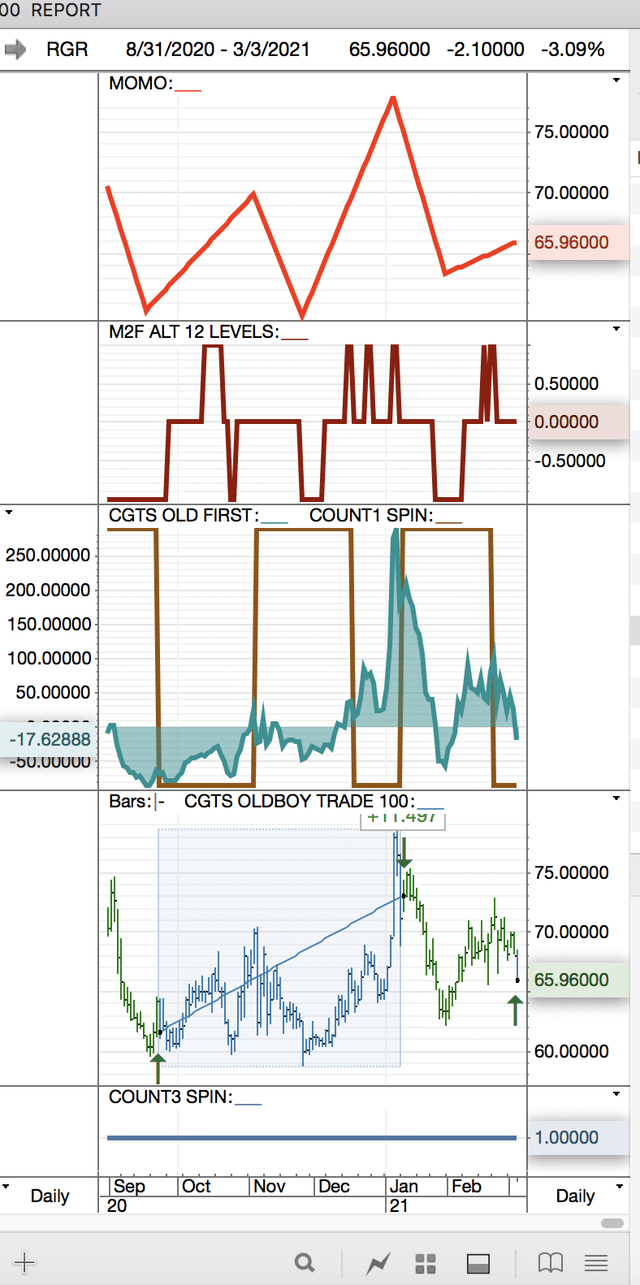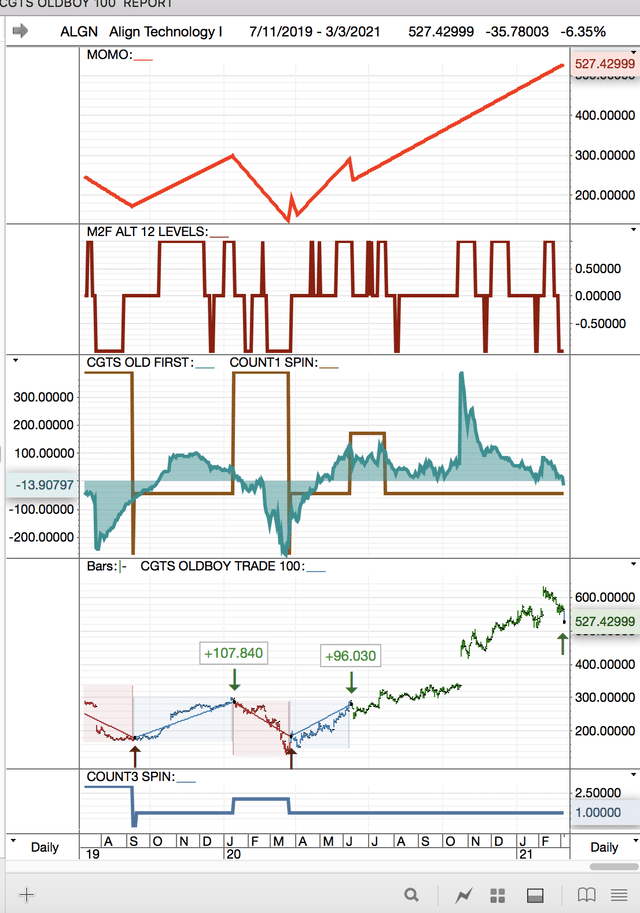 We think OLDBOY 100 may be our best "trading" system. We need to be sure as we try to whittle our many systems down to one. If that is the best path for us to take; not sure about this at the moment.
THE INSTRUMENT ROOM
We took a step back in terms of our diagnostics.
Both MOMO and C1=1 slid back a bit from yesterday.


C1=1 LOST 7 ISSUES TODAY, ALL GAINED BY C1=2. But C1=3 gained 17 on the day. C1=1 is still bullish, but barely, at 51.83%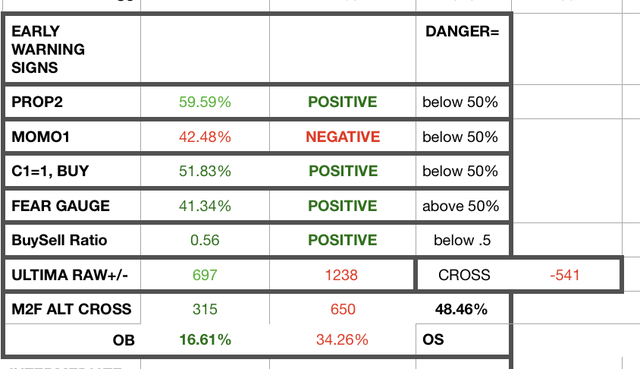 PRE-MARKET suggests more tough-sledding tomorrow, although the PRE-MARKET often changes quickly. But look how the US 10-YEAR yield is rising. This is the largest bone in the throat of the markets at the moment.

CROSSOVERS: still positive. For us to SELL the markets both C1 CROSSOVERS must go negative.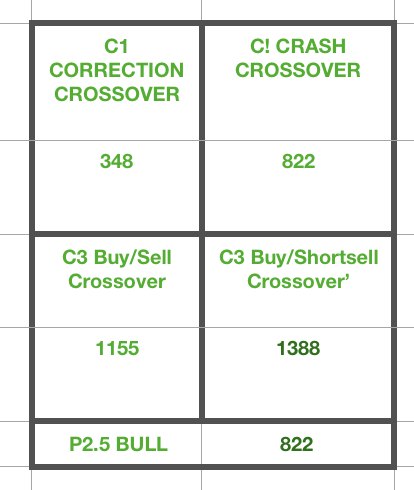 CROSSOVER TRADE: LONG.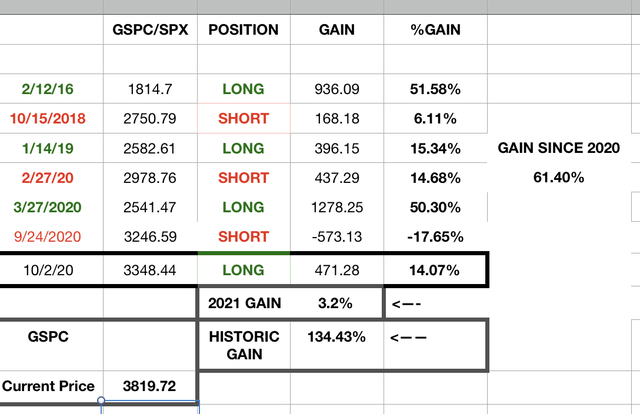 Everything positive longer-term in our numbers.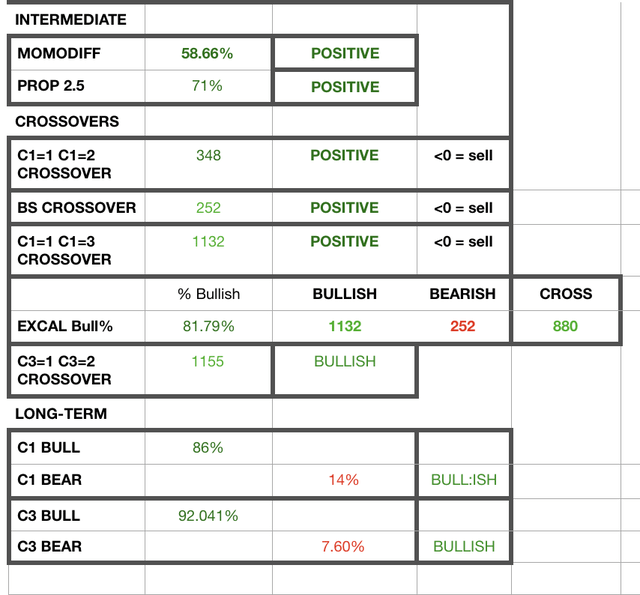 DATA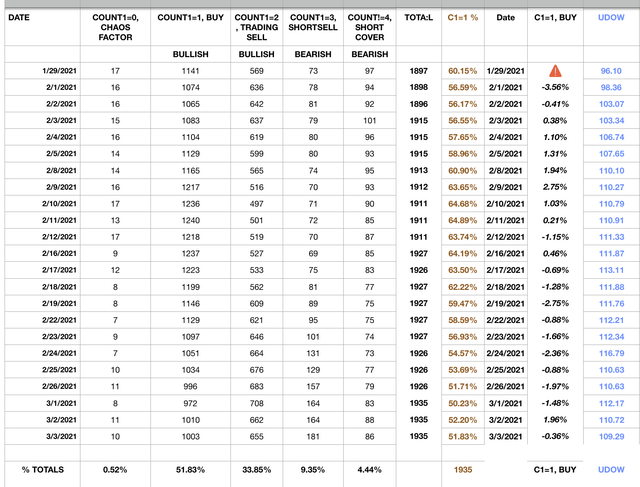 HEADLINE NEWS


I think CUOMO is beginning to understand what it's like to be Donald Trump. When the HYENAS attack, there is not much room to run. Ask Charlie Rose. When the women want to play, they lead the charge. When they want to punish or to get attention, they play dirty. (President Biden has been guilty of a lot of unwanted touching judging from youtube videos. Is unwanted touching now a crime? Are we going to imprison men on the charge of UNWANTED TOUCHING? THE LEFT want to CANCEL men who touch and PARDON men of color who murder. Where does this end?

Have the companies with the worst numbers the one's that have been left behind? Does that mean they will catch up? That may be the theory.
THE GRAND SOLAR MINIMUM? WELL WORTH THE READ.

What Lies Ahead? The Grand Solar Minimum
Submitted by Luke Eastwood

We are all aware of the environnmental crisis that humanity (and all life on Earth) faces, characterised by the term 'climate change'. Much of the current thinking in the scientific community is promoting the idea that our planet is rapidly warming due to excess CO2 (carbon dioxide) gas produced by humans in the last few centuries, and the last 70 years in particular.

While there is a very strong and hard to deny case to suggest that human activity is the main cause of environmental destruction, the premise that it is due primarily to CO2 emissions is beginning to look somewhat flawed. I am well aware that the previous sentence is likely to draw a lot of negative attention and criticism, with accusations of 'climate denier' being thrown at me. However, the situation is not that simple as to be a case of 'global warming' being the main influence or no influence at all.

The reality of the situation is complex. In my opinion the main drivers of the environmental crisis are many, but put in simple terms – destruction of wild habitats, pollution due to industrialisation, over-use of soils, over-population, erosion of soils leading to desertification or barren, infertile landscapes, monoculture agriculture and climate fluctuations. Notice that I did not use the term 'climate change' which in the current scientific norm implies warming.

While the planet has undoubtedly warmed up, in part due to human activity and CO2 production, the current popular thinking completely ignores historical CO2 levels beyond the last millennium and also the primary input on temperatures on this planet and all eight of the planets in this solar system. That input, although largely ignored at the moment, is of course our sun, which on average generates 3.8 x 1026 Joules (energy) per second. Human energy usage per year is around 5 x 1020 Joules, which is about 1 million times less than the Sun produces during 1 second! In fact, in the whole of human history we have used less energy that the Sun produces in that 1 second.

So, given the above, it stand to reason that the energy of the Sun must have a significant effect on the energy available on this planet and the heat energy (temperature) that is captured by it, as it rotates around the Sun. If we look at the history of Earth, particularly through the use of ice-core samples, we can see that the temperatures on our planet follow a very distinct pattern. On a macro level this can be observed as a huge cycle of glacials (ice-ages) and interglacials, with the ice ages lasting many times longer than the interglacial (OTCQB:WARM) periods. We are currently in an interglacial, which began approximately 11,500 years ago and it is estimated that it will end some time within the next 50,000 years.

ALSO well worth a read:
Why The SLR Is All That Matters For Markets Right Now

Well, with risk assets sliding and financial conditions suddenly tightening - in large part as a circular result of the lack of SLR clarity which has led to even more forced Treasury selling - the dollar has been rising (as a reminder, the dollar is first and foremost a barometer of systemic funding stress, and it always goes up when the market sniffs out a plumbing issue). Which leaves the Fed with three options:

Talk rates down, which it has tried and failed to do for the past two weeks, so this is unlikely to work
Announce that Operation Twist is coming, taking the opportunity during his video conference tomorrow to say something like "the Federal Reserve might consider extending the average maturity of bond purchases and will discuss this at the next FOMC meeting" or
Announce that the SLR exemption will be extended, either for another 6-12 month, or permanently.

Which, if any, of these will Powell pick?

What is all this about? Yesterday in China homosexuals were declare MENTALLY ILL; today CHINA insists it has the right bo perform ANAL VOVID SWABS on all foreigners in CHINA. So, BOYCOTT CHINA. CHINA says "bend over" if you want to do business in CHINA. But they have always said that.


What kind of INSURRECTION was it really? 0 DEAD POLICE; 4 DEAR INSURRECTIONISTS? USUALLY AN INSURRECTION MEANS THE INSURRECTIONISTS ARE ARMED. Otherwise it is just a DEMONSTRATION that got out of hand.

ARKK will be back.

Everything is unsustainable. We know already.

I think Pence tried. But Pence is a politician; and Trump isn't a politician. Politician's tend to put their own future first, always looking for the way out.



DOES ANYONE BELIEVE THIS, except Pelosi of course. And Schumer.
Is the Democrat plan to wreck everything? IS THAT WHAT THE GREAT RE-SET IS ALL ABOUT?
I will talk about this new indicator more later in the week.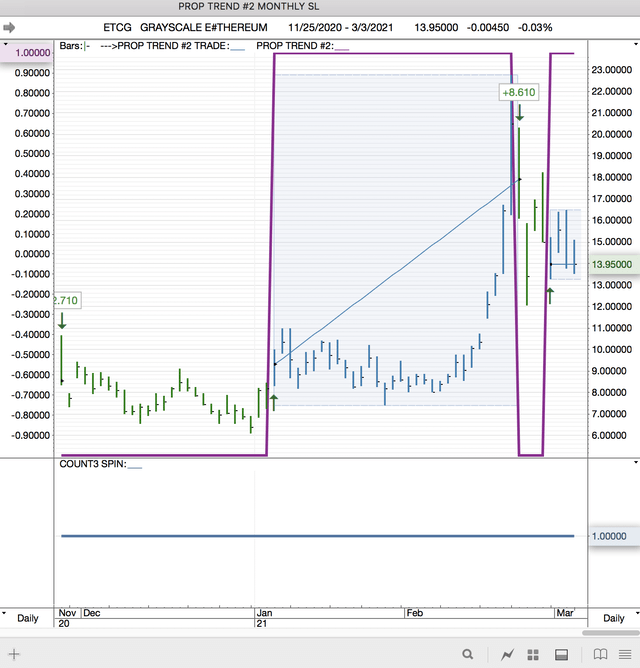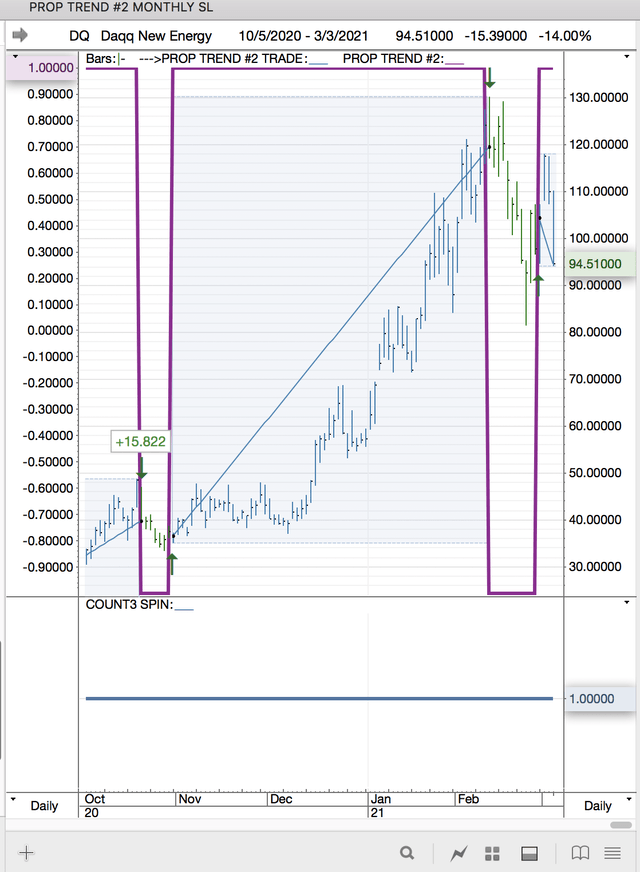 BEST TO ALL,
MJC, CGTS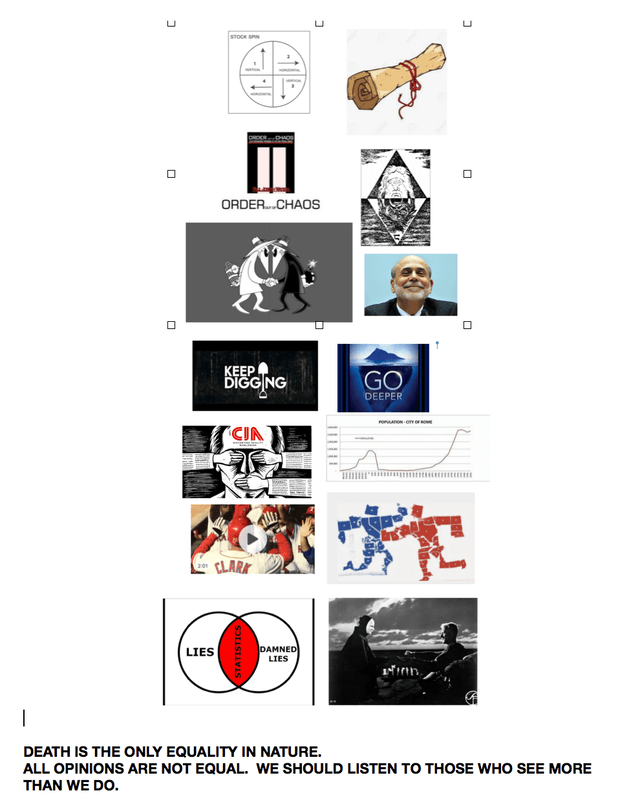 Disclosure: I am/we are long BLNK, CLSK, GBTC, TSLA.
I wrote this article myself, and it expresses my own opinions. I am not receiving compensation for it. I have no business relationship with any company whose stock is mentioned in this article.
Seeking Alpha's Disclosure: Past performance is no guarantee of future results. No recommendation or advice is being given as to whether any investment is suitable for a particular investor. Any views or opinions expressed above may not reflect those of Seeking Alpha as a whole. Seeking Alpha is not a licensed securities dealer, broker or US investment adviser or investment bank. Our analysts are third party authors that include both professional investors and individual investors who may not be licensed or certified by any institute or regulatory body.