CGTS FRIDAY: WHAT A WEEK! IT FEELS LIKE A BEAR MARKET EVEN IF IT ISN'T ONE. IS THIS A TRADING BOTTOM?
Please Note: Blog posts are not selected, edited or screened by Seeking Alpha editors.
Summary
MAJOR FISHNET BUY WAVE MAKES US THINK WE HAVE BOTTOMED.
BUY AMZN, AAPL, NFLX, BYND, FIVN.
CGTS Algo Trading System

CGTS FRIDAY: WHAT A WEEK! IT FEELS LIKE A BEAR MARKET EVEN IF IT ISN'T ONE
Mar. 06, 2021 11:22 PM ETAAPL, AMZN...
Summary
MAJOR FISHNET BUY WAVE MAKES US THINK WE HAVE BOTTOMED.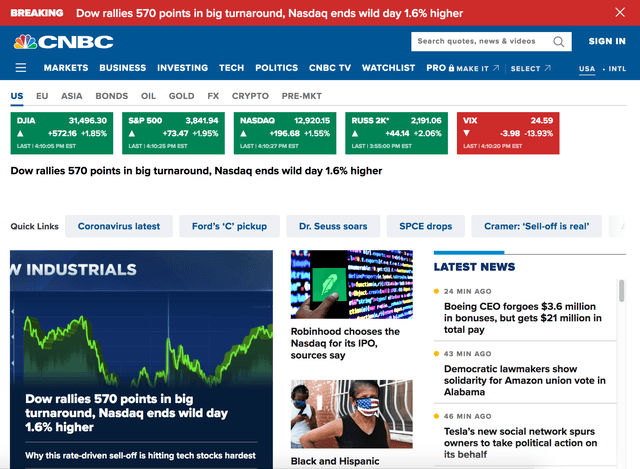 Many stocks recovered. Our closely-held stocks did not fully recover.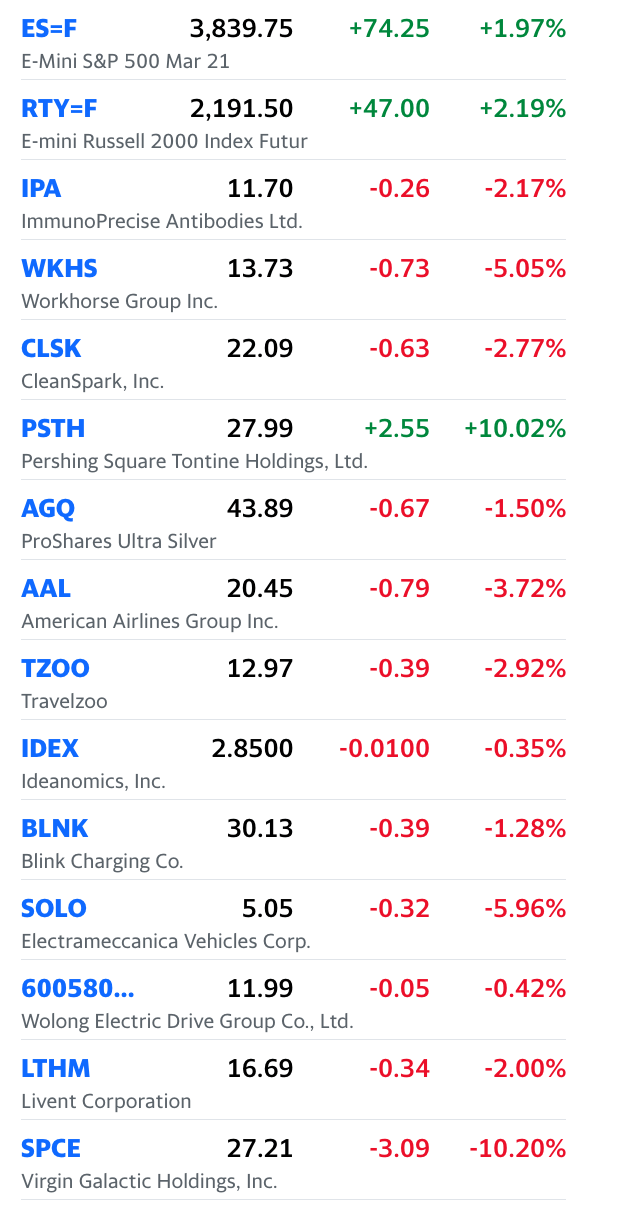 SPCE continues to decline. The decline from 61.09 to 27.29, a loss of 55.33%. That is a lot. But SPCE had gained 84.61%, rising from 9.4 to 61.09.

The FIBONACCI sequence for declines suggests we could go as low as 23.34 in this "orderly" unwinding.

Today's action was instructive, as SPCE bottomed at about 11:30 AM and spent the rest of the day, and after-hours. rising.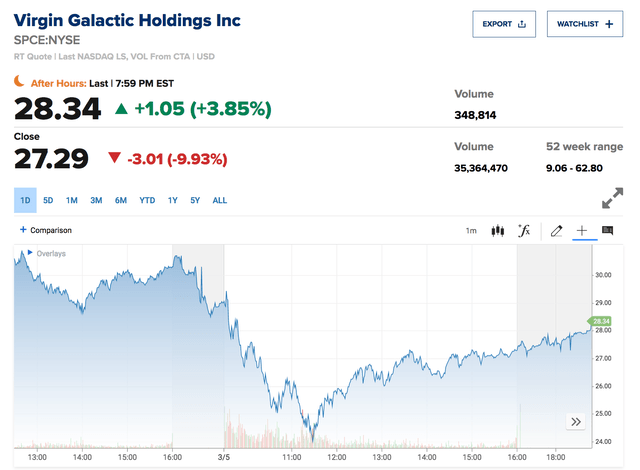 Workhorse had a similar result.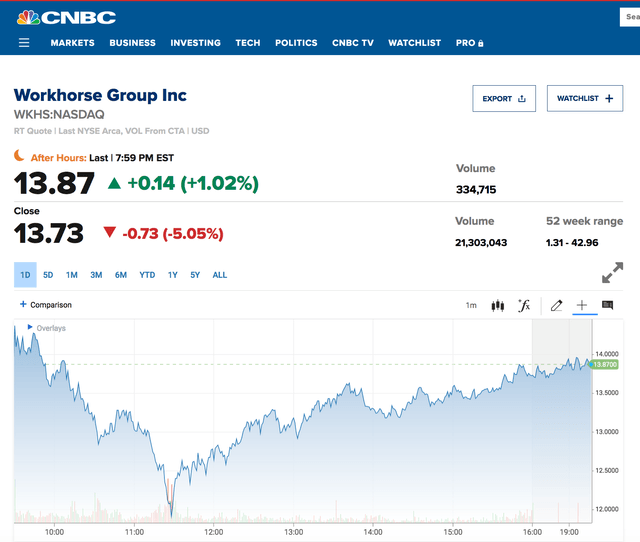 In fact, it looks like 11:30 AM was the trading bottom in this market recovery.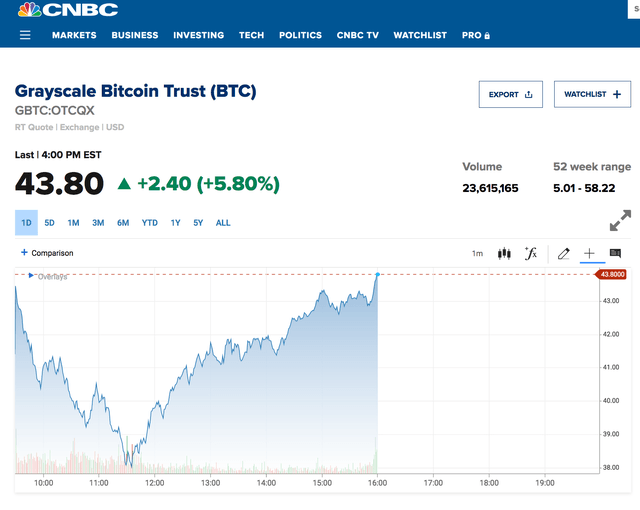 We'll need to see a positive follow-through next week.
In the past we have been supported in our TRADING BOTTOM beliefs by confirmation by a WAVE OF BUYING from our FISHNET TRADING SYSTEM. Well, here is today's report,.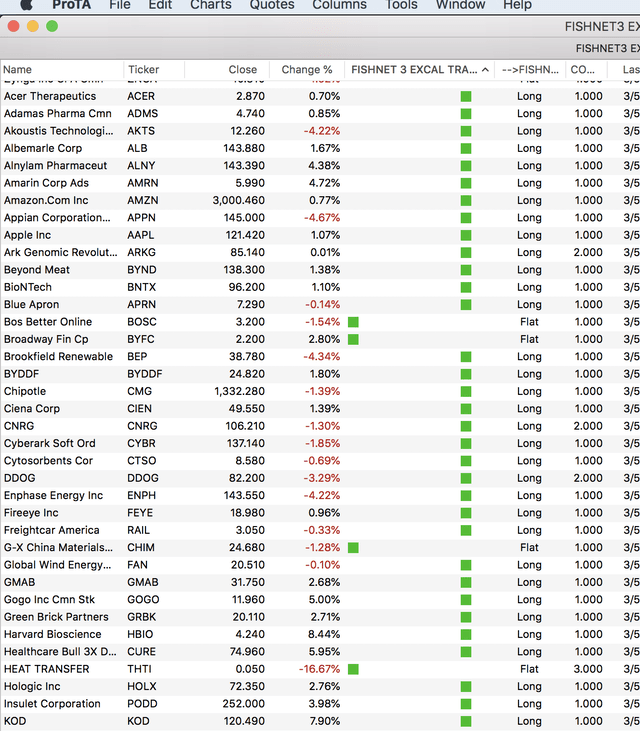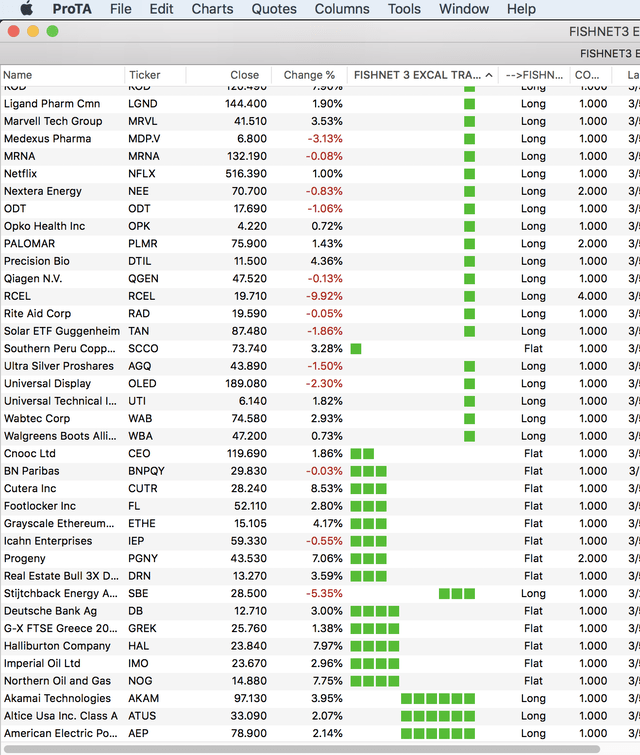 Our DIAGNOSTICS are not as positive as we wanted. I am assuming that this will come. Our circumstantial evidence (BUY SIGNALS) is strong evidence of a reversal. Nice names here as well.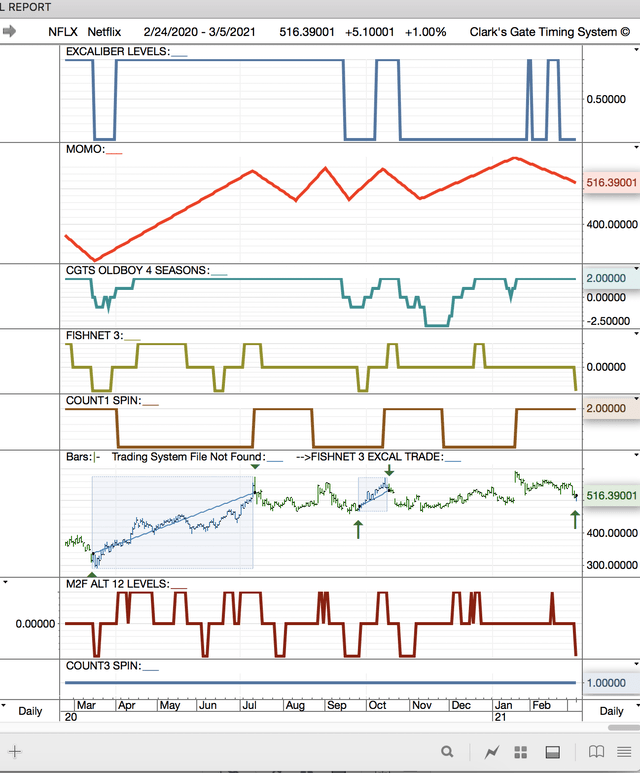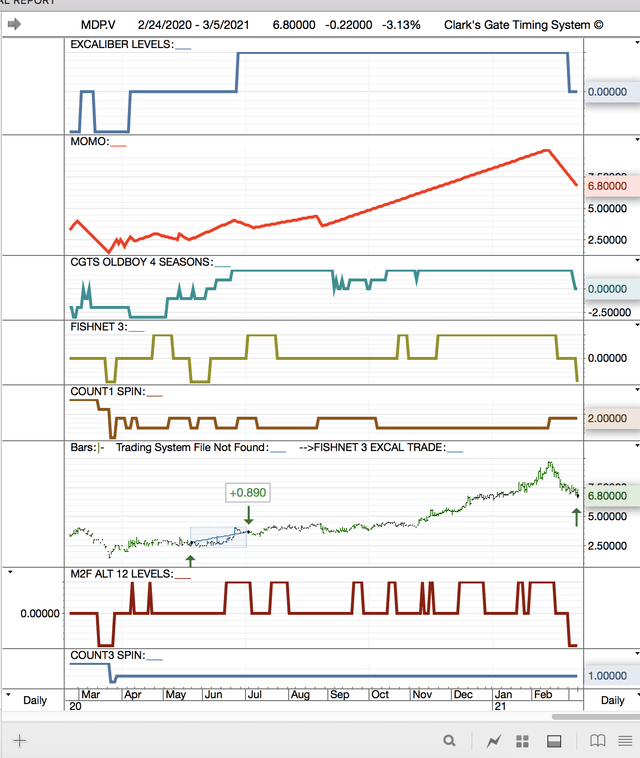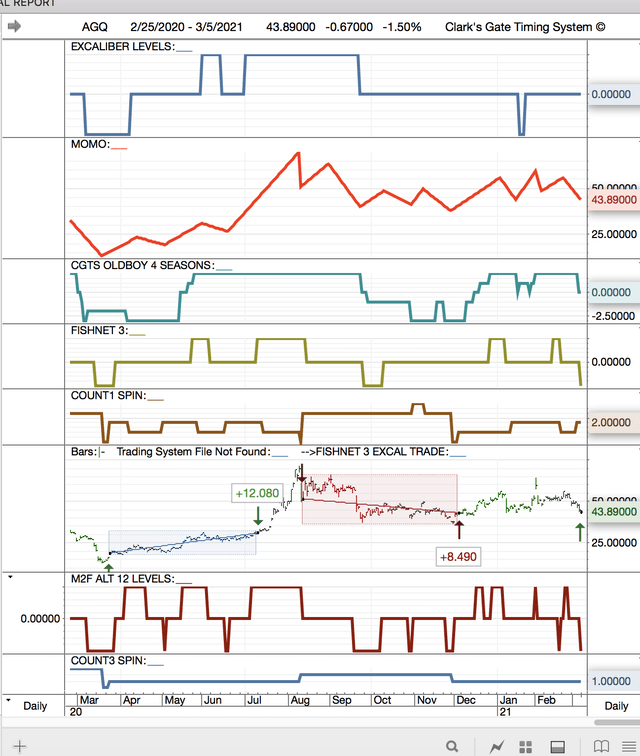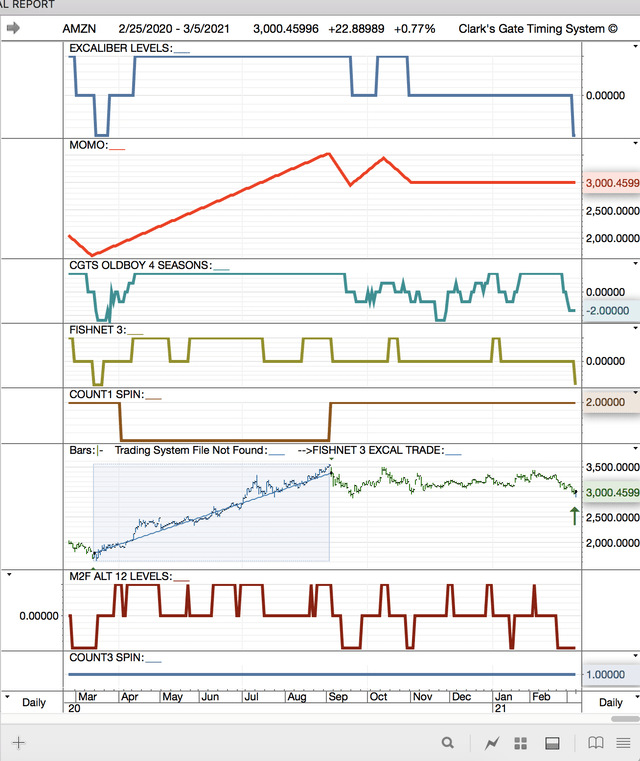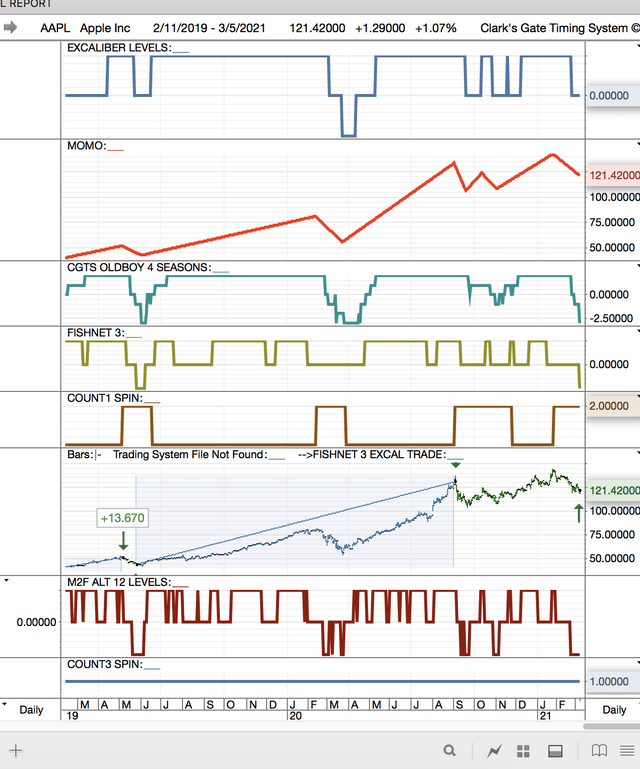 KATHY WOOD is in trouble? This stock looks good . MOMO (red) is still up-trending.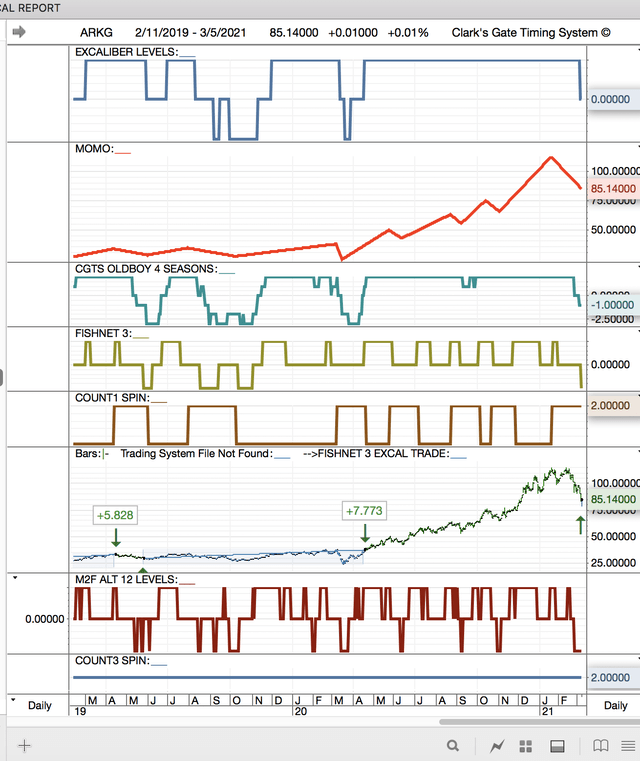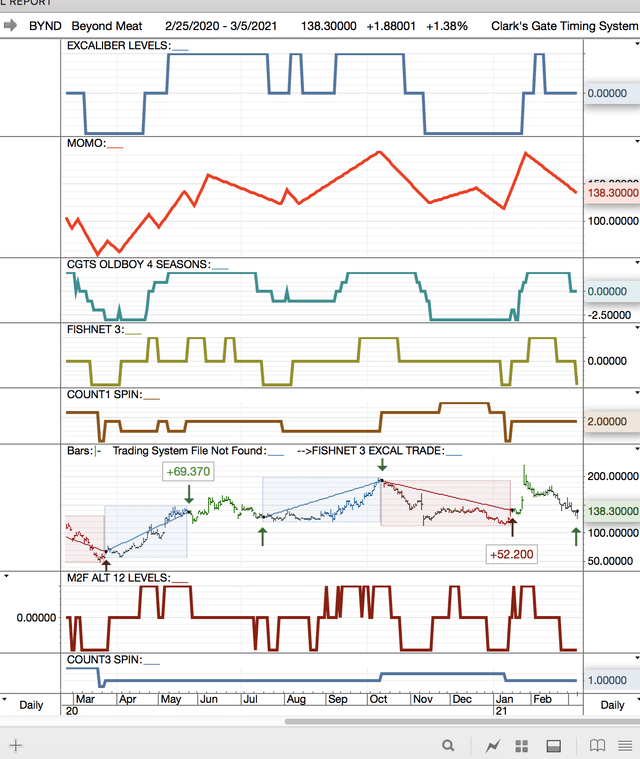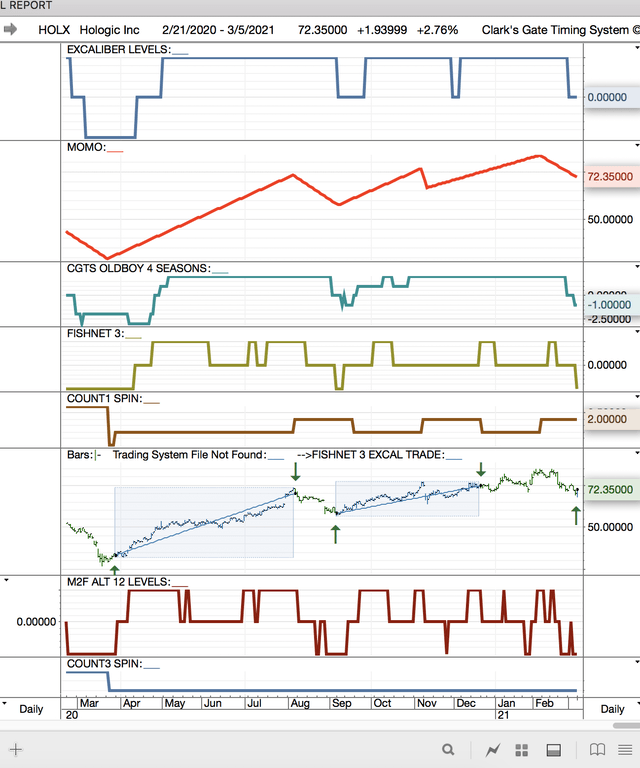 FISHNET is clearly one of our best systems. Two weeks after the SELLING BEGAN, stocks are resisting SELLING with very stable natures. We did get selling today, and some wonderful gains. All winners, which is surprising, given two weeks of selling.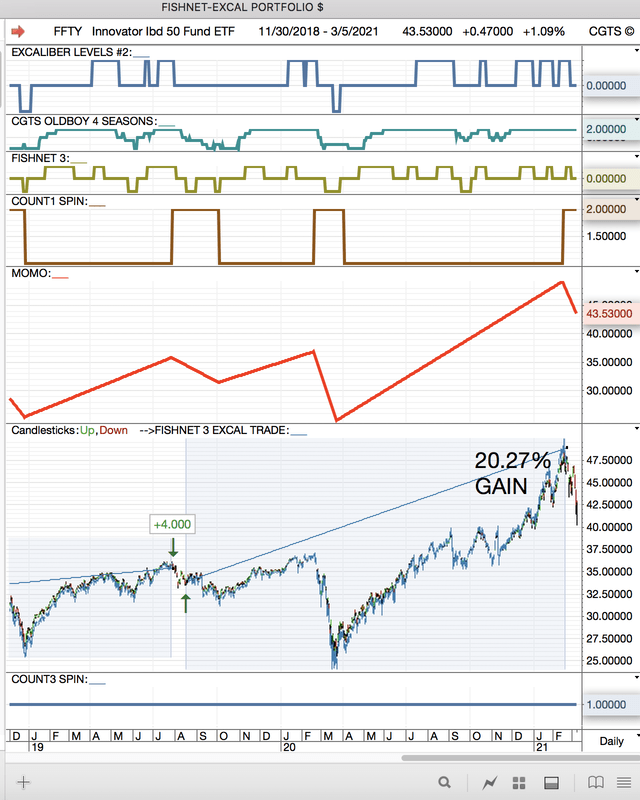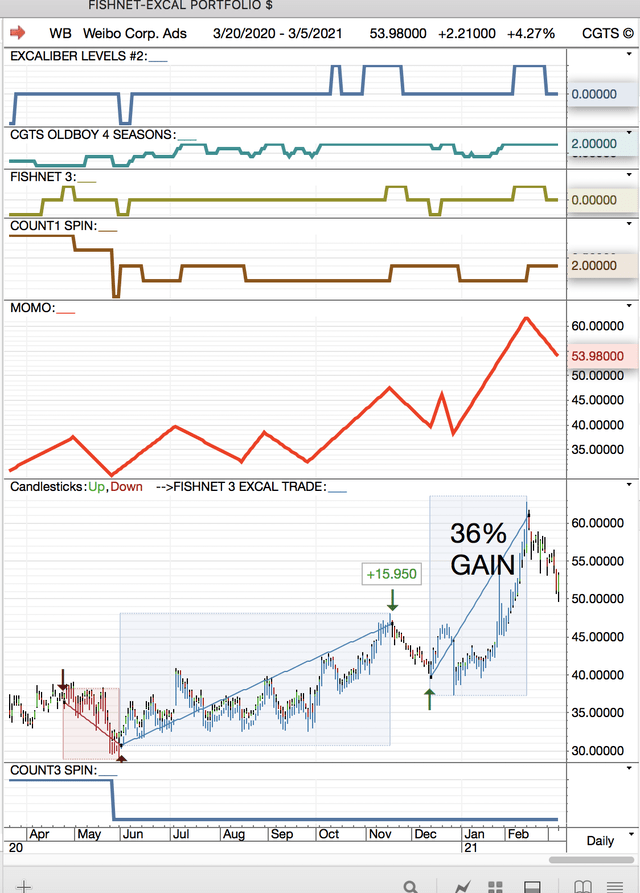 Is FISHNET OUR BEST SYSTEM? One of them.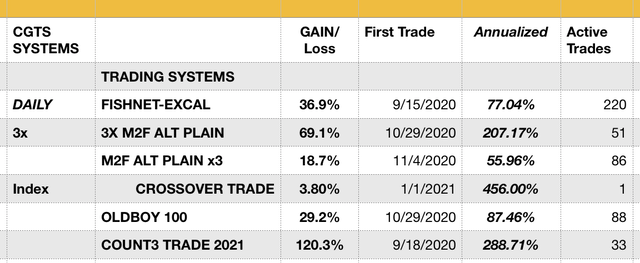 In the trading of ROKU, our FISHET complex is the three best of our recent creations.

FISHNET LT.

The FISHNET LT uses EXCAL LEVELS in both the BUY AND SELL FORMULAE.

In trading SQ, FISHNET LT comes out again on top.

Here's the report. And there is a couple of REDDIT plays on the LONG LIST.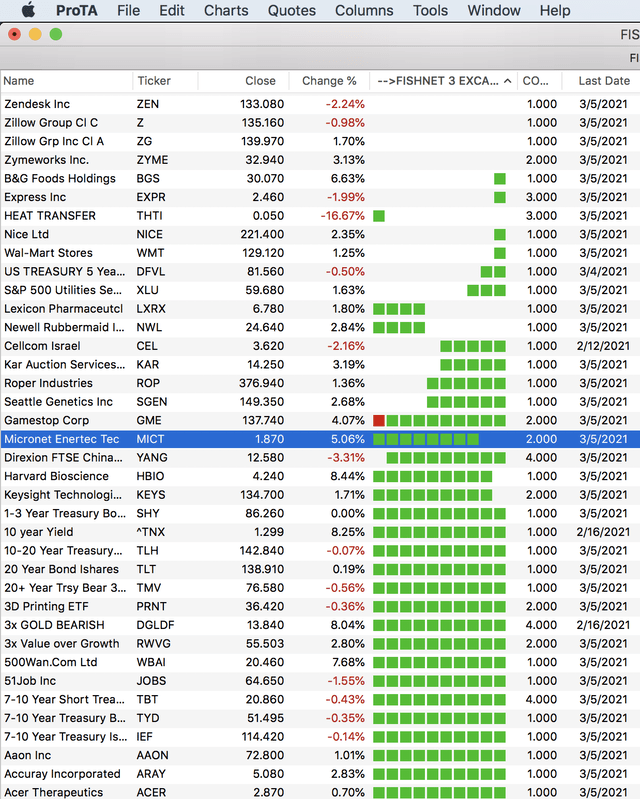 The REDDIT SOCIAL-MEDIA PLAYS.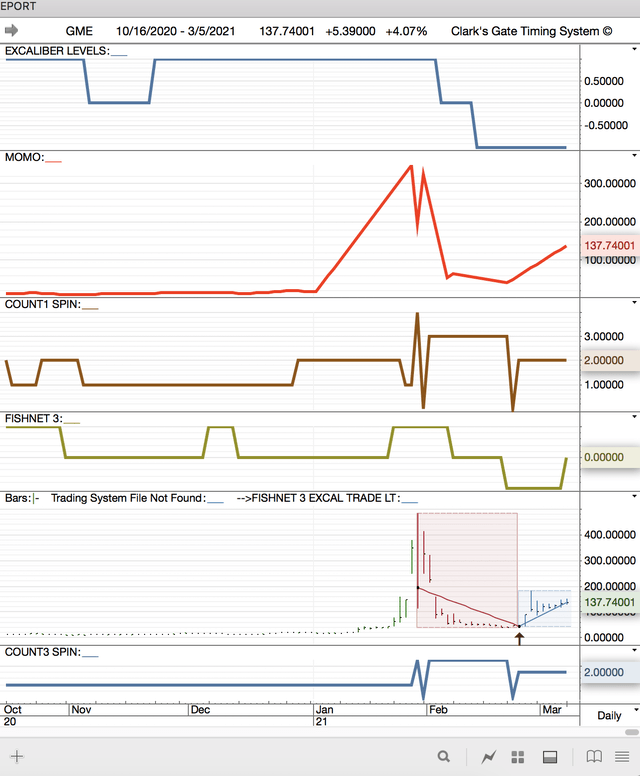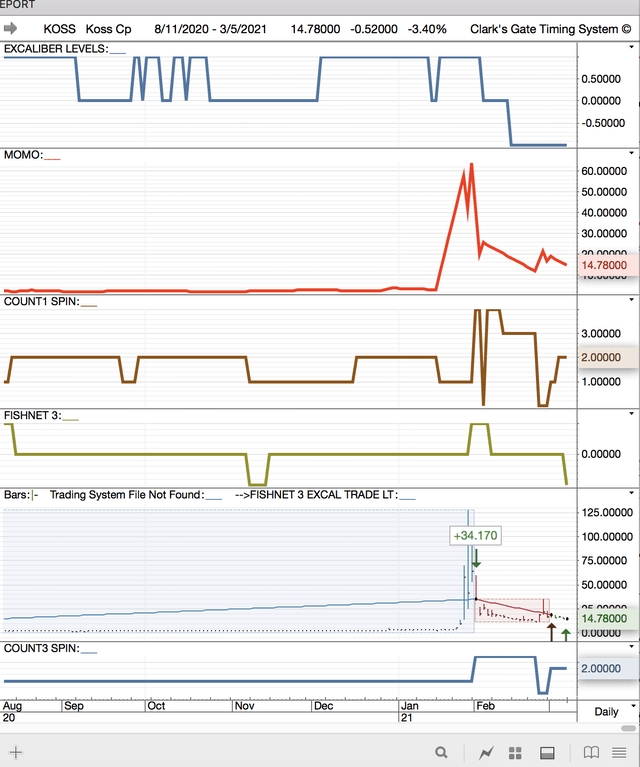 Some less "transitory" trades?
BGS, BUY.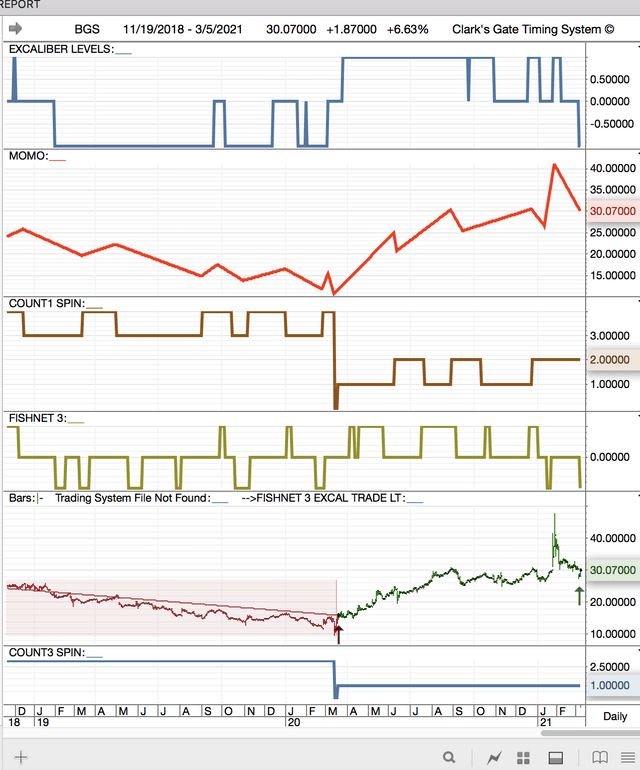 WMT, WAREMART. BUY.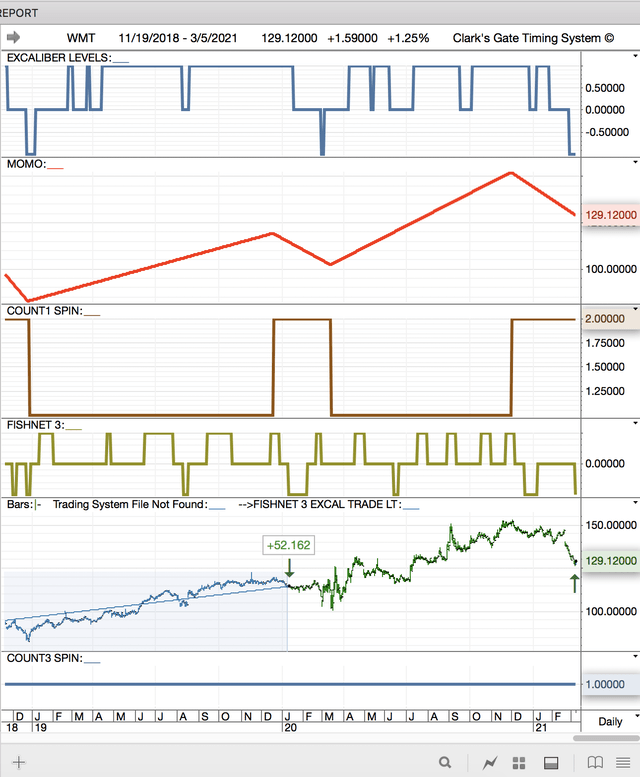 YANG, CHINA BEARISH, BUY? Does this mean Chinese stocks are heading down? If that is so, what does that do to US stocks, to Western stocks? Good question.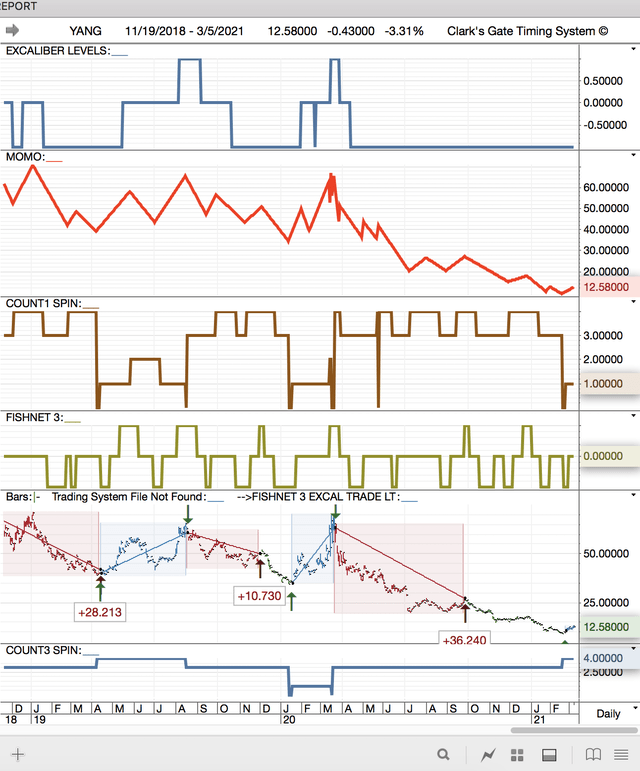 For our reading friend who wanted to follow MICT. Be wary here.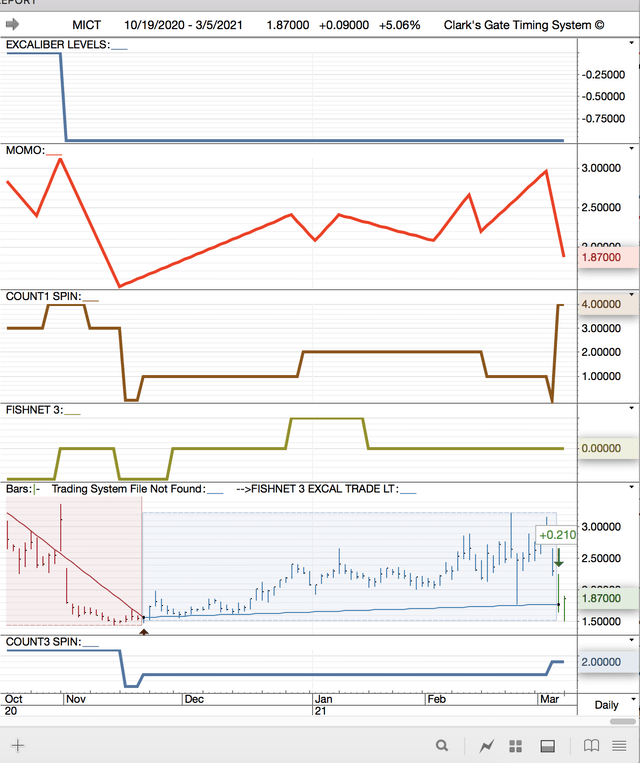 Of course if one has our RP, one does not really need to portfolios. The TRADING SYSTEMS in question are IN the RP for each stock.
But some people may find the portfolios more direct and illustrative.
3x_M2F_ALT_PLAIN_PORTFOLIO_3_5_21.xlsx
Two new 3x LONG trades: India Bull, INDU, and UGAZF, Natural Gas Bullish.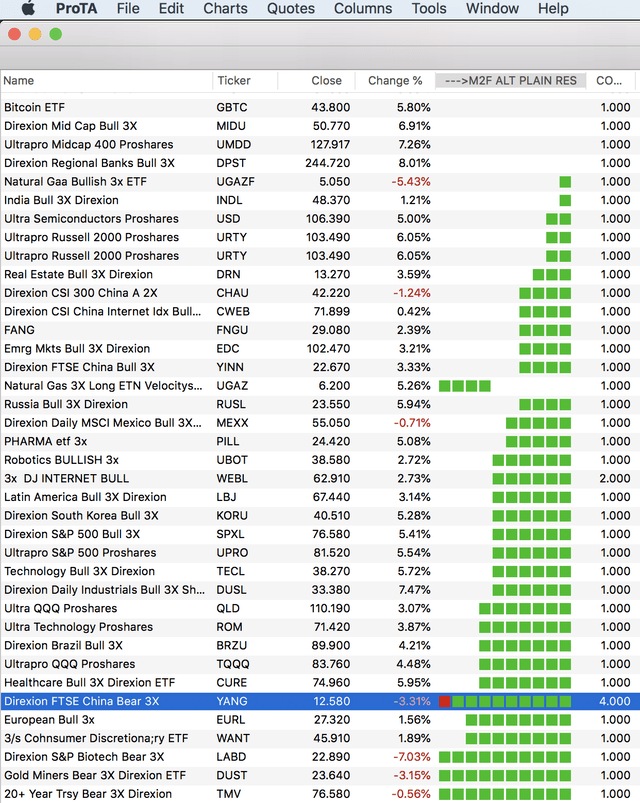 We have been leery of the oil sector since it last crashed; it came back acting differently. The difference between the last failed bullish trade and the current incipient long trade is that this one is confirmed by C3. But be wary of the oil sector, heavy-handed manipulation I fear.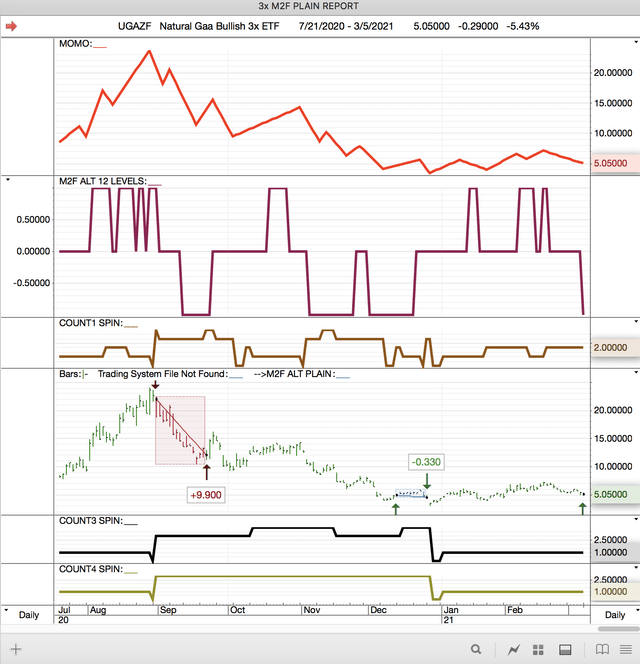 FISHNET_DAILY_PORTFOLIO_3_5_21.xlsx
OLDBOY_100_PORTFOLIO_3_5_21.xlsx
M2F_ALT_PLAIN_PORTFOLIO_times_3_35_21.xlsx
C3_TRADE_PORTFOLIO_3_5_21.xlsx
CGTS MARKET DIAGNOSTICS
What about Market Diagnostics? Do they echo the GUT FEELING coming from the BUYING WAVE in FISHNET SYSTEMS? Not exactly.
C1=1 is still deteriorating. Is this the KISS OF DEATH? No.

We remember when C1 CORRECTION CROSSOVER WENT NEGATIVE IN LAST SEPTEMBER, which proved to be a FALSE SIGNAL, leading to a loss of 7 UDOW points in the process.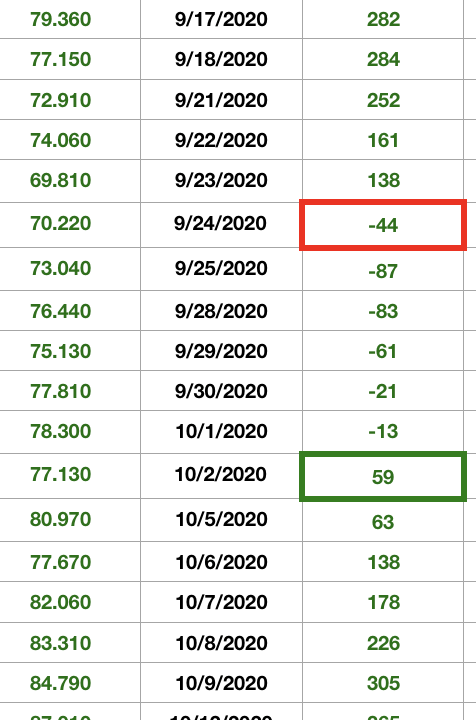 That is why we required BOTH Crossovers to fail. Currently both CROSSOVERS are bullish.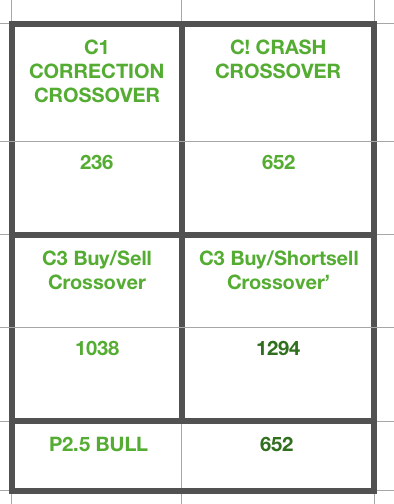 CROSSOVER TRADE: LONG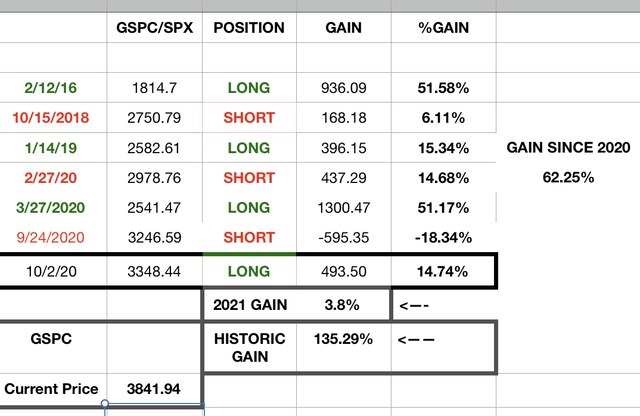 EARLY WARNING SIGNS: more deterioration, see C1=1. Below 50%.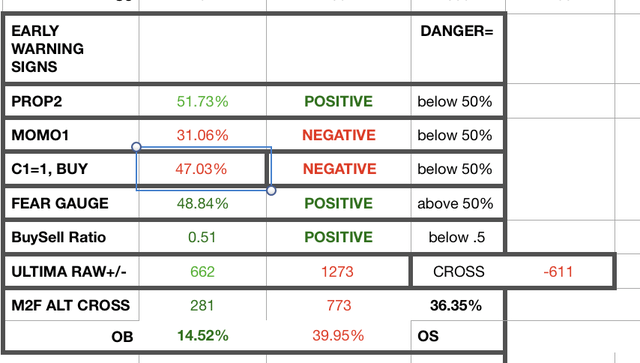 This does not mean much by itself. See again, SEPT 10, 2020. C1=1 broke down below 50% with the UDOW at 76.32. It rose again above 50% on 10/12/20 with the UDOW at 84 and change.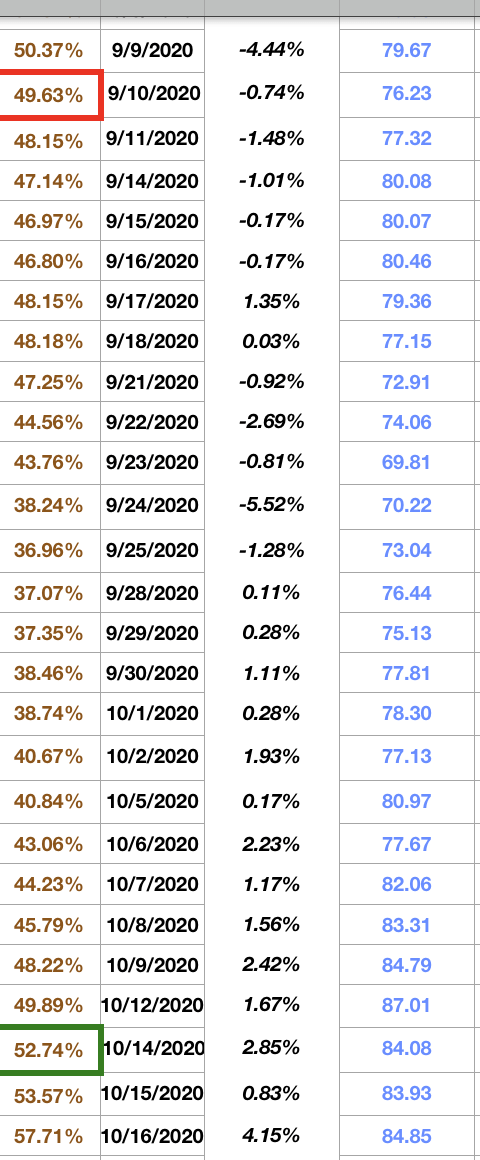 PROP2 continues to hold out, barely, 51.73%. Usually, as I say, MOMO1 and PROP2 fall together. MOMO1 has been negative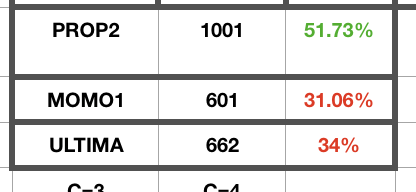 In the abortive SEPT 2020 false correction, see how these two moved together.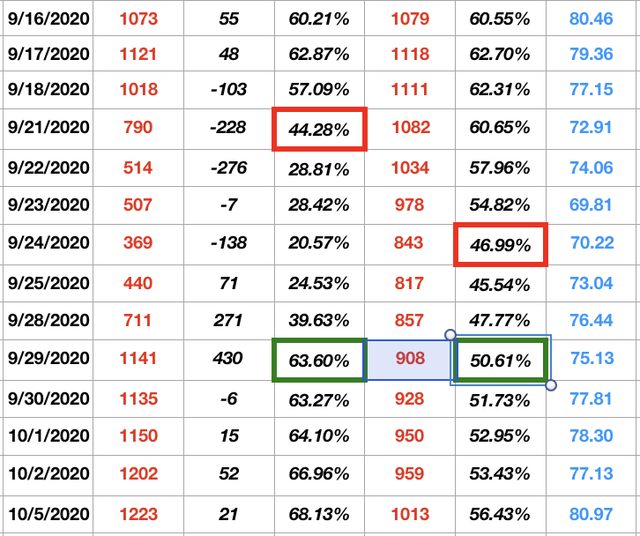 Today, there is clearly a disconnect between MOMO1 and PROP2.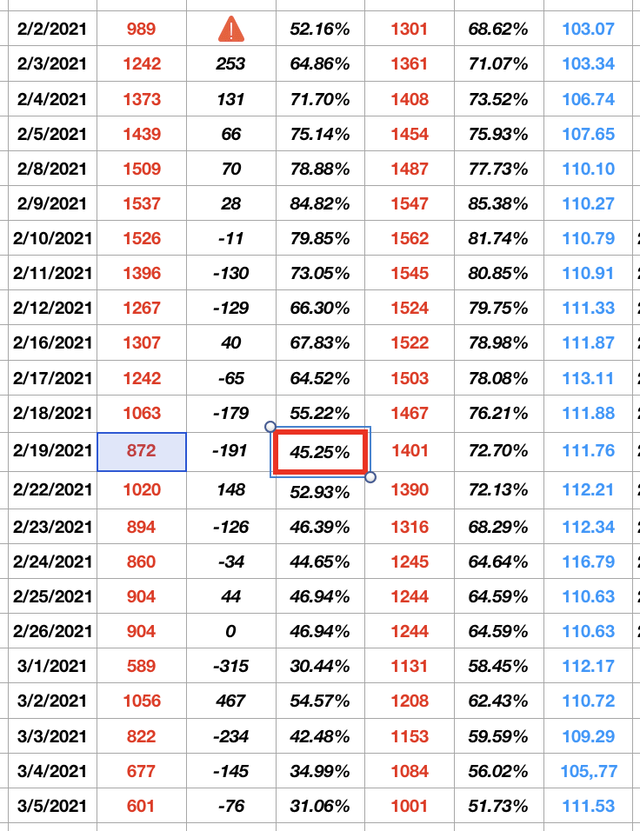 Look at the UDOW: 111.76 when MOMO1 fell; and 111.53 today.
Long-term diagnostics seem fine.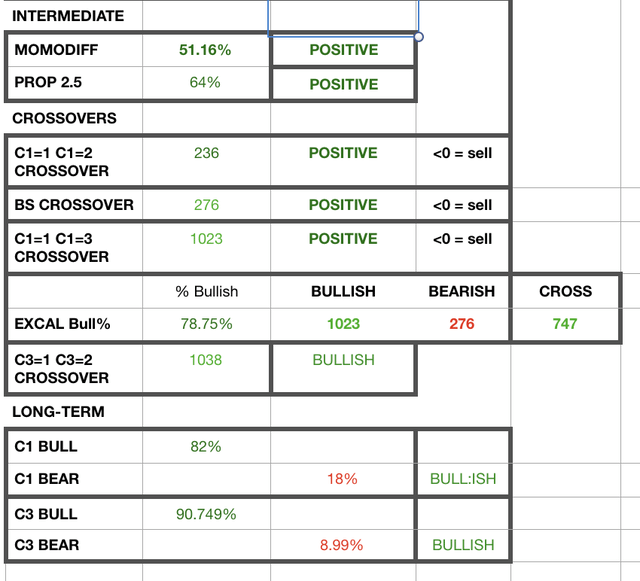 DATA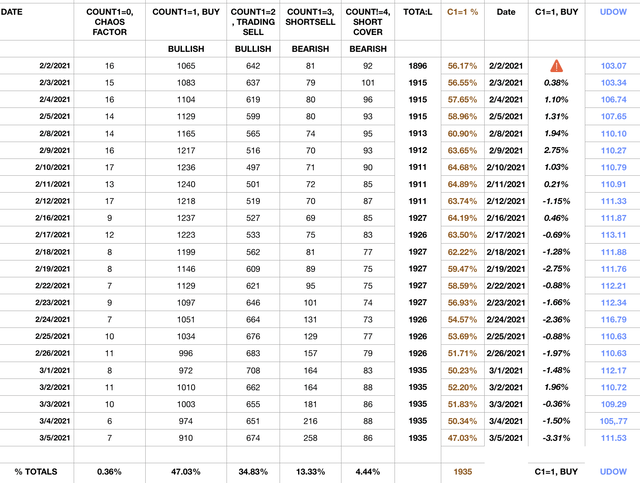 Today we are also not seeing the C1=0 CHAOS FACTOR we saw in the only true CRASH/CORRECTION in our data-range, FEB-MARCH 2020. See the second column after the date, C1=0 which rose as high as 149 during that FEB-MARCH 2020 CORRECTION. Today it is 7.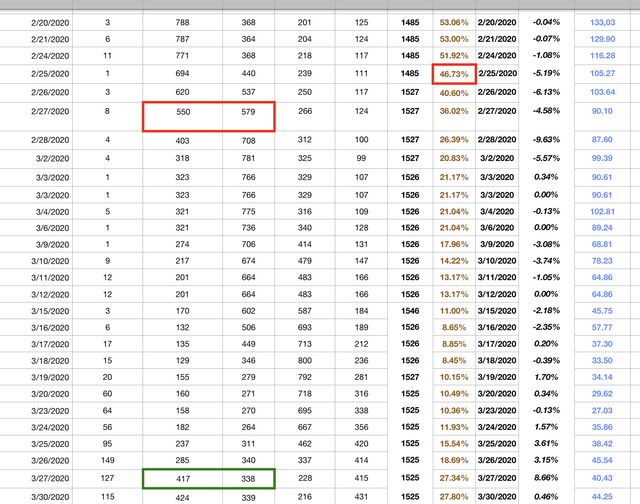 Here is a REMINDER how CROSSOVER1 and CROSSOVER2 both called the correction in FEB-MARCH 2020, see the RED boxes. The UDOW was 99.39 when both CROSSOVERS tanked and was 40.43 when both CROSSOVERS recovered, see green boxes.
So, what are we saying, is it a trading bottom or not? We wish our numbers were better. Historically, a major BUYING WAVE# like the FISHNET BUY WAVE today has corresponded with an extended rally back to new highs. Will that happen again?
Our FISHNET INSTINCT tells us that we have bottomed. Look at our enclosed FISHNET PORTFOLIO. It is possible that all those 57 new BUY SIGNALS may all be LOSING TRADES. Possible. Not likely.
When you need a different perspective, consider MONTHLY CHARTS, especially with MOMO.
For instance, CLSK has been hammered. Do you want to sell? Well, it might be too late to sell. What does the monthly tell us?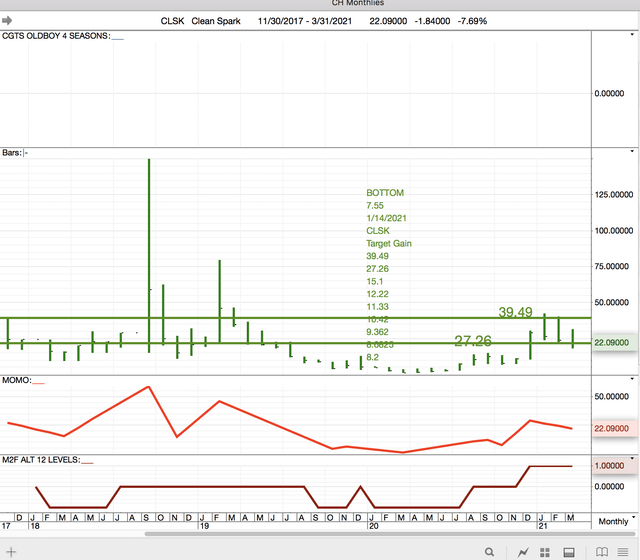 MOMO (red) has made a higher high and IS MAKING a higher low, most likely. Don't sell any stock that is making a higher high MOMO-WISE. Unless you want to take profits. Too late for that now.
NDX?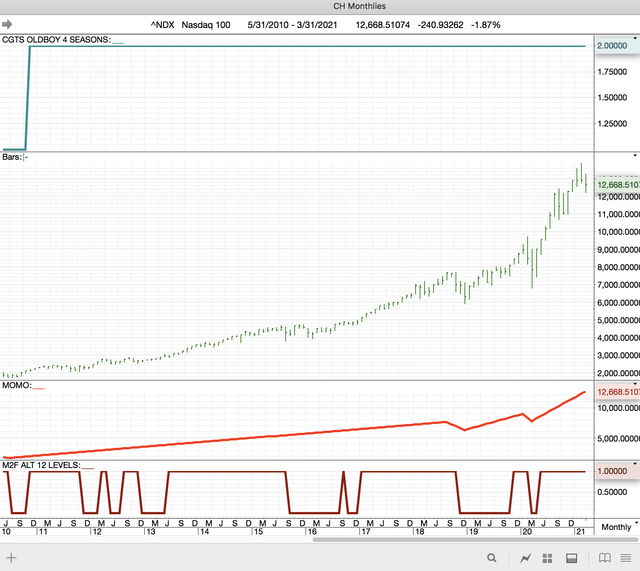 MOMO SOARS.
SPCE? MOMO higher high. Still BULLISH, believe it or not.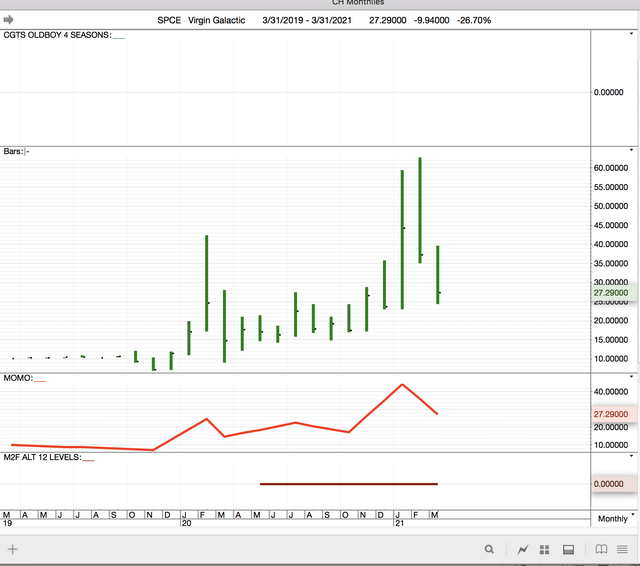 TSLA? More like NDX.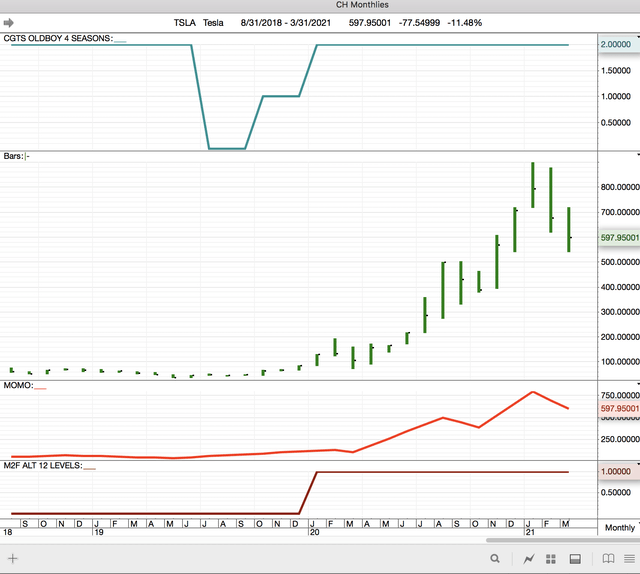 BLNK? On the brink; or simply BLINKSMANSHIP?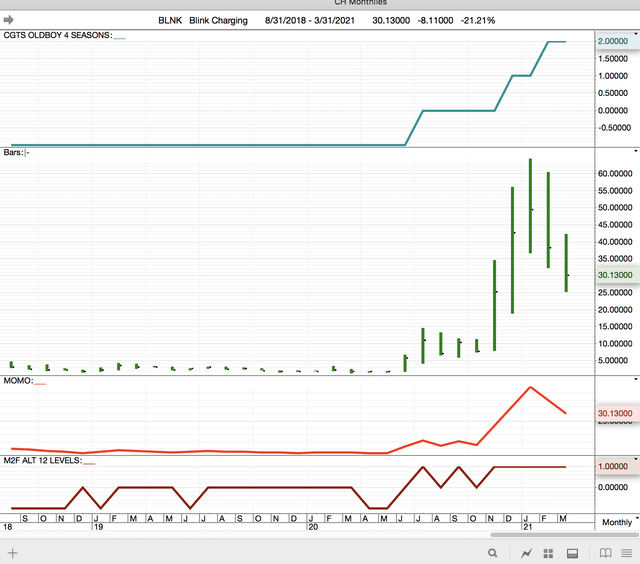 IDEX? Just getting started.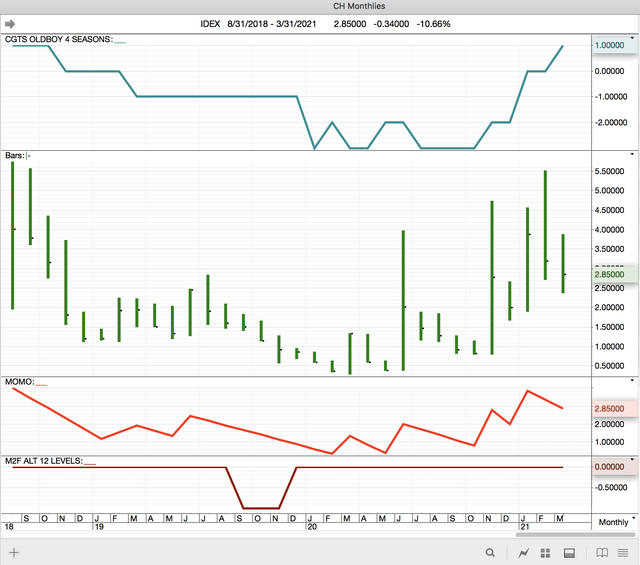 XOMA? Don't look back.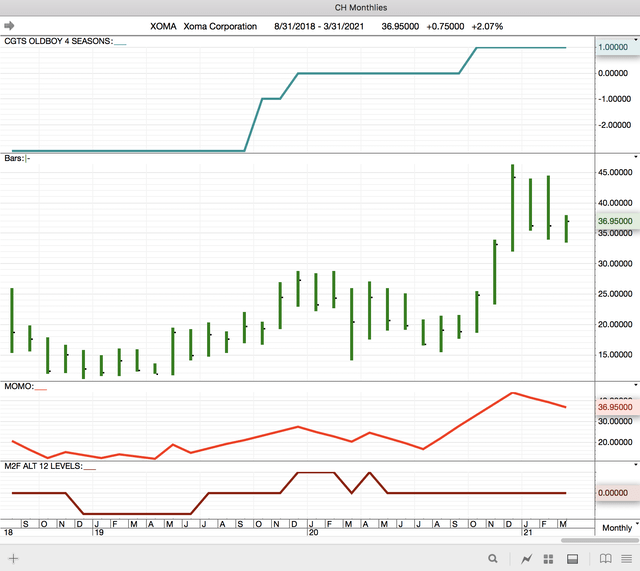 TRAVELZOO.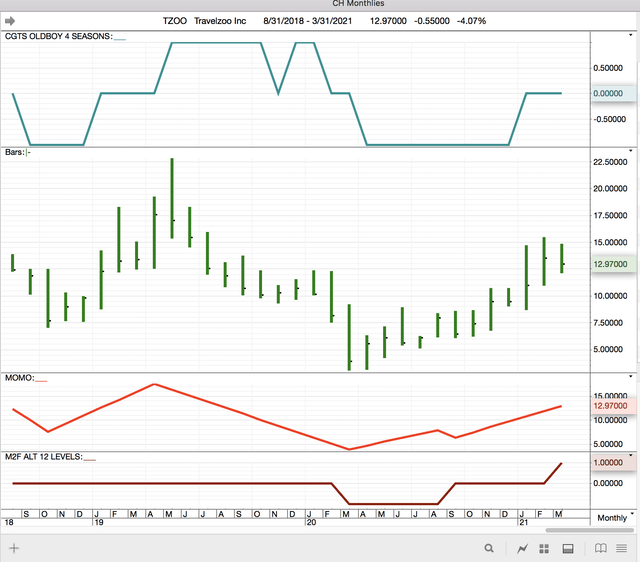 GRUB. A lot of recent selling; but MOMO is working on a HIGHER HIGH, before the selling.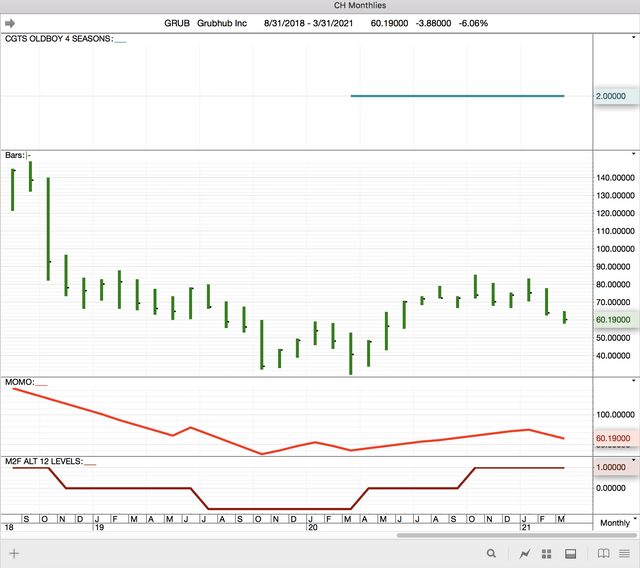 LTHM? Forgettaboutit as they say in New Jersey.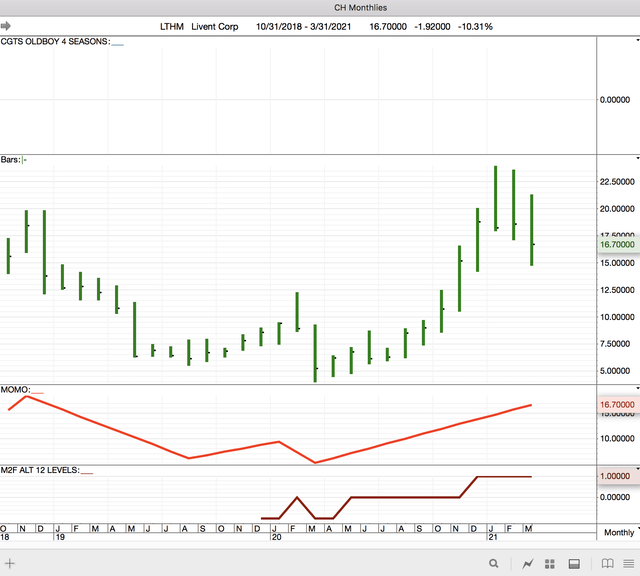 LAZR?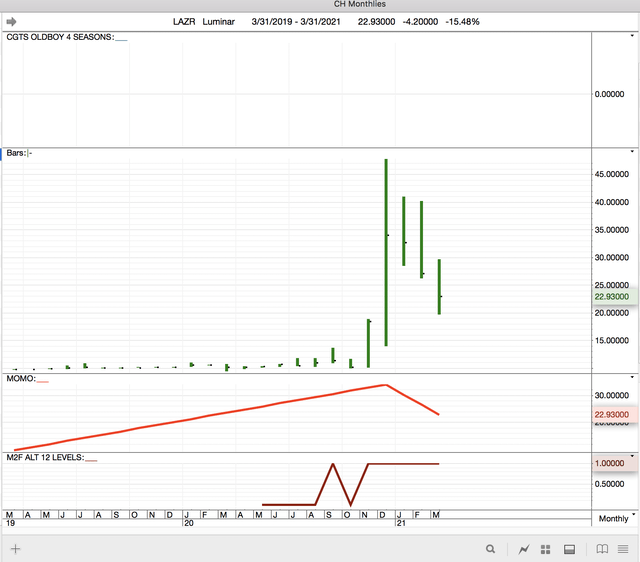 AMERICAN AIRLINES? Remember, look at MOMO.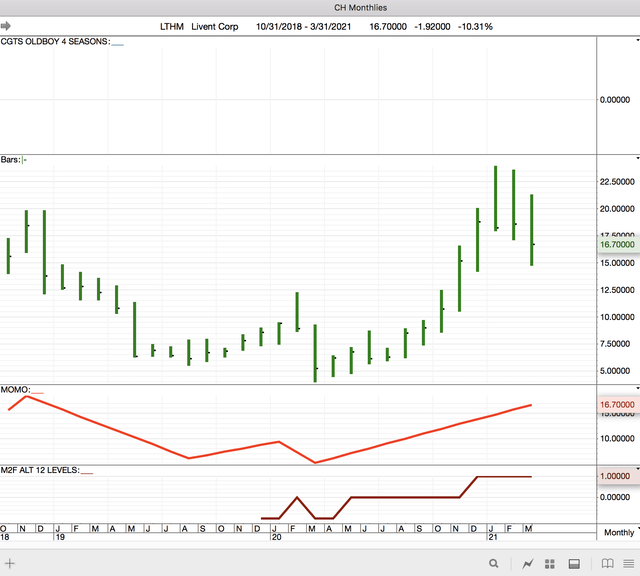 VIX? Lower lows; lower highs; BIG BEAR MOUNTAIN.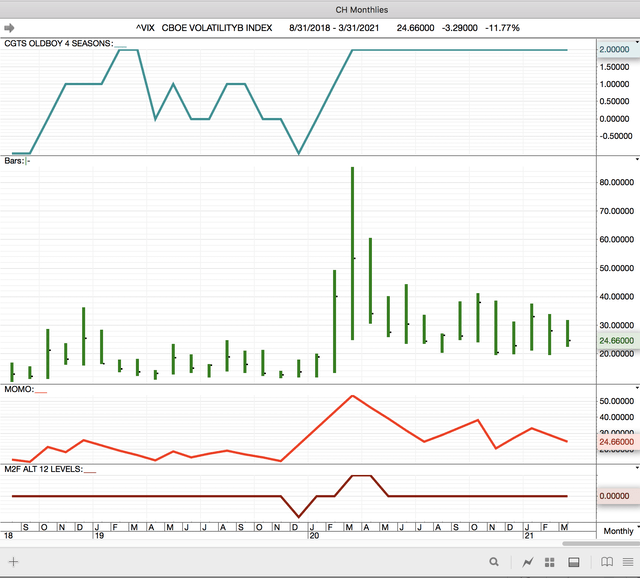 GBTC?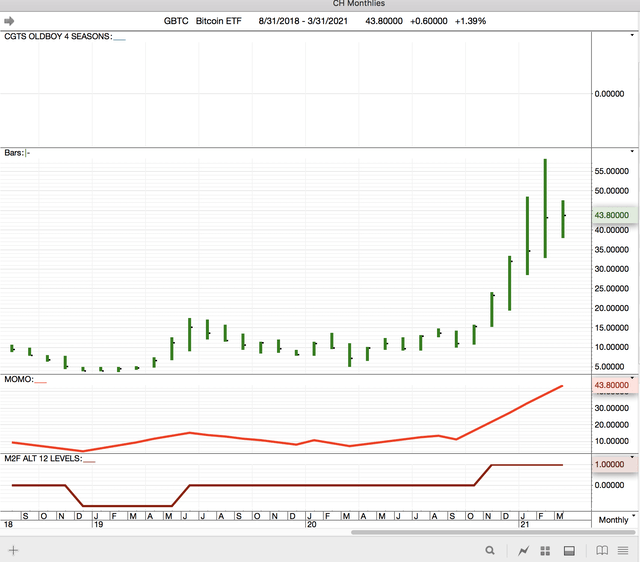 So, are we not worried about anything in our portfolios? Yes, we are. We are worried about WORKHORSE and SOLO.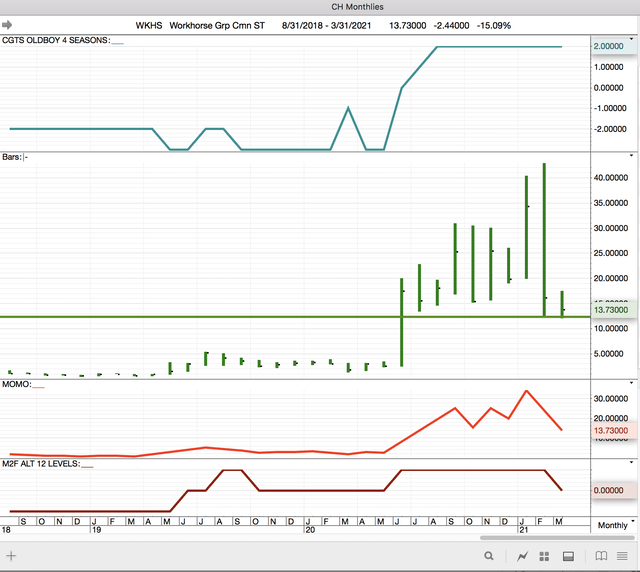 SOLO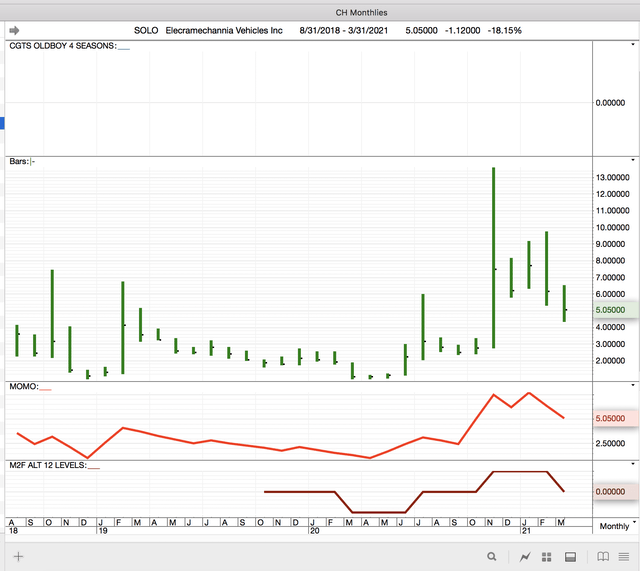 We remain UNCONCERNED about (inflation and) 10-YEAR YIELDS.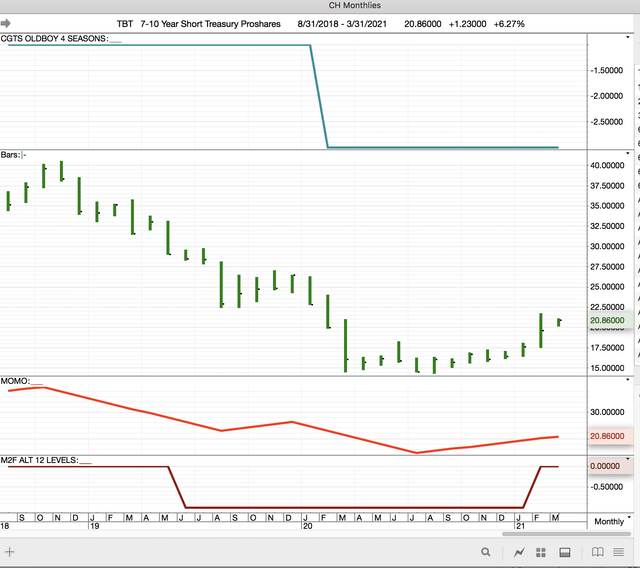 Sorry this got so LONG....
FOOD FOR THOUGHT.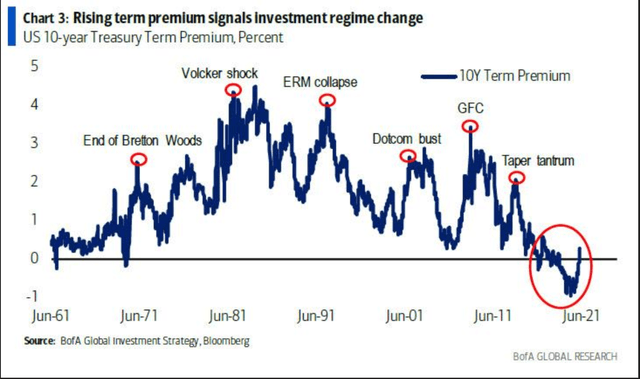 INFLATION?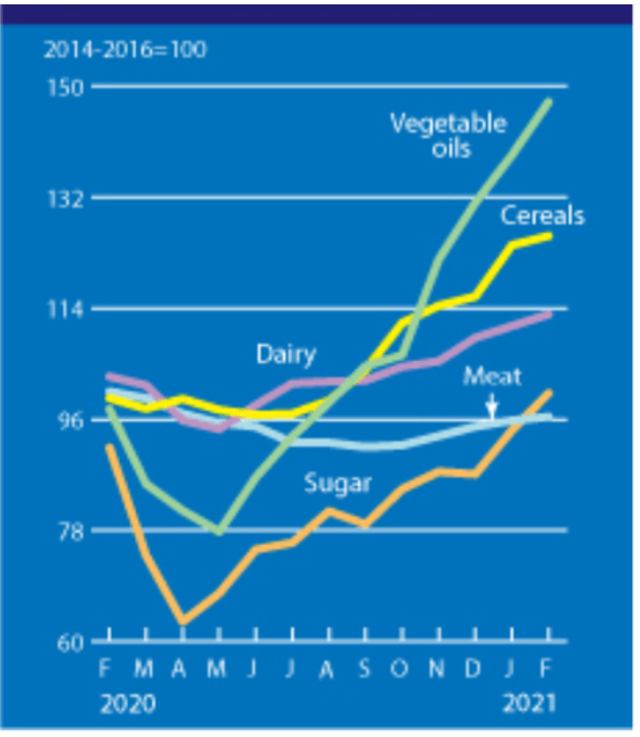 Is the inflation real; and will it last?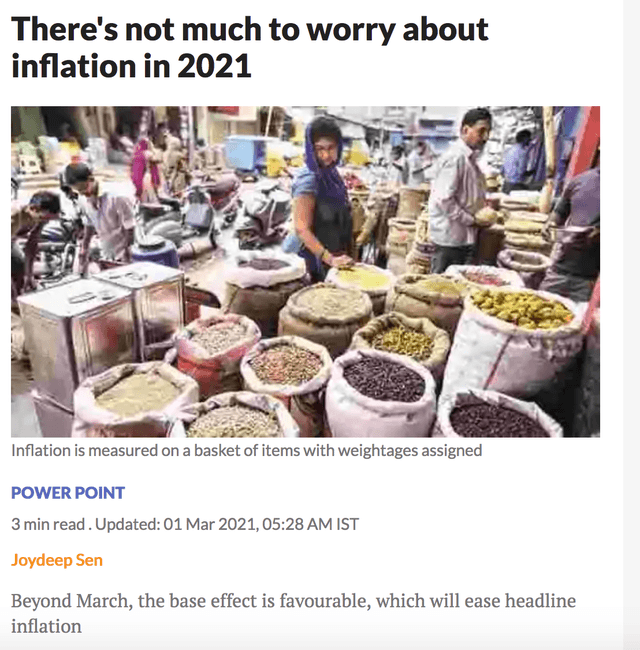 As the FED and other central banks have learned the past few years, it is nearly impossible to INFLATE a system before it has DEFLATED (and destroyed its debt). The FED did inflate during the 1965-1983 Night Cycle, because there was almost no debt in that era, until 1929-1947 and 2001-2019. We sill have not deflated our debt. AFTER Deflation, which the FED has resisted since 2001, we may be able to inflate again.

WHITE MATH is an anti-white MYTH. Why do Asians do so well at (white) MATH?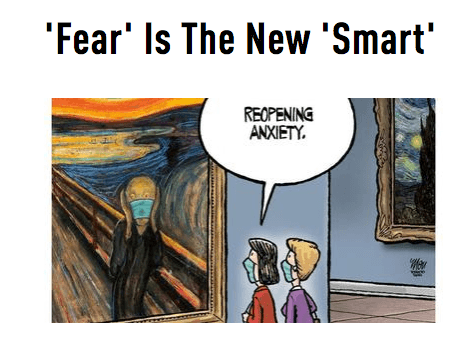 Are you serious? The BLACK and the WHITE. The job of the BLACK is DESTRUCTION; the job of the WHITE is CREATION. Peace? Pray for Peace; prepare for WAR. CHESS ANYONE?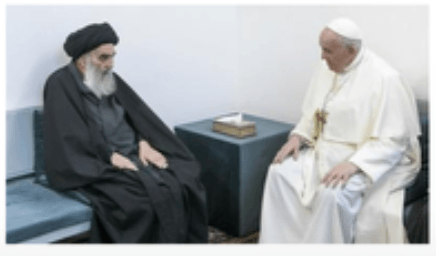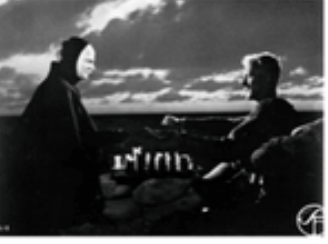 THE BEARS are SHORT THE MARKETS; of course they fan the flames of selling.



The EXPERTS are really NOT that SMART.










The Myths of Green Energy - Daily Reckoning


I guess we need to open SPORTS CARD COLLECTING on our page. It is even more lucrative than stock trading.

THE AMERICAN LEFT IS NOW THE BOOK-BURNING CULTURE (THE ETHNIC CLEANSING PARTY).
REMEMBER when the Democrats were the PRO-SLAVERY PARTY and the Republicans were the ANTI-SLAVERY PARTY not so long ago.
MJC, CGTS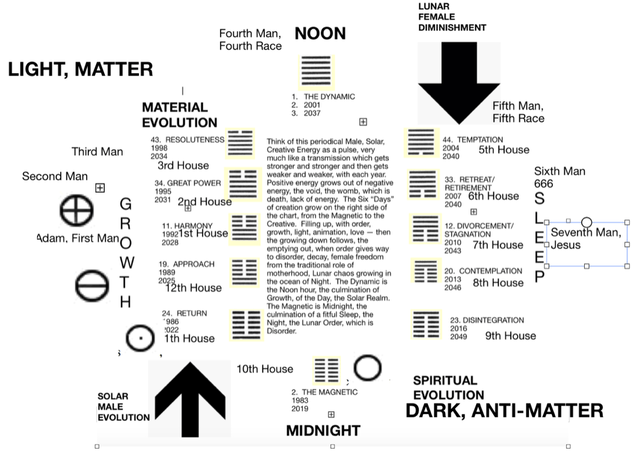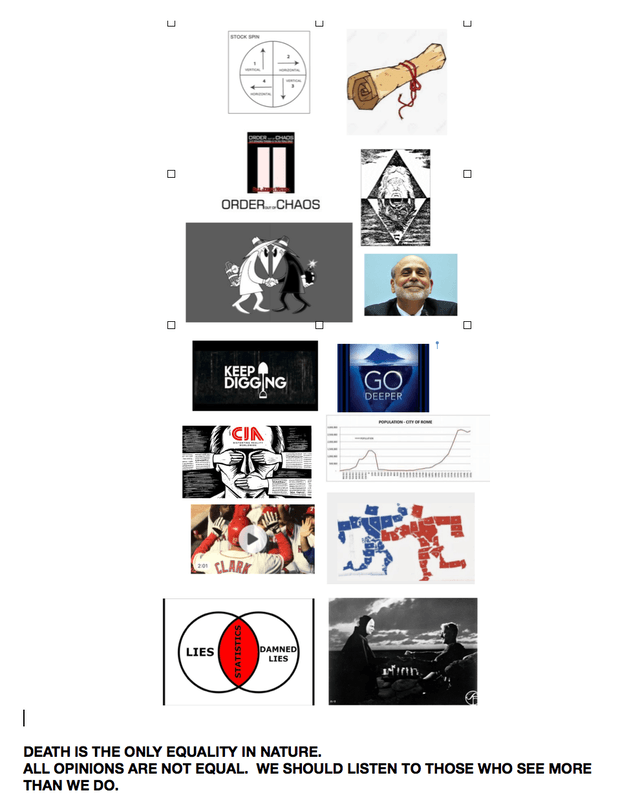 Disclosure: I am/we are long BLNK, CLSK, LAZR, LTHM, SOLO.
I wrote this article myself, and it expresses my own opinions. I am not receiving compensation for it. I have no business relationship with any company whose stock is mentioned in this article.
Seeking Alpha's Disclosure: Past performance is no guarantee of future results. No recommendation or advice is being given as to whether any investment is suitable for a particular investor. Any views or opinions expressed above may not reflect those of Seeking Alpha as a whole. Seeking Alpha is not a licensed securities dealer, broker or US investment adviser or investment bank. Our analysts are third party authors that include both professional investors and individual investors who may not be licensed or certified by any institute or regulatory body.