CLARK'S GATE TIMING SYSTEM
Tuesday, 23 February 2010
"By a continuing process of inflation, government can confiscate, secretly and unobserved, an important part of the wealth of their citizens."

    -- John Maynard Keynes



SHORT-TERM TRADING WORKS BEST WITH OPTIONS


We are moving back into the options market, after a few years of rebelling against what we saw as options being too expensive and not moving with the underlying issue in a reasonable way.  But we are mellowing.  Clearly options have terrific leverage for a short-term trader, with appreciation-volatility on the up side (and, beware, also depreciation-volatility on the down side).

For example, we bought calls on Teva Pharmaceuticals (March 57.5 calls) for 2 points on February 19.  We sold them today at 2.8.  That's a 40% gain in three days in a very short-move in the underlying stock.  See chart below.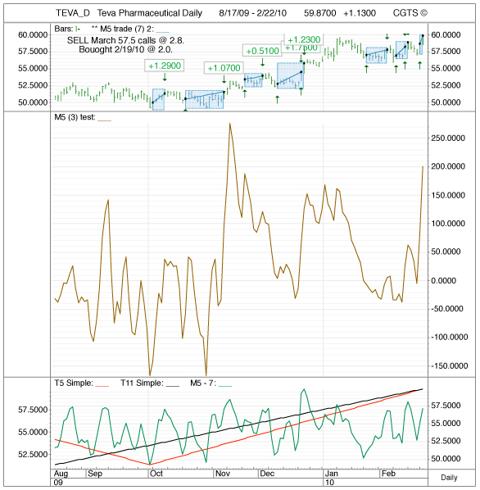 We like the TOL March 17 calls, Toll Brothers, here.  They are selling for 2.35 points.  We don't like the housing market -- but what we 'like' doesn't really matter.  We follow the system.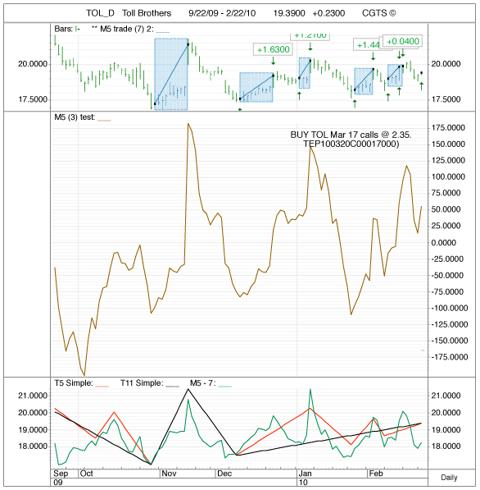 We're also buying near term (March) in-the-money puts on DWSN and RGR.  Both received short-sell signals today.

Buy signals for today: KRE, Regional Banks ETF; and FITB, First Third Bancorp -- note we also got a profit-taking sell signal on FITB today, from another trading system.  We treat trading systems as arbitrary rules -- we don't let one trading system call interfere with another.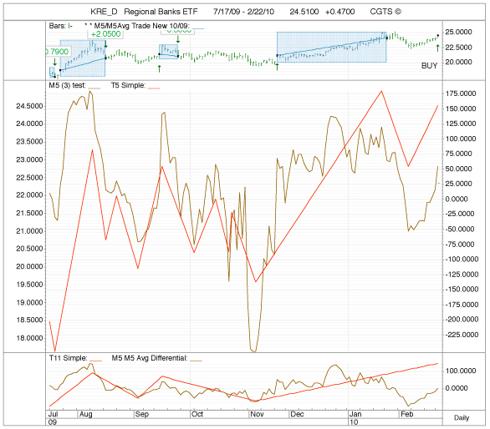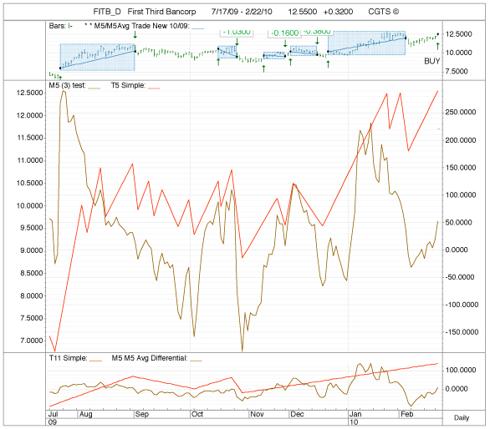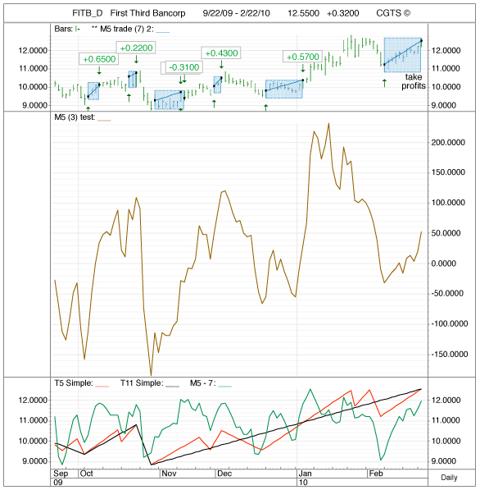 We can't buy calls apparently on SGG, Sugar ETF.  But we can buy ETF shares.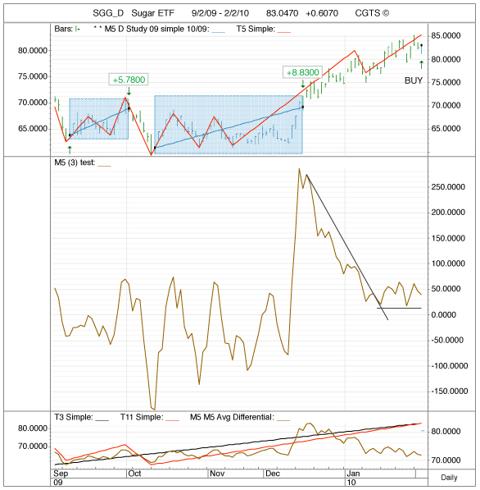 Does this mean we think the rally is going to continue?  Some indexes will go higher.  Some are starting to turn.  Here's a few of the indexes we follow that look to be running out of gas.  Note especially the M2F Alt indicator (pane 3 down, brown line): these all are overbought short-term and seem to be turning down.  Pane 4 is a new indicator that measures today's momentum (M5 -3, pane 2) verses yesterday's reading, with an average to try to smooth out blips.  When this indicator is declining (BVSP, HUI) we should pay particular attention.  Of course, ALWAYS combine momentum indicators with trend indicators (the straight-liners) to get a more complete picture of what is happening.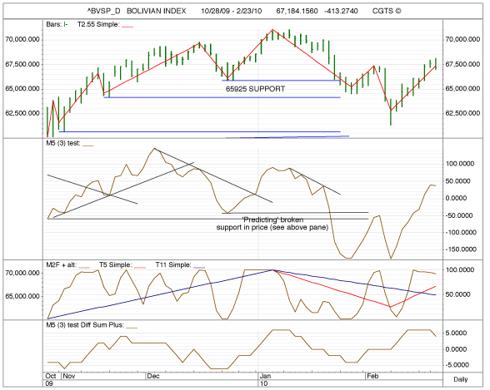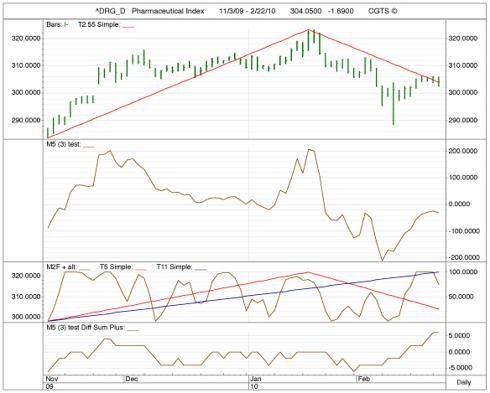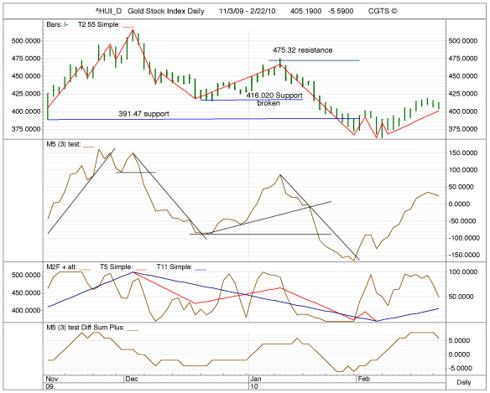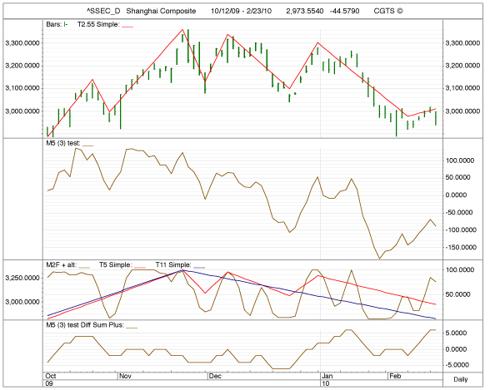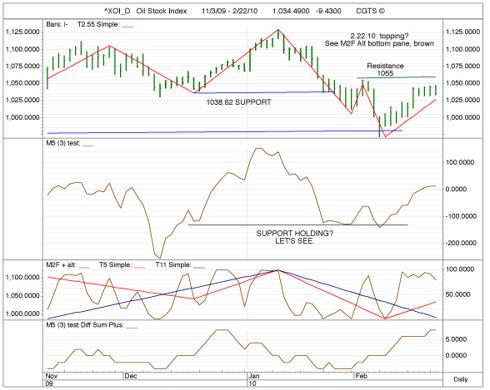 More information on this system can be found at
home.mindspring.com/~mclark7/CGTS09.htm
A draft of the book Turn Out the Lights can be found at the website below.  This book is a description of the metaphysical causes of the economic cycles of expansion (Day) and contraction (Night).
www.hoalantrangallery.com/Turnoutlights.htm
 
Michael J. Clark's Gate Timing System
Hanoi, Vietnam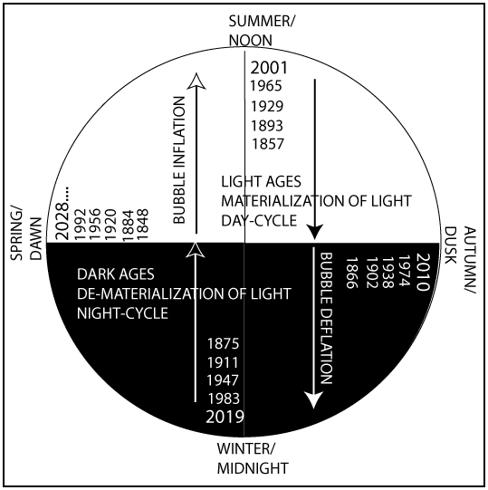 Disclosure:
The author does not own issues he mentions in this post.

Disclosure:
See disclosure statement.