CGTS THURSDAY: ARE WE CONCERNED, YES; ARE WE BEARISH, NO. NOT YET.
Please Note: Blog posts are not selected, edited or screened by Seeking Alpha editors.
Summary
BUY ABNB?  ARE YOU SERIOUS?
BUY TECL.
CGTS Algo Trading System
Latest Articles
CGTS THURSDAY: ARE WE CONCERNED, YES; ARE WE BEARISH, NO. NOT YET.
CGTS TUESDAY:"CONFUSED" MARKET DRIFTS LOWER
CGTS FRIDAY: IT SEEMS LIKE IT IS TIME TO BUY MU, MICRON, AGAIN
CGTS THURSDAY: AMAZON FLIES, TWITTER CRIES; BROAD MARKET SIGHS.
CGTS WEDNESDAY: AAPLE SOARS; FACEBOOK SURGES.

CGTS THURSDAY: ARE WE CONCERNED, YES; ARE WE BEARISH, NO. NOT YET.
May 05, 2021 11:20 PM ETABNB, DRN...

CLOSELY-WATCHED: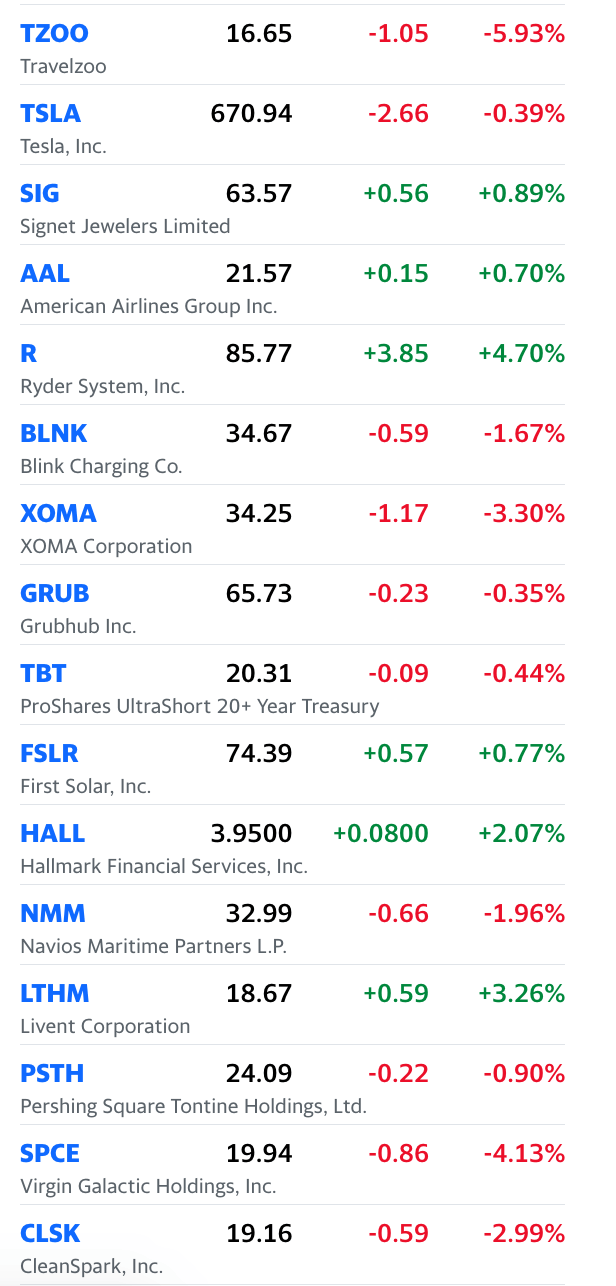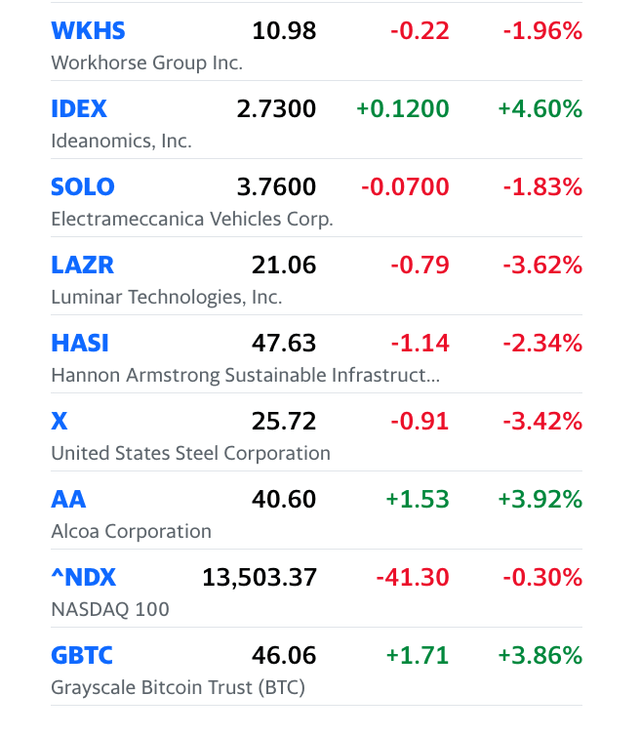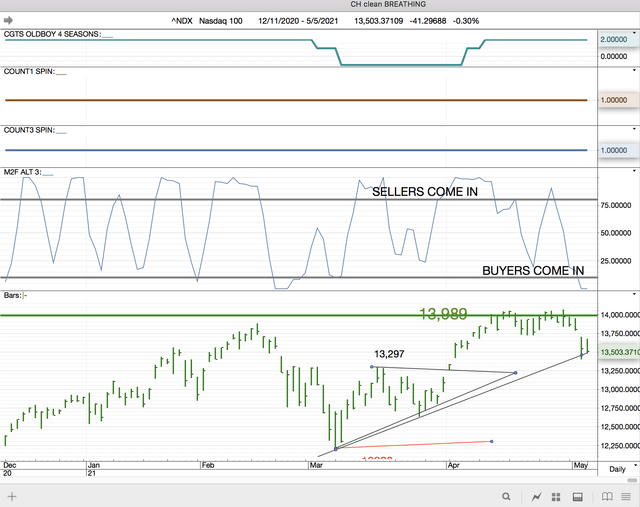 We have a trading system which links COUNT1 and M2F ALT 3. This system works best when we buy when M2F ALT 3 is overbought and sell when it is oversold.

This tells us that NDX is still a LONG TRADE. No problem.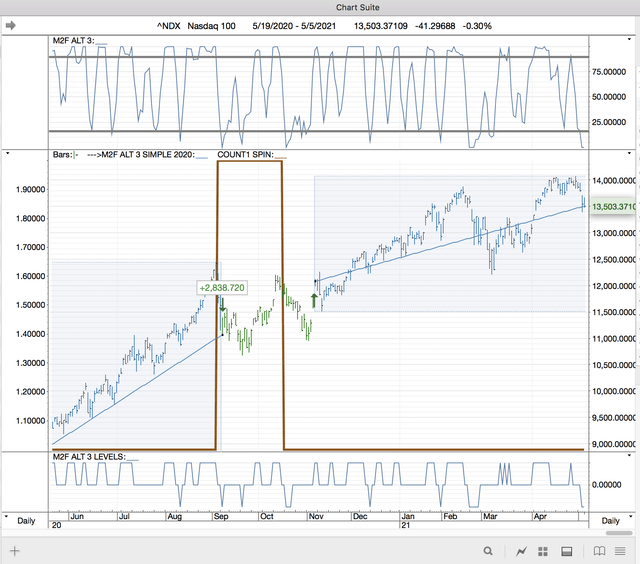 We are concerned but not BEARISH. We agree that the BOOM TECH STOCKS that fueled last year's monster rally are needed to help fuel a similar rally this year. Our closely-watched stocks above are very much Cathy Wood stocks, are oversold, and need to rally here but also show they still have muscle. A weak rally will tell us a log about where the market is, and is not.
Weakness today, but not much; strength today, but not much. Wishy-washy Wednesday.
MOMO1 is volatile. And today it fell back into the RED CATEGORY. WARNING.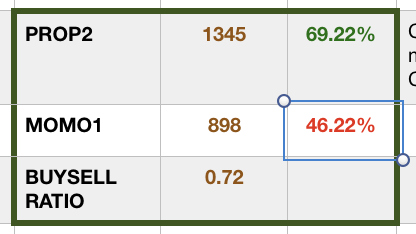 PROP2 and BUY/SELL RATIO did not join it.
Now we have TWO indicators that are SHOUTING out a warning to us, MOMO1 and ULTIMA.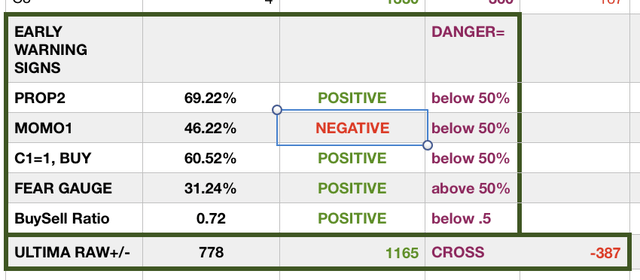 Long-term, all is still BULLISH.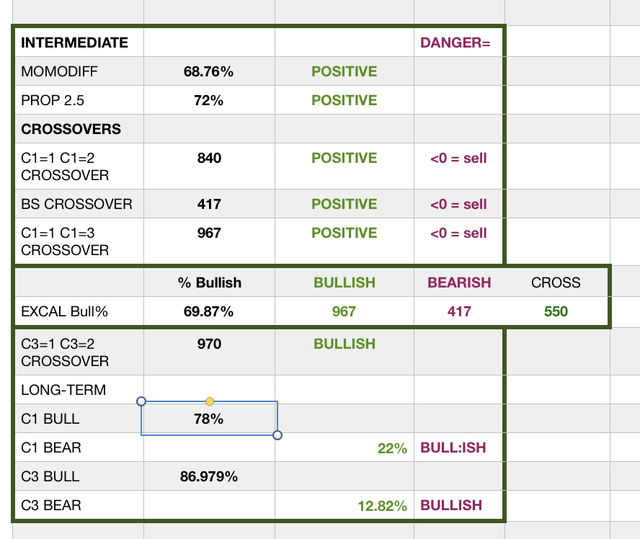 C1=1 pulled back a bit. Not much.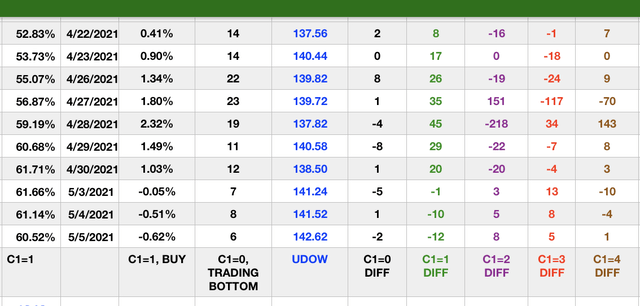 C1=1, BUY, lose 12 today. C1=2, TRADING SELL, went up 8; C1=3, SHORTSELL, went up 5. (Much ado about nothing?)
CROSSOVERS, CONTINUING BULLISH. Both C1 Crossovers below must fall below ZERO for us to SELL (and SHORT) the markets.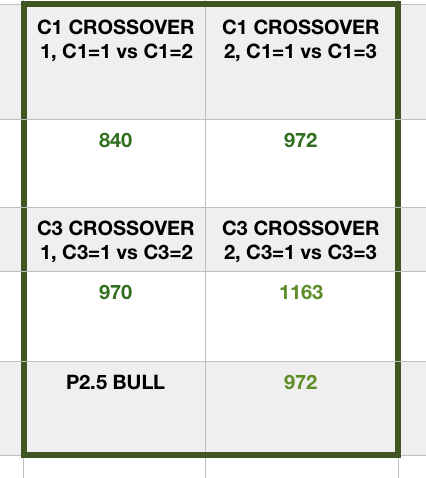 CROSSOVER TRADE, STILL LONG.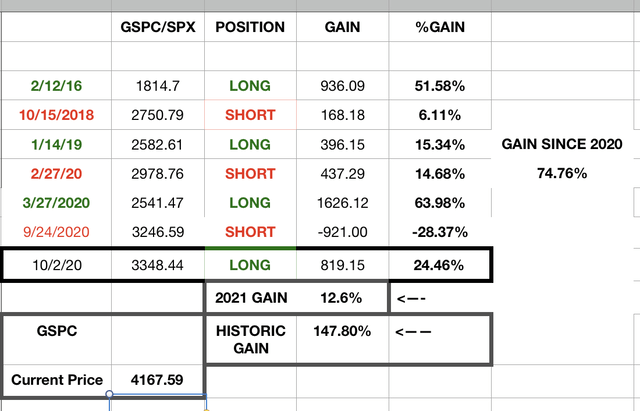 We ae NOT selling yet. We are still bullish. But we are concerned about current sluggishness in BUYERS.
DATA: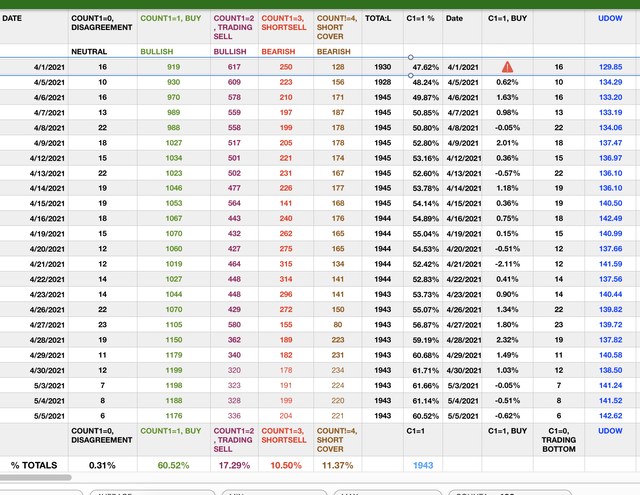 One of our readers is SHORT FANG stocks. We are not.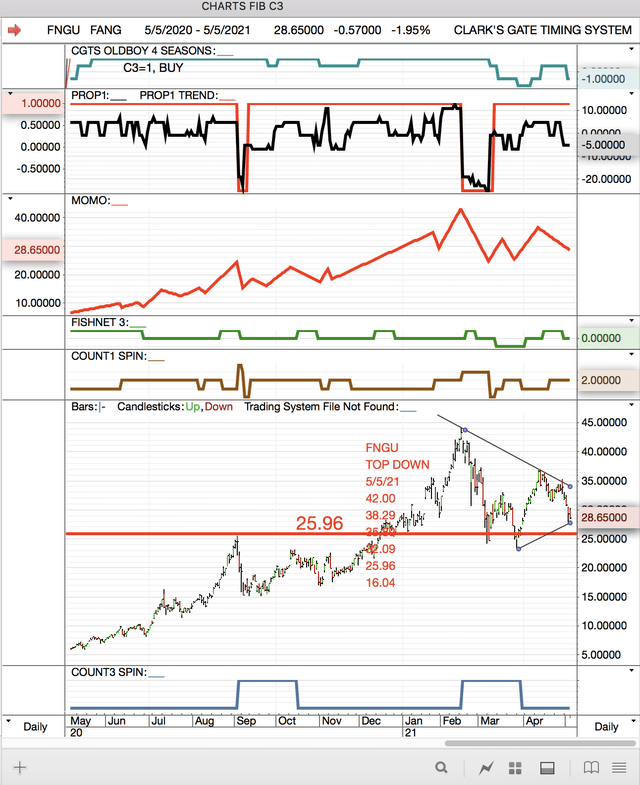 FANG STOCKS are struggling to regain momentum. I would recommend NEVER shorting a stock that is C3=1, bottom pane. I would recommend NEVER SHORTING A STOCK that is C1=2, TRADING SELL. C1=3 and C1=4 are BEARISH READINGS. C1=1 and C1=2 ARE BULLISH READINGS.
One can always play hunches, and sometimes WIN with hunches. Clearly good instincts come in to play here also. But working with a system is different than working with instincts.
A BROKEN STOCK TODAY. MRCY, MERCURY SYSTEMS. We had to close this will a loss of about 16%. M2F ALT x3 System.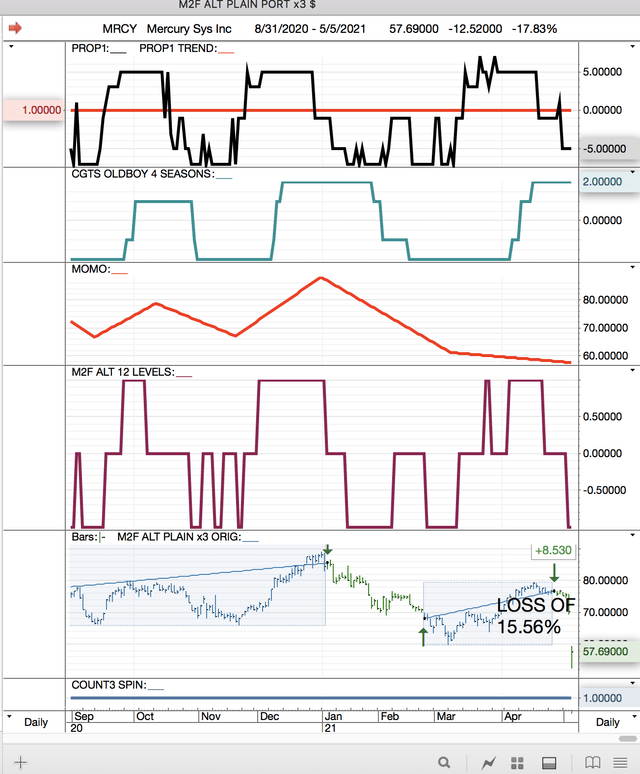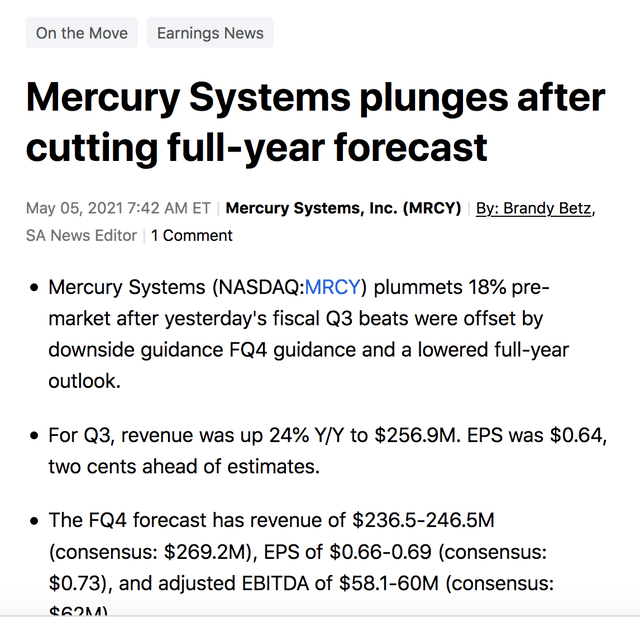 We covered a successful SHORT in PLUG. Same system.
3x ETF System. Three new trades. LONG DRN, REAL ESTATE BULLISH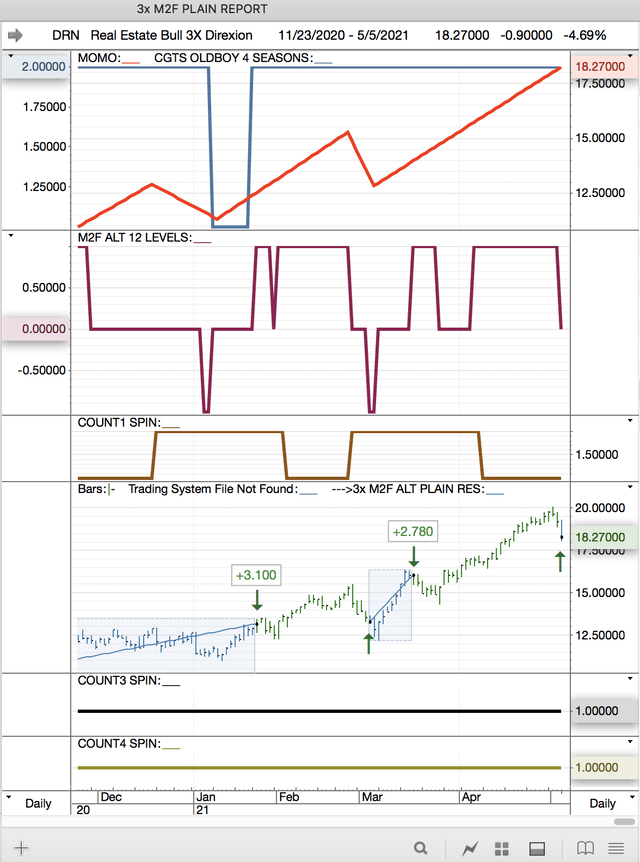 LONG TECL, TECHNOLOGY BULLISH.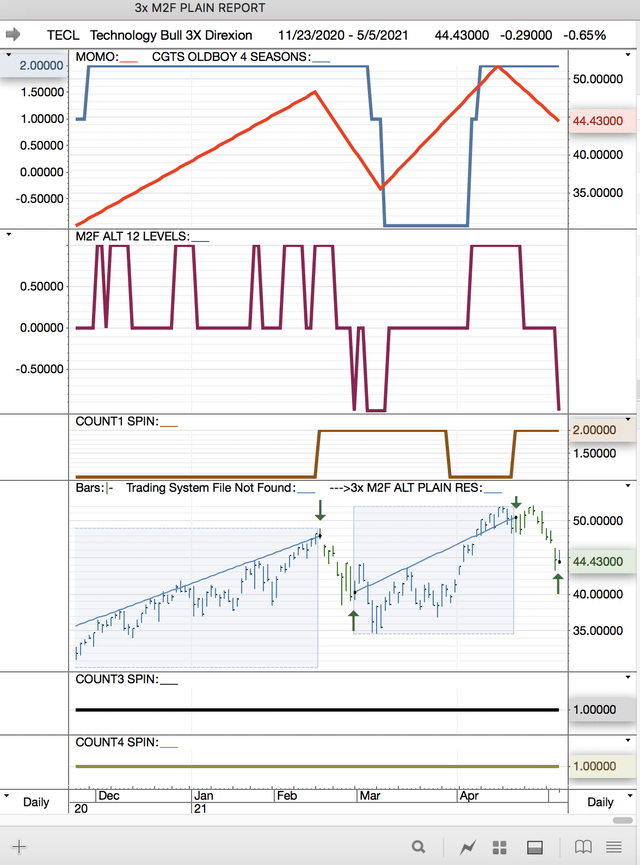 INVERSE. SHORT TECS, TECHNOLOGY BEARISH ETF.
3x_M2F_ALT_PLAIN_PORTFOLIO_5_5_21.xlsx
RP: RP_5_5_21.xlsx
New TRADES OLDBOY SYSTEM.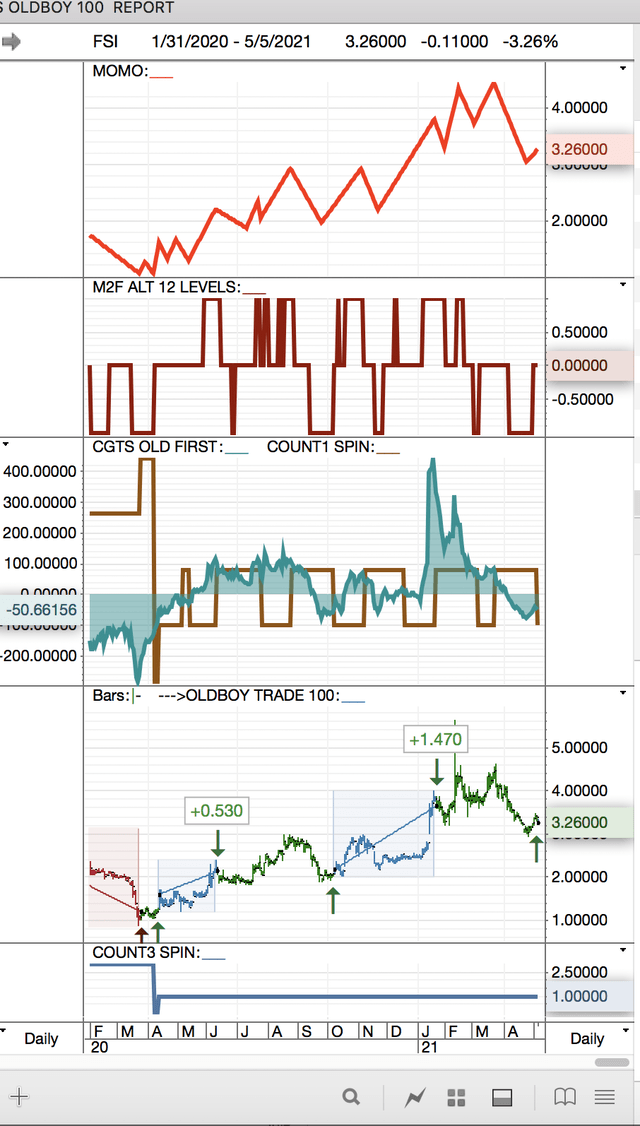 .M2F ALT x3.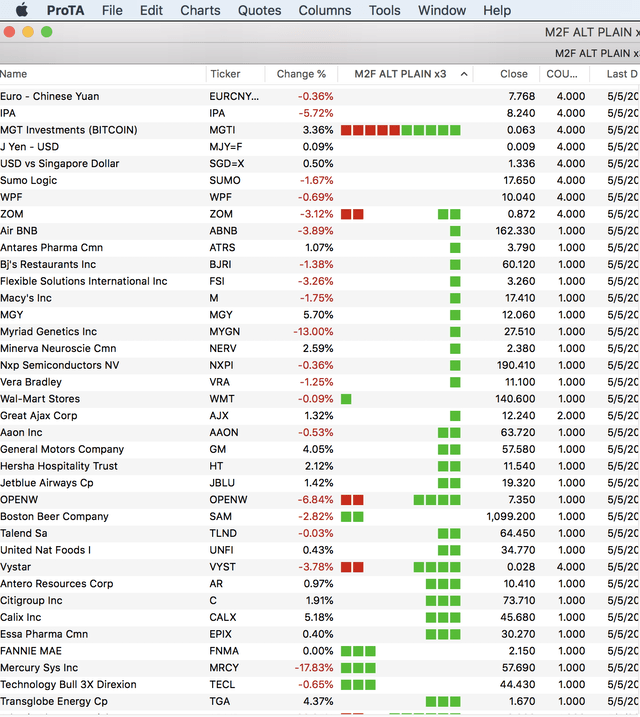 FANG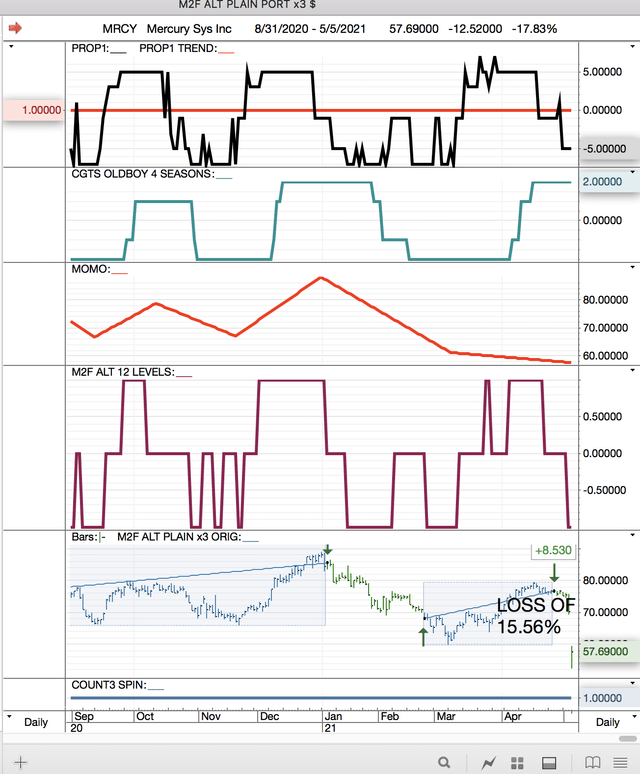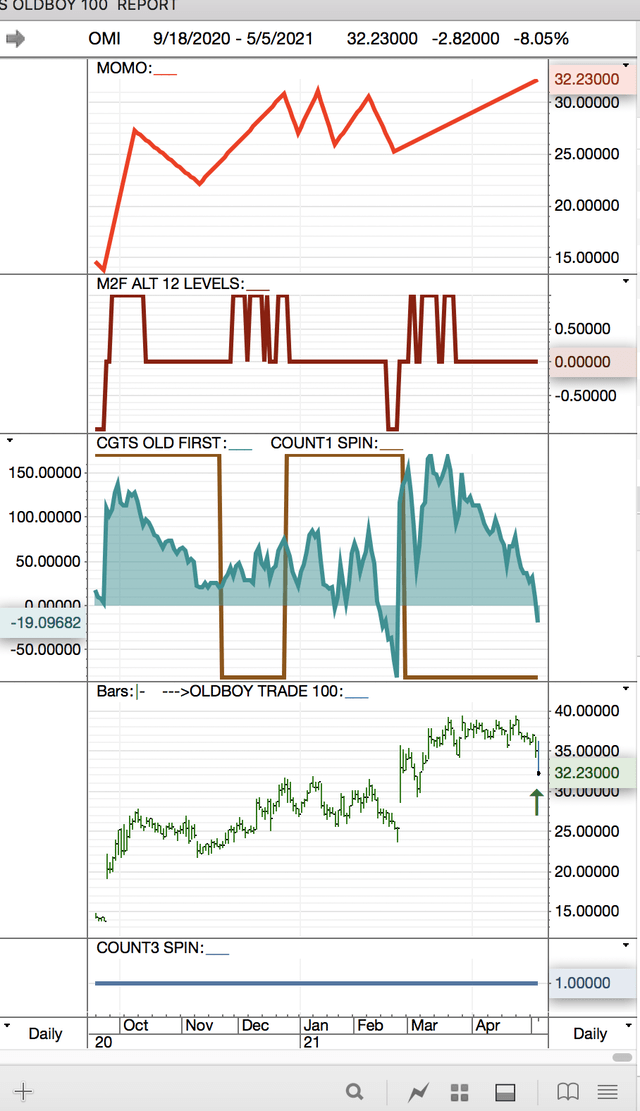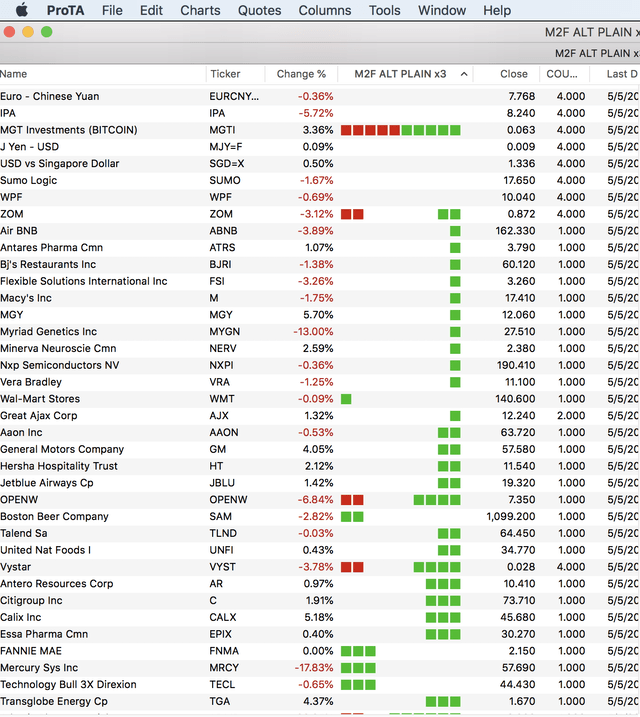 AIRBNB, really? Can you believe it?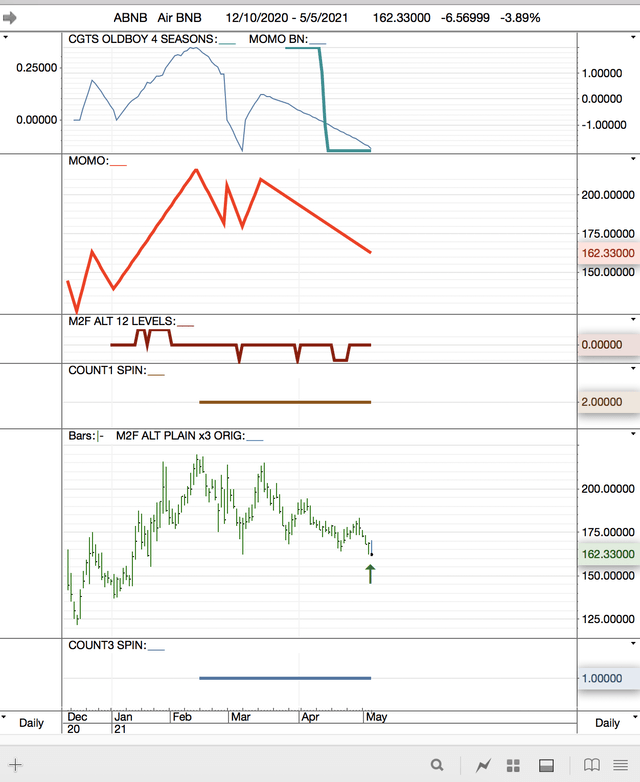 ATRS.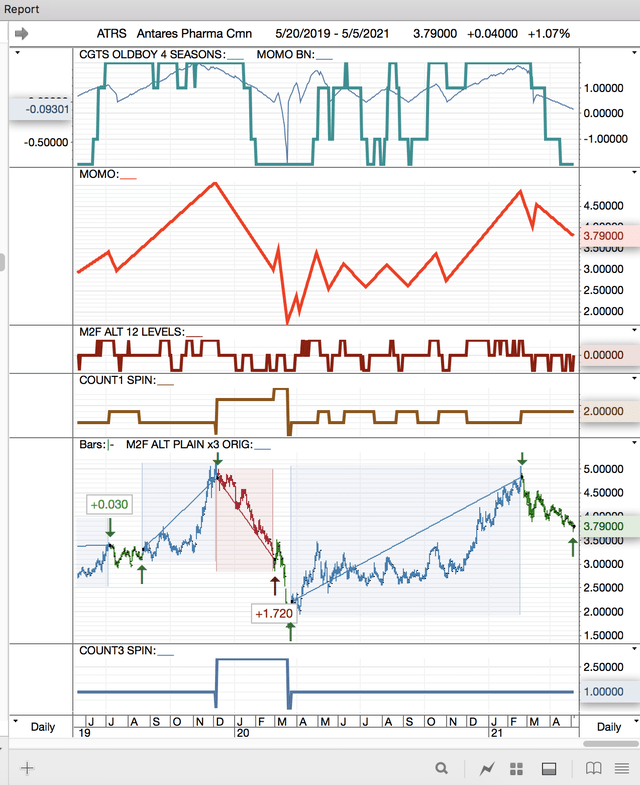 MACYS. That is almost as hard to believe as ABNB.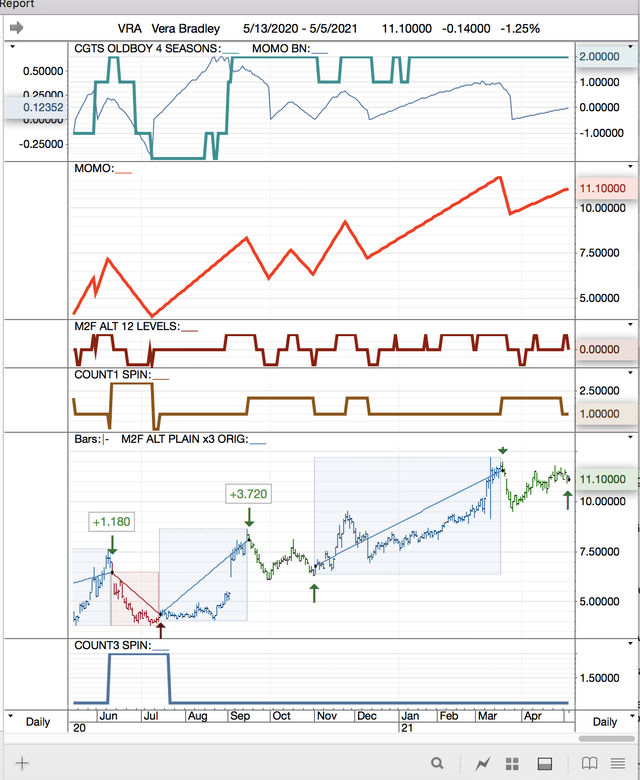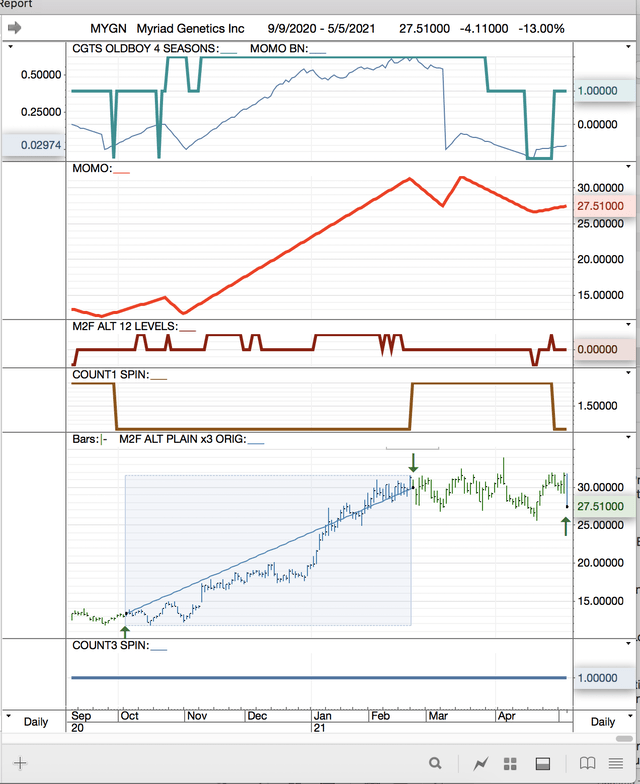 I'm running out of gas.
No NEWS today. (JUST KIDDING.)


DONALD HAS A MILKSHAKE; AND WILL HAVE THE LAST LAUGH. FACEBOOK chose repression of the First Amendment in favor of GLOBALISM'S ORDER AND ONE PARTY RULE. How will history view this mariage of Wall Street and the Deep State? One can only guess.


Best,
MJC, CGTS
Disclosure: I am/we are long SEE CLOSELY WATCHED LIST.
I wrote this article myself, and it expresses my own opinions. I am not receiving compensation for it. I have no business relationship with any company whose stock is mentioned in this article.
Seeking Alpha's Disclosure: Past performance is no guarantee of future results. No recommendation or advice is being given as to whether any investment is suitable for a particular investor. Any views or opinions expressed above may not reflect those of Seeking Alpha as a whole. Seeking Alpha is not a licensed securities dealer, broker or US investment adviser or investment bank. Our analysts are third party authors that include both professional investors and individual investors who may not be licensed or certified by any institute or regulatory body.