CLARK'S GATE TIMING SYSTEM
Thursday, 1 April 2010
"By a continuing process of inflation, government can confiscate, secretly and unobserved, an important part of the wealth of their citizens."

    -- John Maynard Keynes


IS THIS A PAUSE IN THE RALLY, OR AN END TO THE RALLY?
We look at only two charts today: VIX and DJIA.  The Dow Jones Industrial Average seems to be trying to top.  Will it top?  There is a lot of federal money that does not want stocks to decline -- because a declining stock market will throw the entire recovery scenario into doubt.  This will threaten re-election plans of the party currently in power.  The plan all along (Bernanke's plan) was to get taxpayer money back into the hands of consumers so they could spend us out of the current depression.  A collapse of stock prices will make that all seem what it is -- a fantasy.  You can't cure a debt depression by taking on more debt.
The VIX -- CBOE Volatility Index -- the anti-stock index -- is bottoming and getting ready to rise again.
home.mindspring.com/~mclark7/CGTS09.htm
A draft of the book Turn Out the Lights can be found at the website below.  This book is a description of the metaphysical causes of the economic cycles of expansion (Day) and contraction (Night).
www.hoalantrangallery.com/Turnoutlights.htm
 
Michael J. Clark's Gate Timing System
Hanoi, Vietnam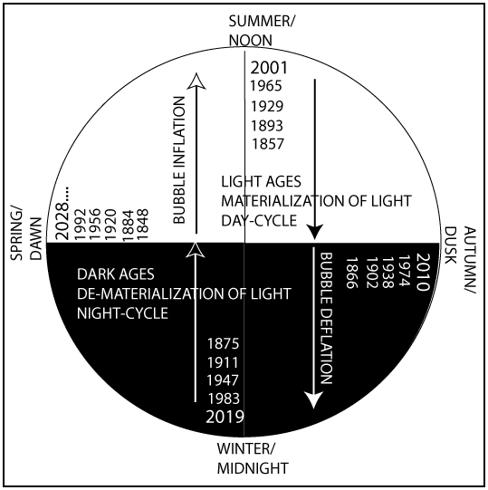 Disclosure:
The author does not own issues he mentions in this post.
Disclosure:
see diclosure statement above
Disclosure:
See:
Disclosure:
See disclosure statement.
Disclosure:
See disclosure statement.