THREE CHARTS THAT MATTER
(Article quarantined by SA editors for nearly 72 hours before rejecting it as maligned 'technical analysis'.)
There is a lot of bad news in the markets, the most recent seeming to indicate that both China and India (the 'engines' of the expanding Developing World that was going to pull the West out of its Debt-Bubble-Crisis) are heading for hard landings and perhaps economic and/or political oblivion.
The lesson, of course, is that easy-money is easily imploded, and not a good foundation upon which to build an empire.
Deflation is coming hard and fast, after a selfish and gallant attempt by central bankers to pretend everything was fine or fixable.
Bernanke and his friends were counting on America's monetary policies (QE and Operation Twist) sinking the US Dollar and inflating the global economy through more bubbles in commodities, stocks, bonds, and eventually even housing prices. But then Europe began to disintegrate, through private debt implosions and public debt following, after consuming private debt's cancerous assets.
No one expected a US Dollar bounce. Well, some people probably did. Now we have the Dollar bounce, and, until the Dollar is 'fixed' again by Dr. Bernanke and his friends, deflation will not be bowed.
Three charts that matter: USDEUR; DJIA; VIX.
USDEUR: very bullish for the Dollar. It is overbought short-term and should pull back. But it is hard to see what world-events will cause this.
The chart is shouting: full steam ahead, higher highs and higher lows coming.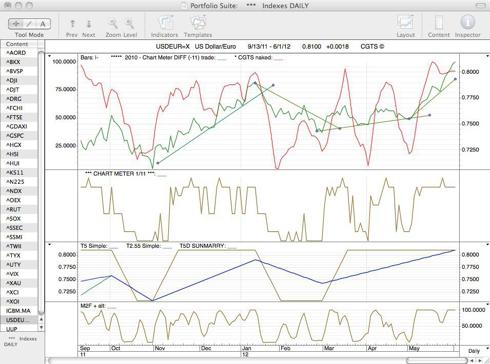 The DJIA chart is not so positive, of course. It has broken near-term support and is looking at a next support level of 11768. This indicates another 5% drop is in order just to reach the next support level. There is no reason to assume that this will be the support level that holds.
If the Dollar keeps rising, the DJIA will keep falling.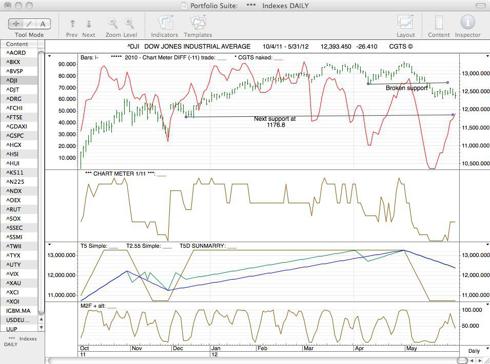 The VIX -- the anti-stock indicator -- is moving up again, and not indicating a serious pullback. The trend channel of the VIX is positive and will remain positive until Bernanke and his gang find another way to try to wound the Dollar to attempt to inflate stocks once again.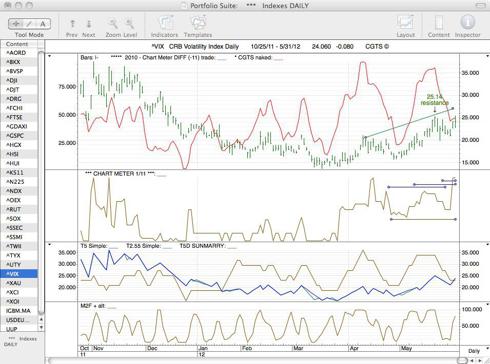 Two Stocks Giving Short-Sell Signals: GRPN, Groupon; RENN, Ren-Ren.
As Rod Stewart sang: 'Every picture tells a story, don't it?'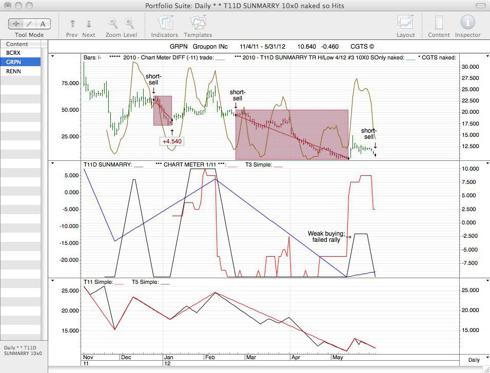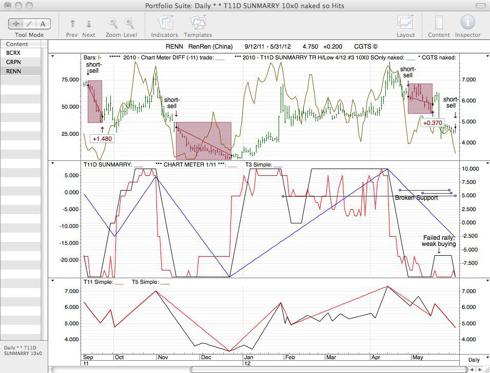 MICHAEL J CLARK
CGTS - Hanoi, Vietnam
Disclosure: I have no positions in any stocks mentioned, but may initiate a short position in GRPN, RENN over the next 72 hours.