CGTS DAILY TRADING SIGNALS
for Tuesday 5 June 2012.
Buy: LULU
Sell: None
Short: CVD, SAI; (continuing short TSLA);
Cover: None
We got a lot of buy signals from one of our quite accurate trading systems -- we're hesitant to go against the trend of the market. We like LULU as a short-term long trade. The chart below shows why we like LULU. The bottom pane in the chart shows two indicators that both give us information about the strength of buyers and sellers.
T11D Sunmarry (black line) is a trading indicator. Chartmeter (brown line) also shows buyer and seller strength. T11D Sunmarry is bullish when it is climbing over when if flattens out at 10. If it flattens out above 10, then buyer strength falters. If T11D declines and flattens out at -10, this is bearish. But if sellers can't push the indicator all the way down to -10, this is bullish. If sellers push the indicator down to -10 for one day only, this is very bullish.
Chartmeter fluctuates between +25 and -25. The level of negative 13 seems to be very important to this indicator. Short-sell signals for issues that are still showing buyer strength (above -13) need to be reconsidered. Buy signals that show no movement up in Chartmeter are not being confirmed. APO (below) is giving a buy signal -- however, Chartmeter has not budged. This makes us suspicious of this trade.
The buy signal for LULU IS confirmed by buyer strength continuing in Chartmeter.
The APO chart shows a series of T11D Sunmarry "sell signals" from Sept 2011 to Feb 2012 without confirmation from Chartmeter. However, Chartmeter confirms strong selling in February 2012.
The LULU charts shows strong selling pressure until Dec 2011. Then the buyers rush in. The buyers still haven't left.
LONG TRADE SIGNALS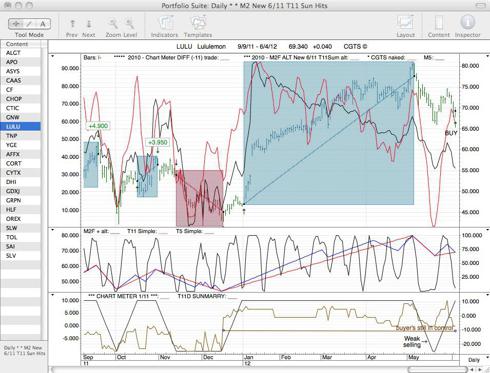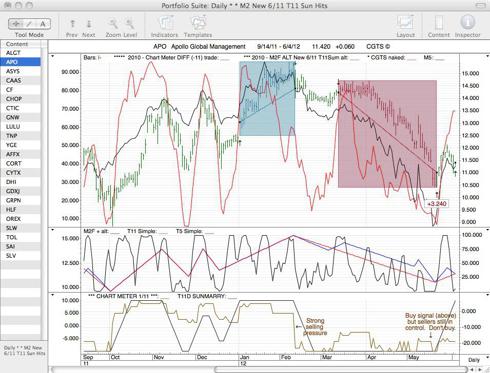 SHORTSELL SIGNALS
In the CVV chart, strong selling came in to the chart in December 2011 and has not left. We are following this signal.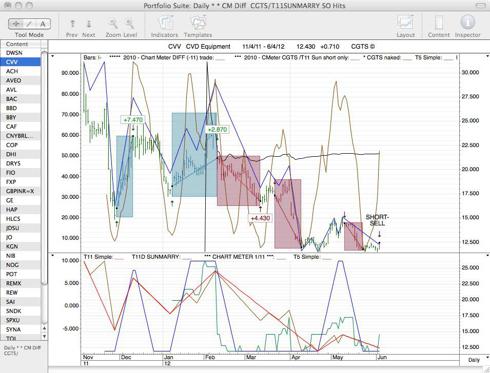 We are trading TSLA using trendlines almost exclusively. The intermediate-term trend went negative again today; and the T11D Sunmarry turned down, showing a failed rally has ended. Key levels now for TSLA: 31.93 resistance (needs to take out this level to become a bullish move); 26.83 support (if this holds during the coming decline, that would be bullish; if this breaks during the next selling, then we'll head down toward 22). We've been short TSLA since the mid-30's.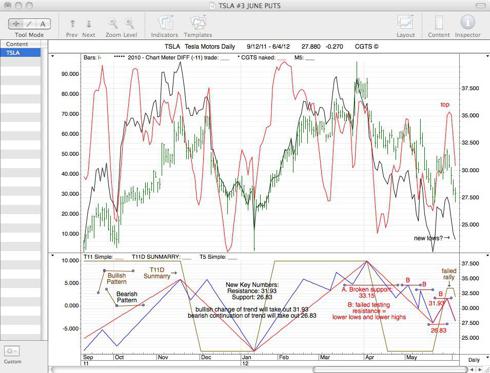 SAI:Red line in top pane (CGTS Naked) is overbought; and the intermediate trend is negative (T11D Sunmarry in bottom pane). Chart Meter (bottom pane) did rally during the last rally -- but there is not enough buyers to change the trend to positive. In a healthy rally T11D Sunmarry and Chartmeter are both at the top of the chart.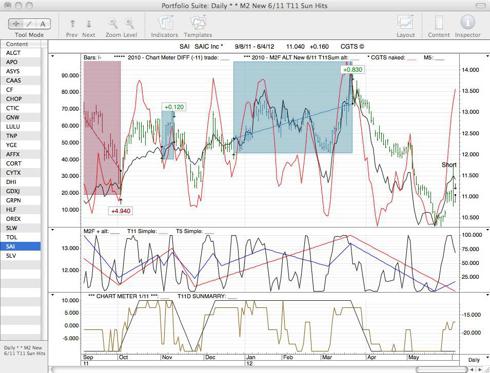 The shortsell signal below for SLV, Silver ETF, does not have strong selling confirmation from our Chart Meter indicator. Buying strength still is hanging on. In October 2011 we had a buy signal with weak Chart Meter readings -- and the rally was short-lived. It was followed by a sell-signal with strong Chart Meter selling. Then in December 2011, strong buying came back in, according to the Chart Meter. Yes, we did have pretty strong selling, in fact, through the first part of this year, even with a strong Chart Meter buyer strength factor. Still, we think the precious metals have had most of their selling. We think this shortsell signal might also be short-lived.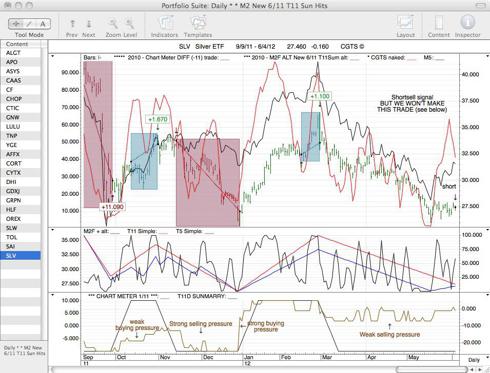 MICHAEL J CLARK
CGTS - Hanoi, Vietnam
Disclosure: I am short TSLA.