CLARK'S GATE TIMING SYSTEM
  11 AUGUST 2010
- TUESDAY
NEW TRADING POSITIONS:
BUY SIGNALS:
None
SHORTSELL SIGNALS
: None
A.  MARKET MOMENTUM
CGTS VIEW
: I guess Bernanke's admitting that his plan isn't working was a strong disincentive to buyers than his assurance that he would continue to buy mostly short-term treasuries with the expiring bonds in the Fed's portfolio.  This will keep interest rates low, keep the banks loading up on 'free' money, and probably keep us mired in the same mudhole we've been in economically for the last year and a half.
More selling in world markets today, as the realization that the #1 Money Man in the world is admitting that his plan is not working.  This puts into question the whole idea of a global recovery -- and, with the Dollar trying to bounce back, it might throw into question the health of this market rally.
Momentum declined today.  The number of our issues touching +1 in our M4 Sum Plus Indicator fell from 156 to 58.  This reflects selling pressure coming in to the markets -- it does not say this is the end of the rally.
Our key indicator, Momentum Trend, which divides issues in Bull versus Bear moves, is still positive, 257 bullish, 53 bearish, although this changed a -12 over the day.
Our Advance-Decline Line is now bearish, with only 27% of our basket of issues have moved up more recently than down.  This had a significant change over the trading day, -196.
The Intermediate-Term Trend also lost a bit of ground, nothing significant, -2 from the day before.
We're not calling this the end of the rally (we called an end of the rally a week and a half ago, by mistake, so we're being more careful now) -- but we are expecting selling in the short-term.
August 11, 2010

 

 

 

 

 

Positive

Negative

 

 

TRADING MOMENTUM

 

 

 

58

25

 

 

Yesterday's Reading

-104

 

 

 

 

diff

 

MOMENTUM TREND

 

 

 

ONE/ZERO OR ZERO/MINUS ONE

257

53

<--

Key

Yesterday's Reading

-12

 

 

 

 

diff

 

 

 

 

 

 

ADVANCE/DECLINE

 

 

% Bullish

84

226

 

27.10%

Yesterday's Reading

-196

58.71%

 

 

 

diff

 

LONG TRADE VS SHORT TRADE

47

18

 

 

Yesterday's Reading

-86

 

 

 

 

diff

 

Intermediate-Term Trend

237

71

 

 

Yesterday's Reading

-2

 

 

 

 

diff

 

GSPC, SP500, MOMENTUM:

 

 

 

 

 

 

 

 

GSPC, M2F ALT READING

64

 

 

Yesterday's Reading

79

 

 

Overbought 80-100; Oversold 20-0

 

 

 

 

 

 

 

 

GSPC M4 Plus 21 Short-Term

0

 

 

Yesterday's Reading

1

 

 

1 bullish; 0 neutral; -1 bearish

 

 

 

 

 

 

 

 

GSPC M4 Plus 21 Long-Term Trend:

1

 

 

Yesterday's Reading

1

 

 

1 bullish; 0 neutral; -1 bearish

 

 

 

 

 

 

 

 

 

 

 

 

10.17

 

 

GSPC Current price:

1121.06

 

 

 

33.05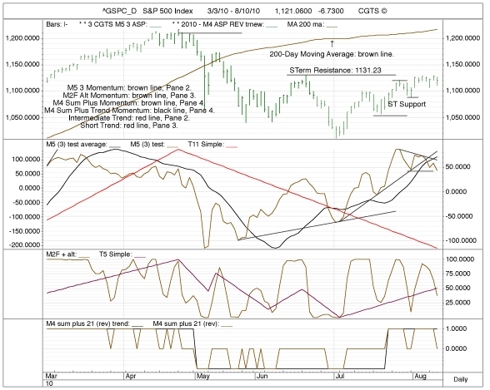 Comments on GSPC chart
:

The short-term momentum indicator (M2F Alt, Pane 3 from above, brown line) is neutral and declining.  More selling until it hits oversold.

M4 Sum Plus
(bottom pane, brown line) continues to reside at 0, having clicked down from +1: selling or a sidways market is likely until it clicks back up. This trend is positive.
M4 Sum Plus Trend
(bottom pane, black line):  The intermediate Momentum Trend  is +1  -- positive.


M5 3 Momentum
(second pane from top, brown line) Looks to be turning the corner and threateing support as it turns.  Once is indicator starts falling, things can happen pretty fast.  At pennant-shaped pattern in overbought territory usually suggests selling is coming.
T5 Short-Term Trend
(second pane from bottom, red line) is in a positive trajectory but a slightly negative pattern (lower low); but it has taken out overhead resistance, which is a positive.

 
T11, Intermediate-Term Trend (second pane from the top, red line): negative.  It is hard to sustain a rally in the opposite direction of this trend line.

Overall: neutral at the moment. The market is overbought short-term and needs to pull back before more buying opportunities appear, especially considering macro conditions.  GSPC could experience some selling here and move back toward support.  If the US Dollar reverses, global markets and commodities prices will probably tumble.  The Dollar is working hard to try to make that reversal -- which makes me wonder if we are near another downgrade from Moody's -- or worse.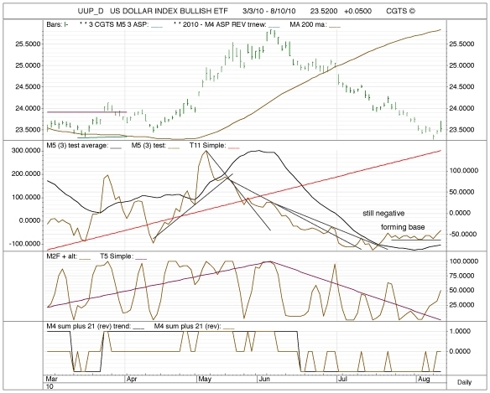 B.  THOUGHTS ON THE ECONOMY
The simple conclusion of Bernanke's Fed would have been that taking on more debt in a debt crisis DOES NOT work. Too simple apparently.

We need higher rates; we need defaults and bankruptcies. Debts are the weeds in the garden. When the debts become too large and powerful nothing else can grow. Debts need to be eliminated so we can enter another growth phase of the economic cycle. How do we eliminate debts: we encourage saving, debt unwinding (in ALL meaning of the word); and we need a fed that discourages more loans at the moment. We have a Fed policy that is begging us to borrow more and bring back the Spring, even though it is late Autumn.

You say that will be hard. Yes. We've had our party. Now we have to pay the piper. (We can pretend the piper isn't here, waiting for his money, like the Japanese have done for 30 years. But that doesn't solve the problem. It just delays the handing over of the money from the party-goers to the piper. He gets interest, of course. But 0% interest really doesn't discourage those waiting for growth to come back again and neutralize all the bad loans on the books.)

As I said, no growth in a garden that is overrun with bad debt.
Stocks continue to struggle upward -- as we sink deeper and deeper into the Black Forest in terms of the economy.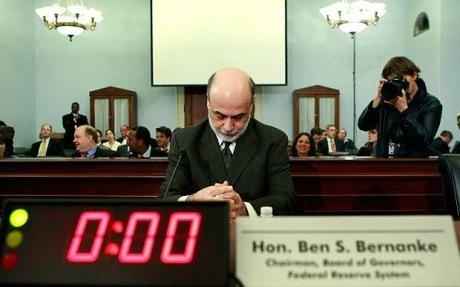 Some pictures tell a thousand stories -- this picture tells us two.  (1) Ben Bernnanke is running on empty. And (2) he is running out of time.

C.  TRADING SIGNALS

We're quite cautious about how much higher we can go from here without some selling to clear the house.  We're at the high end of trading ranges in many issues.  I'll show you some charts of those issues that look a bit exposed here.
Issues we are 'cautious' on are not giving us sell signals until we see a corresponding breakdown of trend and moment.  In these charts, momentum is represented by M4 Sum Plus; trend by T11, Intermediate-Term Trend.
A rally really doesn't end (as we define it) unless M4 Sum Plus breaks down our of the bullish range 0 - +1 and moves in to the bearish range 0 - negative 1.  A trend change, at the same time, makes us look for shortselling opportunities.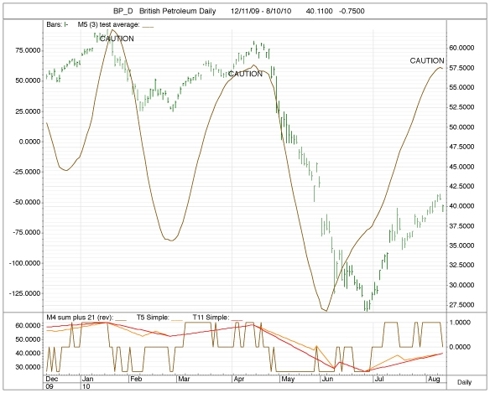 The rally back from hell for BP might be ending.  We'd be defensive on this one; and be ready to lock in profits and maybe go short again.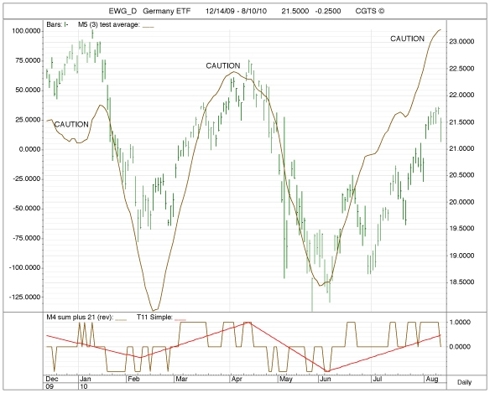 Germany has had a good run and may still work its way a bit higher -- but it is near the top of its working range.  Caution here makes good sense.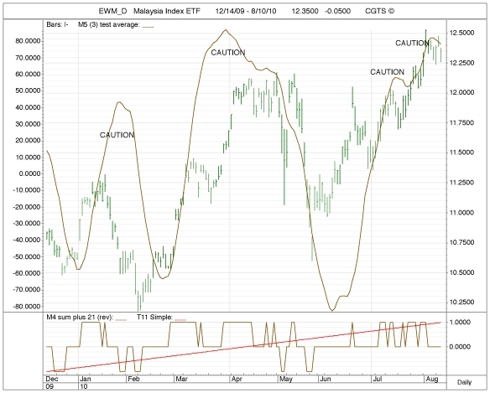 Malaysian stocks seem to be reaching a top zone.  Note, the 'caution' in July of this year did not prove to be a top, as the ETF turned back up.  This can happen.  That is why the bottom pane is so important.  M4 is in a sell mode (Zero is sell zone for +1; and zero is a cover zone for -1).  The trend is not changing; so we need to keep watching this one.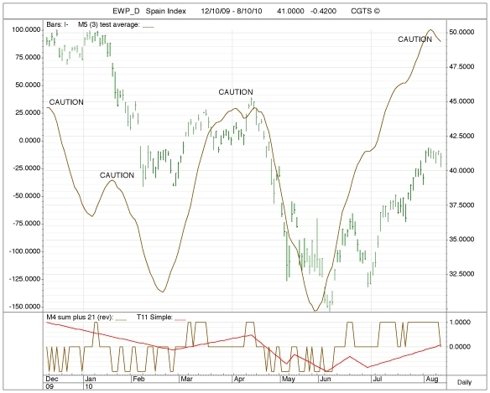 I hate to keep excoriating Spain -- but I don't know what else to do.  The Spanish ETF has rallied back to overbought levels; they are lower than the last high.  I expect this one to go lower; in fact, I'm shocked that it's going higher at all.  But traders run the markets; and momentum trading is how the markets now move.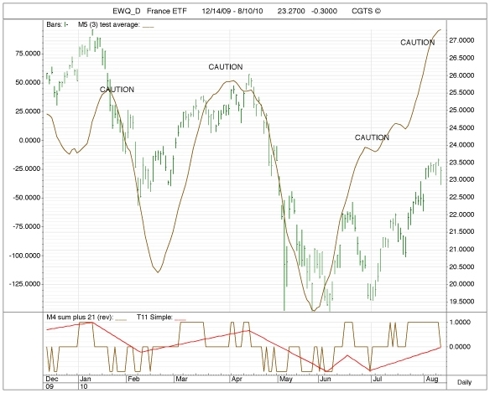 France is shouting out a Caution also.  A hard dip down in M4 Sum Plus.  Two days at zero after an extended time at +1 is one of the sell signals we use with this indicator.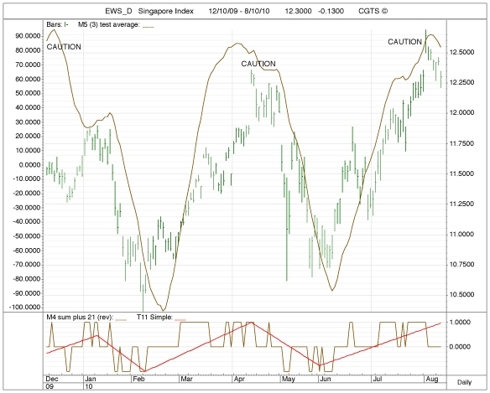 Singapore stocks actually rallied back to the old high, indicating their technicals are better than most issues we are looking at tonight.  It's time to be cautious however.  When this ETF does pull back it tends to pull back hard.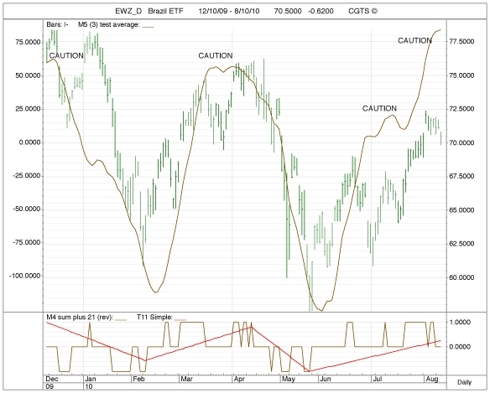 Brazil stocks have had a nice run; and I'm not sure the run is over.  Using another trading system, BZQ, Short Brazilian Stocks ETF, is giving a short-sell signal, meaning that indicator things Brazilian stocks are going higher.  Just be careful at this juncture.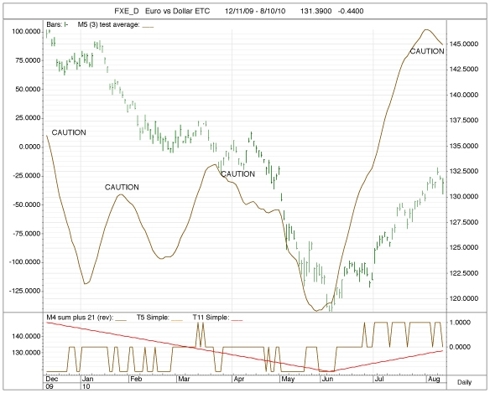 The dollar made a strong move against most currencies yesterday and the Euro-Dollar ETF, FXE, is giving a possible overbought reading.  Keep an eye on this one.  If the dollar does begin another rally, we expect global stocks and commodities to falter, proving Deflation is winning another round.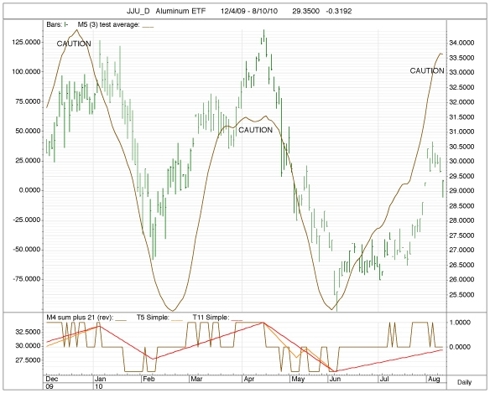 The aluminum ETF looks vulnerable.  If it does turn down here, it will probably test the old low made in early June.  If that breaks, then we have a bear market signal, with lower lows and lower highs.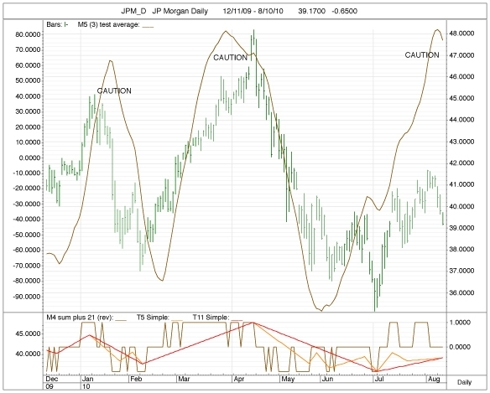 JP Morgan looks quite vulnerable here.  This rally has been relatively weak.  On M4 Sum Plus you like to see long extended periods of +1 and/or short one-day spikes down to 0.  Extended time spent at 0 indicates selling strength is growing.  I'd be inclined to get ready to short-sell JPM -- and definitely would if the bottom-pane indicators flip to negative.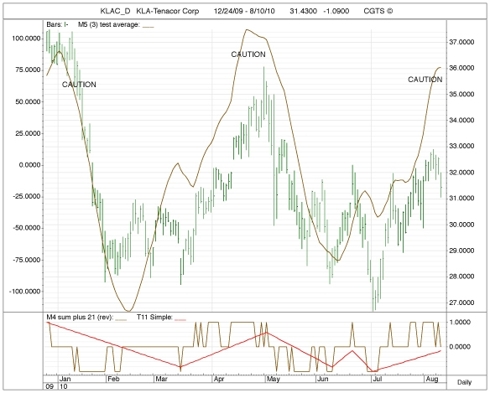 KLA is not a basket-case here -- but it is a bit vulnerable to a downturn with its M5 3 average so overbought.  When M5 3 Average rallies hard and the price does not accompany it upward, we have a discrepancy which signals weakness in buyers' commitments.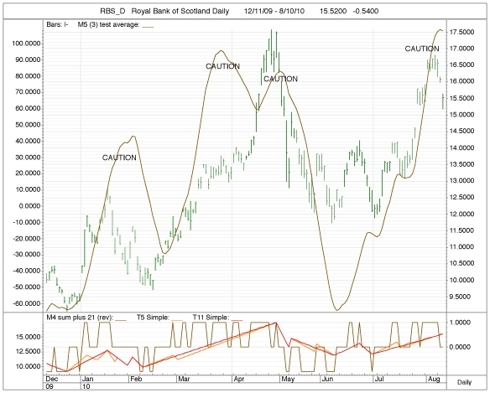 RBS: scary chart.  With the banking issues looking weak suddenly, and the USDollar threatening to turn back up, it makes me wonder if more bad news on European banks and debt is in the pipeline.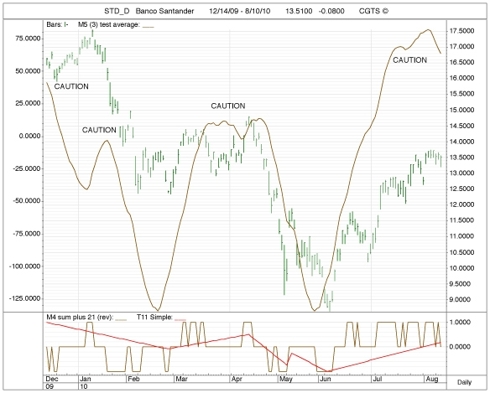 Banco Santander might be rolling over.  It's in a Bear Market pattern at the moment; and if it does roll over, the bear pattern will be confirmed, and we'll expect prices lower than 9 in the next couple months.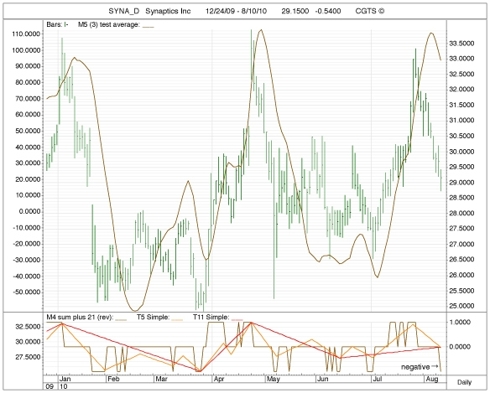 FREEFALL!  Synaptics shows us the stock with both the overbought M5 3 average AND the M4 Sum Plus going negative.  Don't try to catch a falling knife.  This one at least tests the low at 26.5.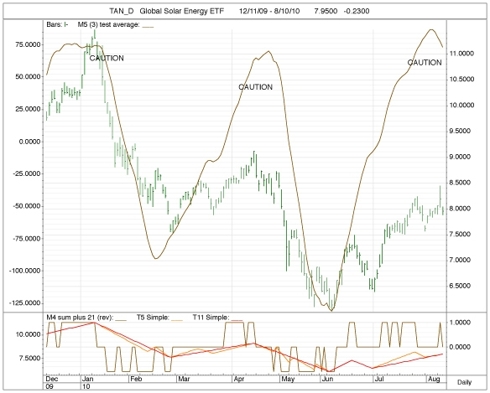 TAN is a bit of a disaster.  Look how the price/M5 3 Average divergence is almost zero in December 09; it grows in April 09; it is now huge.  This is a Bear Market stock.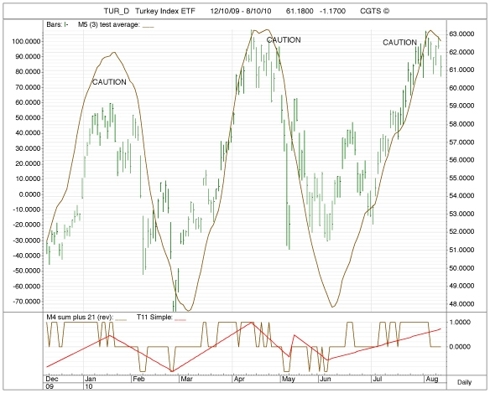 I showed this stock over the weekend; I'm showing it again.  Look how M4 Sum Plus is extending its time at Zero during this pullback.  There is a real tension here between buyers and sellers, with the buyers struggling to keep it from going negative.  Be careful with this one.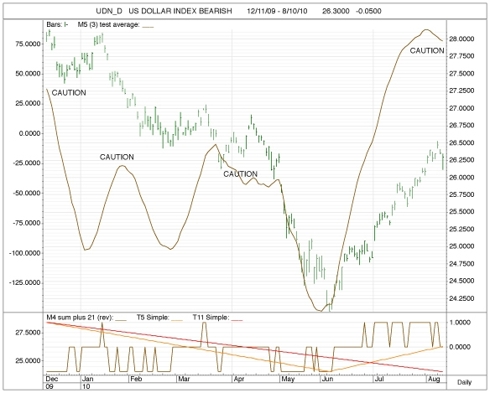 The Bear US Dollar ETF seems to be a bit toppy.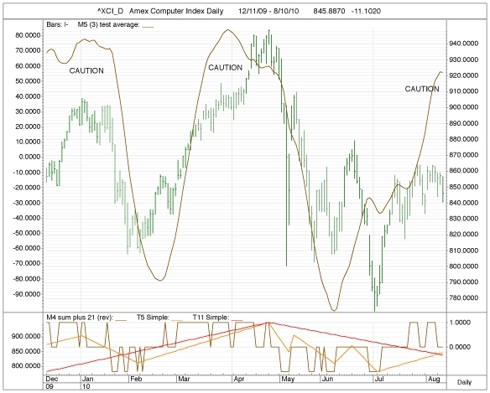 XCI, Computer Index, is another example of a series of stocks that have had a miserable rally.  This, especially with a downturn here, becomes potentially a nasty looking Bear Market issue.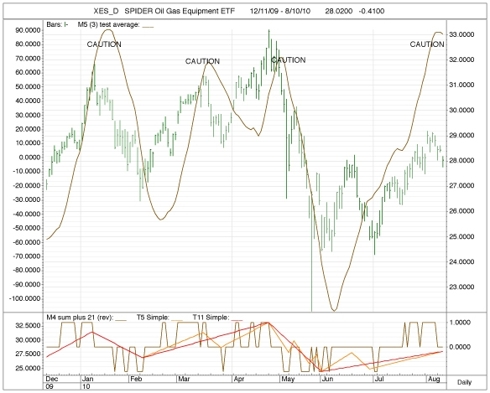 XES is also showing the weakness if this recent rally.  Price and M5 3 Average should be exploring the same levels together.  They aren't.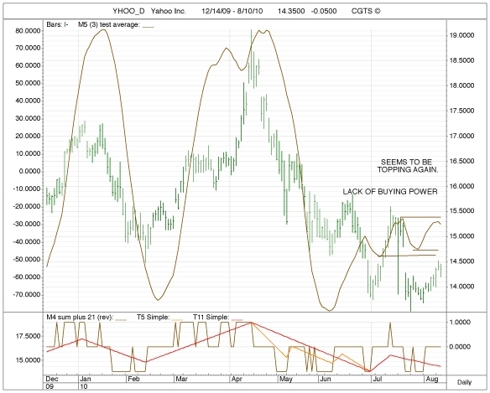 Yahoo is in a Bear Market and one can see both trend and M4 Sum Plus negative in the bottom pane.  The M5 3 average rally is almost non-existent.  More downside risk for Yahoo.
More information on the CGTS systems can be found at:
http://home.mindspring.com/~mclark7/CGTS09.htm
MICHAEL J CLARK
Clark's Gate Timing System
Hanoi, Vietnam
84 4 221 92210
Disclosure:
No positions to disclose.
Disclosure:
No positions to disclose.
Disclosure:
No disclosure required.